by tenderlovingempire
"I gravitate towards quality and unique items that have strong design elements and reflect the creative energy and social ideals of Portlanders."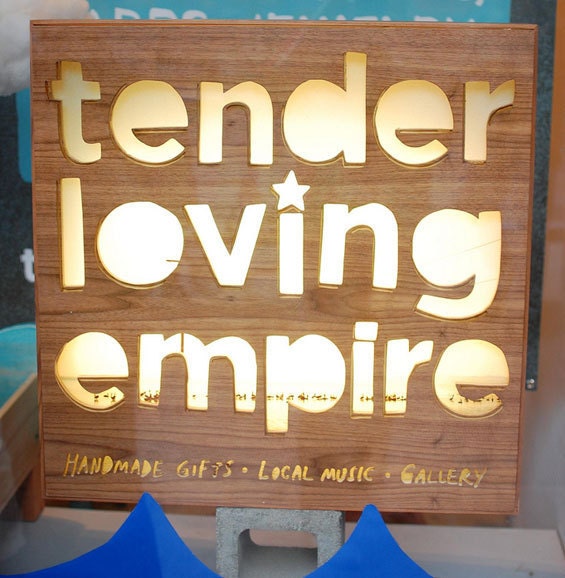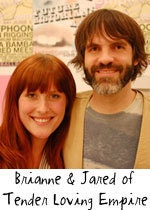 Brianne Mees and her husband Jared live and work in Portland, Oregon, where they're immersed in the the culture the city is known for: art, craft and music. After graduating from college in Southern California with the intent to find a career in the helping professions, Brianne integrated her people-oriented values with her love for music and visual aesthetics through the store, record label and creative collective known as Tender Loving Empire.
Tender Loving Empire is a record label, handmade boutique, gallery, clothing line and custom screenprinting shop. We began in the second bedroom of our apartment, saving tip-money to release
Jared's music
. It wasn't long before we found ourselves investing in other people's projects. I have a background in handmade crafts, so combining the music aspect with a handmade shop seemed like the perfect way to incorporate both of our interests while promoting more artists. We realized that a physical store would help make the record label more accessible and the retail aspect would benefit from combining multi-dimensional facets. Since then we have teamed up with some of our favorite local artists to create a T-shirt line that we
sell on Etsy
. We silkscreen shirts and offer custom screenprinting for other creative endeavors out of our new store. We recently relocated to the heart of the city (about 2 blocks south of Powell's Books) with a brand new makeover thanks to our friends at
Merge Studio Lab
. We now showcase the work of over 250 local artists, another 40-50 from out of town, a rotating gallery space, monthly events, and a local music section. The record label is still going strong with recent releases from Typhoon, Y La Bamba, Boy Eats Drum Machine and Finn Riggins, musicians whom you can hear on our
site
. When curating our shop, I gravitate towards quality and unique items that have strong design elements and reflect the current creative energy and social ideals of the people in Portland. We carry a variety of everyday functional items as well as quirky, creative gifts and original art. I love good use of color, novelty, illustration, recognizable iconic imagery, and the use of repurposed or upcycled materials. I frequently use Etsy as a tool to hunt down items for the store, so picking some of my favorites was easy!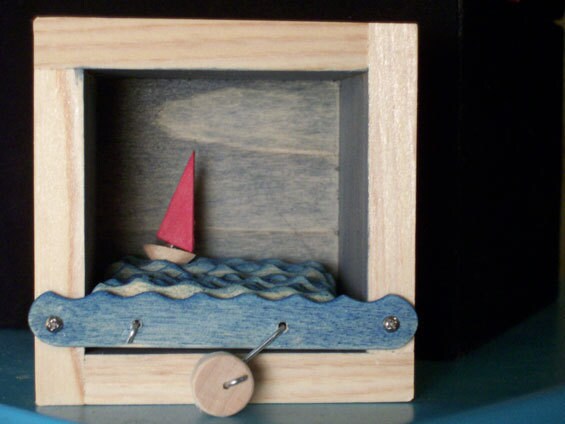 When we first opened our new location, we asked Tory of
Cartoon Monster
to make a giant
Sail Boat Automata
to fill up our storefront window display. It was incredible! It has since found a good home, but these
mini versions
continue to be one of our bestsellers. I love watching the expression on people's faces when they pick one of these up and turn the little crank. It's an instant antidepressant!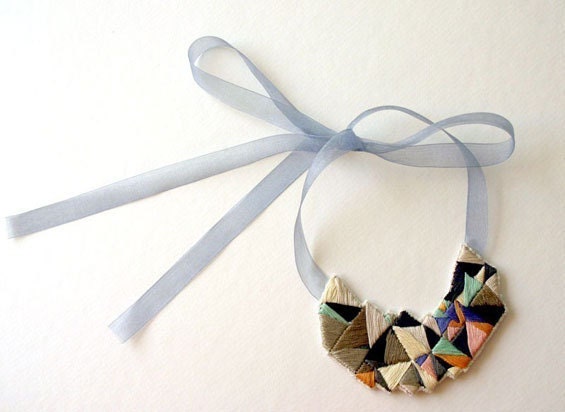 We just placed our first order with
Spinthread/Maranon
, and we can hardly wait to get the package. This whole line is a great example of the
interesting color palettes and original design
that suck me in. It walks the fine line of being current and trendy, while not feeling quite like anything else you've seen before.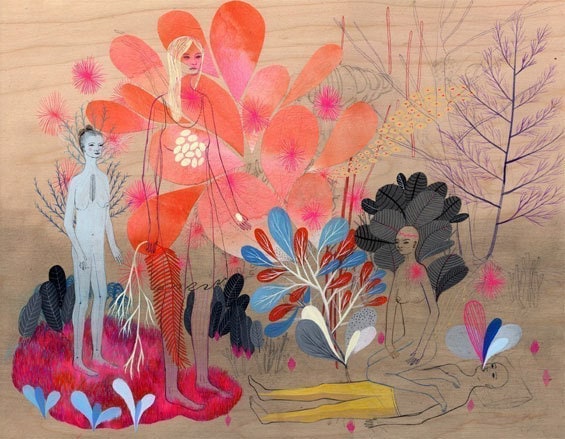 Speaking of color, I think
Betsy Walton
is a color genius. She lives here in Portland, so I'm not sure why I've been too bashful to tell her that her work inspired my choice of colors for our shop. She mixes bright poppy colors with subdued hues, organic flora and figure illustrations with geometric shapes to create thoughtful, moody scenes that I can't get enough of.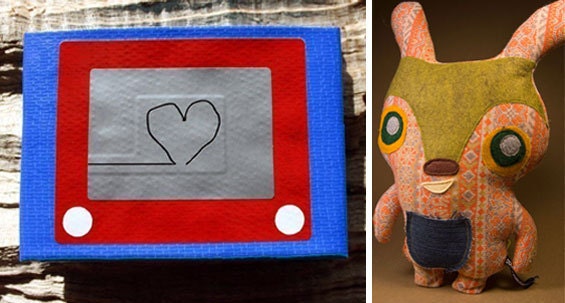 Jenn of
Jduct
takes duct tape art to a whole new level with her
wallet
and flask line. I love the designs she chooses because they are nostalgic, recognizable images that aren't overused (i.e. owls and elk). Besides having the ability to stitch up some of the cutest stuffed creatures around, Jill and Erin of
Dolls for Friends
are the nicest people you'd ever want to meet. People who are excited about their craft are the reason I love my job. It's so fulfilling when one of their little guys finds a home.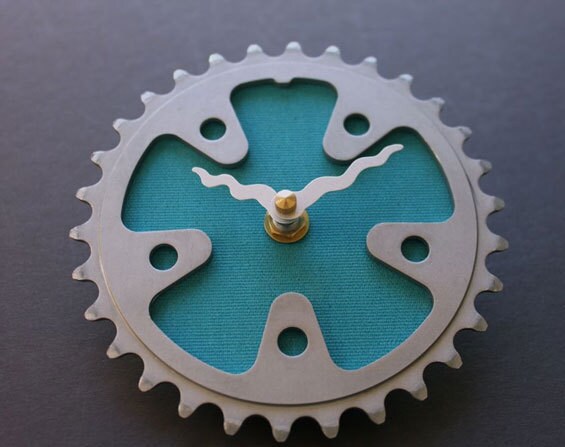 1byLiz
gives old bike chain rings and reclaimed textiles a new purpose with her
Recycled Bike Gear Clocks
! They are functional and environmentally friendly. We love that in Portland!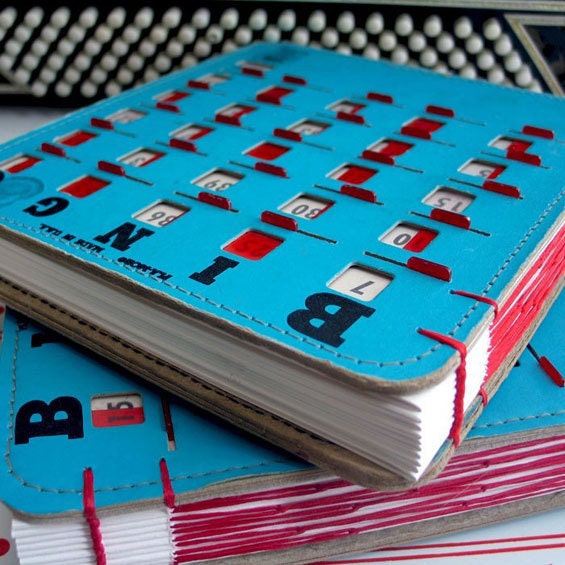 More upcycling!
Somavenus
uses old vintage bingo cards with moving plastic pieces to make
hand-bound journals
. Hand-stitched books are always impressive, but these are extra special.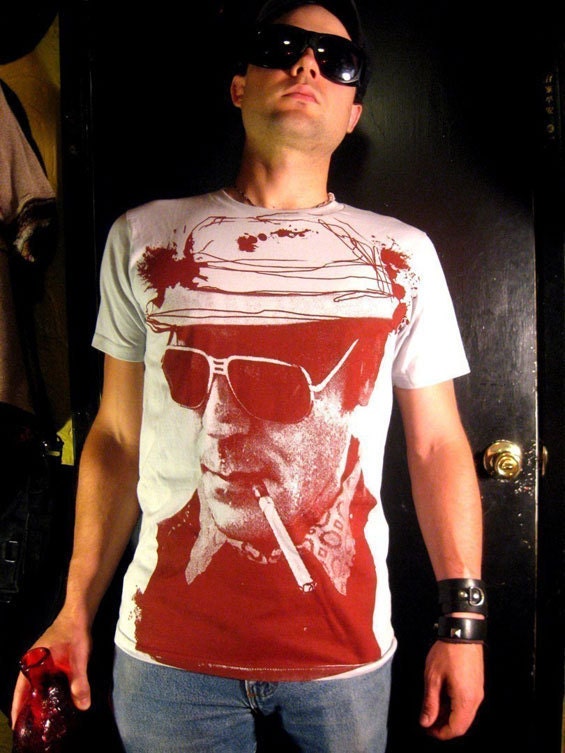 Many screenprinted T-shirt lines start to look the same after a while. But this local
T-shirt compan
y
T-rex T-shirts
 is definitely doing things its own way. Plus, my husband always encourages me to mix in some "tough" stuff because our store tends to veer towards the adorable side of things. So here's one for the dudes. It's a
huuuge Hunter S. Thompson
!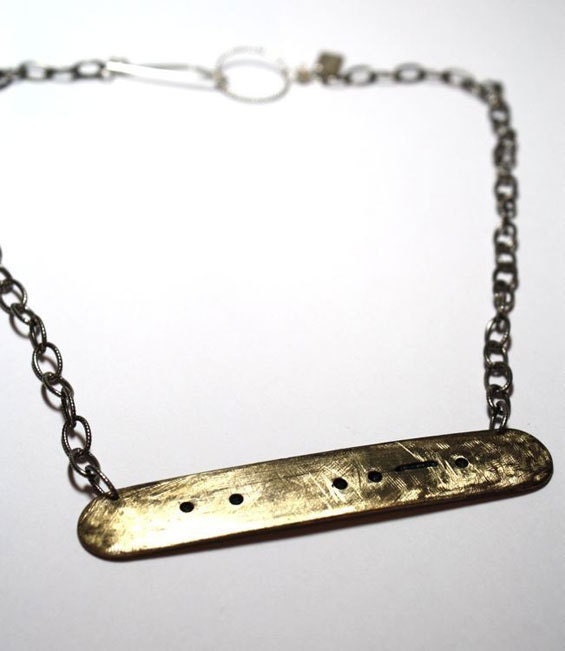 Ok, back to girly. I get worried when Betsy, of
Betsy & Iya
, brings in a new batch of jewelry for our shop because I keep buying it before it can go out on the floor! It was hard to pick just one, but this one is a stand out. Who puts
Morse Code on jewelry
? Only creative, hard-working Betsy!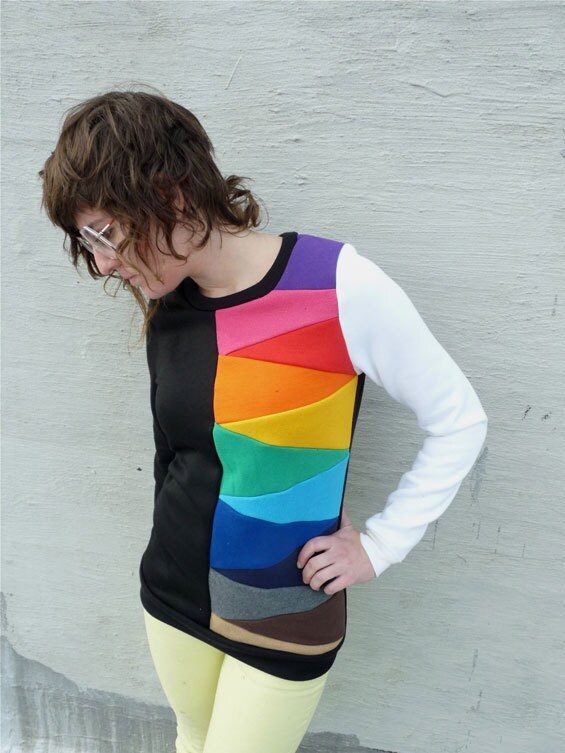 As far as clothing goes, we mostly only carry T-shirts, but if we ever expand, I'm hittin' up
Ruffeo Hearts Little Snotty
. I've admired them from afar for a while because of all those colors and off-kilter geometric patterns. Their current photos are really entertaining and artful as well.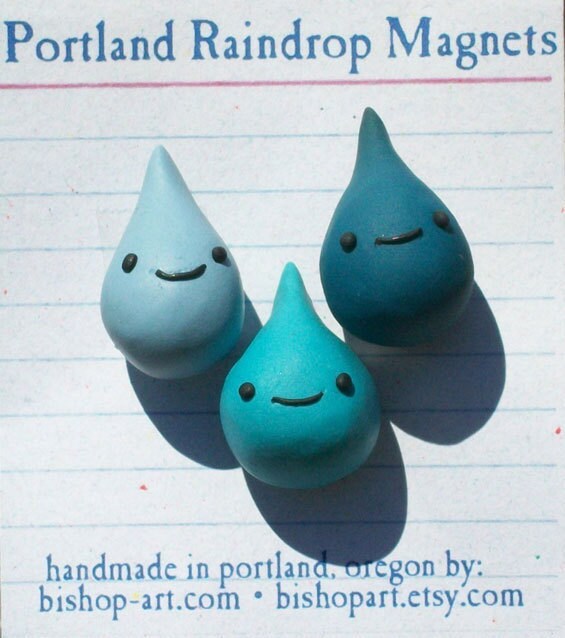 These adorable little
Portland rain drop magnets
are a new find for our shop, and we're having a difficult time keeping them in stock (for obvious reasons). While I didn't find it especially cute that we only got six weeks of sunshine this summer, somehow these little raindrops make me feel better about the situation.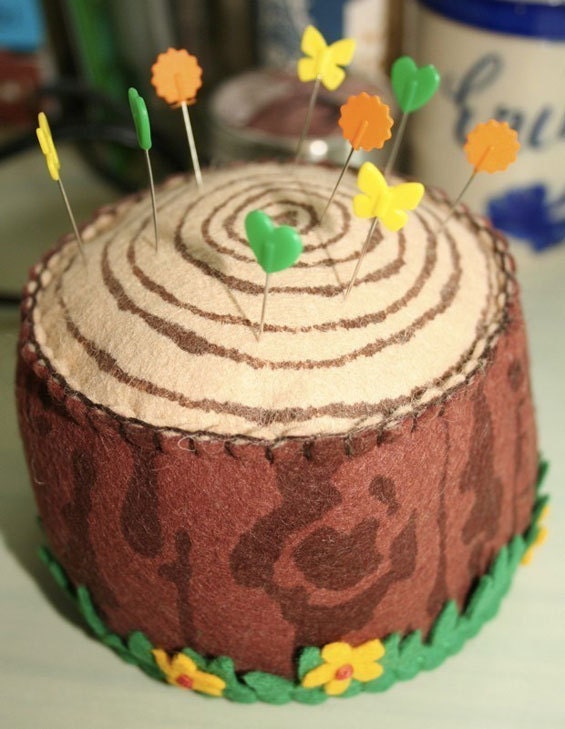 Portland is often referred to as "Stumptown." 
My Imaginary Boyfriend
 happens to be one of our "imports," but her
stuffed logs and stumps
are a perfect fit for our shop. They're really well made too! She also
sells kits
so you can make your own.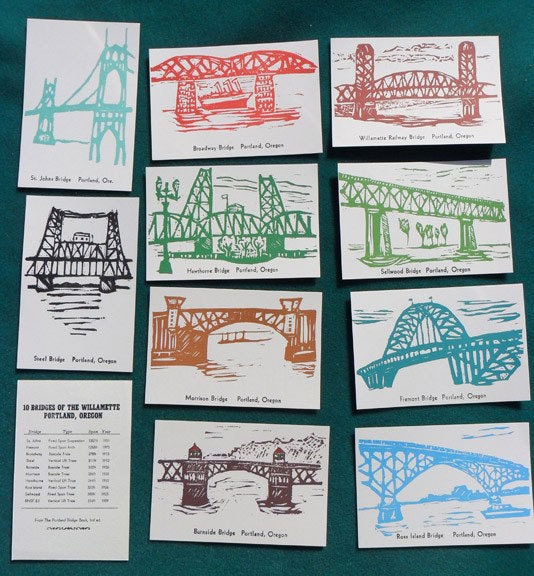 Red Bat Press
makes great letterpress stationery here in Portland. Her most popular designs are her Portland bridges series. It's a lovely, creative take on the tourist postcard, but great for locals who want to celebrate their city. I actually just bought the whole set in the middle of writing this!
Another one of my favorite local jewelry lines is
Moss
. I love her tagline —"The stuff you wish your grandma made you." This artist has created a
delicate line of hand-embroidered, hand-tatted fabric and trim jewelry
that is meticulous in its detail.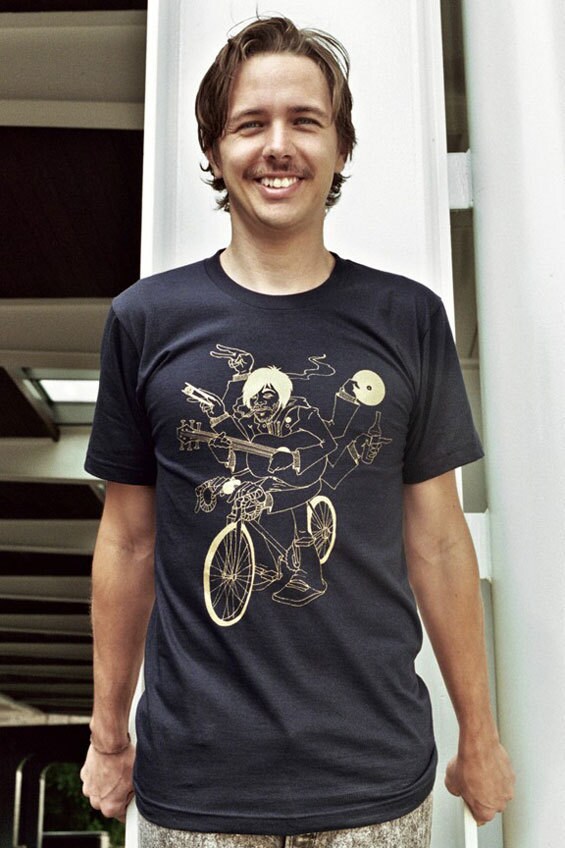 Hopefully it doesn't come across as shameless self-promotion to include one of our own
T-shirts
. A very good friend of mine, Sam Guerero, is an incredible artist and designed our
"Urban Diety Shirt."
I love this illustration because it sums up how we often feel at Tender Loving Empire: we juggle a lot, but we're thankful to have so much art and culture at our fingertips. We're not planning on slowing down any time soon!