by Katie Hawley
From one-of-a-kind gift inspo to extra-special ideas for celebrating at home, these creative tips will have you on your way to a heartfelt holiday.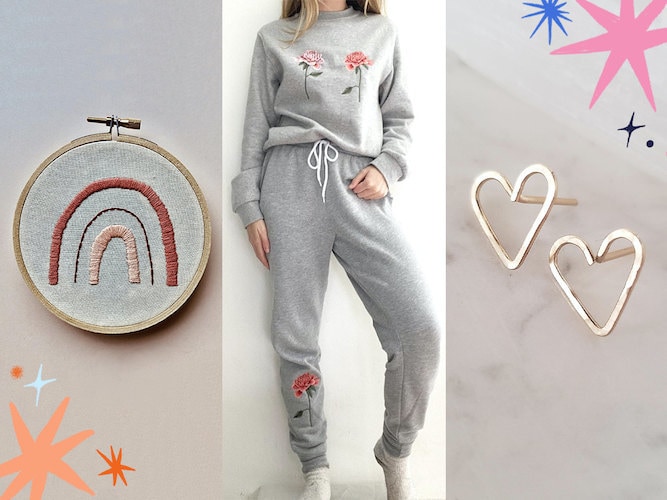 If last Valentine's Day feels like a distant memory, take heart. It may have been quite the year but one thing's for sure: it made us appreciate the people in our lives all the more. (What can we say? We're suckers for a silver lining.) This Valentine's Day, even if we can't hug all of our nearest and dearest in person just yet, we're getting creative with showing them how much they mean to us—sending faraway friends and family custom care packages, concocting extra-special at-home celebrations, and pampering our pods with personalized finds as delightful as they are practical. Read on to discover everything you need to know to play Cupid like a pro—and don't forget to show yourself some love, too. 
Get something just for them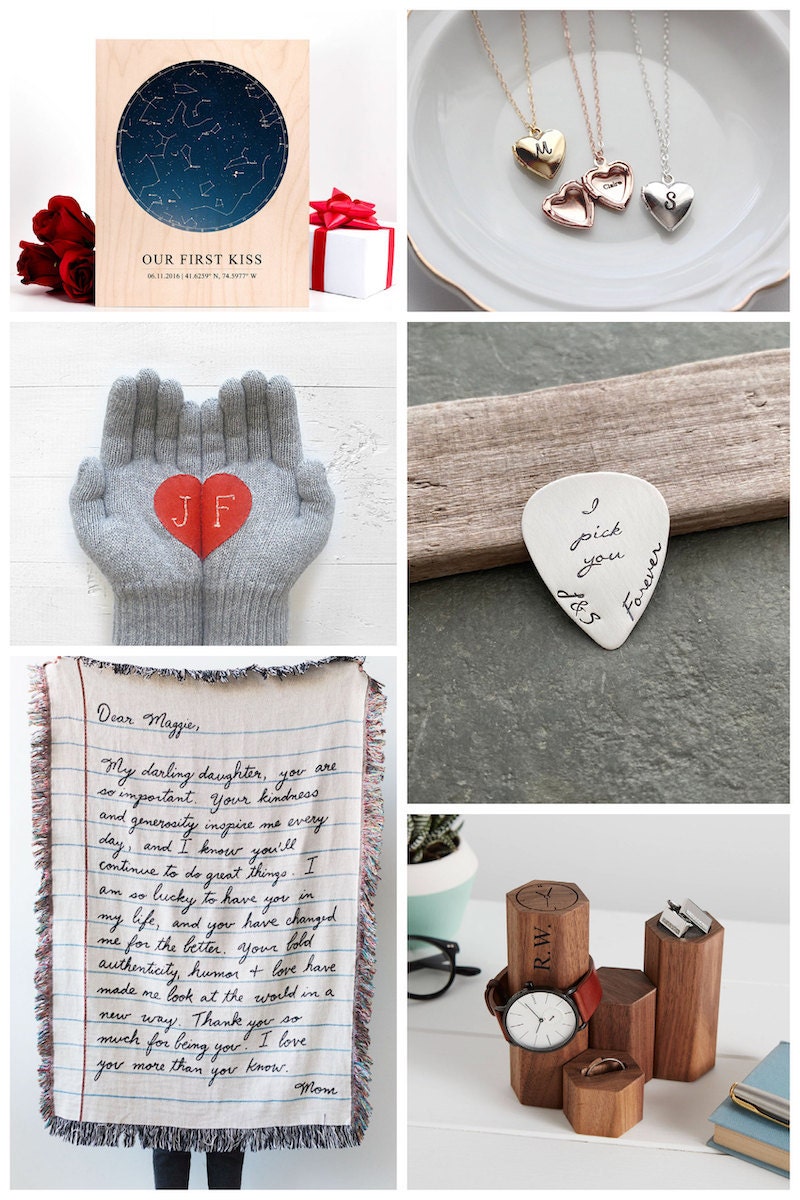 A custom-engraved guitar pick for your chord-strumming cutie. A cozy blanket printed with a handwritten letter from the heart. A frame-worthy print capturing a snapshot of the stars on a specific, sentimental night. The sky is quite literally the limit for personalization on Etsy, with sellers constantly surprising and delighting us by incorporating all manner of monograms and special messages into even the most unexpected of items. And when it comes to giving meaningful gifts that leave a lasting impression, it's those details that make all the difference.  
Tip: When searching for items on Etsy, filter by "Personalizable" to browse pieces designed with customization in mind, and keep an eye out for the "Add your personalization" box on individual listings to share your details with the seller. 
Send love from afar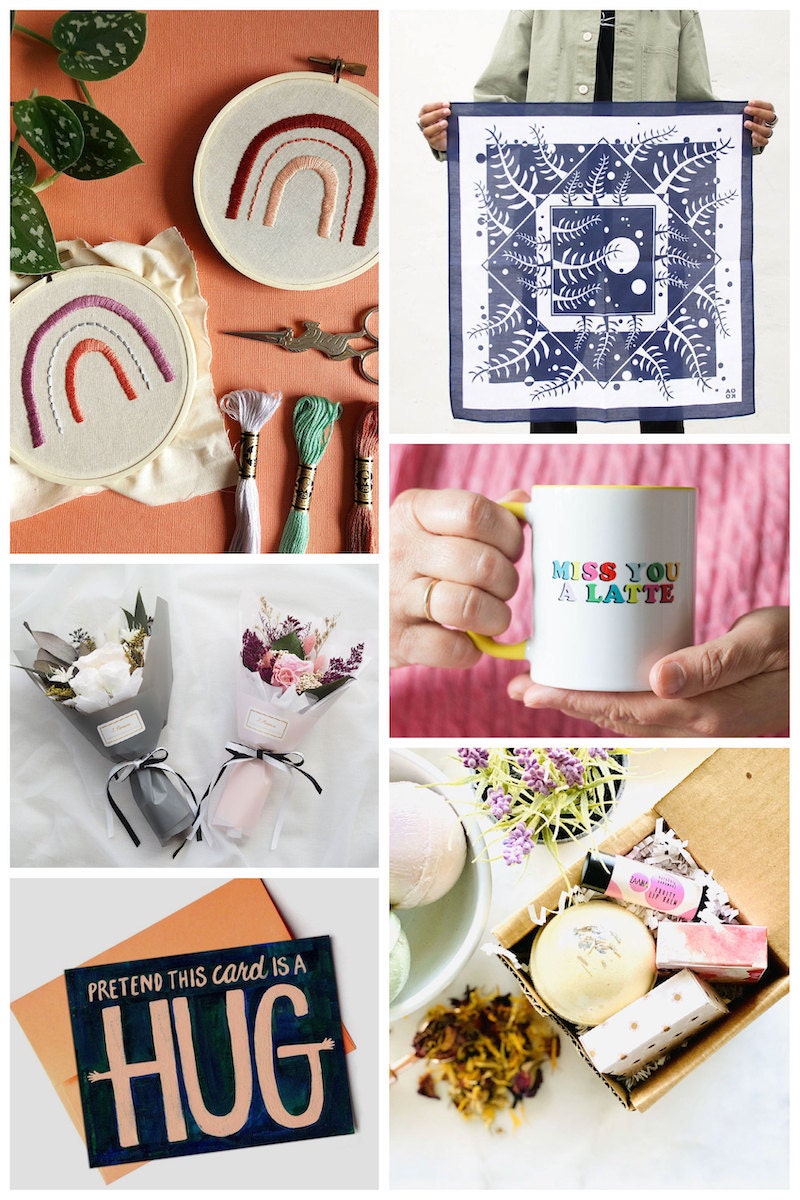 The next best thing to a wrap-your-arms-around-them, lift-them-off-the-floor IRL bear hug? A care package of hand-picked goodies delivered to their doorstep that's guaranteed to fill them with the same warm fuzzies. From pretty preserved flowers they'll admire for months to come to an aromatic bath and beauty set filled with all the frills for an extra-luxe at-home spa day, there's no shortage of thoughtful ways to say, "I'm thinking of you...and I can't wait to see you soon."
Tip: Get shipping savvy! If you need a gift delivered fast, be sure to check out the estimated arrival date—conveniently located at the bottom of any listing you're browsing—for help ensuring your order will arrive on time. You can also search listings by "Estimated Arrival Date" and by "Free Shipping" to find original items that meet your budget and timeline.
Make it special at home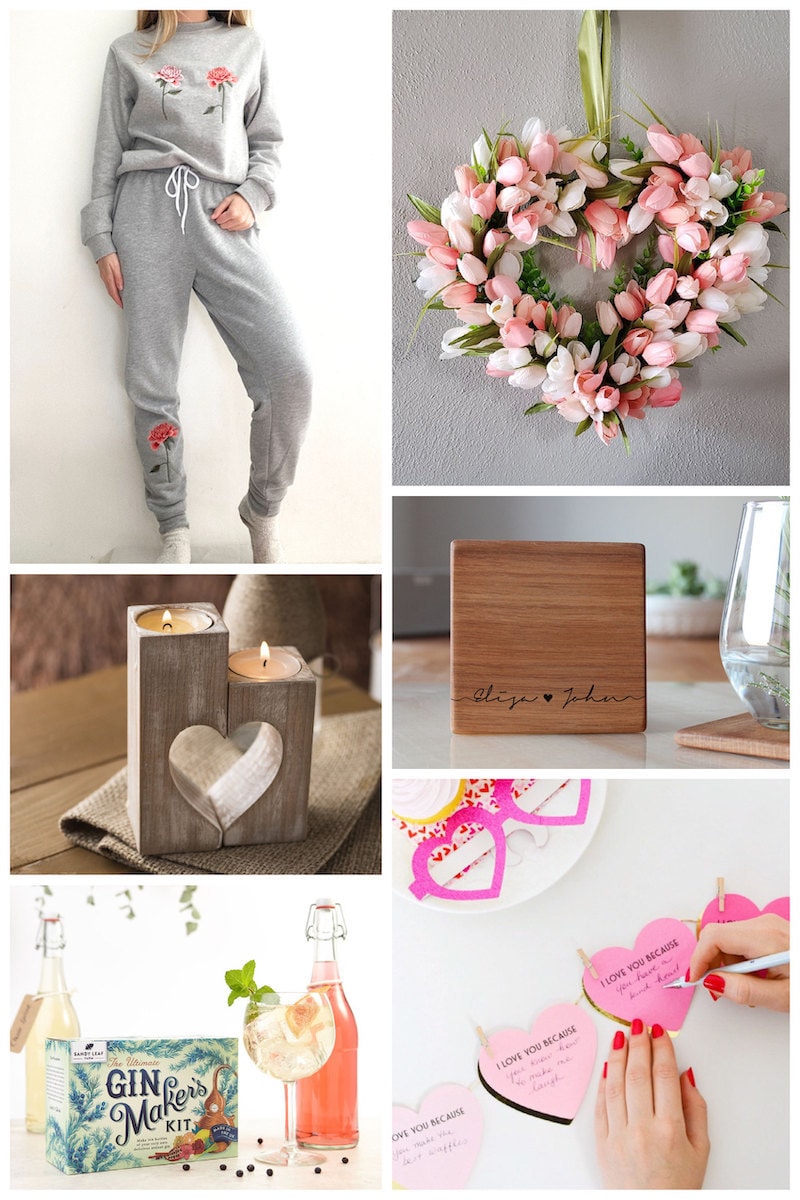 If February 14 usually has you clamoring for the hottest dinner reservation in town (and settling for a prix fixe menu at 4pm) consider this: there can be something really nice about an intimate evening at home, and Valentine's Day is the perfect excuse to shake things up. Set the scene with a heart-shaped tulip wreath and charmingly on-theme wooden tealight holders, then head into the kitchen to whip up whatever tasty treat feels special to you with a homemade cocktail in hand. The best part? The dress code is yours to define, whether it's glittering headbands and bow-ties or fuzzy slippers and a matching sweatsuit.
Celebrate your unique bond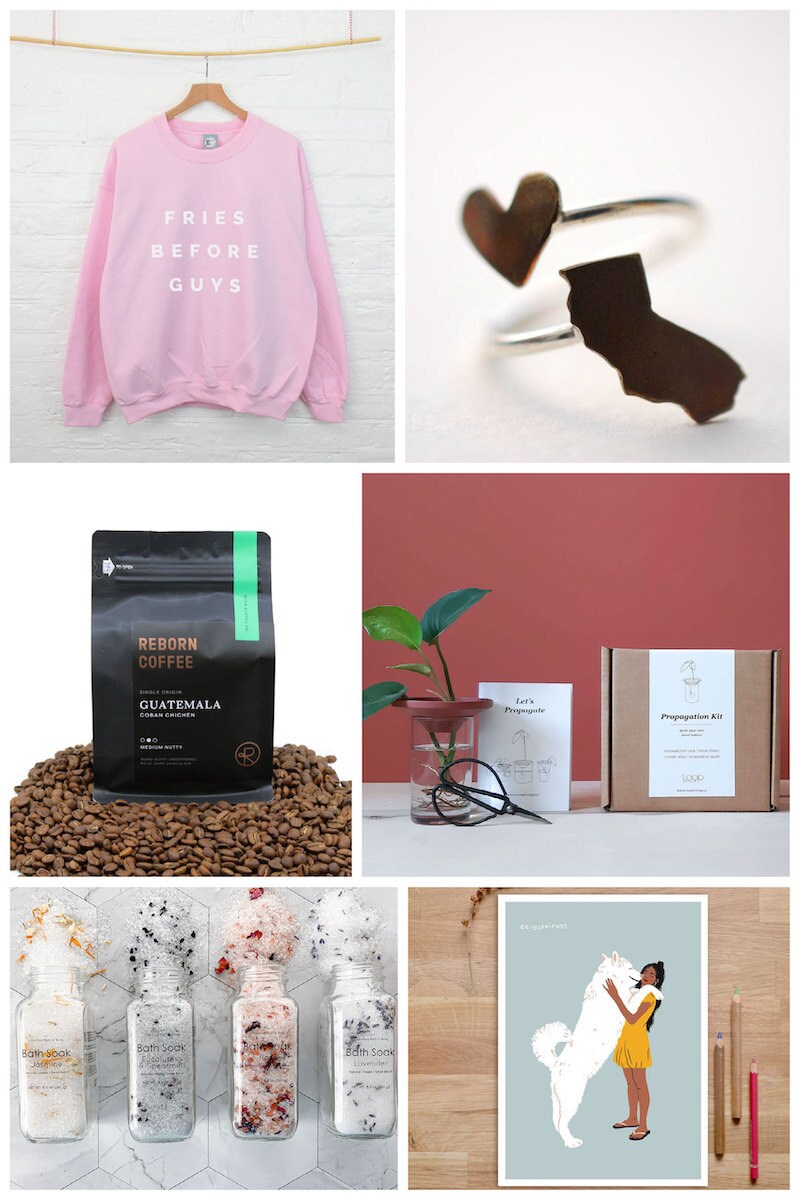 Fact: romantic love does not a valentine make, and after a year unlike any other, we're recognizing all the special relationships in our lives—from the best friends who have kept us laughing through virtual happy hours to the faithful furry companions who have refused to leave our sides. Whether we're toasting our book club buddies with a delicious cup of home-brewed coffee or thanking our teachers, mail carriers, and even—or perhaps especially—the pizza delivery gal with a relaxation-ready set of bath salts, a thoughtful token of affection is a heartfelt way to show appreciation for those one-of-a-kind connections. After all, life is too short for just one valentine anyway. 
Tip: Looking for a gift to honor a particular kind of bond? Try describing your intended recipient in your search. Gifts for best friends, gifts for grandparents, and gifts for him, her, and self will help you get the ball rolling, but don't be afraid to get specific—if there's a person in your life, there's something just right for them on Etsy. 
Treat yourself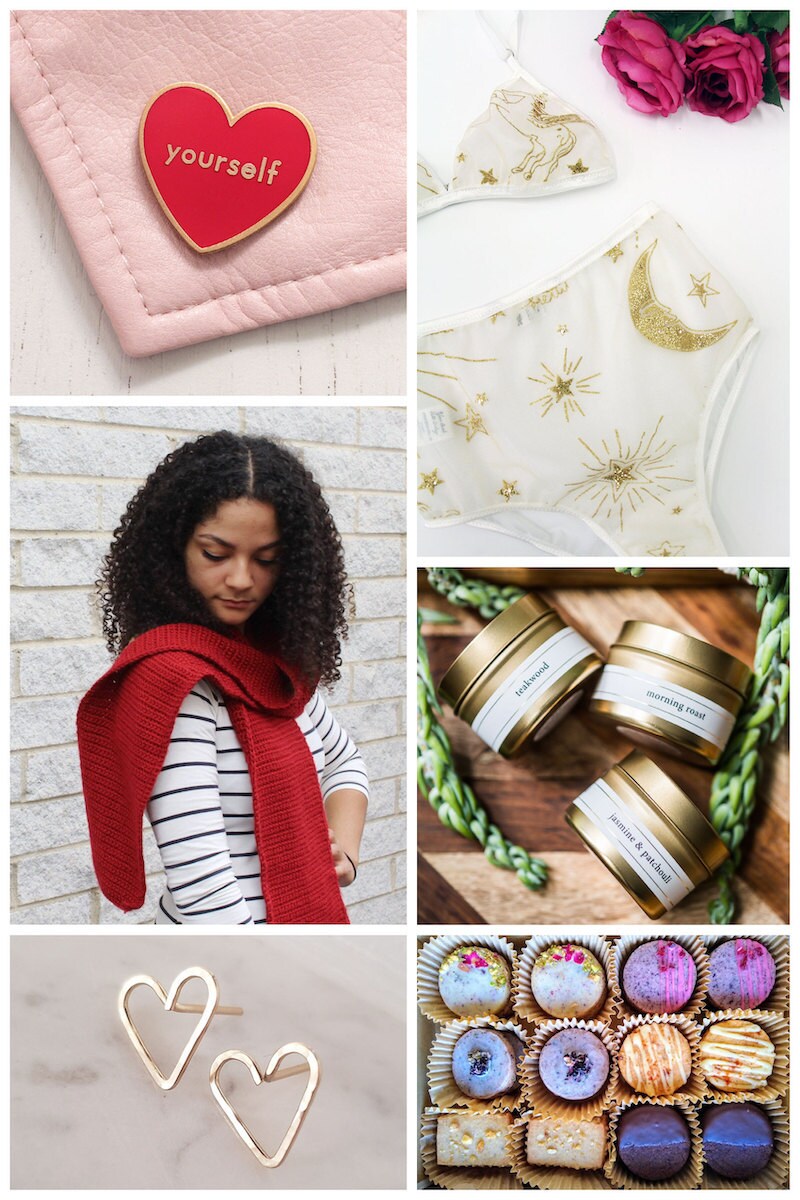 You heard us: all aboard the self-care train! After all, the longest relationship you'll ever have is the one you have with yourself—and it's time to show yourself some of the same TLC you routinely shower upon your friends and family. Whether you've been eyeing a pretty new pair of everyday earrings or a super-soft chunky knit scarf, consider this the sign you've been waiting for to "add to cart". Oh, and sweet tooth fans: do yourself a favor and order these cookies, stat! And sharing is strictly optional.
Tip: Thanks to new flexible payment options from Klarna for select items on Etsy, US-based buyers can shop now for all the V-Day gifts their hearts desire and pay for them later (terms and conditions apply). Swoon!
Give a gift card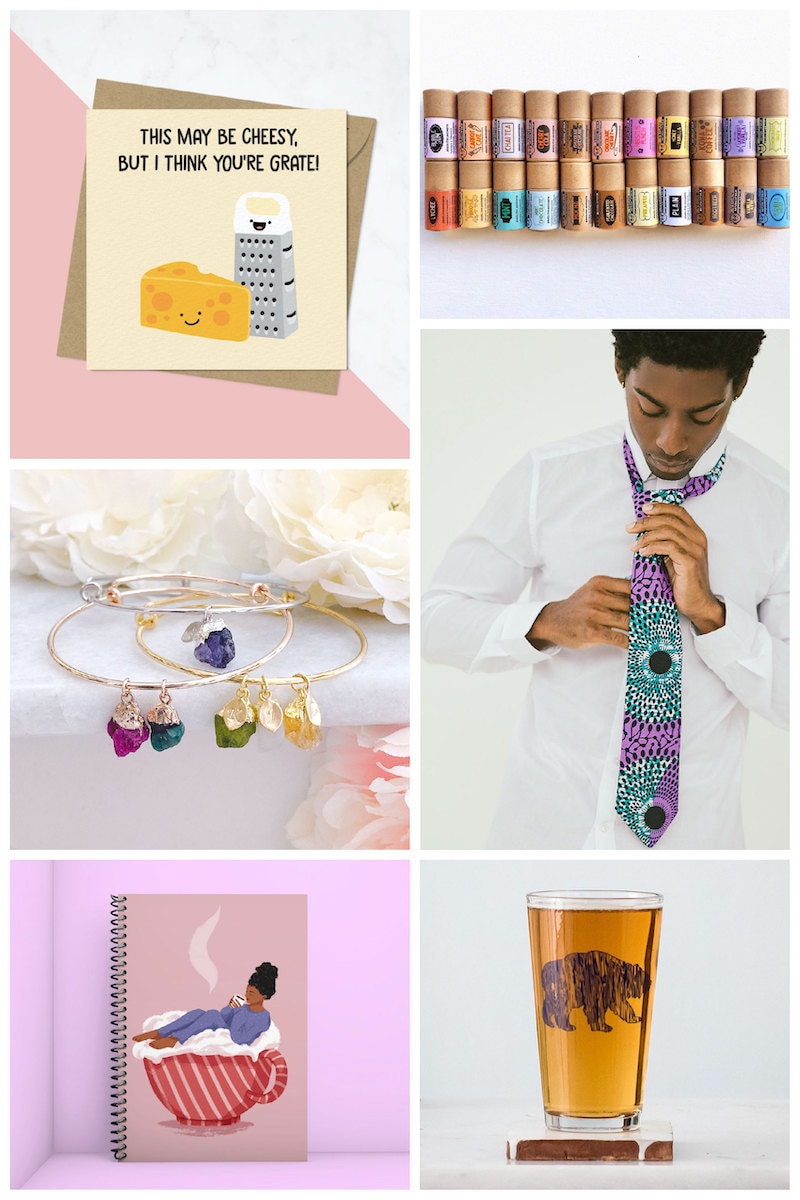 Sometimes the best thing you can give someone is the chance to pick out the best thing for themselves. If you're in a time-crunch or just plum present-stumped, an Etsy gift card is a great way to show you care. Print one out and pop it in a greeting card faster than you can say "heart-shaped box of chocolates"—then sit back and watch them thrill at all the treasures they'll get to discover.