Add this to your holiday menu: a treasured seasonal veggie dish from the plant-based cooking whiz behind The First Mess.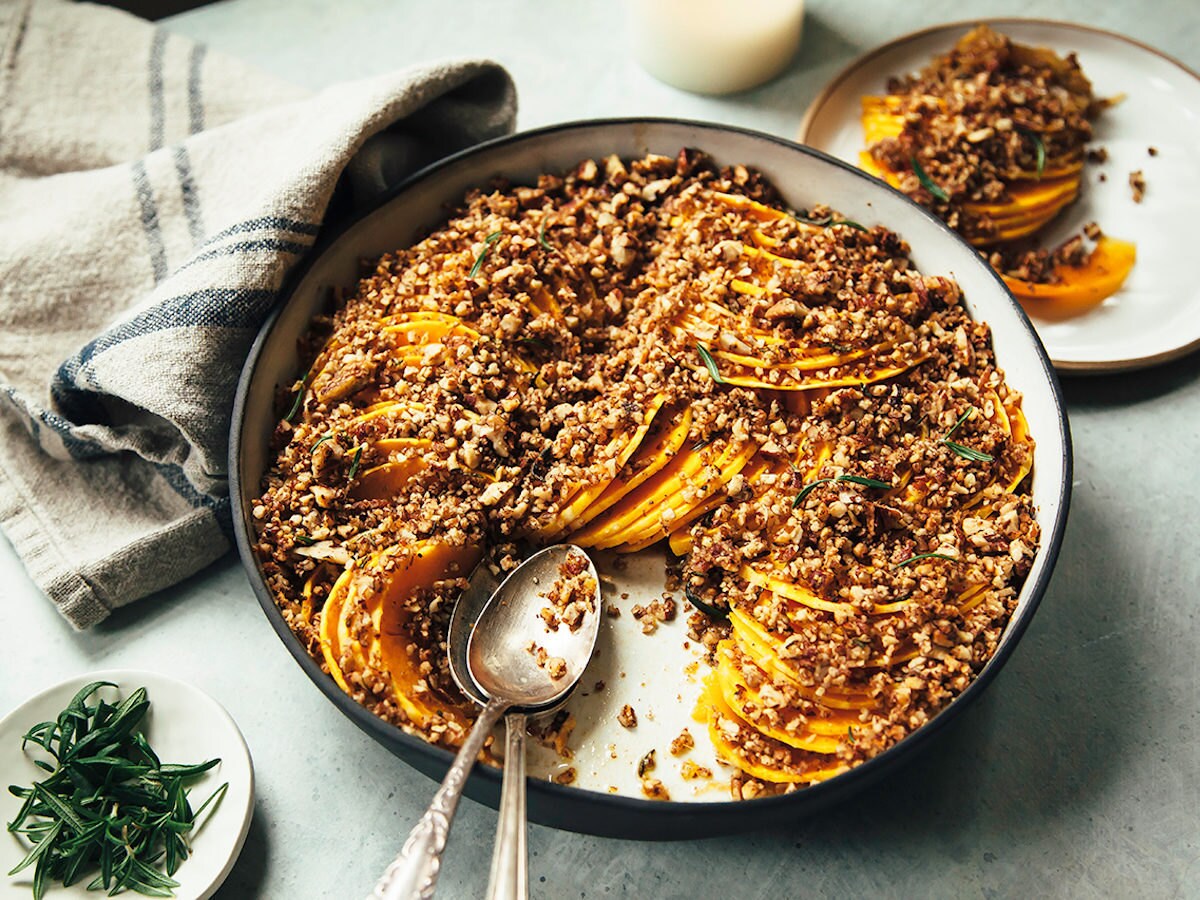 In our "Old Recipe, New Dish" series, we ask a few of our favorite food bloggers, cookbook authors, and culinary up-and-comers to share a go-to holiday recipe that's close to their hearts—and serve it up in a handcrafted piece of tableware made by an Etsy seller.
No matter what—or how—you celebrate during the holidays, one thing's practically guaranteed: Everyone's got a favorite seasonal dish. Mom's pecan pie with the hand-crimped crust, Dad's deep-fried turkey, Aunt Jo's vegetarian lasagna—we all save space in our bellies for that special round of seconds, whatever they may be. Still, there's always room for a new addition to your go-to menu, and in the interest of expanding our
holiday-table
horizons, we've tapped a short list of food bloggers, cookbook authors, and veteran entertainers we admire to reveal the family recipes they cherish most—and the handmade plates, platters, or casserole dishes they'll be serving them on this year. First up, appropriately, is
The First Mess
founder Laura Wright, an Ontario-based blogger and
cookbook author
who's made it her mission to make plant-based eating pleasurable. We couldn't think of anyone better to share a delicious and healthy veggie side for the feast-focused season to come. Read on for Laura's recipe for a maple-rosemary squash bake with caramelized onions and pecans—and come back every day this week to discover another treasured old recipe served up in a beautiful new dish.
About the recipe:
"I've been making plant-based gratin-style dishes for so long, and they seem to appeal to just about everyone," Laura says. "If I find myself in a potluck scenario over the holidays, I love to bring something like this because it ups the vegetable quotient, which is key for staying energized during such a busy season. Plus, the sweet, creamy, and lightly caramelized squash in this version is such a lovely contrast for the toasty, crunchy pecan topping."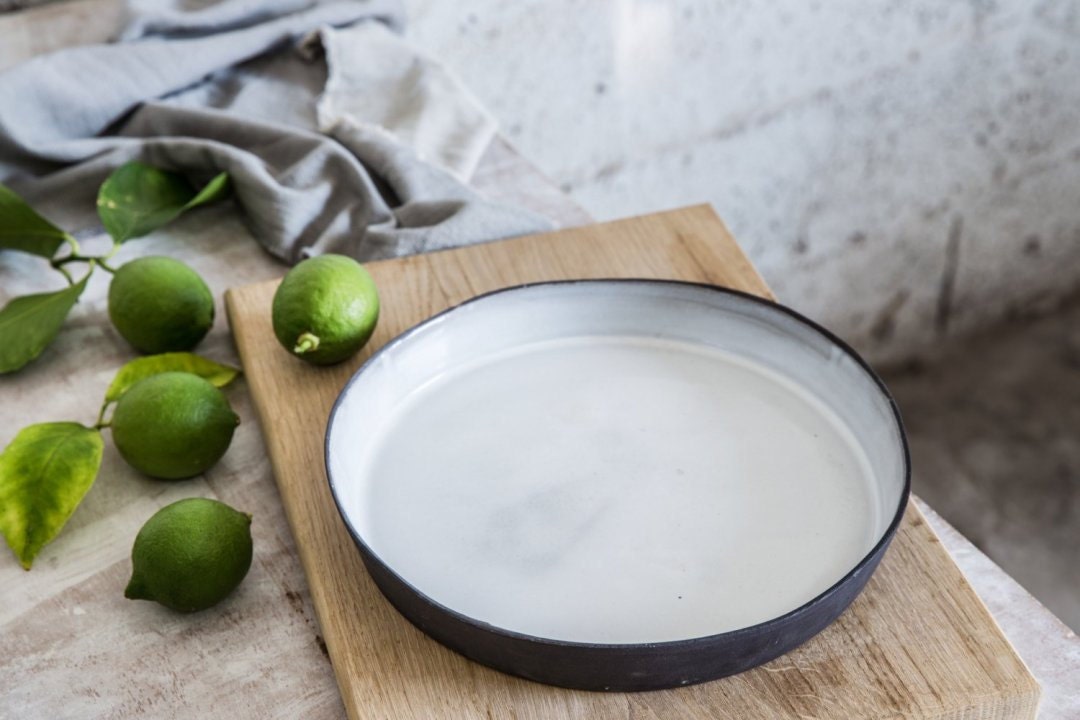 >
About the dish:
"To me, food usually looks best in a white dish, and I love the dramatic matte black exterior and rim of this one from
1220 Ceramics Studio
. It's the perfect depth and overall size for any baked or roasted side dish, and it's a highly versatile vessel to have around for all kinds of food preparation or display," Laura says.
Let's get cooking:
Maple Rosemary Squash Bake with Caramelized Onions & Pecans
Serves:
6-8
Hands-on time
: 30 minutes (you can make the caramelized onions and pecan topping up to three days in advance; just keep in separate containers in the refrigerator and bring to room temperature before assembling)
Total baking time
: 1 hour
For the squash and onions, you will need
:
1 tablespoon olive oil, plus extra for drizzling
1 medium yellow onion, sliced into half moons
Salt and ground black pepper, to taste
2 teaspoons balsamic vinegar
1 teaspoon tamari soy sauce
1 teaspoon maple syrup
1 large butternut squash (about 2.75 lbs), peeled
For the pecan topping, you will need:
1 cup raw pecan halves
1 tablespoon fresh rosemary leaves
1 tablespoon olive oil
1 teaspoon maple syrup
½ teaspoon garlic powder
Pinch of cayenne (optional)
Sea salt and ground black pepper, to taste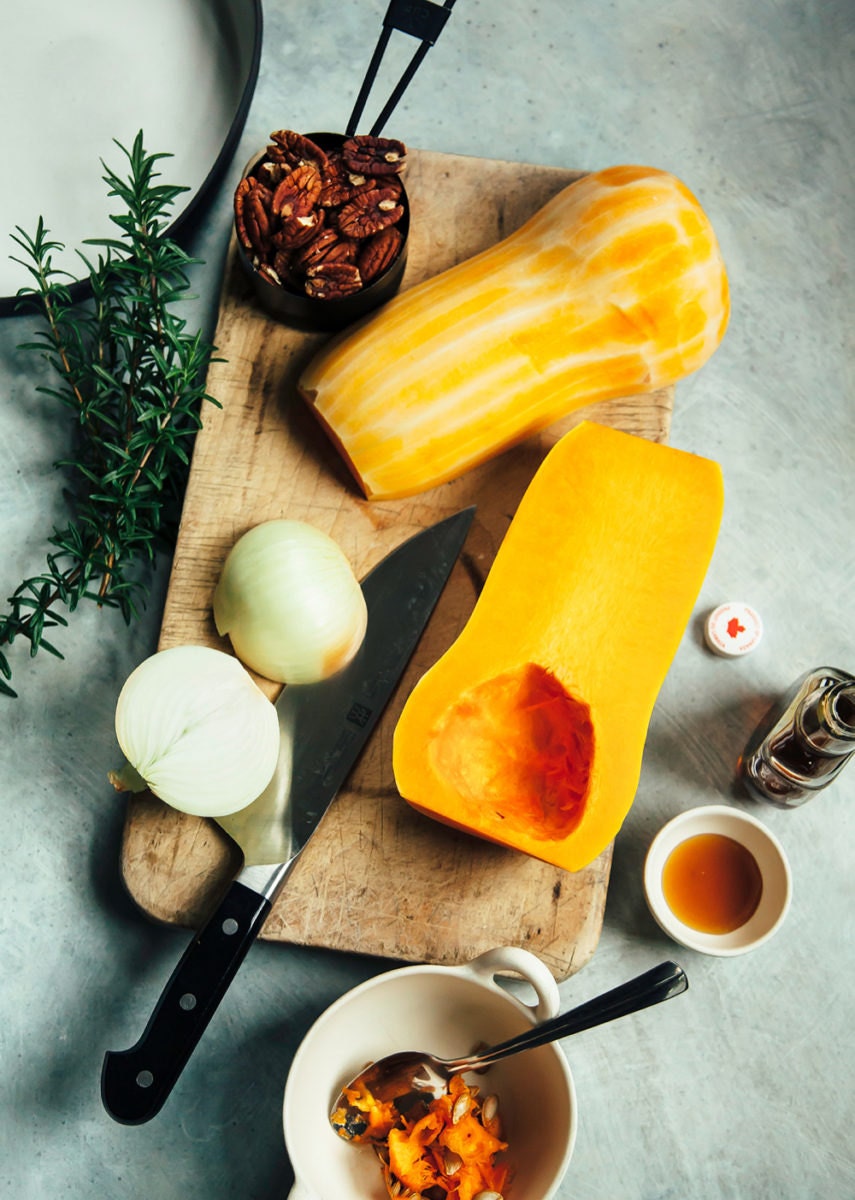 Step 1
: Preheat the oven to 375°F, and lightly oil a ceramic baking dish that's at least 10 inches in diameter.
Step 2
: Start the caramelized onions: Heat 1 tablespoon of olive oil in a skillet over medium heat. Add the onions and lower the heat a bit. Slowly sauté the onions until they are slightly caramelized and completely soft, almost jammy, about 25 minutes, stirring occasionally.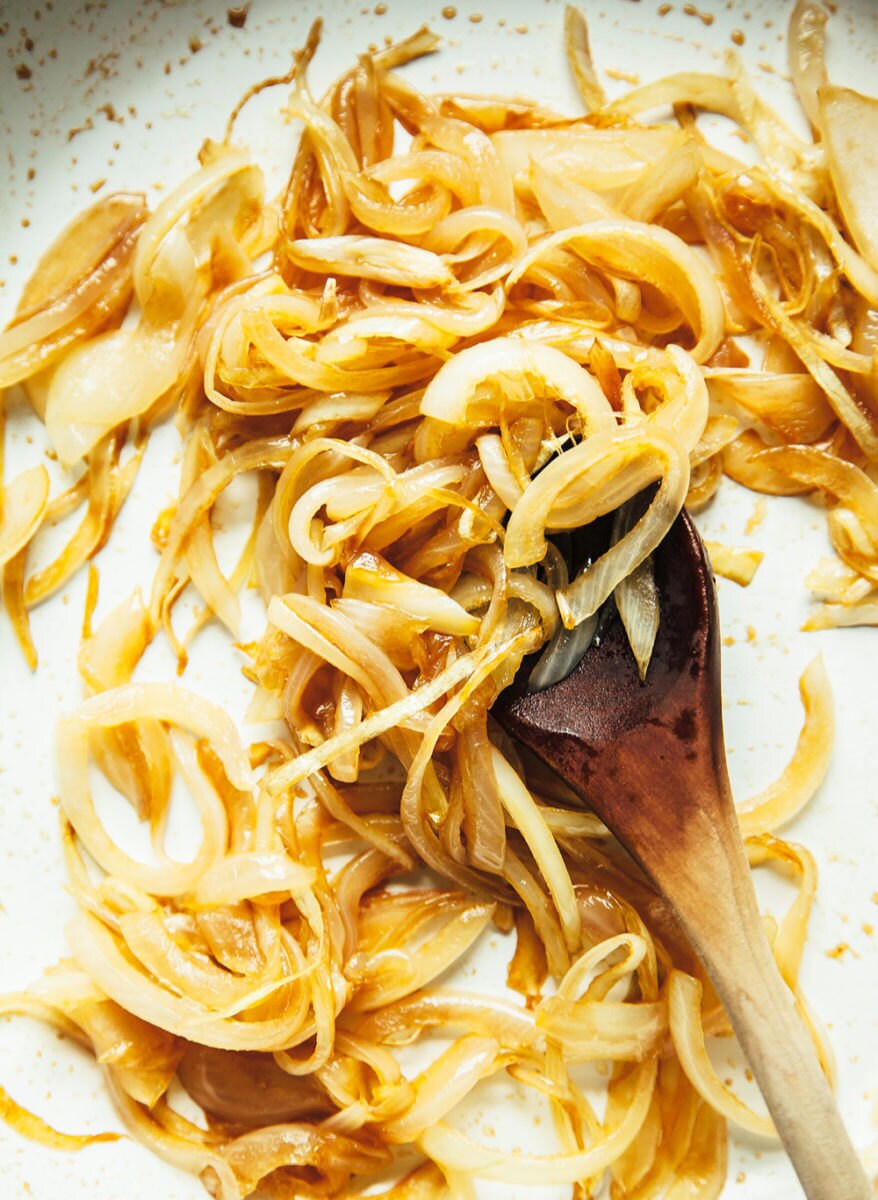 Step 3
: To the onions, add the balsamic vinegar, tamari, maple syrup, salt, and pepper. Stir to incorporate. Remove onions from the heat and evenly scatter them across the bottom of the prepared baking dish.
Step 4
: Take the squash and cut it down the middle lengthwise. Remove the seeds and place the squash halves onto the cutting board, flat side facing down. Cut the squash into very thin slices crosswise (see photo for thickness). Arrange squash slices in the baking dish on top of the onions, fanning the pieces out to maximize heat exposure.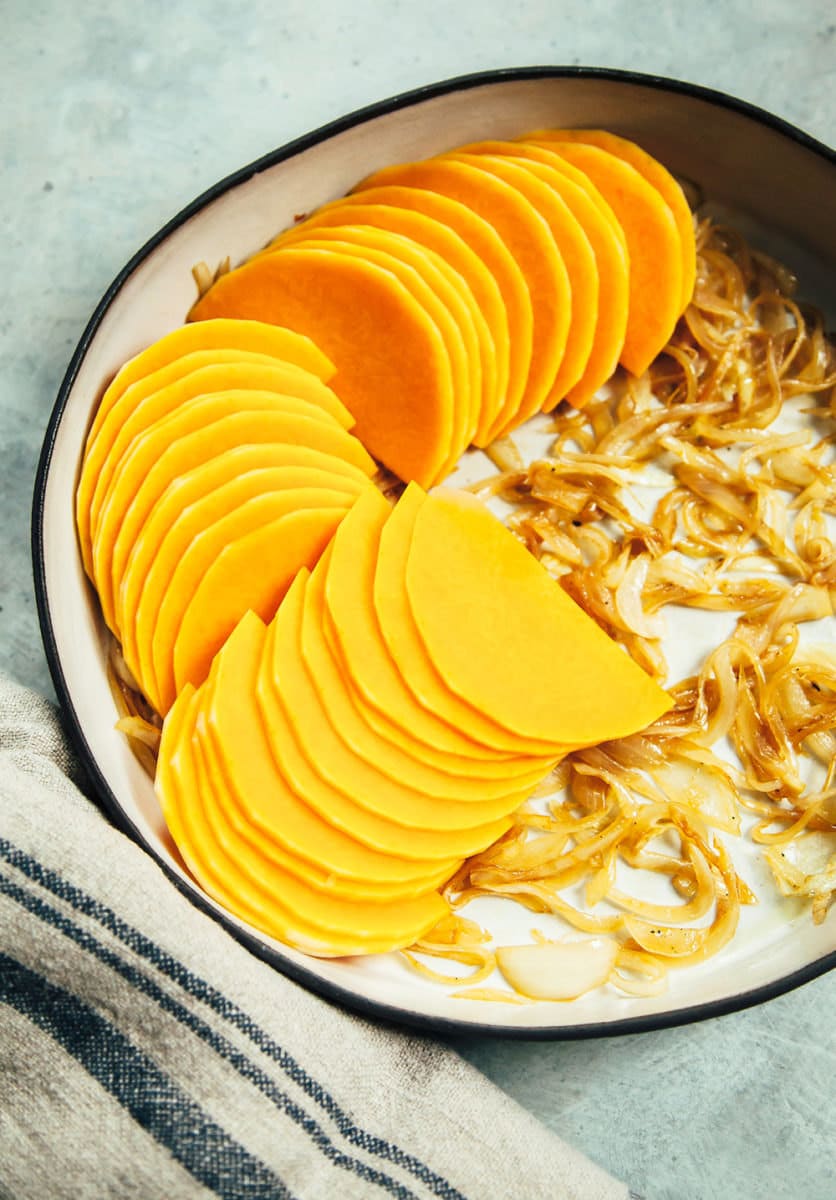 Step 5
: Drizzle the top of the squash with olive oil and season with salt and pepper. Cover the squash tightly with foil and bake for 30 minutes.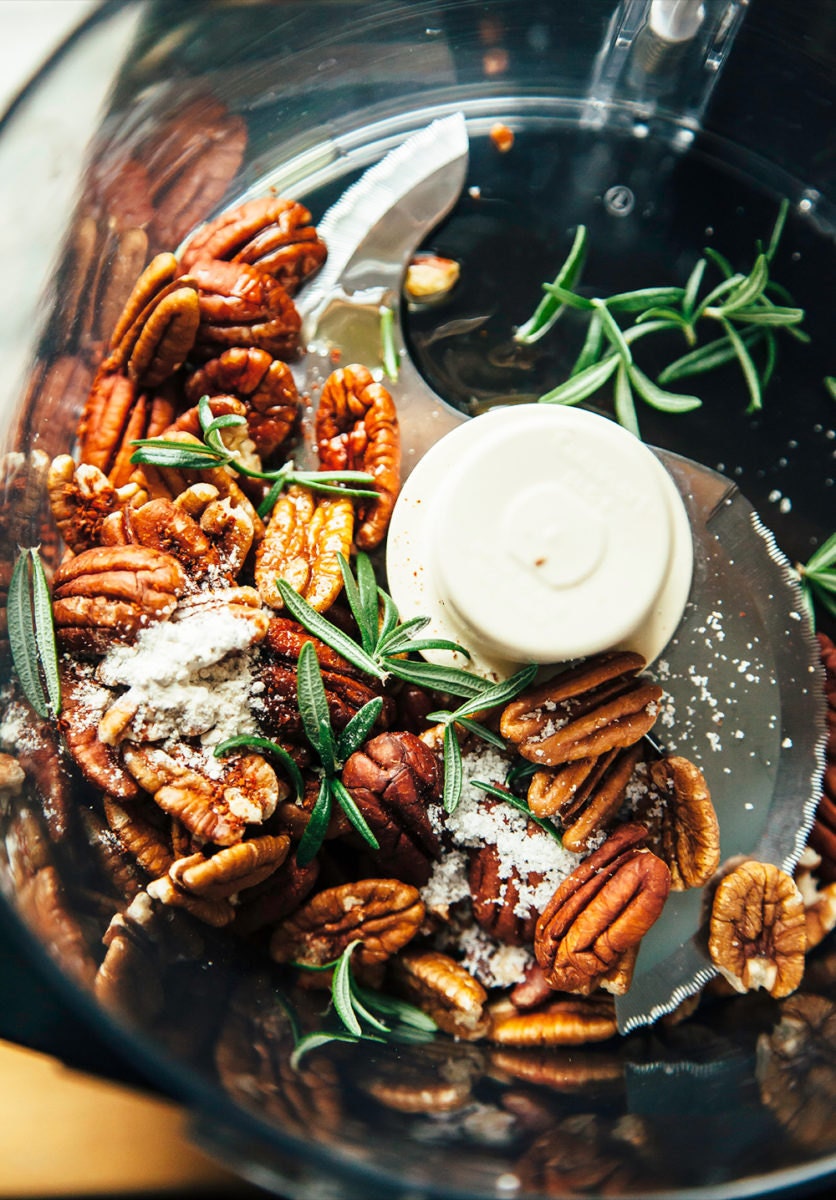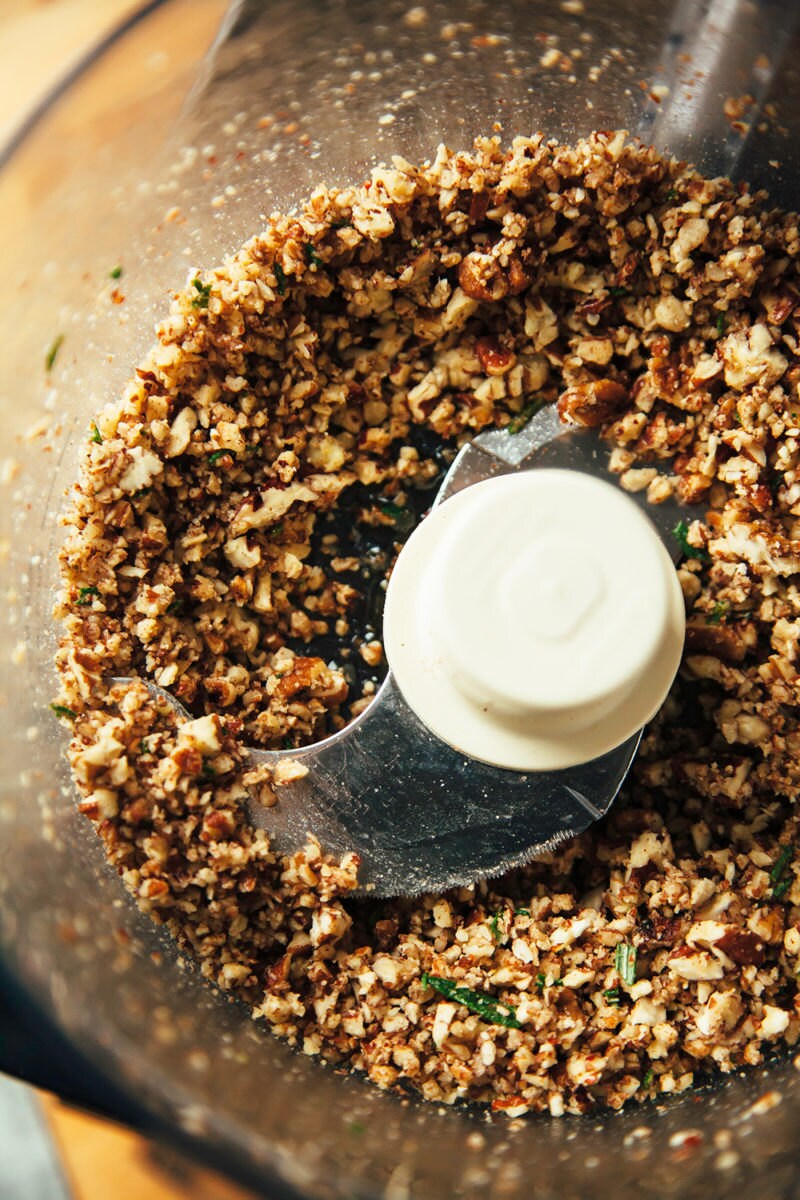 Step 6
: While the squash is baking, prepare the pecan topping. In a food processor, combine the pecans, rosemary, olive oil, maple syrup, garlic powder, cayenne (if using), salt, and pepper. Pulse the mixture until a crumbly, slightly wet meal forms.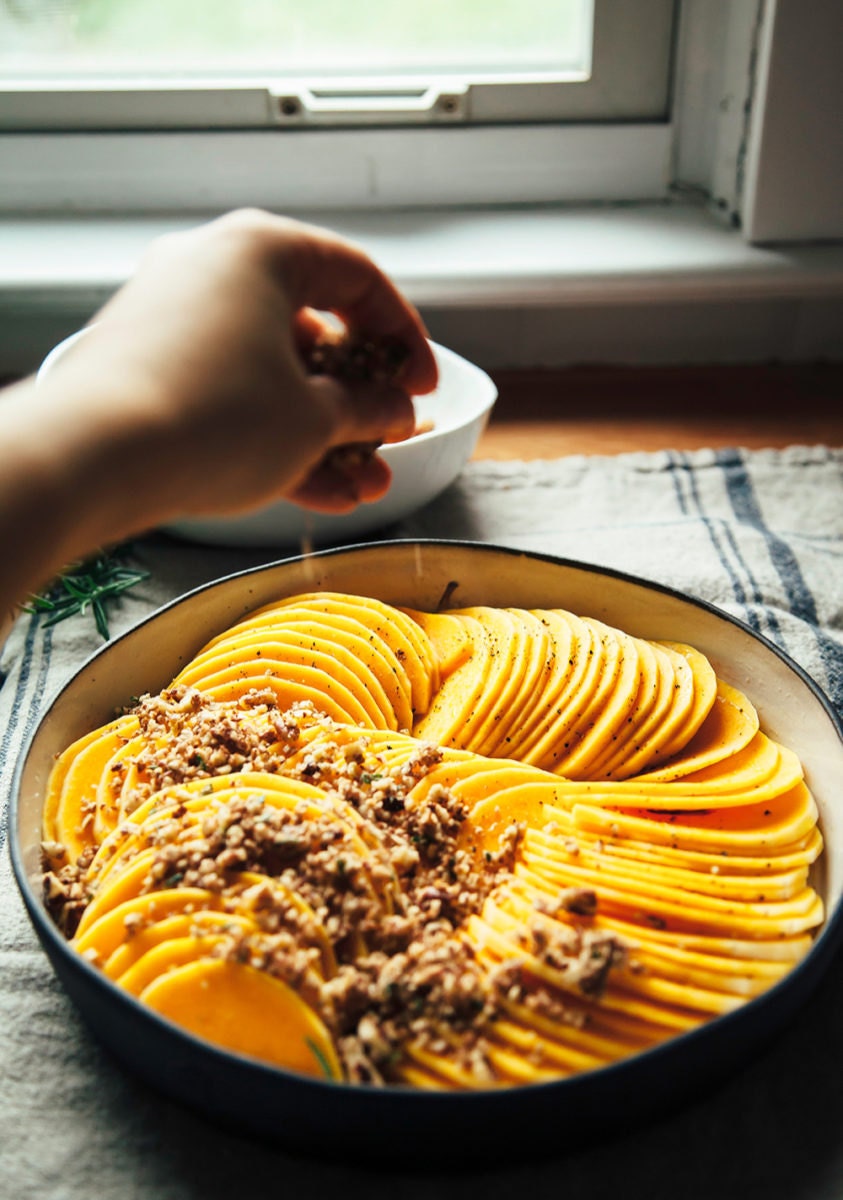 Step 7:
Remove the squash from the oven and discard the foil. Sprinkle the pecan topping evenly over the surface. Bake, uncovered, for another 30 minutes, or until the squash is tender and the pecans are nicely browned.
Step 8
: Remove from the oven and serve hot.
Product photo courtesy of 1220 Ceramics Studio; all other photographs by Laura Wright.