MP4 | Youtube | Blip.tv | Subscribe in iTunes
(Music by Bill Loose, Lineland, animation by JuliaPott)
Pam Kueber of blog
Retro Renovation
was originally looking for the Victorian farmhouse of her dreams in the Berkshires, but for various reasons (price, location, size) she and her husband ended up falling in love and purchasing a 1951 Colonial Ranch house instead. Although the house has aspects of a modern ranch house — the step down living room, the open dining room — a large portion of the house feels more Colonial or, as Kueber coined, "Mid-Century Modest." As opposed to Mid-Century Modern, Mid-Century Modest is less minimal in its decor, and instead incorporates collections of knickknacks that add touches of warmth and heart, such as
Stangl pottery
,
Cleminson wall pockets
,
Bargello needlework
,
Vera Neumann linens
,
Stylebuilt vanity sets
,
crocheted afghans
and
cast iron eagles
.
The one area of the house that needed a dramatic retro renovation overhaul was the kitchen. The dark wood cabinets from the house's 1971 renovation had since fallen into disrepair. Pam happened upon a few of the original steel cabinets left in the garage and knew that what her kitchen needed was a resurrection of the post-war fitted steel cabinets. She searched for five long years for the perfect cabinets to fit her extra large kitchen. It was at a non-profit center run by nuns where she ultimately found the cabinets of her dreams, 1963 aqua-blue Geneva steel cabinets. Everyone thought she was out of her mind installing grubby old steel cabinets into her newly renovated kitchen, but with a little elbow grease and some car wax she buffed those old cabinets to perfection and created a stunning post-war style kitchen.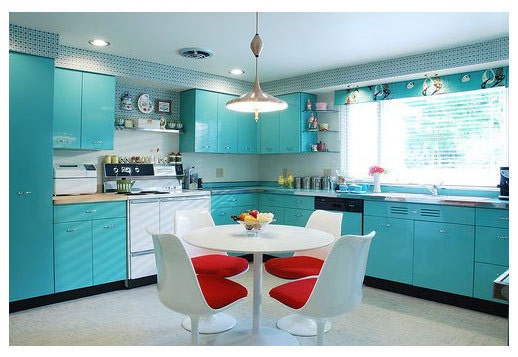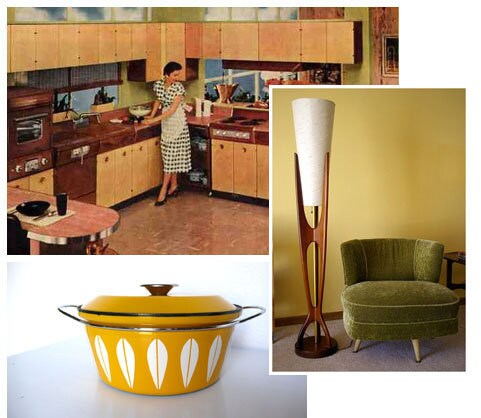 Eames era lamp
, From
51VC
, $845.
Catherine Holm Lotus Pot
, From
HausProud
, $80.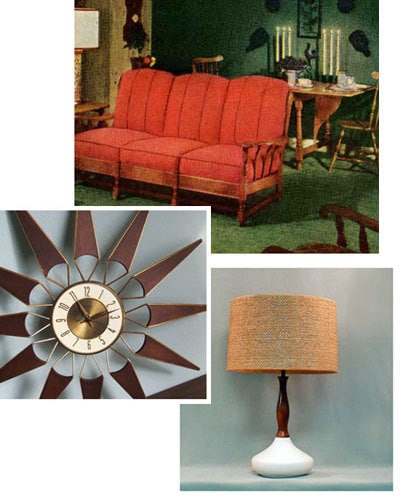 Teak Elgin Starburst Clock
, From
vintagebutterfly94
, $135.  
White Ceramic Onion Lamp
, From
LiseVintageLighting
, $175.     Retro Renovation offers a wealth of wonderful articles about mid-century decor. You can read about
Early American Design
,
1950s interior design
, as well as a
history of steel kitchen cabinets
.
Looking for more styles and interiors? Get involved and show us your amazing space in this Flickr pool.
What Etsy items would you add to your retro renovation? Leave a link in the comments!
Housewares Category | Vintage Housewares
More There's No Place Like Here Posts | Retro Renovation Blog