by NaughtySecretaryClub
Get a crash course in collecting from inside the quirky home of Jennifer Perkins, former DIY Network host and all-powerful queen of kitsch.
MP4 | YouTube | Vimeo | Subscribe in iTunes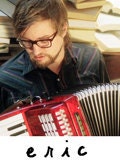 Welcome to the fabulous headquarters of Naughty Secretary Club, a vintage palace fit for a queen of craft. Jennifer Perkins is just that. If by some fluke you haven't heard of her, she's one of the original members of the Austin Craft Mafia, the author of her own book, as well as former host of the DIY Network's Stylicious and Craft Lab. She lives with her husband and their daughter Tallulah in Austin, Texas.
In this edition of
There's No Place Like Here
, Jen opens the doors to her curiosity-filled casa to share her perfect balance of well curated kitsch and collectibles. Amidst the bowling trophies and the
Enid Collins
purses lies the spirit of a true collector – one with enough brik-a-brak to furnish an island paradise. Jen gleefully declares that once you have three of something, it's a collection. She playfully adds, "Why stop there?"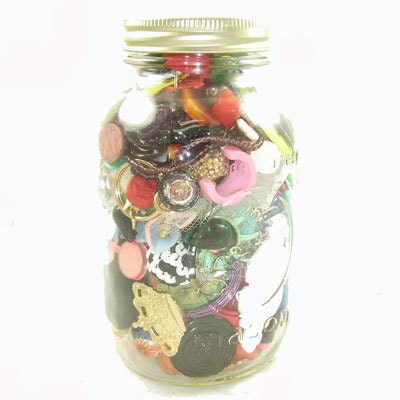 NaughtySecretaryClub is giving away one of her Crafty Curios Jars (as seen at right). All you need to enter is to leave a comment on this blog post. At 12 a.m. ET Tuesday, September 21, 2010, we will pick one lucky commenter at random.
(We apologize in advance that this sweepstakes is only open to U.S. folks over 18. Void where prohibited. 
Download a PDF
 of the full Rules and Regulations.)  
Do you dig Jennifer's style? Share your kitschiest tchotchke in the comments.
Looking for more styles and interiors? Get involved and show us your amazing space in this Flickr pool.
Housewares Category | Vintage Housewares