Learn how to recreate Tia Mowry-Hardrict's peaceful, zen interiors style in your own space with these chic, limited-edition home decor finds.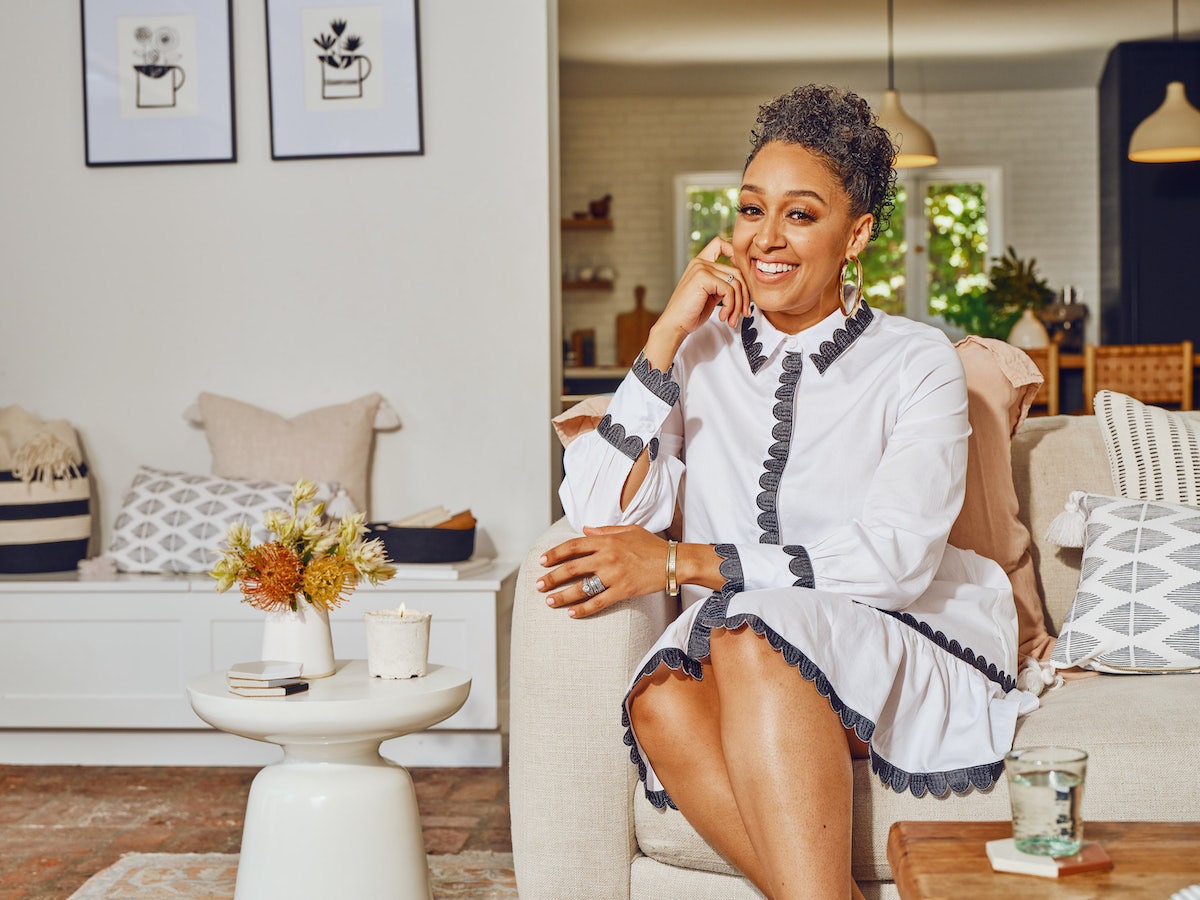 For actress, entrepreneur, and busy mom-of-two Tia Mowry-Hardrict, having a soothing home base is a must—especially these days when we're all spending a little more time under our own roofs. "I want to feel peaceful and zen when I come into my house," says Tia, who relies on a neutral color palette and a healthy dose of feng shui to cultivate tranquility in her family's chic LA pad. And starting today, with the launch of the exclusive Tia Mowry x Etsy collection, co-designed by Tia and nine brilliant Etsy sellers, we can all achieve a similar vibe in our own spaces with a little help from pieces like cozy pillows, streamlined ceramic serveware, and serenity-inducing candles, just to name a few. "My home is the place where I can unwind and make incredible memories with my loved ones—and I hope the items in this collection allow others to tap into that same sense of calm in their own homes and lives." Scroll on for three ways to get Tia's enviable interiors style; then shop the limited-edition Tia Mowry x Etsy collection.
Opt for pretty storage solutions to cut out clutter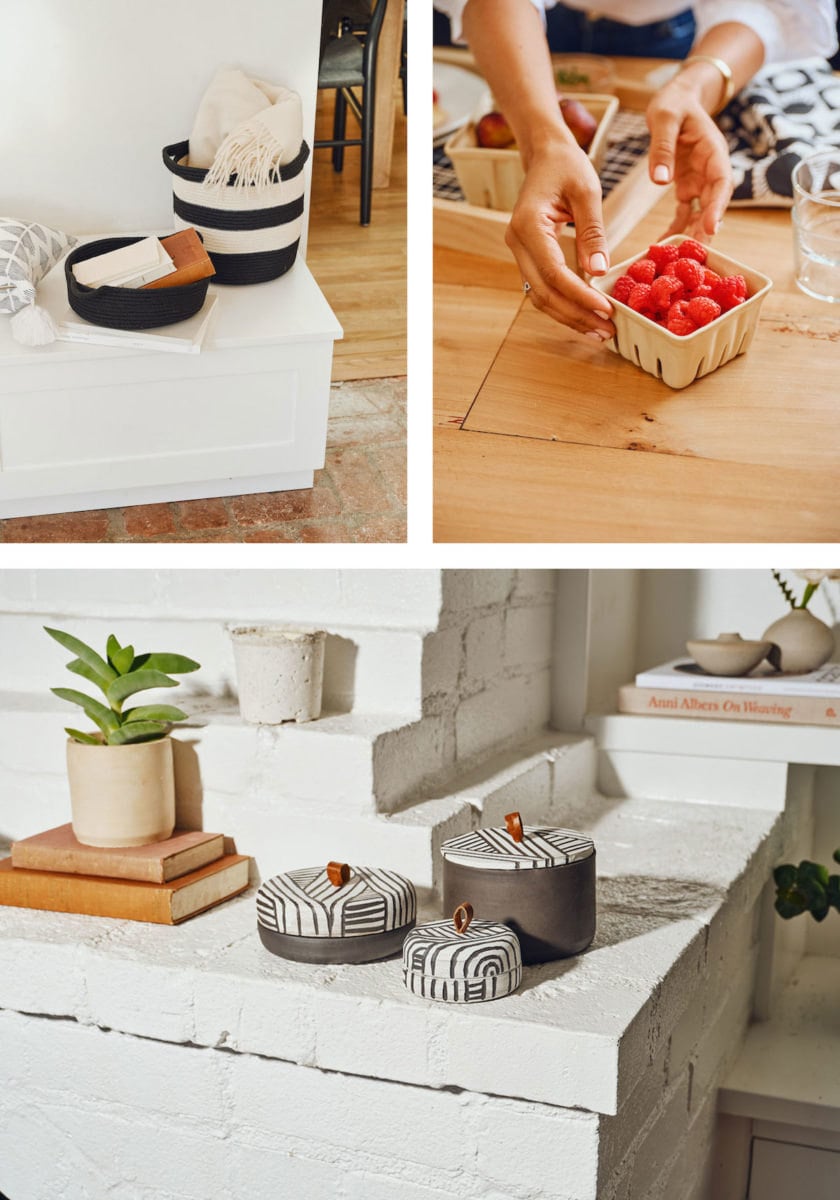 From the cooking utensils in her kitchen to the toys in her son Cree's playroom, every item in Tia's thoughtfully outfitted abode has its own dedicated place. "I believe that when you have a cluttered home, it leads to having a cluttered mind—which is where organization comes in," she says. For versatile storage options that double as decor, start with monochromatic woven baskets, perfect for holding bonus blankets in the living room or serving as a conveniently placed mail receptacle. When it comes to stashing smaller odds and ends you might prefer to tuck out of view (looking at you, loose rubber bands!), try a set of hand-painted lidded jars, complete with recycled leather pull loops for easy access. Last but not least, in the kitchen, sleek ceramic berry baskets serve as a polished upgrade from your supermarket's cardboard containers—and just in time for berry-picking season! Says Tia: "I love that these come in pint and quart versions, depending on the size of our haul." 
Add personality with a playful pop of pattern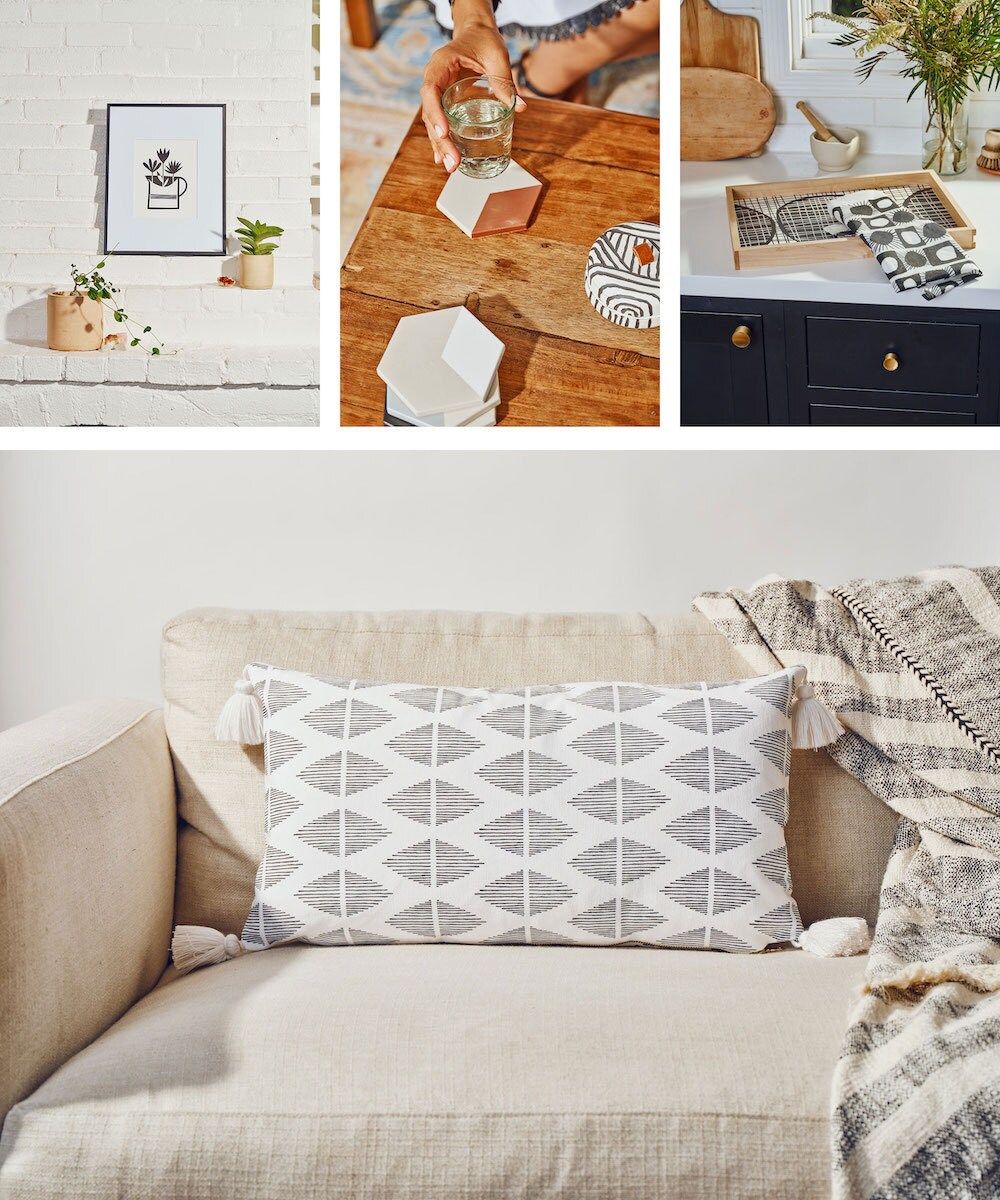 When you're working with a modern, monochromatic decor palette like Tia's, weaving in unexpected pops of pattern engages the eye and adds dimension, while still maintaining a sense of cohesion. To get the look, layer tassel-trimmed lumbar pillows in an boho triangle motif with coordinating cushions in solid hues—and don't be afraid to really pile them on. "When it comes to pillows, I'm definitely a more-is-more kind of girl," says Tia. For more opportunities to pull in pattern, geometric coasters with painted diamond accents add flair to any practical coffee table or countertop setup, while framed line-drawn florals bring fresh life to gallery walls (or beautifully hold their own above the mantel). And for your next backyard happy hour, why not whip out a bold, print-splashed tray and tea towel to help transport cocktails and wipe up any accidental spills? "The tray is great for serving up drinks and snacks," says Tia, "but I can also imagine displaying it on my bedroom dresser to help keep my jewelry tidy." 
Try textured details—a little goes a long way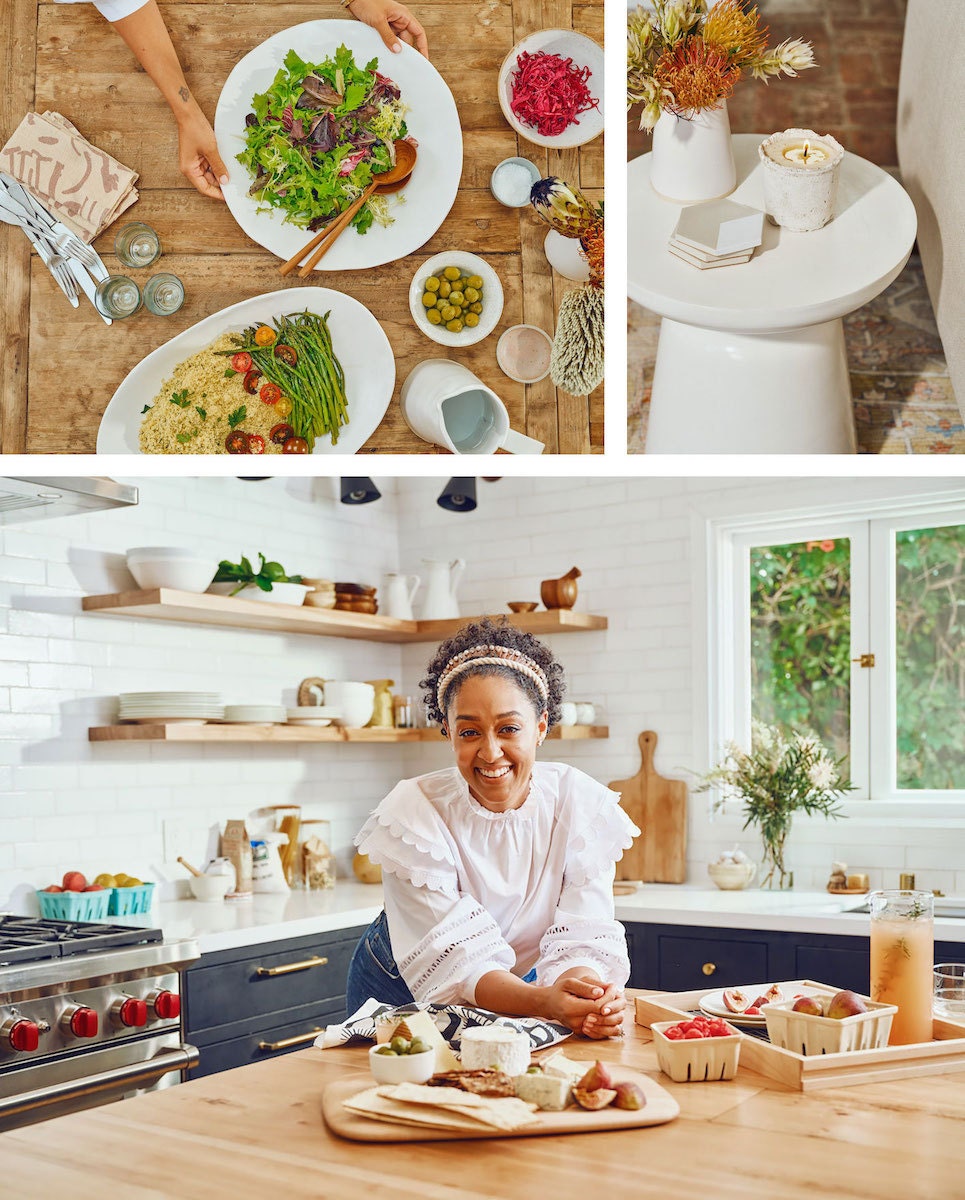 "Like pattern, texture is another easy way to add visual interest to a space, and I love how many different materials and finishes exist harmoniously within the collection," says Tia. "Playing around with different textures within a cohesive color scheme is a great way to preserve that minimalist vibe without things getting boring."  To set a serene scene, begin with an eye-pleasing assortment of smooth, milky-white ceramic pitchers, bud vases, platters, and serving bowls in a mix of organic shapes—perfect for dishing up low-key Sunday dinners with friends and family. A complementary candle in earthy ecru adds ambiance and a touch of edginess, with its rough-hewn industrial vessel crafted from a special, lightweight blend of concrete. "Plus, when the candle is finished, you can repurpose the holder as a planter—how cool is that?" says Tia.
Photography by Jack Strutz.