Homemade dumplings are a delicious holiday treat and a hands-on family bonding activity all at once.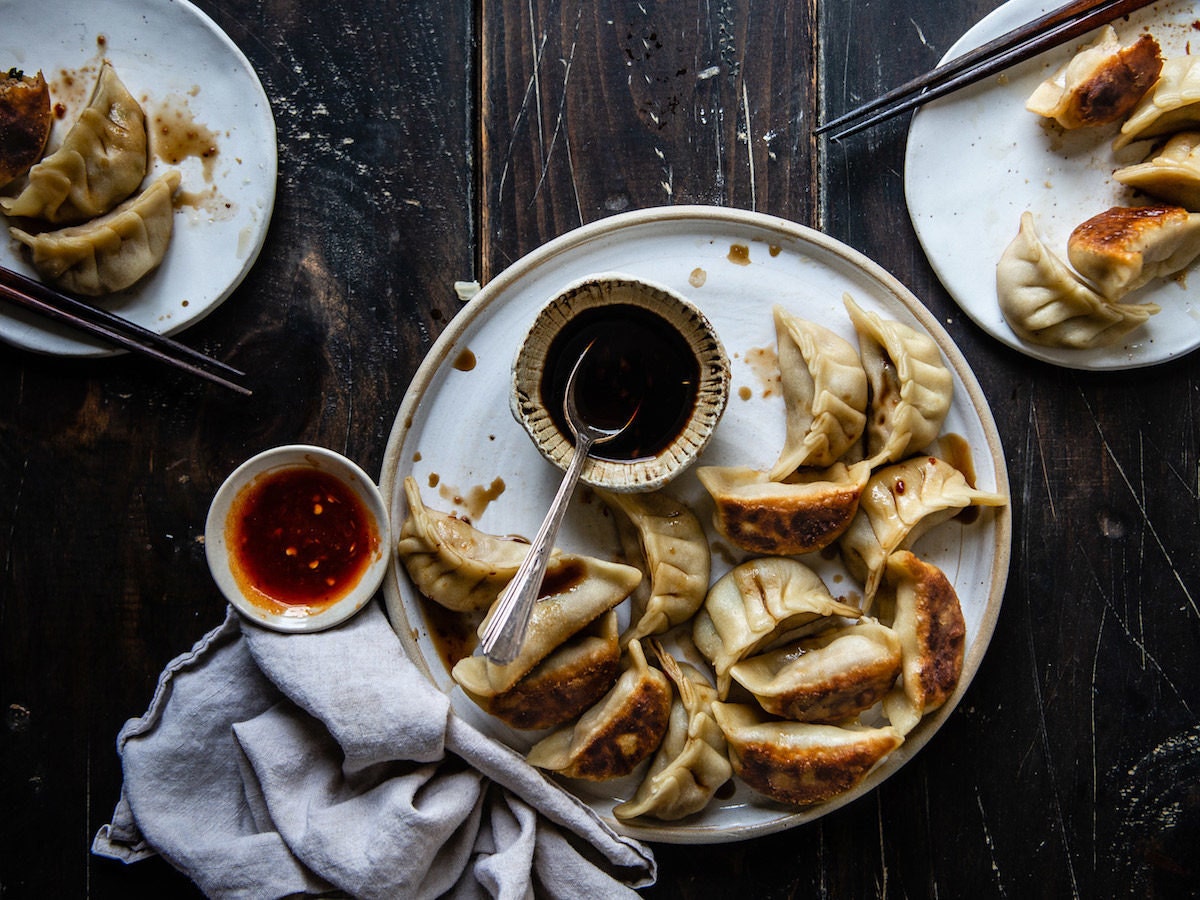 In our "Old Recipe, New Dish" series, we ask a few of our favorite food bloggers, cookbook authors, and culinary up-and-comers to share a go-to holiday recipe that's close to their hearts—and serve it up in a handcrafted piece of tableware made by an Etsy seller.
Two Red Bowls
Creator Cynthia Chen McTernan didn't grow up making potstickers from scratch. "My family is a wonton family," says Cynthia, who hadn't given the takeout staple much of a thought until she moved to Boston for law school and began devouring them by the dozen in the city's Chinese restaurants. "That's when I fell in love." And once the self-taught cook, food blogger and photographer, and author of the cookbook
A Common Table: 80 Recipes and Stories From My Shared Cultures
, nailed her technique for making them at home, there was no going back.
"One of my favorite holiday food memories is the first Thanksgiving I ever celebrated with my husband (then-boyfriend)," Cynthia recalls. She was spending a semester of law school in Hong Kong, and when her partner flew out to visit, they prepared a feast of dumplings and instant noodles in her tiny studio apartment, equipped with only a one-burner stove. "We ate on the floor sitting on pillows, and it was the coziest holiday," she says. "Since then, it's become a tradition for us to make potstickers on Thanksgiving or Christmas (and often instant noodles too, just for fun!)."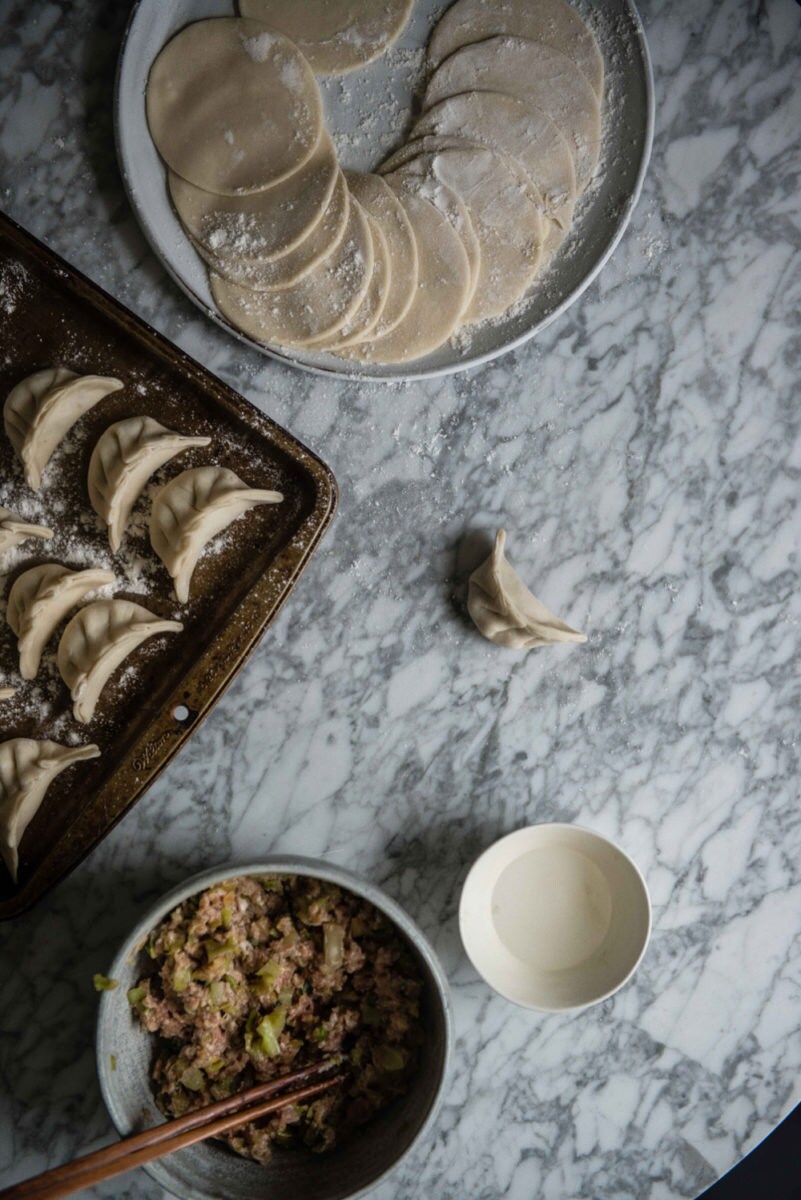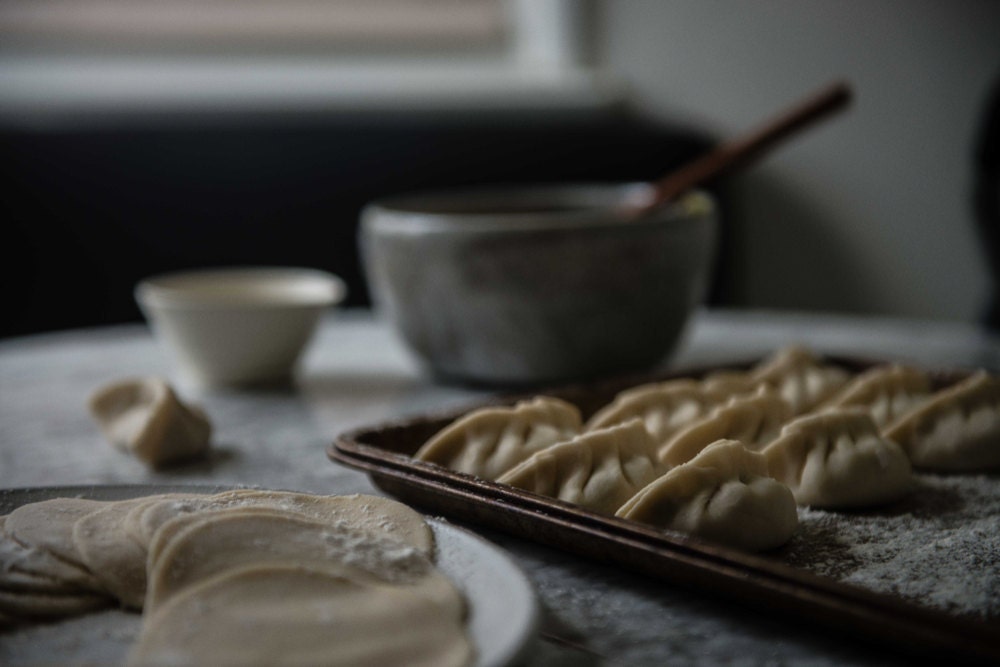 About the recipe:
"I love this recipe because it connotes connection with others. It's best when you make it with friends and family, gathering around and folding potstickers together—it's the epitome of the saying, 'many hands make light work,'" says Cynthia. "Plus, they're just absolutely delicious—and you can put all sorts of whatever you like into the filling to make it your own, from kimchi to leeks to Brussels sprouts, and from shrimp to tofu to pork. If you want to go completely from-scratch, you can find a recipe for homemade wrappers in my book, or opt to streamline the process with store-bought dumpling wrappers, as in the recipe below."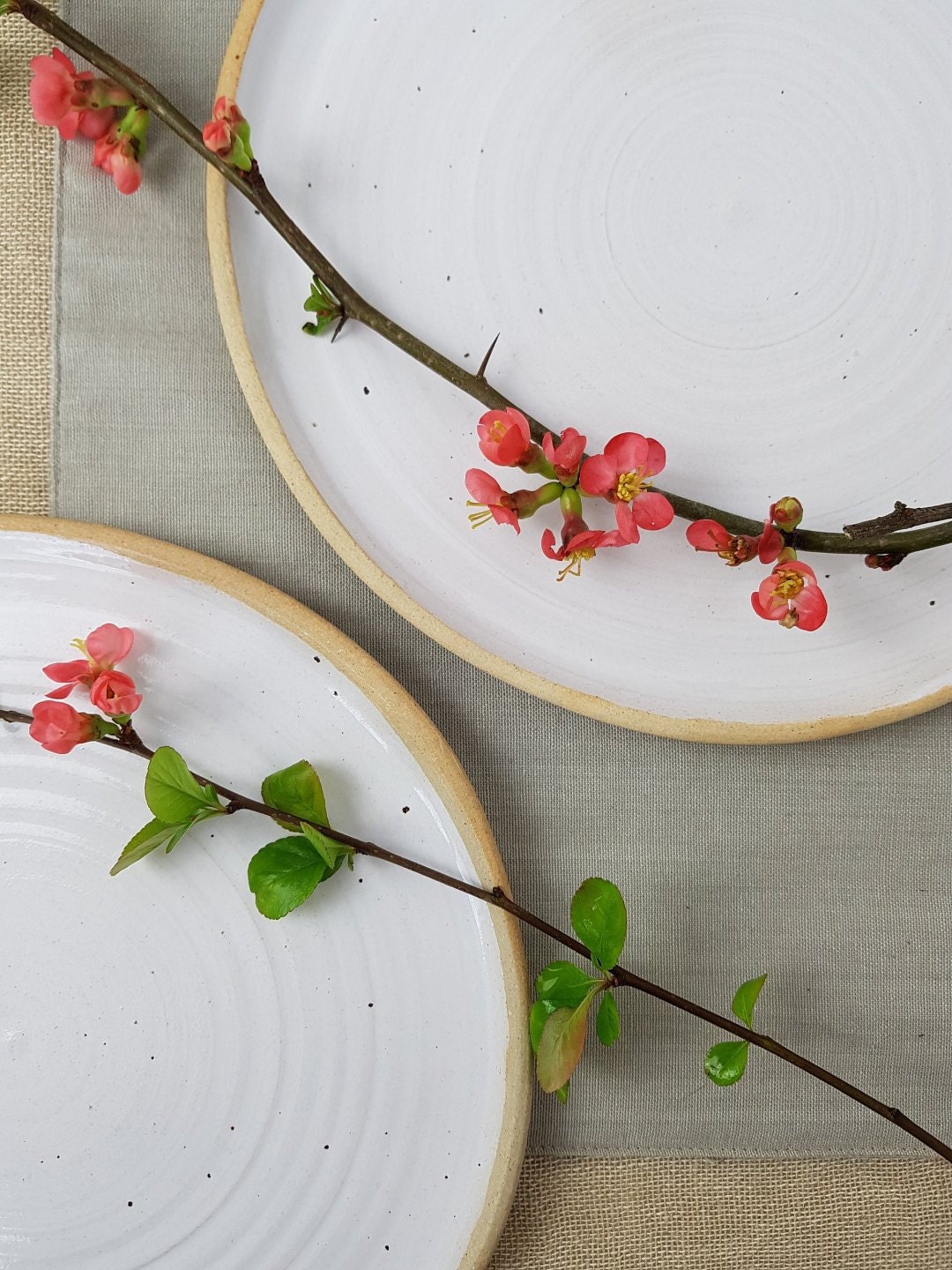 >
About the dish:
"For potstickers in particular, big shallow plates are wonderful, and I love that this one from 
Libby Ballard Ceramics
has a bit of a rim to catch the sauce," says Cynthia. "I also love the clean and minimalist, but still homelike, quality to this design—the subtle speckles give it such character. Neutral, earthy tones are my favorite, because you can collect all kinds and they still feel uniform when you put them out for guests."
Let's get cooking:
Potstickers (Guo Tie)Serves
: 2 or 3 (40–50 small dumplings)
For the filling, you will need: 
1 1⁄2 cups shredded napa cabbage, or 1 cup shredded regular cabbage (see step 1), or 1 cup other hardy, leafy vegetable (kale, Swiss chard, or even shaved Brussels sprouts work well here)
1⁄2 teaspoon salt, plus 1⁄4 teaspoon more if using napa cabbage
1⁄2 pound ground pork (ground chicken or turkey also work well here)
1⁄4 cup finely sliced scallions (2 to 3 scallions)
2 tablespoons soy sauce
2 teaspoons sesame oil
1 tablespoon Shaoxing rice wine, dry sherry, or sake
2 teaspoons minced garlic (1 to 2 cloves)
1 teaspoon finely grated ginger root
1⁄2 to 1 tablespoon sugar, to taste
1 tablespoon cornstarch
To assemble and fry, you will need
:
40-50 storebought potsticker wrappers (look for the round ones for potstickers, not wontons; Dynasty brand is commonly available and works well) or 1 batch homemade wrappers from A Common Table
1 to 2 tablespoons neutral oil
For the dipping sauce, you will need
:
2 tablespoons Chinkiang black vinegar
2 tablespoons soy sauce
2 to 3 teaspoons chili garlic paste (1 to 2 teaspoons sriracha also works)
1 teaspoon dark brown sugar
Step 1
: If using regular cabbage or another leafy vegetable, skip this step. If using napa cabbage, rinse the cabbage, then sprinkle ¼ teaspoon salt over the leaves and let it sit until it wilts and releases water, 10 to 15 minutes. (Otherwise, the water is released while cooking and can result in soggy dumplings.)
Step 2
: Combine the cabbage and pork together in a large bowl. Add ½ teaspoon salt, the scallions, soy sauce, sesame oil, rice wine, garlic, ginger, and sugar, and mix well. Sprinkle the cornstarch evenly over the mixture and mix again until well combined.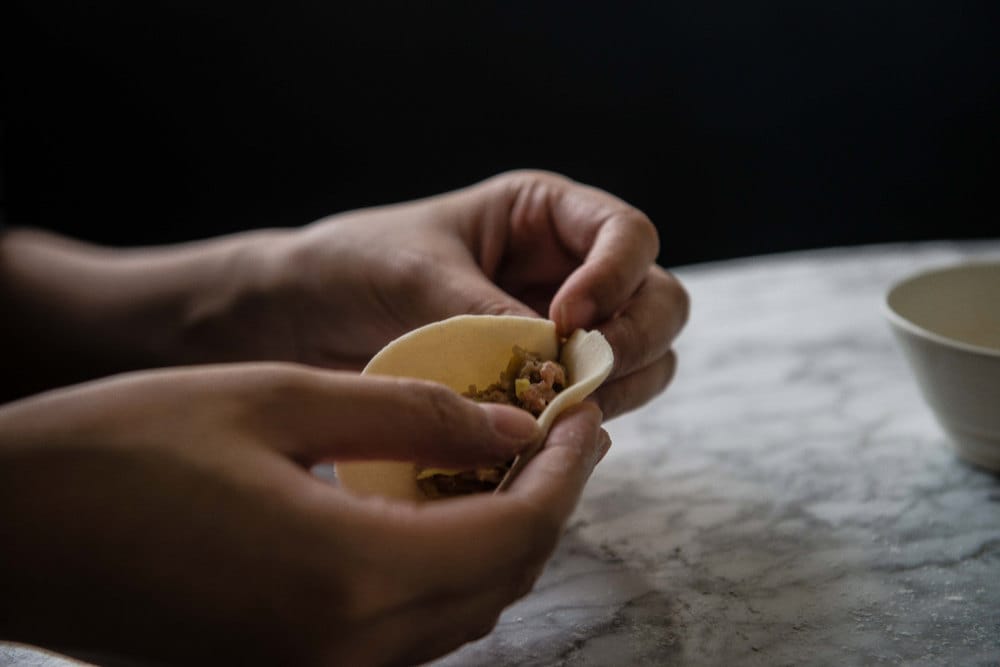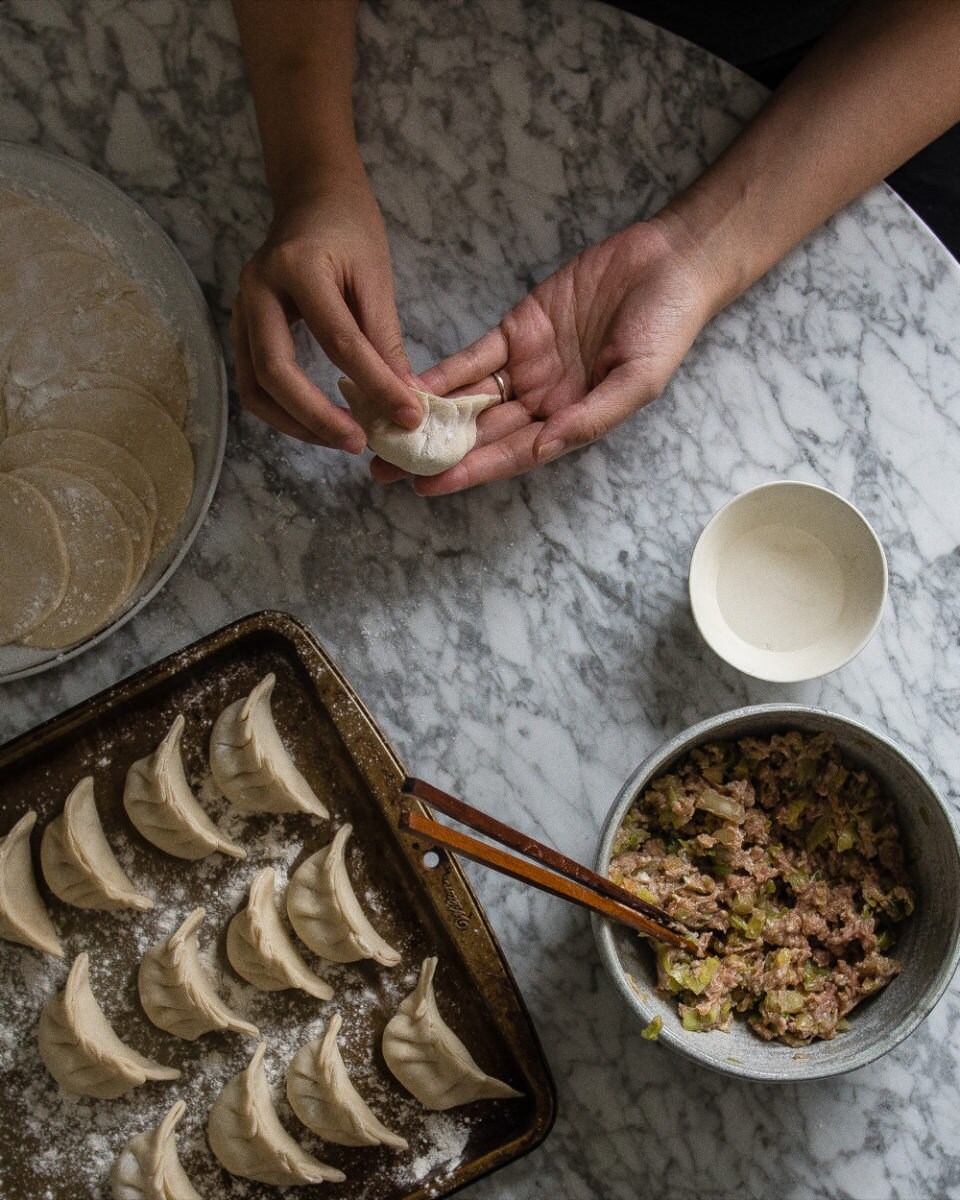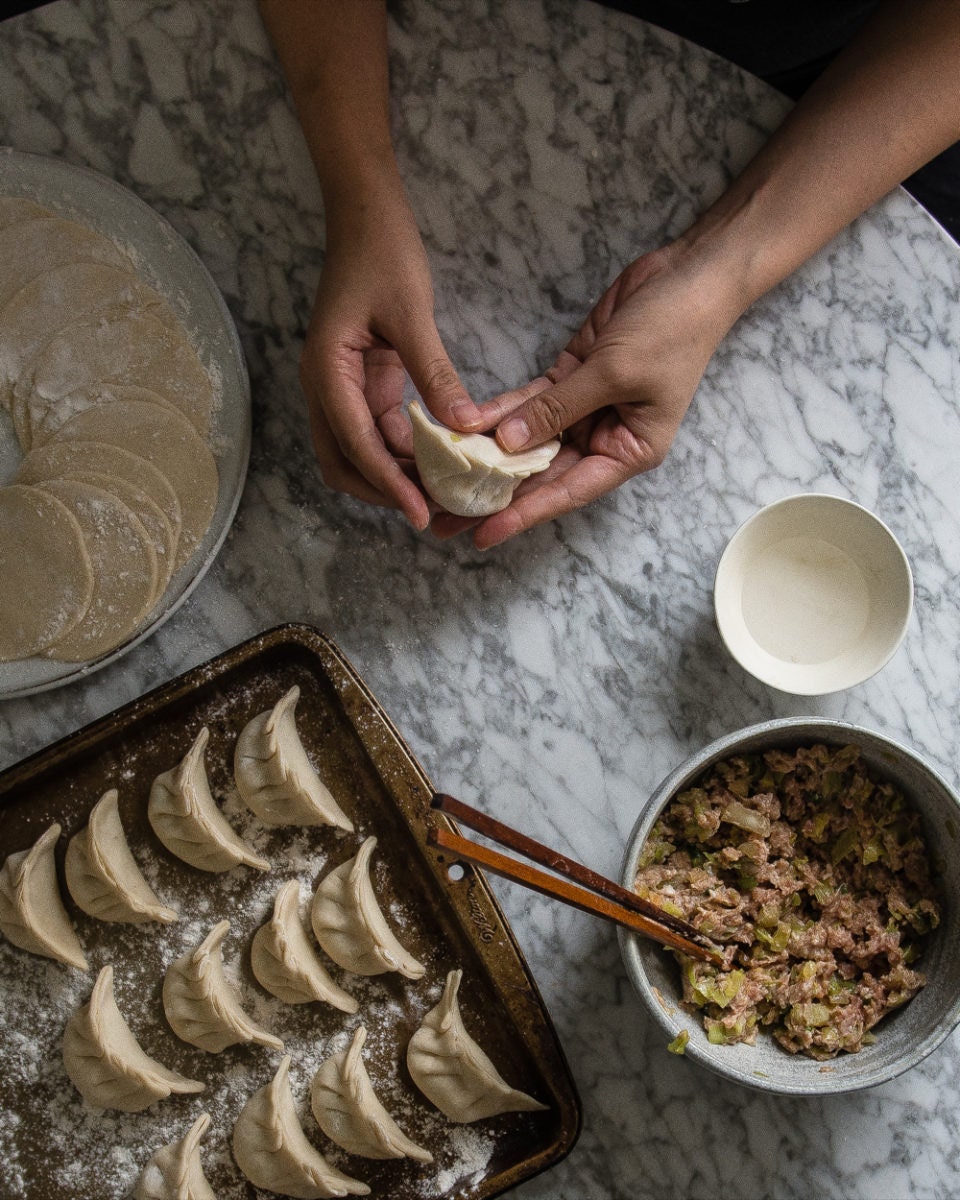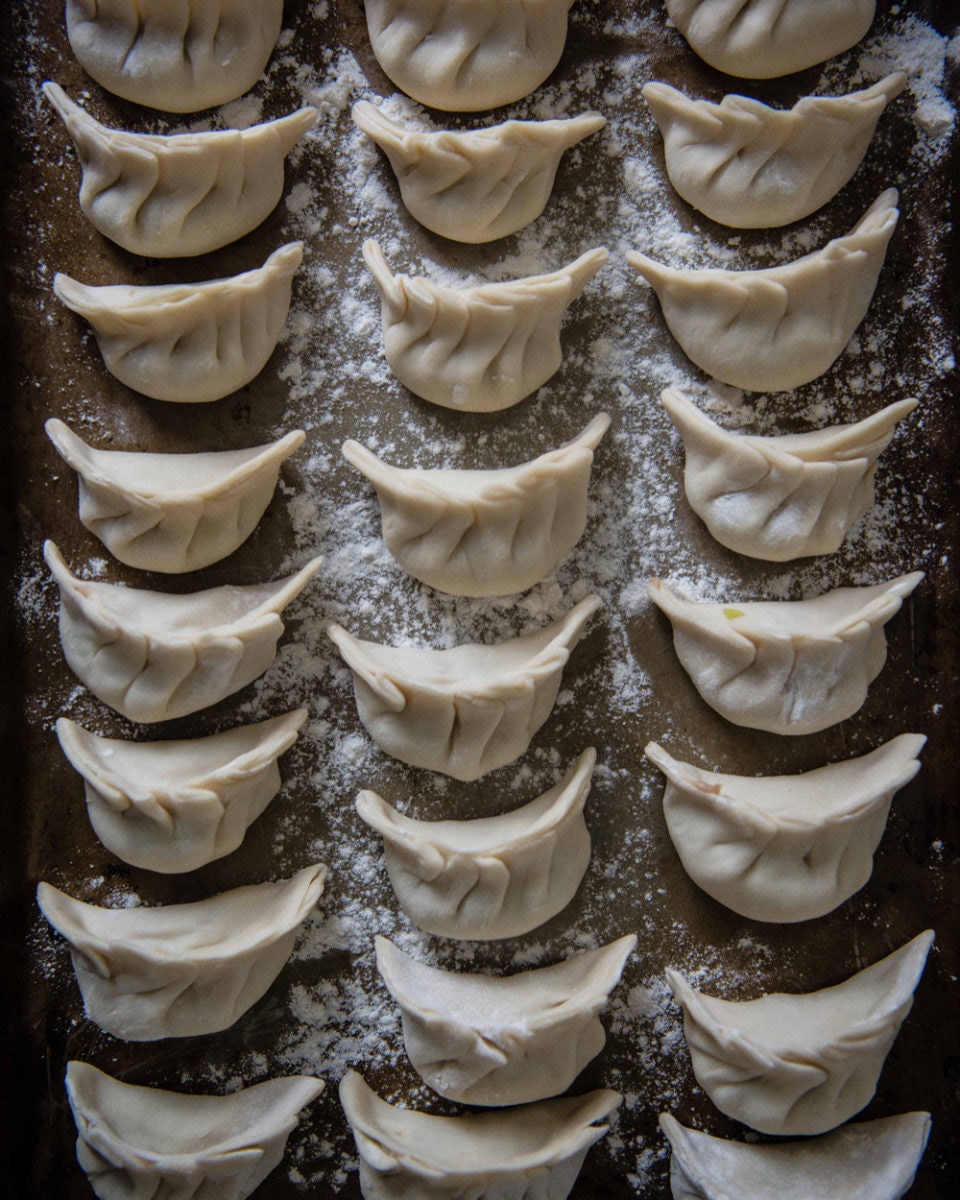 Step 3
:
To pleat:
To pleat the dumplings, place about 2 teaspoons of filling in the center of a wrapper. Lightly fold the wrapper in half to make a half-moon shape, like you're making a taco, but keep the edges apart. Dampen the inside of one edge to help seal, if needed, then gently make pleats, pressing one side to the other as you go. Once the dumpling is fully pleated, pinch all along the pleats to make sure the dumpling is tightly sealed. Place the dumpling on a plate, seam-side up, and press down slightly to create a flat bottom. Set aside and cover with a damp dish towel while you pleat the rest. Alternatively, simply place about 2 teaspoons of filling in the center of 1 wrapper, then fold in half and pinch the edges shut to form a flat half-moon.
Step 4
:
To cook
: In a large skillet or wok that can be covered, heat about 1 tablespoon oil over medium-high heat until shimmering. Add as many dumplings as will fit in a ring around the edge of the pan, flat-side down. If you like, you can leave a little room in between to ensure they won't stick to one another.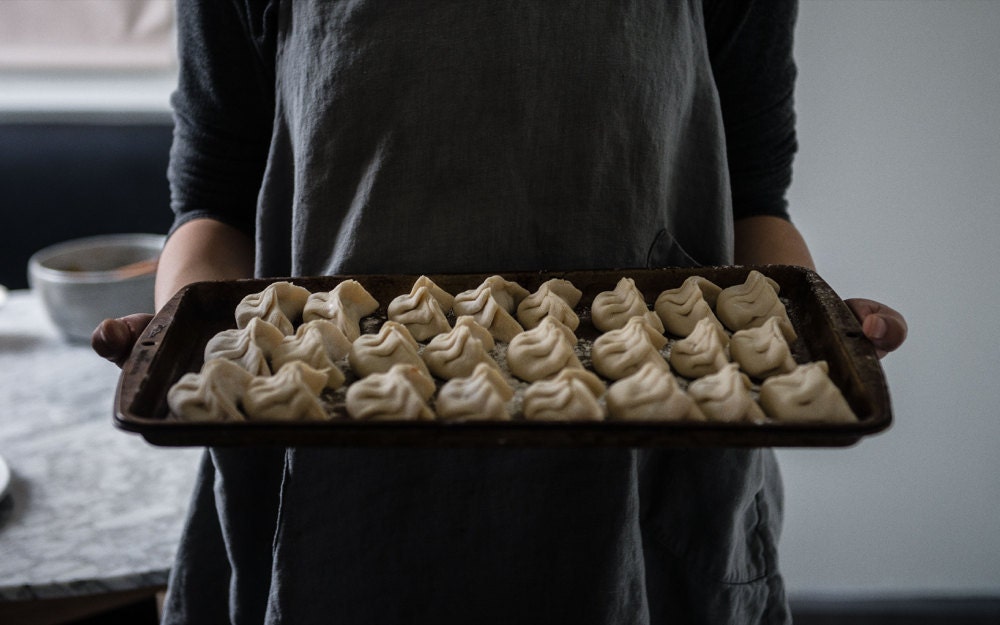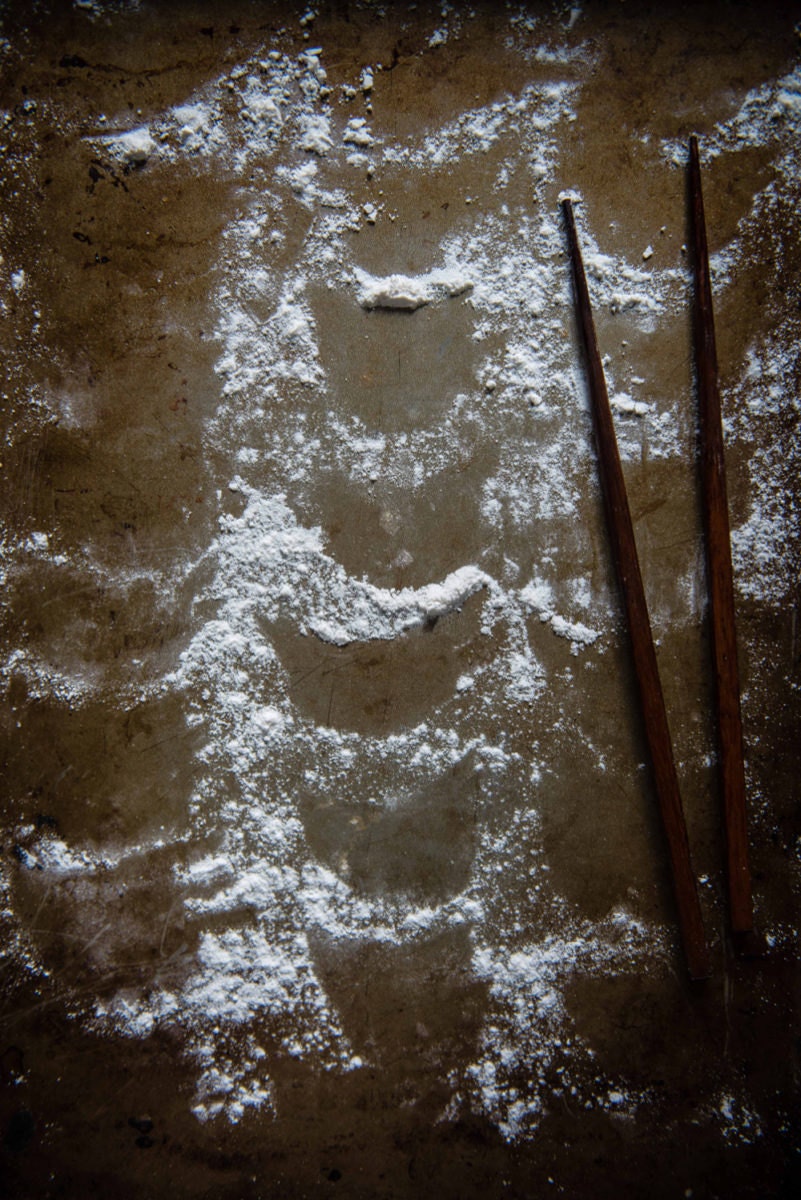 Step 5:
Cook the dumplings until the bottoms are crisp and nicely browned, about 2 minutes. Drizzle 2 to 4 tablespoons of water into the pan (enough to cover the bottom of the pan) and cover. Steam until the dumplings are cooked through and the wrappers are no longer doughy, 4 to 6 minutes. If the water cooks off during that time, add another tablespoon or so, and reduce the heat to medium.
Step 6
:
Meanwhile, make the dipping sauce
: Mix all the sauce ingredients together. Set aside until ready to eat.
Step 7
:
To finish
: When the dumplings are cooked through, remove the cover and let any residual liquid in the pan cook off—this helps nice crisp crusts form on the bottoms of the dumplings. Remove to a plate, wipe out the skillet or wok, and repeat as necessary with the remaining dumplings. Serve immediately, with dipping sauce on the side.
Note
: Depending on how full you fill your dumplings, you might have a bit of filling left over, which makes great patties to eat with rice. For about ½ cup leftover filling, add one egg and 1-2 more teaspoons cornstarch. Whisk until well-combined, then fry dollops of about ¼ cup of the mixture over medium-high heat until you have patties that are nicely browned on each side.
Reprinted from A Common Table: 80 Recipes and Stories From My Shared Cultures. Copyright © 2018 by Cynthia Chen McTernan. Published by Harmony Books, an imprint of Penguin Random House.
Product photo by Libby Ballard Ceramics; all other photographs by Cynthia Chen McTernan.