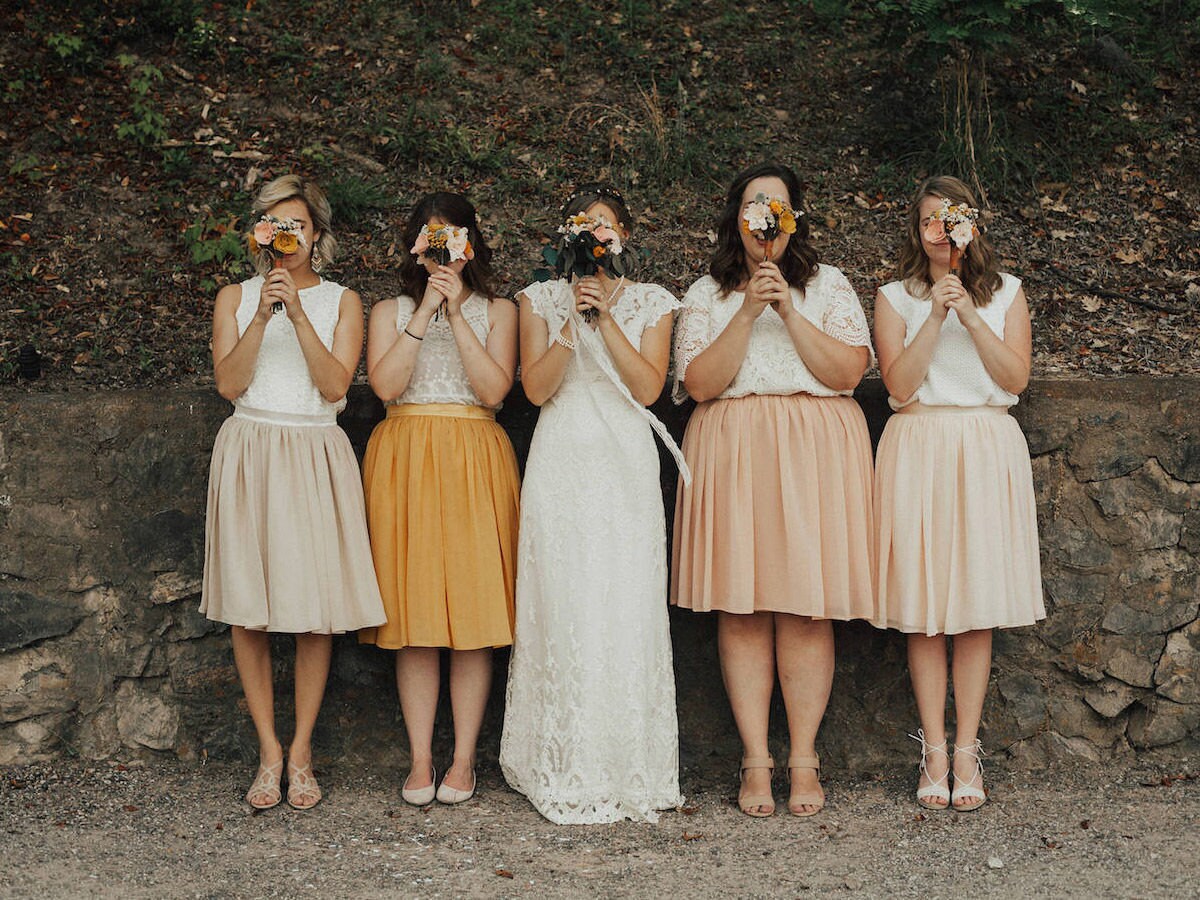 Looking for bridesmaid gifts that will wow them? We've rounded up 34 incredible options from Etsy that are as unique and special as they are.
Buttercream or fondant? Ivory or ecru? Chiffon or crepe? When you're planning a wedding, it can quickly start to feel like every little decision carries a tremendous weight. Luckily, you've got a trusted network of bridesmaids who've always encouraged you to do things your own way. Never mind what your great-aunt Bernice thinks—your bride squad will be the first to remind you it's your day, and if you want to wear pink and serve key lime pie then, girlfriend, you should go for it!
Of course, that leaves you with one more important choice to make: bridesmaid gifts. How can you personally thank each of those irreplaceable women for supporting you through all of life's major moments? To show them your appreciation is boundless, think beyond the wedding weekend and give each bridesmaid a timeless gift that's personalized to match her signature style. From elevated clutches to playful earrings that pop, here are fresh takes on classic bridesmaid gifts that go the extra mile—just like they always have.
One-of-a-kind statement earrings
They might all be clothed head to toe in taffeta, but your bridesmaids can still make a unique statement on your big day (and beyond) with unexpected accessories chosen just for them. One foolproof gift option? Notice-me earrings as bold as their personalities.
Bright boho hoops are likely to crop up in your color-loving confidant's post-party rotation, whether she's rocking a fun, flirty jumpsuit or jeans and a T-shirt.
A radiant pair of starburst earrings are versatile enough to put on for video calls long after the wedding's done.
For vintage-loving besties, try enamel flower earrings reminiscent of the brooches you used to thrift together back in the day.
Does she have a certain je ne sais quoi? These chic spherical earrings are sure to take it up a notch.
Sunshine-yellow seed bead earrings are fitting for the friend with enduring optimism.
A custom token of sisterhood
You and your childhood crew may have come a long way since you rocked matching BFF necklaces, but that doesn't mean you've outgrown the appeal of accessories that feel extra personal. From birthstone rings to custom keychains, these bridesmaid gifts feel especially her.
Show your girls you really see them with miniature magnets of their smiling faces. Because friends like you stick together.
For a custom gift with contemporary staying power, try an initial keychain that features flecks of glimmering gold or shimmery silver.
Go above and beyond (like she does!) with a dainty ring that's embellished with both her birthstone and her first initial.
Some friendships are written in the stars—and a zodiac jewelry dish made of sleek stoneware reinforces that yours is one of them.
A cute coverup
With a little savvy planning, the go-to garment for your girls' getting-ready photos can also be a gift they'll use for years—as a chic spring jacket, travel-friendly layering piece, or breezy wrap for the beach. The best part? You can get a matching one for you, too.
Even the most down-to-earth lady will feel like royalty in a flattering patterned duster that drapes effortlessly.
For your minimalist-minded bestie, try a luxe linen shirtdress she'll be thrilled to add to her capsule wardrobe.
Just like your quirky crew, a hand-dyed robe is truly one-of-a-kind.
A timeless floral-print wrap in ochre and rose gold transcends the seasons.
An uncommon carryall
An eye-catching evening bag has the power to take any ensemble to the next level. And whether she's hitting the dance floor at your reception or attending a soiree six months later, your fashion-forward friend will surely make the most of a well-designed clutch that can be dressed up or down. Be sure to scoop one up for a bridesmaids gift that really packs a punch.
Art lovers will appreciate a hand-painted pouch.
A fringed macramé bag adds instant beach vibes, even if she's miles from the coast.
Honor all those nights you stayed up late chatting with a half-moon shaped wristlet.
For the most comforting friend who gives you warm and fuzzy feelings: a clutch to match.
A work of art for her walls
Much in the way you might frame your wedding invitation as a marital keepsake, gifting your bridesmaid with a personal piece of art is a touching way to commemorate a specific moment in the life of your friendship—and to thank her for standing beside you on your journey to the big day.
Honor your bond with an illustration as fun as the times you've spent together.
Or choose a work that speaks to your unique history—like a custom papercut map of your shared hometown.
Say "thank you" for being there through rain and shine with a rainbow fiber-art wall hanging.
Remind her you'll always be by her side with a colorful print that strikes all the right notes.
Tasty treats
There's nothing more comforting than breaking bread with your best girls, whether you're sipping tea or spilling it—and for friends who've seen you through late-night pizza runs, dinner parties, and, ahem, planning your entire wedding menu, a gastronomic bridesmaid gift is only appropriate.
For the friend who's always inspiring you to try new things, a coffee sampler set repays the favor.
Does she swear by matcha lattes? If so, go for a matcha chocolate brownie mix.
Your foodie friend will adore a honey tasting trio she can drizzle on her granola or use to assemble an A+ cheese plate.
Fair warning: A box of mouth-watering chocolate and coconut cookies might be gone before she even gets home.
A kit to make her own keepsake
Whether you're getting your crafty crew together for a group bonding sesh before the big day or treating her to some supplies she can take home post-party, a kit to make a DIY keepsake is a creative way to show her how much she means to you.
Birch wood flowers are always in bloom—and she'll never even have to water them.
Hand-dyed pillows will add instant pep to her living room.
The perfect weekend project: completing a custom embroidery hoop while catching up on all her shows.
Help her preserve the petals from her bouquet with an artful flower press.
Stylish statement earrings will make an even bigger splash when she tells admirers that she made them herself.
Personalized pampering
Nothing says "thank you" better than the gift of TLC, and after months of carrying out her bridesmaid duties, she'll welcome a little hard-earned me-time. But self care looks different for everyone, so make sure each of your ladies is prepped to decompress with her own custom kit.
A reusable spa gift set means she can recreate her self-care rituals again and again, while going easy on Mother Nature.
A beautifully-packaged box of bath soaks will help her recover from breaking out all her trademark dance moves at the reception.
Because drinking mimosas together is sort of your thing: a citrusy scented candle she can unwind with.
Soothing lavender essentials will help her take her self-care game to new heights.
Looking for great groomsmen gifts and unique wedding registry ideas too? We've got 'em.