From brilliantly hued gems to sculptural stacked bands, these unique engagement ring styles put a fresh spin on classic rings for modern couples.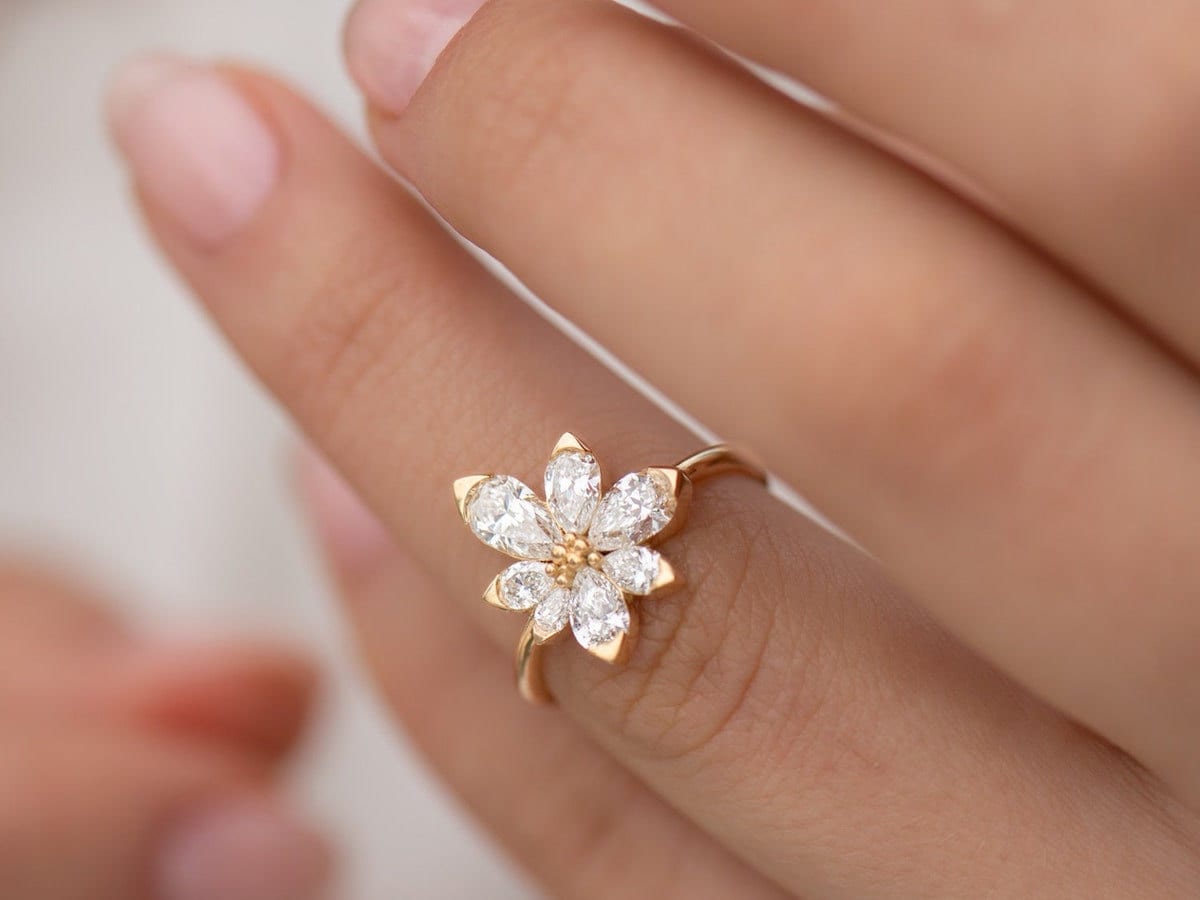 Marriage may be an ancient institution, but these days, more and more couples are forgoing old-school traditions in favor of fresh, one-of-a-kind wedding celebrations. Which means, for the moment they embark on their new future together, any old ring won't do.
Whether they lean towards classic silhouettes and larger-than-life gemstones or fashion-forward minimalistic remixes on tried-and-true staples, couples are looking to mix it up with their engagement jewelry and think outside the box to find unique engagement ring styles that suit them to a T. After all, this is a piece of jewelry that's meant to endure through a lifetime of memories, laughter, and love—we're here to help you find the perfect fit.
Brilliant gemstone clusters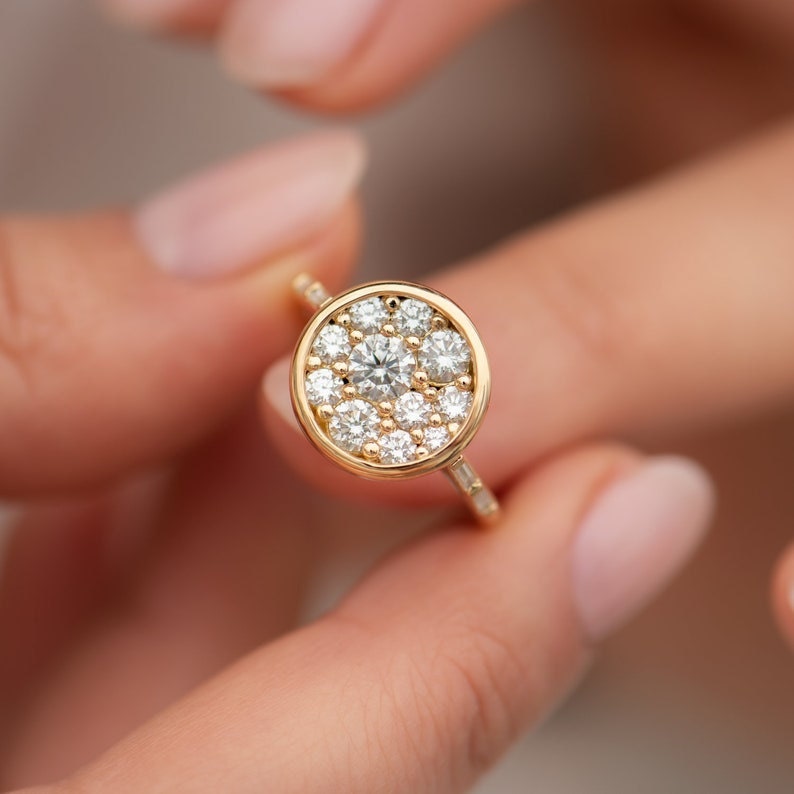 You heard it here first: Symmetry is overrated. These days, many handmade and vintage sellers on Etsy are leaving balanced, by-the-book settings behind in favor of bespoke cluster rings that gather multiple smaller stones onto a single band, often mixing cuts and colors along the way. While cluster rings can vary greatly depending on the size and placement of the stones, one thing is certain: These cluster engagement rings make a statement, proving that you don't necessarily need a hero stone to make a big impact. Shop more gemstone cluster engagement rings.
Stackable eternity bands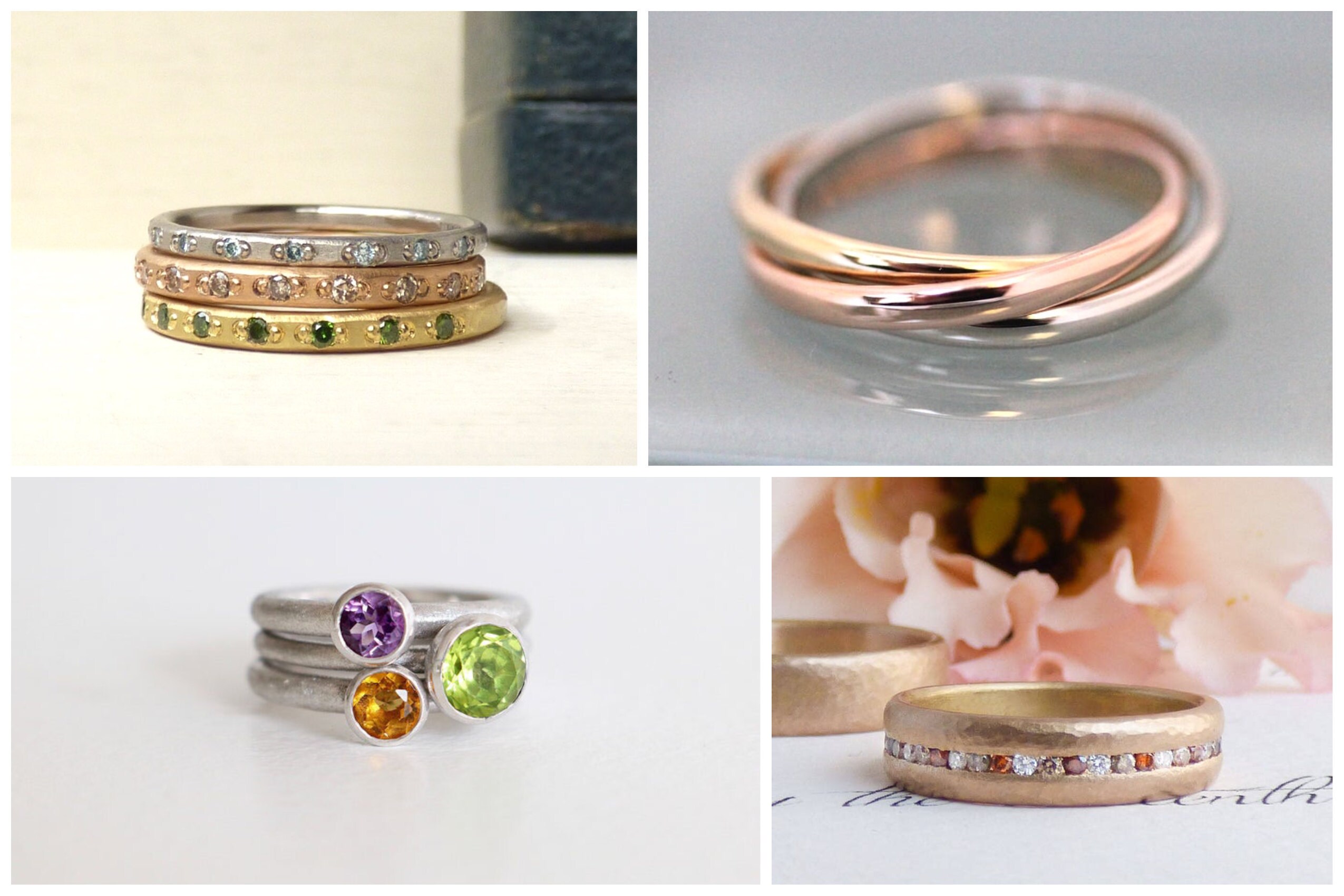 The showstopper solitaire was once regarded as the ultimate in bold bridal jewelry, but these days, many brides are replacing chunkier standalone rings with stacks of whisper-thin bands that are designed to be layered. Brides can mix and match an array of personalized stacking stones and interlocking bands to create stacks of three, four, or five that are entirely their own. Bonus: This sophisticated aesthetic can evolve over time, allowing couples to add new pieces to mark anniversaries or other milestones. Shop more stackable engagement rings.
Raw and organic stones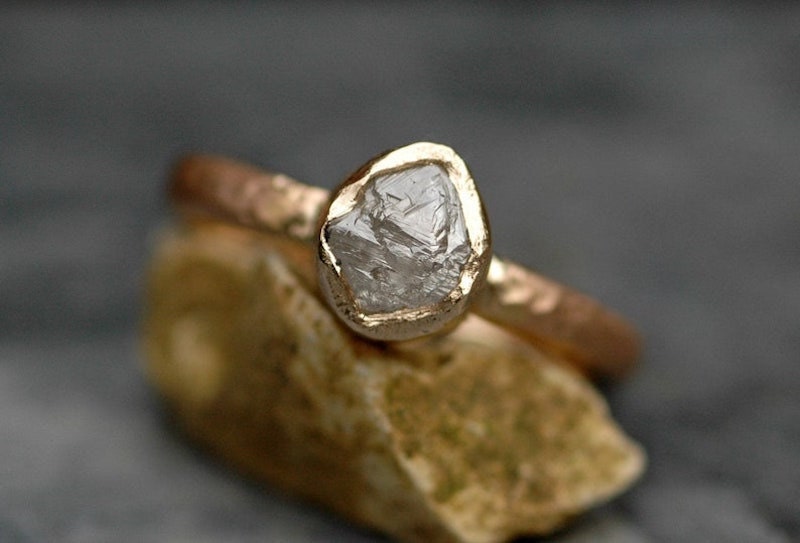 A perfect fit for a laid-back fashionista with an easygoing wardrobe and a low-key approach to accessories, raw and naturally faceted gemstones continue to inspire Etsy jewelers and buyers. What's more, natural stones are a go-to category for affordable wedding jewelry options, making them an attractive option for a discerning bride on a budget. Shop more raw diamond engagement rings.
Elegant upcycled engagement rings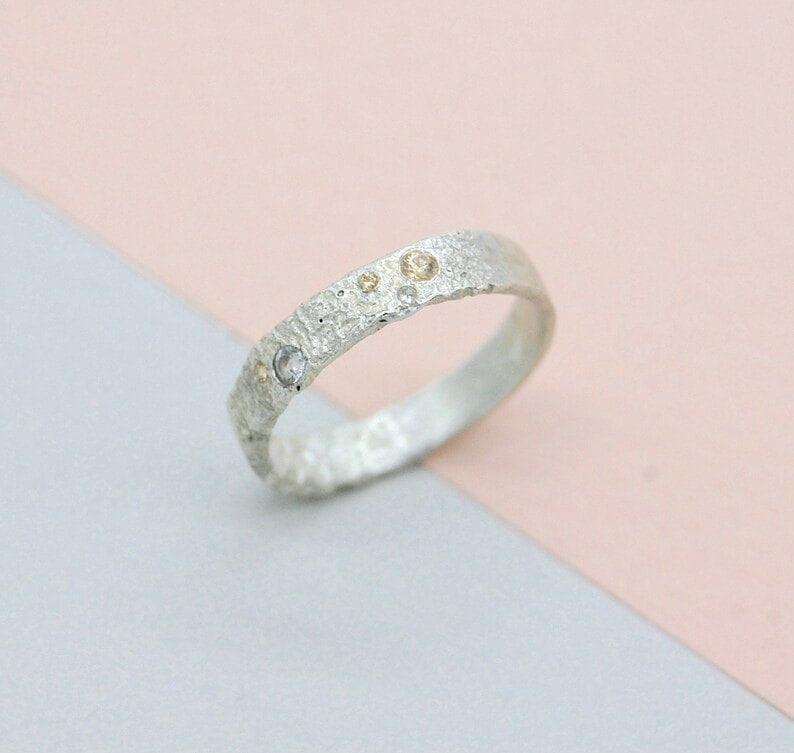 Recycled metals and ethical gemstones make a beautiful statement, and not just for the socially conscious couple. With a massive selection of upcycled heirloom diamonds, repurposed textured metals, and other sustainably sourced settings, going green for an engagement certainly doesn't have to require any compromising on style. Shop more upcycled engagement rings.
Vintage and antique finds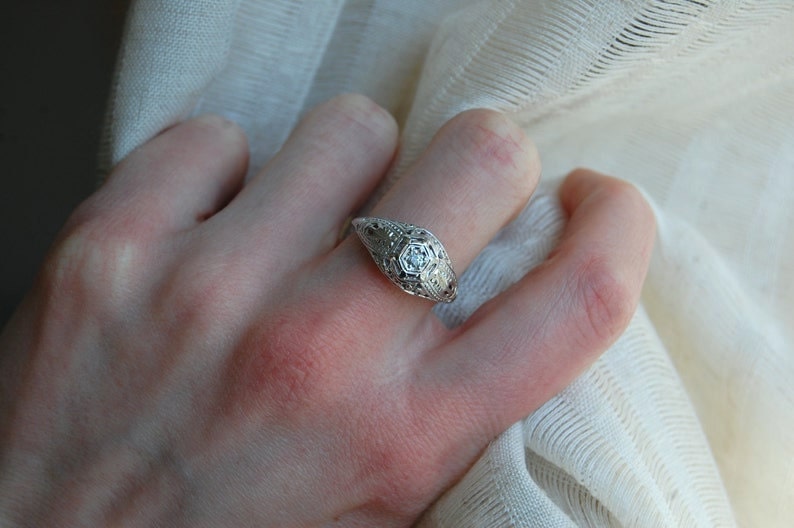 Nothing says one-of-a-kind quite like a vintage ring—each has a unique story and history built right in. From art deco masterpieces of the 1930s to dazzling antique gemstones from the 19th century, vintage beauties have stood the test of time and exude era-defying style, making them a perfect choice for a forever piece of jewelry. And to boot, they support sustainability by giving existing pieces new life. Shop more vintage engagement rings.
Asymmetrical stones and unique shapes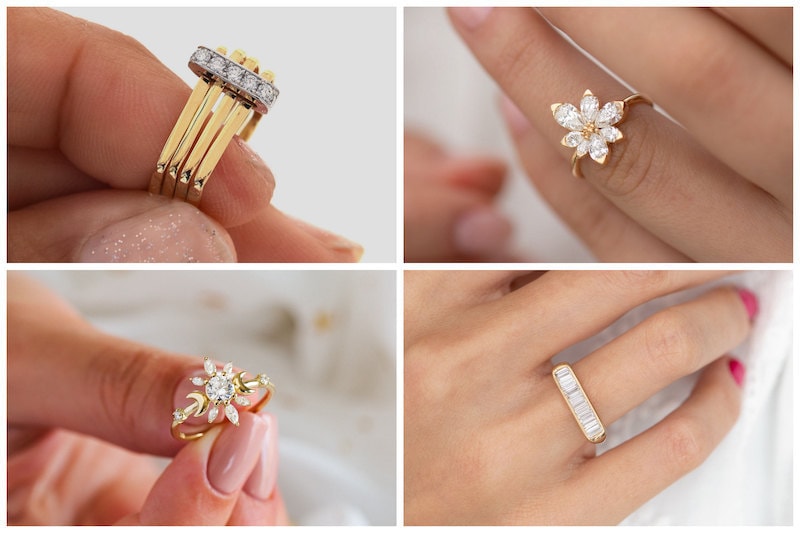 Anyone who's spent time poring over rings will be familiar with the classic oval, round, princess-cut, and pear shapes. And while the classics have their own distinct charm, there's something inspiring about an out-of-the-box shape, especially for the fashion-forward, artistic, or creative fiancé. Eye-catching, unconventional designs, from flowers and stars to brilliant angular baguettes and geometric stacked bands, not only make for unforgettable keepsakes, but surefire conversation starters. Shop more unique engagement rings.
Toi et moi engagement rings
This romantic dual stone style became a hit in the 18th century when Napoleon Bonaparte presented one to Josephine de Beauharnais. The variety is popular among the glitterati to this day, with many celebrities sporting the look, featuring two stones—each symbolizing one member of the pair—nestled in a single band that coils around the finger. Named after the French phrase for "you and me," it's a beautiful way to honor your partnership—and double up on gemstone glamour. Shop more toi et moi engagement rings.
Nature-inspired details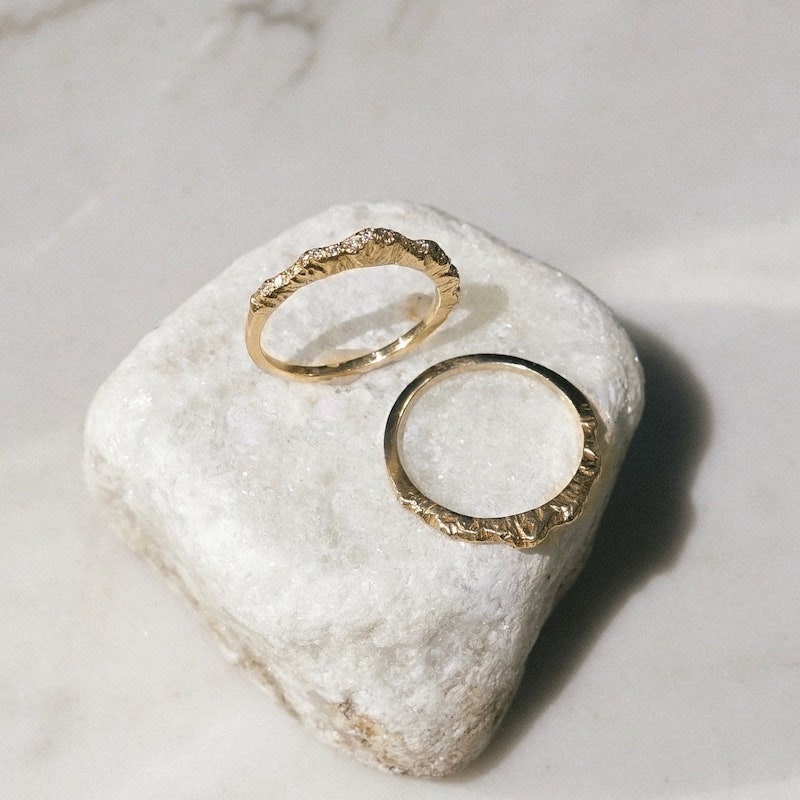 A nod to natural landscapes and elements can deliver not only stunning craftsmanship, but also poignant symbolism. Mountain-inspired ridges and stonelike textures can embody the way a couple serves as each other's rock through the ups and downs of life. Or, opt for romantic wildflowers or celestial shapes for a bold, unexpected spin on the traditional band. Shop more nature-inspired engagement rings.
Split-band engagement rings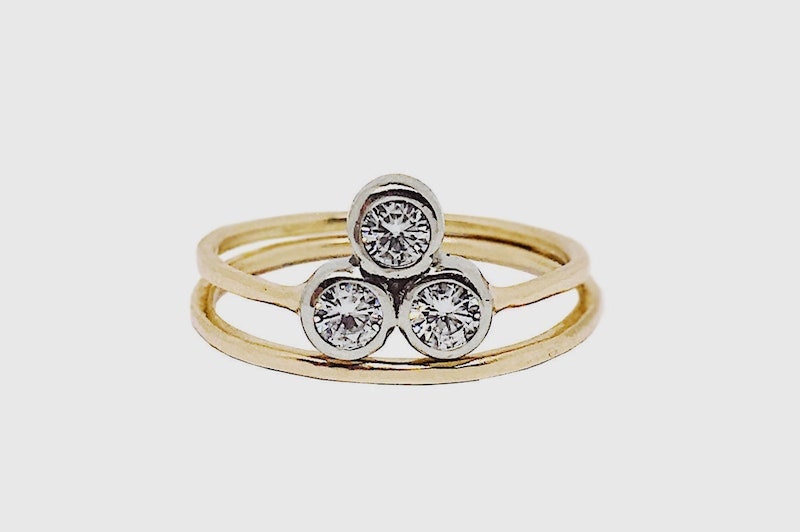 For an exquisite way to really show off a stone, consider a split band style—these multi-band engagement rings, popular in vintage pieces, wrap around a center stone, achieving a visual effect in which the gem appears to float. Even with a small stone, it makes for a bona fide statement piece, making it an ideal choice for minimalists and maximalists alike. Shop more multi-band engagement rings.
V-shaped rings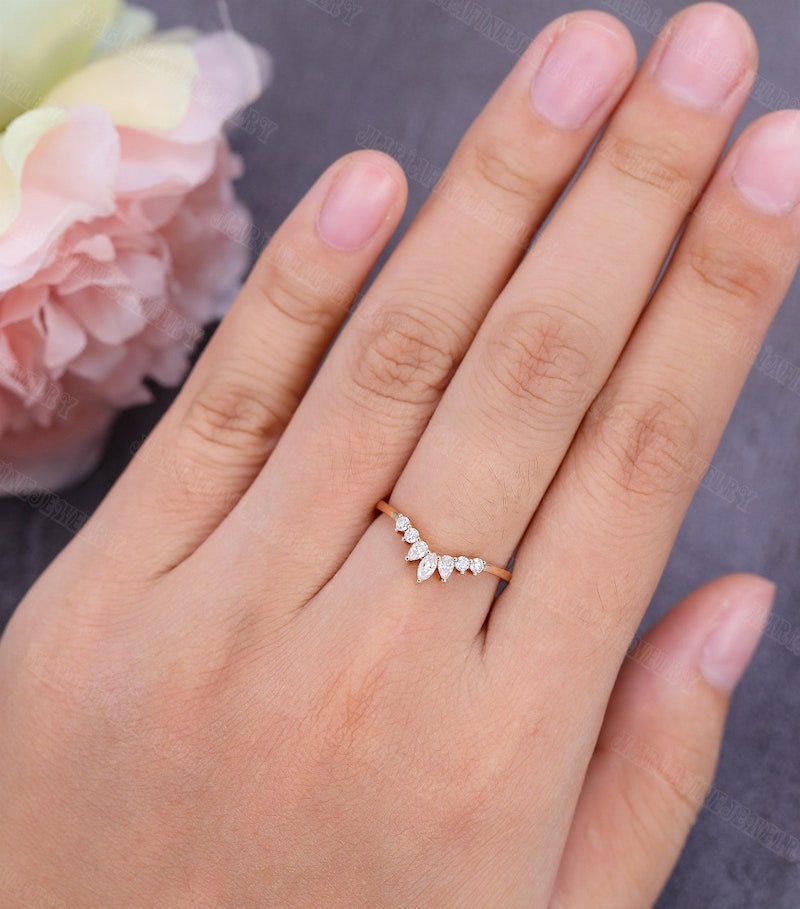 With an elegant, slender band and a sculptural silhouette, V-shaped engagement ring styles make an attractive choice for the bride who wants her ring to blend seamlessly with a fashion-forward wardrobe. Often featuring understated stones, these angular engagement rings can also be stacked with other favorite pieces for a chic, on-trend effect. Shop more V-shaped engagement rings.
Unique emerald engagement rings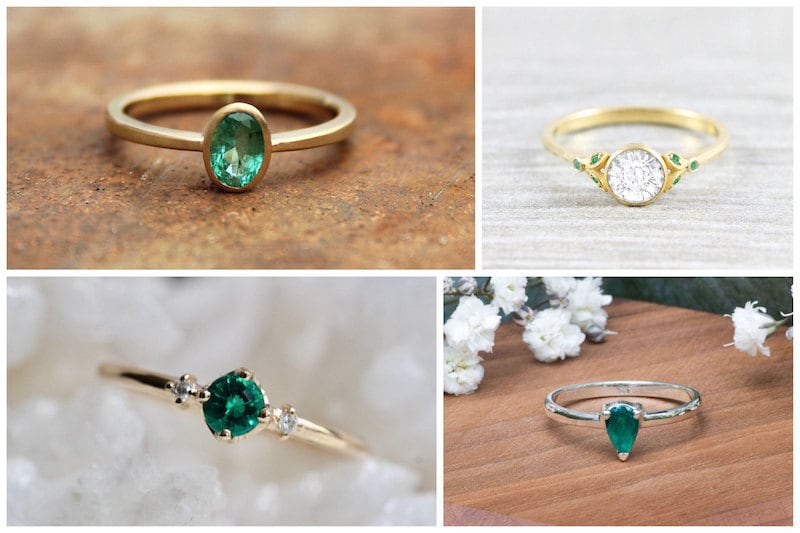 A favorite among royalty across many time periods and cultures, brilliant, bold emeralds are an ideal fit for the piece of jewelry that should make its wearer feel like a queen. Whether you choose the deeply hued gem as a centerpiece or opt for emeralds as an accent stone, the pop of color makes a unique engagement ring statement that won't be forgotten. Shop more emerald engagement rings.
Hand-hammered bands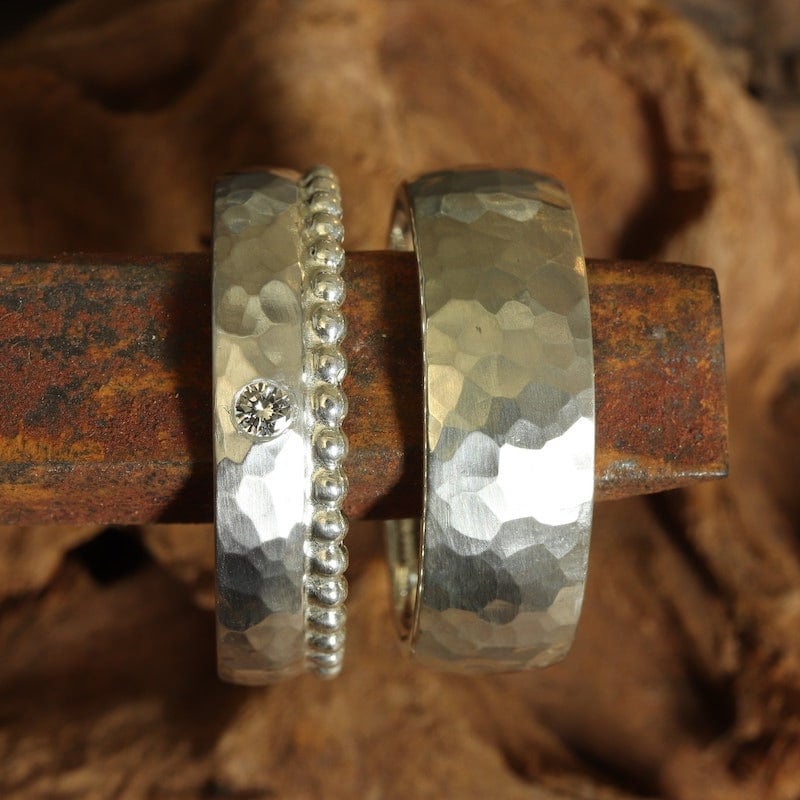 Rustic, sophisticated, and effortlessly chic, understated metal bands with hand-hammered detailing are a unisex option that will transcend trends as they come and go. To add even more appeal, no two styles will be alike, since the light-catching textural effect in each pair of hammered bands is unique. Shop more hammered wedding band sets.
Pearl engagement rings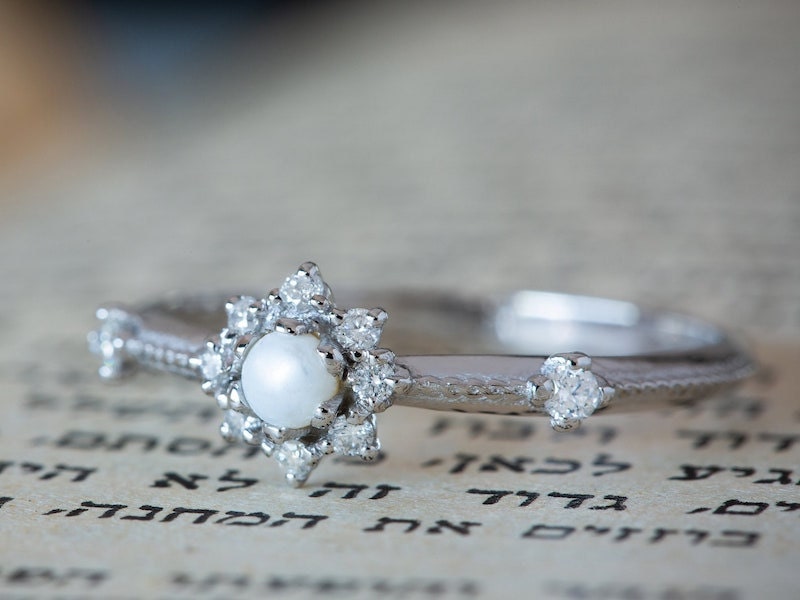 A luminous pearl engagement ring offers a welcome twist on the traditional gemstone focal point for the bride who's looking for a unique spin on the classic engagement ring. The shape and reflectivity of the jewel is a real head-turner, whether it's the centerpiece of the ring, or forming a studded accent around a complementary gem. Shop more unique pearl engagement rings.
Modern claddagh engagement ring styles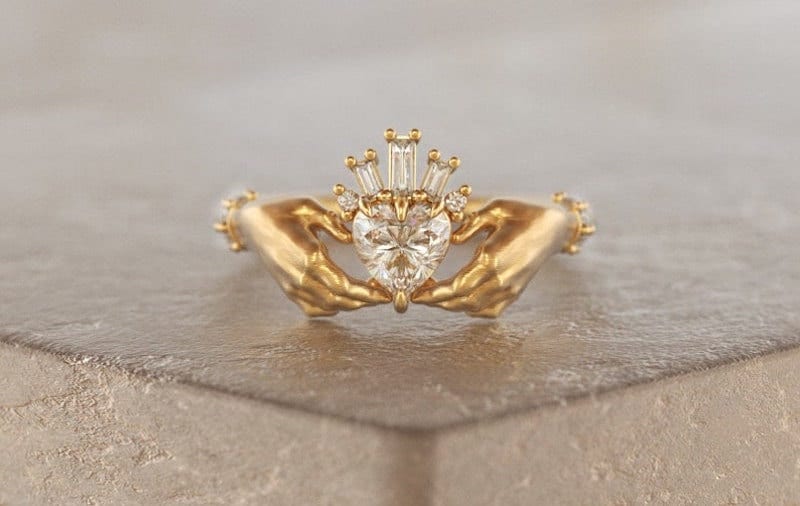 Steeped in Irish tradition, the claddagh ring is also stacked with symbolism, featuring a pair of hands to represent friendship, a crown to represent loyalty, and a heart to represent love. With plenty of classic and modern variations on the token available, the legacy of the claddagh can live on for contemporary couples. Shop more unique claddagh engagement rings.
Sapphire engagement rings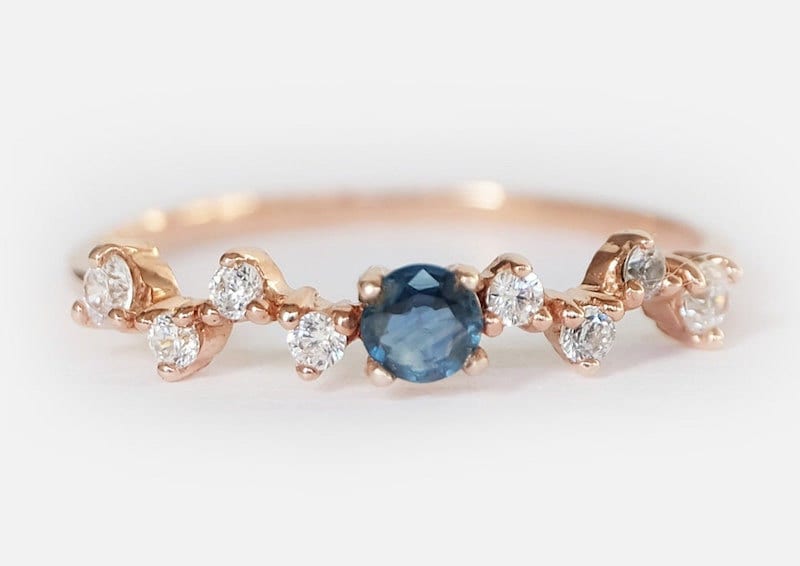 One of the most popular diamond alternatives for proposals, sapphires got some serious shine as an engagement ring option when Prince William presented his mother Diana's sapphire gem from Prince Charles to his bride-to-be, Kate Middleton, in 2010. With their signature azure hue, sapphire gems and accent stones make a sophisticated entry for the requisite "something blue." Shop more sapphire engagement rings.
Wood bands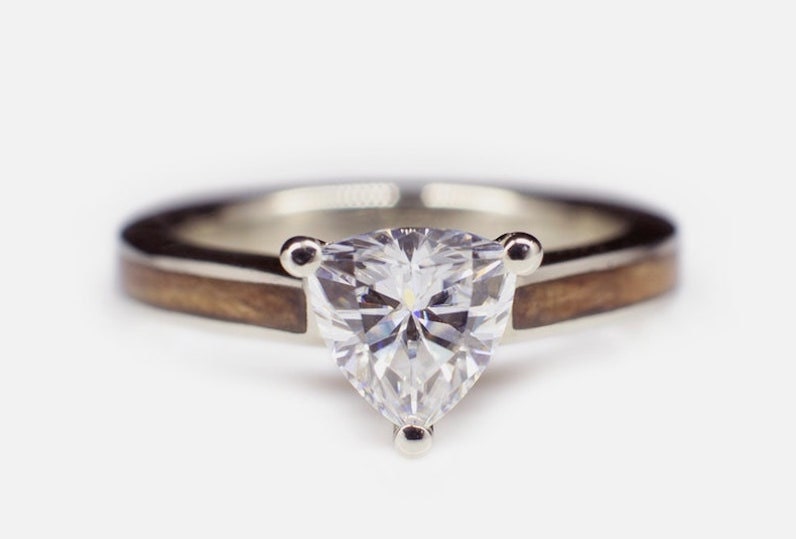 A unique engagement ring look doesn't always have to relate to gemstone color. A wood ring offers a distinctive—and distinguished—option with major visual impact. From his and hers sets with wood inlays to slim wooden bands, there's no shortage of ways to incorporate this meaningful element into your ring selection. Shop more wood engagement rings.
Iridescent opal engagement rings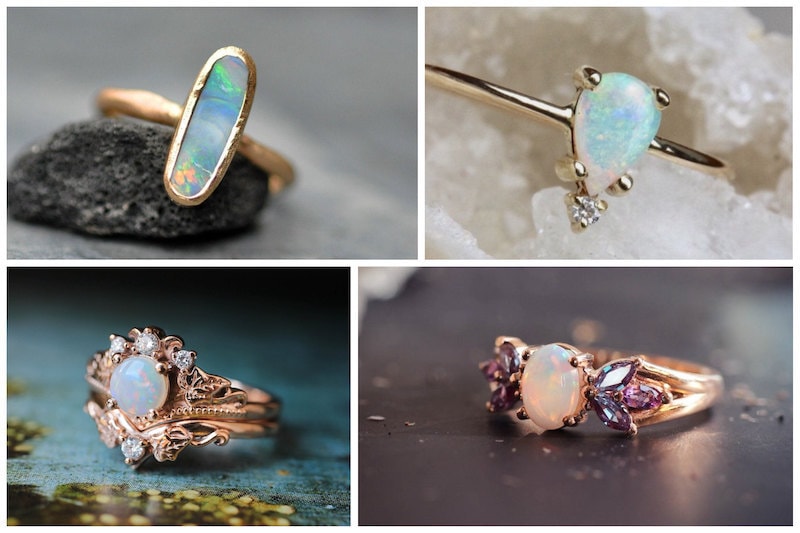 The mystical and mysterious opal is ideal for wearers who value individuality over the four C's. No opal ring is the same, and the multi-hued flecks within each opal stone shift their tone in response to their environment, casting a truly one-of-a-kind glow. Shop more opal engagement rings.
Moissanite engagement rings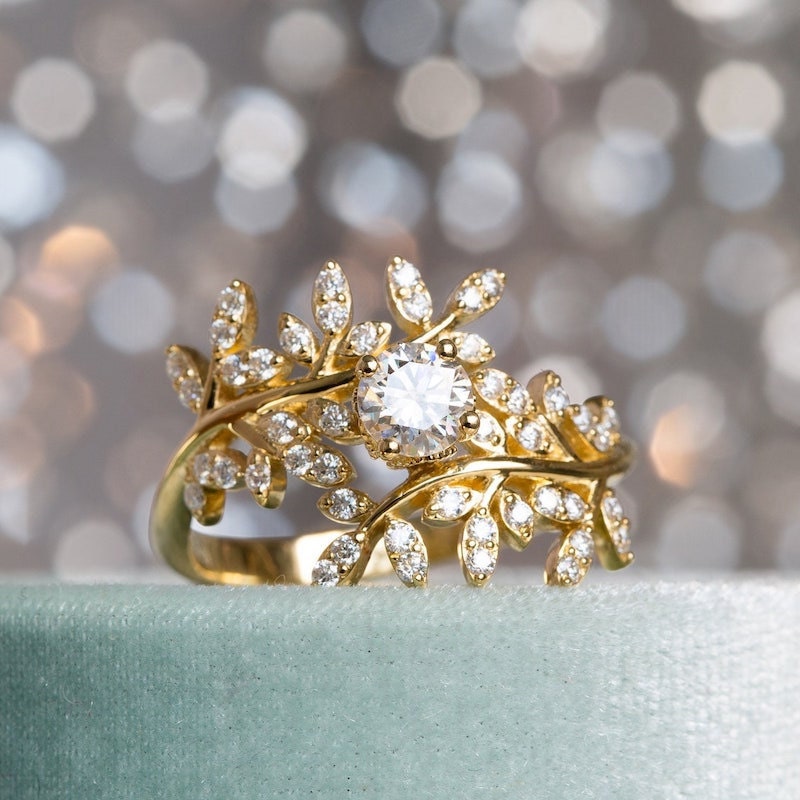 This sparkling, colorless gem makes a lovely, budget-friendlier alternative to the diamond. And with an endless array of classic, creative, and downright spectacular moissanite ring styles available thanks to Etsy's inventive jewelry designers, this stone doesn't need to feel like a compromise in any sense of the word. Shop more moissanite engagement rings.
Black diamond and gemstone engagement rings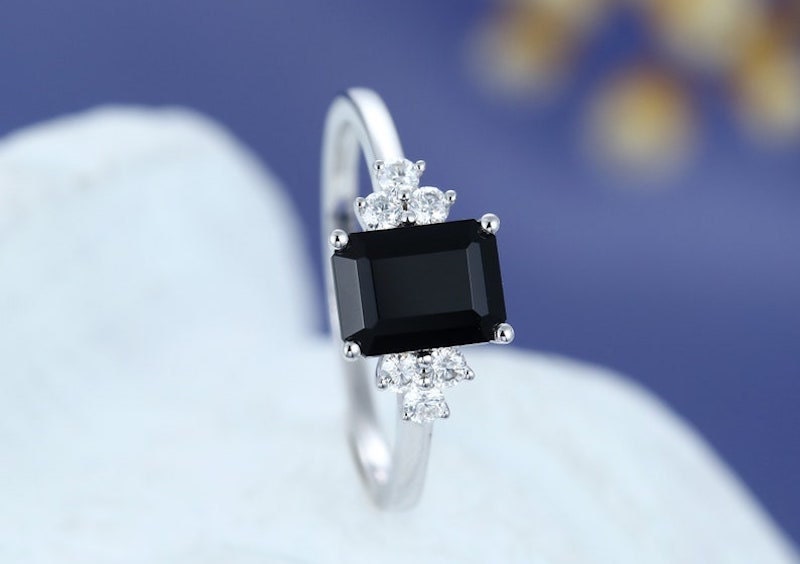 For those unafraid to buck tradition, a jet black engagement ring is one of the most dazzling options out there. Whether it's an emerald-cut onyx stone offset by sparkling diamond clusters, a fan-shaped gem that nods to art deco glam, or a modern row of dark studded diamonds, a black stone will provide an indelible contrast and go with everything in your wardrobe. Shop more black diamond engagement rings.
Moonstone engagement rings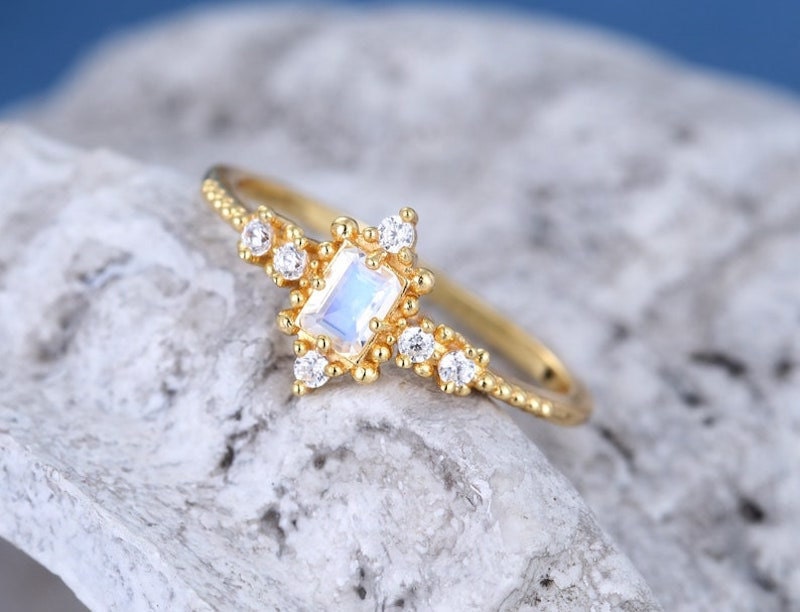 Dreamy moonstone is said to symbolize balance, good fortune, and fertility. All welcome sentiments for newlyweds—but as far as we're concerned, the primary draw for moonstone as a unique engagement ring alternative is its stunning iridescent effect, which makes for a showpiece fit for the most stylish of affianced couples. Shop more moonstone engagement rings.
Rose-hued morganite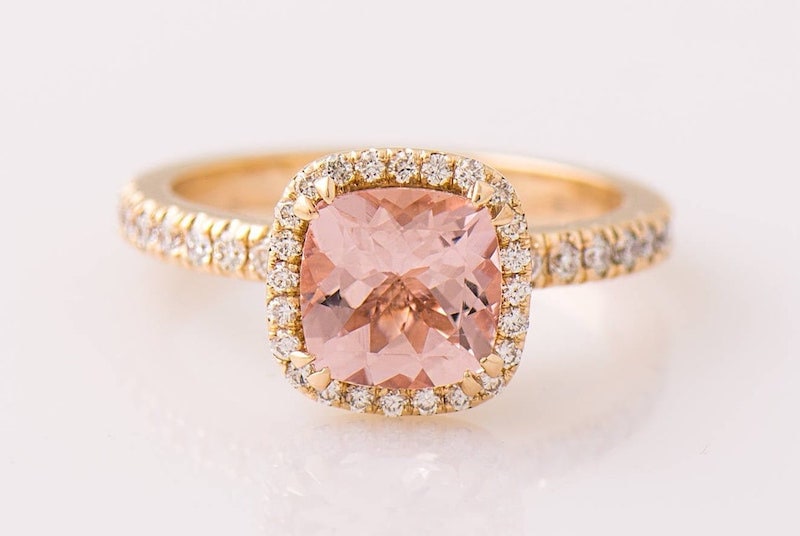 With a subtle pink hue, morganite engagement rings evoke instant romance, and the gem's hardness also makes it a suitable choice for a ring you'll wear for years to come. Encircled by petite diamonds in a halo formation, offset by other colorful gems, or standing alone as a morganite solitaire setting, this blush-colored brilliance is the way to go for true lovers of pink. Shop more morganite engagement rings.
Unique and colorful gemstone engagement rings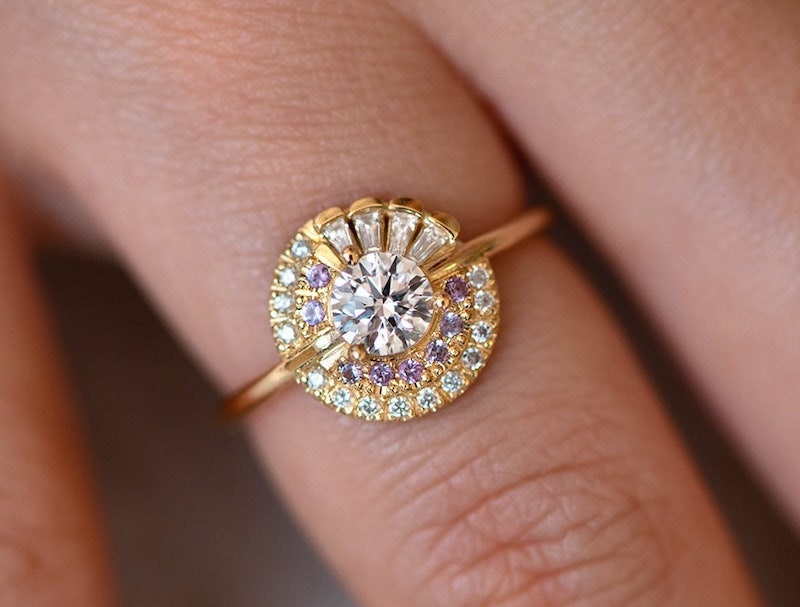 Can't decide on just one alternative shade? Not to worry: multi-hued gemstones are popping up more and more in the realm of fine jewelry. Engagement ring makers are branching out from traditional colorless diamonds and introducing refined pops of color, like lilac sapphires, in their designs, often opting to mix shades in stackable and multi-band engagement ring styles for a breathtaking rainbow effect. Shop more multi-gemstone rings.
Minimalist engagement ring styles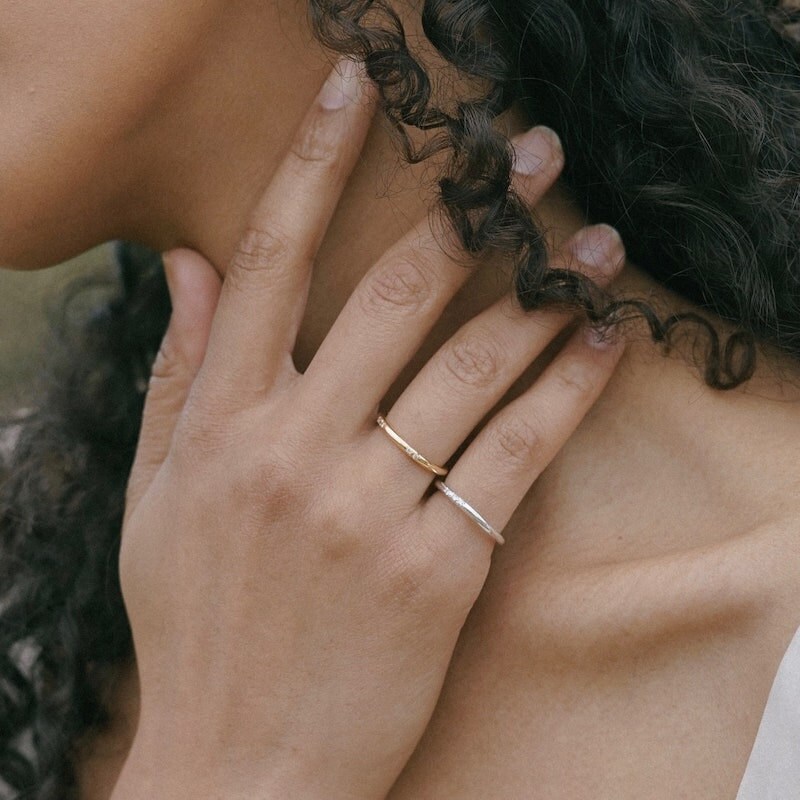 For some brides, the more bling, the better. But for others who gravitate towards simpler engagement rings looks, a classic, beautifully crafted band fits the bill. With these subtle stunners, careful detailing, like intricate edgework or meaningful etchings, go a long way. Shop more minimalist engagement rings.
Engagement ring alternatives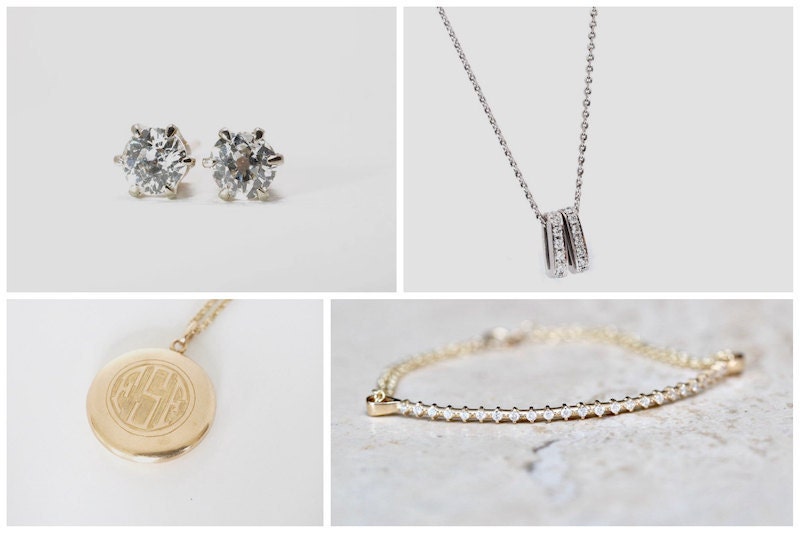 Who decided that engagements had to involve a ring, anyway? Experimental couples are opting to symbolize their commitment with other engagement jewelry styles, from earrings and necklaces to bracelets and more. Shop more bridal jewelry.
Custom engagement rings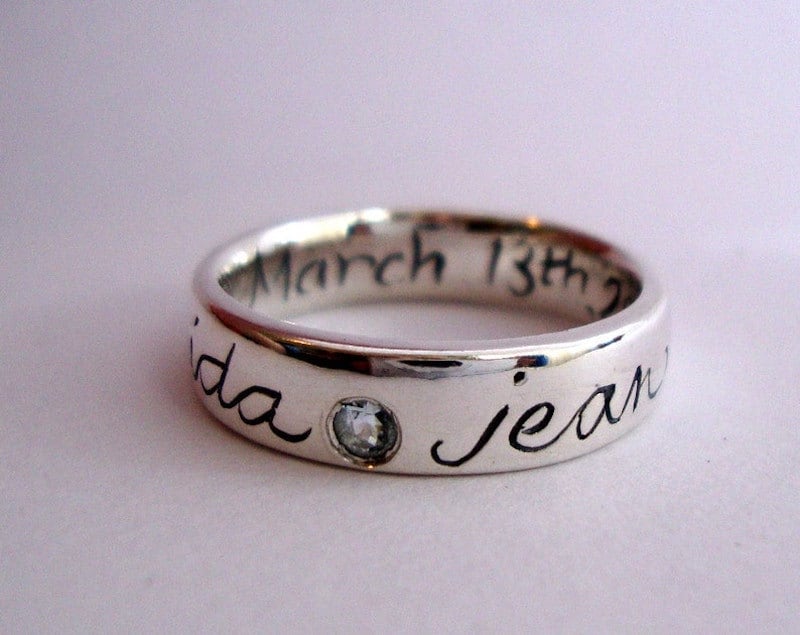 Still can't find a unique engagement ring that perfectly captures your essence? Engraving, a custom stack of color, or working with an Etsy seller to fashion a one-of-a-kind piece are just a few of the customization options for engagement jewelry. Shop more custom engagement rings.