From hyper-personalized portraits to pieces paying homage to your hobbies and hometown, these wall art prints will help you express yourself at home.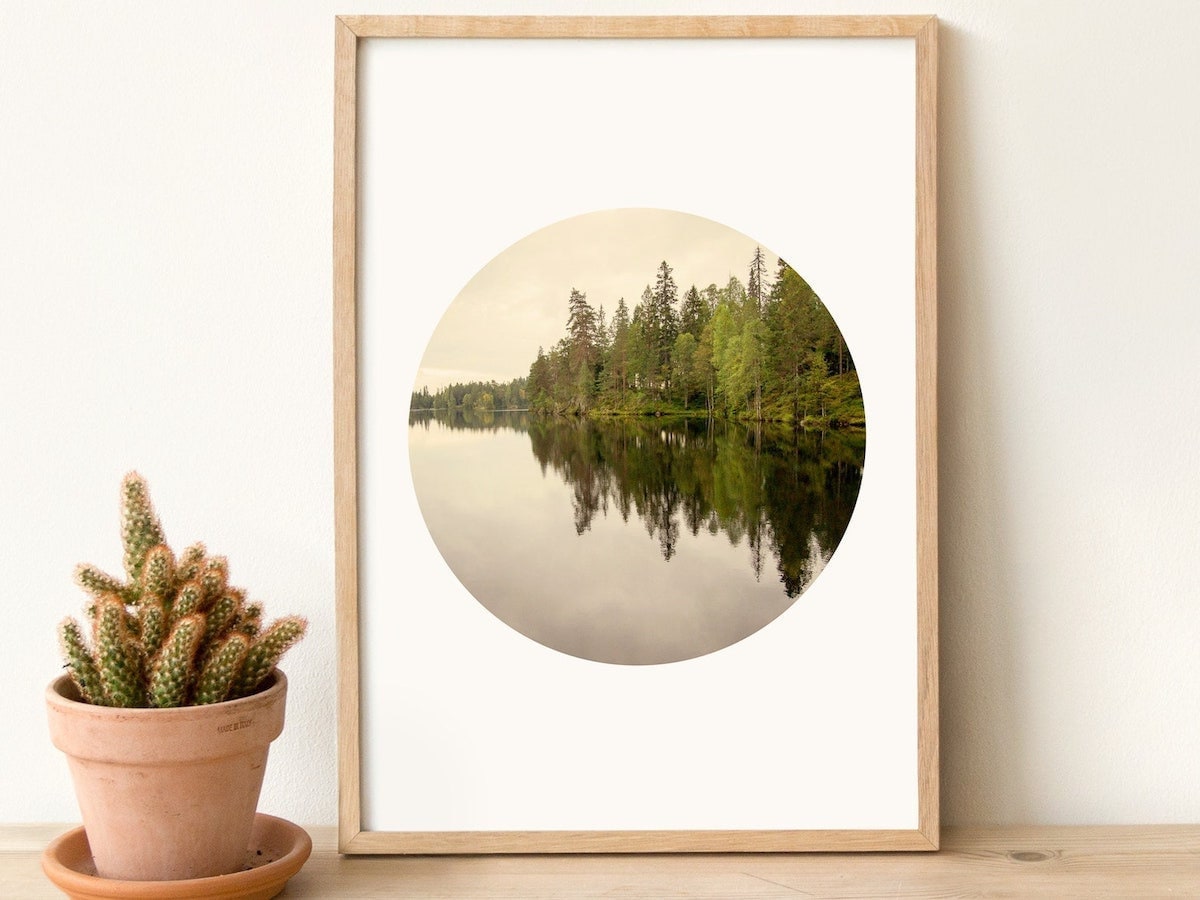 Looking to refresh your wall decor game? We've got one bit of advice: Don't be afraid to get personal. Sure, everyone can appreciate an eye-catching wall art print (or three) adorning the walls of your abode—but what really makes a gallery wall stand out is how, together, the pieces you pick announce and celebrate the things that matter most to you. Whether it's the intentional imagery that's depicted, the story of the artisan who created it, or a visual representation of the values and ideals you hold dear, the wall art prints you add to your space are an opportunity to curate a collection that perfectly expresses every one-of-a-kind dimension of who you are.
From abstract wall art prints that add a pop of your favorite color to a cozy space like a bathroom or den, to personalized illustrations of friends and family that give your living room walls an extra dose of meaning, the pieces you choose can serve as a visual cheat-sheet to the things closest to your heart. And speaking of things you love, adding a few wall art prints to your collection that represent your hometown, favorite hobbies, or even nostalgic memories (who could forget that famous fall fishing trip?) is another great way to make your space truly representative of what makes you, you. As you shop for the newest print to add to your collection, take a look at these ideas for making your growing gallery a reflection of your tastes, your values, and how you see the world.
Make it personal
There's no better way to make your space really feel like you than with a piece of art that's been custom-created to capture something uniquely special to you. We're talking ultra-personalized portraits of the people, places, and pets you love most, plus a treasure trove of clever customized wall art prints featuring zodiac signs, star maps, coordinates, and more. Pro tip: Personalized wall art prints also make for some of the most thoughtful gift picks around!
Personalized portraits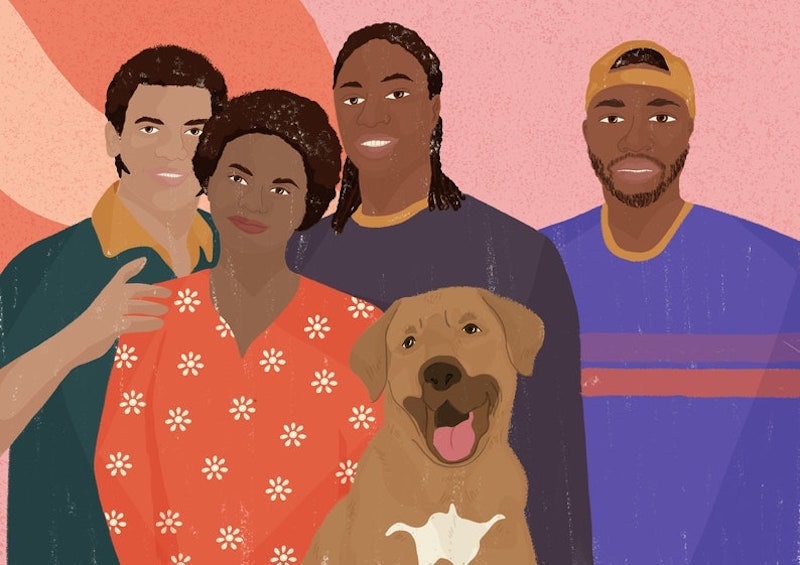 SHOP: Personalized family portrait from Shapes and Faces, from $104
If it's hard to get everyone into the perfect position for a family photo, never fear. A personalized family portrait created by a talented Etsy seller (and framed by you!) is an artistic take on family candids that lets you combine multiple snapshots into a single, stunning piece of art.
Keepsake coordinates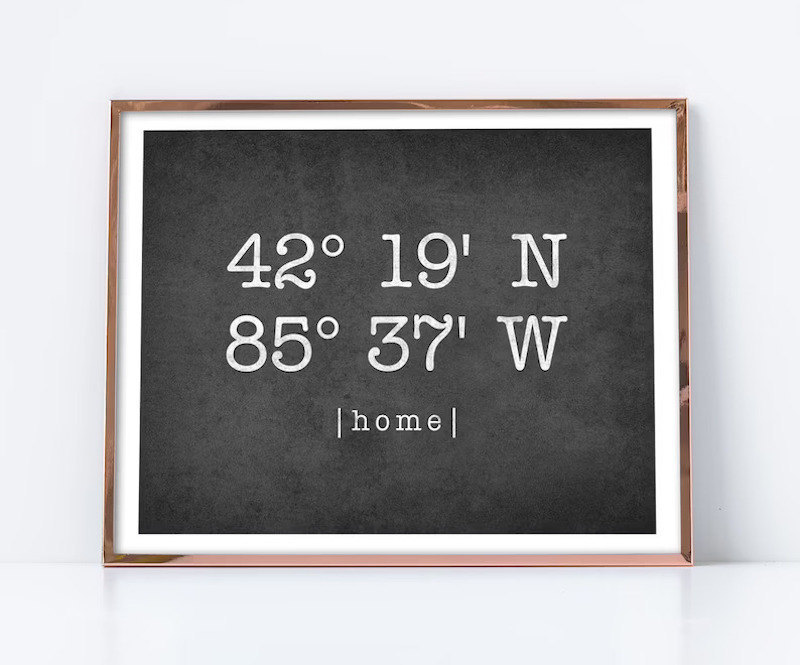 SHOP: Personalized custom coordinates print from Latte Design, from $36
One of our favorite unique ways to personalize a gift (or a treat for yourself), the coordinates displayed on this wall art print can be customized to represent any meaningful location (think your home address, a great vacation memory, or even the next stop on your bucket list).
Custom pet portrait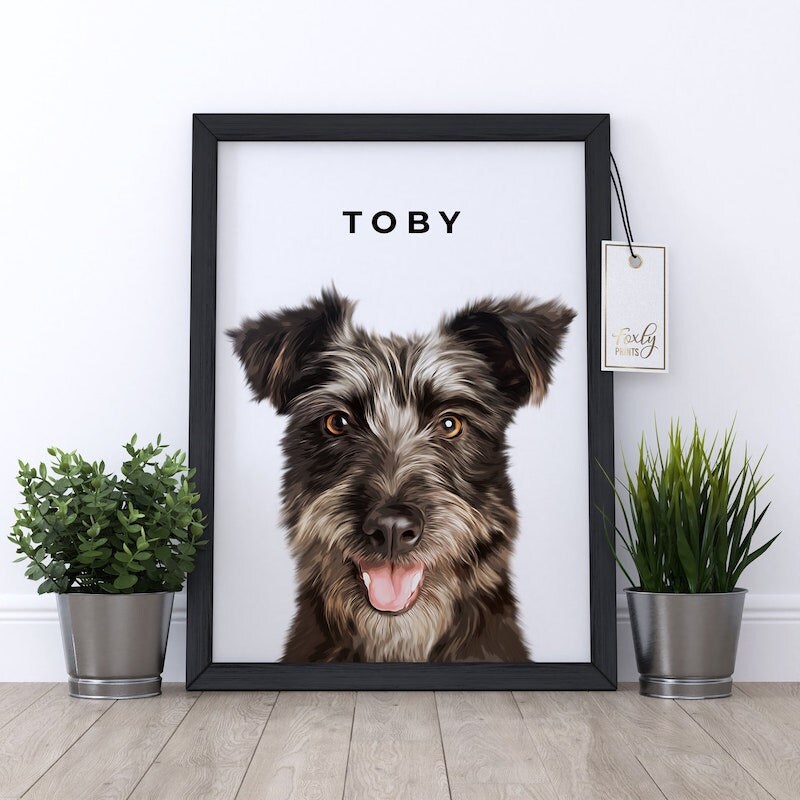 SHOP: Custom dog portrait from Foxly Prints, from $40
Your faithful four-legged friends deserve a spot on your wall just as much as their two-legged counterparts. This photorealistic illustration of your pet features their smiling mug along with their name.
Star and moon phases art print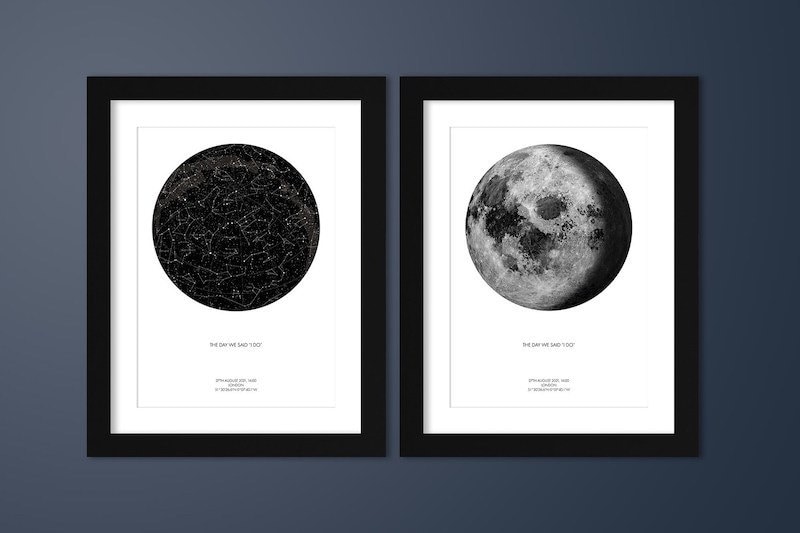 SHOP: Star map and moon phase prints from 78 Design, from $28
This dreamy celestial print can be customized to reflect the night sky at any given moment in time. Choose a star map or moon phase representation to suit your space and style—or opt for a sentimental set if you can't pick a favorite.
An illustrated reminder of home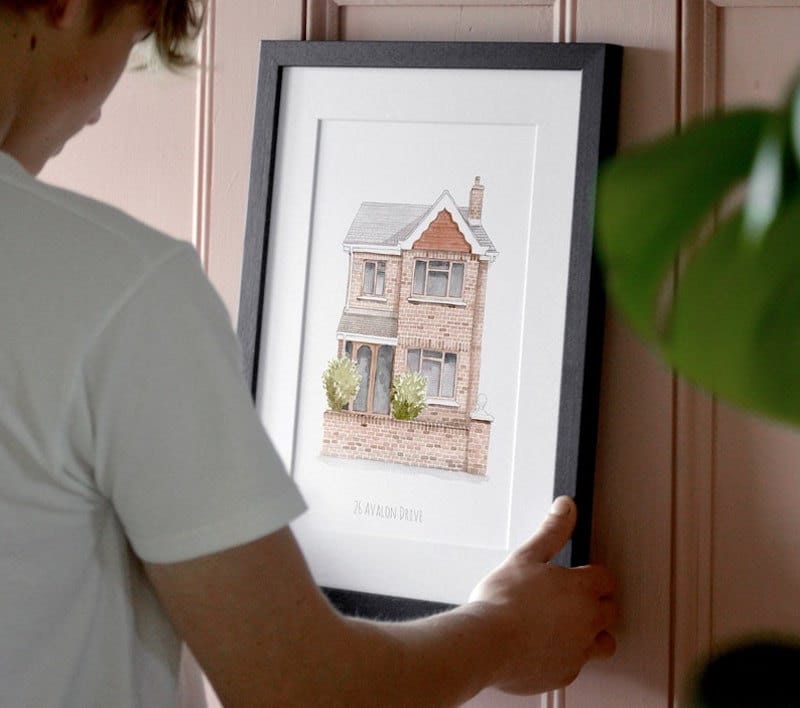 SHOP: Custom house watercolor print from Lilian May, from $97
Whether it's your current abode, the first spot you owned together, or a childhood home where countless memories were made, a custom house illustration is a sweet reminder of the places you've called your own.
Embrace the abstract
Abstract wall art prints are beautifully open to interpretation, making them some of the best conversation-starters in town and a popular pick for gathering spaces like dining rooms. Look for a piece with shapes and colors that evoke an emotion, conjure a happy memory, or simply feel like you. Those are the pieces that bring your collection together.
Design tip: Get some instant artistic gratification when you pick a printable wall art design from an Etsy seller. These pieces are ready to download and frame quickly, so you'll be admiring your completed collection in no time!
Geometric shapes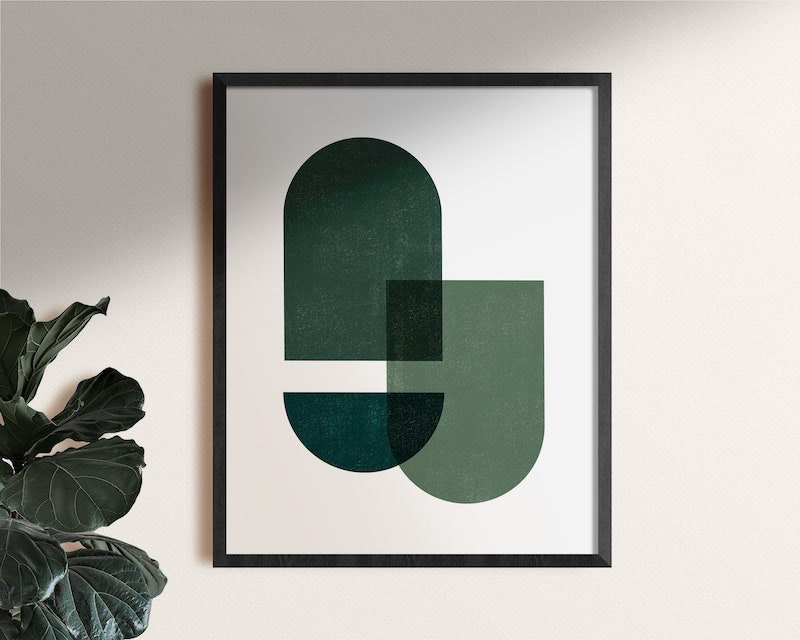 SHOP Printable forest green geometric print from Emkaro Atelier, $5
Whether it's a one bold pop of the year's hottest hue or a collection of prints in similar shades, minimalist wall art prints featuring a combination of abstract shapes are a great way to introduce a new tone or unite several other colors throughout your gallery.
Mini prints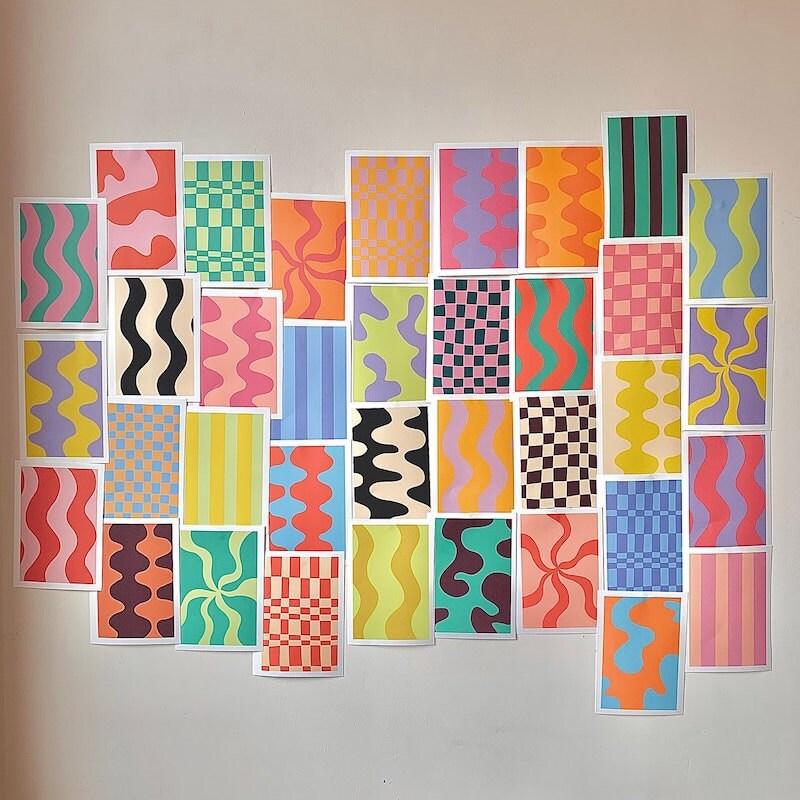 SHOP: PLAY individual prints from Amy Gemmell Design, from $3
Having a tough time picking just one new addition to your collection? Mix and match some mini prints in your favorite colors and patterns to create a big, bold, totally one-of-a-kind statement.
Modern mountains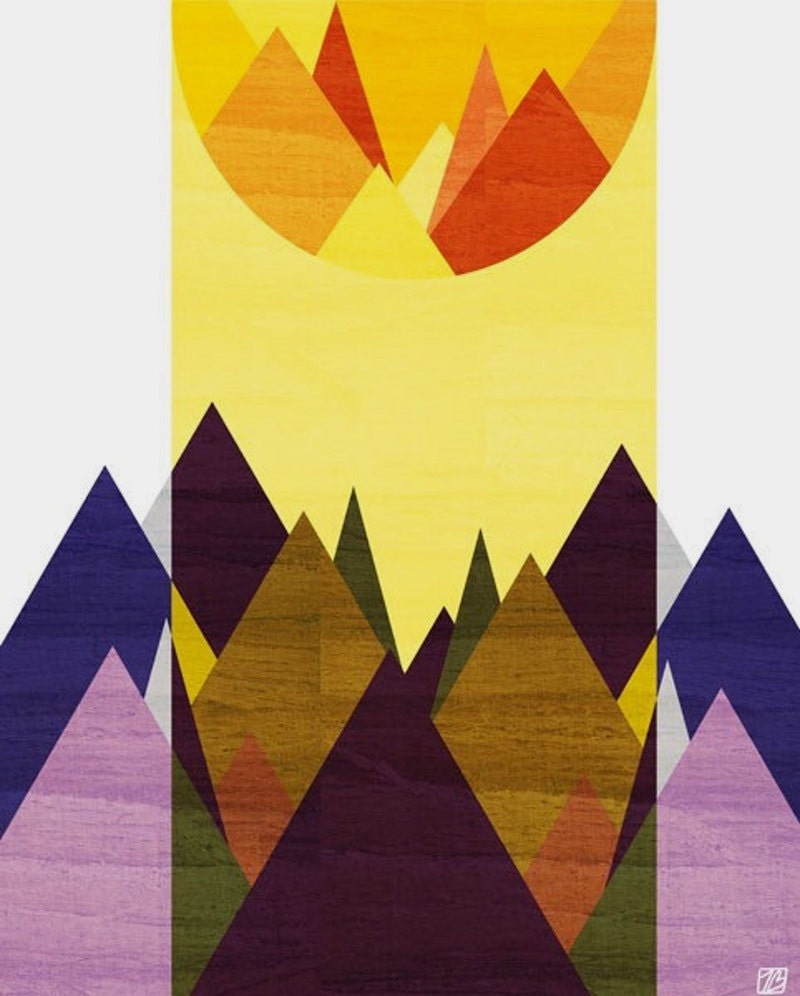 SHOP: Morning, Mountain art print from Tabitha Brown, from $22
A series of overlapping triangles, a segmented semi-circle, and a single streamlined rectangle running the length of the piece add up to way more than the sum of their parts in this modern mountain print, thanks to the artist's expert command of texture and color.
A clever spin on cuisine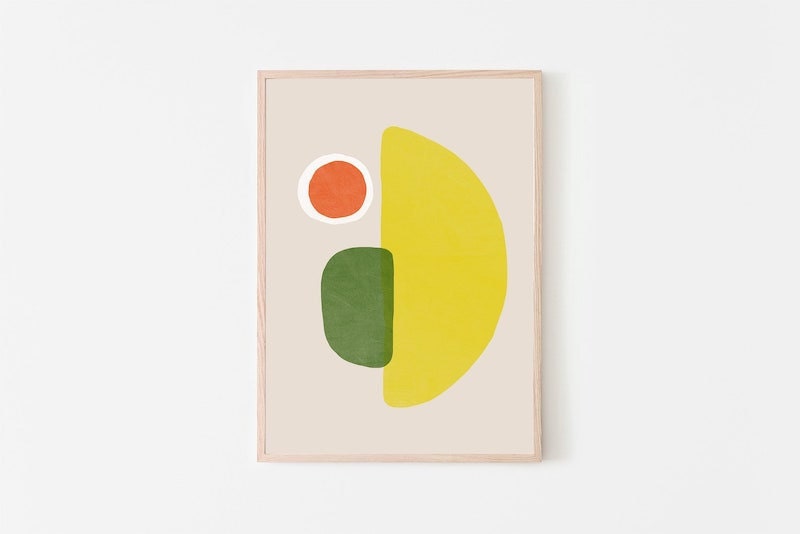 SHOP: Bánh Xèo art from Boba Jelly Art, from $25
Calling all foodies: this mid-century modern-inspired art print is an abstract rendering of the Vietnamese rice pancake dish, bánh xèo, but those not in the know will still eat it right up thanks to its purposefully restrained but oh-so-powerful composition.
Abstract portraits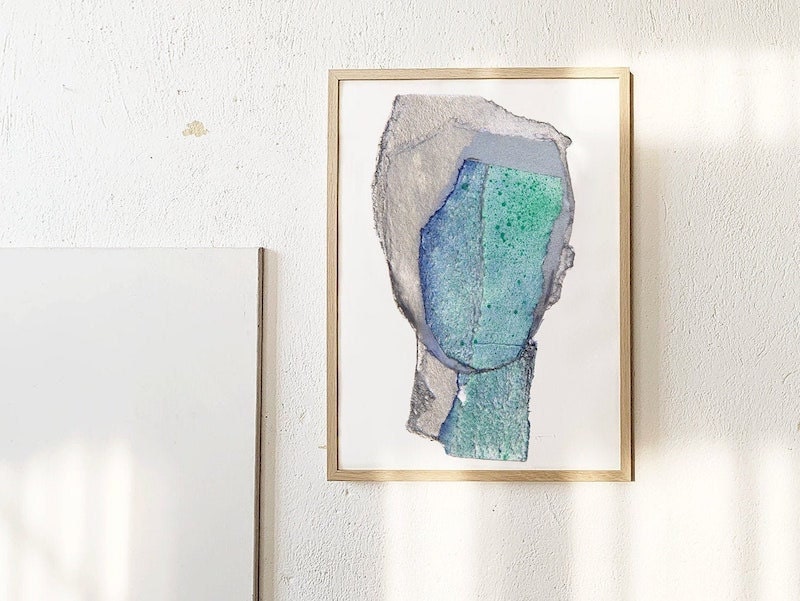 SHOP: Shallow Water portrait from BorianaM, from $49
This captivating print from Bulgarian artist Boriana Mihailovska's "Summer Series" could be two people, two sides of a single subject—or something else entirely. That's the beauty of adding abstract portraits to your collection: There are endless possibilities to explore.
Let your personality shine
A piping hot bowl of ramen. A super-suave sports car straight out of your dream garage. A pair of pickles...playing hockey (you heard us!). Thanks to the boundless creativity of independent artisans on Etsy, it's easier than ever to bring home a personality-packed piece of art that celebrates the hyper-specific things you love most. Find your own niche masterpiece, hang it in a place of pride, and just wait for your guests to take note.
Funny mash-ups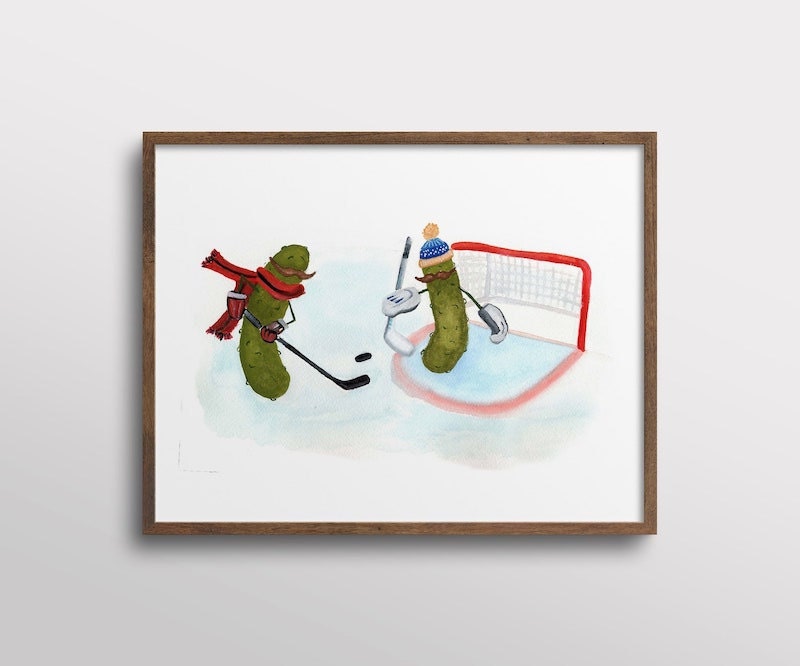 SHOP: Pickles playing ice hockey watercolor print from Sprockett and LLoyd, from $11
Maybe you pine for pickles, maybe you insist on hitting the ice every chance you get, maybe you love both! Even if the subject matter simply puts a smile on your face, that makes an art print the right fit. Did we mention these pickles also have mustaches?
Vintage maps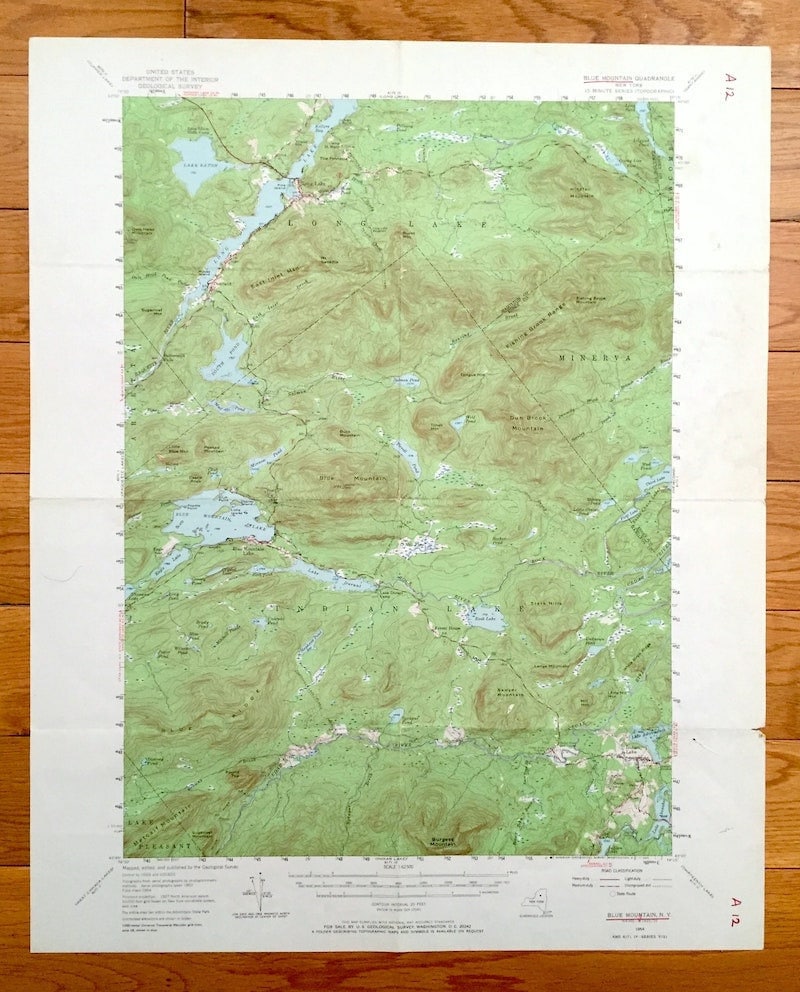 SHOP: Antique Blue Mountain, New York map from 1954 from Vintage Maps Co., $85
Bring some serious vintage vibes into your space with a statement-making antique map print, like this beauty from the 1950s—or consider building a collection starring the same location to display how it has changed through the years.
Foodie-focused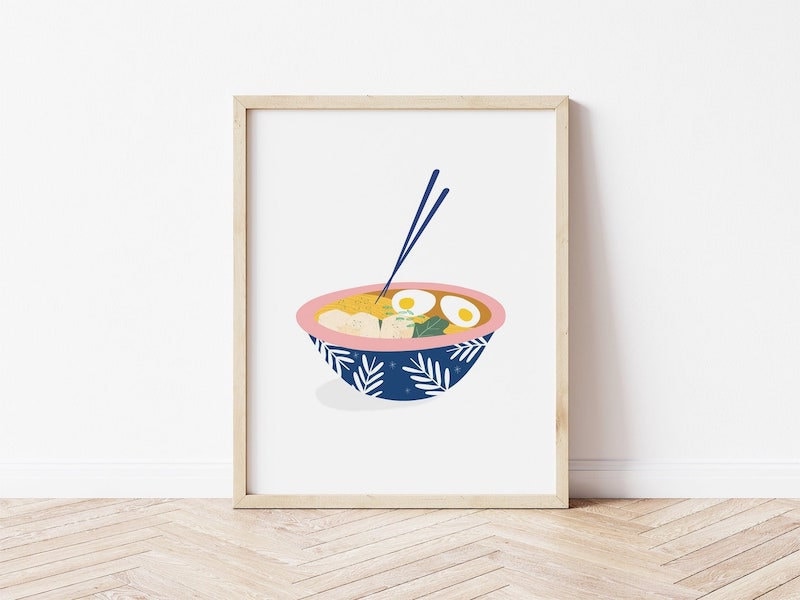 SHOP: Ramen bowl illustration from Yellow Lion Studio, from $14
Whether you're known as the chef de cuisine for any and all gatherings or a takeout aficionado with a rolodex of the best joints for every dish, a fun, food-inspired print like this steaming bowl of ramen is always in good taste.
For the enthusiast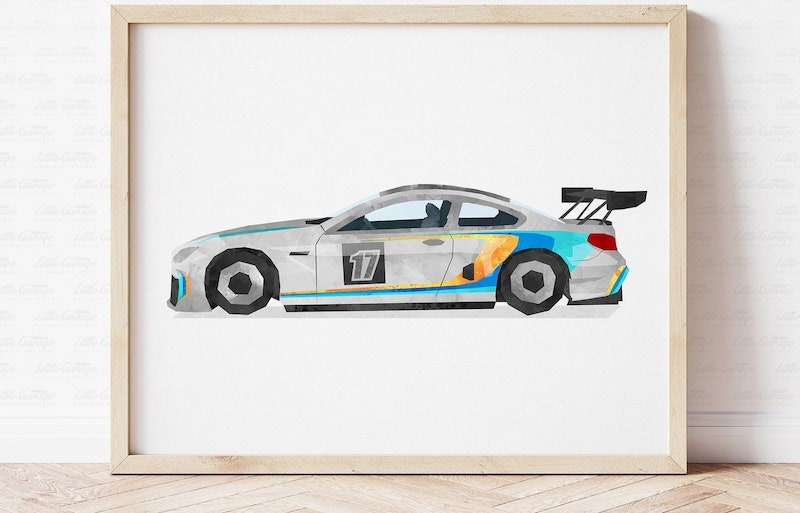 SHOP: Sports car print from Little Garage Art, $4.50
No matter what gets your engine revving, there's a unique wall art print representing just that from an equally enthusiastic Etsy artist. Bonus: This digital download is print-ready so your gallery can be off to the races in no time.
The great outdoors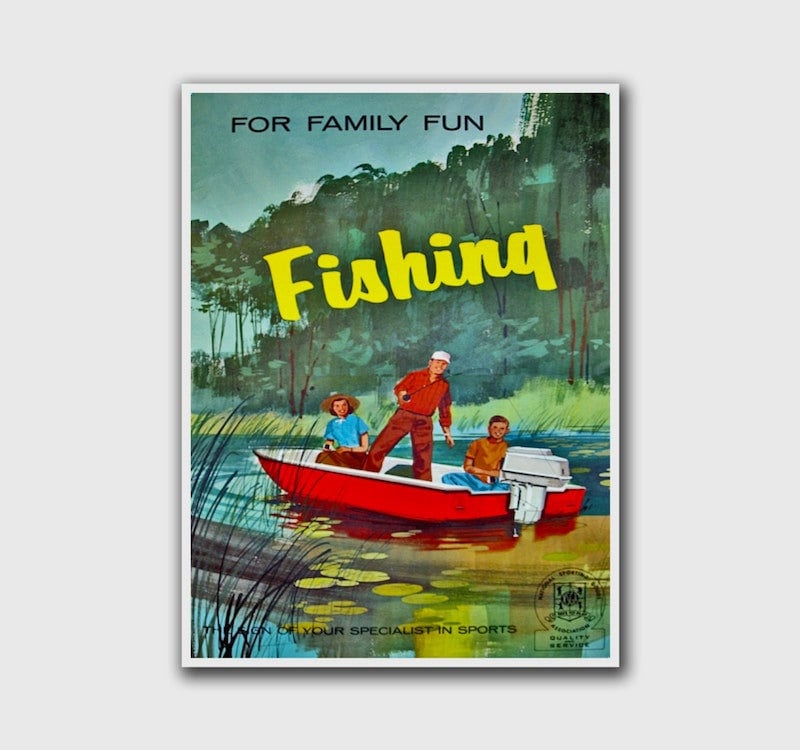 SHOP: Vintage-inspired sports poster from Vintage Sports Posters, from $12
Feeling a bit nostalgic for your favorite pastime? Add a retro reminder of those moments to your gallery wall with a vintage-inspired poster.
Bring the outdoors in
Whether it's a large-scale landscape, an animal-adorned arrangement, or an ode to your favorite fungi, these delightful, nature-inspired art prints are perfect for anyone with a soft spot for the great outdoors. Keep Mother Nature top of mind with framed flora and fauna prints—until you can get out the door for your next adventure.
Tree ring art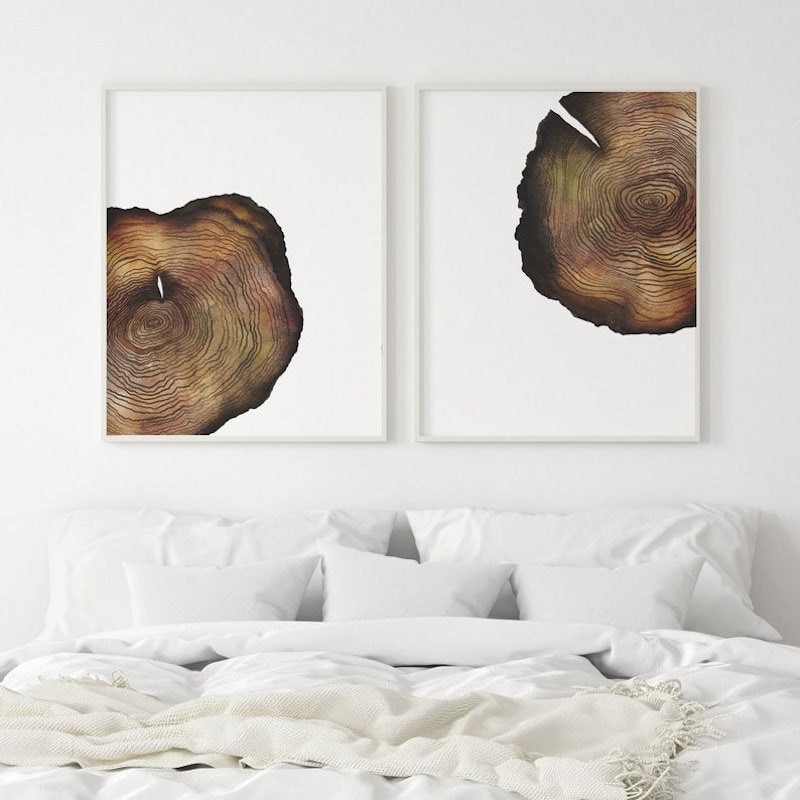 SHOP: Tree ring watercolor art from Steph Patterson Art, from $17
This woodsy watercolor print pairing is a creative way to introduce organic elements to your space, and the neutral tones make it an easy choice for any room no matter the surrounding decor.
Topographical maps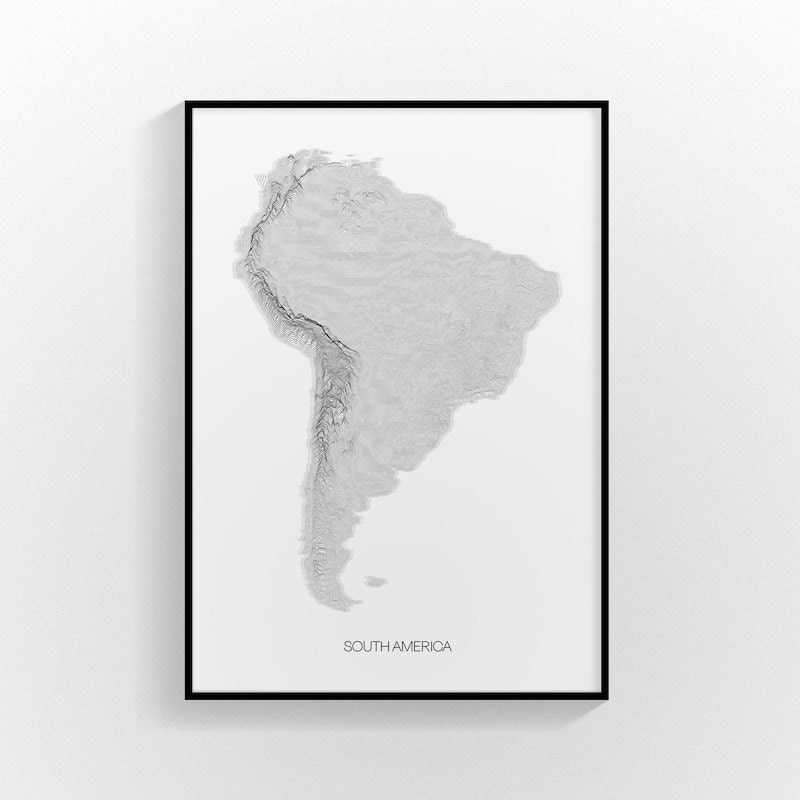 SHOP: South America art print from OnionLeaf, from $20
A subtle celebration of the power of perspective, upon closer inspection you'll see that this modern black and white print of South America is actually a composition of more than 500 topographic profiles of the continent.
Vintage variety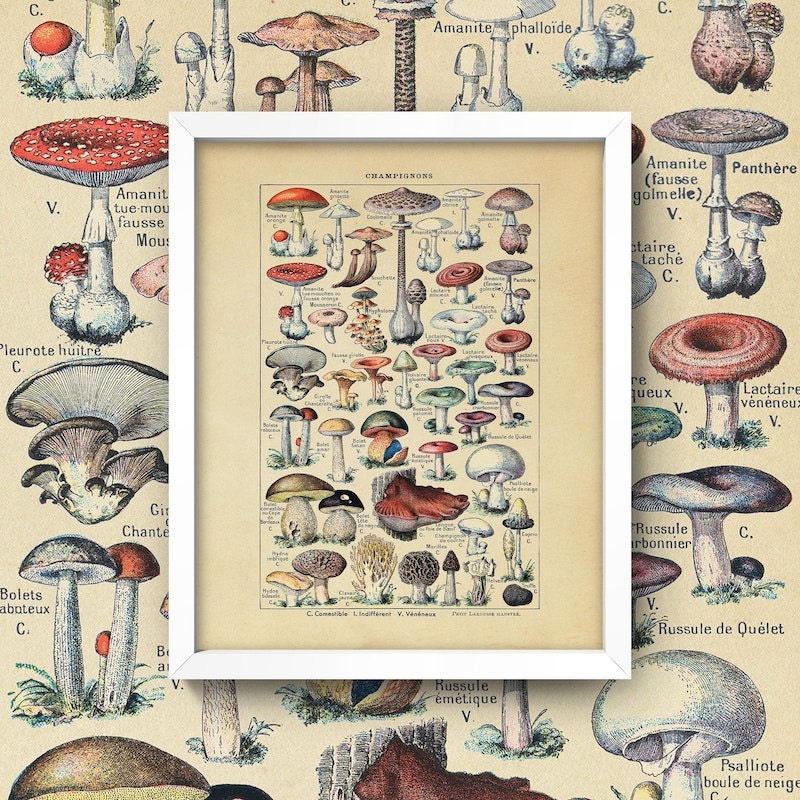 SHOP: Vintage mushrooms print from Pop Mat, from $20
This vintage-inspired print filled with fungi is an obvious addition to a kitchen or breakfast nook, but the pops of color are equally as delicious in a den or powder bath.
Vibrant landscapes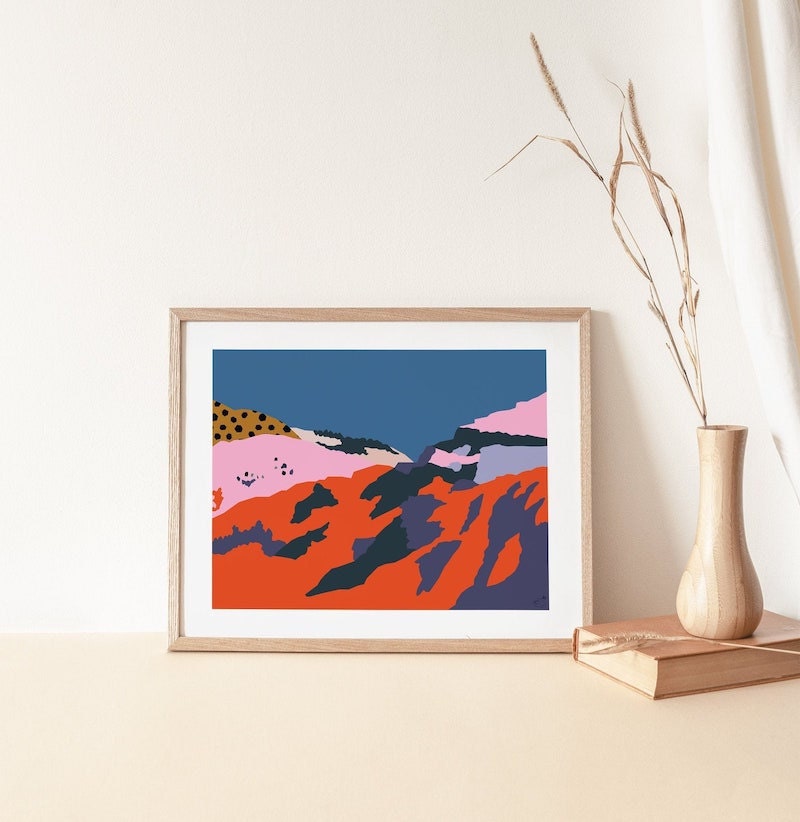 SHOP: Ethiopian mountain artwork from Emma Make Studio, from $56
Add instant wow factor to any gallery grouping with this vibrant giclee print featuring an abstract rendering of an Ethiopian mountain range.
Wildlife wonders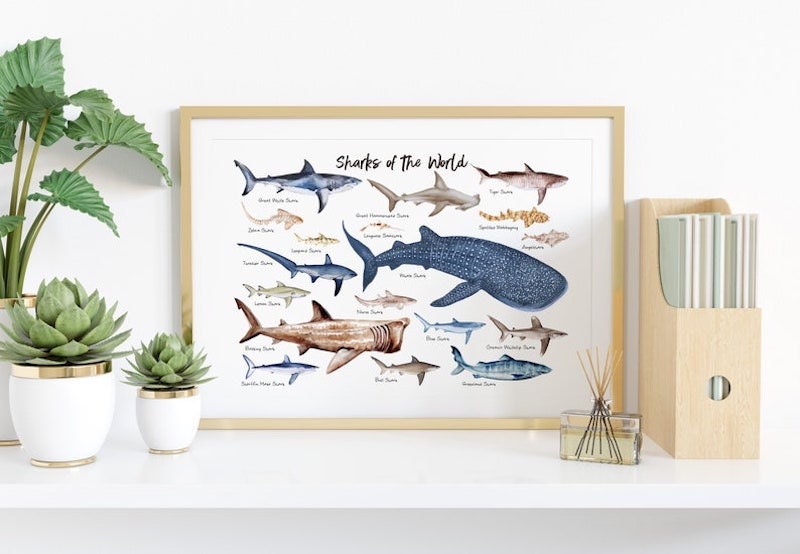 SHOP: Sharks of the World art print from Natural Art Guides, from $14
An educational peek beneath the waves, all 18 of the hand-illustrated shark species depicted here are drawn in proportion to their fin-tastic friends. We love it for grown-ups, but this print would be totally jaw-some in a kids room, too.
Keep it real
There's nothing quite like a photograph to instantly transport you to a specific moment in time—even if that moment is something you've only ever dreamed of. Adding a few film-based finds to your gallery is an intentional way to balance some of your more abstract pieces and add a realistic and nearly tangible glimpse into the experiences that fuel your dreams.
Architectural photos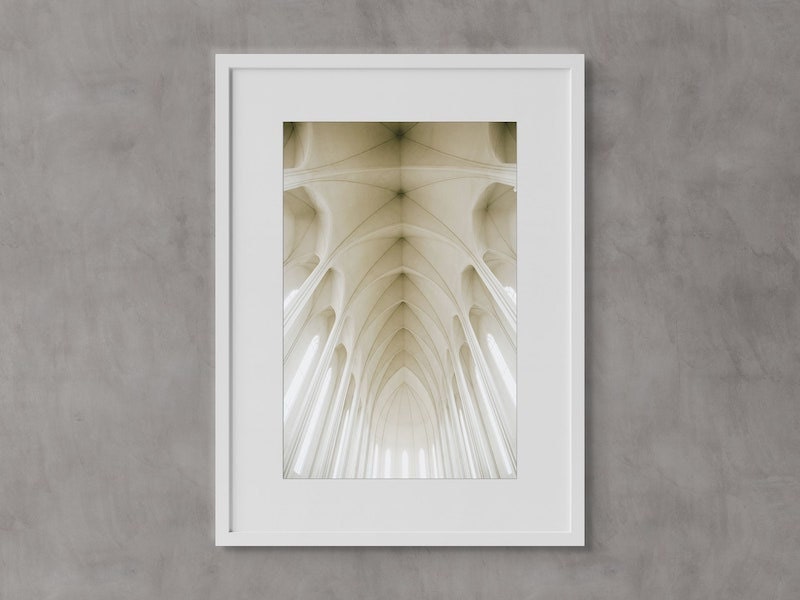 SHOP: Iceland Hallgrímskirkja Church print from MO Photography, from $15
Fun fact: Photo prints that focus on interesting structures and architectural details can instantly dial up the design in your own space as well (even if you only fantasize about cathedral ceilings).
Action photography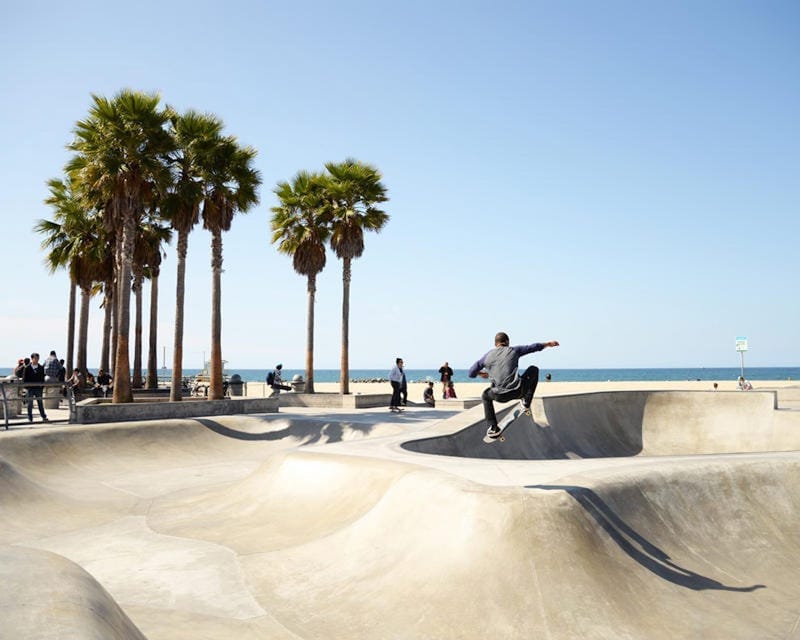 SHOP: Venice Beach skateboard wall art from Allyson Brown Photo, from $18
Action-packed photos like this homage to the Venice Beach skateboard scene seem to jump right off your wall and surround you with the sights, the sounds, and experiences they depict.
Aerial photography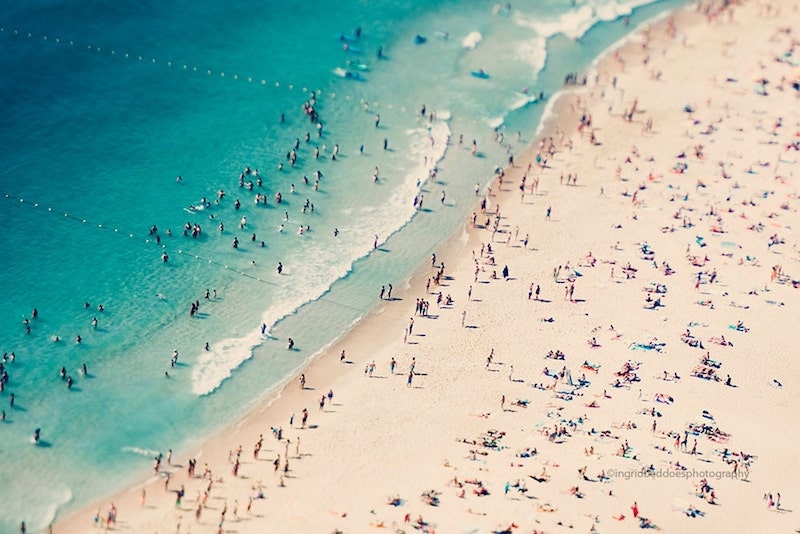 SHOP: Aerial beach photography print from Ingrid Beddoes, from $53
Talk about the power of zooming out! The elevated vantage point of aerial photography prints instantly shifts your perspective and turns the familiar into art.
Black and white photography prints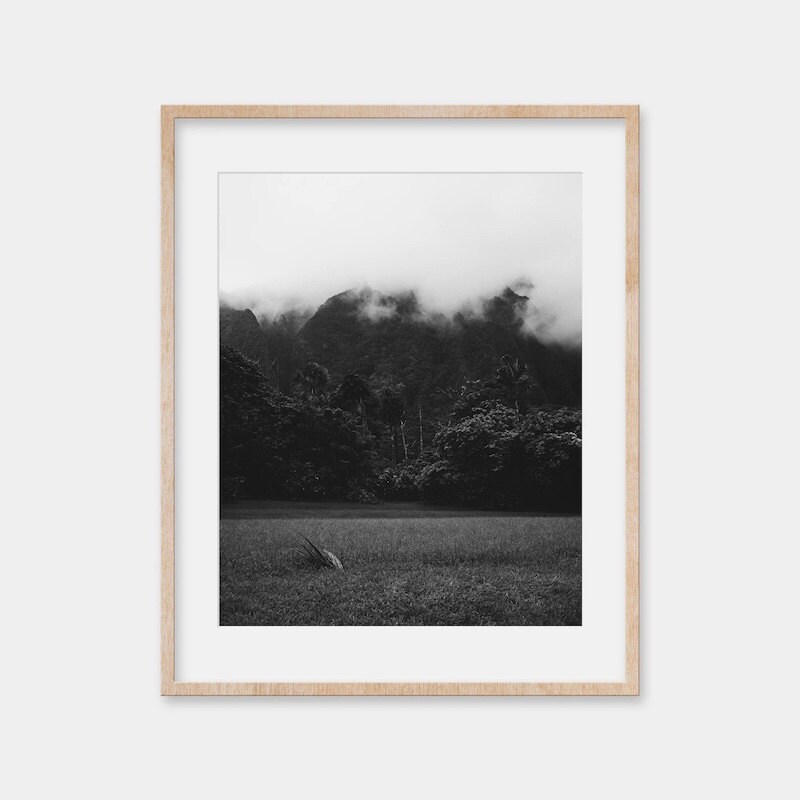 SHOP: Hawaiian ranch photo print from PRNTDLA, from $40
Calm and classic, there's just something timeless about black and white photography, even if the subject matter is slighty unexpected (like this moody, misty Hawaiian mountain scene).
Destination photography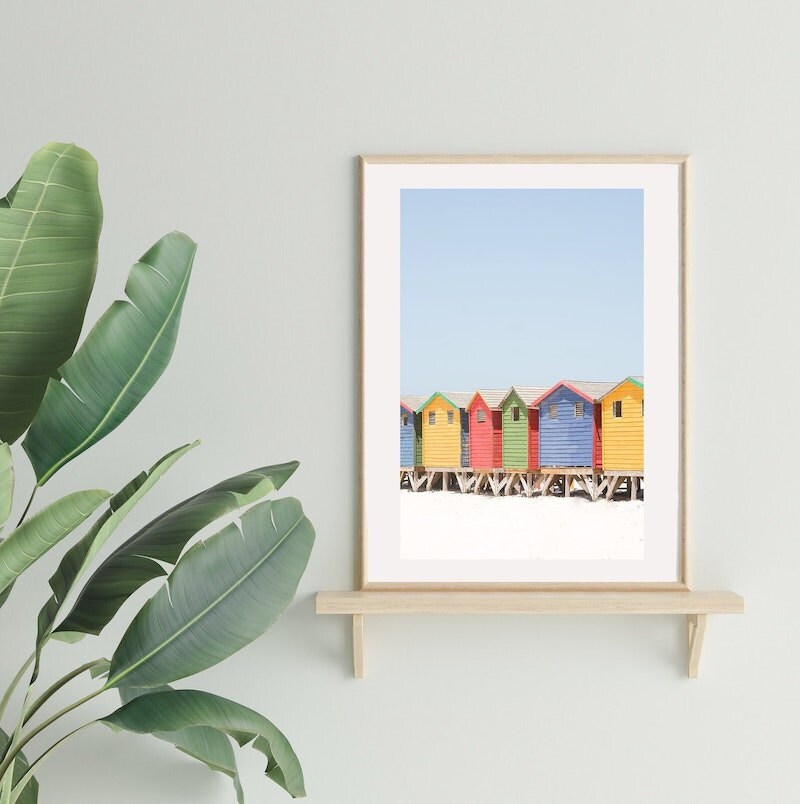 SHOP: Colorful beach huts from Amanda Granoff Photo, from $25
If your bags are nearly always packed for your next getaway, share the places and spaces you've loved most or those you can't wait to visit with a collection of destination-inspired prints.
Say it boldly
Whether they're monochromatic or multi-tonal, filled with countless characters or just a few that resonate deeply, typography art prints make a major impact in any space. These text-based works of art are a clear expression of something significant in your life, be it a lucky number, a motivational mantra, or practical password help that guests are sure to appreciate.
Numbers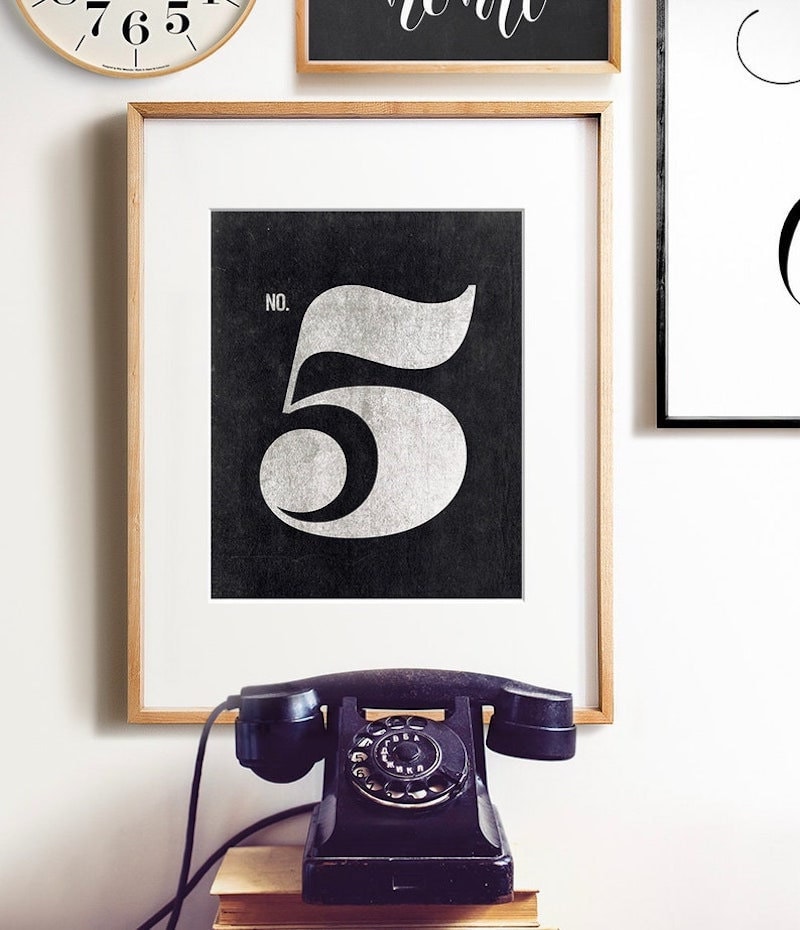 SHOP: Printable Number 5 art print from The Crown Prints, $7
From years and birthdays to lucky numbers and even your enneagram, consider adding a numerical print to your collection—or go for more than one, if a single digit doesn't quite sum you up.
Colorful copy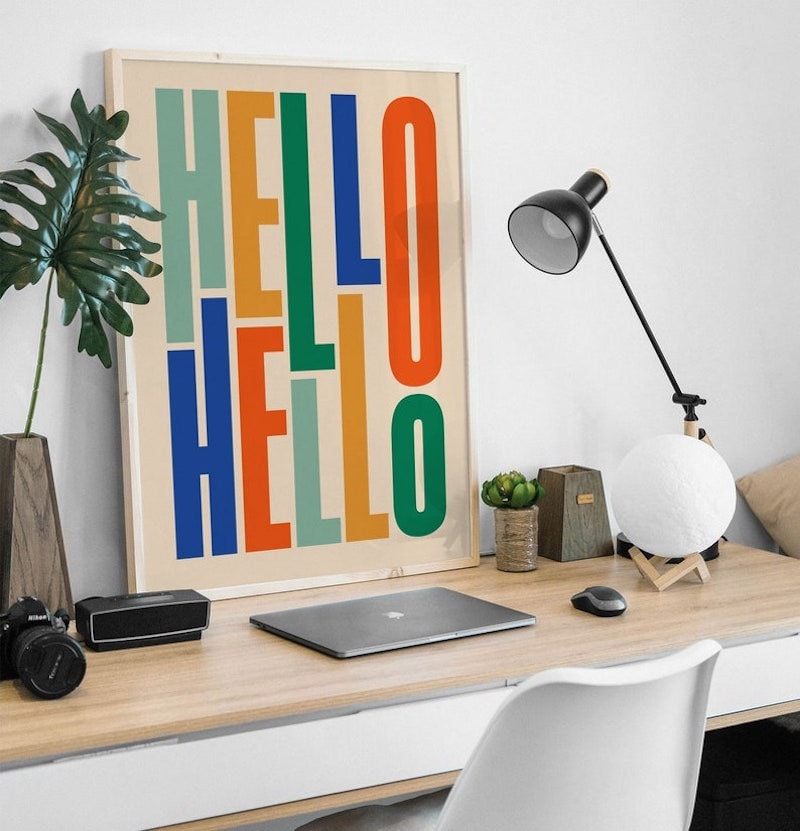 SHOP: Hello Hello poster print from Almanac Co., from $15
Greet guests (and yourself!) with a heartfelt howdy splashed out in retro-rainbow tones and hung high for all to see.
A motivational reminder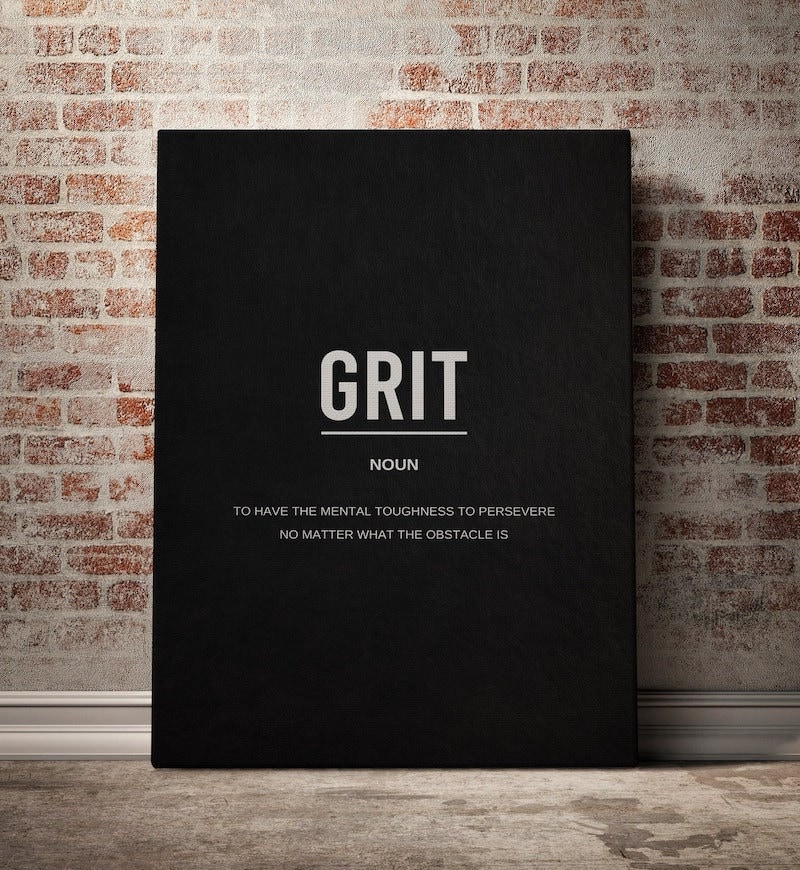 SHOP: Grit poster print from Inspir Canvas Art, from $80
Whether it's in your office or home gym, hang this monochromatic mantra wherever you need a little extra oomph from time to time.
Guest-ready prints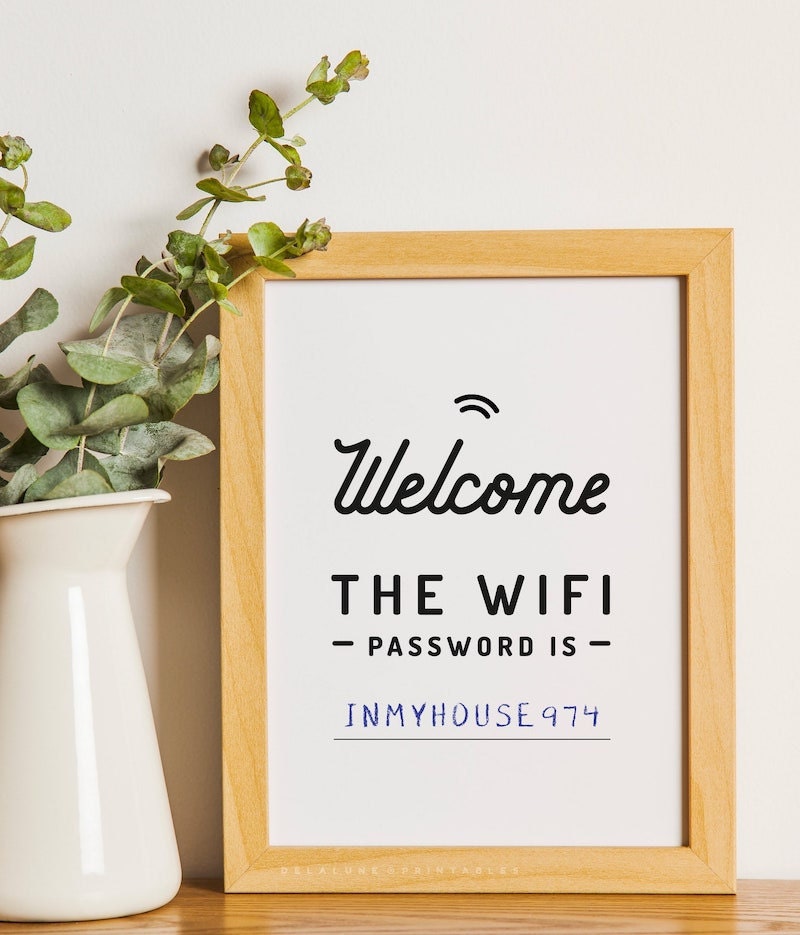 SHOP: WiFi password print Delalune Printables, $6
If the first question you get after "How are you?" is "Hey, what's the WiFi password?", this print is for you. Make it easy for guests to grab the credentials and get connected with this helpful password print.
An important reminder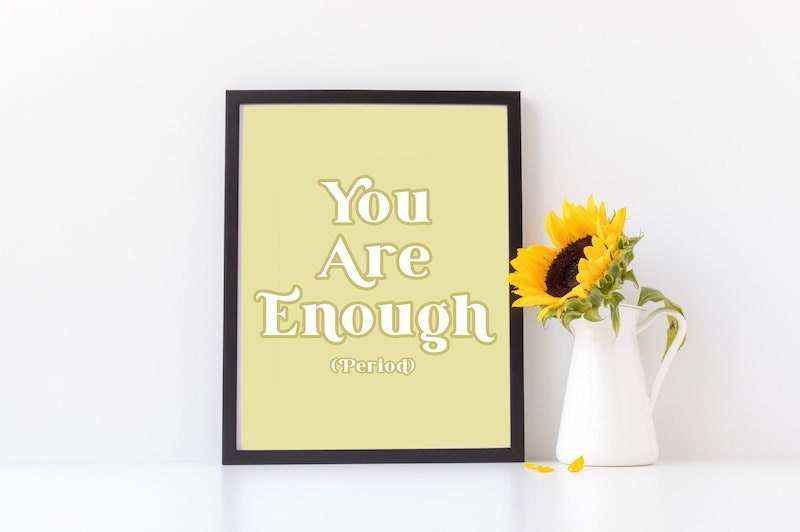 SHOP: You Are Enough art print from The Fancy Bee Studio, $5
You are most definitely enough, and this cheery, inspirational quote is the important everyday reminder we all deserve. Period.