What do you do with sentimental items you can no longer use? For some Etsy sellers, giving those treasures new life is a special calling.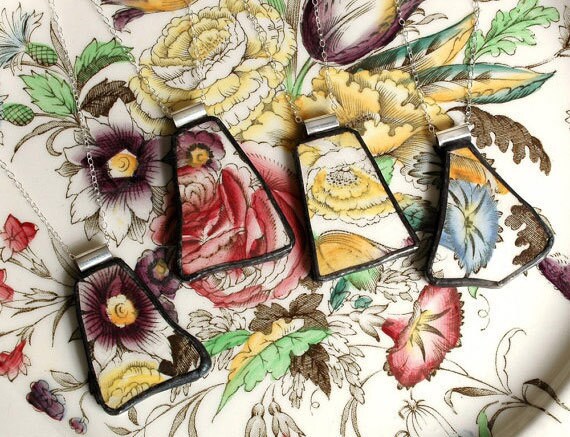 There's something innately satisfying about upcycling: rethinking the way an item is used, renewing its functionality, and keeping it out of the landfill, all at the same time. Turning second-hand suitcases into side tables and junked jars into lanterns is one thing, but reconfiguring items near and dear to your heart adds a layer of complexity. How best to honor the memories in the skirt you wore to your parents' anniversary party; the earrings your grandmother donned at the winter holidays; or the dresser into which you tucked your baby's clothes? While they may no longer be stylish or useful, the sentiments attached make us hang on tight.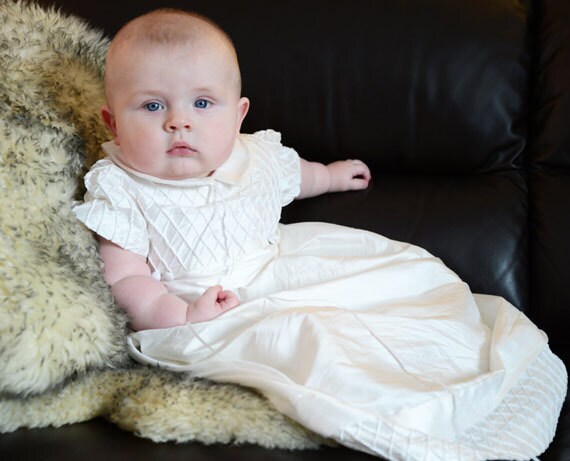 This%20custom%20christening%20gown%20was%20made%20from%20a%20family%20wedding%20dress.%3Cp%3E%3Ca%20href%3D%22https%3A%2F%2Fwww.etsy.com%2Fshop%2Fpetiteparfait%22%3EPetite%20Parfait%3C%2Fa%3E%3C%2Fp%3E
Wedding dresses certainly fit that description — laden with memories but rarely re-worn, they get tucked away in the back of closets. But Erika Mills of 
Petite Parfait
, a creator of custom clothing for children, sees wedding dresses as the perfect raw material for christening gowns, bridesmaid's dresses, and other elegant children's wear. "Every dress is different and it keeps the creativity flowing," says Erika. "There is a lot of emotion attached to wedding dresses, and people share their stories with me. One woman had three generations of family wedding gowns made into one christening gown as a shower gift for her daughter. Another wanted her adopted daughter to have a beautiful blessing dress from her wedding gown as a symbol that she was chosen."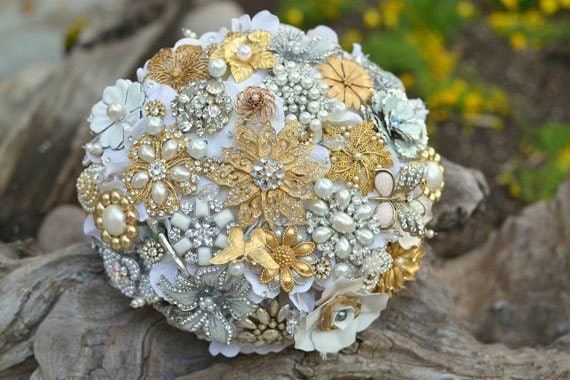 Noaki%20Jewelry%20creates%20custom%20bridal%20bouquets%20using%20heirloom%20brooches%20and%20earrings.%3Cp%3E%3Ca%20href%3D%22https%3A%2F%2Fwww.etsy.com%2Fshop%2FNoaki%22%3ENoaki%20Jewelry%3C%2Fa%3E%3C%2Fp%3E
Upcycling day-t0-day items can be just as meaningful. A desire to preserve the receiving blankets she'd wrapped her newborn babies in provided crocheter Julia Akpan with fodder for the memory bowls she sells in her shop 
the BackLoop
. "I didn't want them to end up as grungy rags, so I made one into a bowl that now holds my daughter's hair ties and barrettes," says Akpan. She's since offered the same opportunity to her Backloop customers and appreciates that they're entrusting her with something of deep sentimental value. "It can be a challenge, because some of the blankets come to me in tatters and threadbare. But to give something back its life, its usefulness, and its prominent place in a family feels so special."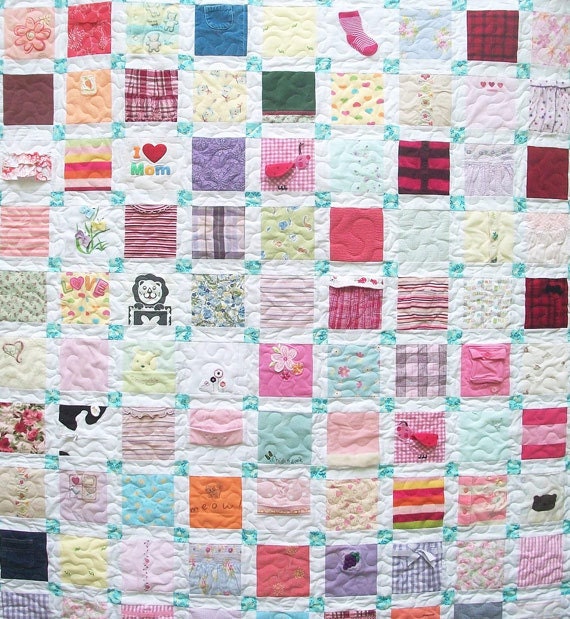 An%20heirloom%20quilt%20constructed%20with%20old%20baby%20clothing.%3Cp%3E%3Ca%20href%3D%22https%3A%2F%2Fwww.etsy.com%2Fshop%2Fwarmnfuzzies%22%3EWarm%20'n'%20Fuzzies%3C%2Fa%3E%3C%2Fp%3E
While it brings satisfaction, working with cherished artifacts isn't always easy. Tiffany Nelson of 
Warm 'n' Fuzzies
 creates quilts from baby clothing. Her first customer was the mother of a two-year-old who had died of cancer. "I had a hard time cutting into his clothing," says Tiffany. "I have two boys of my own, and I could not stop thinking about the family and what they must be going through." She's gone on to make numerous quilts from baby clothes for families whose children have grown older. "I imagine how hard it must be to send off your memories to a complete stranger and wait for months to see what the end product will look like," says Tiffany, so she keeps customers apprised of her progress through photos. "I make these quilts because it brings a smile to my face every time I finish one and I hear my customer's reaction."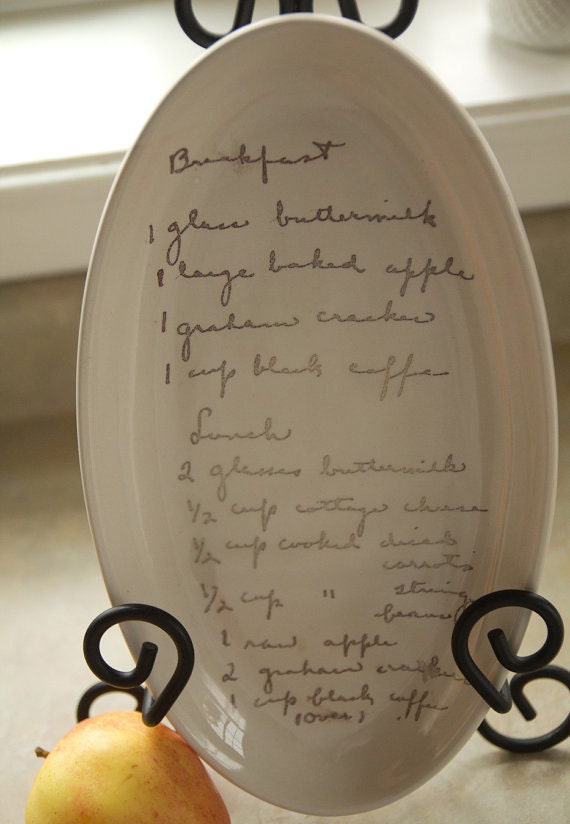 Commemorate%20a%20favorite%20family%20recipe%20with%20a%20custom%20dish%20in%20the%20cook's%20handwriting.%3Cp%3E%3Ca%20href%3D%22https%3A%2F%2Fwww.etsy.com%2Fshop%2Fphpottery%22%3EPrairie%20Hills%20Pottery%3C%2Fa%3E%3C%2Fp%3E
Emotions run deep for many Etsy sellers who upcycle sentimental items. Mario Nickos of
Redsmo
has created teddy bears for children from the clothing of a grandparent who died before they were born. Mumsey of
Mumsey's Mouse House
got started when she crafted tiny mice for family members from clothing their deceased mother had worn. "When I saw the joy it brought them, I decided to offer this to others," she says. Goldie of
Goldie Fox
transforms military uniforms and the memories they hold into bags, including a New Daddy bag for a friend. "It is very rewarding to give new life to something as symbolic and emotional as a uniform," she says. Creating new memories from old is at the heart of sentimental upcycling. As Julia Akpan says, "Don't let the things you once cherished languish in a closet, attic, or basement. It doesn't have to be a grand gesture; a simple crocheted bowl, a quilt made from concert T-shirts, or coasters from the wine corks from your wedding can give you a little daily reminder of special moments in your life."
Scroll through this slideshow for more innovative reuse of much-loved objects.
[etsy_slideshow]