This Indigenous Peoples' Day, discover the rich traditions and powerful emotions that inspire the work of Indigenous artists—from beaded jewelry to bold decor.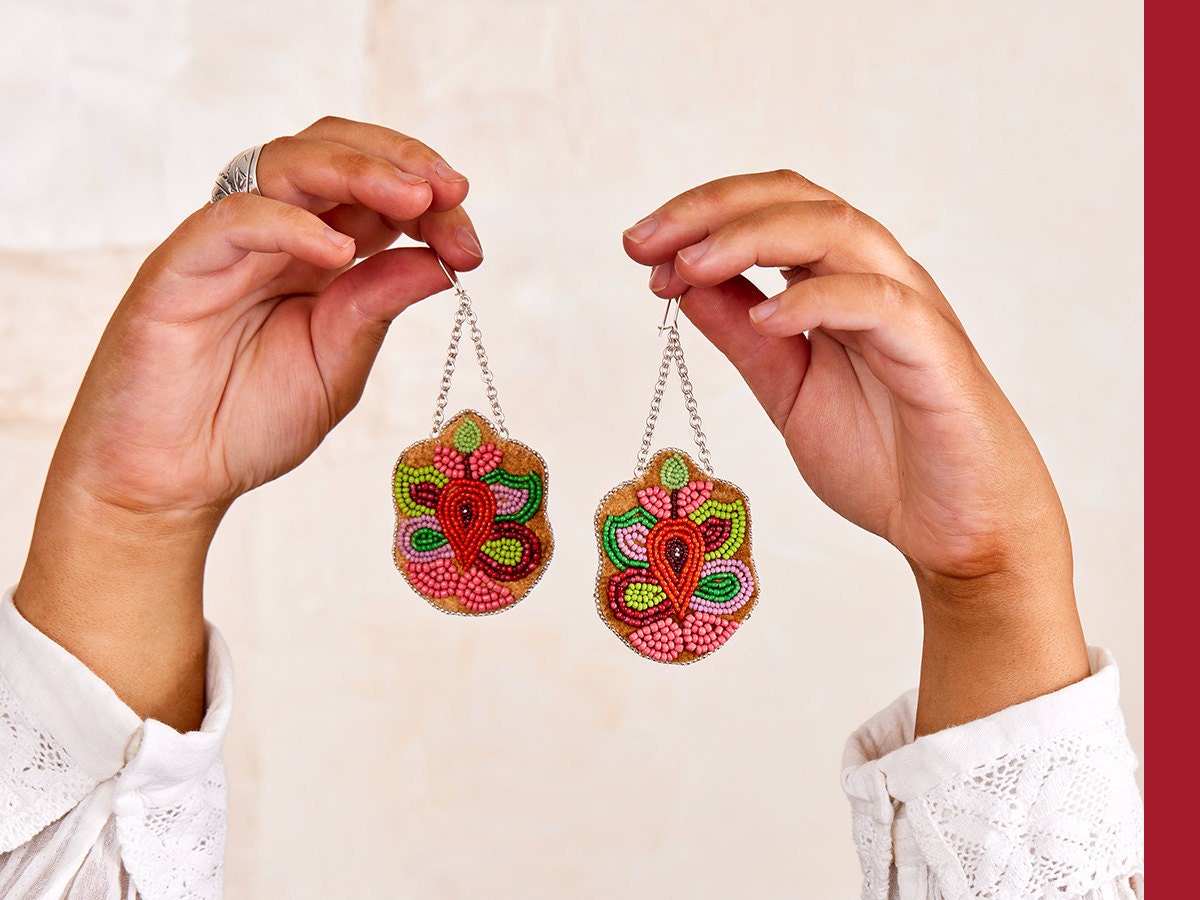 Whether it's a set of statement earrings beaded using ancestral techniques or a candle scented with lemongrass to evoke a sense of peace, the meaningful creations from members of Etsy's all-new Indigenous Artisans Collective—launched today in honor of Indigenous Peoples' Day in the United States—are a reminder that each handmade item on Etsy has its own beautifully complex backstory. "I always keep in mind that my finished pieces not only speak for me, but for my ancestors, whose sacrifices made my life possible," explains Jennifer Reeder, an affiliate of the Caddo Nation of Oklahoma, who sells nature-inspired jewelry in her shop Oklahoma Thirty Nine. "I feel a great personal responsibility in preserving my tribal culture and traditions so they're passed on to the next generation."
Coordinated in partnership with nonprofit
Nest
, the latest maker program from Etsy's Uplift Initiative includes talented artists affiliated with 10 Indigenous groups across the US and the First Nations of Canada, showcasing their exquisitely handcrafted decor, jewelry, and accessories—and shining a light on the rich traditions and real human emotions that inspire them. "Seeing my designs come to life and having others enjoy these little works of art is amazing," says Navajo Nation affiliate April Toledo of her customer base, which she hopes to see grow with the beautiful beadwork in her Etsy shop
Juniper Dreams by April
. "I hope buyers see the unique designs and techniques, and treasure them. These are literally my daydreams come to life."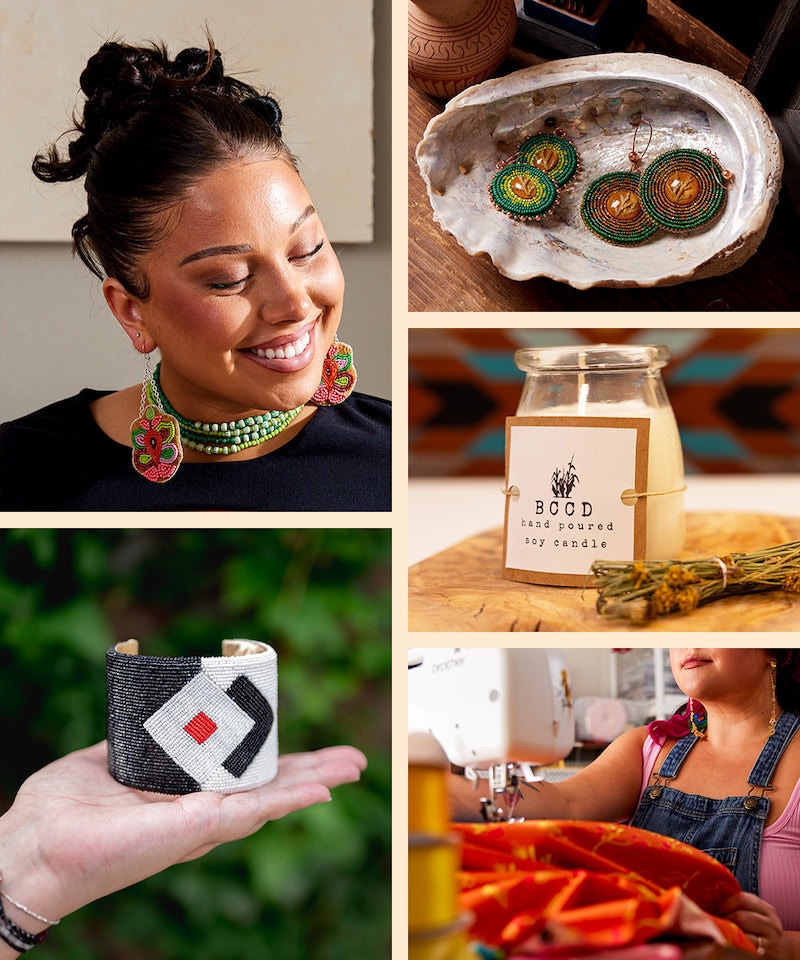 Photos by Brandon Smith, Roshan Spottsville, and Renee Anna Cornue
Indeed, the introduction of the Indigenous Artisans Collective on Etsy is an opportunity for us all to appreciate the diverse cultures and craftsmanship of Indigenous peoples across North America. Cherokee or Seneca, Navajo or Cree; each group's history is distinct, but for many of the makers participating in the collective, the end goal is the same: to ensure voices from their communities are heard and seen. "When people wear my products, whether they are Native or not, I hope it's a reminder that we are still here, that our voices matter, and that they will stand with us as allies," explains jeweler Tayler Gutierrez, an affiliate of the Cherokee Nation of Oklahoma and owner of shop Kamama Beadwork.
ƛ̓áqvas gḷ́w̓aqs, an affiliate of the Haíłzaqv Nation who who goes by Vina Brown in English, agrees. "I don't just make art for myself, I make it to carry on the stories of my ancestors and family," says the artist and owner of Copper Canoe Woman. "I learned to bead, weave, and sew from my aunties and grandmothers. Making Indigenous art is part of my cultural continuation and education here as a human being on the planet."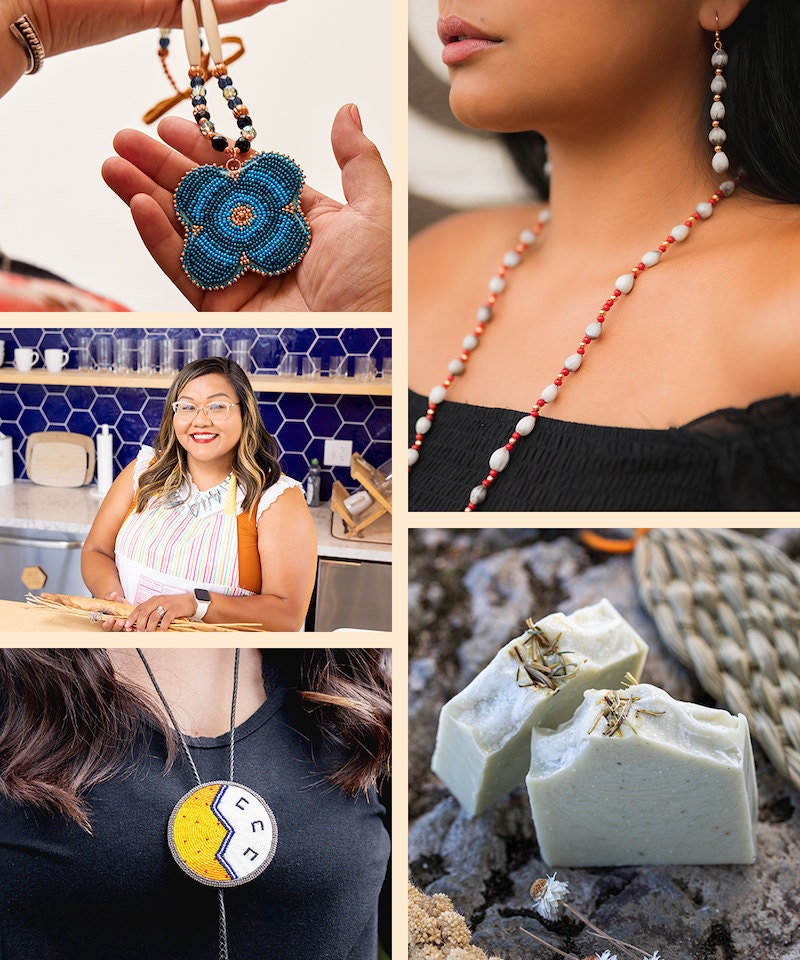 Photos by Brandon Smith, Devin Dry, Story Silo Media, Roshan Spottsville, and Renee Anna Cornue
From vibrantly tufted ornaments to woven hats accented with delicate glass seed beads, each seller's handmade, heirloom-quality pieces are part of a longstanding tradition of craft that continues to hold significant cultural value—as well as economic opportunity—within their communities. Beadwork in particular is a shared skill among many makers, as the art form provides a tangible connection to personal heritage and an outlet for self expression.
Taught by her grandmother, Navajo Nation affiliate April has beaded all her life, and today fashions joyful earrings, pendants, medallions, and moccasins for her shop. "Beadwork speaks to almost every tribe. With beading, you go and sit and talk and share—and it's almost a universal Native tradition," she explains. For April, the art form is a means of connecting to her Navajo roots, but also a meditative practice. "It's such a personal art; it takes my mind off busy thoughts and promotes a healthy mental state," she says.
For Mary Jacobs, an affiliate of the Seneca Nation of Indians and the owner of Mary Jacobs Designs, the connection between craft and identity also runs deep. "I bead to keep my culture alive," she says. Mary grew up surrounded by beading, and passed the skill on to her daughter, Samantha, who now runs her own shop, Samantha Jacobs Art, as part of Etsy's Indigenous Artisans Collective. Together, the mother-daughter duo also instruct a weekly beading class in their local heritage center. "I insist that anyone who takes it then teaches someone else so that art keeps thriving," Samantha adds.
This sense of responsibility toward supporting the community is also part of the ethos of the program itself, for which we tapped several Indigenous Mentors—established entrepreneurs who already run Etsy shops—to help guide and advise makers in the Collective who are new to Etsy.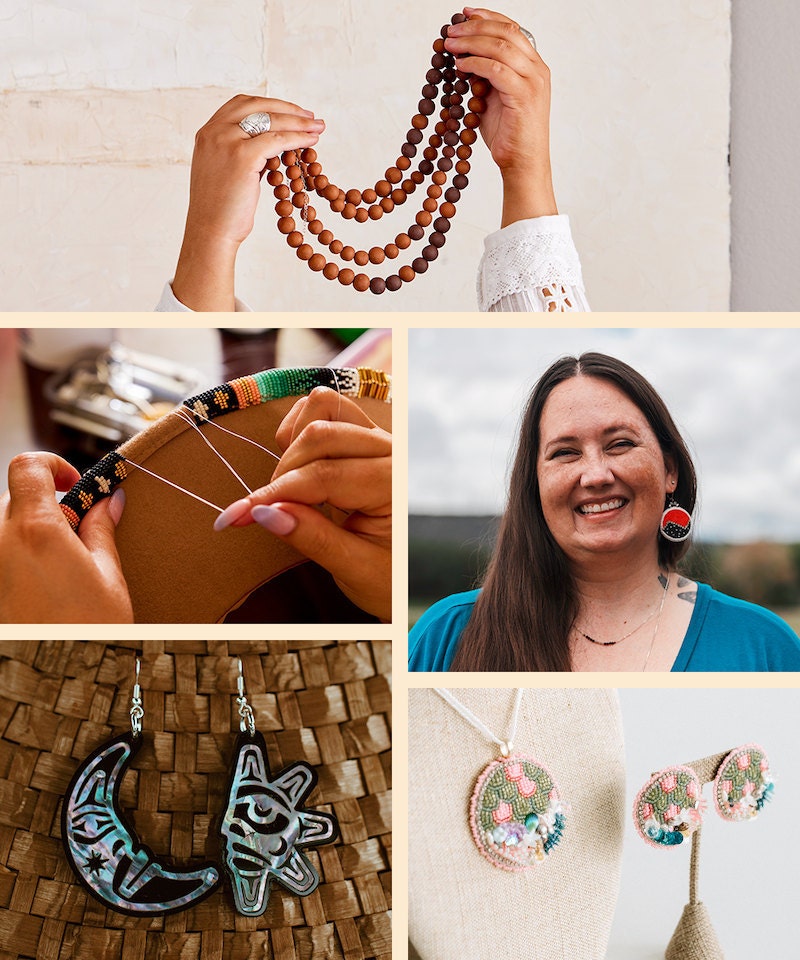 Photos by Brandon Smith, Renee Anna Cornue, Brooks & Co, and Back Country Bohemians
The importance of uplifting each others' work—and thereby carrying on crafting traditions—is further echoed by many of the collective's artists, including Absentee Shawnee affiliate Kate Sultuska, who teaches traditional ways of making to other Indigenous community members. "I've been drawing, painting, and creating since I could first hold a pencil," explains the multi-talented artist, whose Etsy shop, Sweetgrass Reign, is filled with vibrant apparel, jewelry, and sweetgrass-scented candles in upcycled containers. "Countless Indigenous women have shared skills with me over the years. As I made my first regalia set, Kayla taught me to sew and Cinnamon taught me to bead. A few years later, Sarah taught me how to make my first ribbon skirt as we prepared for a special event together. This is why teaching community members is such an important part of my vision as an artist."
For other artisans, honoring nature is a major motivating factor. "For me, the creative process begins when I'm in nature," says Jeanne Lewey, an affiliate of the Penobscot Nation who sources wild-harvested Blue Glacier clay to create sweetgrass and cedar soaps for her shop Lew Blessed Creations. "I am happiest when creating a new recipe; it puts me in a prayerful state."
Seneca Nation affiliate Samantha also takes inspiration from her surroundings. "I like to make items that tell a story and things that reflect the nature around me. Sometimes that means I bead a pretty flower I see every day outside my window, other times I tuft sea coral I've seen on vacation."
This deep appreciation for nature underscores much of the work from the collective, not only via the motifs and materials used in items themselves, but in the way the makers approach the creative process. "When I make something, I take note that all of my materials came from somewhere, and I am just acting as a conduit to piece them together into something new," Tayler explains. "In Cherokee, there is no word for artist. So while the western world sees me as an artist, I'm really just someone who brings things together in a different way."
Part of the Etsy Uplift Initiative, The Uplift Makers Program was established to help create access for historic, artistic communities that face systematic hardships, kickstarting their journeys to entrepreneurship. From expert-led digital marketing training, to professional photography and more, our aim is to address key barriers new business owners face.