A special piece of jewelry for your bestie, sweet home decor for your honey, plus something extraordinary just for you—all straight from small shops.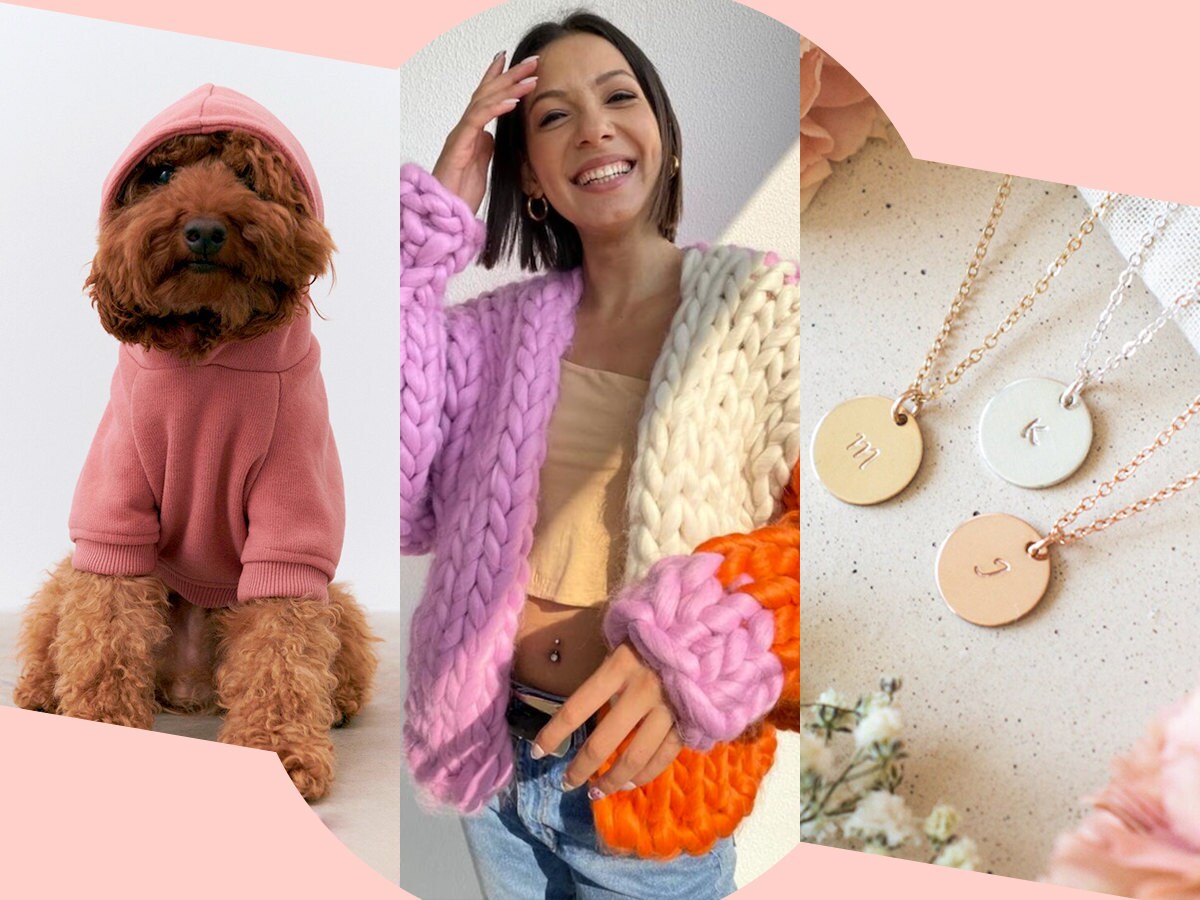 Sure, you could play it safe with a generic heart-shaped box of chocolates, but where's the fun in that? This year, we're leveling up our gifting game and showering all the loves of our life with one-of-a-kind Valentine's gifts that feel as gorgeously distinctive and undeniably special as they do, straight from small businesses on Etsy. After all, our favorite people put their hearts into everything they do—so it only makes sense to get them a gift from an independent seller who does the same.
We're talking a super snuggly pillow for your galentine, a piece of jewelry as shiny as your super-stylish mom, or a handcrafted set of spices for your home-cooking cutie to help them live their best chef life. Keep scrolling for unique Valentine's Day ideas, including gifts for her, gifts for him, and gifts for the furry members of your crew—plus a whole host of affordable Valentine's Day gifts under $50 and presents that ship quickly, too. And remember, self-love is just as important, so we'll be treating ourselves to a little Valentine's gift, just because—and we encourage you to join us!
Valentine's Day gifts for him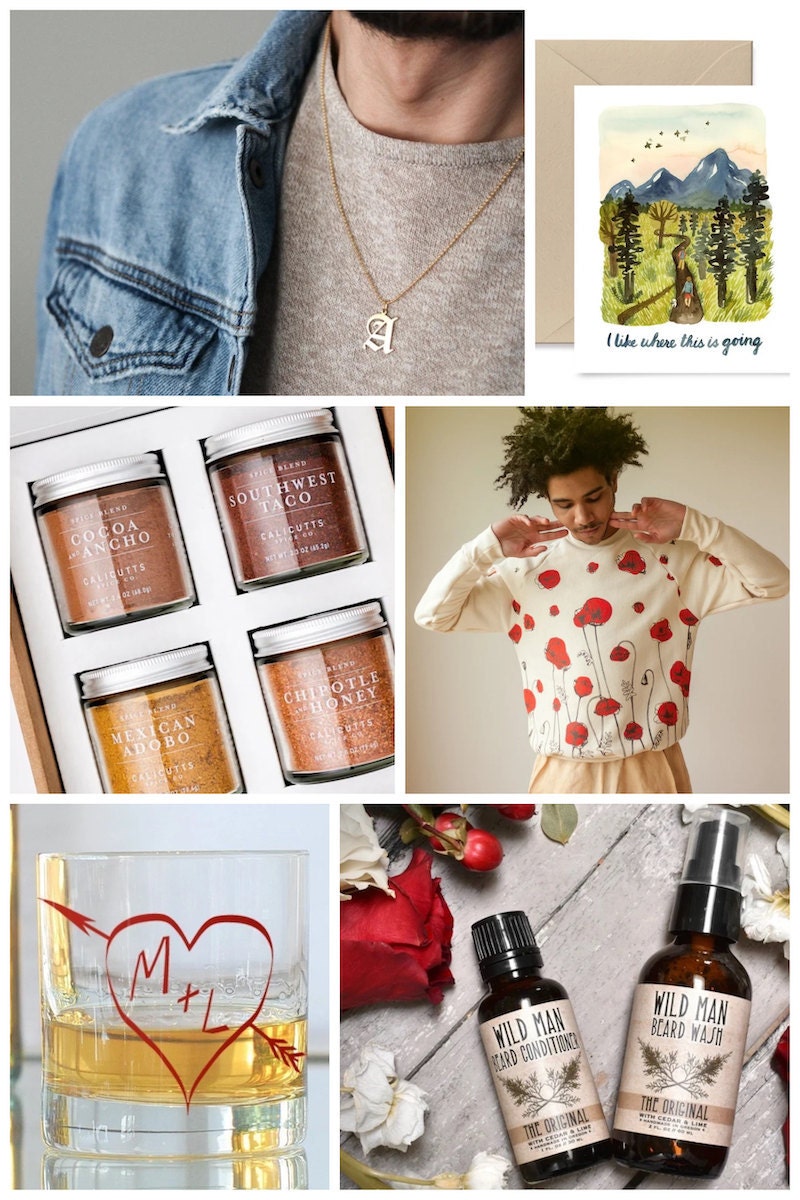 Sometimes he's sweet, sometimes he's spicy, and sometimes he makes us laugh until we cry. From our partners to our dads and wacky uncles, our favorite dudes keep us guessing, and that's just one of the reasons we love them. Show him just how much you love those little things that set him apart with a non-cheesy Valentine's gift that's made just for him. From a subtle-yet-sappy note for your first Valentine's Day together and monogrammed cocktail glasses to toast the love you've built to those beard grooming essentials he never seems to keep on-hand (here's looking at you, bro!), these gift ideas speak especially to what makes him oh-so-special. Discover more Valentine's Day gift ideas just for him.
Valentine's Day gifts for her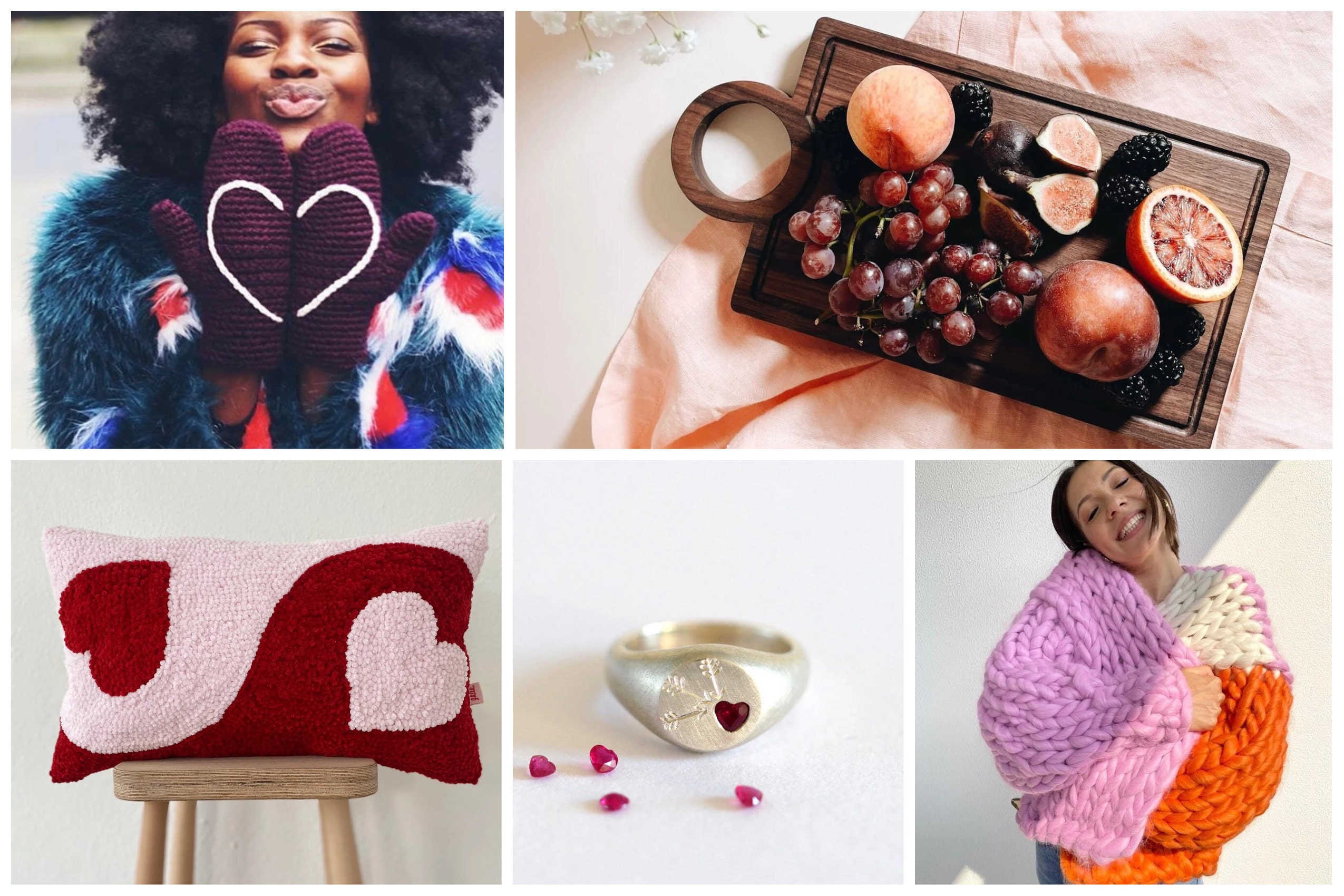 Whether it's playful heart mittens (on a string!) and chunky cardigans that are almost as good as a hug or a fluffy pillow to remind her she's always in your heart, these cute Valentine's gifts for her are perfect whether she's your bestie or your beloved. With heart-inspired finds starting under $15, these unique Valentine's gifts for her are sure to put a smile on her face. Discover more Valentine's Day gifts made especially for her.
Valentine's Day gifts for kids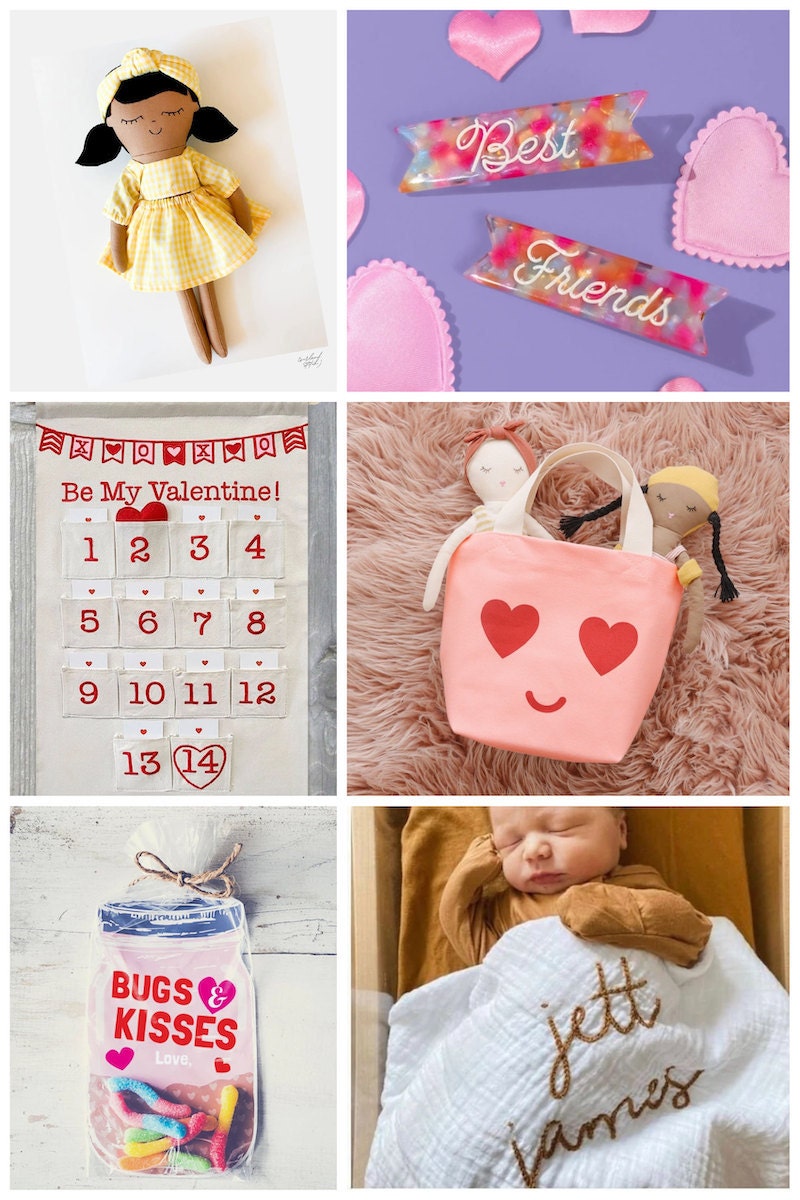 From candy-ready printable Valentines to a countdown calendar complete pockets for love notes, these cute Valentine's day gifts are made with the smallest sweethearts in mind. Pint-size fashionistas will adore a set of colorful barrettes or a heart eye-adorned tote bag for their everyday treasures. And don't forget to show the littlest love bug some serious X's and O's with a personalized swaddler blanket hand-embroidered with their name.
Valentine's Day gifts for pets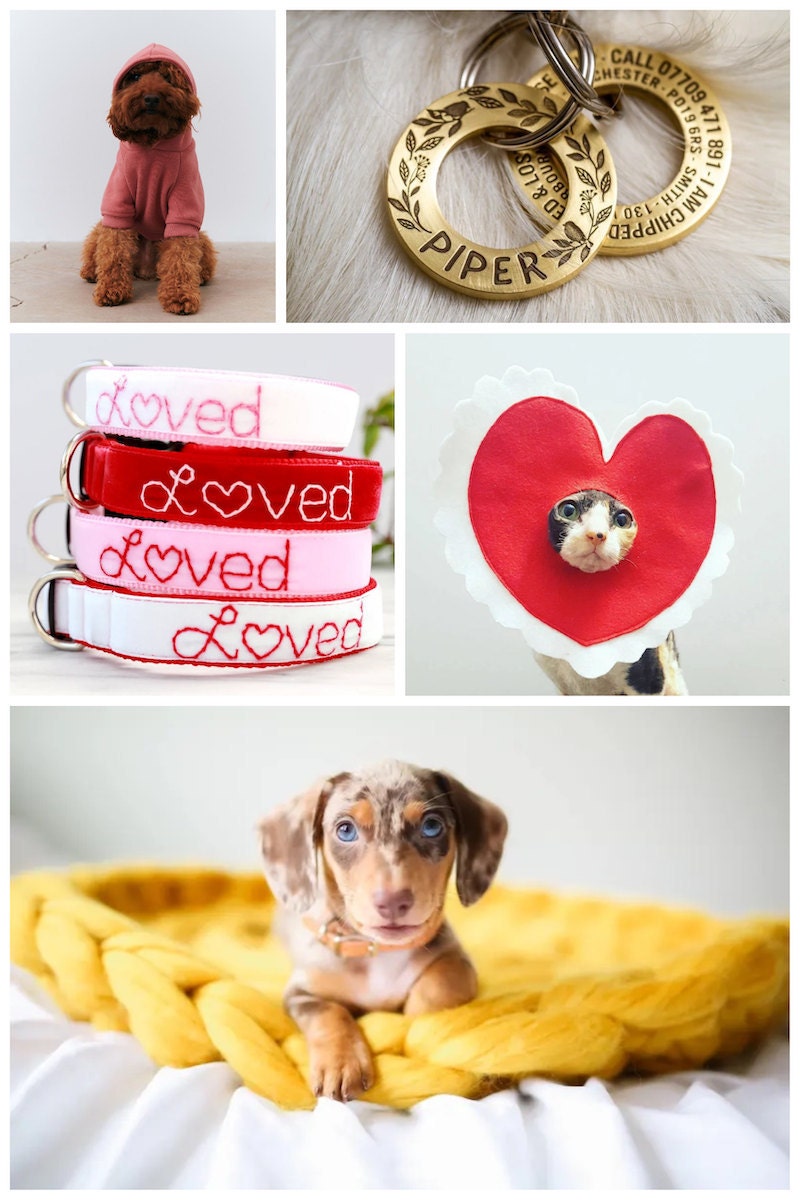 Undying devotion and sloppy kisses every time you arrive home, what more could you ask for in a (pet) partner? Shower your furry friends with an extra dose of love and affection with a unique Valentine's Day gift thoughtfully crafted especially for them. Choose from adorable costumes, cushy dog beds, personalized pet tags, collars, and so much more.
Cute Valentine's Day gifts under $50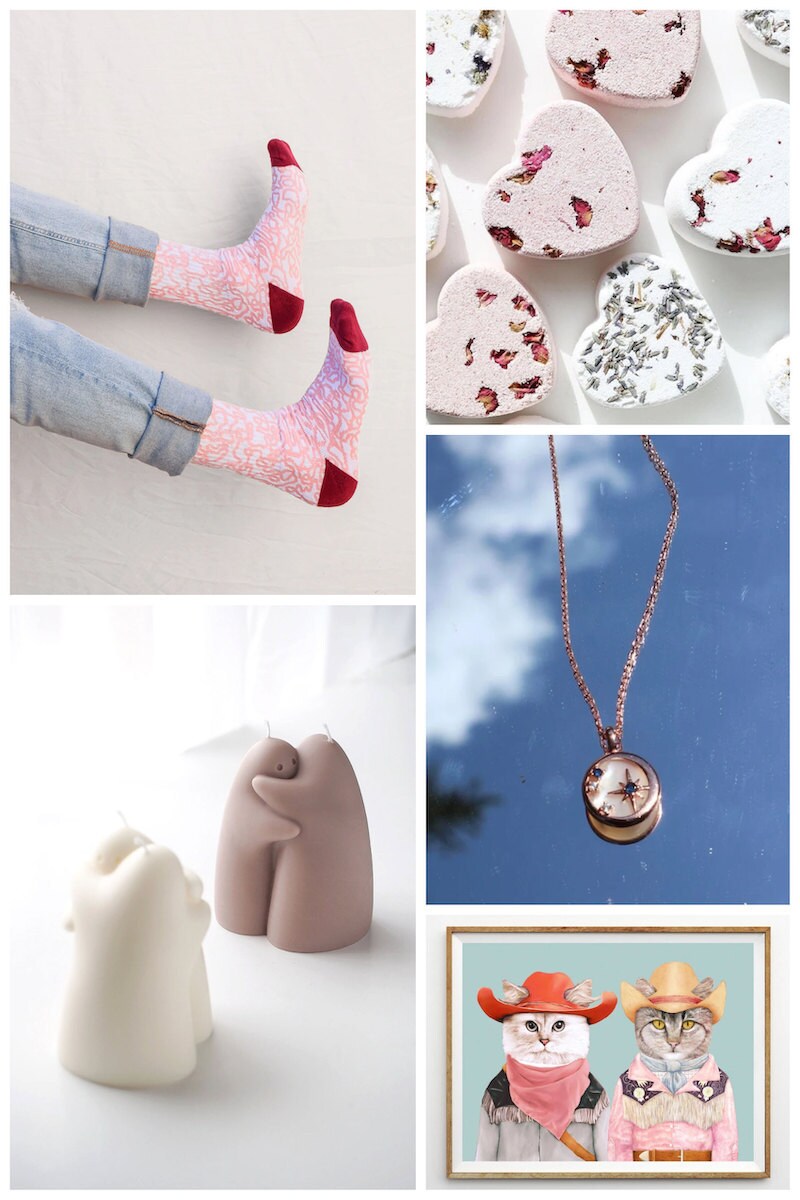 A sentimental gift from a small shop with a small price tag? Talk about major heart eyes! Send a handheld hug from afar with embracing candles. Encourage a little self-care with heart-shaped bath bombs. Celebrate your purrfect partner with some feline-inspired artwork. These Valentine's gift ideas are all under $50 and sure to make their day.
Last-minute Valentine's gift ideas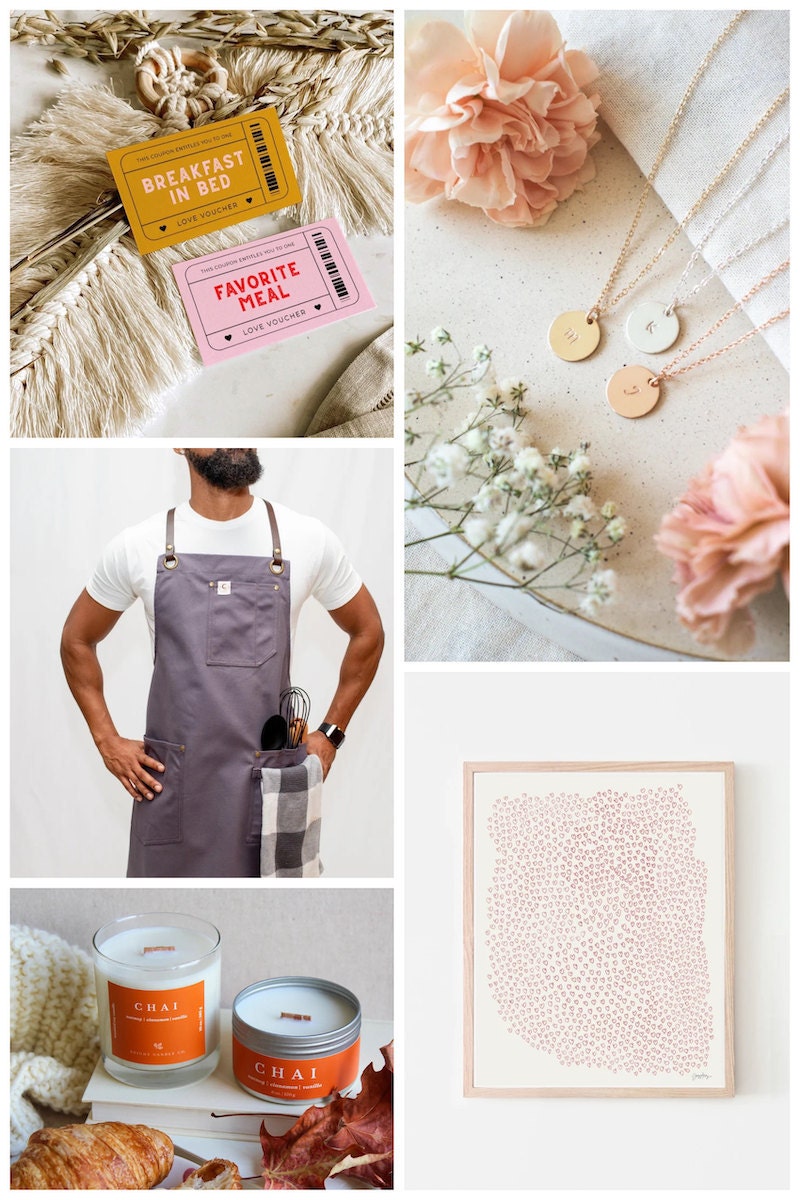 If Cupid's running a bit behind on the Valentine's gifts this year, don't worry! Small shops on Etsy have a fully packed quiver of quick and thoughtful gift ideas, and some are ready to ship* in three business days or less. Actual processing and delivery times can vary, be sure to check each listing for the most current production and delivery information provided by the seller. These fast finds can be perfectly personal, too: Pick an engraved initial necklace and add a charm for each loved one—a sweet Valentine's Day gift for mom to wear all year. Or celebrate that something special that your valentine loves so much, whether it's an abstract art print to add to their growing gallery wall or a sturdy canvas apron made for grillmasters and hobbyists alike. Need a last-minute Valentine's Day gift today? Try a downloadable coupon book that can be customized and printed right at home and right away.
Tip: You can support local artists by filtering by shop location to find Etsy sellers in your area, which may also help reduce shipping times. Some may even offer local pickup.

*"Ready to ship" means orders processed by sellers in up to 3 business days. Actual delivery times will vary. See individual listings for details. Processing and shipping information was accurate as of the initial publication of this story.