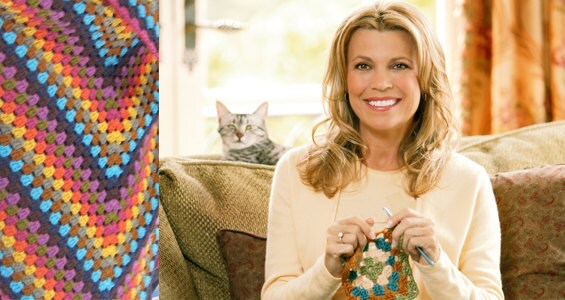 You may think you know Vanna White from her role as America's favorite letter turner on Wheel of Fortune, but did you know she's also an avid crocheter with her own line of yarn? That's right, her "Vanna's Choice" collection from Lion Brand Yarn was launched just last June and has already become a top seller, helping to raise money and awareness for St. Jude's Hospital in the process. We took a spin with this crochet connoisseur to learn more:
Listen to the Lion Brand's Yarncraft podcast to hear their interview with admin from their visit to Etsy Labs!

Q: When and how did you learn to crochet?
A: I learned from my grandmother when I was 5 but I came back to it 25 years ago when my hair dresser encouraged me to crochet on the set of Wheel of Fortune. Whenever I have downtime on the set, I crochet. I find it very relaxing and I have something to show for the time I've spent doing it. I connected with Lion Brand Yarn when I spoke about my love of crochet on the Tonight Show with Johnny Carson 14 years ago. They contacted me and it's been a great friendship ever since.

Q: What is your favorite thing to make with yarn?
A: I love to crochet afghans. I have made countless afghans over the years as gifts for friends and family. I put a tag in each one that says "Handmade for you by Vanna White."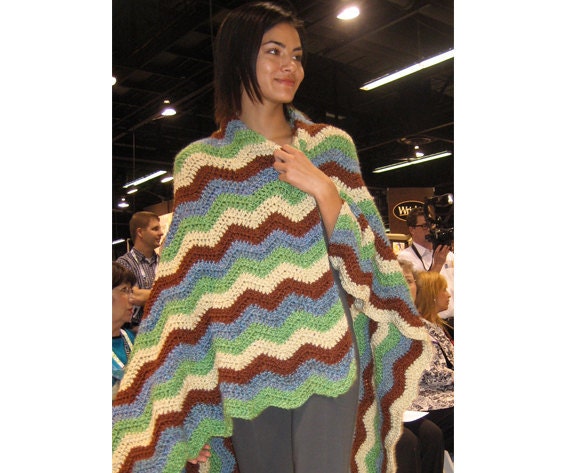 [Fashion images courtesy of Lion Brand Yarns]
Q: Do you have any other crafty hobbies, or any that you'd like to learn?
A: Recently I've taken up cooking. I get recipes from the internet and my favorites are desserts.

Q: Have any handmade heirlooms been passed down in your family?
A: I treasure the doilies by grandmother made for the tables and I still have them.

Q: Have any of your Wheel of Fortune fans ever sent you crocheted or crafty items?
A: Yes, when I was pregnant, I received all kinds of baby items!

Q: What three things inspire you most?
A: I have two children and they are my greatest inspiration. I'm also very involved with St. Jude Children's Research Hospital. The amazingly talented doctors who work at this hospital inspire me by their dedication to such a worthy cause. Half of my proceeds from Vanna's Choice are going to support St. Jude.

Q: I first learned of your crochet skills when you were emceeing a Lion Brand fashion show and now you have a line of yarn with Lion Brand named after you! Can you tell us a little bit about what the process of developing the line was like?
A: I worked closely with Lion Brand to develop a yarn that has an incredibly soft feel, yet would be practical in that it can be machine washed and dried. Once we found the right fiber and texture, we developed a color palette that has beautiful colors that are in the same range tonally so whatever colors you put together will match. Since I love crocheting afghans, we made certain that this yarn would be ideal for knitting and crocheting afghans. We're adding colors since the line has been so successful and a new yarn called Vanna's Baby Yarn with contemporary colors for babies and kids.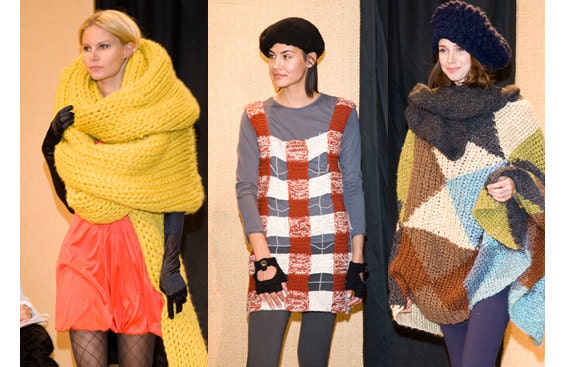 [Fashion images courtesy of Lion Brand Yarns]
Q: Any crochet trends you can forecast for spring?
A: People have been experimenting with crocheted stuffed animals of all different types and I just see them getting more and more creative. You can make almost anything with yarn!

Q: Any trends you wish would go away?
A: Not really. When it comes to something that has been lovingly made by hand, it's all good.

Q: What's one thing people don't know about you that you wish they did?
A: That I am a normal person and lead a normal life. I cook for my kids, take them to school, do homework with them, tuck them in at night. Exercise is important for me, too (so I can fit into those Wheel of Fortune gowns!). I'm not an extravagant or glamorous person at all.

Q: Any other thoughts you'd like to share?
A: I think that handmade gifts are so meaningful and more valuable to people than the most expensive store bought product. I love the look on people's faces when I give them a blanket for a new baby or an afghan for their home. I have this one friend who has a 13 year old and I made a blanket for him when he was a baby. After 13 years she tells me that he still loves loves it. That means everything to me.

Dear Etsians: for this week only (3/25-4/1/08), Etsy users can get 20% off catalog orders at Lion Brand Yarn. Just enter "etsy0308" at check out. Special treat!

Check out Vanna's top Etsy finds below: