Get ready to be the hit of the party with these ridiculously cute couples costumes for you and your furry BFF.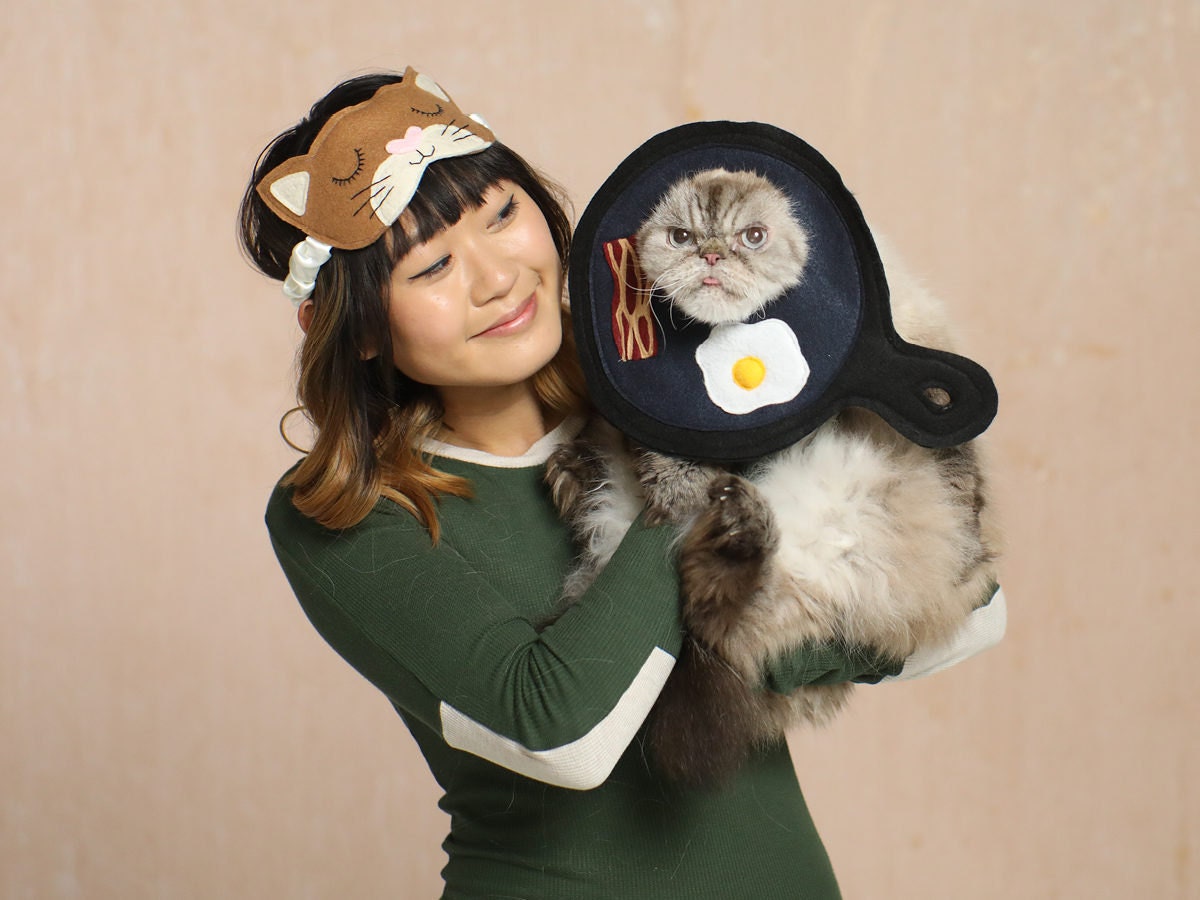 If you've been searching for a willing soul to partner with in this year's costume contest, the perfect participant may be right under your nose, patiently waiting for belly rubs. After all, who knows more about tricks and treats than our beloved furry sidekicks? 
To conjure up a truly one-of-a-kind couples costume for you and your pet, all you need is one eager-to-please (or at the very least, obliging) dog or cat, a handful of cleverly selected Etsy finds, and a pinch of creativity. Curious what we have in mind? Click play to watch seven totally original pet-plus-human costume combos come to life, then shop the playful getups below. Bonus: Many of these ideas include stylish essentials you'll happily reuse long after the pumpkins are put away.
Space explorers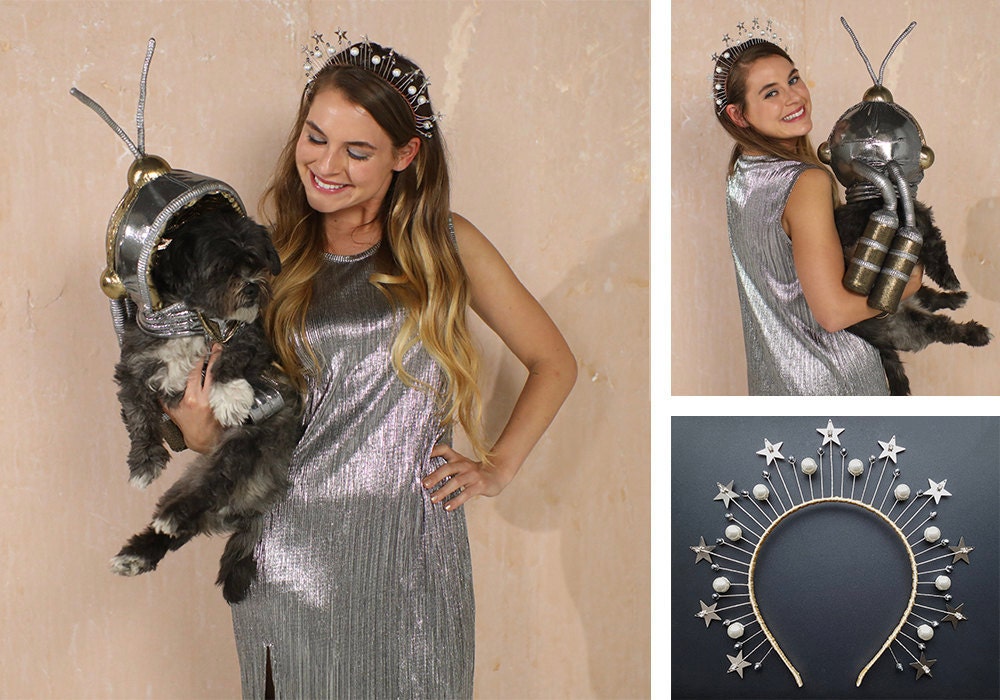 For the intrepid pup who's always sniffing out new adventures, a shiny space dog costume is in order, complete with two sensory enhancing antennae and a metallic jetpack built for blasting off. And since no matter how far they roam you'll always be the center of their universe, of course you'll be starring as a glam interpretation of the galaxies. Simply slip on a shimmering silver dress and top off with a crystal-encrusted crown fit for a celestial queen.
Breakfast in bed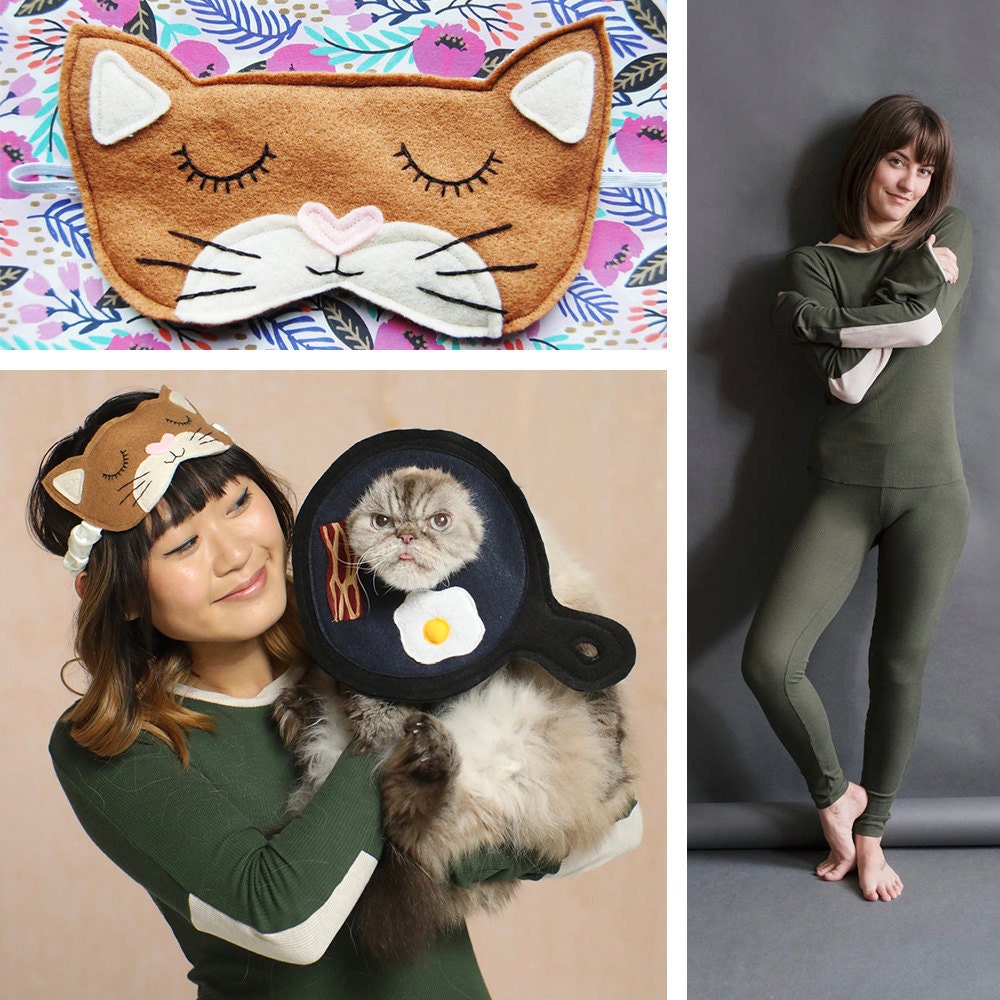 When was the last time you didn't wake up to your kitten not-so-gently mewing in your face, requesting that you please prepare their morning meal? Wouldn't it be nice if, just once, they brought the breakfast to you? Your wish is our command: With the help of this crafty, culinary cat hat, the sight of their mischievous mug now comes with a side of bacon and eggs sizzling in a lightweight felt pan. The best part? All you need to do to complete the costume is show up in your comfiest pair of thermal jammies and add a cat-eyed sleep mask for a frisky finishing touch.
Dino duo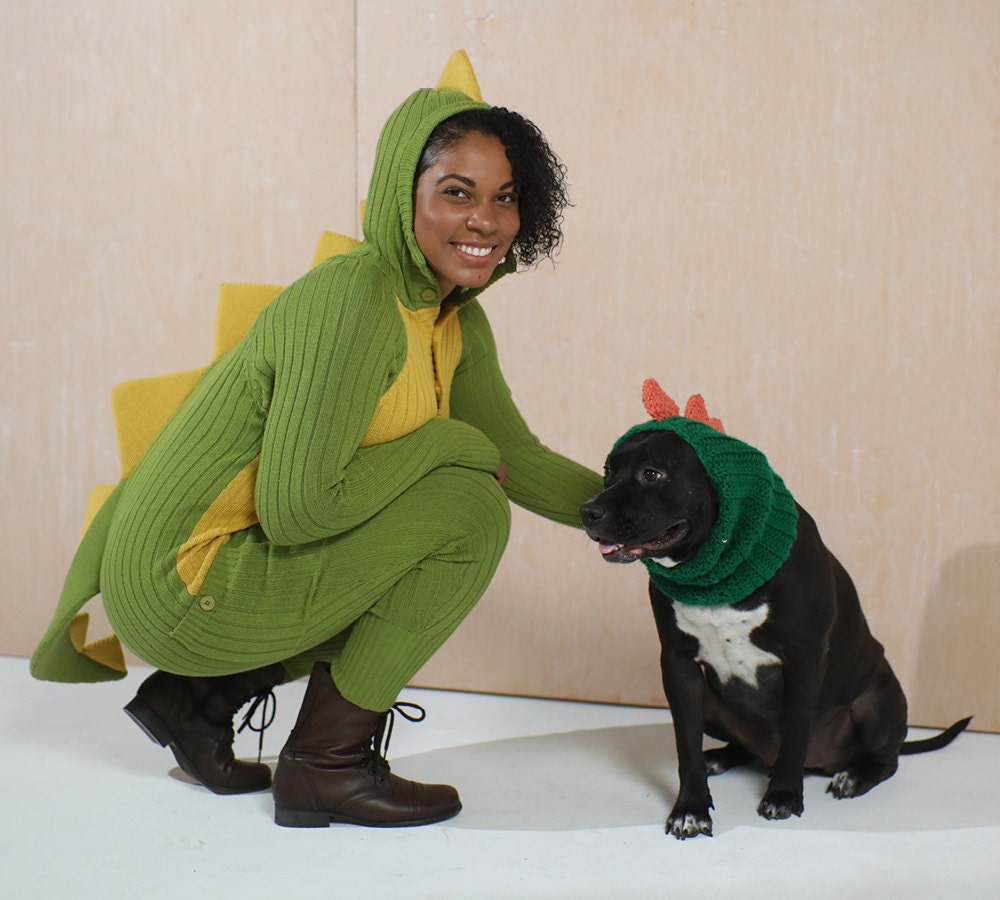 Your pup may be a big ol' mush on the inside, but for one day, why not let them look the tiniest bit ferocious? With matching dinosaur duds, you can terrorize the party with your own personal parade of cuteness. For you, it's as easy as buttoning up a cozy, 100% cotton-knit jumpsuit, and this super-stretchy one's outfitted with multiple pockets—perfect for stashing doggie snacks. For them, a custom-made dino snood with vibrant orange horns will do the trick, and keep their ears warm during the autumn chill while you're at it.
Spring breakers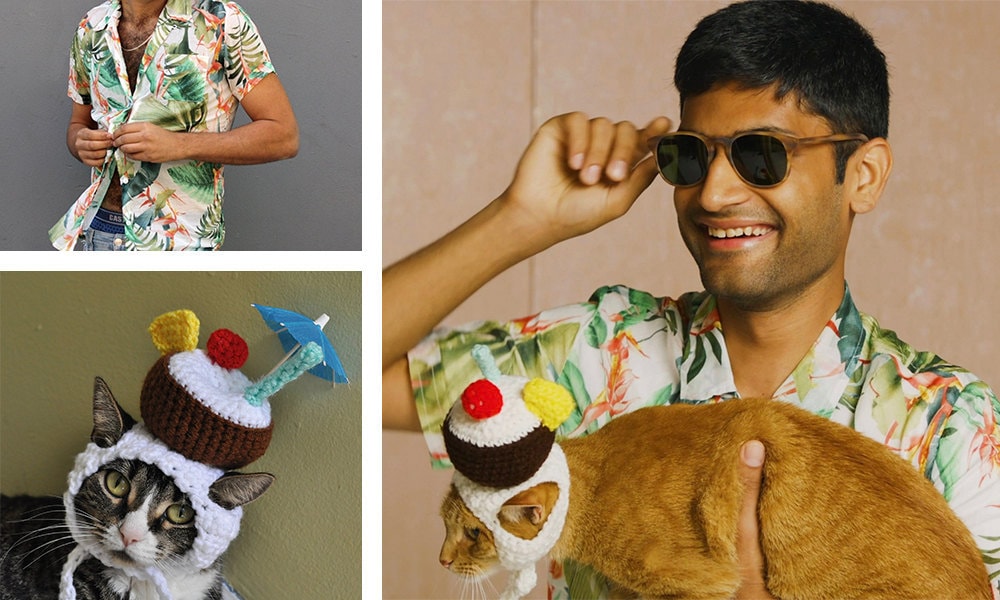 Any doting cat owner can attest: The hardest part of going on vacation is leaving behind our feline friends. So this Halloween, why not whisk yourself away to an island getaway where kitty can still come with? Simply disguise your cat as a tropical cocktail (thank you, tiny crocheted piña colada hat!), and you'll instantly be transported to a world of sandy shores and ocean breezes. Throw on a handmade Hawaiian shirt and some cool shades, and prepare to soak up the sunny compliments.
Plant parent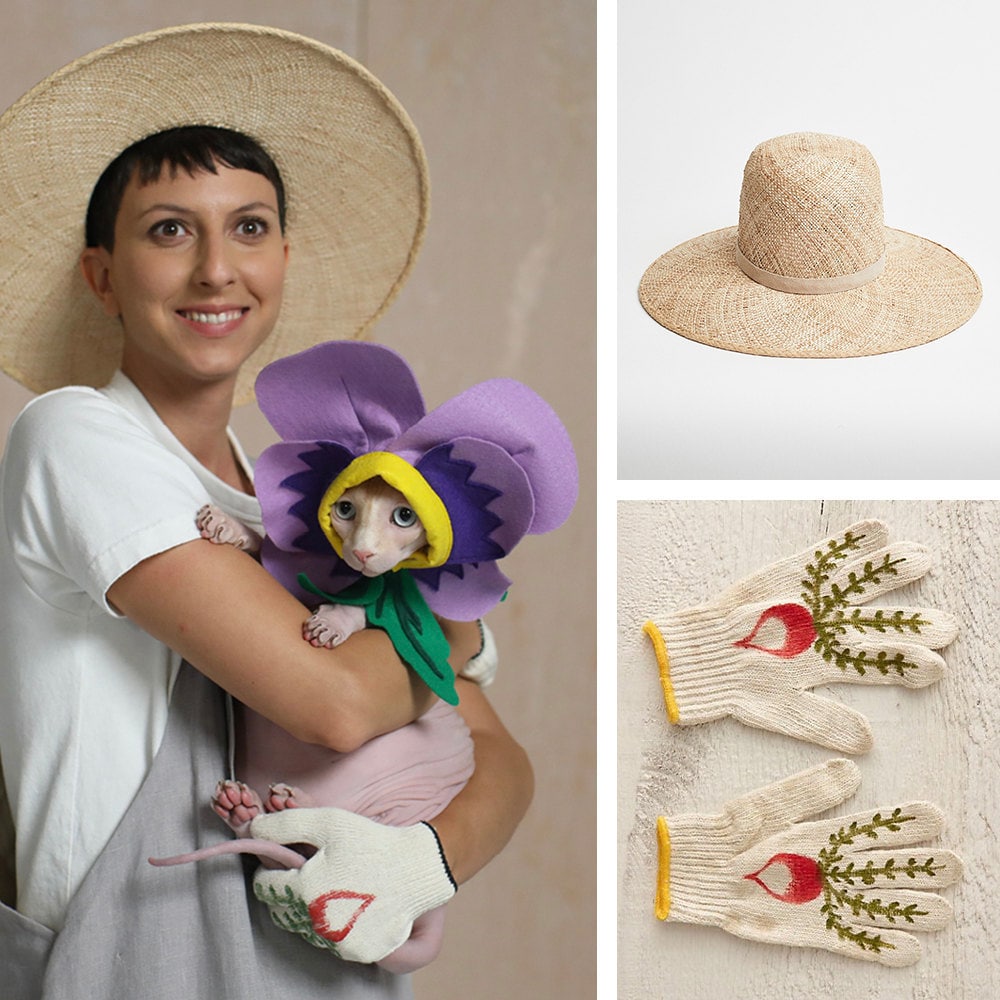 For some of us, our plant babies are just as precious as our fur babies, so naturally we've unearthed a creative way to pay homage to both. Grab your lightweight linen work overalls, a wide-brimmed straw hat, and a pair of radish-adorned gardening gloves, and show off your prize-winning bloom from this year's flower-growing competition: an ultra-rare cat violet. Your feline companion will draw oohs and aahs (and lots of pets) dressed in this Earth-friendly purple-petaled hat, which is crafted from felt derived from recycled water bottles.
Body swap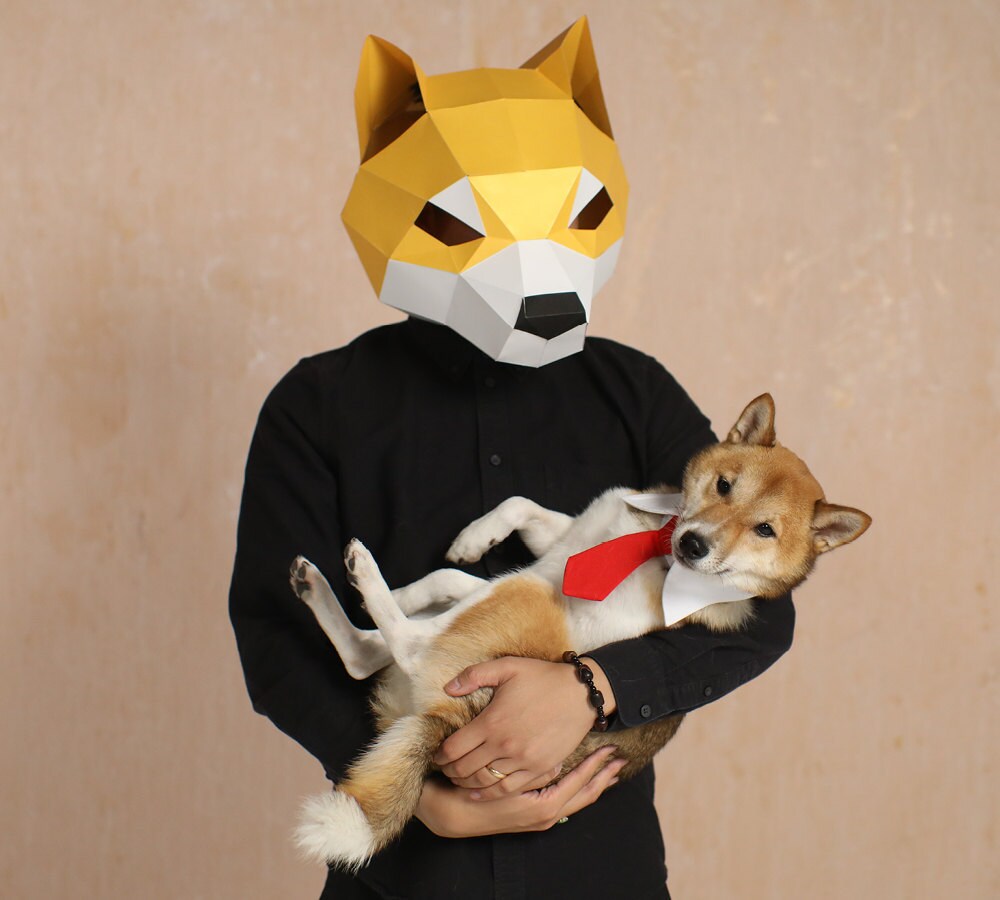 Fact: Nothing gets guaranteed laughs quite like a classic Freaky Friday moment, and this one features a cunning canine twist that's brilliantly simple to execute. Your 3D paper dog mask is an instant download that can be easily assembled at home with little more than scissors and glue. Meanwhile, the only job your pooch has is to don their official necktie-shaped collar and act like they've got lots of important business to tend to. The resemblance is truly uncanny, isn't it?
Fruit fly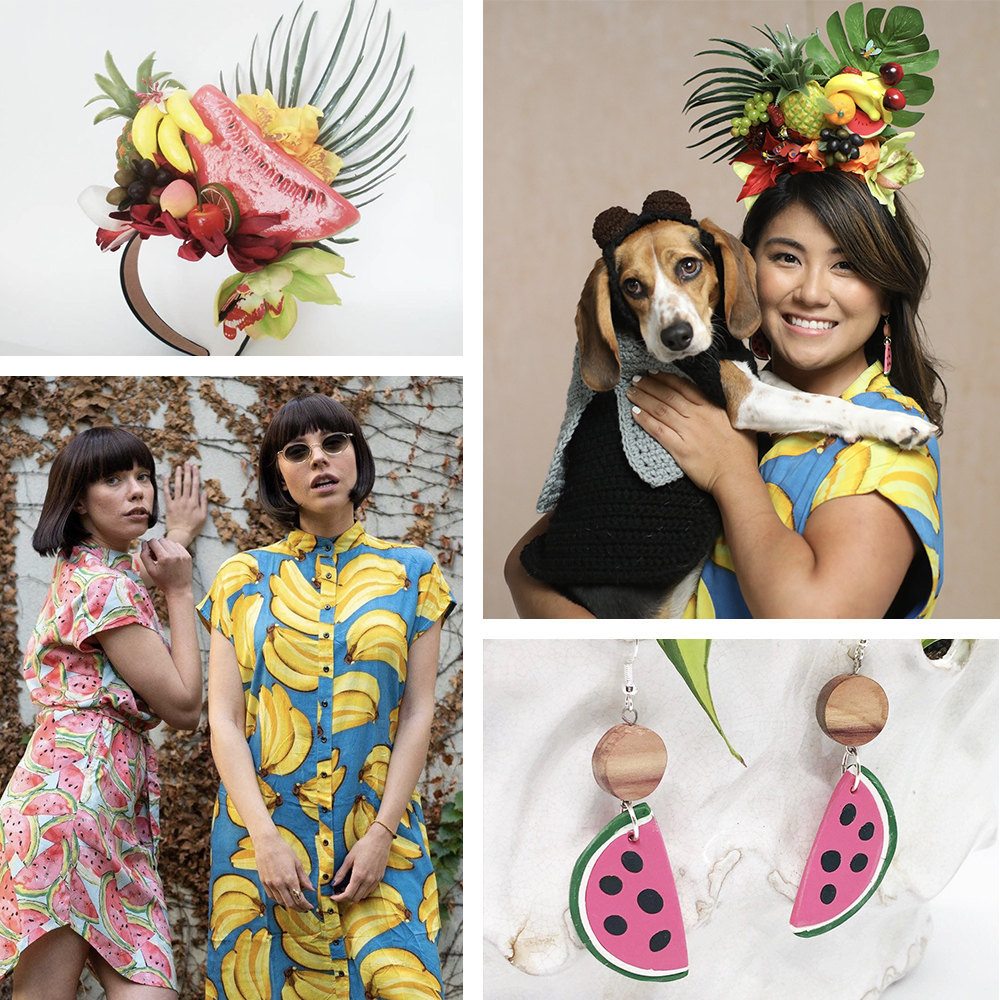 Fido is sure to be the buzz of any lively party in their made-to-order fly costume: an adorable two-piece consisting of a bug-eyed hat and winged crocheted sweater. But after they're through zipping around the room licking hands and making friends, they'll always be drawn like a magnet back you, especially dressed as an irresistible medley of sweet, delicious fruits. From your tutti-frutti headpiece and wood-and-clay watermelon earrings down to your banana-print frock, it's an ensemble that's sure to claim "most colorful" and "most creative."