by Rachel Mosely
Learn how interiors pro Janea Brown turns an unused closet into an ultra-efficient workstation with maximum style.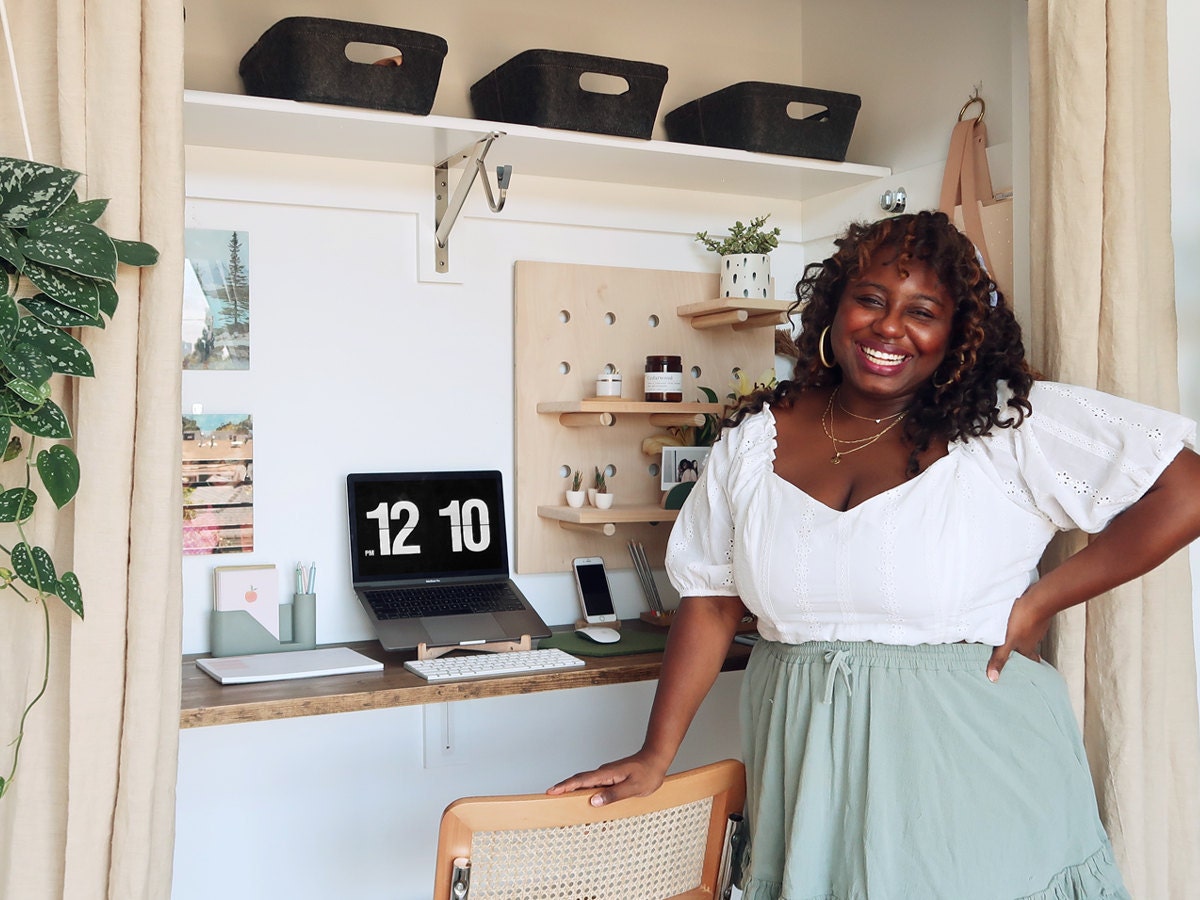 Having a separate office can make all the difference for those days (or weeks, or months) when you're working from home—but what if you simply don't have the space? For Los Angeles-based decor and style influencer Janea Brown, who lives with two roommates, a dedicated room for handling her day-to-day affairs just wasn't in the cards. So what did this ingenious interiors guru do? She transformed an unused closet into a DIY workstation—and today she's demonstrating how you can too.
Even if you don't have a closet to spare, with Janea's practical, space-saving tips and a bit of creativity, you can easily revamp any neglected nook or ho-hum corner into a motivational work zone all your own. "It's important to make the space you're spending so much time in as comfortable and inspiring as possible," Janea says. Click play to watch her closet-to-office makeover come to life, and then read on below for a step-by-step guide to recreating the look at home.
Step 1: Invest in a desk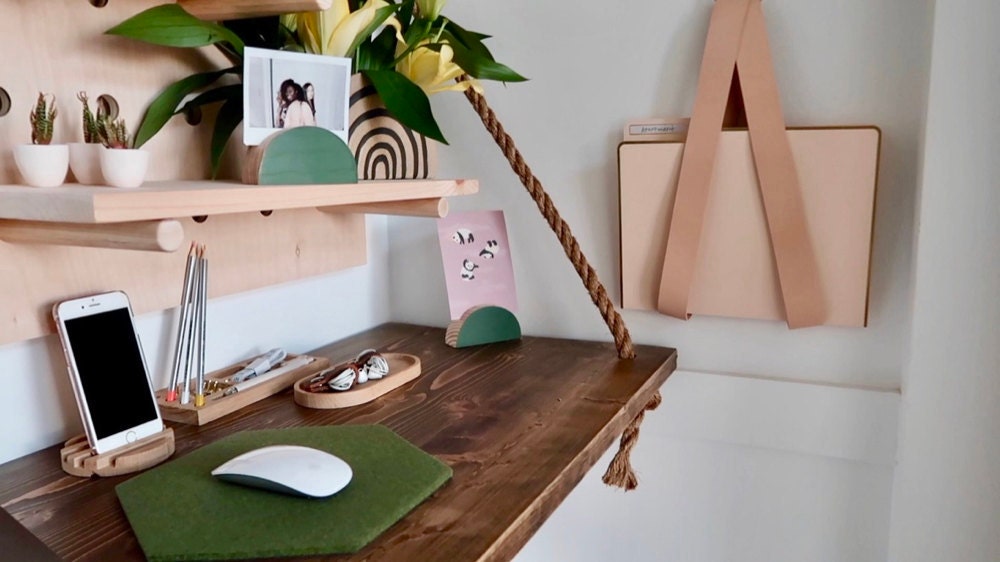 A made-to-order floating desk can be fitted to whatever size space you're working with (Janea had hers cut to match her closet length exactly) and mounted on the wall, creating instant elbow room. The natural wood provides a solid foundation to build upon, but won't be too cumbersome thanks to its minimalistic design. "It really does maximize the space in my closet, because I have so much storage room underneath," says Janea.
Step 2: Set some boundaries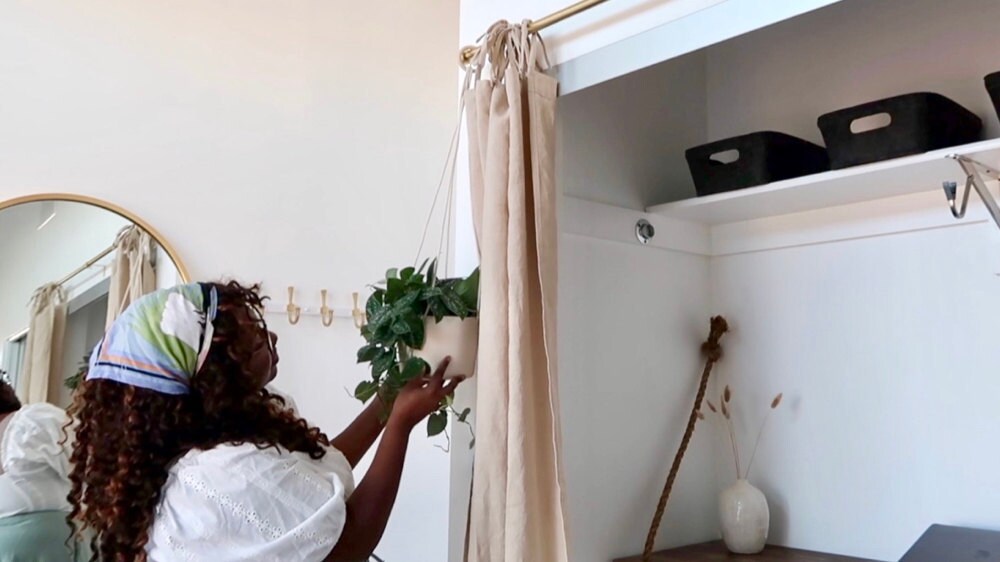 "Because my office space is in my bedroom—and I definitely want to be able to step away from work—I wanted to create some sort of divide," says Janea. A handmade linen curtain helps preserve that precious work/life balance by drawing a physical line between the two. Follow Janea's lead and hang up a sheet in a soothing neutral hue, and accent with decorative touches like hanging plants to enliven your backdrop during virtual calls.
Step 3: Opt for unexpected storage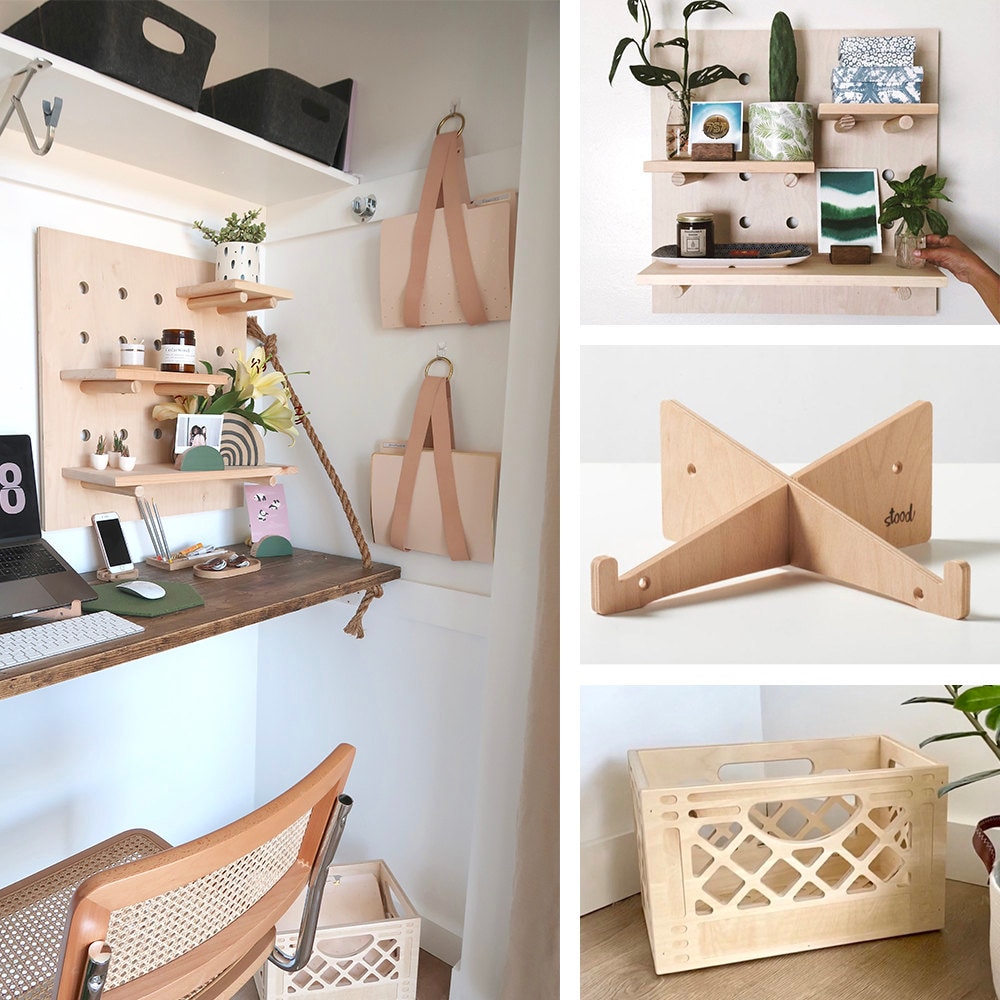 You'll need a practical place to arrange all your essentials, but you don't have to sacrifice style for substance. A compact pegboard is a modern alternative to more traditional wall cubbies, and can be customized to store stationery and display knickknacks of all sizes. And for a clever prop for your laptop, Janea recommends a lightweight, collapsable stand. "I've seen these before, but they're usually plastic," she says. "I loved that this one was wood, and it's super easy to put together." Really want to get creative? Slip a matching wooden crate beneath your desk for simplified file storage.
Step 4: Get organized!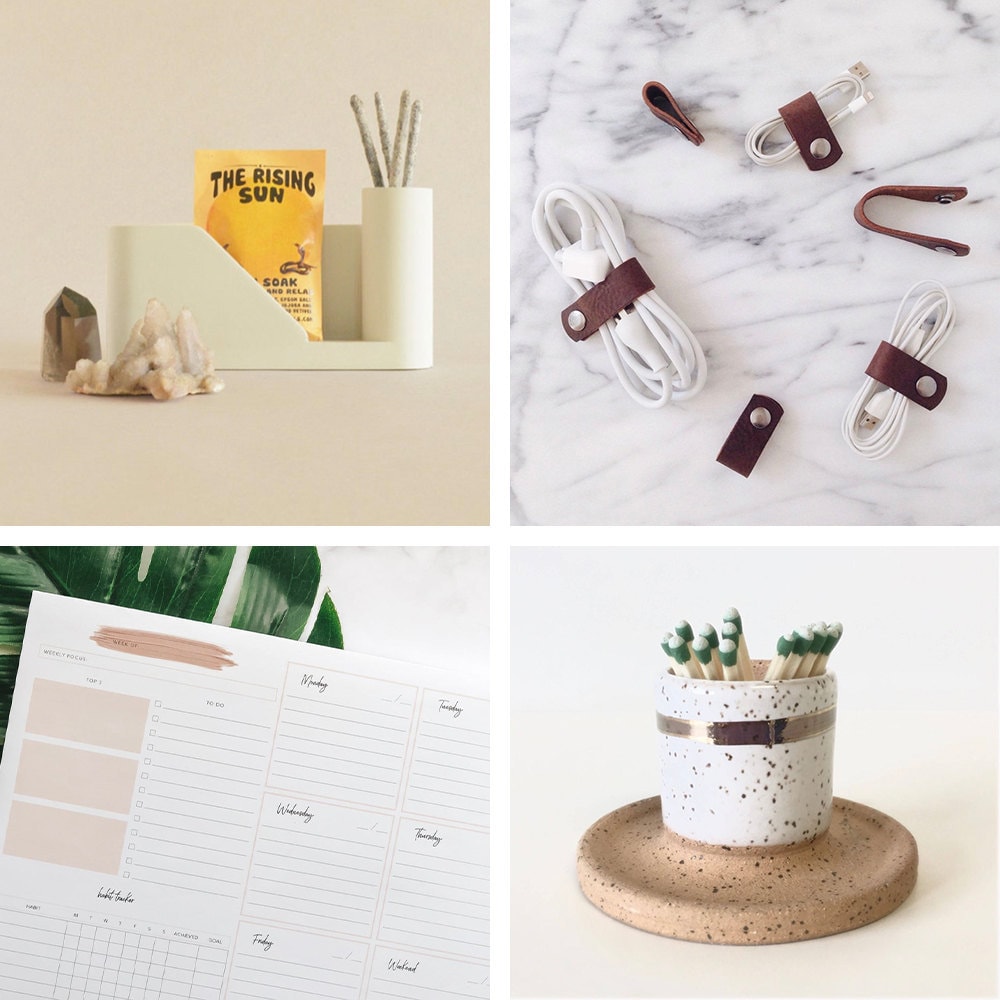 A busy day can translate to a busy desktop. But thoughtful, space-maximizing pieces will help you avoid a jumble. Concrete catchalls streamline your supplies, and leather cord holders keep an organizational headache at bay. "It's no fun detangling cords all the time," says Janea. "These are not only super cute, but also very functional. You can easily just wrap your cord around and snap it closed." As for decluttering your mind? A weekly notepad planner will do the trick nicely.
Step 5: Add your personal stamp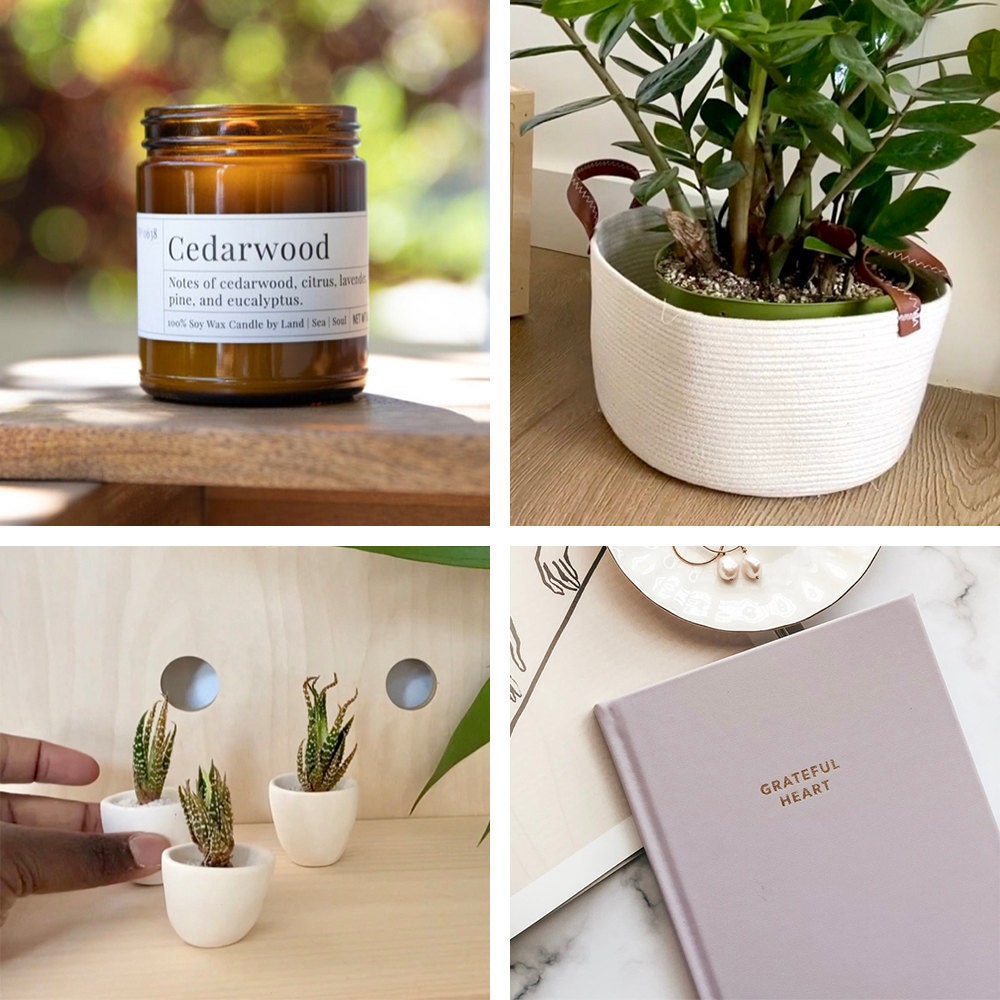 Now that you've nailed it on function, it's time to add some flair. Pepper in small decorative accents—plants, candles, tiny desktop treasures—to deliver mini mood boosts throughout the day. And for a refreshing final flourish, you can't go wrong with a touch of greenery. "While you're deep in work, you can have a little bit of the outside world inside," says Janea of her leafy potted friends. "It's a great way to let the outdoors in."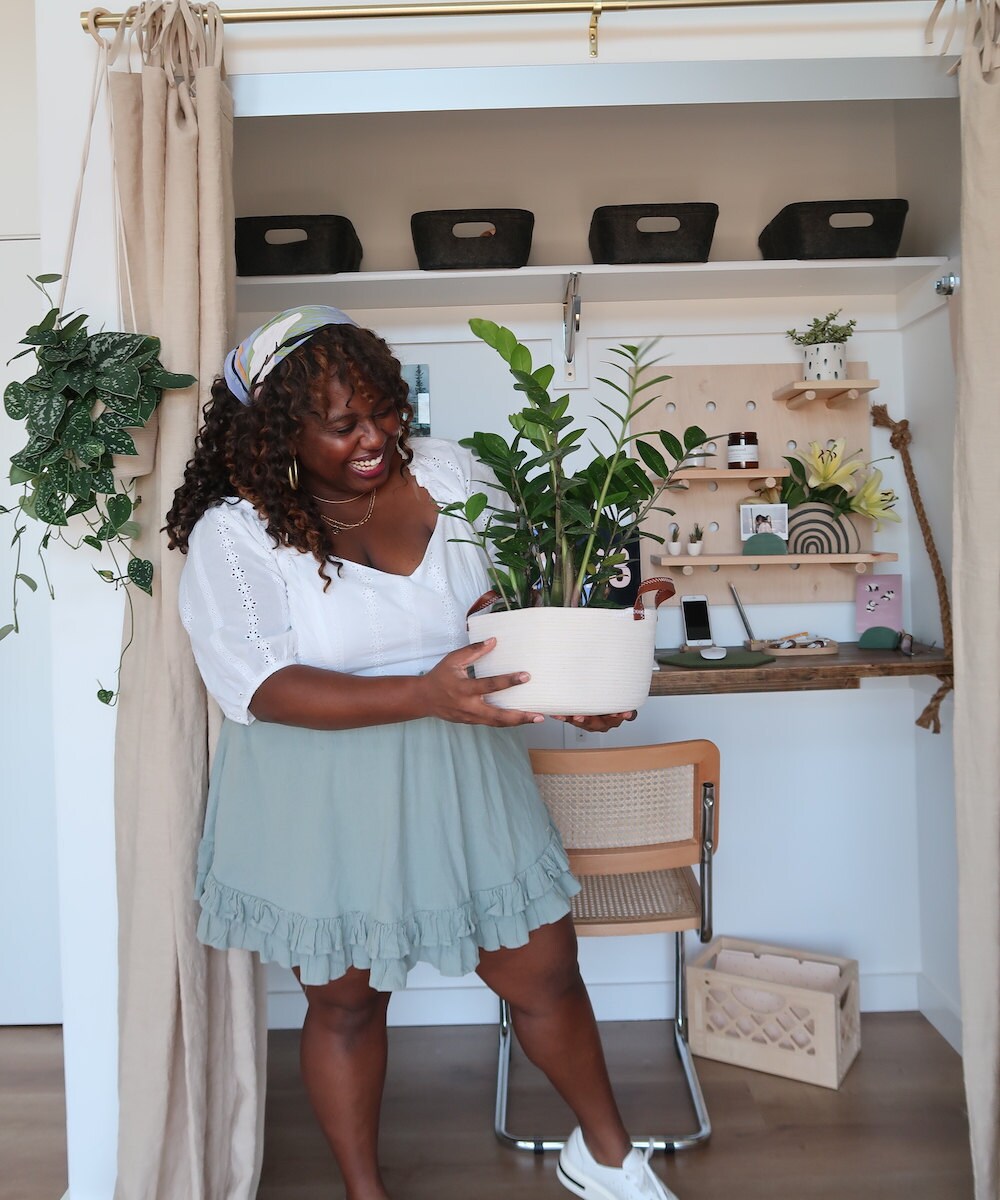 Photographs courtesy of Janea Brown (JnayDaily).