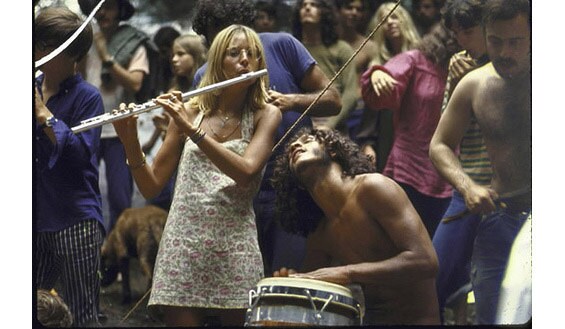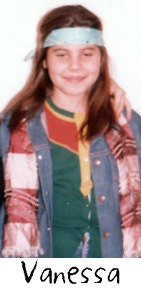 As a child of the '70s, I have fallen prey to the American nostalgia for the late 1960s, when political action was passionate, fashion was off the wall and popular music got its groove.
While developing my own taste in music as a youngster (we didn't have the neologism "tween" way back then), I even dressed up as a hippie for Halloween — and suddenly felt at peace with myself. I remember asking my parents about the Woodstock Festival, which is celebrating its fortieth anniversary this Saturday, August 15, 2009. I distinctly recall being appalled that my parents had "discovered classical music" exactly at the time that Led Zeppelin, Janis Joplin, and Jimi Hendrix started shredding it up.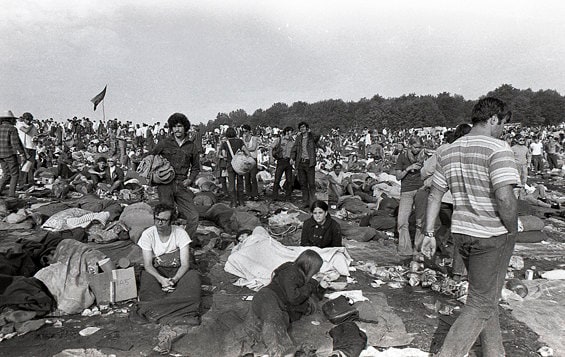 Photo by John's1 on Flickr. Also see his blog post for more Woodstock photos on the New York Times.

What to do but relive what should have been? Here's my romp through a rock music festival picnic party, colored by nostalgia-tinted glasses. Welcome to the Summer of Love, 2009 edition, where things are a lot cleaner and a little less hangover-inducing.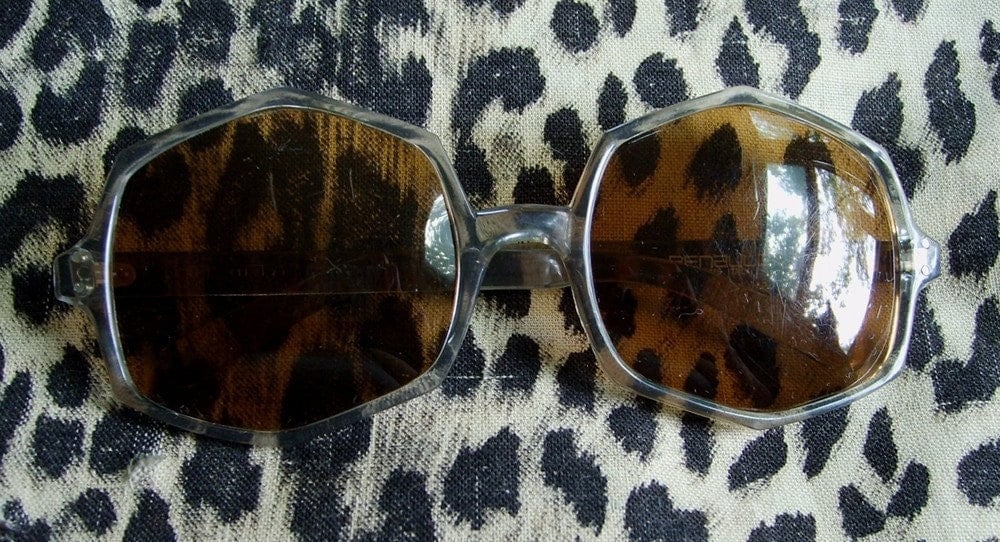 Vintage Sunglasses from luluvoodoo, $15. Find more vintage sunglasses here.

Before you hit the road, hit the kitchen. Summer festivals can be stretched for maximum fun — anywhere from a long, lazy Sunday to an entire lost weekend. Preparation of the food stuffs is key.
Above left, Groovy Vintage Cookware from mortonsaltgirl, $43.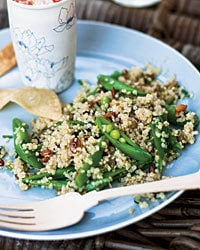 At right, a picnic spread, photo © Quentin Bacon.
Vegans and vegetarians, throw your hands up — er — post in the comments! Part of my affinity for the time period has to do with the emergence of American vegetarian cuisine into the mainstream (though the history of vegetarian cooking goes way back of course). At about the same time I found rock 'n' roll, I was feeding the family cows...which we later ate. Subsequently, I haven't eaten meat for 15 years.
If you're in need of a good Quinoa Salad with Sugar Snap Peas recipe, our friends at Food & Wine Magazine have you covered.
You can find more "vegetable-focused dishes" in their folk festival picnic post. By the way, click here to see which three folk fests are their favorites.
Photo © Quentin Bacon
Quinoa Salad with Sugar Snap Peas Recipe, by Marcia Kiesel
ACTIVE: 15 MIN
TOTAL TIME: 40 MIN
SERVINGS: 6

Ingredients
1/2 pound sugar snap peas
1 1/2 cups quinoa, rinsed and drained
1/4 cup plus 1 tablespoon extra-virgin olive oil
3 tablespoons white wine vinegar
Salt and freshly ground pepper
1/2 cup salted roasted pumpkin seeds
1/2 cup minced chives
Directions
In a small saucepan of boiling salted water, simmer the peas until bright green and crisp-tender, about 1 minute. Drain and spread out on a large plate to cool, then pat dry. Cut the peas on the diagonal into 1-inch pieces.
In a small saucepan, combine the quinoa with 2 cups of water and bring to a boil. Cover and cook over low heat until all of the water has evaporated and the quinoa is tender, about 15 minutes. Uncover and fluff the quinoa, then transfer to a large bowl and let cool to room temperature.
In a bowl, combine the oil and vinegar and season with salt and pepper. Add the peas to the quinoa with the pumpkin seeds, chives and dressing; stir. Season with salt and pepper and serve at room temperature or slightly chilled.
Make Ahead
The salad can be refrigerated for up to 6 hours.
Once your cooking has cooled, pack your picnic basket to the brim with snacks. A vintage picnic basket will do the trick. Stash smaller goodies in reusable snack bags (so great if you're bringing the whole family). With these eco-friendly items, you can avoid the whole disposable plastic mess. That's another reason to love the late '60s: the start of the modern environmental movement.
Bamboo or even handmade or vintage flatware can be recycled or reused. Cloth napkins are better for the environment and, in my opinion, make the dining experience more pleasant. If you want to find some fun, colorful prints for napkins or other food-related items, I recommend searching for "flower power kitchen."


Throw down a picnic blanket and make sure to really spread out. A large picnic blanket actually helps you get a wee bit more elbow room at crowded venues. It doubles as a dance floor after the meal and a blanket for snuggling later. Remember those hippies embracing each other under a quilt on the cover of the original Woodstock album? Did you know they're still together! Check out the photo — see all the blankets strewn about? This is a totally crucial element to your music festival experience.


What else is crucial for the mood at the concert? Wine! Having a lot of wine could actually help you make friends, or it could make cramped seating arrangements even more awkward — depends on your neighbors.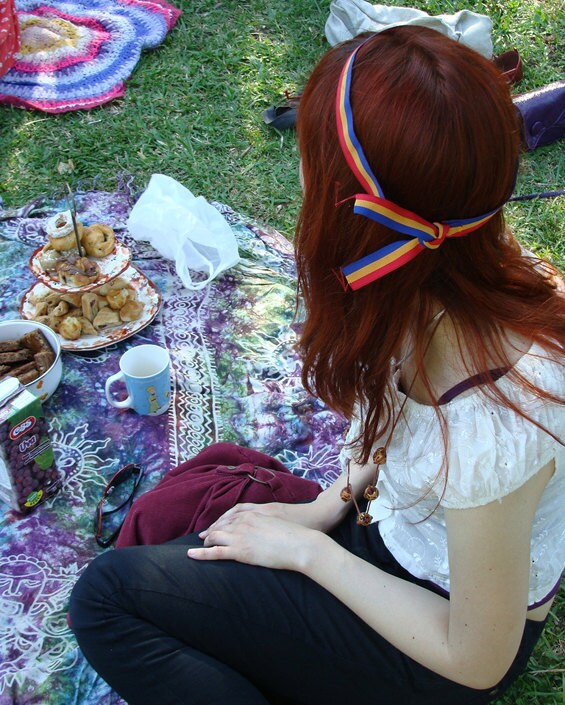 I'd love to have cornflake!, in the photo above by Manucolla, and her friends as picnic neighbors. They have a portable record player!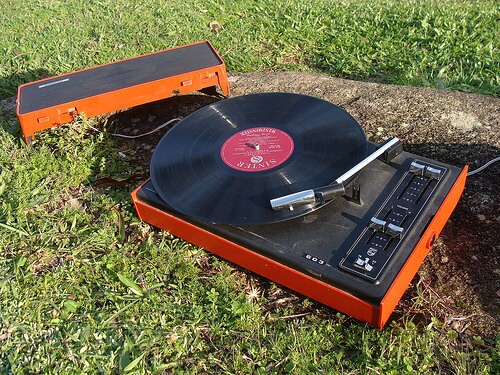 I am an advocate of singing along to the live performances. What's one of the best things about going to all these reunion shows and bands that are still around since forever? You already know all the words!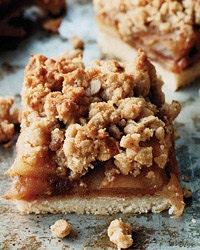 Oh, and how could I forget dessert! Food & Wine has some great recipes for desserts to bring on picnics. Look at these apple pie bars. These porcupine cookies also look intriguing. (The recipe is from an 11-year-old!) Find out how to make them here.
Photo © Quentin Bacon
Even if you can't make it to one of the big music festivals this summer, many towns have outdoor concerts. Let us know in the comments if you've attended any this season.


Get 2 Years of Food & Wine for the Price of 1!
Food & Wine magazine brings readers delicious recipes, the hottest new chefs and restaurants, accessible wine guides, and much more in each issue. Click here.

For more fun summer entertaining ideas, go to foodandwine.com/entertaining. Check back here on the Etsy blog for more party planning posts — the editors at Food & Wine and The Storque will be sharing more ideas, recipes, and Etsy picks this summer.