by Jackie Buddie
From vintage denim to classic slip dresses, discover the '90s fashion comebacks we're loving all over again—plus fresh tips to make each look your own.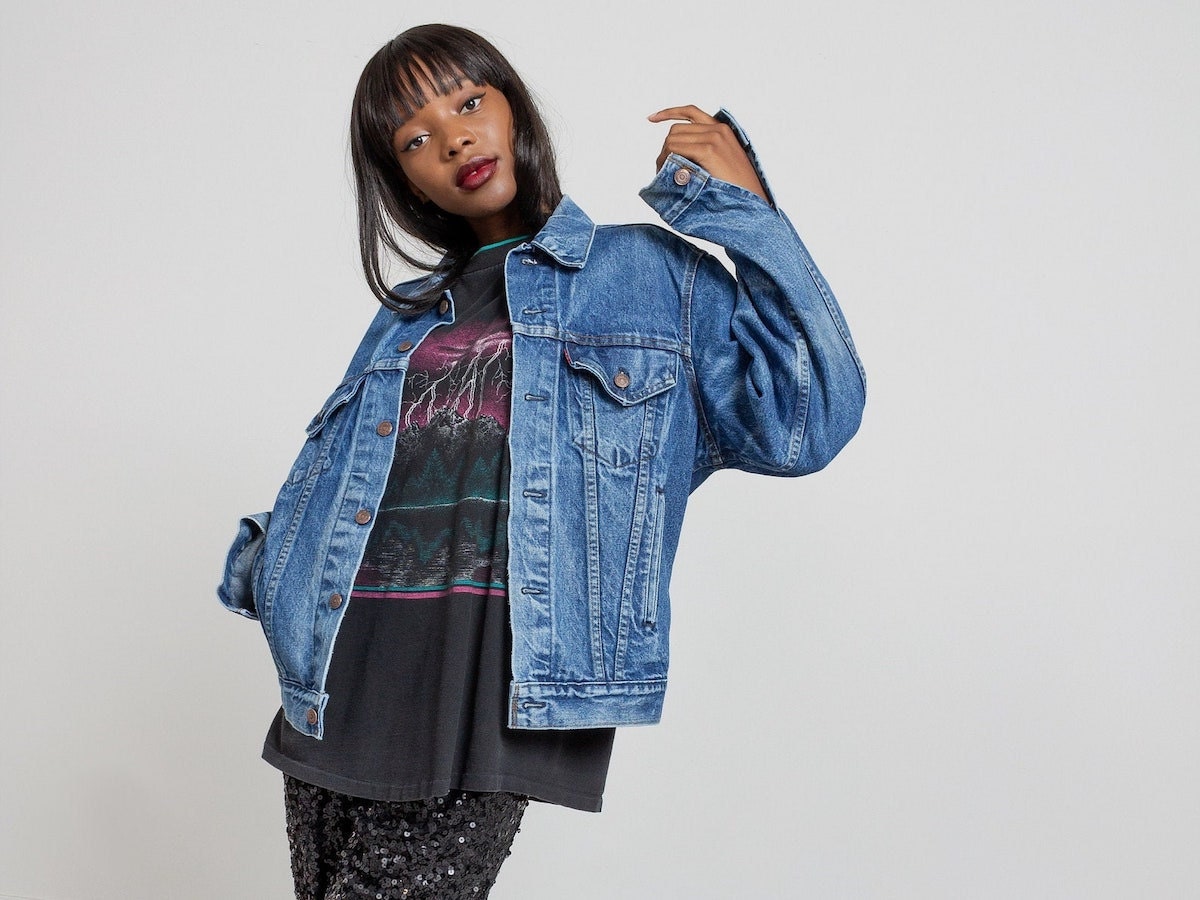 It's official: '90s fashion, in all its grunge and glamour, has crept its way back into our hearts and closets. And we have to admit, there's something about it that feels oddly of the moment: the high waists, the slouchy sweatshirts, the chunky heels—these popular vintage styles somehow strike the perfect balance between street cool and cozy casual, and after more than a year of straight-up sweatpants, that's a vibe we can totally get down with.
If wearing vintage clothes is your go-to, you already know that when it comes to finding the best previously loved pieces, Etsy is pretty much cream of the crop top. So today, we're here to inspire you with a few of our favorite '90s fashion trends that are making the rounds again. Whether you're reliving the glory days of butterfly clips and capris or discovering '90s vintage clothing for the first time, consider this your master class on how to take the greatest '90s looks and give them your own fresh spin. Plus, you might even pick up a valuable search tip or two while you're at it. So, who's ready to rock some throwback threads?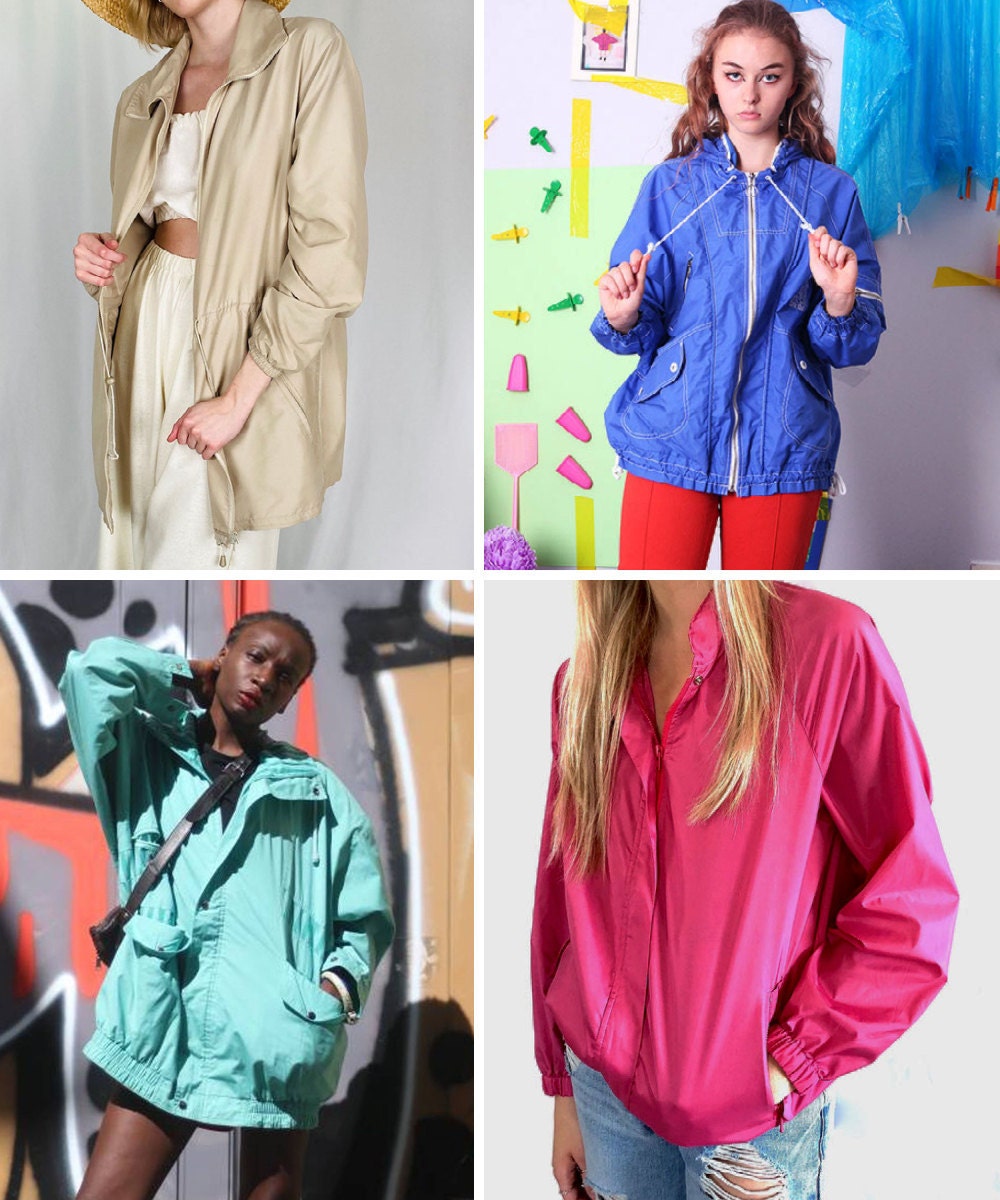 SHOP: Vintage '90s windbreakers
Lightweight and oh-so easy breezy to wear, the windbreaker is an under-sung '90s fashion staple. We're fans of a drapey fit—in particular zipped over a pair of shorts or high-waste trousers. And whether you prefer a drawstring hood and lots of roomy pockets or a sleek and sporty collar, the trick to making a statement is to opt for a hue that jumps out against your outfit.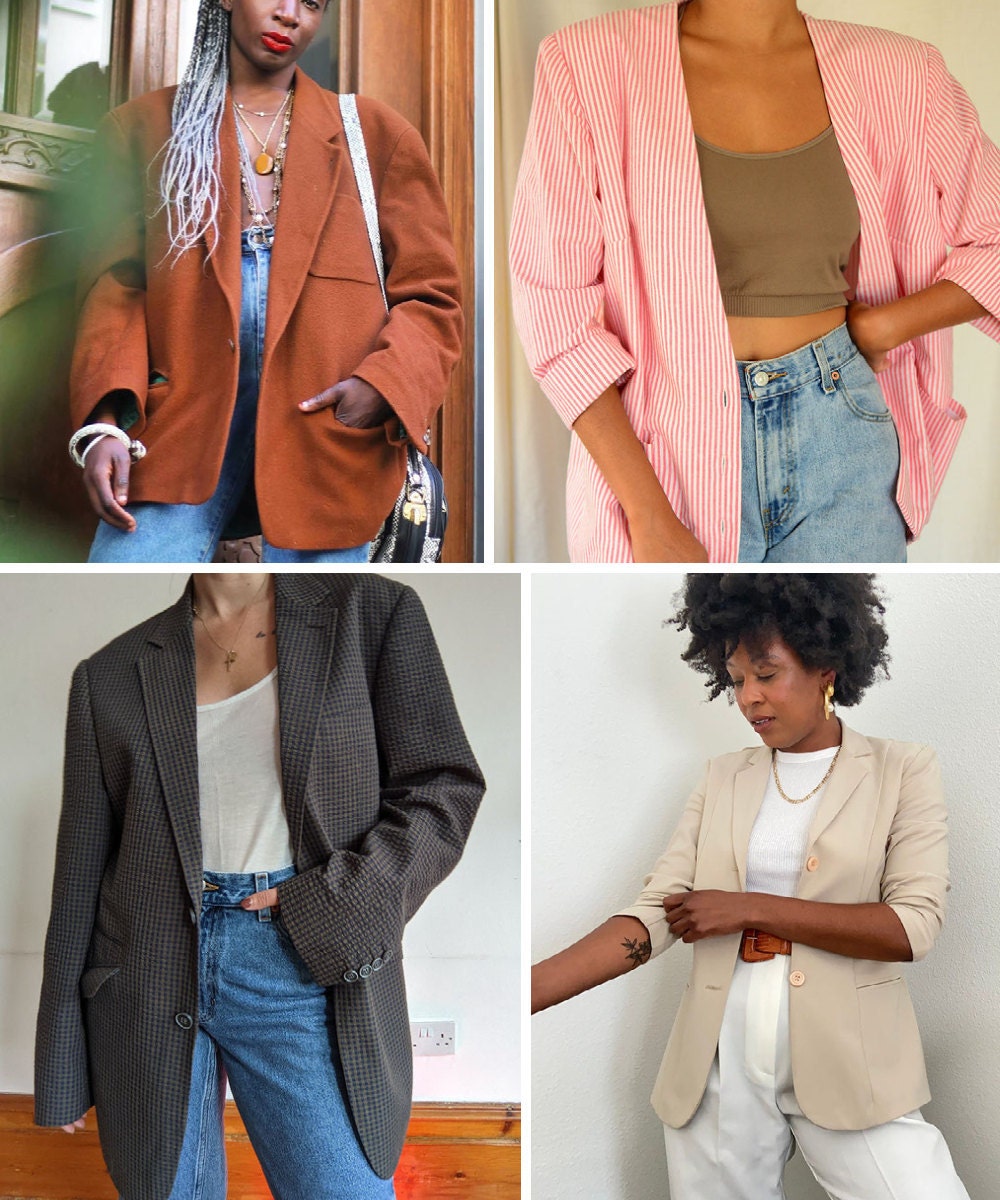 SHOP: Vintage '90s blazers
The blazers of the '90s had all the crisp lines and notched lapels of standard menswear, with none of the stuffy business—so it's no surprise they've stood the test of time. Wear them long and loose over distressed denim and your go-to graphic tee, and roll the sleeves for an extra-relaxed effect.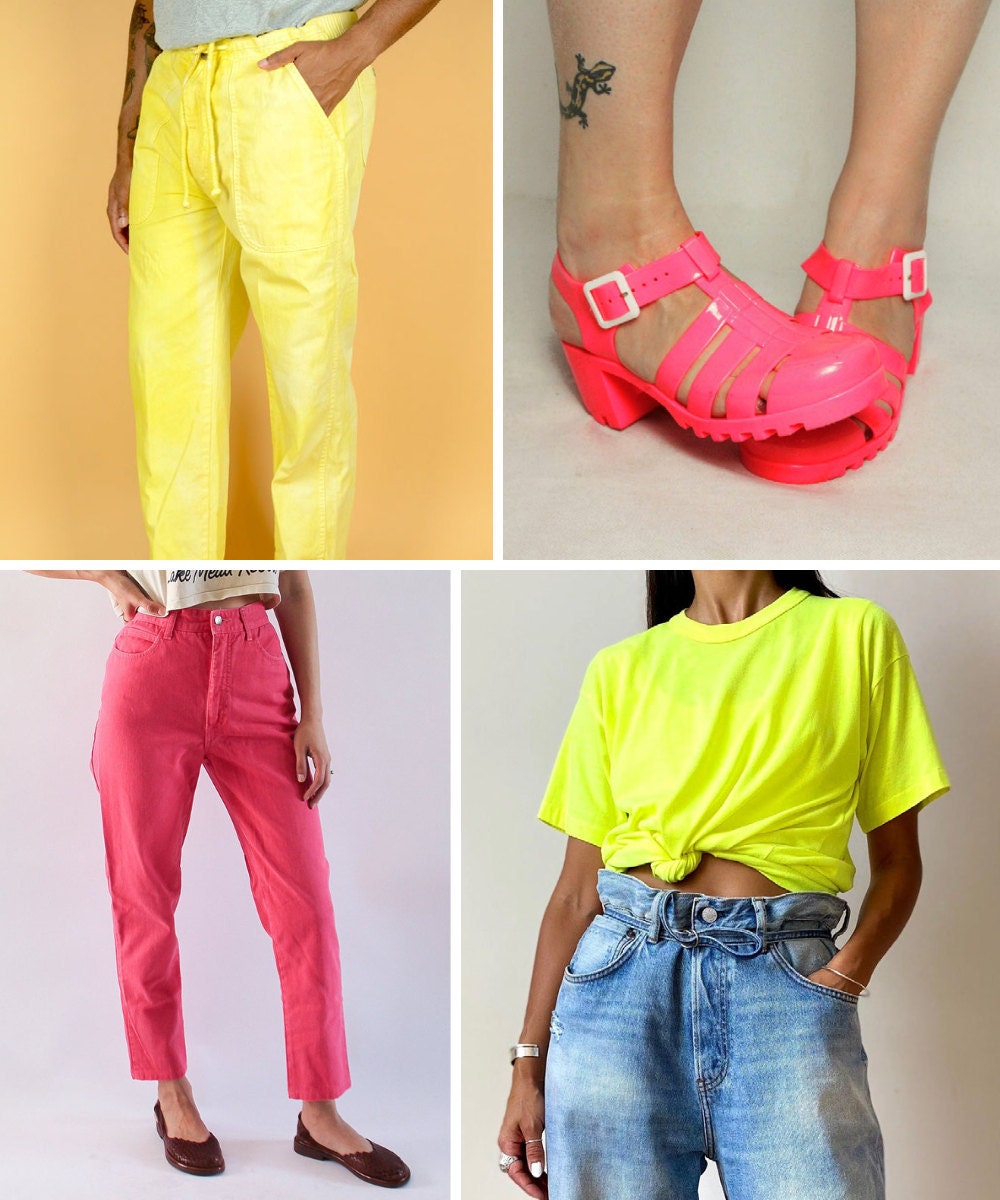 SHOP: Vintage '90s neon
Neon may have lost some of its luster by the dawn of Y2K and taken a backseat to black, but early '90s fashion still loved an electric moment. If you're feeling the vibrant vibe today, you can be bold without going full fluorescent by sticking to a single piece that pops. (Pro tip: with shades this bright, a little goes a long way—hello, accessories! Try topping off your everyday look with a watermelon-hued shoe or sherbert-colored scrunchie.)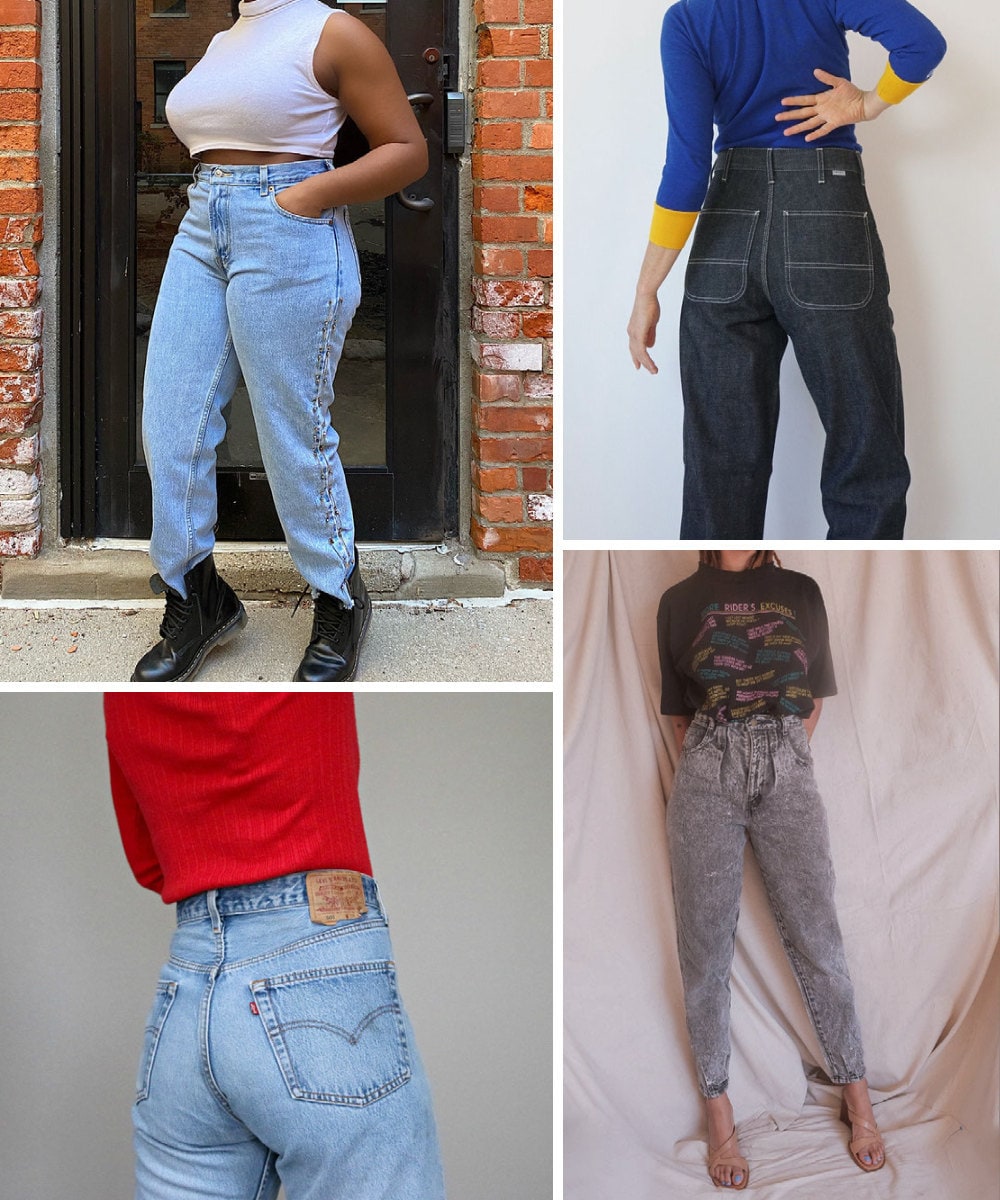 SHOP: Vintage '90s jeans
Our favorite thing about rocking vintage denim? It's got that soft, worn-in stretch that typically takes years (or lots of extra dollars) to attain. Plus a good pair of '90s jeans not only offers the shape-enhancing support of a high waist, but the flattering, comfy cut of a straight leg that pairs gorgeously with penny loafers, lace-up boots, and clean white sneaks.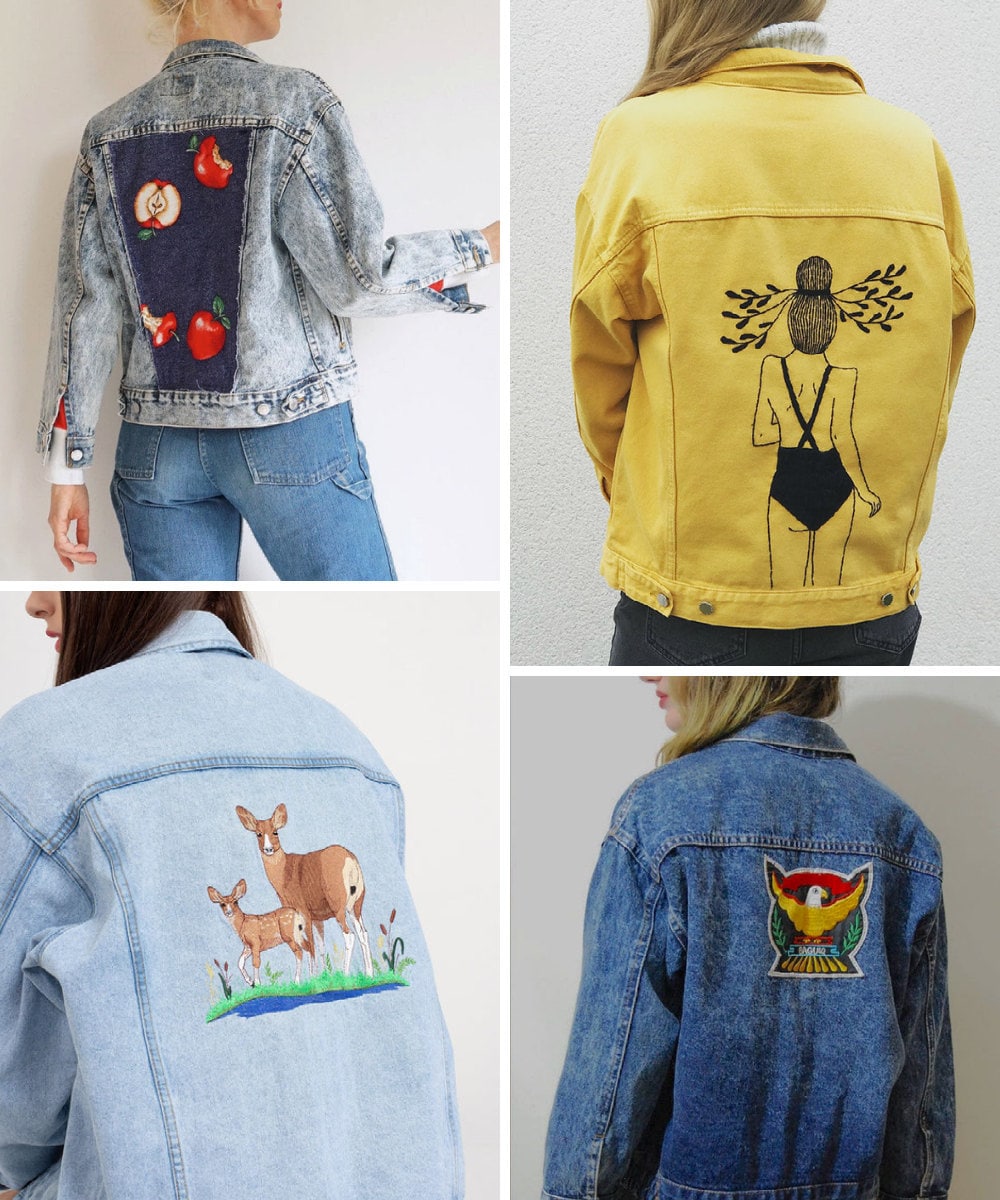 SHOP: Vintage '90s jean jackets
True, a good denim jacket never goes out of style, but if you really want to elevate your '90s fashion game, we recommend outerwear with a bit of extra flair. Some of our favorite vintage finds are embellished with appliques, embroidery, and retro iron-on patches. Can't find the look you're longing for? Grab a basic jacket and get your DIY on, or hire an Etsy upcycler to create a custom piece.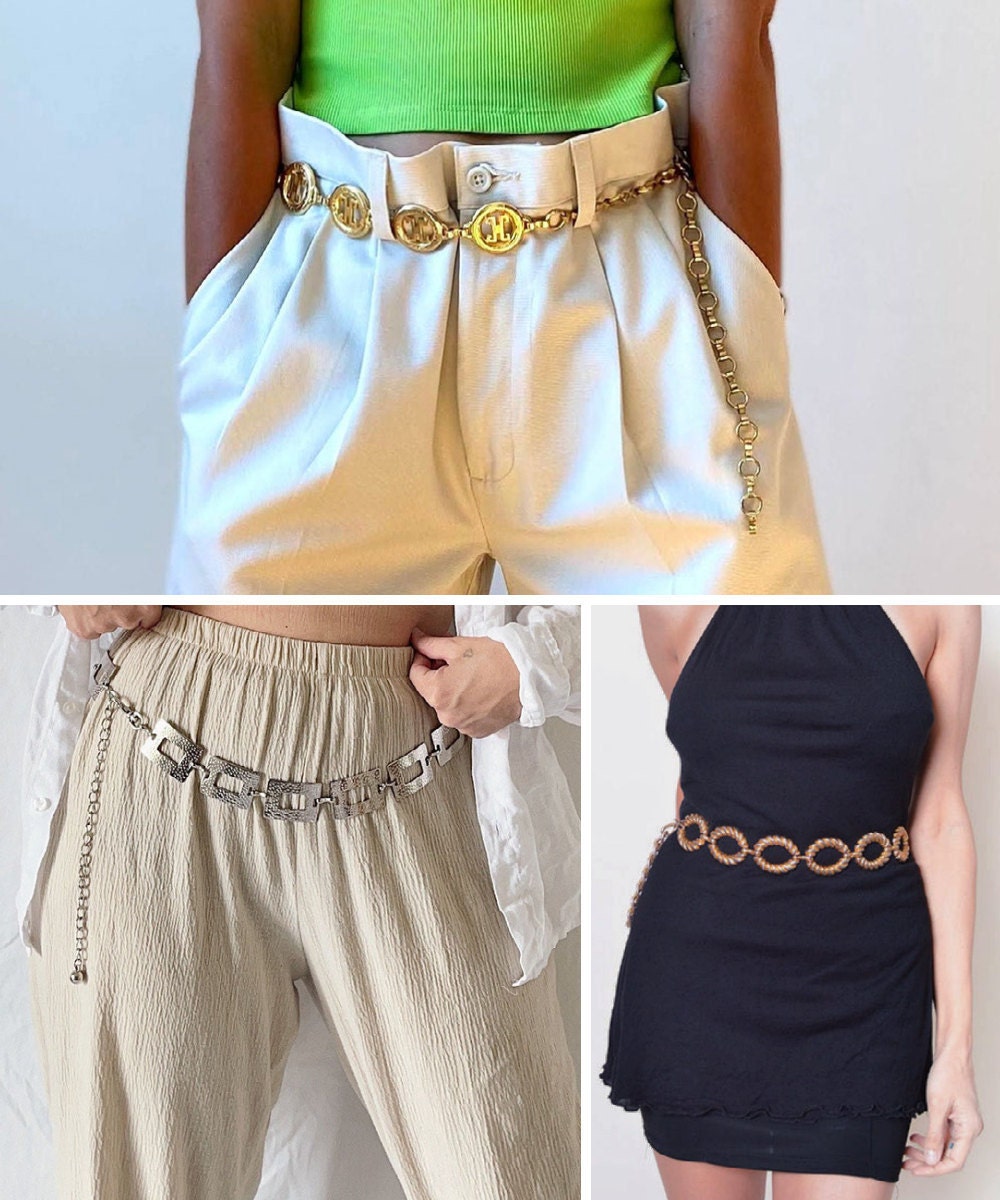 SHOP: Vintage '90s chain belts
Consider us hooked! Straight out of a '90s music video montage, these adjustable retro belts combine the glitz of silver and gold with the laid-back look of a low-slung chain, and can be dressed up or down depending on where the night might take you.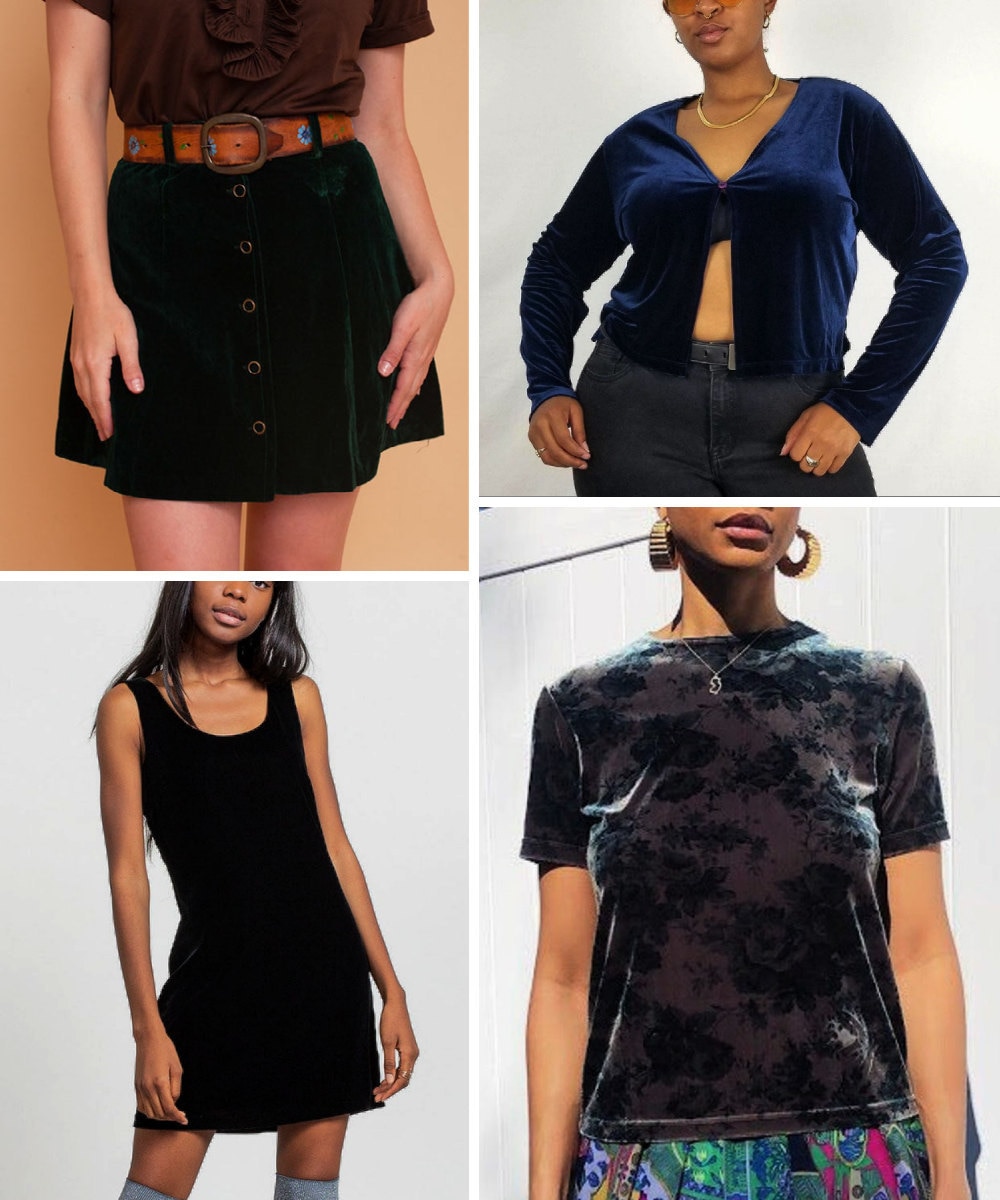 SHOP: Vintage '90s velvet
Taking a cue from the glam disco kings and queens of the '70s, velvet made a more casual comeback in '90s fashion, cropping up in everyday-wear in the form of shimmery tees, swishy mini skirts, and even accessories. (Remember ribbon chokers?) Pair your picks with vibrant prints for a maximalist effect, or stick with neutrals and let velvet become your centerpiece.
Plaid pieces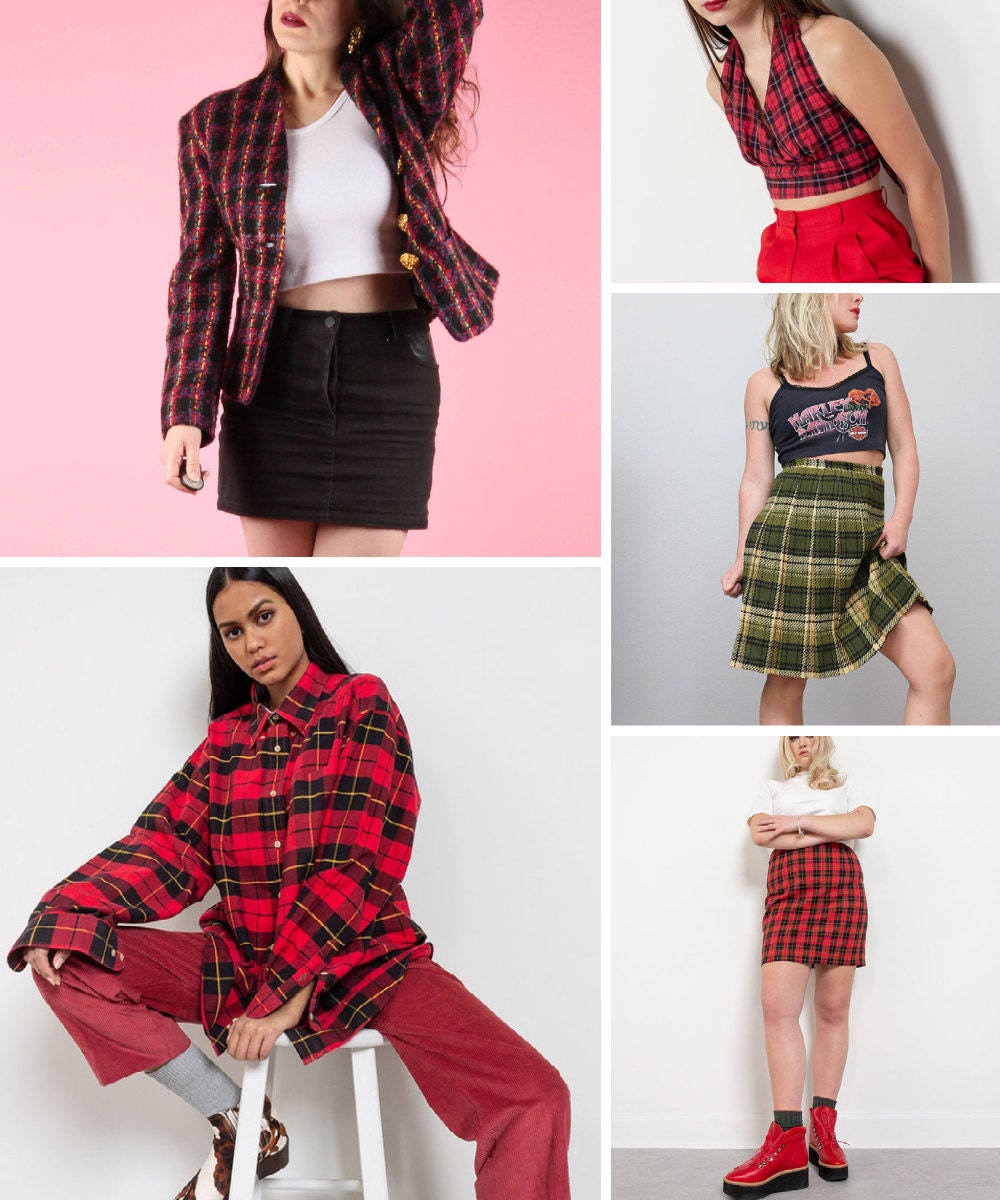 SHOP: Vintage '90s plaid
The key to any good grunge getup (aside from giving off "not even trying" vibes) is a strategic pop of plaid. Of course the faded flannel shirt would be the quintessential pick for '90s alt kids, but today we're also into incorporating the pattern with dressier pieces, like preppy skirts and boxy blazers.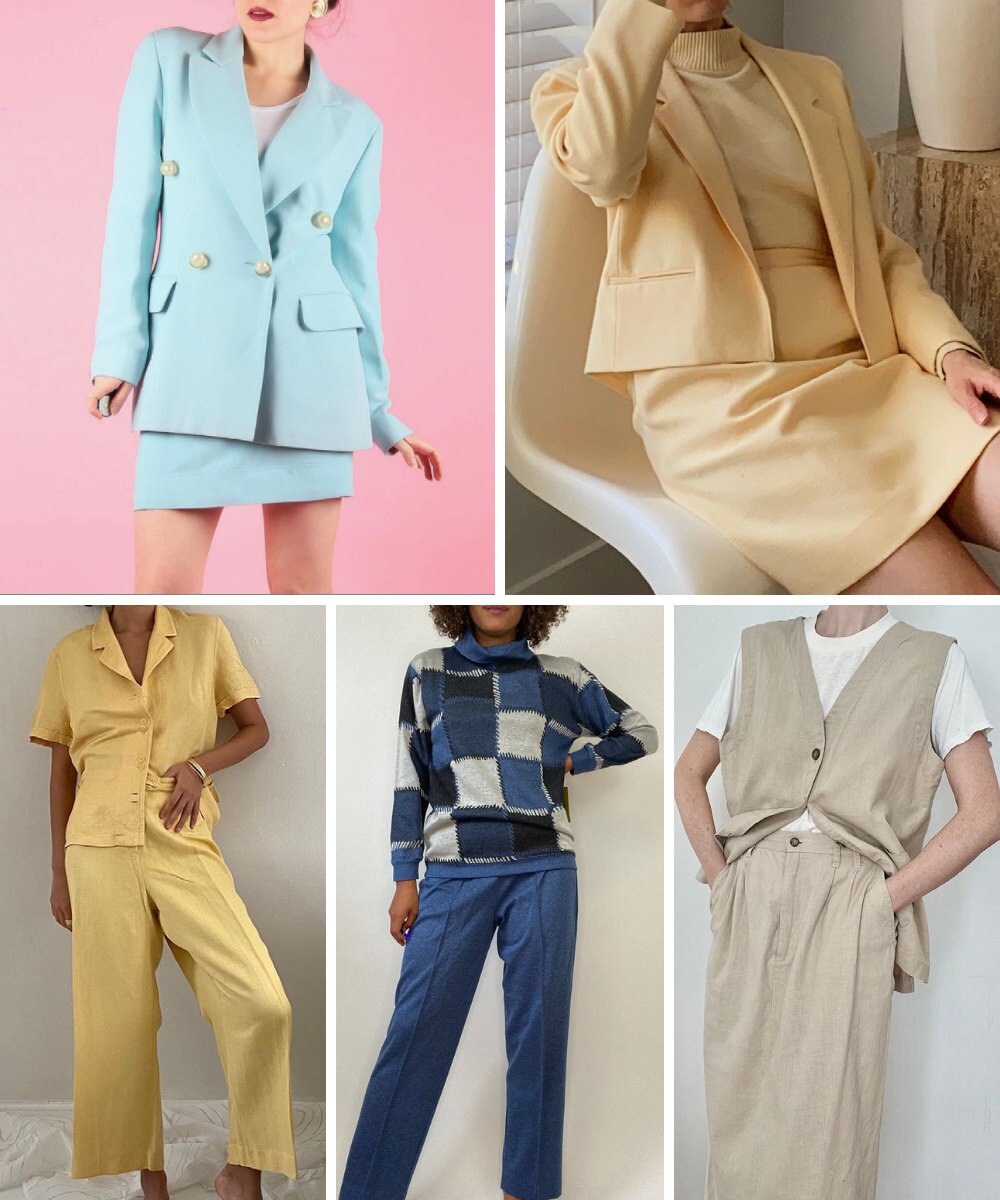 SHOP: Vintage '90s coordinated sets
There's something so quintessentially '90s about a coordinated set, especially if it includes shoulder pads or a vest. And while we love a loose silk or linen pant paired with a pretty top, honestly, could anything be cuter than a vibrant skirt suit that takes a cue from the closet of one of our most beloved '90s fashion icons? As if!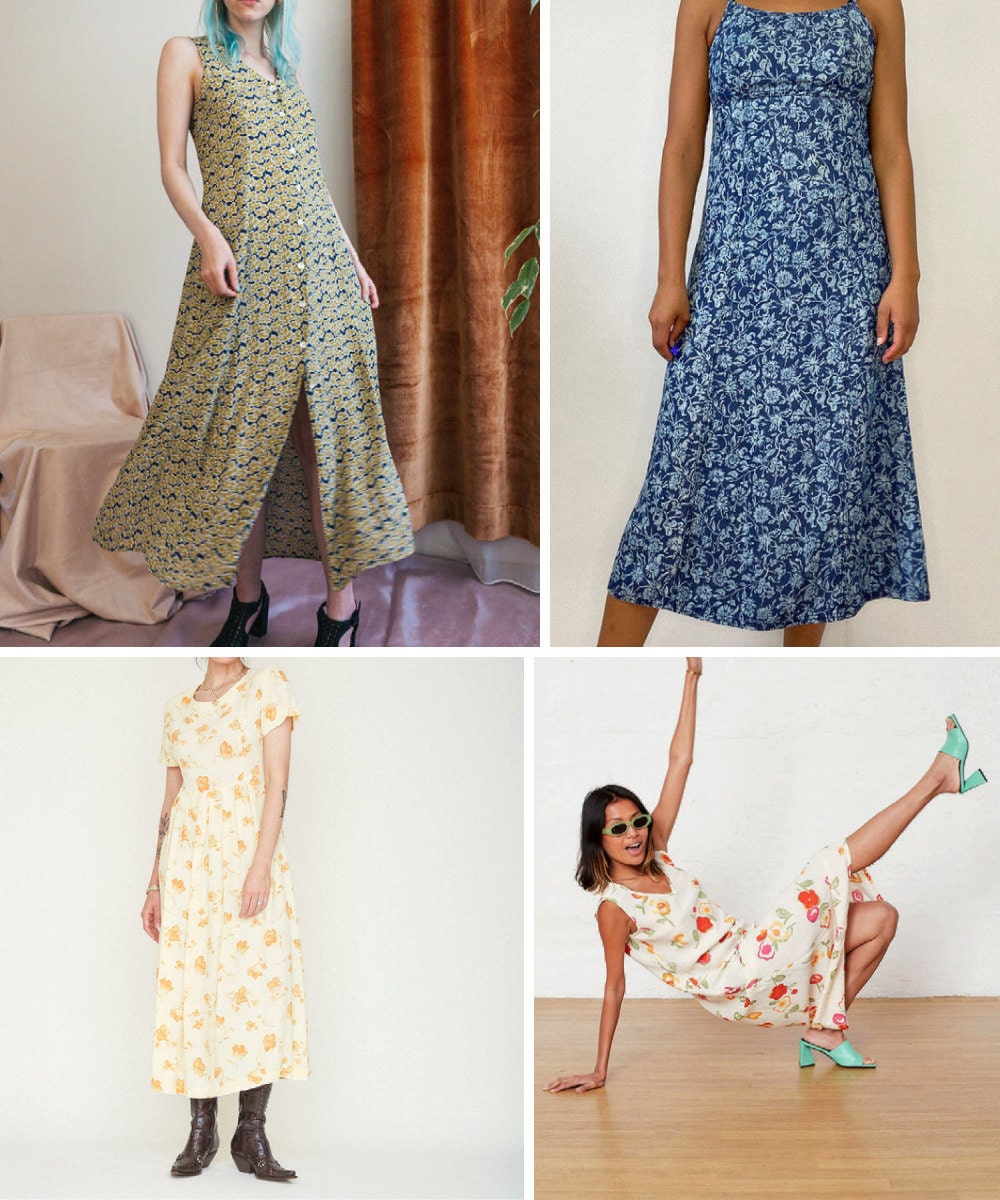 SHOP: Vintage '90s floral maxi dresses
We love a one-and-done outfit, and these floor-length floral finds are so simple to slip into, they make styling '90s vintage clothing totally effortless. If you want to add an eye-catching accent, try a high-waisted belt in a contrasting color or a tall leather boot.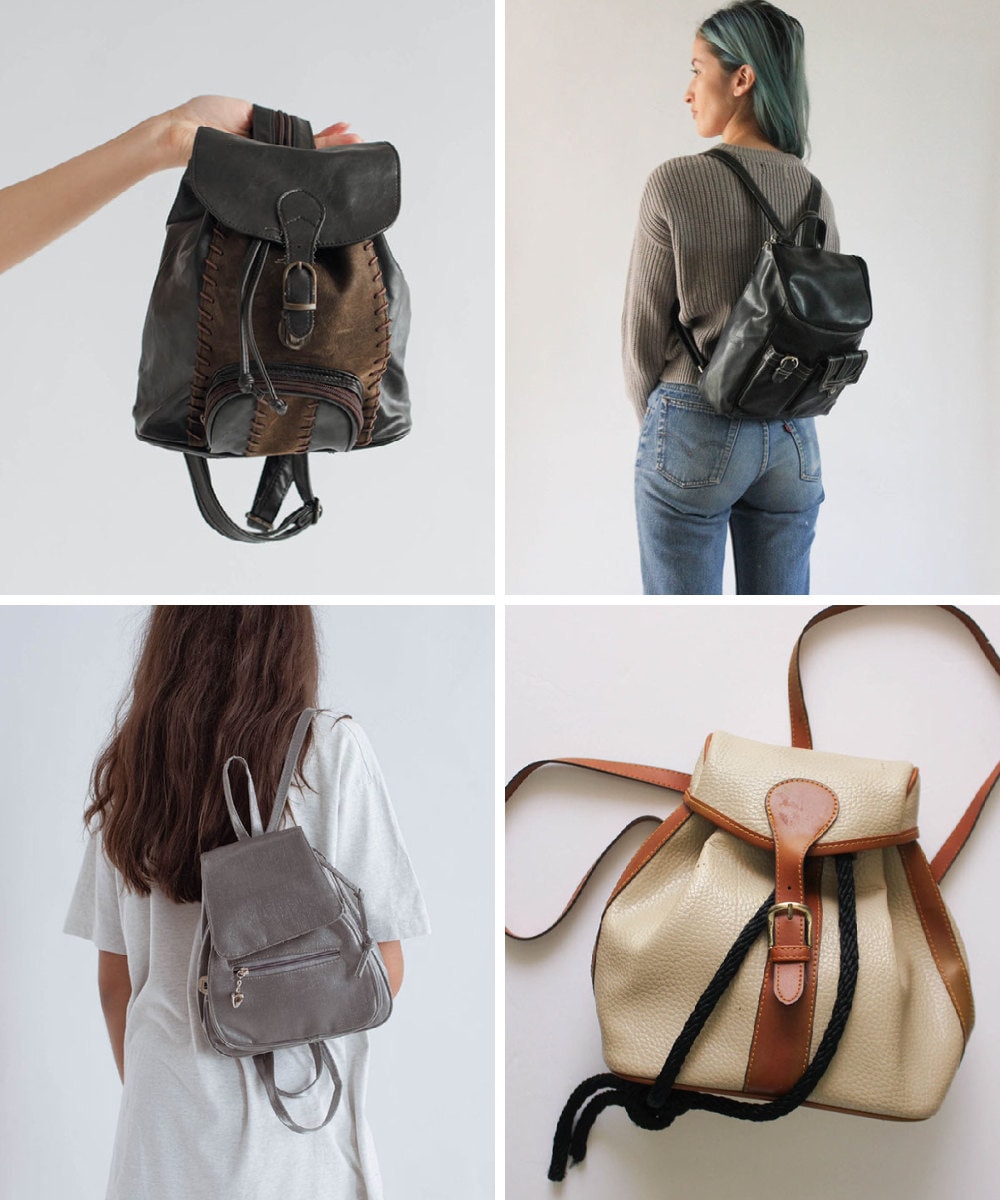 SHOP: Vintage '90s mini backpacks
Perfectly proportioned for a day of window shopping, bike path pedaling, or festival frolicking, mini backpacks are a petite and practical finishing touch for your on-the-go OOTD. With room enough for just the necessities—a scarf, a scrunchie, your favorite fruit-scented lip gloss—they're a super-cute way to keep yourself from overpacking for life's little adventures.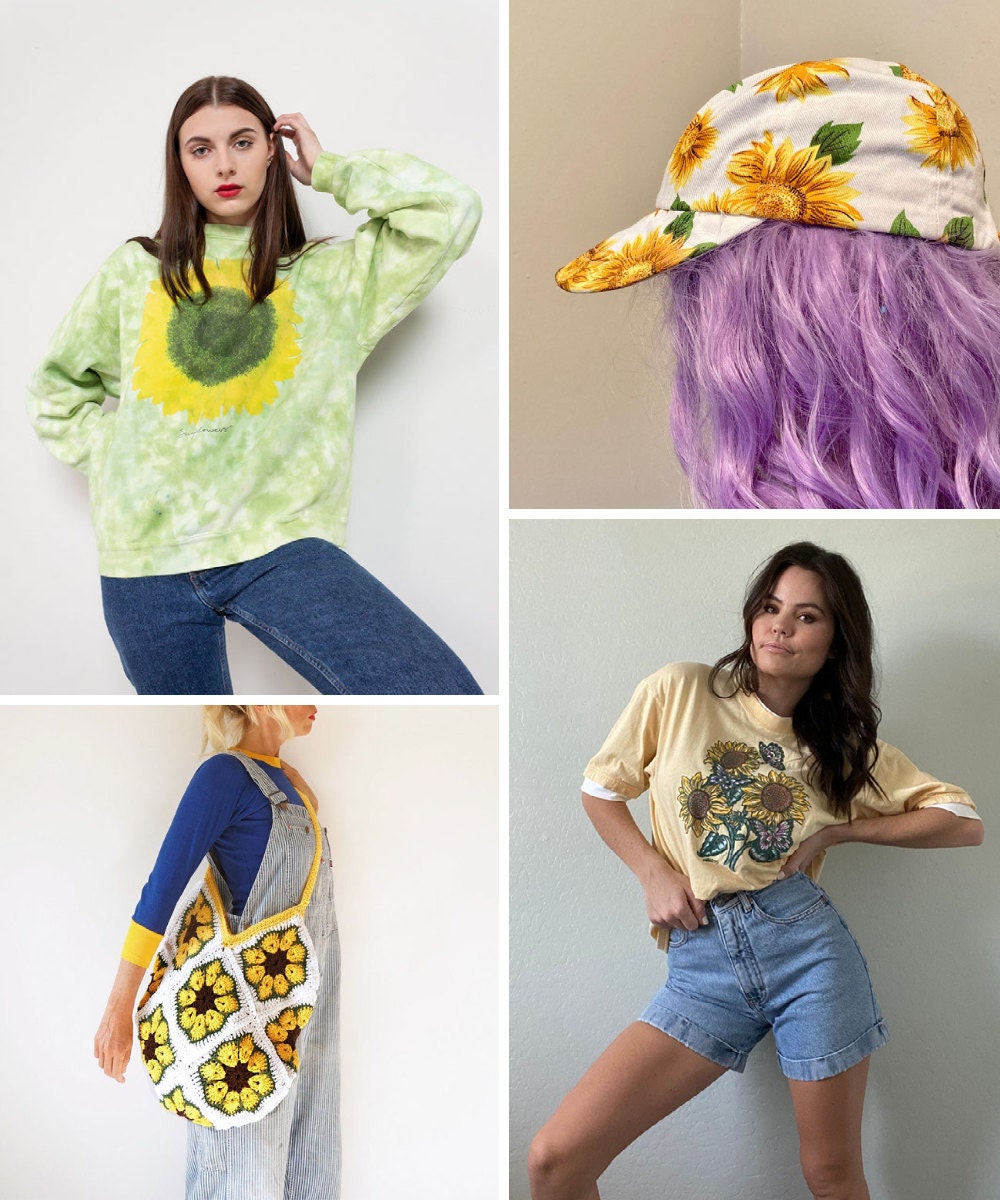 SHOP: Vintage '90s sunflowers
It's fitting that the sunflower is a symbol of longevity, since this eye-popping emblem of the '90s has proven to have some serious staying power! We love to see the big, bold use of these blossoms on everything from caps and crochet bags to casual sweats to create looks that are almost as sunny and spectacular as the real thing. Go grunge and mix with combat boots and a casual flannel, or up the cheerful-factor with extra-large appliques on wide-brimmed bucket hats.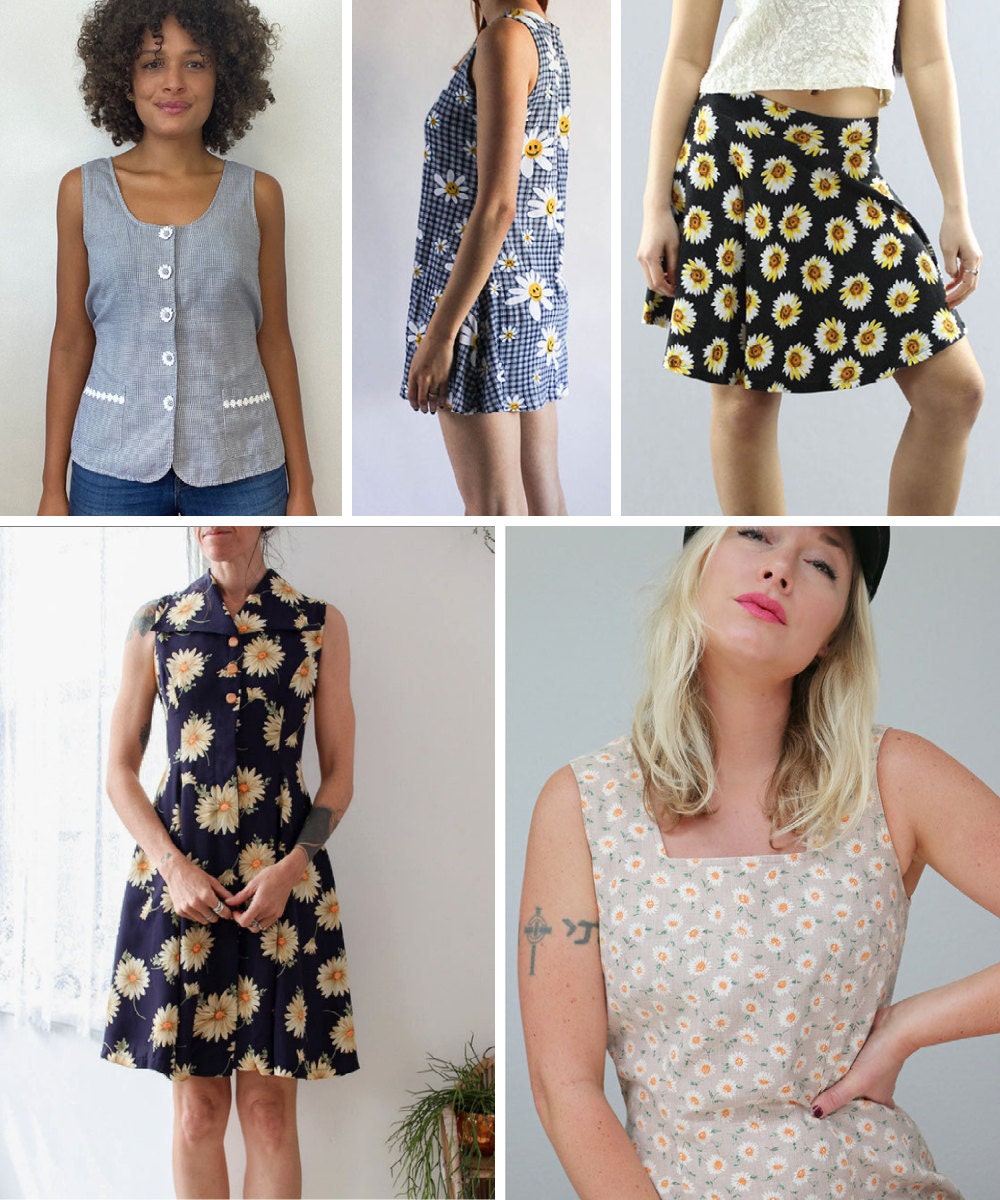 SHOP: Vintage '90s daisies
There's something about the dainty daisy that has us forever smitten. Unlike its showier sister (see above), we think these pretty little posies look particularly dreamy in an all-over motif. Their timeless flower-child vibes bring a touch of whimsy to sundresses and skirts with a bit of swish, but also look super sweet as button accents and on throwback charm bracelets.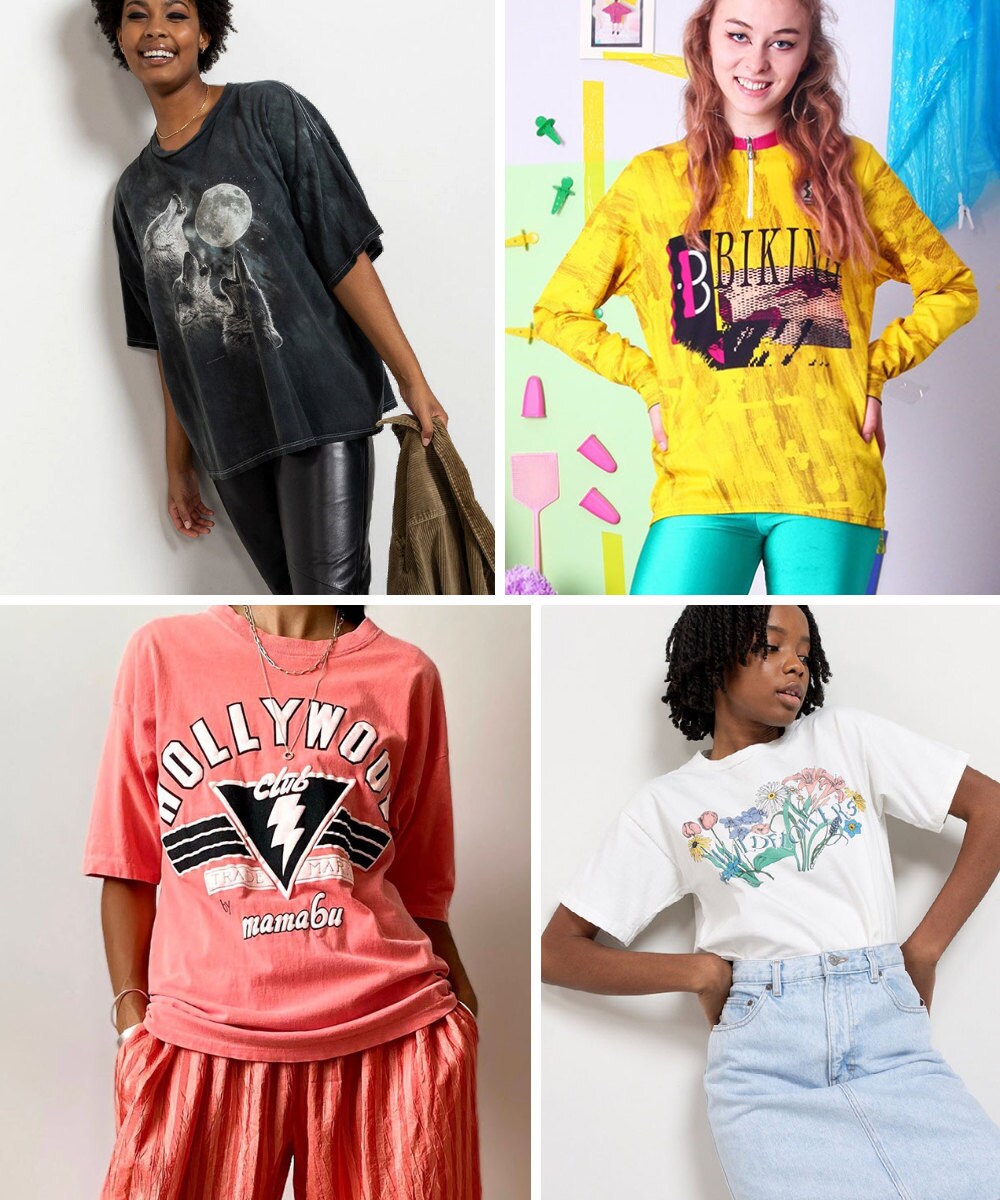 SHOP: Vintage '90s tees
Your first trip out on the town with your LA-cool cousin. That time you biked 200 miles for charity. The concert where you could literally touch the stage. Over the years, we've all experienced moments so special we just had to capture them on a wearable keepsake. And whether you're memorializing your favorite '90s pop culture icon or just feeling nostalgic for a simpler time of scenic drives and souvenir shirts, sporting a vintage tee paired with some relaxed denim or layered beneath a chic chore coat will earn you some serious style cred, guaranteed.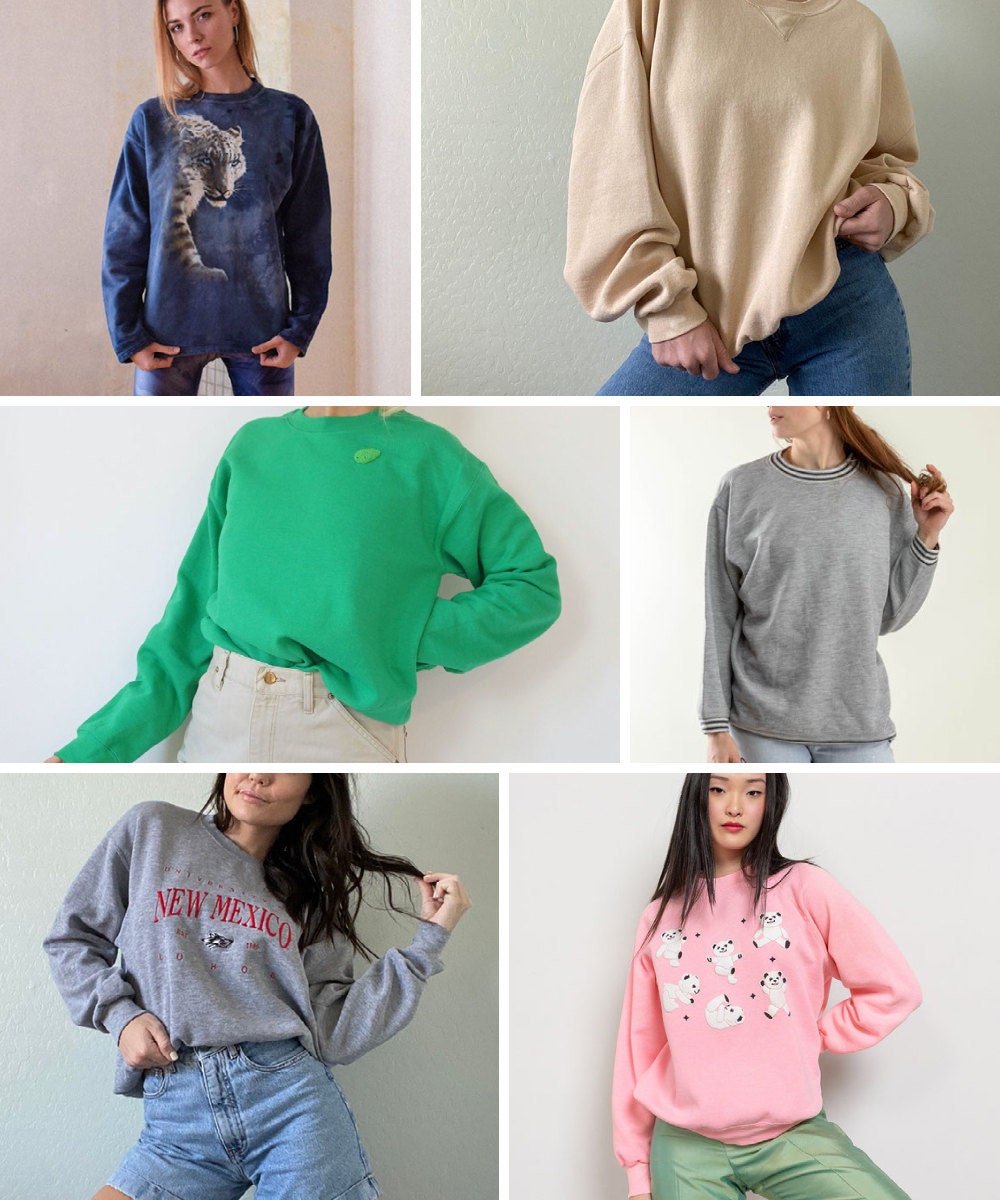 SHOP: Vintage '90s sweatshirts
No longer just for lounging, the classic '90s sweatshirt has been elevated to weekend excursion-worthy thanks to the popularization of laid-back styles like norm core and quarantine chic. Opt for a playful retro design (we're partial to majestic animal illustrations and proud hometown proclamations) and make your own personal statement, or stick to solid neons and neutrals for an effortlessly low-key look.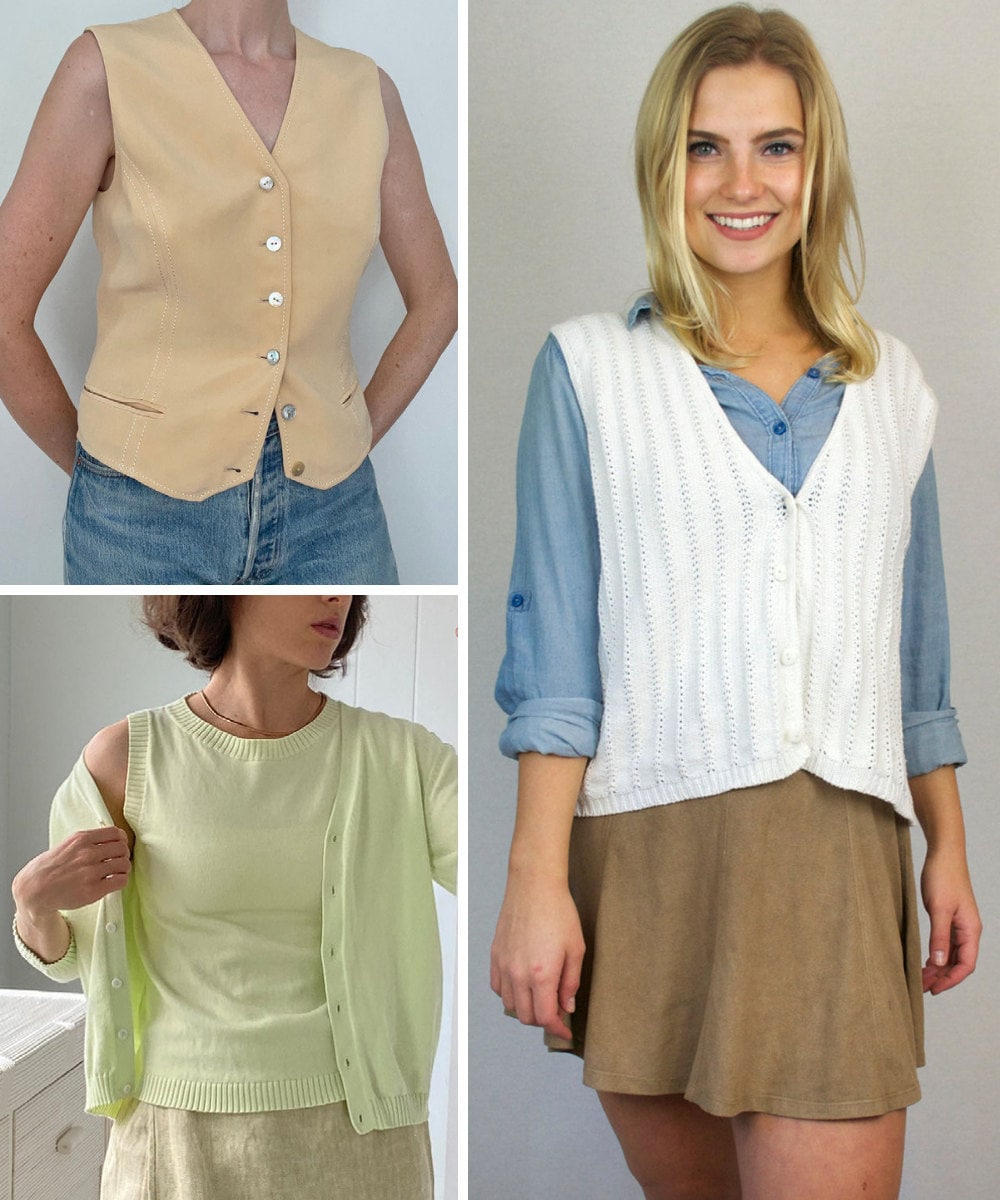 SHOP: Vintage '90s vests
The versatile vest may have brought a neat, buttoned-up touch to old-school academic ensembles, but this '90s fashion favorite was never reserved just for preps. Swap the proper dress shirt underneath for a basic tee (or go bold and bare-armed!) and—paired with ripped tights and lace-up work boots—you've got yourself a top layer with a surprising amount of edge. Or opt for a warm and woolly vintage sweater vest (we're partial to argyle and Fair Isle patterns) for an of-the-moment look we like to call "snuggly meets sophisticated."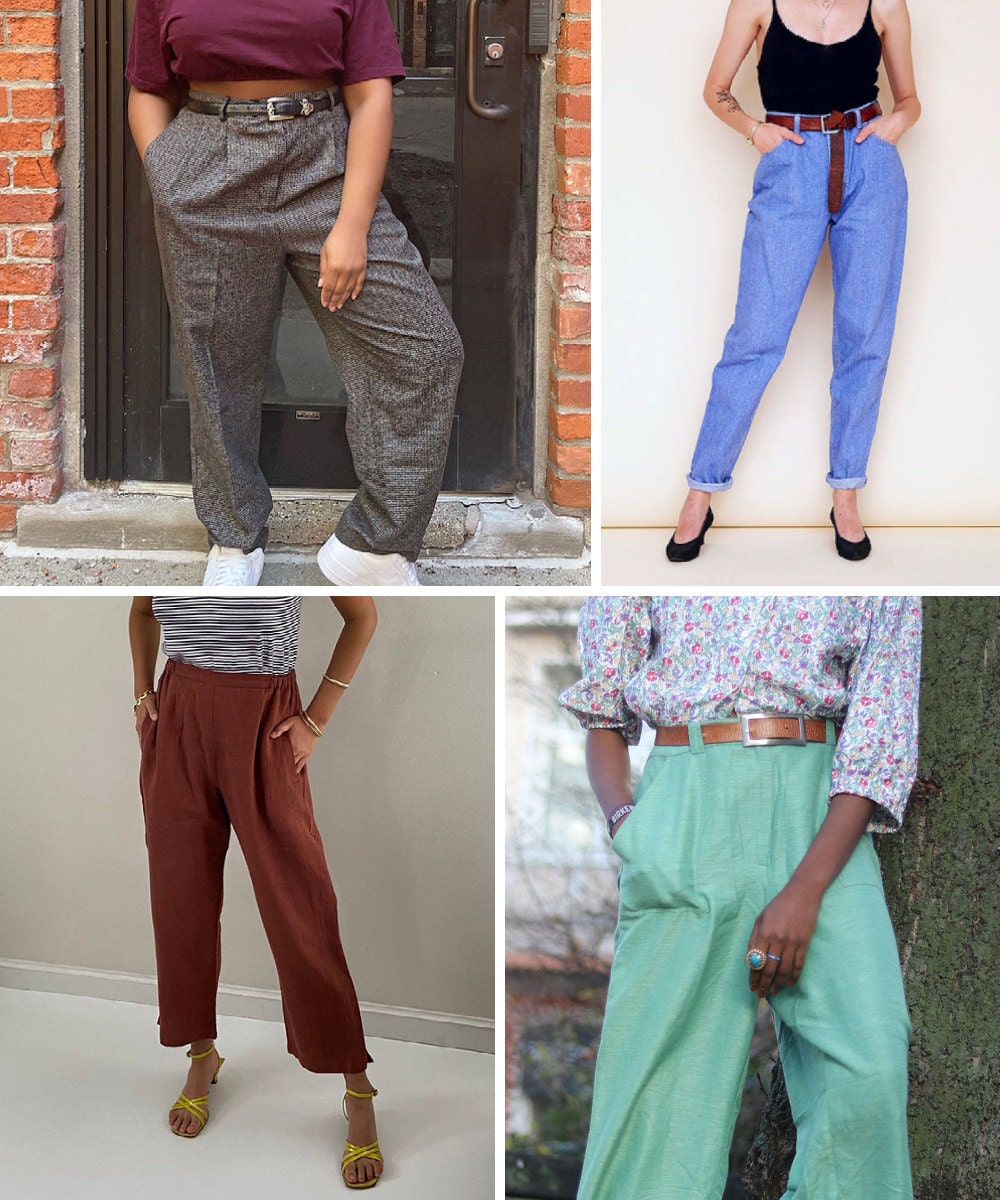 SHOP: Vintage '90s high-waisted pants
One fact that '90s fashion undoubtedly got right? A waist is nothing to waste. From relaxed linen slacks worn high above the hip to straight-legged trousers belted over a tucked-in tank, the pants of our past accentuated our curves in a way that appeals to fashionable folks of the present day, too.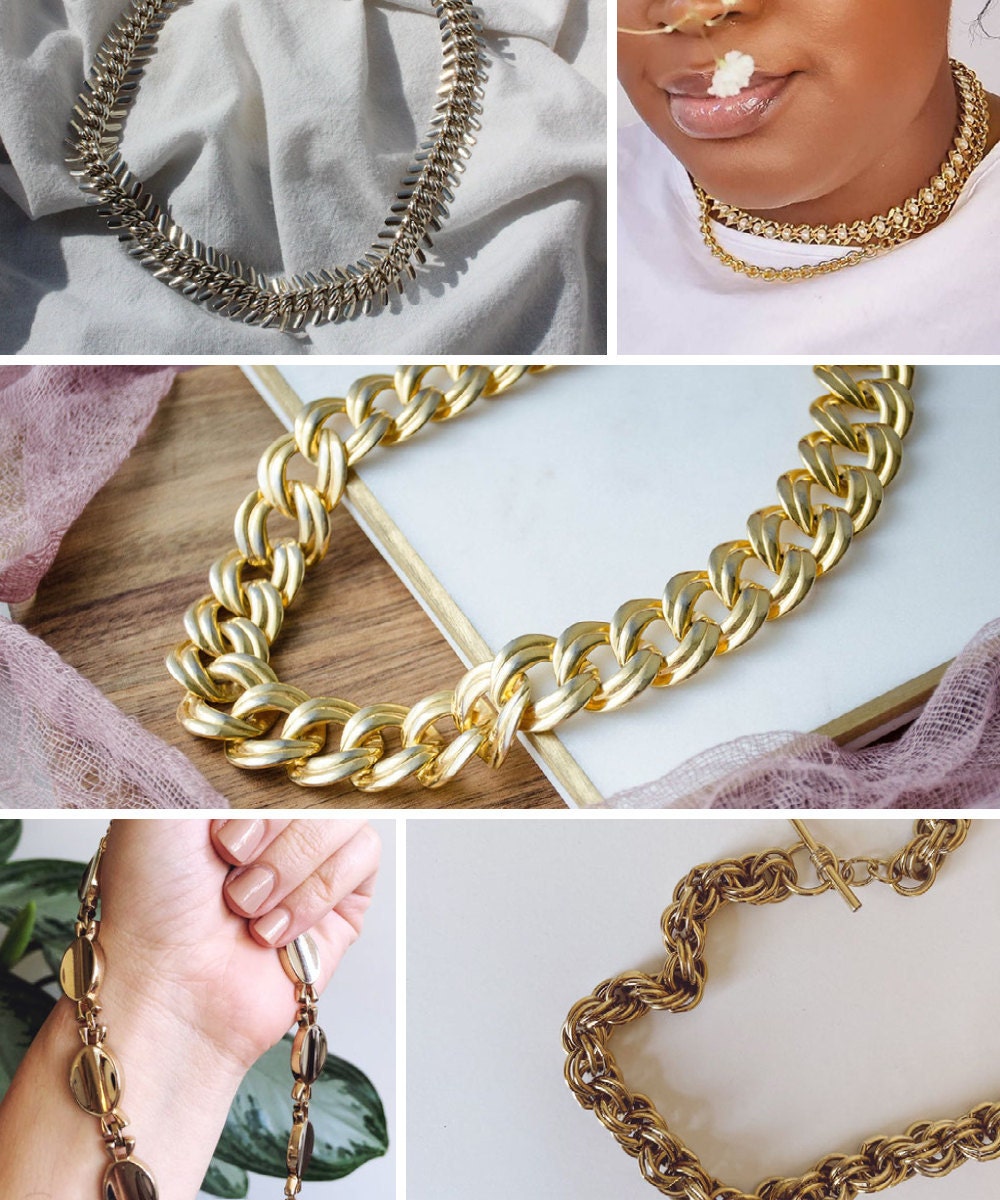 SHOP: Vintage chunky '90s chain necklaces
In the '90s, a gold chain was one popular way to punch up an everyday outfit—and the chunkier the better. A fab choice to complement a classic pantsuit and heels, these notice-me necklaces made a powerful statement for the burgeoning businesswoman, and today lend a bit of that same boss energy to a simple tee or structured blazer.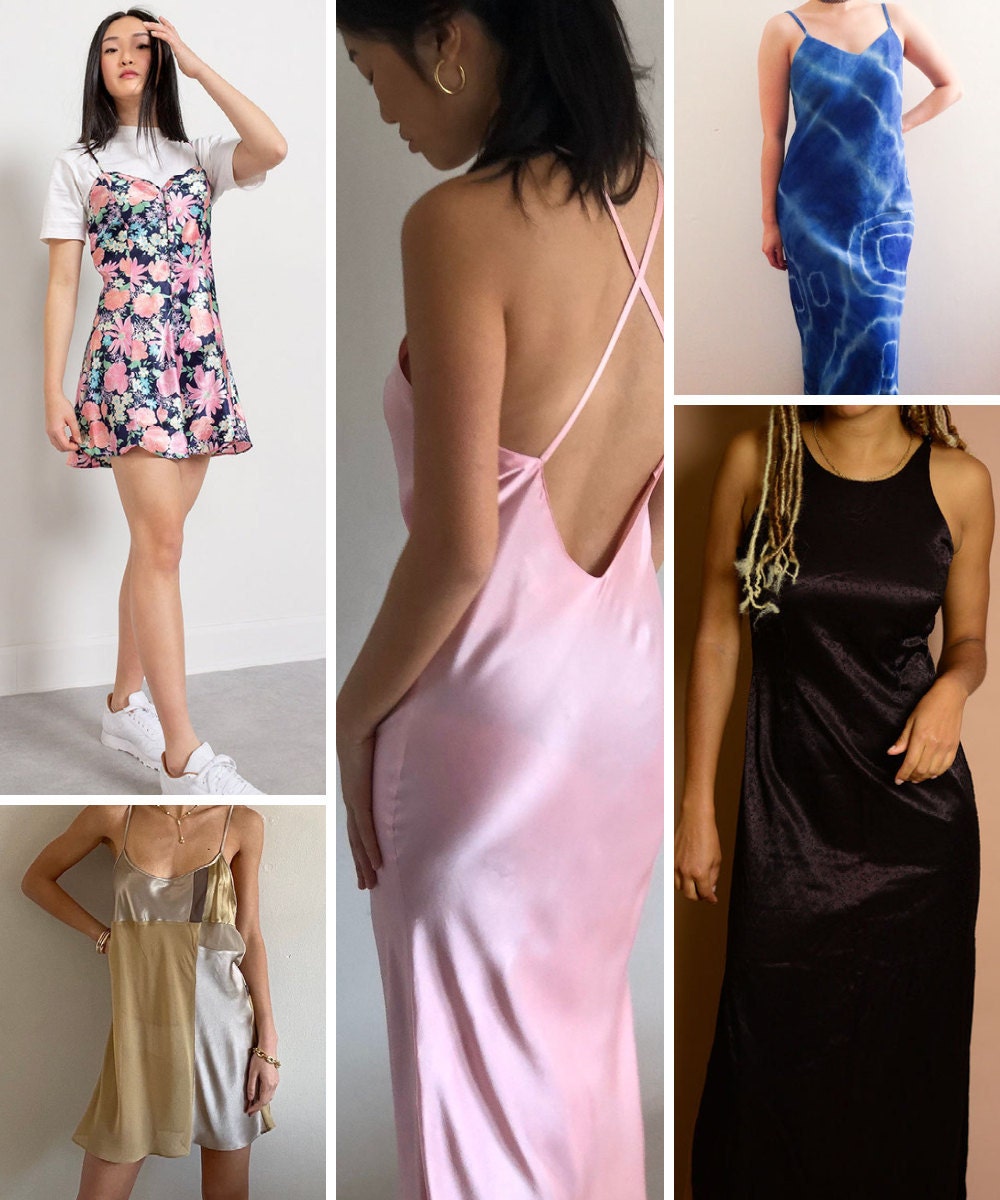 SHOP: Vintage '90s slip dresses
Whether you're in search of a long silky number for a nighttime soiree or a playful floral layering piece, a vintage '90s slip dress serves just the right amount of shimmer and sweetness. Drape over a clean white tee for a daytime look that's flirty and cute, or don something low-backed with criss-cross straps for a guaranteed glam entrance.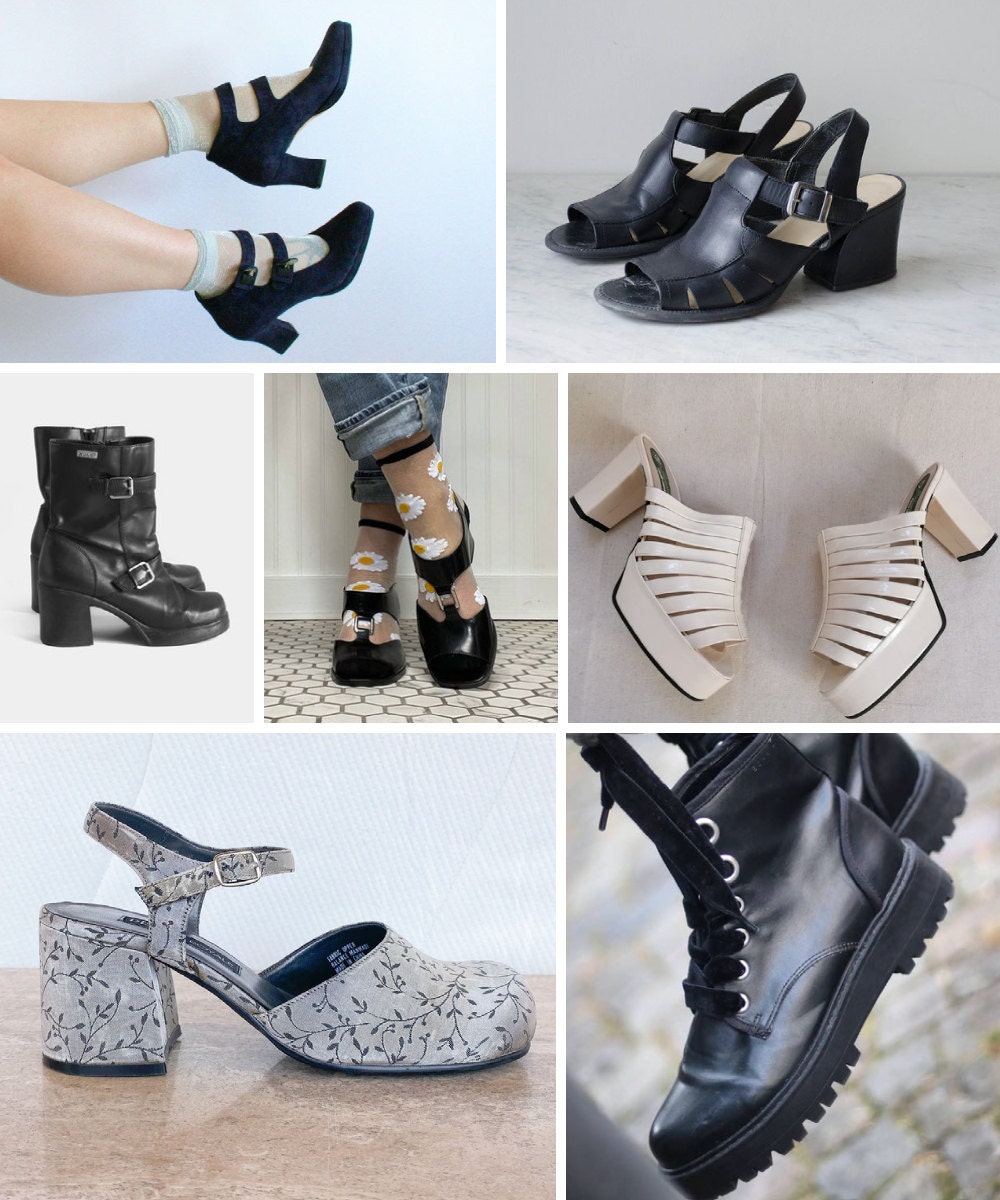 SHOP: Vintage '90s shoes
A well-kept pair of vintage kicks can really complete an outfit, and thanks to the '90s grunge movement, fearless footwear found a prominent platform in the form of thick soles and boxy heels that we're still sporting to this day. From shiny black boots with big buckles to wide-strapped sandals with rounded toes, these chunky shoes make a striking statement we're totally in step with.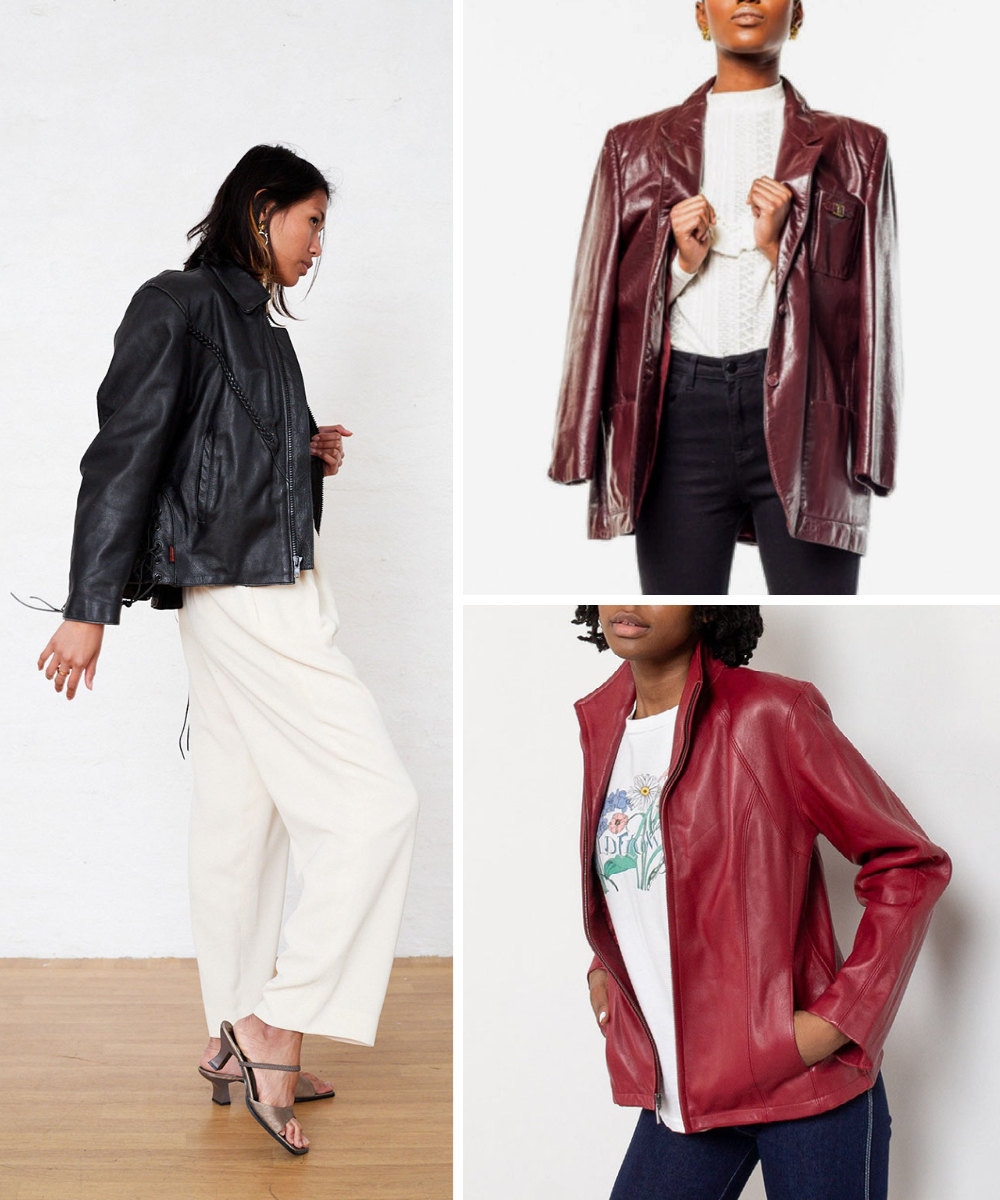 SHOP: Vintage '90s leather blazers
Slick leather jackets of all sorts were a '90s fashion mainstay, but if you're looking for outerwear that'll take you effortlessly from the boardroom to the bar, we recommend the sharp collar and impeccable cut of a zip-up blazer. Try a rich, warm red to channel those fall vibes, or stick with classic black embellished with studs for a punk-inspired aesthetic.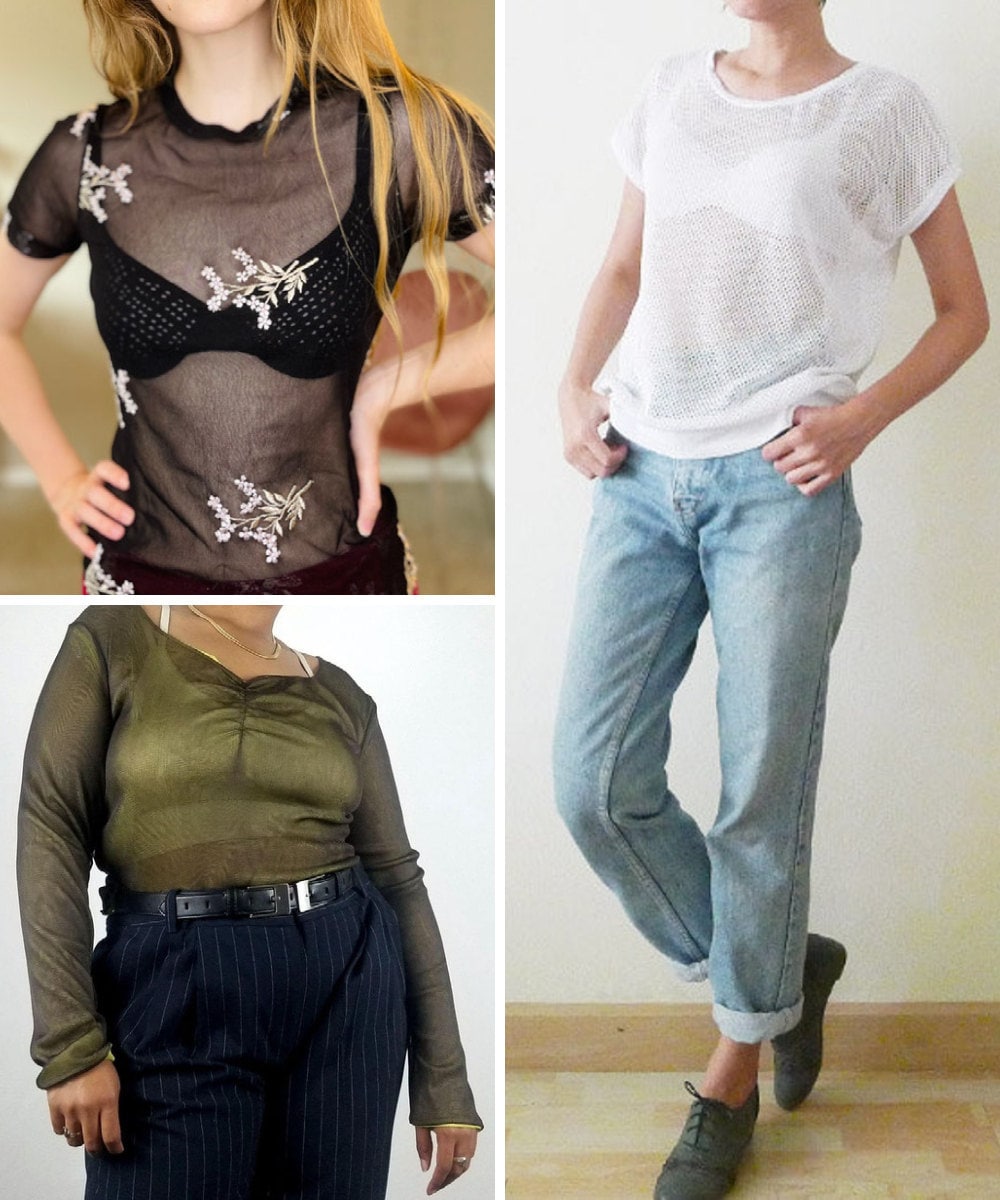 SHOP: Vintage '90s mesh tops
Breezy and sheer, mesh styles were a fun '90s fashion trend for anyone with a slightly daring streak. Today, we're loving this look all over again thanks to pretty layering pieces like camis and bras that were made to be seen underneath. Stick with a same-color base garment to offer a subtler peek, or mix and match hues to dial up the dramatic contrast.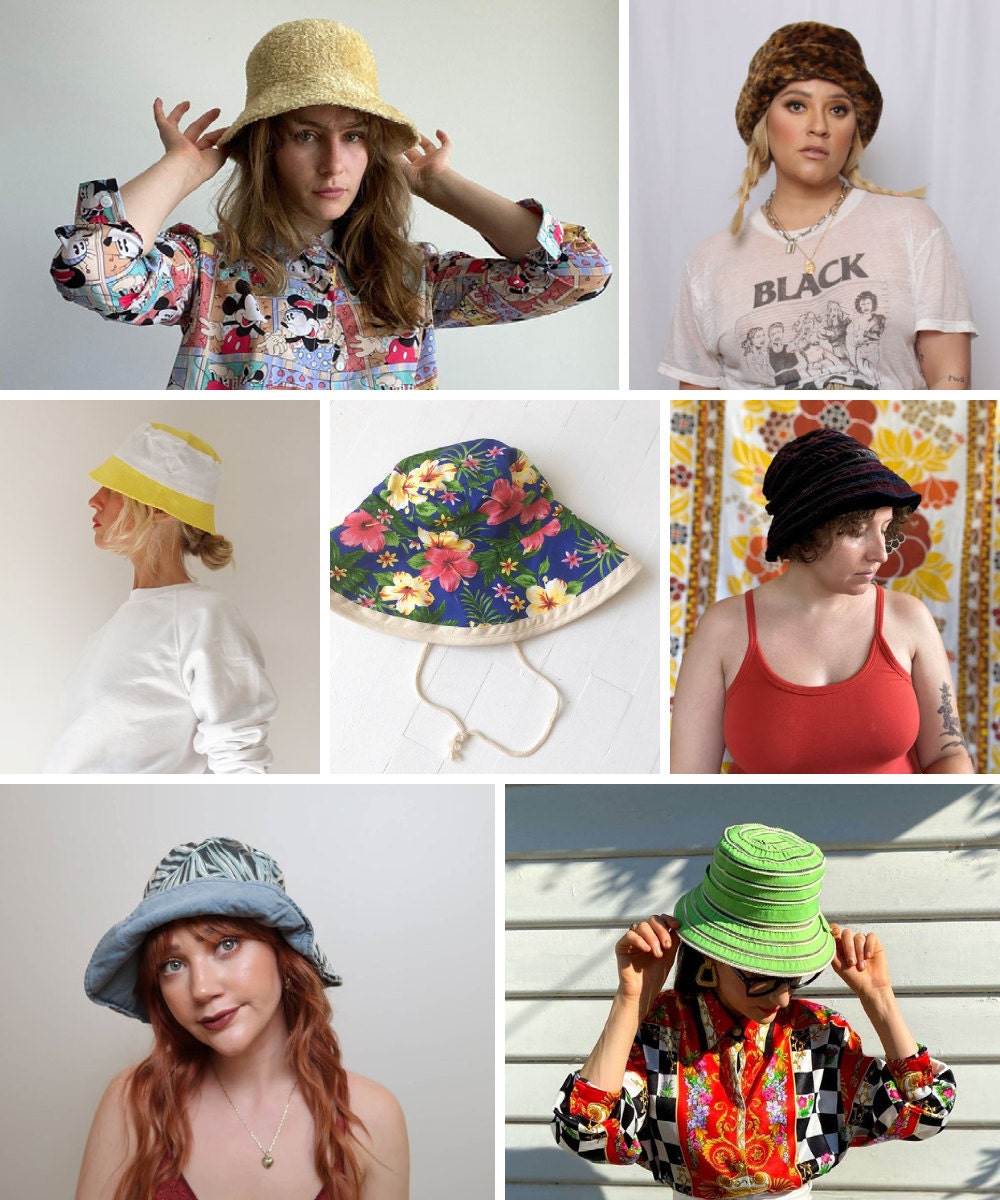 SHOP: Vintage '90s bucket hats
Arguably, no vintage '90s accessory is enjoying a greater comeback right now than the bucket hat. The best part of this retro resurgence? They're available in a wide range of patterns and fabrics—from floppy brimmed florals to boxy faux fur finds—so you can easily match your headwear to your seasonal vibe.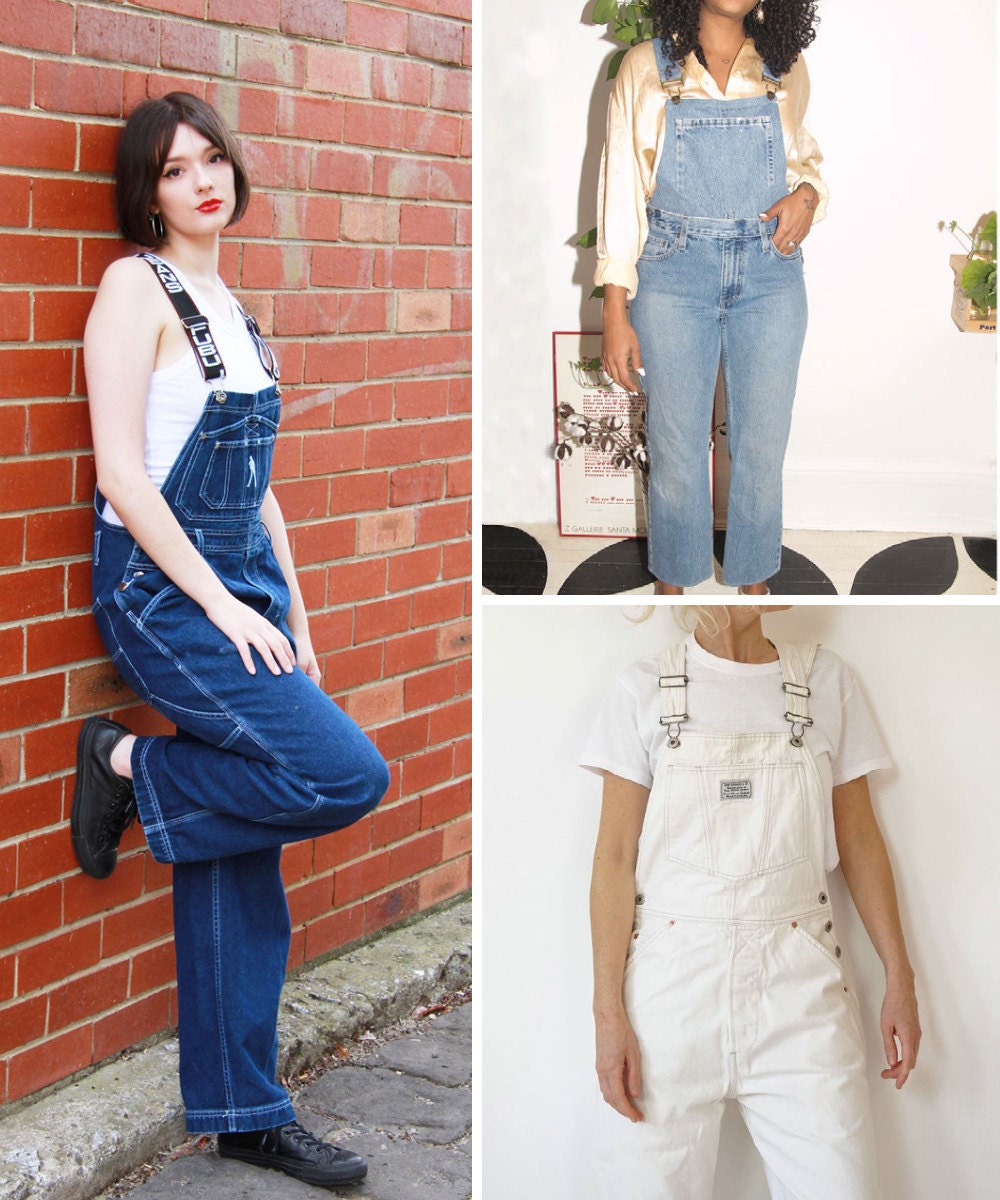 SHOP: Vintage '90s overalls
It's no surprise that grown-ups are giving '90s overalls another go. Casual and country-chic, denim dungarees are an ideal pick for remote work and fieldwork alike—and nod to a nostalgia for simpler times. If you're just wearing them around the house or out to the farmer's market, we like a more fitted look in white or beige paired with a comfy clog, but if you need to move, make sure to size up for a bit of extra room.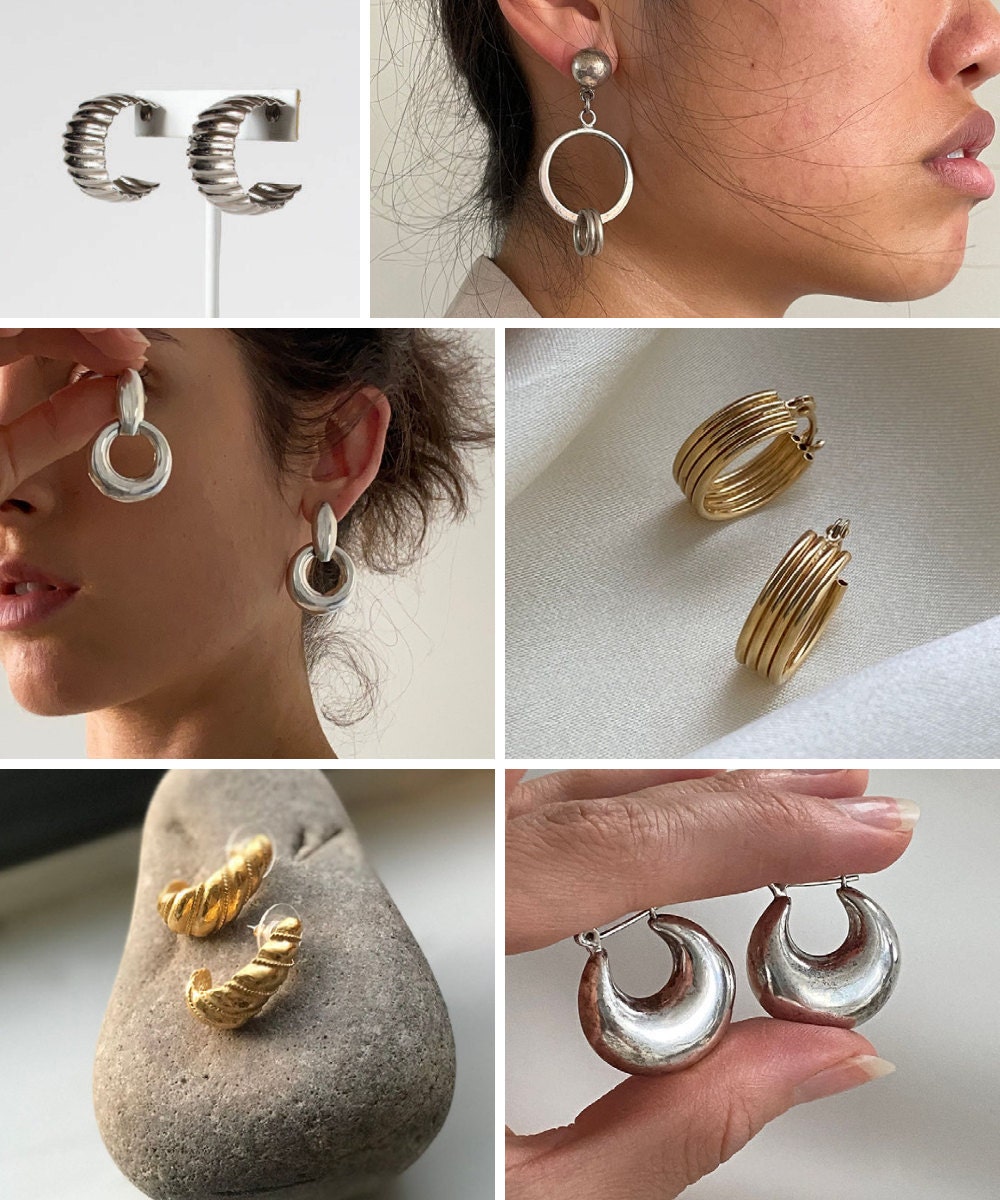 SHOP: Vintage '90s hoops
When it comes to accessorizing your ears, hoops are always an elegant choice. But '90s fashion saw the classic silhouette take on a bolder, more pronounced profile. Slender silver and gold loops were swapped for chunky showstoppers with riveting textures and dramatic drops. Today, we're loving this look for showing up and standing out both on video calls and in real life.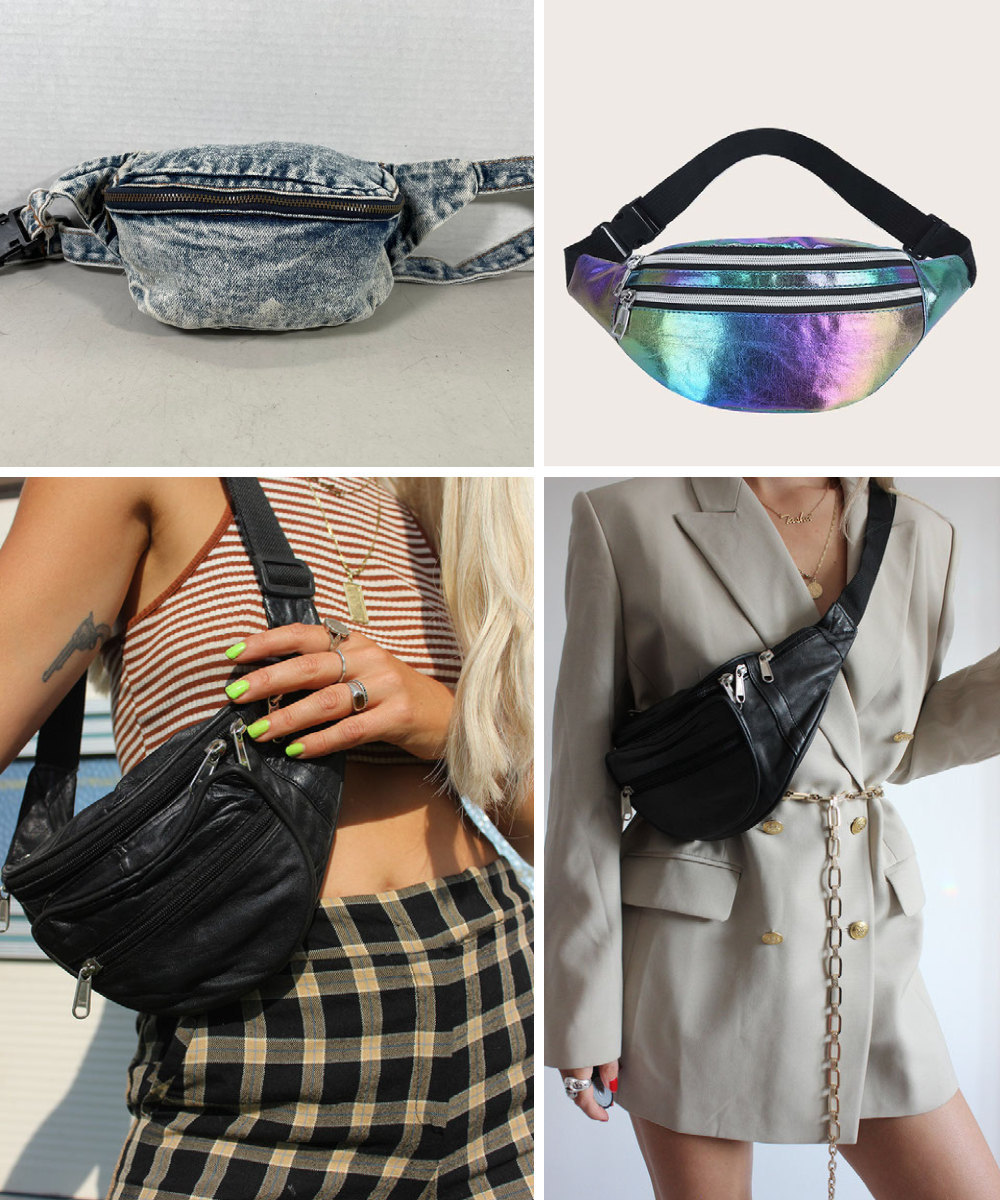 SHOP: Vintage '90s fanny packs
They may have, at one time, been associated with embarrassing family vacays, but the fanny pack has since been granted a major style upgrade. Our favorite vintage finds incorporate other classic '90s trends like acid wash and neon, or alternatively, are made with lasting materials like leather, and have adjustable straps that seamlessly convert from a casual bum bag to a chic crossbody.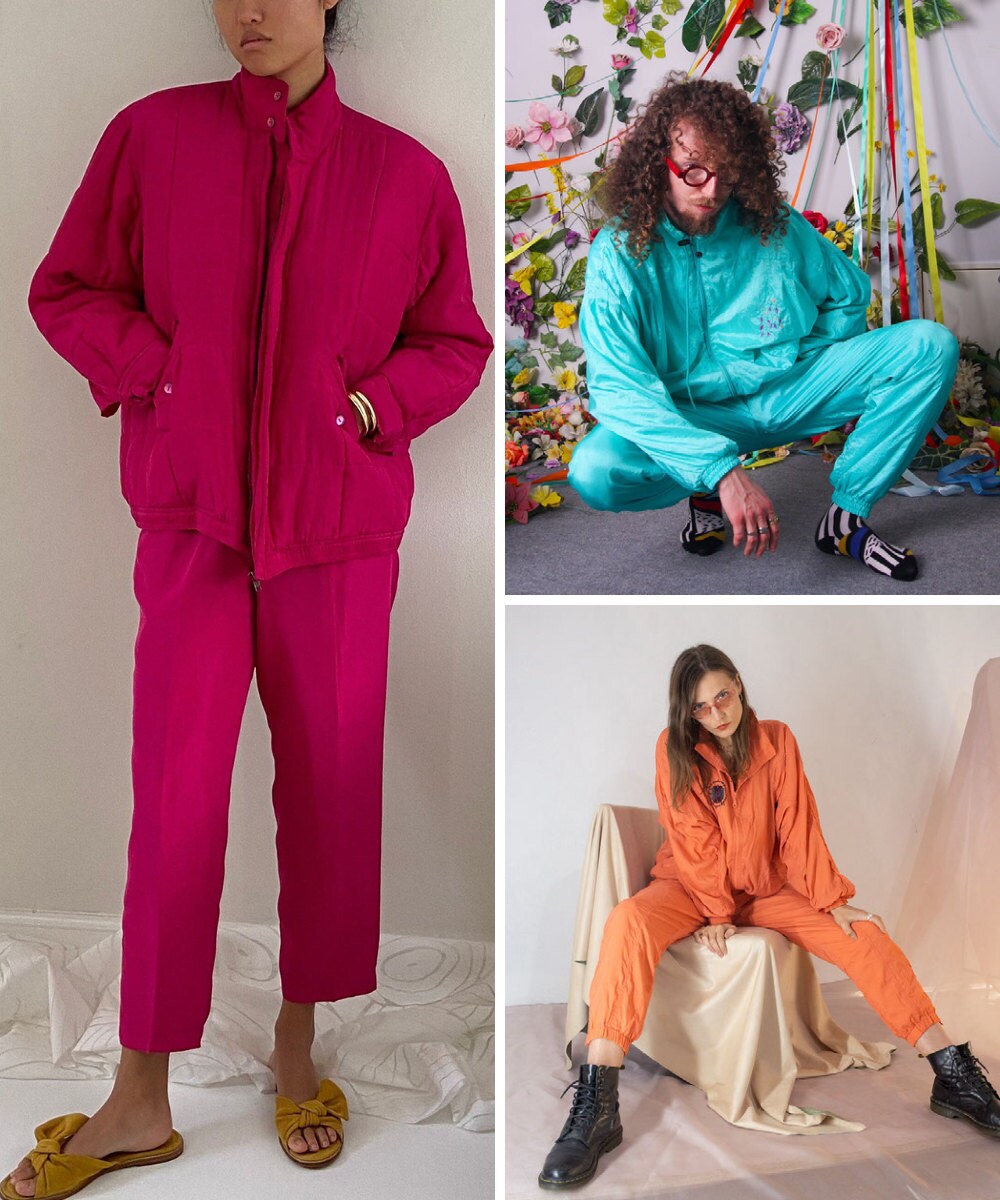 SHOP: Vintage '90s tracksuits
Confession: We can't resist a matching set, and nothing says "cool, calm, and coordinated' like a classic '90s tracksuit. Sport the top and bottom as separates (we love a trackpant and tailored blouse combo) or rally all the players and create your own MVP moment.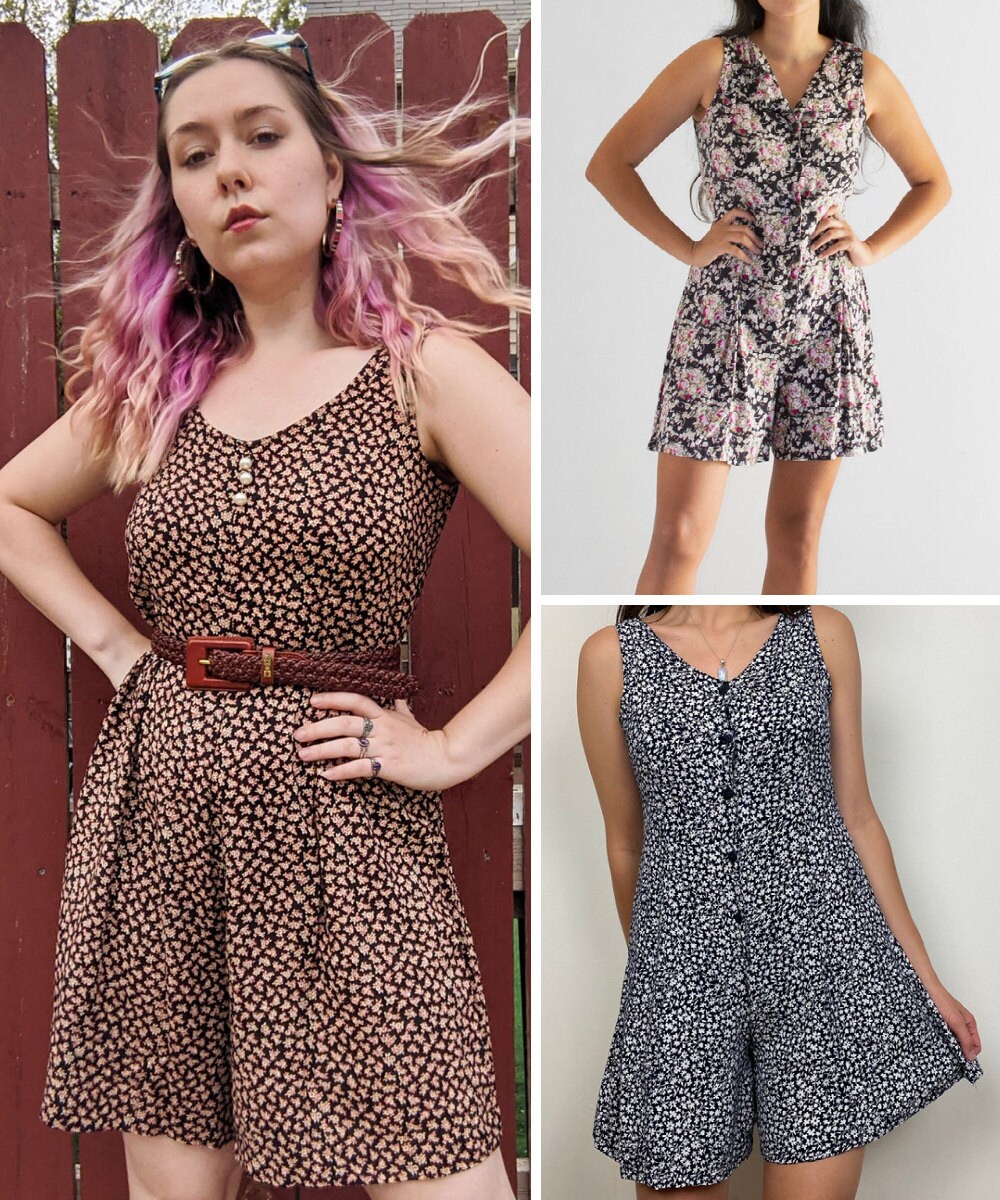 SHOP: Vintage '90s floral rompers
Talk about '90s fashion trends that set the precedent! Today rompers and jumpsuits have become wardrobe mainstays (as have all-over floral prints), so slipping into one of these beautiful blossom-dotted pieces and twirling around town is basically a no-brainer.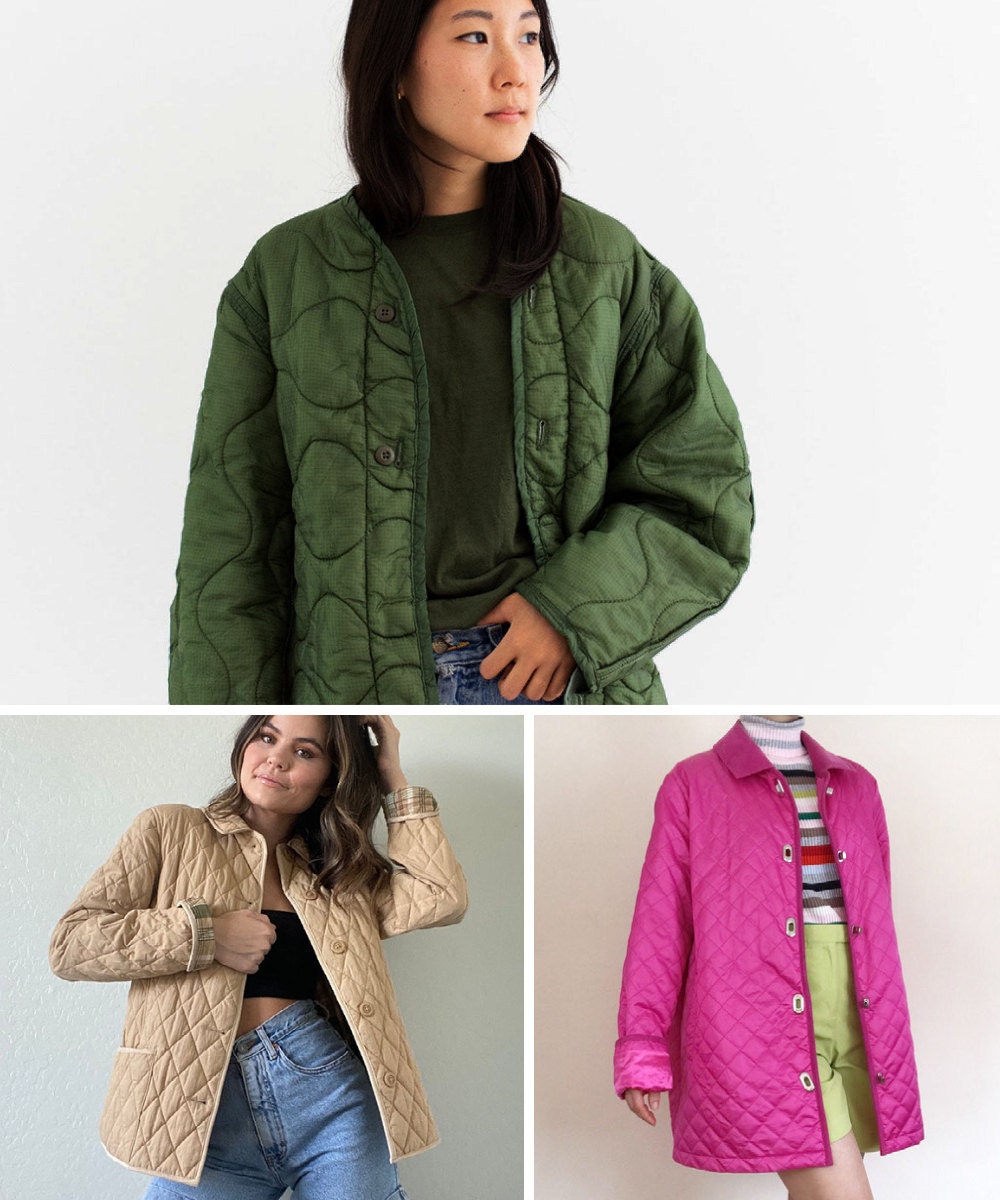 SHOP: Vintage quilted '90s jackets
Bombers and puffers were big in the world of '90s fashion, but these days we're seeing the trend re-emerge with an interesting twist. Vintage quilted coat liners are highly coveted as a cozy-retro take on the transitional jacket, and look great whether you've managed to scrounge up a vintage army shell or a bold and bright base layer that could've been pulled straight from the pages of a '90s outdoor catalog.