Filling your Christmas tree with antique and vintage ornaments is an easy way to dial up the cozy holiday vibes.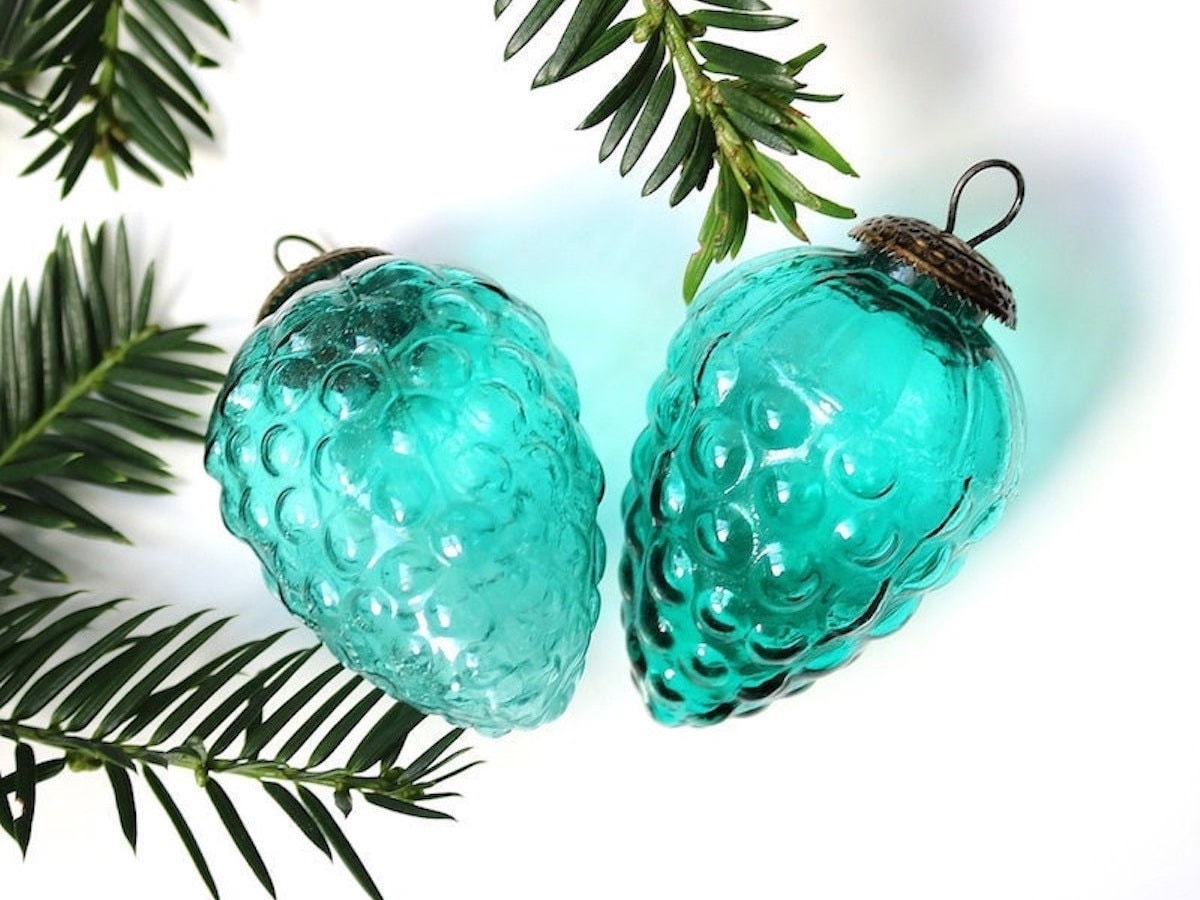 A Christmas tree is more than a Christmas tree—it's a way of celebrating life's experiences, our personal milestones and passions, the people we cherish and the places we've been. A well-loved holiday tree is like a scrapbook that gets filled over the years with our love for each other, and each ornament is like its own special memory.
Vintage ornaments can help make a new tree your tree—and Etsy has just what you're looking for, whether your style is crisp and contemporary or ultra-traditional. Read on to discover some of our favorite vintage ornaments, and get ready to celebrate all the holidays to come.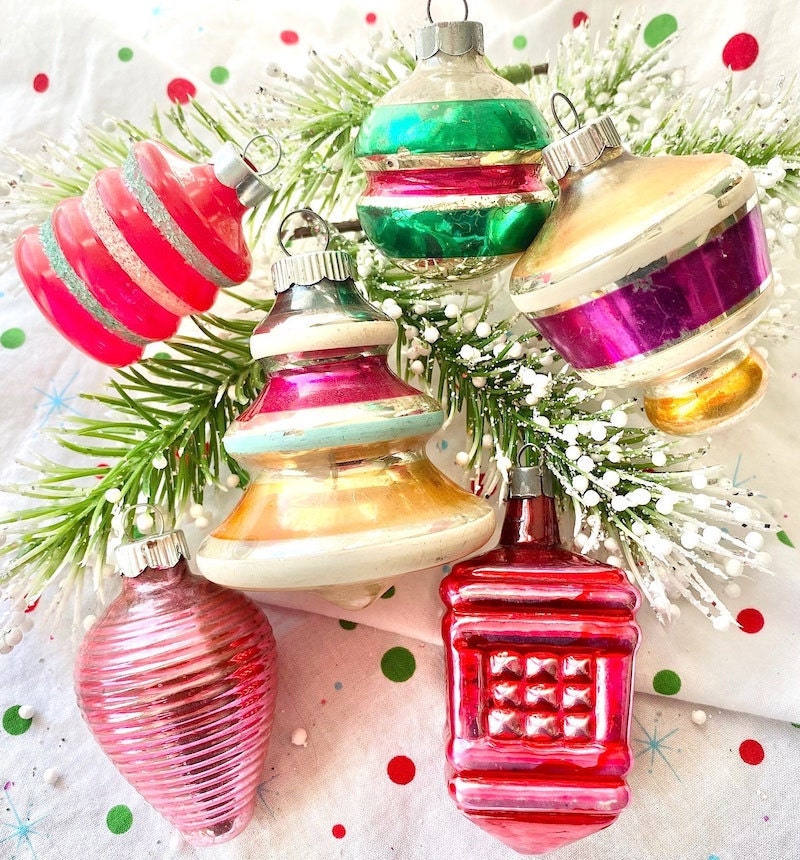 SHOP: Vintage mercury glass ornament from Retro Lovern, $24
What are mercury glass ornaments?
Mercury glass—which doesn't actually contain mercury—first rose to popularity in early 19th-century Germany as an inexpensive substitute for silver. Composed of double-walled glass filled with a silvering formula, the style was used for all sorts of housewares in Europe in the hopes that a thief would mistake it for the good stuff. Mercury glass went out of vogue with the advent of the light bulb (which eliminated any chance of a thief's misidentification), but came back in the 1900s and swept the Christmas decor scene. Colorful mercury glass ornaments, especially the dioramas, had their heyday in the 1950s and '60s, and like many other decorative and design elements of that era, have enjoyed a revival in the last decade. Now, collectors and crafters are even combining the tiny vintage ornaments into big, statement-making multicolored wreaths.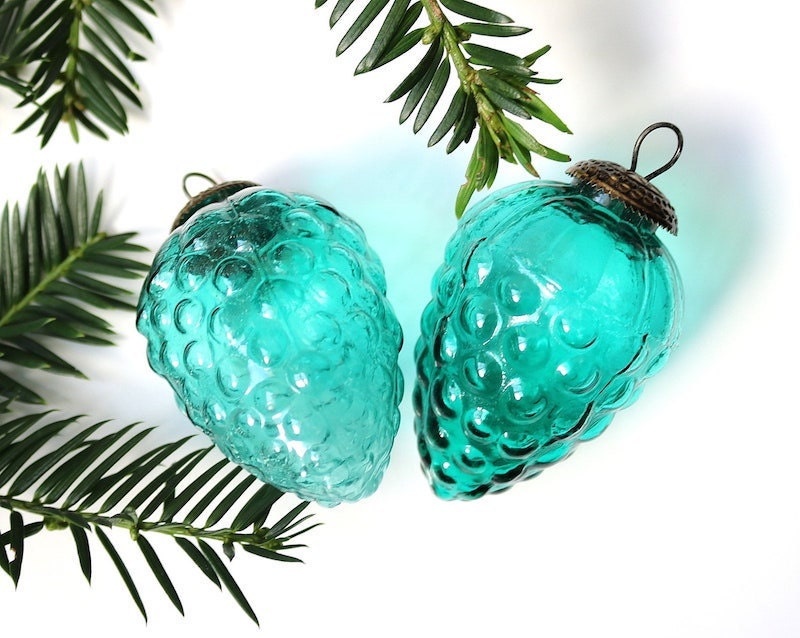 SHOP: Vintage kugel ornament from Lava Haus, $18
What are vintage kugel ornaments?
These gorgeous ornaments date back to the mid-19th century, when they were first produced in Germany to celebrate Christmas (and to ward off witches during these dark winter days—true story). A real vintage kugel will be heavier than it looks and will likely have a brass cap that's flush with the surface of the ornament. Originally, they came in a rainbow of colors, though the brighter ones are now super rare (if you find one in pink or purple—grab it!), and silver ornaments are easiest to find. Look for shapes like clusters of grapes, strawberries, eggs, mushrooms, and fluted cones.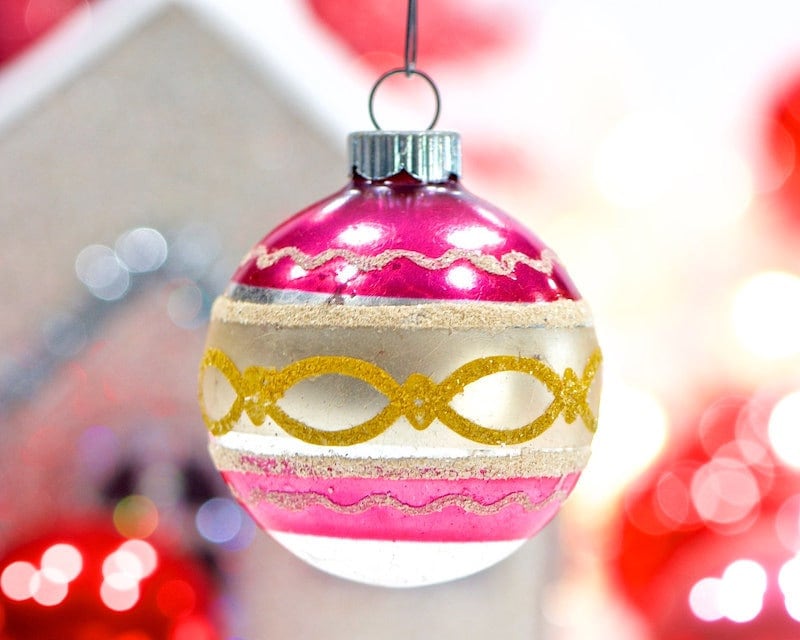 SHOP: Vintage Shiny Brite ornament from DansandAdiHomeDeco, five ornaments for $68
What are vintage Shiny Brite ornaments?
Colorful Shiny Brite ornaments are synonymous with Christmas ornaments for many of us. They were first manufactured in pre-World War II Germany by Max Eckardt, who fled to the US in advance of the war and teamed up with the Corning Glass Company to continue producing them. (Advertisements at the time proclaimed that the ornaments were "Made in America on American machines" by "the makers of famous Pyrex ware.") While Shiny Brites were ultimately made in every imaginable color and design, we're loving the striped varieties most right now. For the most historic pieces, look for cardboard hangers, which will indicate that the ornament was made during the materials-lean years of World War II.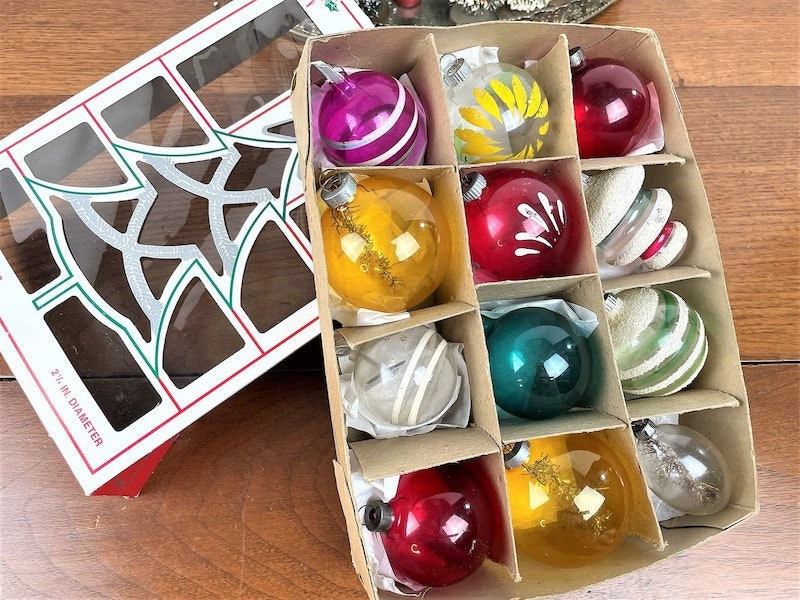 SHOP: Vintage unsilvered ornament set from Rowland Park Vintage, $120
What are vintage unsilvered ornaments?
In some ways, vintage unsilvered Christmas ornaments were as much a product of World War II as Shiny Brite ornaments—in fact, the two weren't mutually exclusive. Even as Shiny Brite made its name from its ornaments' titular shine, war restrictions meant that the material used to create it—a silver nitrate solution applied to the interior of the ornament—was restricted. In response, ornament makers including Shiny Brite started producing "unsilvered" ornaments—essentially, those with clear glass. Nonetheless, they were produced in smaller numbers than the silvered versions, so unsilvered ornaments are now considered even more highly collectible.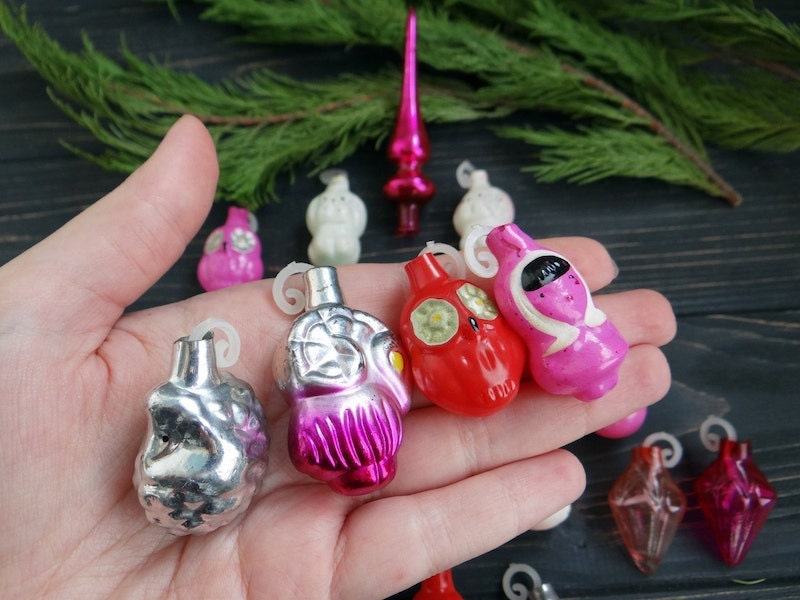 SHOP: Set of 23 miniature Soviet ornaments from Born in the Soviet, $53)
What are vintage Soviet ornaments?
Soviet Christmas decorations are a bit of an oxymoron, as religious practices were verboten during the Communist era (1917 through the collapse of the Soviet Union in the 1990s)—and Christmas trees along with them. The public's desire to celebrate, though, could not be contained, and so Joseph Stalin reintroduced a slightly tweaked New Year's celebration—a mash-up of Christmas, the winter solstice, and New Year's Eve traditions—in 1935. Decorated fir trees played their role, along with sparkling decorations like these.
Love vintage holiday trimmings? Learn more about all kinds of antiques and collectibles in our vintage holiday collectibles guide and our history of the aluminum Christmas tree.