by Valerie Rains
A musical bent and a '70s aesthetic inform this Portland, Oregon-based maker's line of handmade straps.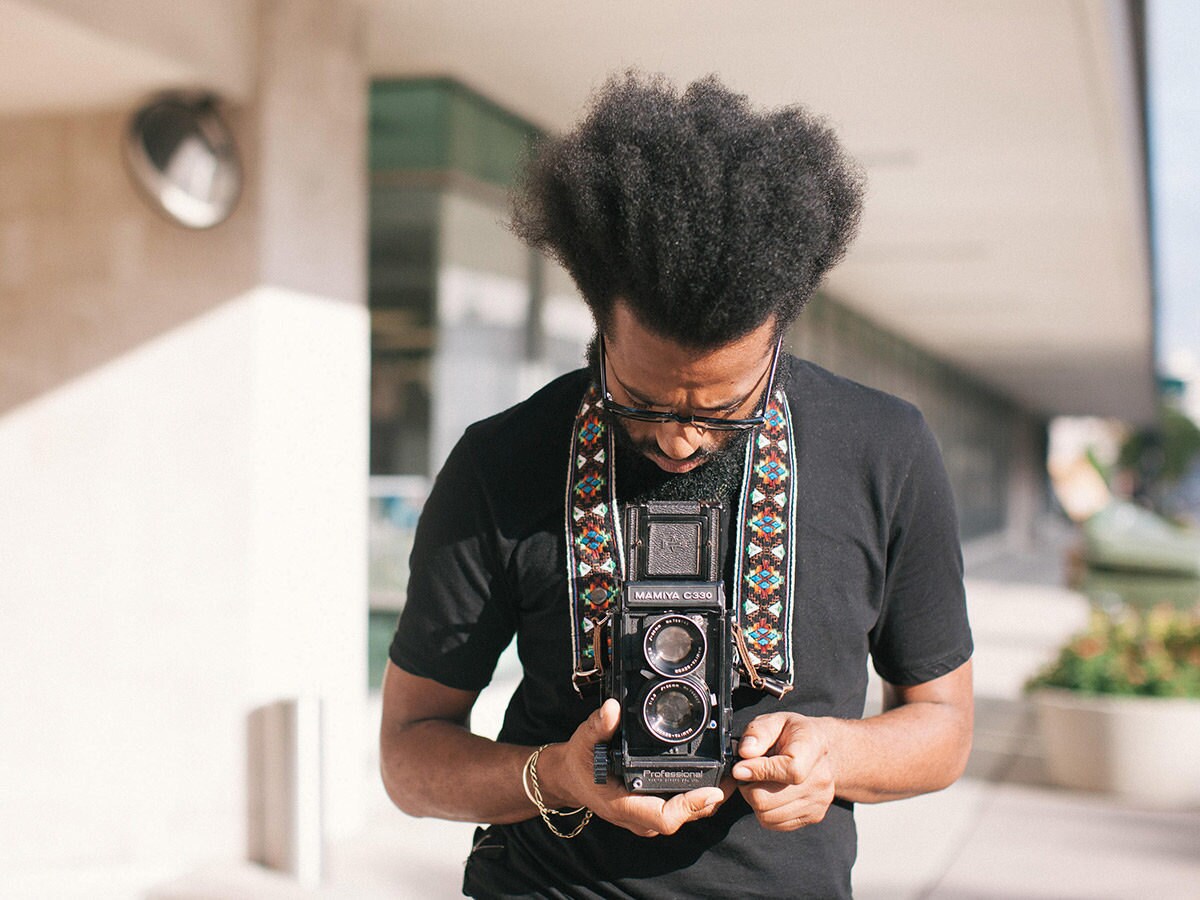 In our weekly
Featured Shop series
, we shine a light on a standout shop from Etsy's talented seller community, offering readers a behind-the-scenes look at their process and story. Anyone who's ever fallen in love with a perfectly cut (but prodigiously pit-stained) vintage dress or a once-snazzy, now moth-eaten peacoat at a thrift shop and walked wistfully away has confronted the sad reality that not everything gets better with age. But when
Feedback Straps
founder Sarah Peek stumbled upon an eye-catchingly colorful—and half-disintegrated—'70s-era woven camera strap at a yard sale in California, she didn't sigh and head home. Instead, she hatched a plan.
Explore the Feedback Straps collection
"Holding that strap in my hands, with its geometric-patterned ribbon and cracked, aged leather ends, I felt such nostalgia," Sarah recalls. "Then I thought, 'Hey, maybe I could learn how to make these myself, and bring new life to an old design.'" Putting her basic sewing skills (and some beginner-friendly YouTube leatherwork tutorials) to use, Sarah whipped up a first camera strap prototype that tapped into that throwback vibe, but with a contemporary twist. "I lean on clean, straight lines for my leatherwork, which I think gives the designs a more modern edge," she says. Realizing she'd hit upon a winning formula, Sarah launched a line, opened an Etsy shop, and has been happily turning out distinctive camera, guitar, and handbag straps ever since, evolving her styles with upgraded materials and colorways, and expanding her line based on customer requests.
Read on to learn about Sarah's collabs with local photographers and musicians, and the design discovery that took her line's quality to the next level—then shop the Feedback Straps collection.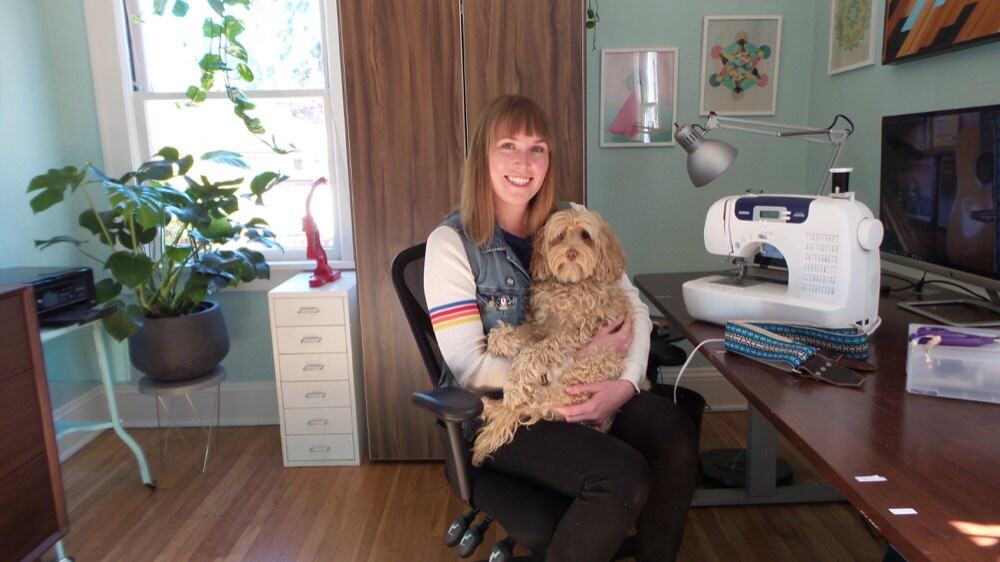 Where does the Feedback Straps magic happen? Do you have a studio where you do the production for your line?
I work from my home studio in southeast Portland, Oregon; it's in a 1920s bungalow that my husband and I bought earlier this year. My room is painted robin's egg blue—very cheerful and motivating—and thanks to my mild obsession with houseplants, I'm constantly moving different plants in and out of the space. My Australian Labradoodle, Joni (yep, named after Joni Mitchell), is always faithfully by my side while I work, although she's often trying to lure me outside to play fetch or go for a walk. In terms of equipment, I've got a standard Brother sewing machine that's surprisingly powerful, and leather-working tools that I've upgraded over the years. The space gets a good amount of warm southern light, and overall it's really homey.
Can you walk me through the process of making one of your straps from start to finish?
I make
all my straps
to order, but I do batches of leatherwork ahead of time because it's so much more efficient that way. First, I pattern out the different end pieces onto my pre-dyed leather. Then I then use my leather tools to punch holes, cut, bevel, and rivet the leather end pieces. When an order for a strap comes in, I'll cut the ribbon and the hemp webbing for the back, and then get to sewing those together. The last step is adding on the leather ends; since I use full-grain leather, which is really durable and thick, I typically also soften it up a little bit by hand before I ship out the strap to make it easier to fasten onto your guitar or camera right off the bat.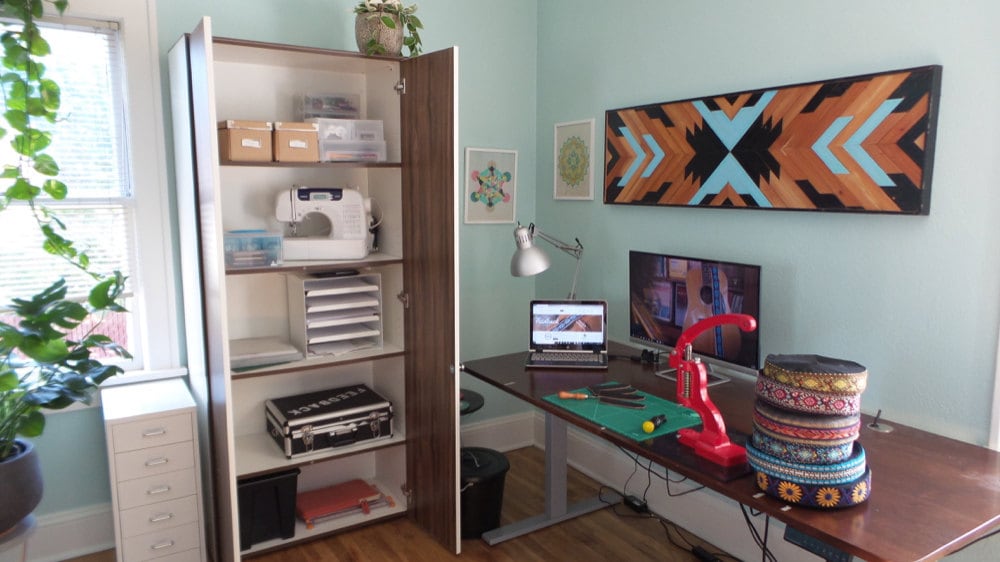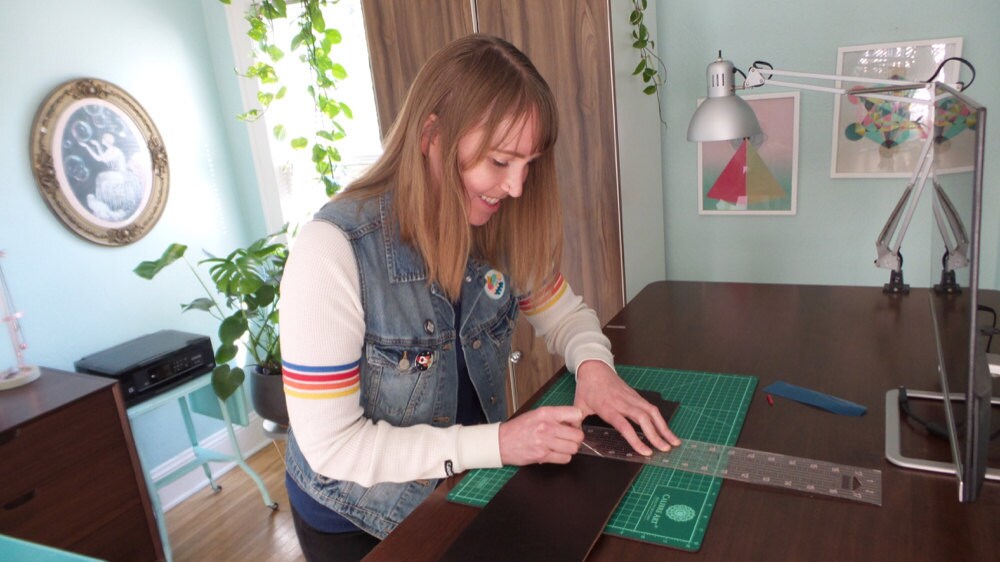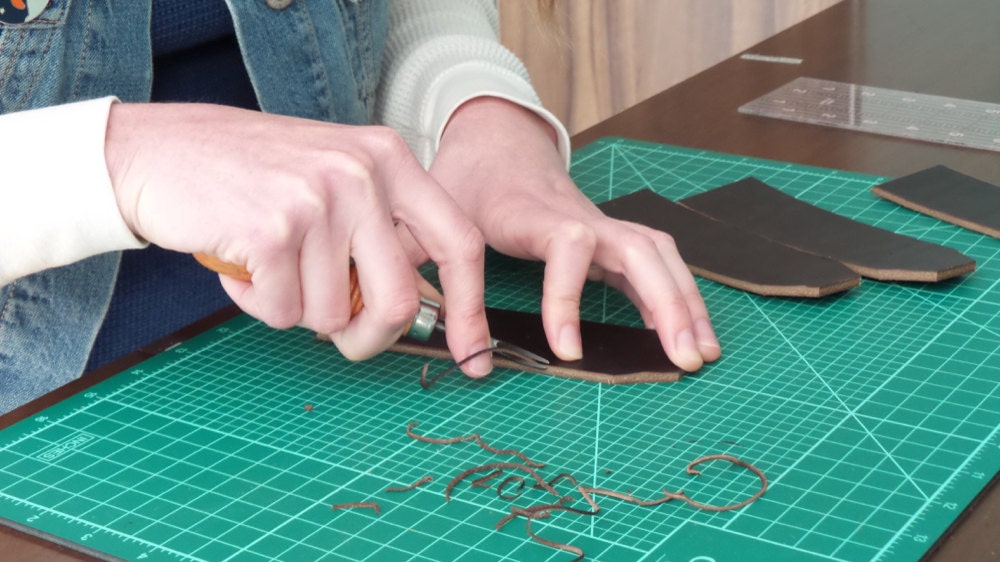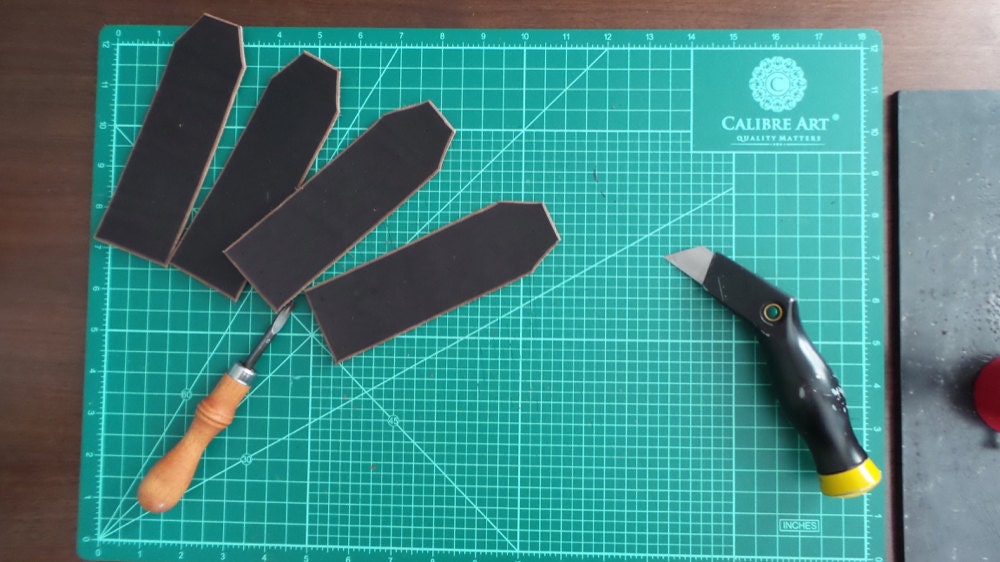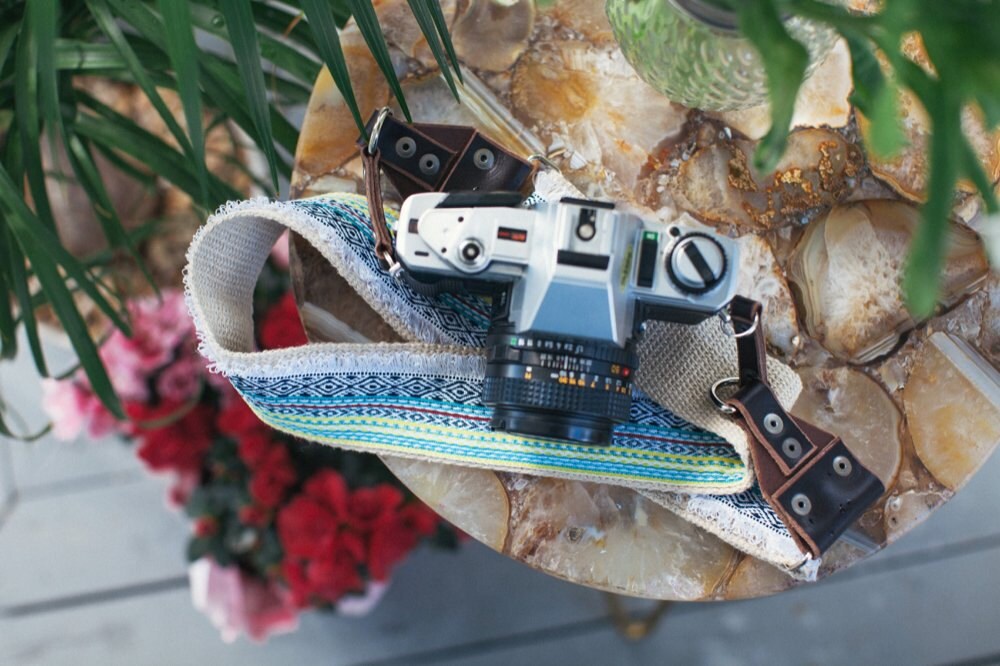 >
How have your straps evolved over time?
The materials I use now are very different from what I used when I first started, and that's all from continually rethinking and redeveloping the product to last longer and be higher quality. I had to learn leatherwork from the ground up, one YouTube video at a time, followed by classes at a local leather supply store to learn about different tools and techniques. The tools I started with were very basic hand tools, and I feel like I learned the hard way, then earned my way up to more practical and efficient tools—sort of like learning to play guitar on an acoustic guitar with high action, and then switching to an electric guitar that plays so much easier in comparison. It really made me appreciate the newer tools when I was able to invest in upgrading them. I've also learned a lot about working with ribbon, and can pretty easily spot differences in quality between various ribbons now. But one of the biggest changes I made in my production process, four years ago, is using organic hemp webbing on the back of all
my straps
. It's the most amazing material to work with: It's incredibly durable, and it gets really soft over time but it doesn't stretch out like cotton webbing. When I first started making the straps, I used nylon webbing with corduroy fabric sewn onto the back of it so it wouldn't feel abrasive. Going the hemp route changed everything. The quality of the product just went up.
What inspires you most in your work? 
I get very inspired by talking with other makers and artists. It is so amazingly empowering to be able to hone your craft and then sell your work around the world—and everyone has a different method of doing that. I have a business degree from Florida State University and I've taken lots of online business classes through alternative education sources; I am very entrepreneurial at heart.
Your listing photographs are fantastic—how do those come together?
For me, one of my biggest successes with this brand was working with my photographer, Skyler. Her photography really brought my business to life. All the people that she's had model the straps for me are real musicians or photographers, so when they hold the camera it's not a prop, they know what they're doing; when they hold a guitar, they're not posing awkwardly, they're actually playing a song.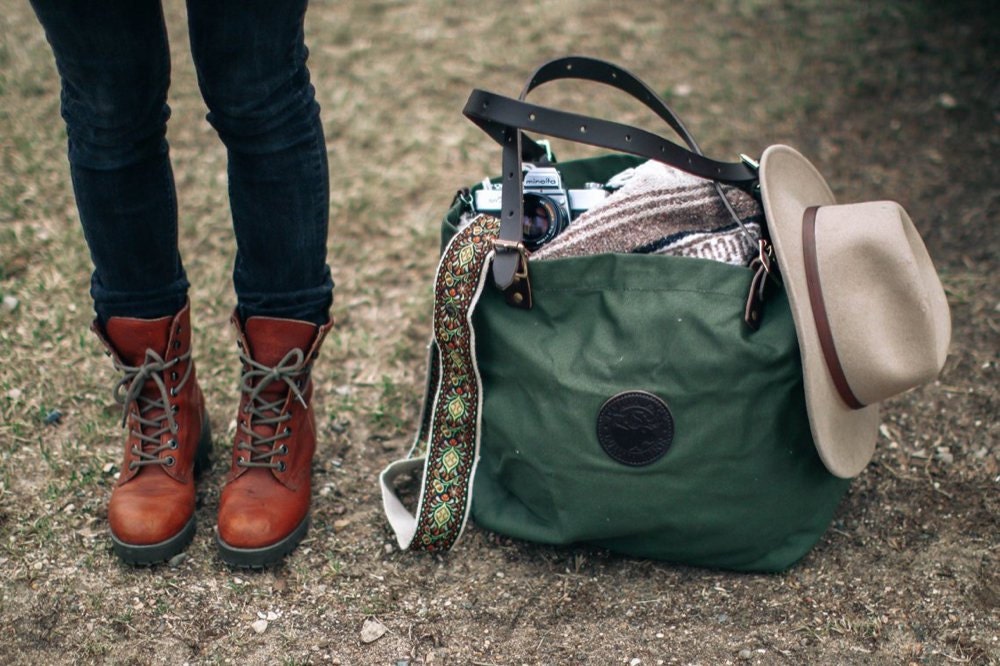 >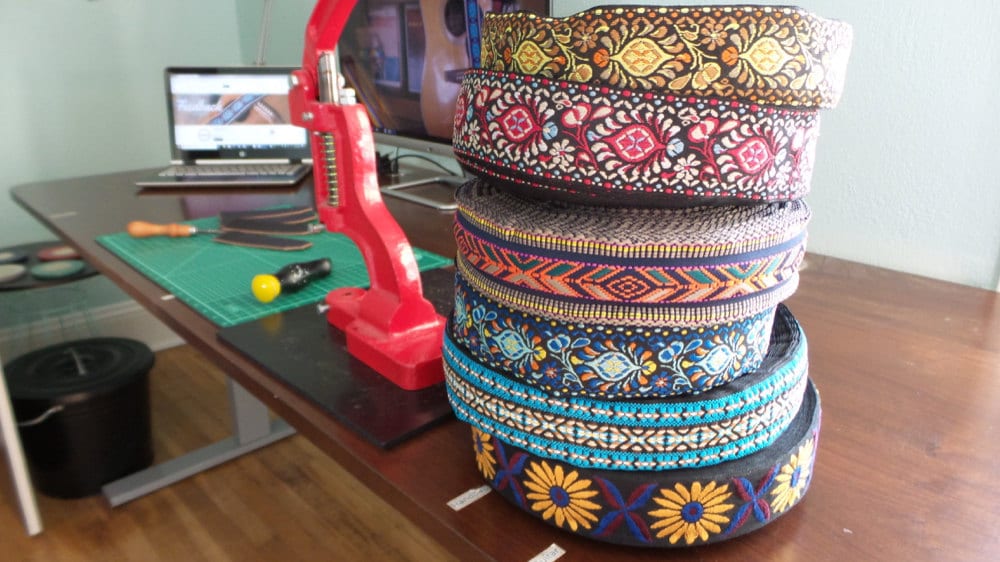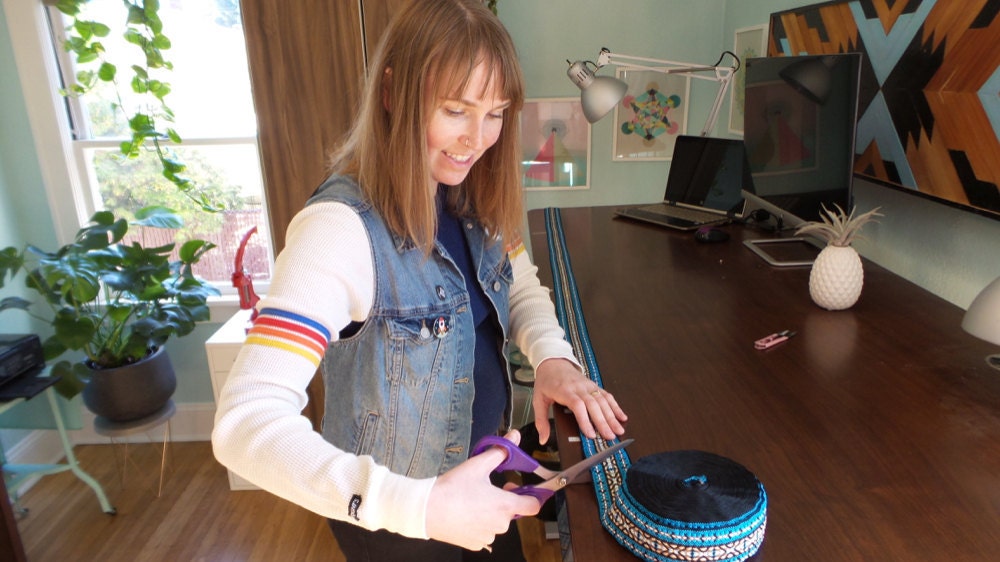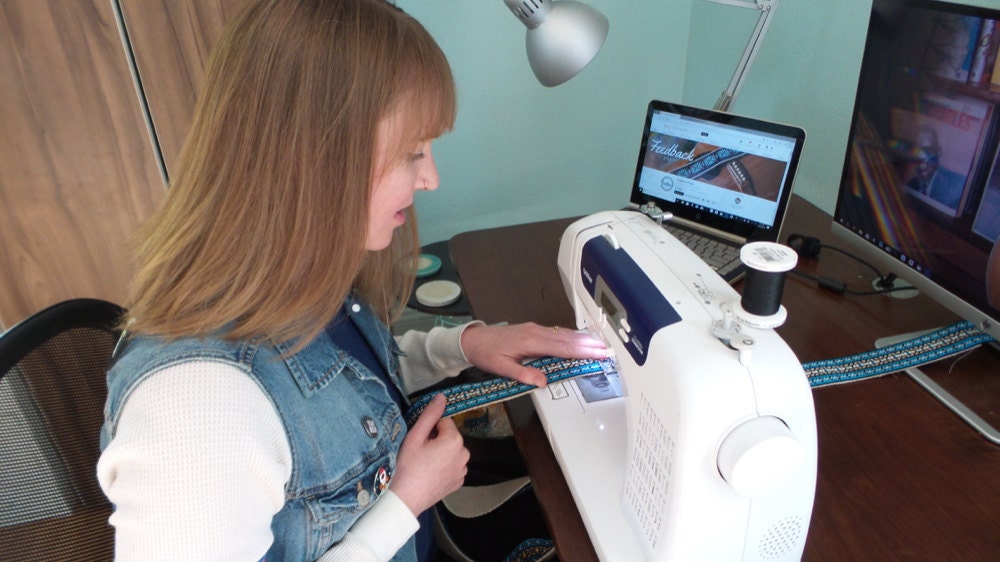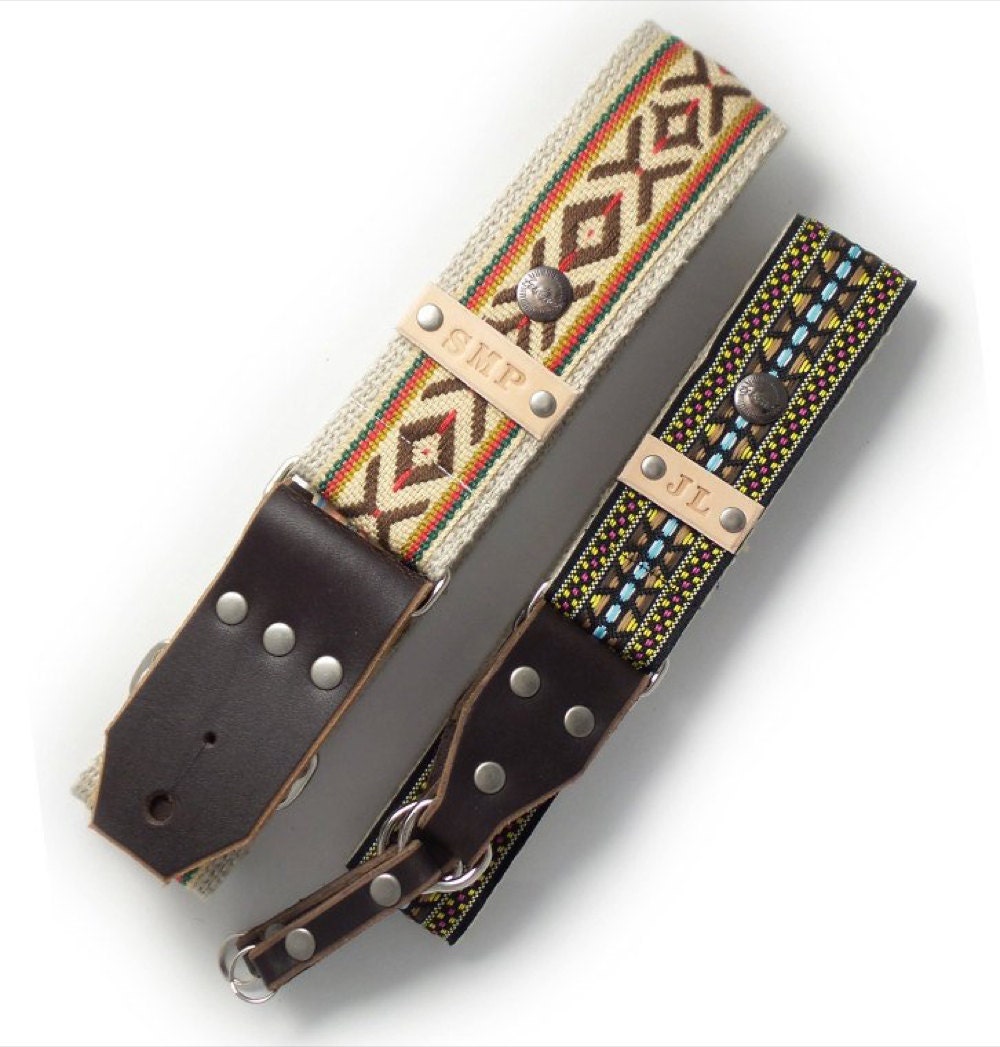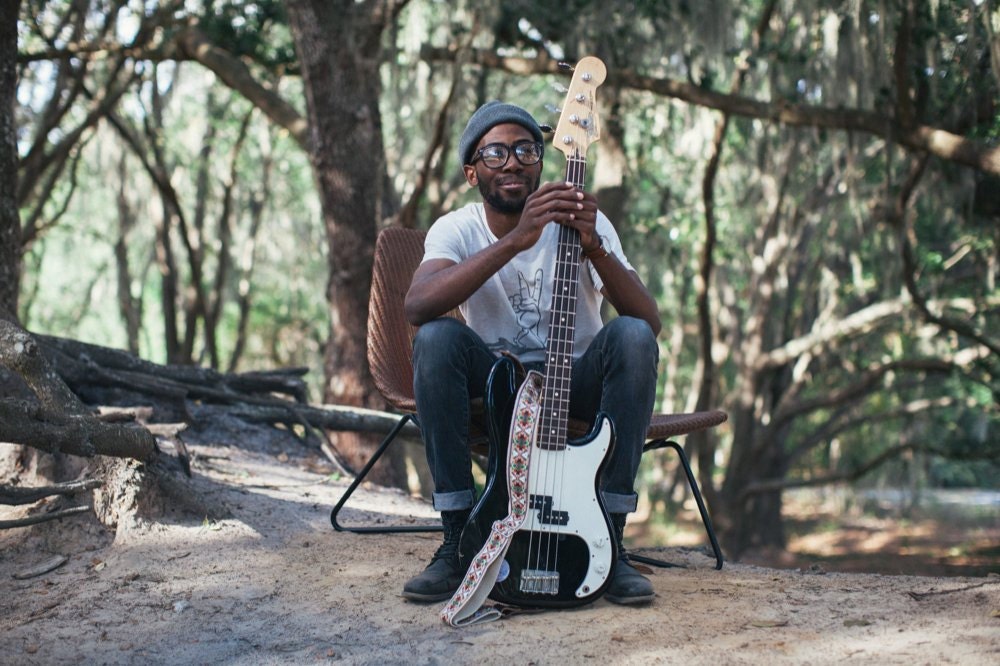 >
What's your relationship like with your customers?
I
love
when customers share pictures of themselves using
my straps,
whether in their reviews or on Instagram. It is awesome to see them out in the world—I love that my craft is something so useful and practical. Making guitar and camera straps is pretty niche and unique, but when the right people see them they get excited to customize their guitar or camera with something that is handmade and expresses their style. One of the coolest connections I've made through selling my straps was with a member of the Austin, Texas, band Wild Child, who reached out to me to sponsor a strap. Since then, the band has invited me to several of their shows when they roll through Portland and it just feels special to be a small part of such a creative force.
What are some of the most popular items in your shop?
My
guitar-style purse straps
are a relatively new addition to my shop; I started making them after years of people seeing my guitar and camera straps and being like, "Man, I don't play guitar or have a camera...I wish you made purse straps." I kind of brushed it off for a long time before realizing—wait, why didn't I start making these a long time ago? Since then, they've been a great seller on my site.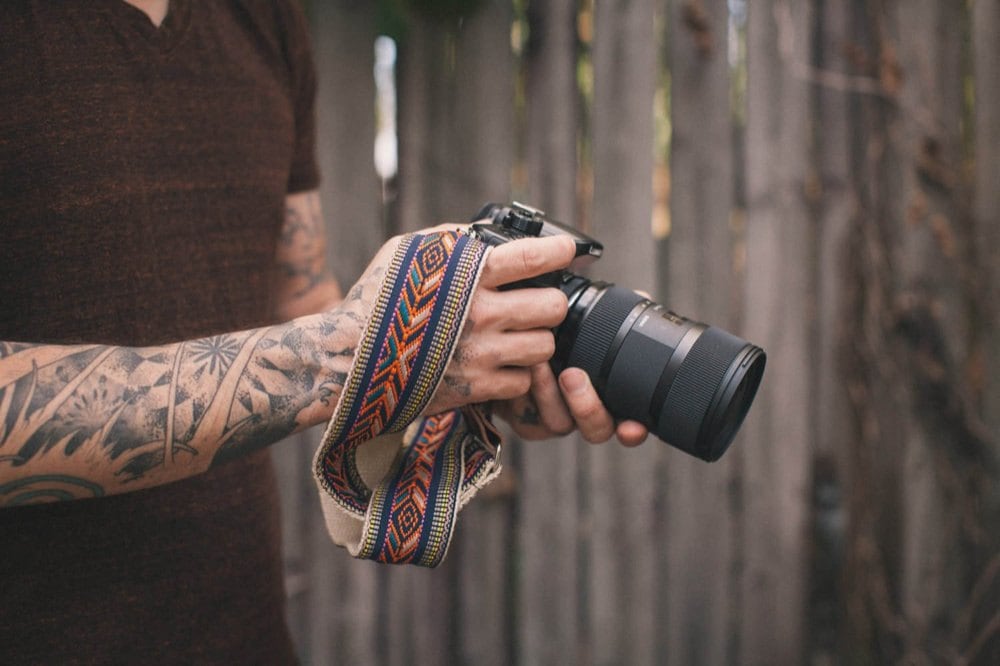 >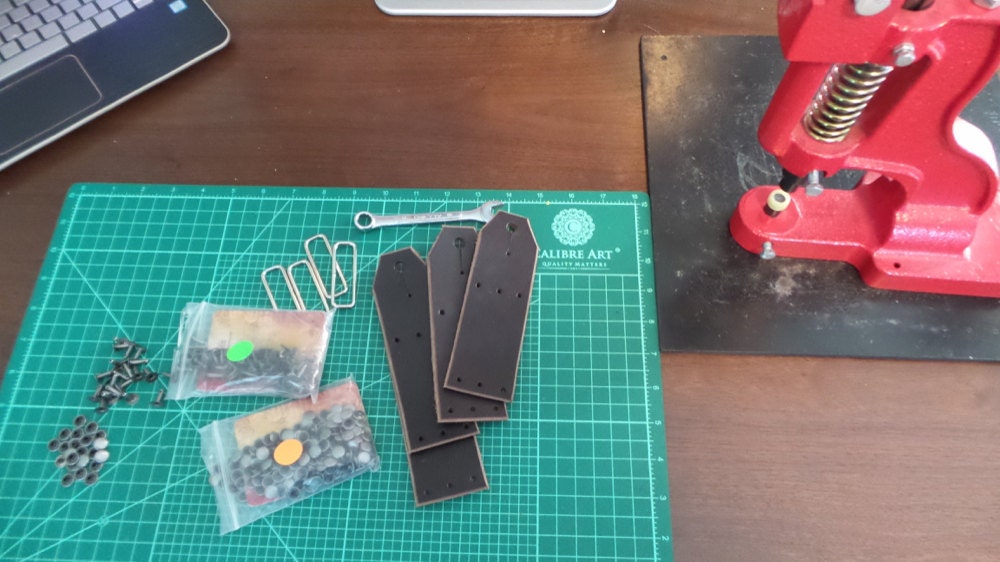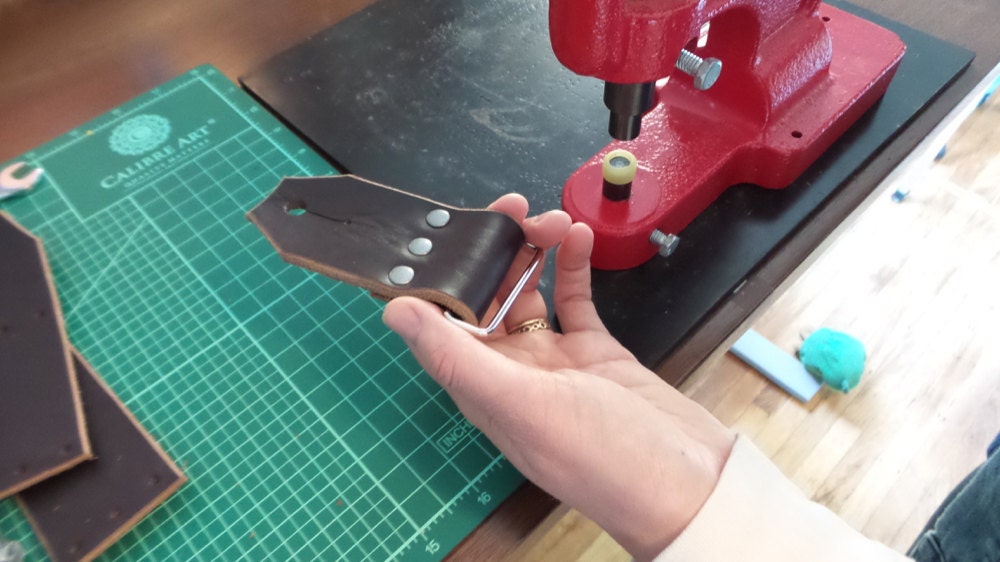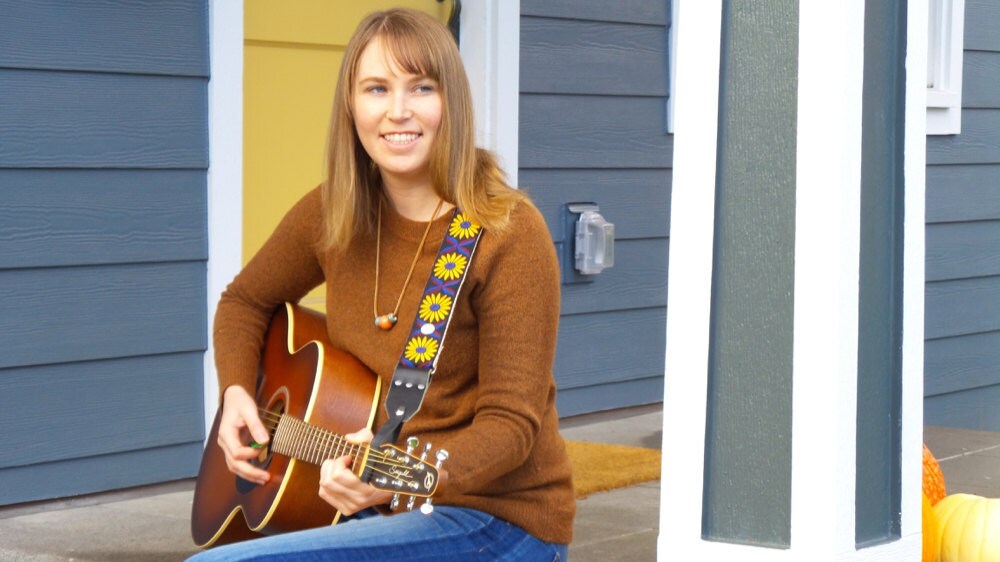 What are your plans for the future of your shop?
I'm going to be introducing at least one new design this year—actually very soon. I just got it in and I'm so obsessed with it. So keep an eye out for that. Other than that, I'm most excited and inspired by the marketing aspects of running
my business
at this point. I just want to continue to grow it organically—and keep growing personally, too. One of the major things I've gained from starting this company has been that now, all of a sudden, I've realized I'm a designer. I never really thought that's what I was, but when you've been doing something for so long you can realize, like,
Holy crap, I'm a designer! When did that happen?
Follow Feedback Straps on Facebook and Instagram.
Studio photographs courtesy of Feedback Straps; lifestyle photography by Skyler Pursifull.