by Lisa Butterworth
Yearning to spice up your china cupboard? Dig into these covetable 20th century dishware patterns and makers.
There's something particularly appealing about a vintage collection that you can actually
use, e
specially when it can be employed on an everyday basis. Hello,
dishware
! Not only does it make a fine case for open shelving, but it's also entirely functional and adds some serious style to your table spread, whether you're eating dinner for one or doing some holiday entertaining for all of your loved ones. From fine china to melmac, there is a huge variety of vintage dishware out there and you can collect salad bowls and saucers to your heart's desire. Here's a breakdown of some of the most covetable lines and special styles.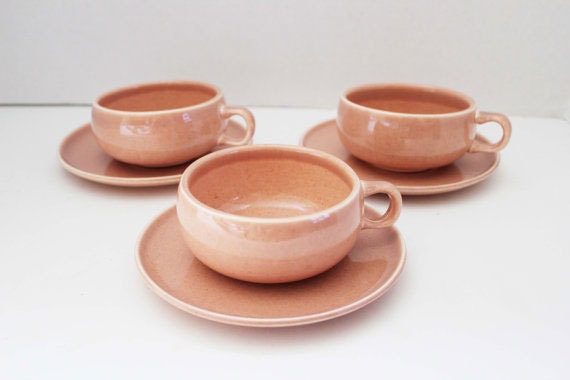 %3Cp%3E%3Ca%20href%3D%22http%3A%2F%2Fwww.etsy.com%2Fshop%2FVintMod%22%20target%3D%22_self%22%3EVintMod%3C%2Fa%3E%3C%2Fp%3E
Designed by
Russel Wright
, this four-color collection has sold more pieces than any other dinnerware set in America (250 million during its 20 years of manufacturing, 1939–1959). Its distinct colors (coral, chartreuse, granite grey, and seafoam) made it the height of modernity during its heyday. It's also considered to be the launch of personality-driven dinnerware, as Wright's signature is etched in the bottom of every dish. In 2009, Bauer Pottery (mentioned below) began manufacturing pieces from the original collection; the colors match precisely so that non-purists can mix their vintage with brand-new items.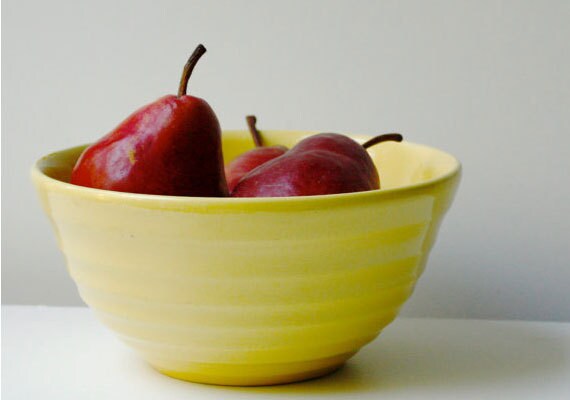 %3Cp%3E%3Ca%20href%3D%22http%3A%2F%2Fwww.etsy.com%2Fshop%2FKitchenTableVintage%22%20target%3D%22_self%22%3EKitchenTableVintage%3C%2Fa%3E%3C%2Fp%3E
Andy Bauer, the original potter behind this highly collected line, was part of Southern California's Arts and Crafts movement in the early 1900s. Though Bauer died in 1923, the company continued and in 1934 introduced its Ringware collection (designed by Louis Ipsen), which has become its most sought-after style. In the '30s, when most dinnerware was white, the Ringware collection shocked with its debut of five bold colors: yellow, jade green, cobalt blue, orange, and black (now the hardest, and priciest, hue to find). In fact, their colors changed with the social climate: gray and burgundy after World War II; pink and mint green in the '50s. Each authentic piece has "Bauer" stamped on the bottom in all caps. The company went under in 1962, but in 2001
Bauer Pottery re-launched
, manufacturing modern pieces based on the originals.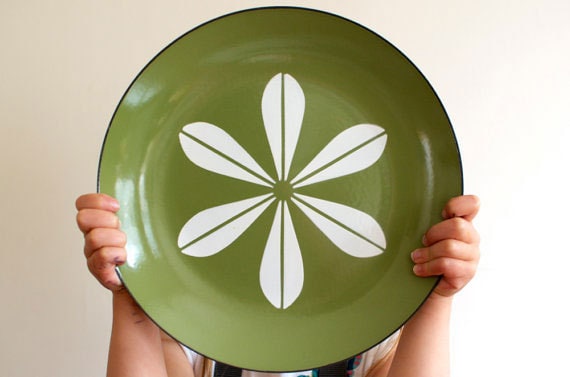 %3Cp%3E%3Ca%20href%3D%22http%3A%2F%2Fwww.etsy.com%2Fshop%2FHouseofSeance%22%20target%3D%22_self%22%3EHouseofSeance%3C%2Fa%3E%3C%2Fp%3E
Norwegian company Cathrineholm is the maker of those striking enamel bowls (or plates or teapots) featuring a graphic leaf pattern you've likely pined for on Pinterest. (Perhaps you've even spied a few of the highly recognizable pieces in episodes of 
Mad Men
, like season four's "
Waldorf Stories
.") Though many attribute the design of this iconic Lotus collection to Grete Prytz Kittelsen, it was a two-person job. According to 
Cathrineholm Fan
, though Kittelsen created the tableware, she actually felt the leaf motif (likely designed by Arne Clauson, a Cathrineholm decorator) detracted from their beauty. But now the collection is the epitome of mid-century Scandinavian dishware. Kittelsen designed for Cathrineholm from 1955 to 1972, during which time she also created the Cathedral series, another lovely, though less in demand and consequently more affordable, line.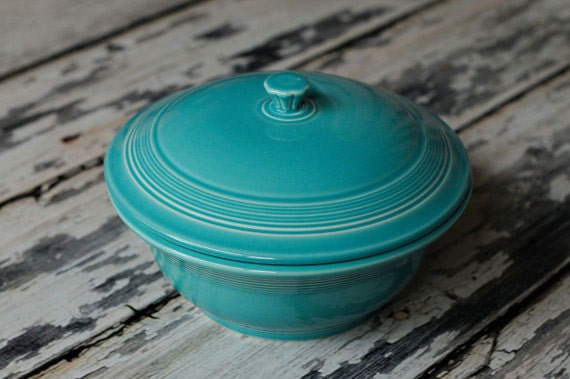 %3Cp%3E%3Ca%20href%3D%22http%3A%2F%2Fwww.etsy.com%2Fshop%2Fkevinstreasuries%22%20target%3D%22_self%22%3Ekevinstreasuries%3C%2Fa%3E%3C%2Fp%3E
Fiesta is one of the few old dinnerware companies still in business, though buying one of their brightly colored ceramic bowls, plates, pitchers, or platters at Macy's certainly doesn't have the same allure as scoring a vintage piece. The Art Deco–influenced brand debuted in 1936 and piggybacked on the success of Bauer's solid-color style with five hues (red, blue, green, yellow, and old ivory, with turquoise joining the line in 1938), introducing mix-and-match dishware to the mainstream. Vintage original red Fiestaware is the most rare and expensive, since the color was discontinued in 1944 due to
detectable levels of uranium in its glaze
(safe to collect, but you shouldn't put it to use). Fiesta ceased production in 1973, but was reintroduced in 1986 (with a much smoother, shinier glaze) after its popularity in the early '80s sent the price of vintage pieces skyrocketing.
Franciscan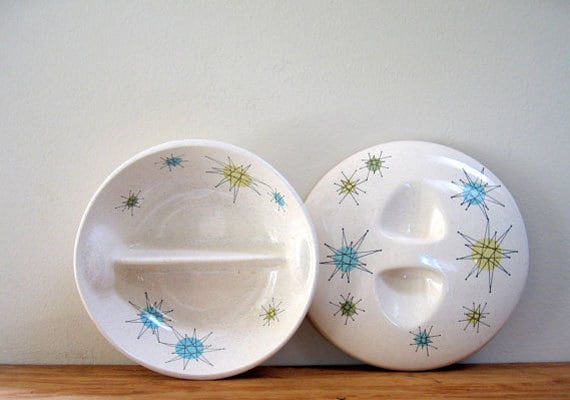 %3Cp%3E%3Ca%20href%3D%22http%3A%2F%2Fwww.etsy.com%2Fshop%2Fmysunshinevintage%22%20target%3D%22_self%22%3Emysunshinevintage%3C%2Fa%3E%3C%2Fp%3E
The
starburst
pattern created in 1954 by Franciscan
ceramics (based in Los Angeles from 1934–1983) is one of the most recognizable motifs in vintage dishware. The line was part of the company's Modern Americana push, and the spacey, futuristic pattern designed by Mary Brown fit perfectly. Plates, bowls, cups, and saucers are somewhat easy to come by, but you'll pay a pretty penny for scarcer pieces like a casserole dish or a pitcher. Franciscan has a couple of other highly recognizable patterns from the era, including
Ivy
(which you might spot on Ricky and Lucy's table in episodes of 
I Love Lucy
),
Apple
, and
Desert Rose
.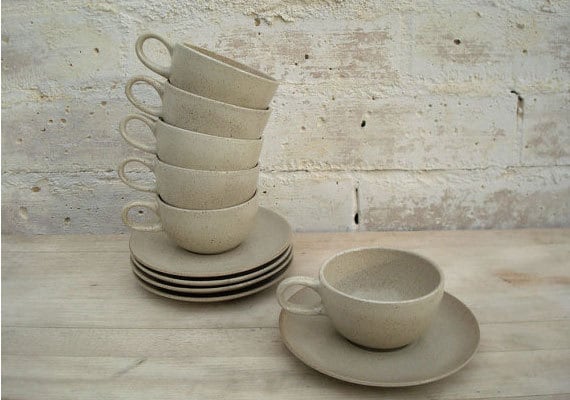 %3Cp%3E%3Ca%20href%3D%22http%3A%2F%2Fwww.etsy.com%2Fshop%2FJustSmashingDarling%22%20target%3D%22_self%22%3EJustSmashingDarling%3C%2Fa%3E%3C%2Fp%3E
Heath
is another company that's still manufacturing today, functioning in a fashion very similar to when the brand was founded by ceramicist Edith Heath in 1948 in Sausalito, California. Hand-glazed and fired in kilns custom-built in the '50s, Heath's line is still made of clay mined from the Northern California claybed Edith herself chose. The brand is known for its wiped edge, which reveals unglazed clay and gives the line a rustic aesthetic. Since Heath has never ceased production, it's the discontinued colors and pieces that fetch the higher prices in the vintage world, including
handled pouring bowls
and anything with a sandalwood glaze. Vintage dishware is ripe for collecting, whether you're trying to treasure hunt a complete set or simply mix and match your favorite pieces from a variety of lines. These are just a few of our favorites, but we'd love to know what vintage dishware patterns you collect. Share your favorites in the comments!