by Lauren Naimola
Weigh the pros and cons of donning a vintage wedding gown and consider which decade suits you best.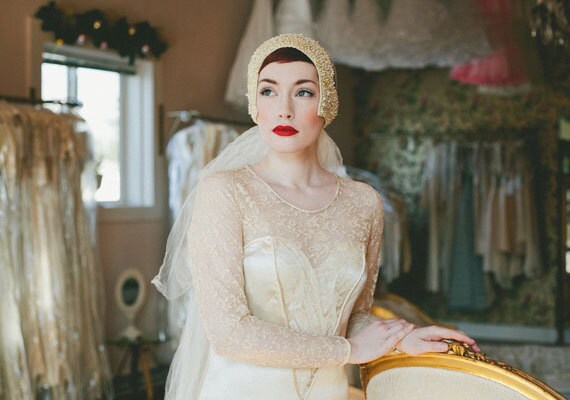 Lauren Naimola is the owner of Dear Golden, a vintage shop on Etsy with a brick and mortar location in Michigan. She has collected, worn and studied vintage since the age of 15.
A bride wants to feel beautiful, unique and special on her wedding day, and what better way to ensure that than by wearing vintage? With so many decades of designs to choose from, a girl can easily find a style and shape that suits her, and she'll know an army of other brides won't be wearing
her
dress. Vintage gowns have many advantages over conventional wedding dresses:
Better quality construction, particularly dresses from the 1950s and earlier.
More styles from which to choose
Overall uniqueness
Price (sometimes!)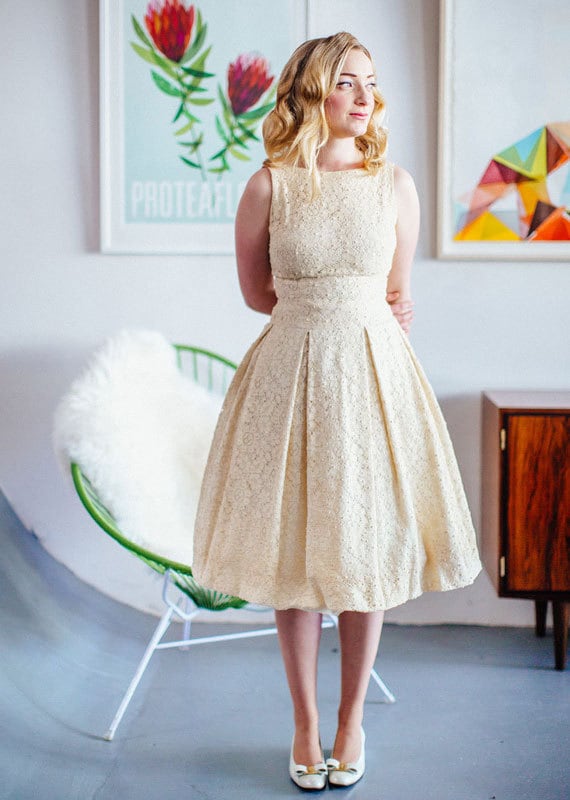 %3Cp%3E%3Ca%20href%3D%22https%3A%2F%2Fwww.etsy.com%2Fshop%2FDeerfieldVintage%22%3EDeerfield%20Vintage%3C%2Fa%3E%3C%2Fp%3E
Wear White, or Don't
Brides today are choosing non-white dresses more than ever. There is no rule that says a bride has to wear white or that she must wear a bona fide "wedding dress." The tradition of the white wedding dress only began in 1840, when
Queen Victoria married Prince Albert
. The Queen wanted to signal that her reign would be frugal, and white dresses were much less expensive than a dyed dress. Previously, most brides wore gowns of deep red, green, black and purple. Do consider your hair and skin tones when you pick your wedding dress color. Stark white works best with dark-haired, dark-skinned brides. Ivory works well with redheads and fair skin. Champagne and very warm cream/ivory dresses complement most skin tones.
Not a Size Four?
While many vintage wedding dresses are on the small end, they can be found in all sizes. Certain dress shapes are more forgiving than others. For example, 1930s dresses are usually cut on the bias, which allows for stretch and movement in the fabric. By the 1950s, more wedding dresses were mass produced and available in many sizes.
This article
is a great resource for vintage dressing the ample figure. If a bride finds a dress she loves near her size, have a seamstress or someone knowledgeable check the seam allowances to see if it can be let out.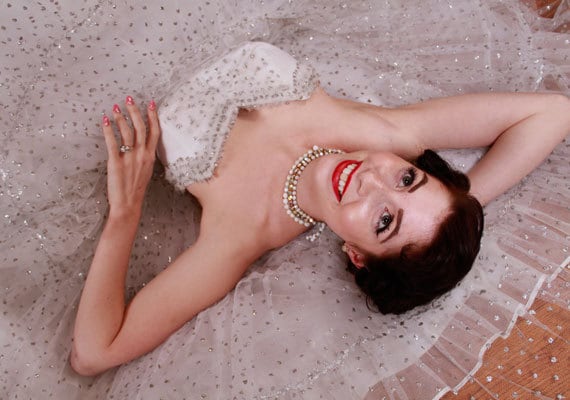 %3Cp%3E%3Ca%20href%3D%22https%3A%2F%2Fwww.etsy.com%2Fshop%2FFabGabs%22%3EFab%20Gabs%3C%2Fa%3E%3C%2Fp%3E
Shopping for Your Vintage Wedding Dress
There are so many places to look for vintage wedding dresses! It is smart to visit a vintage shop and try on dresses to determine the shape and era that suits you best. Then you can open up your search online. On Etsy, there is no shortage of vintage dresses of all shapes, in all sorts of price ranges. When shopping online, the name of the game is to know your measurements. Using a fabric measuring tape, have someone take your body measurements.
This is a good guide to use
.
Dress Shapes and Silhouettes by Decade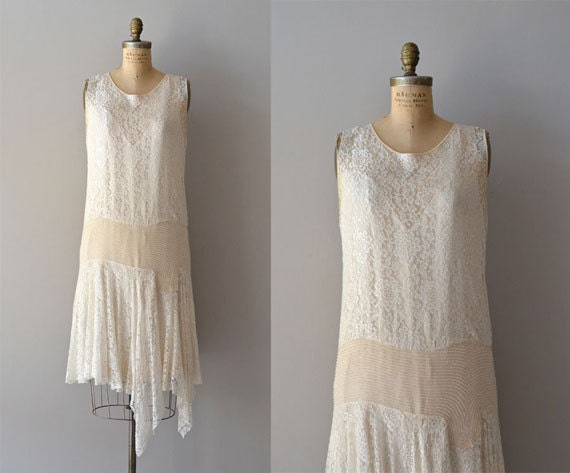 %3Cp%3E%3Cspan%20class%3D%22from-seller-nowrap%22%3E%3Ca%20title%3D%22DearGolden%22%20href%3D%22https%3A%2F%2Fwww.etsy.com%2Fshop%2FDearGolden%22%20rel%3D%22nofollow%22%20target%3D%22_self%22%3EDear%20Golden%20%3C%2Fa%3E%3C%2Fspan%3E%3C%2Fp%3E
The look: loose- fitting sheath, narrow shoulder, no waistband. Sack-like and airy.
Best for: petite, straight, and apple figures. Works with narrow shoulders, small busts, any size waist, and small to medium hips.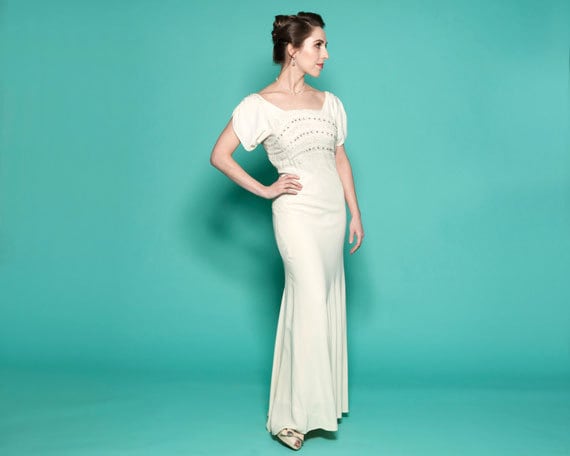 %3Cp%3E%3Ca%20href%3D%22https%3A%2F%2Fwww.etsy.com%2Fshop%2Funionmadebride%3Fref%3Dl2-shopheader-name%22%3EUnion%20Made%20Bride%3C%2Fa%3E%3C%2Fp%3E
The look: columnar. Slim and narrow, often bias cut, curve-revealing.
Best for: slender, tall, straight, and curvy figures.
Tip: These look gorgeous on long, slim frames but are also stunning on curvy figures. The secret is to wear smoothing undergarments.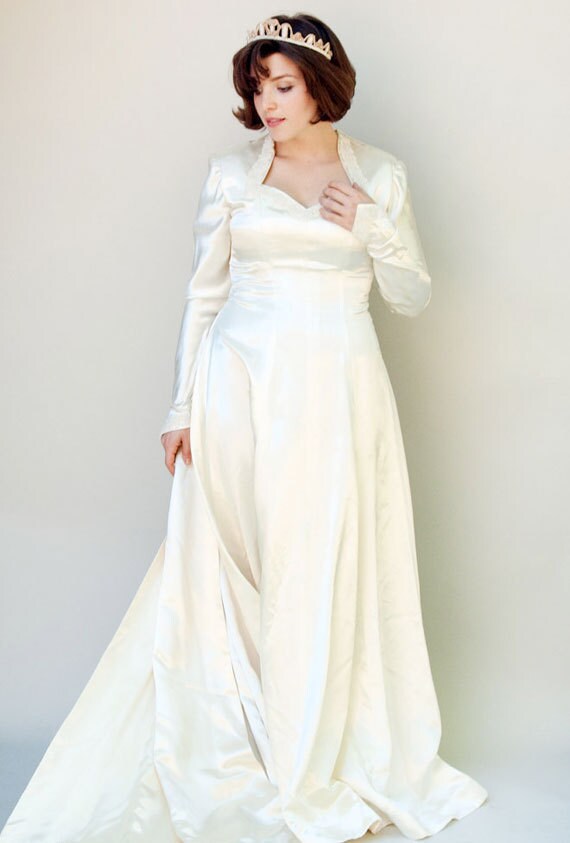 %3Cp%3E%3Ca%20href%3D%22https%3A%2F%2Fwww.etsy.com%2Fshop%2FWildHoneyPieVintage%22%20target%3D%22_self%22%3E%3Cspan%20class%3D%22shopname%20wrap%20%22%3EWild%20Honey%20Pie%20Vintage%20%3C%2Fspan%3E%3C%2Fa%3E%3C%2Fp%3E
The look: puffed shoulders, sweetheart neckline, peplums, full or narrow skirts, shorter skirt lengths. In this era, brides often wore wedding suits.
Best for: curvy, hourglass, plus-size and apple shapes.
Tip: 1940s dresses suit a variety of figures. The broad shoulders are good for creating the illusion of a smaller waistline. If you have narrow or sloped shoulders, or a slightly thick waist, this is a good era of dresses for you.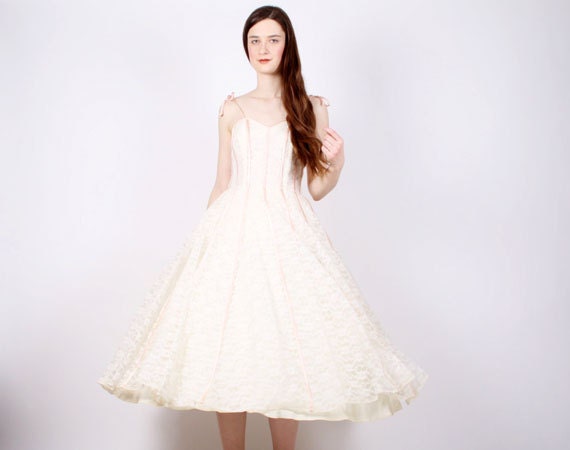 %3Cp%3E%3Ca%20href%3D%22https%3A%2F%2Fwww.etsy.com%2Fshop%2Faiseirigh%22%20target%3D%22_self%22%3E%3Cspan%3EAiseirigh%3C%2Fspan%3E%3C%2Fa%3E%3C%2Fp%3E
The look: fitted waist, full skirt (tea length or full length) with crinoline, princess cut.
Best for: pear, curvy, hourglass, petite, and plus-size figures. Works well with a defined waist and full or small busts.
Tip: Many '50s dresses have small waists but full busts. A trip to the tailor to alter the bodice will make the fit better.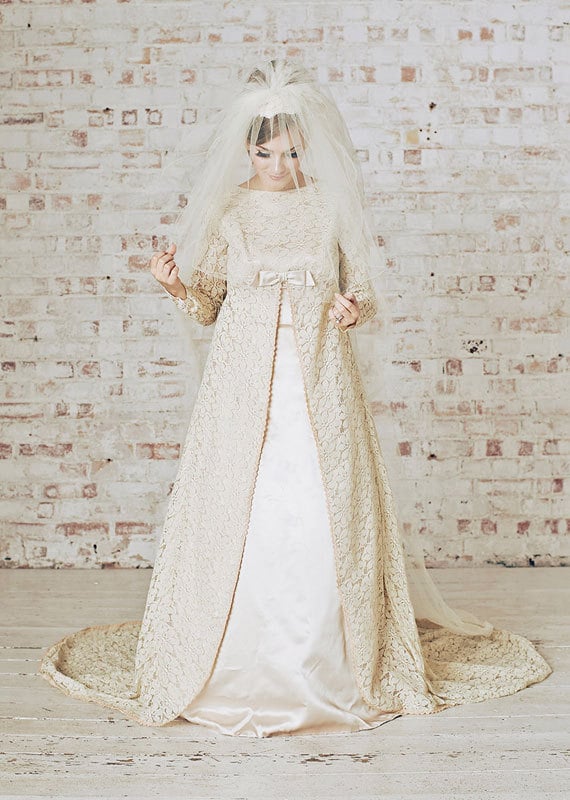 %3Cp%3E%3Ca%20href%3D%22https%3A%2F%2Fwww.etsy.com%2Fshop%2Fbelleinwonderlanduk%3Fref%3Dl2-shop-info-name%22%3EBelle%20in%20Wonderland%20UK%3C%2Fa%3E%3C%2Fp%3E
The look: empire waists with long slender skirts; shorter A-line shifts.
Best for: apple, plus-size, petite and straight figures. Works well with slender arms and legs and smaller busts.
Tip: A-line dresses complement most figures.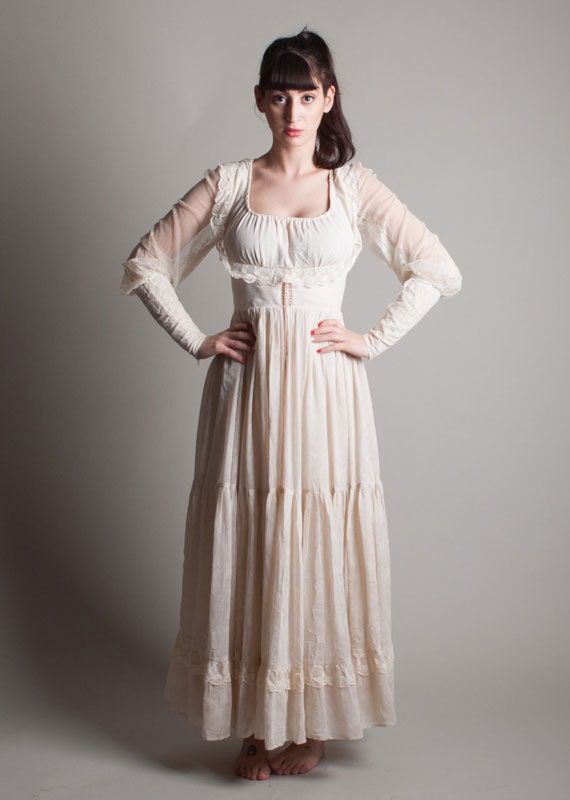 %3Cp%3E%3Ca%20href%3D%22https%3A%2F%2Fwww.etsy.com%2Fshop%2Fconcettascloset%3Fref%3Dl2-shopheader-name%22%3E%3Cspan%3EConcetta's%20Closet%3C%2Fspan%3E%3C%2Fa%3E%3C%2Fp%3E
The look: loose and flowy, with narrow skirts. Peasant/prairie inspired; Victorian revival with puff shoulder.
Best for: A variety of shapes, but especially tall gals.
For more on vintage dress shapes, check out this
article from Debutante Clothing.
So You've Found a Dress
The next step is to check for "deal-breakers" — what can't be fixed or remedied without a lot of time and money. These include:
Stains on satin
Underarm stains
Dry/rotting or shattering fabric (seen on some 1920s dresses).
Tears that are not on a seam, especially if the fabric is chiffon.
A lot of breaks/tears in lace
Staining on rayon-crepe fabric
Faded rayon-crepe fabric
What can be remedied:
Many different stains, actually! A reputable vintage seller will be able to tell you whether a stain has a likelihood of being removed, and if they are savvy, they can tell you how to remove it.
Slight yellowish discoloration on soakable fabrics (such as cotton or silk).
Open seams/torn seams
Broken zippers, missing snaps, missing hook and eyes, etc.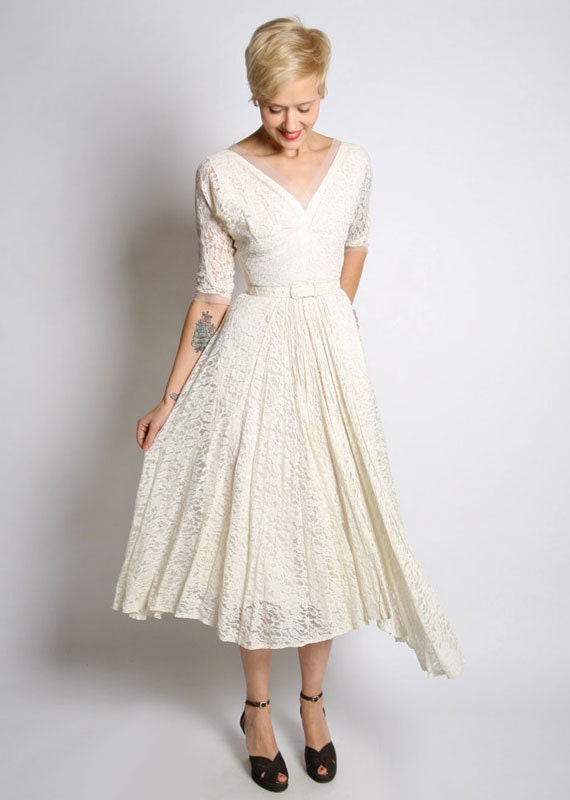 %3Cp%3E%3Ca%20href%3D%22https%3A%2F%2Fwww.etsy.com%2Fshop%2Fdethrosevintage%3Fref%3Dl2-shopheader-name%22%3E%3Cspan%3EDethrose%20Vintage%3C%2Fspan%3E%3C%2Fa%3E%3C%2Fp%3E
If the Dress Needs Alterations, Is it Worth it?
This depends on the following:
The price of the dress
What the tailor/seamstress will charge
How much you love the dress
Most dresses can be made smaller, and some dresses can be made larger if there is seam allowance or if there is some fabric to create a gusset. The tipping point is completely personal. If you fall in love with a one-of-a-kind dress and it just needs some alterations, then it's probably worth it! Especially if it is a non-traditional wedding dress that you will be able to wear again.
How Much Time and Money Should I Budget for Alterations?
The price of alternation depends on the type of alteration and the fabric of the dress, obviously, but prices vary from tailor to tailor. In my opinion, if you love wearing vintage, you should have a relationship with a tailor. A few tweaks shouldn't prevent you from prancing around in a frock you really love on your wedding day. Tailors who work on wedding dresses are usually well acquainted with delicate lace or special fabric, so they are a good place to start.