by Anna Rasche
A through-the-ages look at the latest wall decor trends.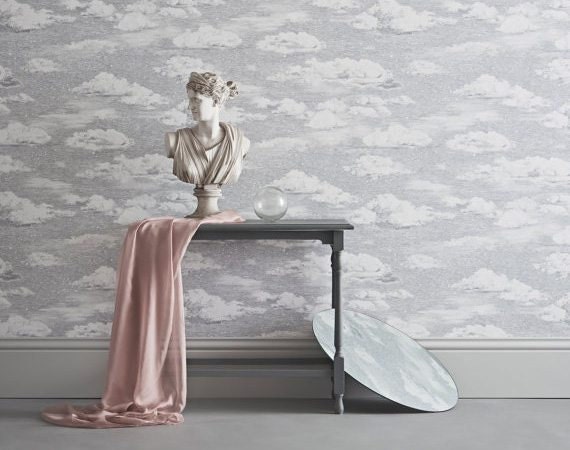 Anna Rasche is a design historian and author based in New York City. She is a curatorial fellow in the Wallcoverings Department at Cooper Hewitt, Smithsonian Design Museum, and co-founder of the Society for the Advancement of Social Studies.
Margot Tenenbaum's childhood
bedroom
, the Fountain Coffee Room at the
Beverly Hills Hotel
, and every faux speakeasy you've ever sipped a sidecar in all have one thing in common: It's the
wallpaper that sets the scene
. In fact, wallpapers have been transforming otherwise ordinary rooms into specific, evocative spaces for more than 500 years. And with a few rolls of the stuff — handcrafted by contemporary makers or scooped up from a vendor specializing in
vintage stock
 — you can do that, too. Since many of today's top wall decor trends have roots in the past, let's take a quick trip through the archives of wallpaper history. The earliest wallpapers in the Western world were conceived as alternatives to costlier textile hangings like woven tapestries or embroidered panels, with ornate 
patterns
 that riffed on those motifs. The eighteenth century saw a European obsession for hand-painted
silk wallcoverings
imported from China, and French and British wallpaper manufacturers became wealthy by printing
their own interpretations
of Eastern designs.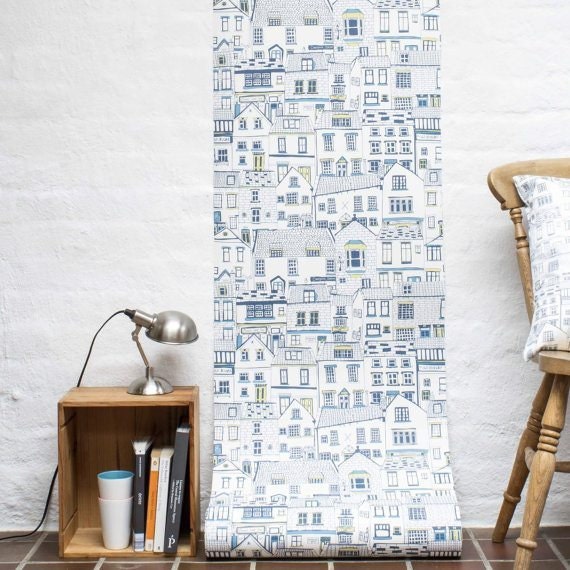 Shop wallpaper by Jessica Hogarth
Prior to the industrial revolution, all wallpaper patterns had to be hand-stenciled, hand-painted, or (most commonly) block-printed on individual sheets of handmade paper, which were then joined together to create wall-sized panels. All this changed around 1840, when factory-produced, continuous sheets of paper and mechanized rollers put intricate and colorful patterns within the budgets of the masses. By the late nineteenth century, however, supporters of the
Arts & Crafts movement
were fed up with industrialized production and called for a return to traditional crafting methods — notably, British design reformer
William Morris
, whose beautiful block-printed patterns are still produced today.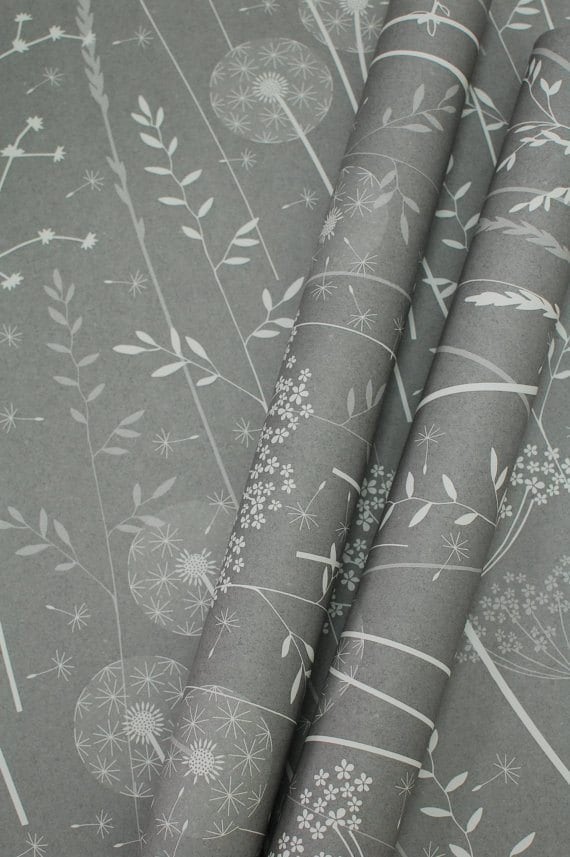 Shop wallpaper by Hannah Nunn
Now, even as modern advances in digital printing have revolutionized wallpaper production once again, we're also seeing a subset of craftspeople return to traditional printing methods, à la
William Morris
, and many of the most up-to-the-minute designs for 2016 are revivals and reinterpretations of historic styles. Below, find six trends to show that when it comes to wallpaper, what's old is new again.
DIY Decals
In mid-eighteenth-century England, "
print rooms
" were quite the thing: DIY decorators collected inexpensive prints of favorite artworks and pasted them directly to their walls in creative arrangements. The prints were often further embellished with wallpaper frames and decorations manufactured by paper-stainers specifically for this purpose. Today,
removable vinyl decals
alleviate the potential for mess, and give us even more freedom to cut, paste, and move stuff around our walls. Thanks vinyl!
Then: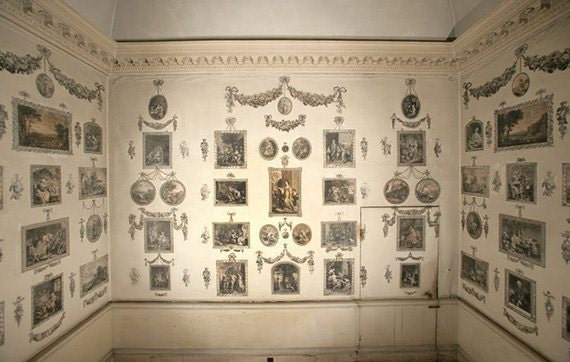 The print room at Castletown, an 18th-century mansion in Ireland (photo via
Heritage Island
)
Now: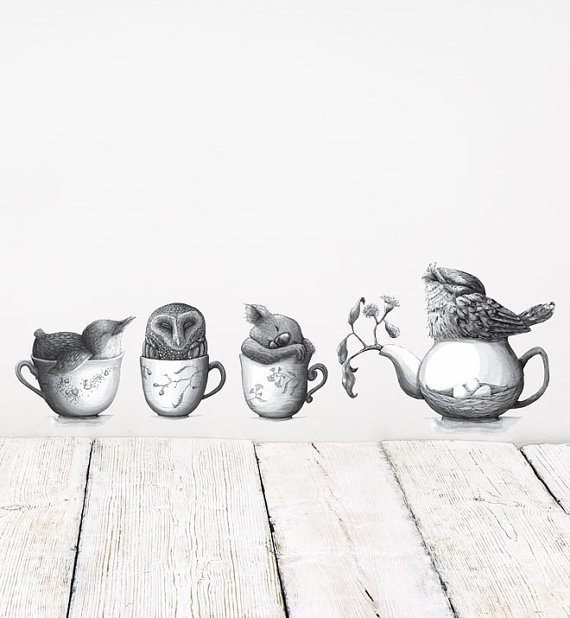 Shop wallpaper by Little Sticker Boy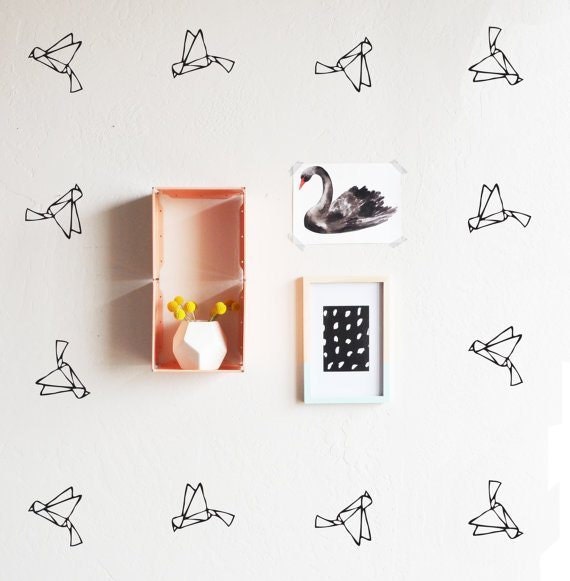 Shop wallpaper by The Lovely Wall
Lush Botanicals and Florals
Big, bright botanical patterns help us feel more connected to nature, even when we're stuck indoors. Some
beautiful examples
were produced by early nineteenth-century French manufacturers; as horticulture was a fashionable hobby at the time, botanically accurate images of roses abounded. This year, look for
tropical-inspired patterns
featuring motifs like
palm fronds
, hibiscuses or twisting jungle vines, or
classic florals updated with vibrant color palettes
to bring a 21st-century feel to this timeless concept.
Then: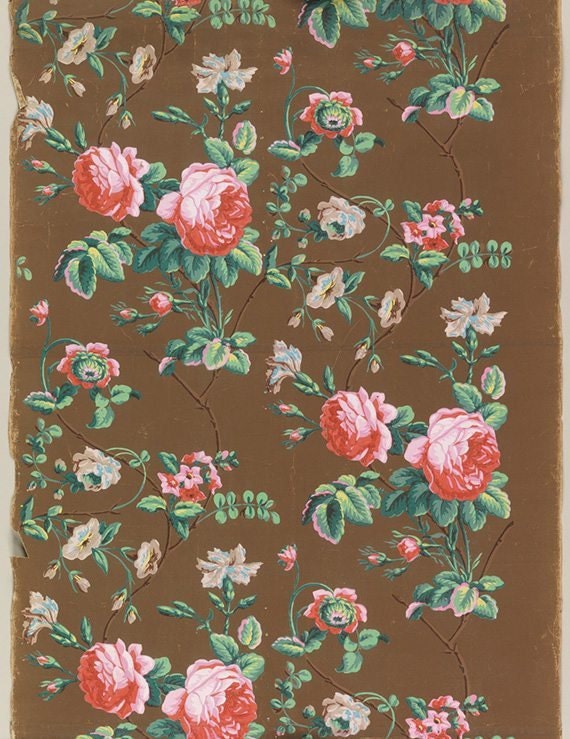 A circa-1800 French paper from the
Cooper-Hewitt, Smithsonian Design Museum
Now: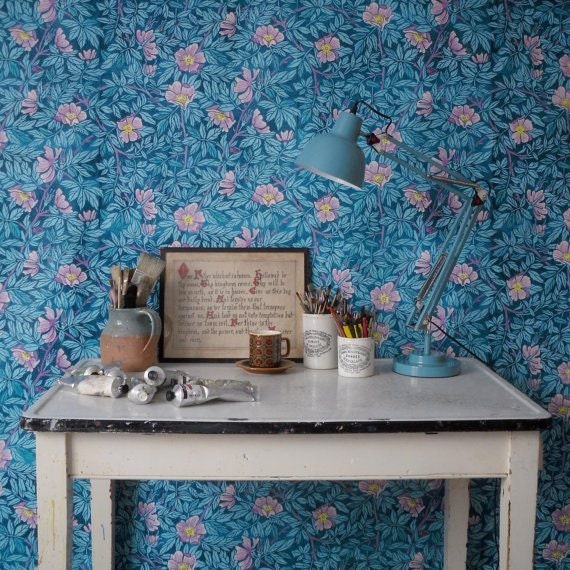 Shop wallpaper by Waybreads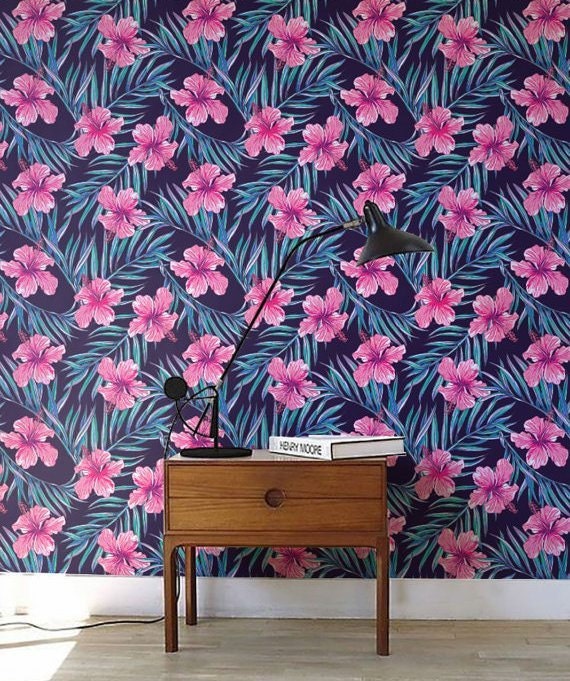 Shop wallpaper by Wallflora
Trompe L'oeil Texture
Another favored nineteenth-century trend making an appearance in 2016 collections is
trompe l'oeil
. French for "fool the eye," trompe l'oeil wallpapers create the
illusion of a textured surface
on a flat wall. By choosing paper instead of the real deal, consumers were able to get the look of draped fabric, elaborate molding, gilt and leather — without the price and upkeep. Today's designers tend to focus on patterns that imitate natural materials (and in a strong second place,
faux bookshelf prints
), but don't overlook vintage papers for tufted, lattice, and even
macramé-inspired
styles.
Then: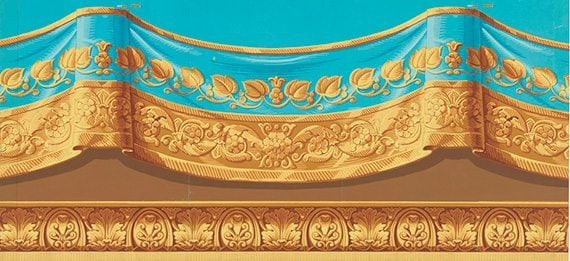 An early 19th-century
trompe-l'oeil paper frieze
from the Cooper-Hewitt's collection
Now: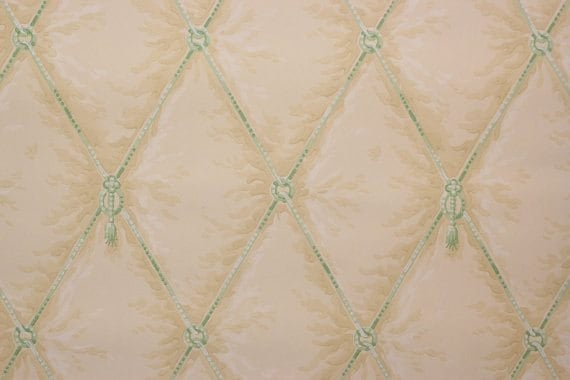 Shop wallpaper by Rosie's Vintage Wallpaper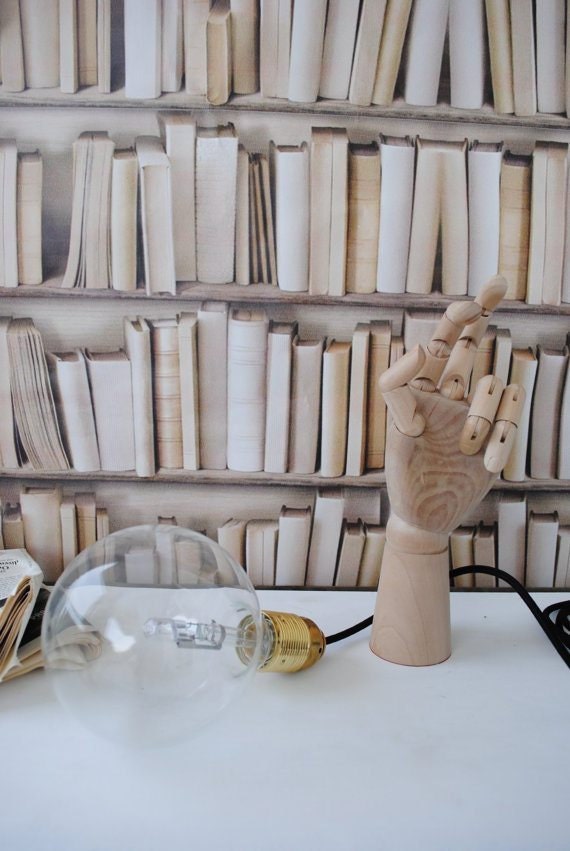 Shop wallpaper by Wallpapers For Beginners
Repeating Vignettes
During the mid-Victorian era's Rococo revival, quirky, toile-like patterns with
little repeating vignettes
of exotic or idyllic locations were very popular for the parlor; scenes of bucolic life and architecture from far-off lands show up with frequency. In the 20th and 21st centuries, we've seen playful new riffs on this old style, which is good news for parlors (and living rooms and bedrooms) everywhere.
Then: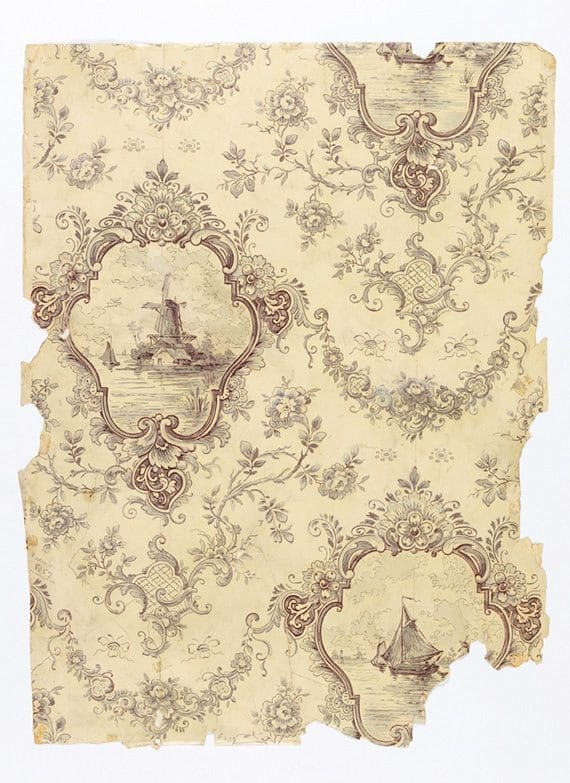 One vignette example from the
Cooper-Hewitt
Now: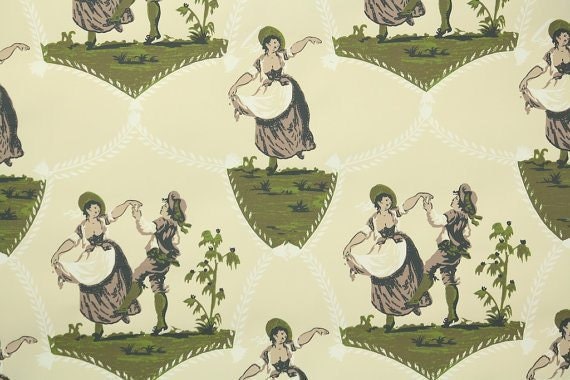 Shop wallpaper by Hannah's Treasures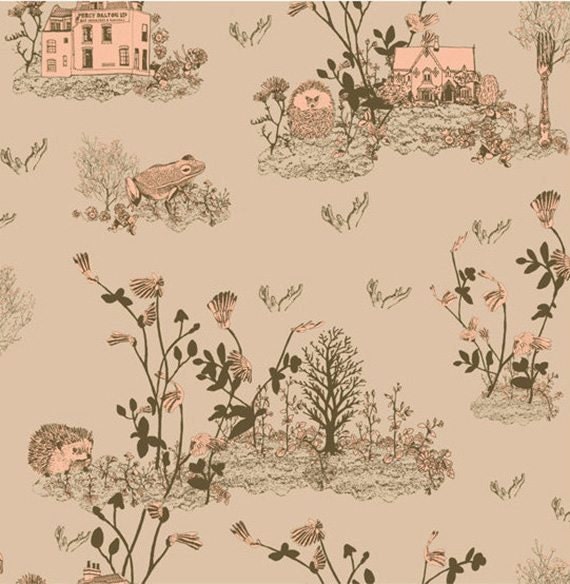 Shop wallpaper by Sian Zeng
Room-Specific Papers
Jumping forward to the 1950s, we find an affinity for
themed wallpapers
specific to spaces like kitchens, kids' rooms and laundry rooms. After decades of turmoil brought on by the Depression and then WWII, Americans were eager to settle into the good life. Wallpaper reflected this desire quite literally by depicting objects associated with a comfortable domestic existence. I'm personally a big fan of
food-themed patterns
as a fun and witty choice for cooking and dining areas.
Then: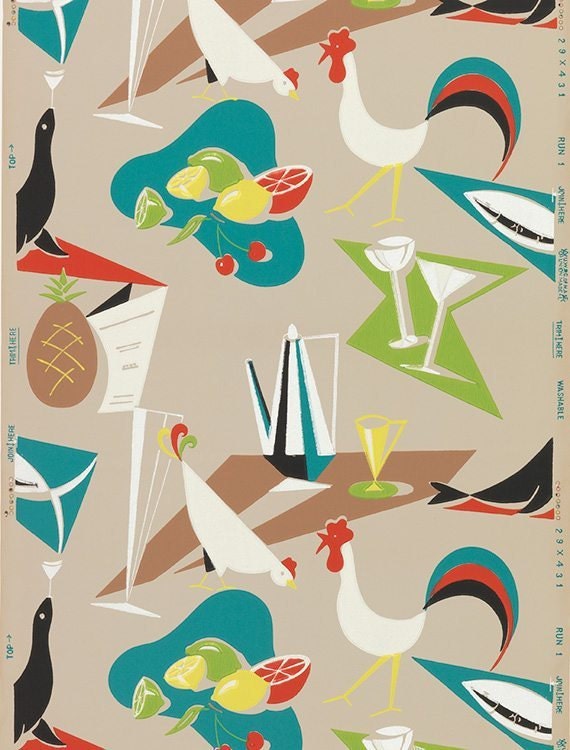 Cooper-Hewitt'
s chicken print
Now: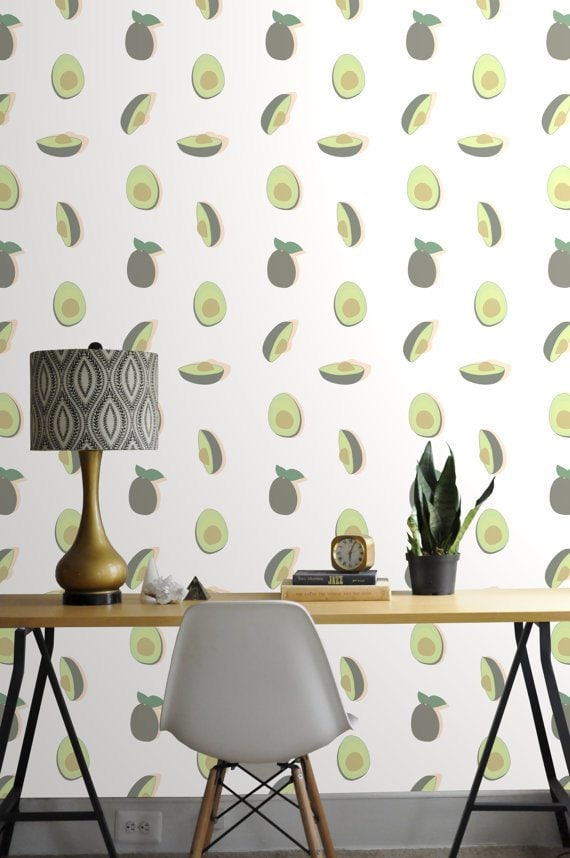 Shop wallpaper by Kate Zaremba Company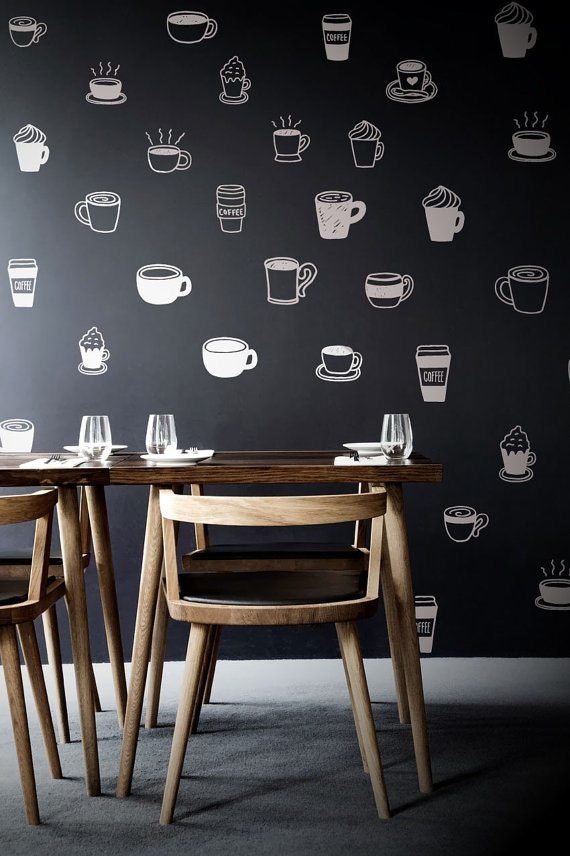 Shop wallpaper by iinky
Geometric Feature Walls
Another great throwback to postwar America is the feature wall papered with a
large-scale, geometric pattern
. Many of the new homes mass-produced for suburban developments (like those built in the infamous
Levittown
) featured wide-open floor plans. People found that papering a bold pattern on just one wall helped to bring interest and intimacy to a living space without becoming overwhelming. For 2016,
geometrics incorporating thinner lines and neutral tones are particularly on-trend
.
Then: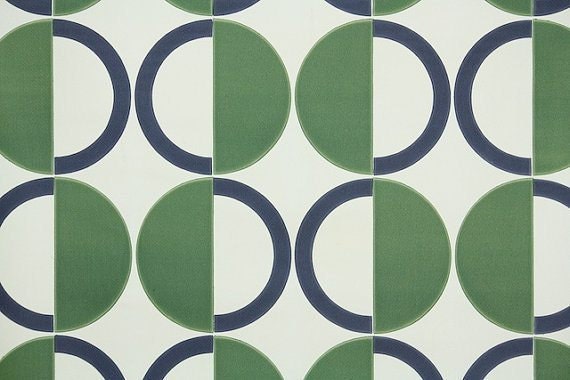 Retro Wallpaper
Now: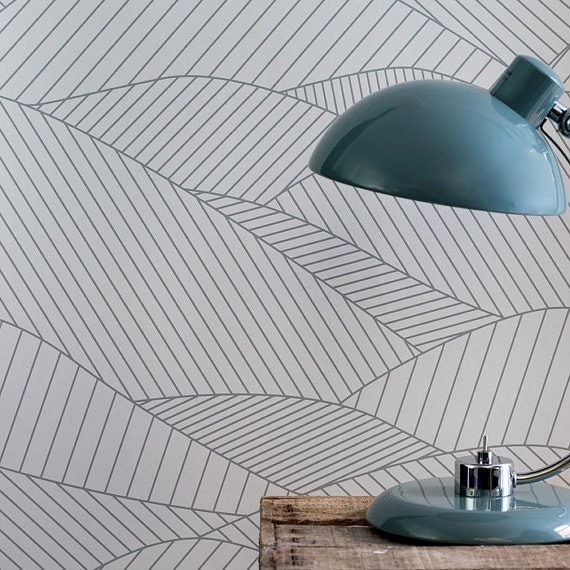 Shop wallpaper by Bold & Noble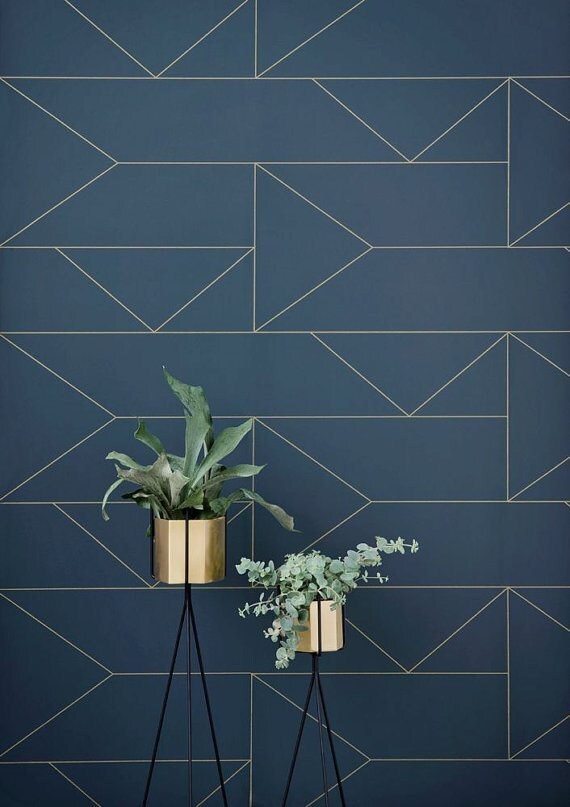 Shop wallpaper by Best Wallpapers