by Jackie Buddie
A quick scroll through any of these inspiring artists' feeds will have you reaching for the fiber-art supplies.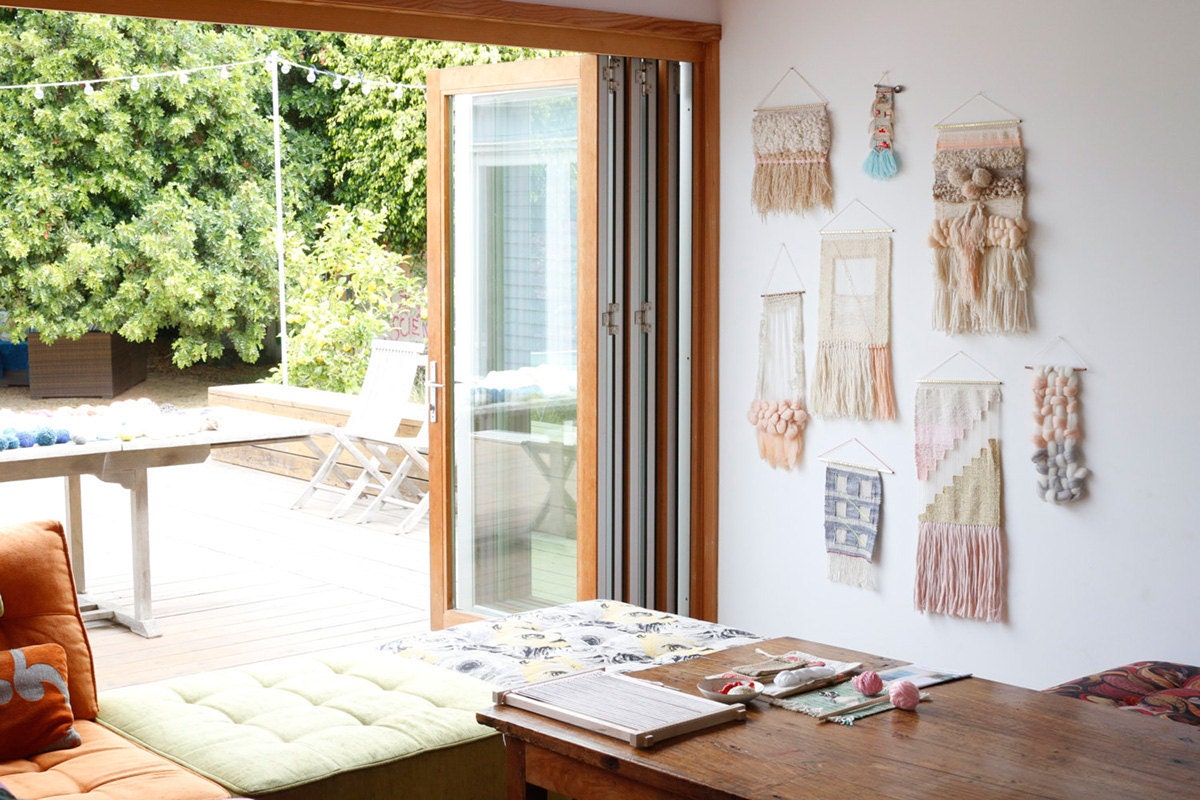 Whether you're
warping your first loom
or just pulling at the thread of a new idea, inspiration doesn't always come in an instant. For those times when you could use a creative boost, here are five weavers who have beautifully documented their own processes and projects on
Instagram
. Take a peek: You may be surprised what moves you to the loom!
https://www.instagram.com/p/BQYIoGqjYEP/ For Barcelona native (and Asheville, North Carolina resident)
Judit Just
, inspiration hits in waves of color. Her feed bursts with bold, vibrant hues that blend seamlessly from one mood to the next, creating a gradient patchwork of the playful patterns and textures that make
her wall hangings and statement pieces
so magical.
https://www.instagram.com/p/BIj9vRfj0BU/?taken-by=julie_weaves There's something soothing about perusing the cool, neutral creations of maker 
Julie Robert
at
@julie_weaves
. Softly lit snapshots of her work both on and off the loom are interspersed with intimate glimpses of family life in Hyères, France, and vignettes from her travels — the cumulative result is simultaneously aspirational and approachable.
https://www.instagram.com/p/BLieWAiBqEw/?taken-by=maryannemoodie Author of "
ON THE LOOM: A Modern Weaver's Guide
"
Maryanne Moodie
exposes much of her raw material via
@maryannemoodie
, which is rich in texture. (Fiber junkies will get their fix of colorful yarn bundles and fluffy bumps of unspun wool.) Followers also enjoy behind-the-scenes snaps from the Brooklyn-based weaver's popular design classes, where happy students are shown working intently at their craft.
https://www.instagram.com/p/BInh8fID_yz/?taken-by=texturableuy If eco-friendly is your style, then the rustic, organic designs on
@texturableuy
will be a natural fit.
Claudia Rosillo
stays in touch with her Uruguayan roots, taking us on a visual journey that leads all the way to the sheep farms that supply her with wool! She also makes beautiful use of Instagrids, blowing up images in multiple posts to showcase her lush blankets and wraps in full detail.
https://www.instagram.com/p/BEbQTiaLRTW/?taken-by=woolandweave A tapestry of tapestries,
@woolandweave
features a collage of flirty and feminine wall hangings from the talented hands of
Marie Matter
, who lives and works in Houston, Texas. Each post is a cheerful pop of color and light in a feed dotted with dreamy florals, clouds and lots of perky pastels.