by ohnoodles
Rin and Joe gathered friends and family for a casual backyard celebration, complete with pom poms, confetti, snow cones and badminton.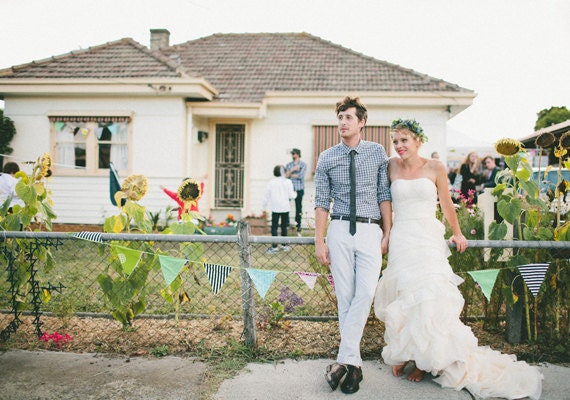 Rin Hubbard, formerly Rin Lincolne-Tolley, is the daughter of Australian craft genius Pip Lincolne and works as a chef at Lowlands Espresso in Preston. Her husband Joe is a social media nerd and guitarist in the Melbourne surf rock band The Bluebottles. The couple met five years ago and live in Preston with their housemate Sarah and their two cats, Felix and Blanket. They love good coffee, good food, TV series addictions, music, and most of all, cats!
Rin has a blog called Oh Noodles that she is slightly slack in updating.
In the months before our wedding, my mum Pip put a call out on her blog, 
Meet Me At Mike's
, asking if people would like to contribute to our wedding by making a pom pom and sending it to us. Well, let me tell you, that worked like a treat! By the day of our wedding, we had hundreds and hundreds of pom poms from all over the world. Most of the people who sent pom poms had never even met us — people are so lovely! We strung them through our fig trees, from marquees and pretty much anywhere they could be strung.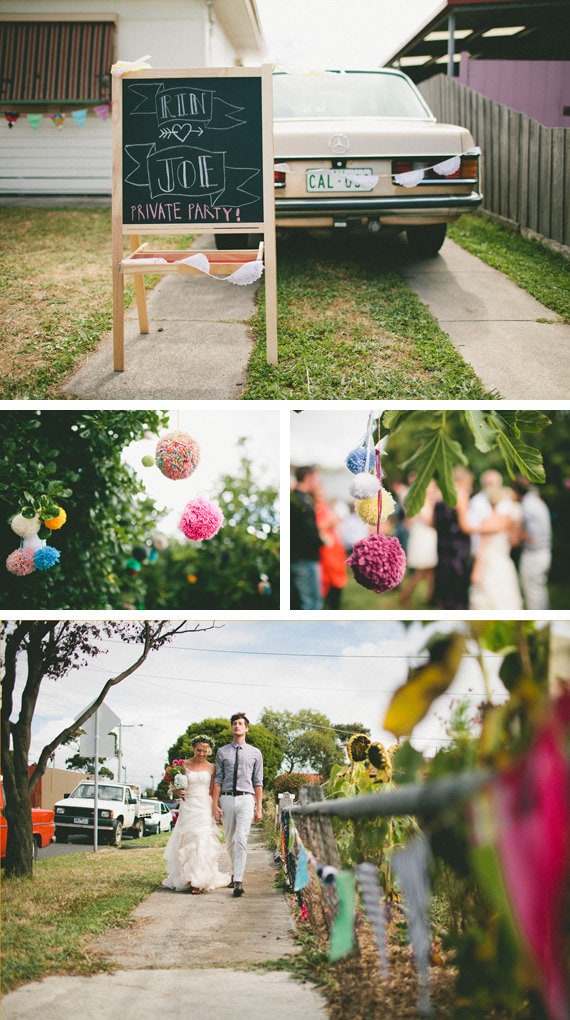 The week before our big day, I had a ladies' craft evening. This is where most of the handmade goodness happened. Myself and ten or so lady pals got together at my house, ate delicious food and crafted everything from lolly bags to paper planes to individual confetti bags.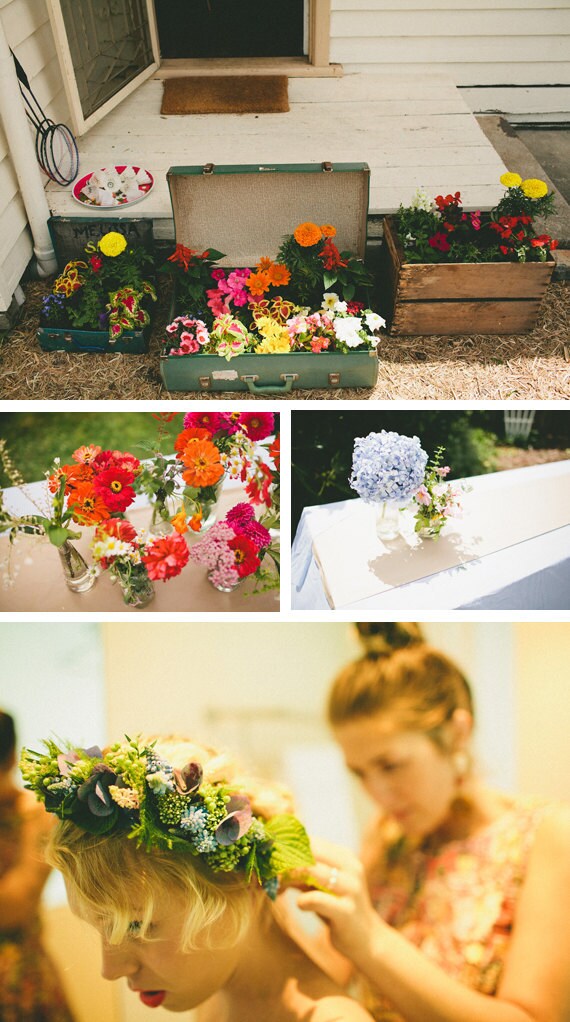 All of our flowers were from my mother-in-law's garden and a florist friend's boutique. My close friend Clara arranged them in posies on the tables and in hanging jars my husband and I made. Clara also baked a Fruit Tingle cake and was in charge of the pre-wedding bride breakfast and pampering, as well as keeping me sane! The day before the wedding was our big set up day. My mum's best friends hung streamers and bunting they made for us, catapulted pom poms into trees and yarn bombed our front fence with the words "Rin + Joe." My mum was busy making dough and prepping toppings for the delicious pizzas that were going to feed our 100+ guests.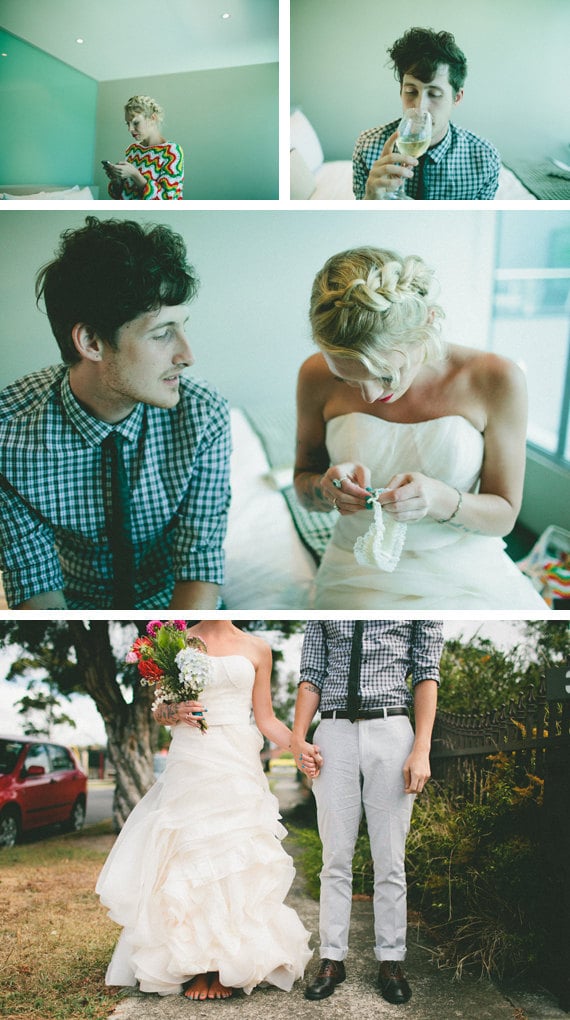 On the big day, it rained all morning, which ruined our decorating plans. Loads of family and friends came to help out, and all of a sudden it was time for us to go to our hotel and get ready! We didn't have a bridal party, but Joe's older brother, my close friend Clara, and our photographer Eric came to the hotel with us and drank bubbly while we all got ready together.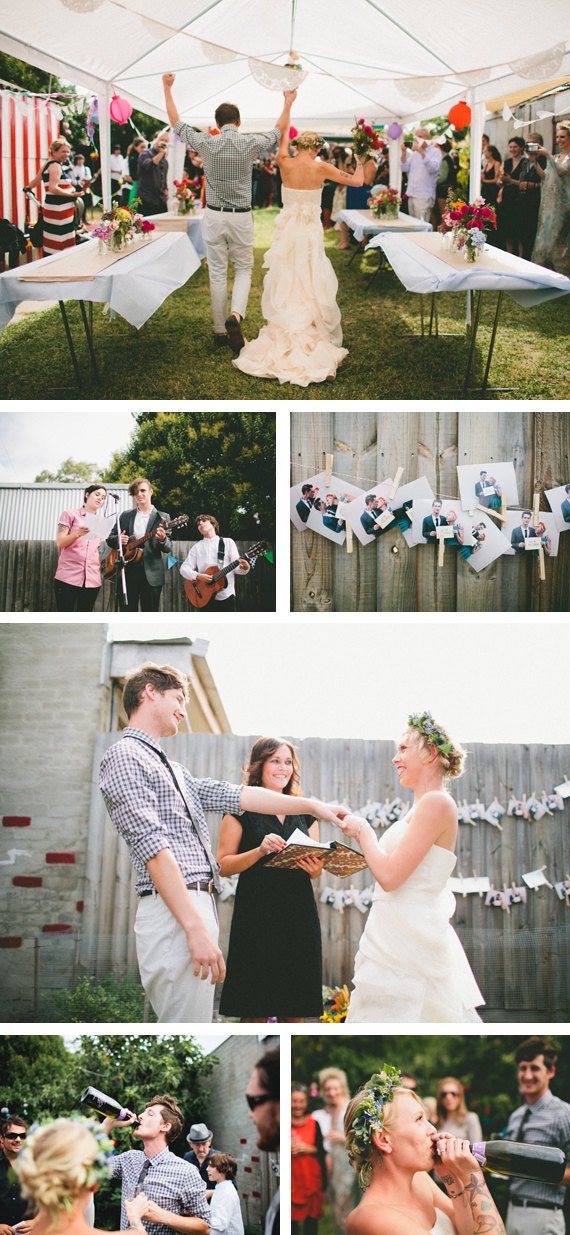 Before we knew it, we were walking back into our house and down the "aisle" in front of all our favorite people. We made our entrance together as our three brothers and our housemate played guitars and sang an acoustic version of "Such Great Heights" by The Postal Service. It was a bit teary and good, to say the least. The ceremony was great, with everyone cheering and clapping and being raucous. When we were pronounced husband and wife, the guests popped champagne and we swigged Passion Pop from the bottle and flailed our arms in happiness.

After the business part was done, everyone ate Mum's homemade pizzas. The fig pizza with fruit from our own trees was the most popular. My youngest brother manned the snow cone machine and our guests played badminton in the front yard. We did family speeches, which were full of happy crying. The friend speeches were full of giggles and jokes.

But best of all was the cake buffet. Together we cut the biggest cake to reveal the inside — layered rainbow colored sponge! It was amazing. All of our guests got a photo of the happy couple (us!) and a lolly bag to take home. Before we left, everyone threw bags and bags of confetti at us. The little kids loved it the best. We walked up the main street to our hotel, with big smiles and confetti in our hair. It was the best day ever.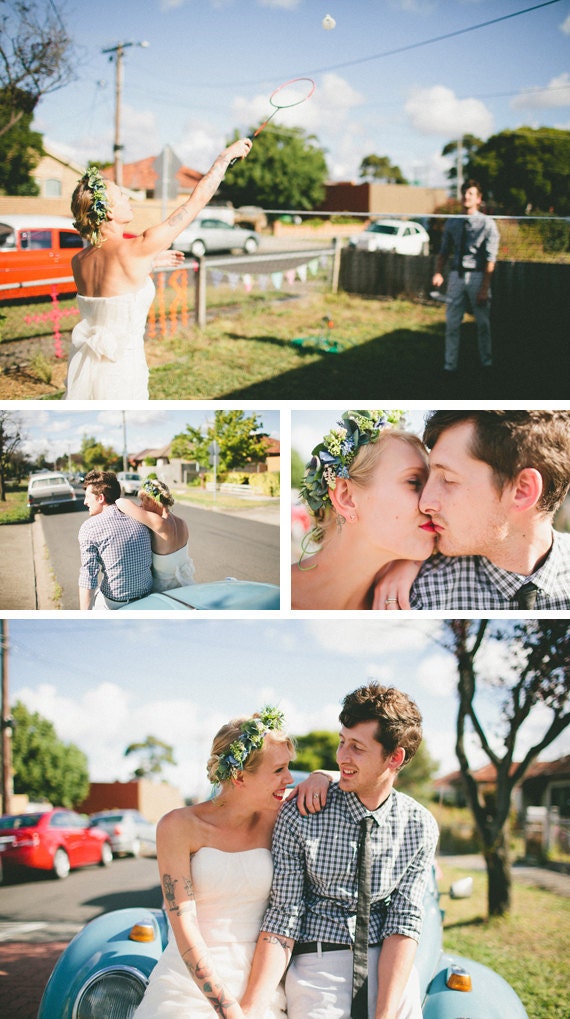 All photos by Eric Ronald Photography.
Thanks to Rin for sharing her special day! Do you have a handmade wedding to share? Submit your photos to our Flickr group.