See why couples are bringing bright, bold hues to their "I do's", then feast your eyes on our favorite wedding color trends and combos of the moment.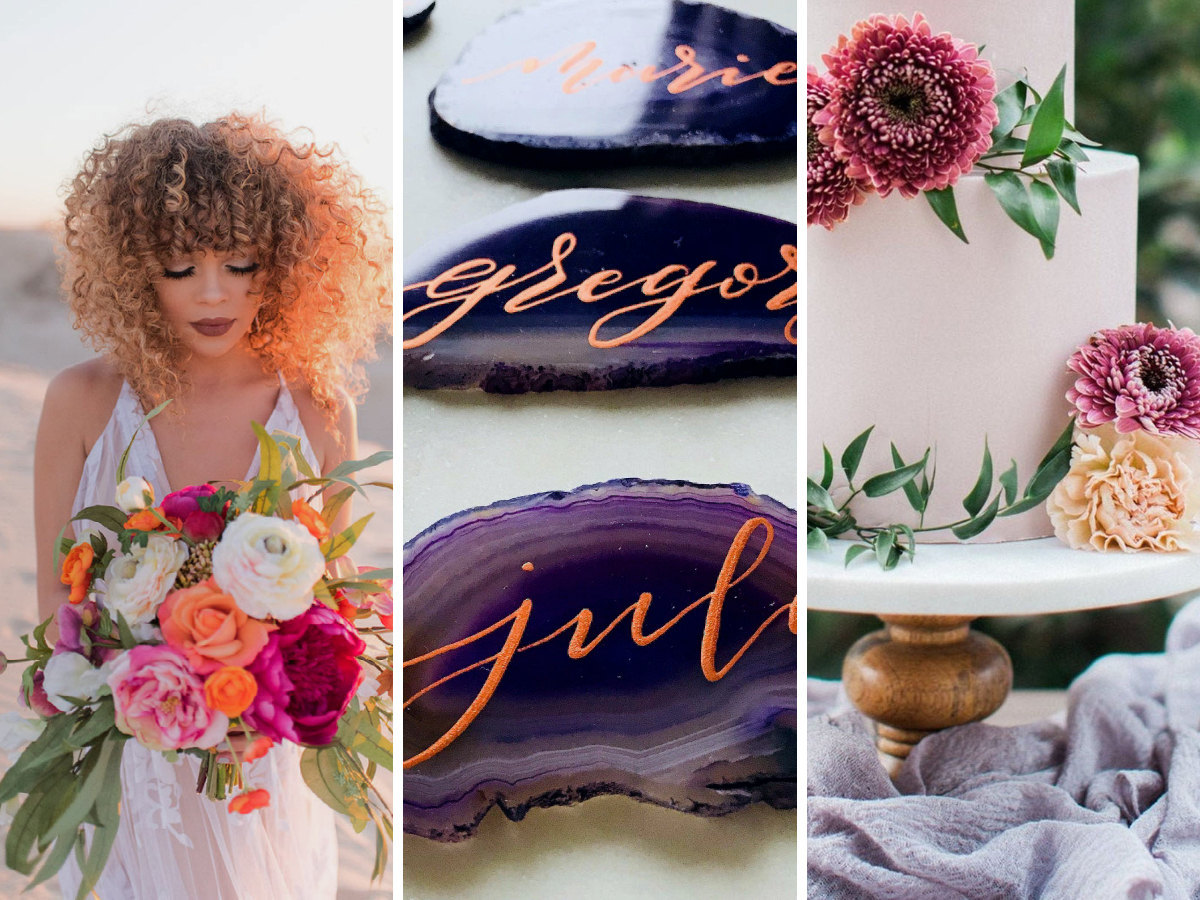 Here comes the bride, all dressed in—violet! And why not? When it comes to choosing your wedding colors, there's only one rule we consider golden: You do you. After all, a marriage is first and foremost a celebration of the vibrant love you share, and what better way to express that love than with equally vivid hues? "This year, couples are embracing bright, colorful wedding palettes and incorporating them in everything from invitations, to florals, to tablescapes, even all the way down to their gowns and suits," explains Etsy Trend Expert Dayna Isom Johnson. And even if you aren't one to follow wedding color trends, you have to admit, there's something about the exuberance of a hot-pink bowtie or a tutti-fruitti bouquet that feels especially welcome these days. Maybe you had to trim your guest list or shift your party date, but your wedding colors are one area where you can take your original vision and run with it—all the way down the aisle.
Not ready to go full-blown rainbow? That's okay too. We've got trendy wedding color ideas for every style and season, plus tips for picking color combinations that go well together. From romantic spring pastels to rich winter emeralds, it's all about merging (dare we say, marrying) the colors that feel authentically "you."
Top wedding color trend for 2022: rainbow hues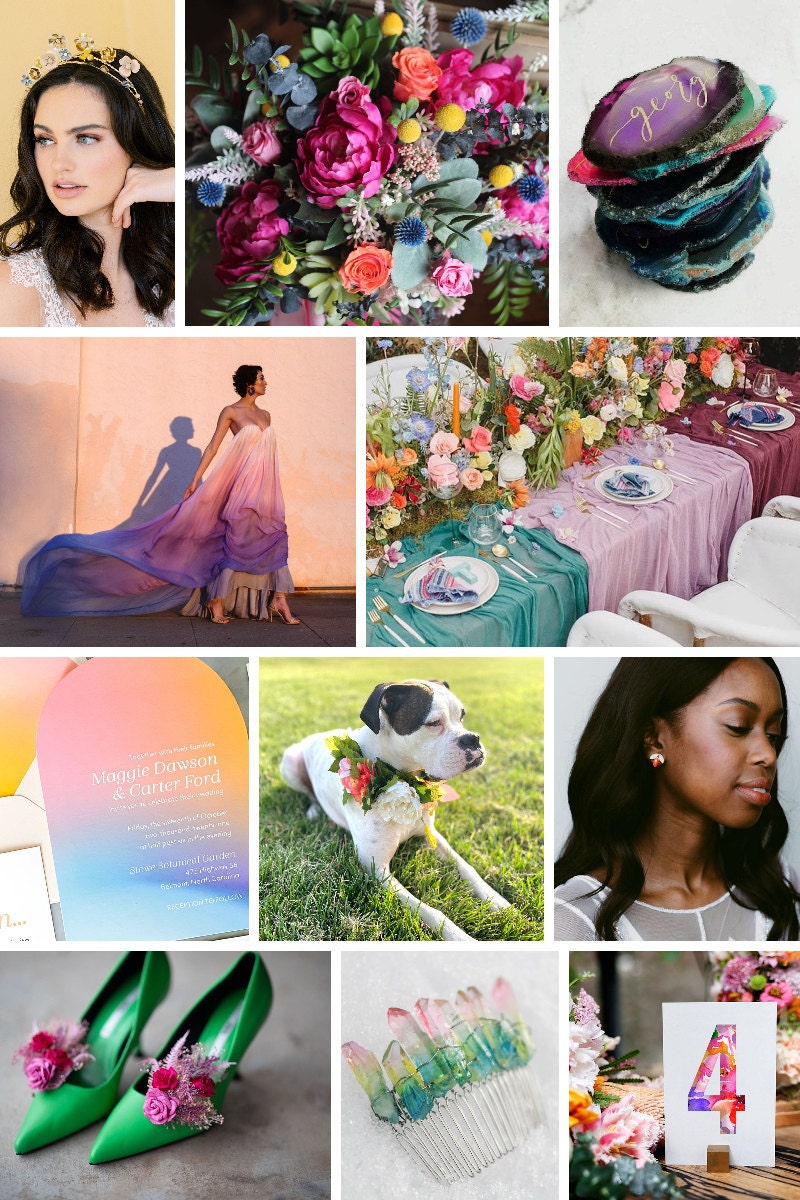 Shop colorful wedding inspiration
In 2022 we could all certainly use a little extra sunshine, and the chance to celebrate love is one potential bright spot on everyone's calendar. So it's no surprise to see this year's brides and grooms choosing bold, vibrant wedding colors to express their joyful anticipation. "With this trend, it's all about showing off your personality, injecting some delight into your special day, and setting the tone for an entirely unique celebration," Dayna says. "Think of color as your place to experiment and really make a statement."
Whether it's peekaboo pinks, greens, and blues popping up everywhere from your place cards to your peep-toe heels or a brilliant blend of mood-boosting hues pulled from all over the color wheel, the colorful wedding trend is 100% all-season appropriate. One of our favorite, fashionable interpretations? A retro-inspired palette of highlighter yellows, oranges, and pinks that leans into our recent nostalgia for the '90s. Neon pop perfection!
Spring wedding colors
As the chill of winter lifts, our mood slowly shifts. Suddenly there's a lightness in the air, and tender young blooms make their cautious debut. The best spring wedding color combos this season have a similar softness to them, but also offer a hopeful sense of renewal and fulfilled promise. Once the snow finally melts, there's no better time to watch love blossom!
Calming pastels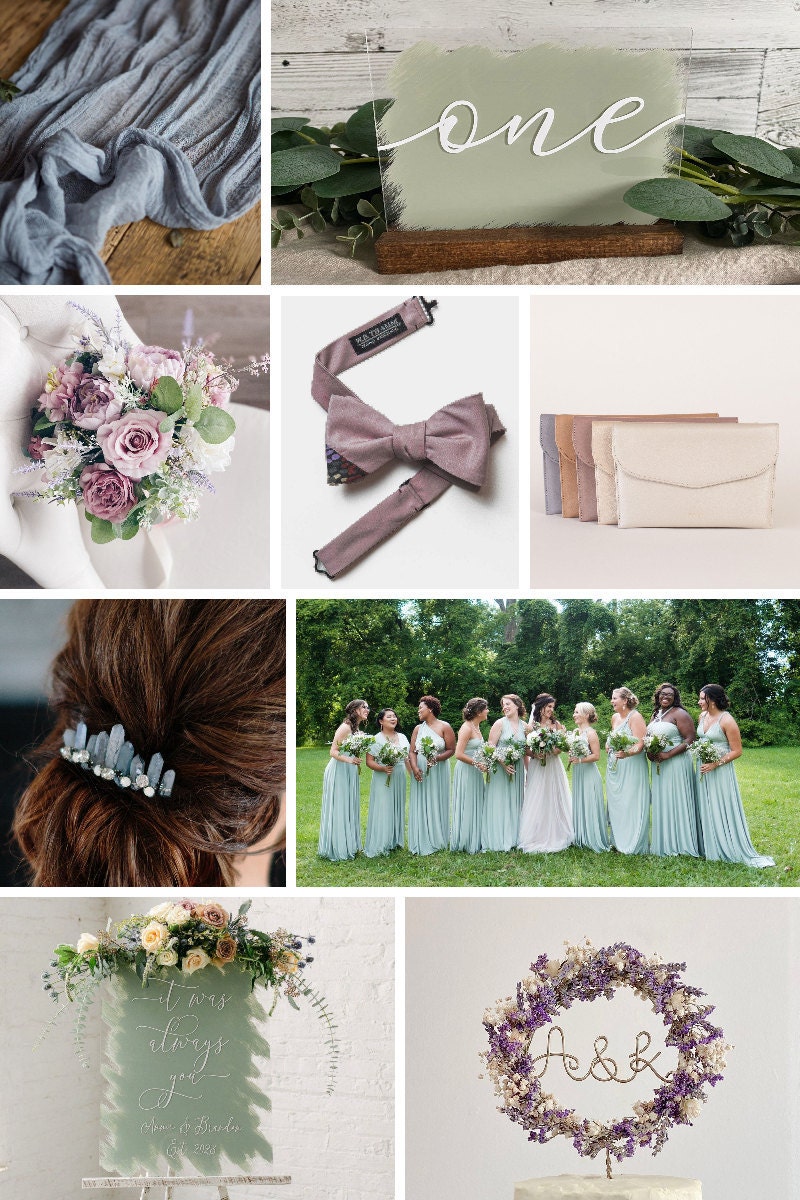 Shop spring wedding inspiration in calming pastels
Arguably the most soothing set of wedding colors, this peaceful palette pulls in early-spring hues of cool cucumber and sky blue with just a whisper of warmth from shades like pink clay and purple paste. One of the best color combinations for outdoor weddings, it's a tranquil medley that evokes budding florals, secluded gardens, and pristine mountain lakes.
Recommended color pairings: Taupe, tan, and greige.
Tip: Choose at least one neutral—whether it's disco-inspired metallics and mirrors or natural wood and foliage—and build your wedding color palette around it.
Mineral pastels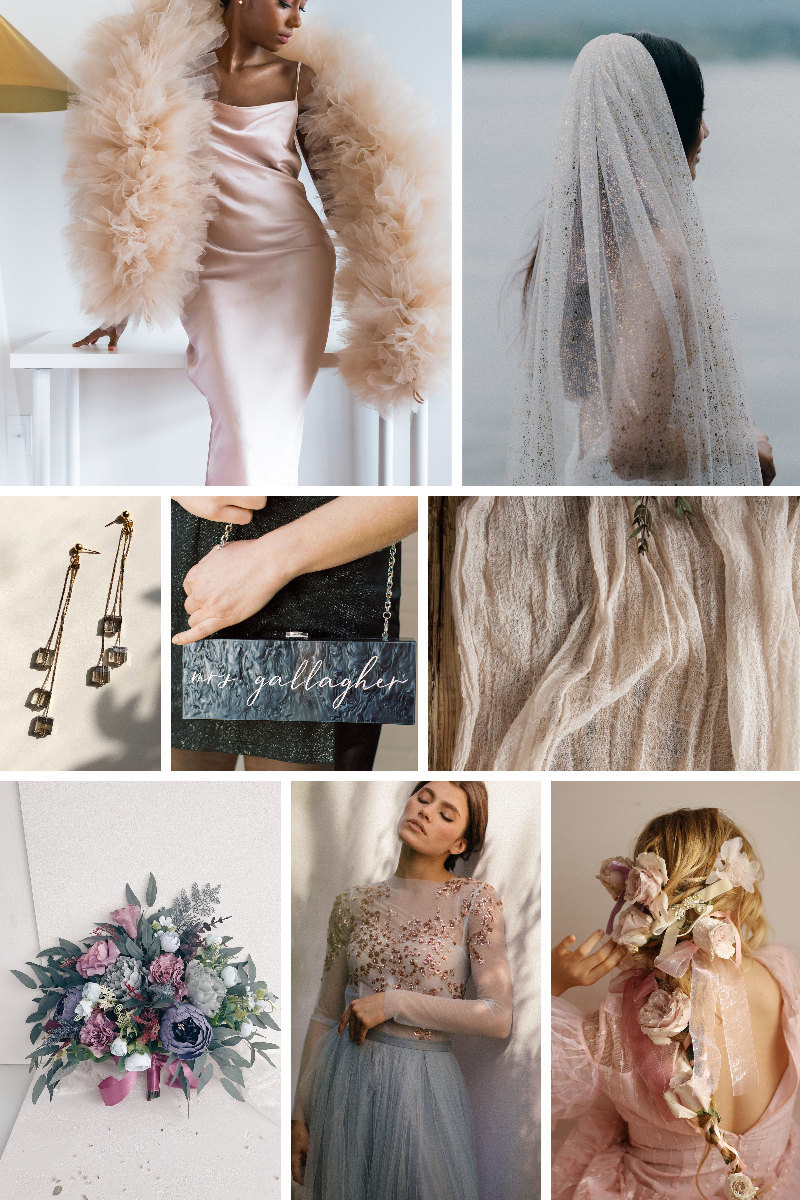 Shop spring wedding inspiration in mineral pastels
One natural way to dial up the impact of your spring wedding color palette? Opt for organic pastels that take inspo from the glittering gifts of Mother Earth. To achieve this aesthetic, think soft sandstone-colored linens, smoky quartz-tinted tulle, and shimmery pyrite-like details like veils flecked with metallics. For an extra-trendy twist, entwine dusty rose-colored bows in your hair and you'll be serving total romantic decadence.
Recommended color pairings: Champagne, lilac.
Candy pastels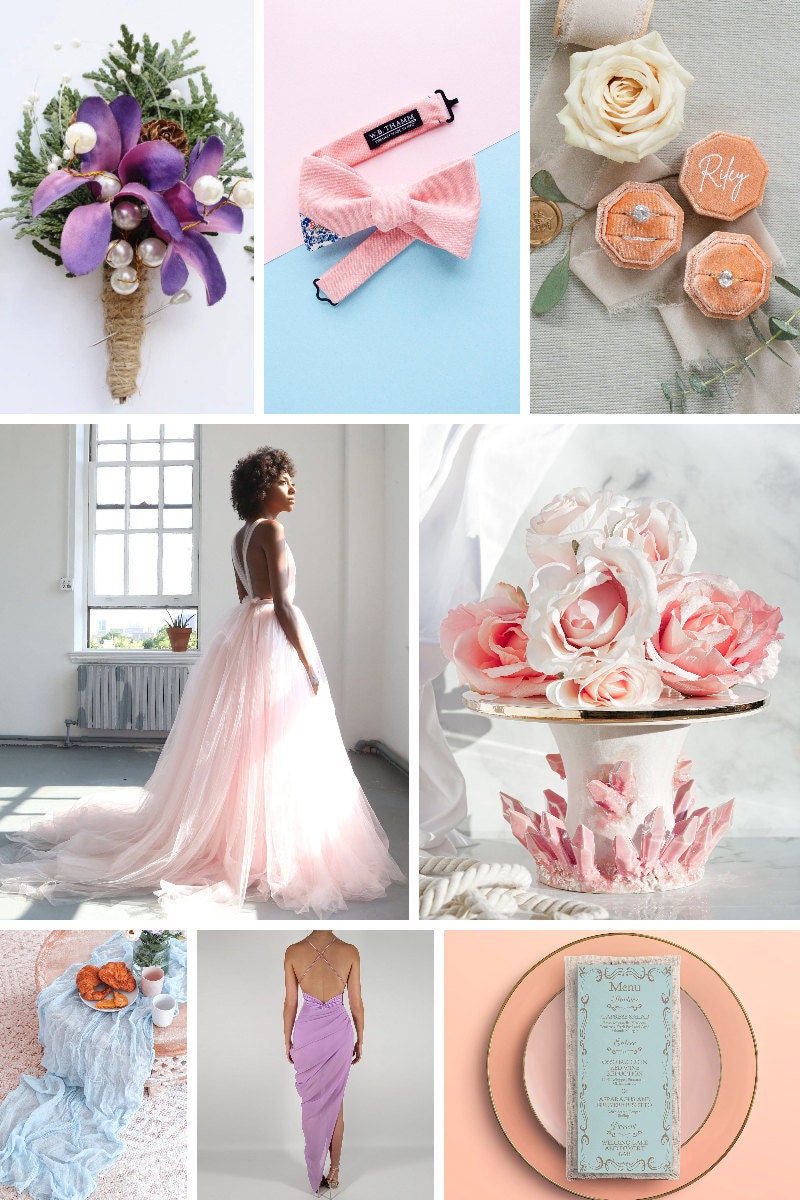 Shop spring wedding inspiration in candy pastels
Like a page out of a fairy tale, this fanciful wedding color trend sets a storybook scene that rivals some of our sweetest dreams—and is perfect for any fun-loving couple who can't get enough kisses and confections. Confetti-colored cakes, poofy pink princess gowns, and vivid violet floral arrangements will have you prepped (and pepped!) for an extra-enchanting event.
Recommended color pairings: Veri Peri (Pantone's 2022 Color of the Year), peachy pinks, and grays.
Summer wedding colors
There's something magical about a summer wedding: that freeing feeling of frolicking in a warm breeze and toasting to love under an open sky. So when it comes to summer wedding color ideas, we're all about choosing lively combos that complement our naturally playful side, and help keep the good times rolling long into the night.
Aquatic blues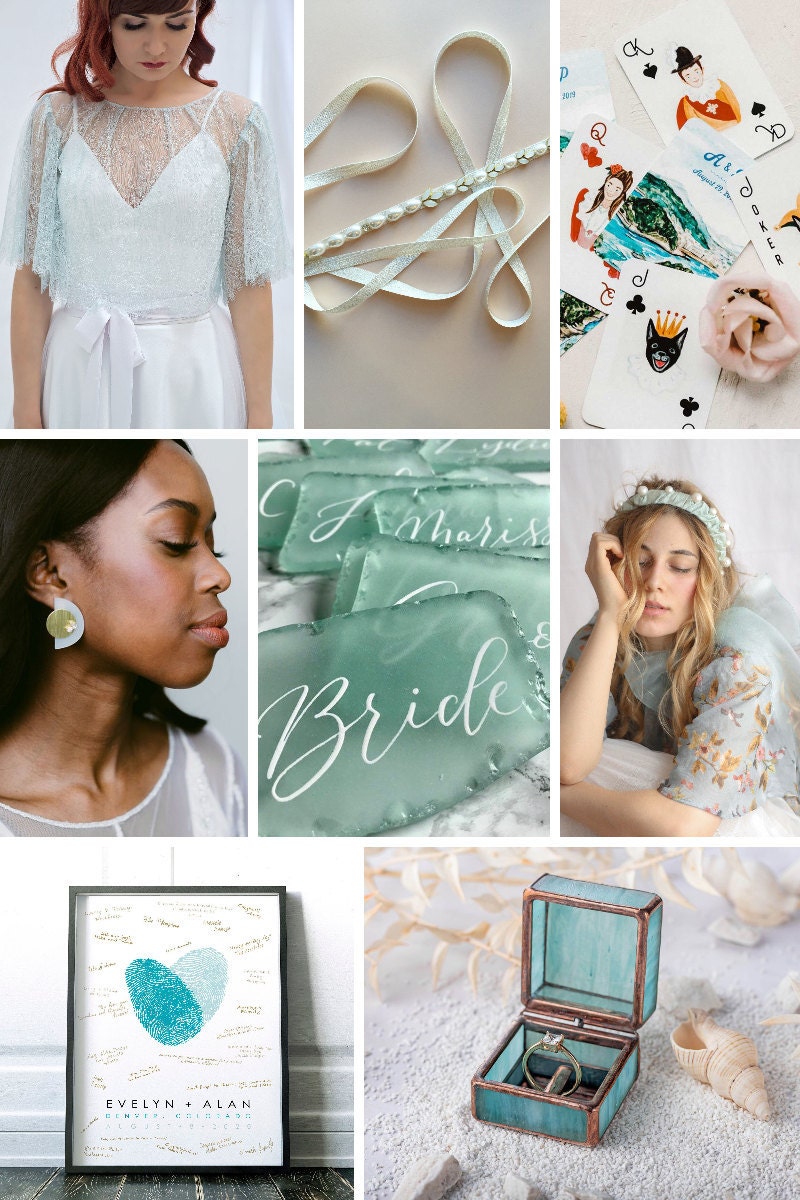 Shop summer wedding inspiration in aquatic blues
You don't have to be tying the knot by the waterside to make waves in beachy shades of seafoam green, turquoise, and aquamarine. Accessorize with iridescent wedding dress toppers, pearly headbands, and sea glass place settings, and you'll be channeling your inner mermaid 'til the tide rolls in.
Recommended color pairings: Copper, rose gold, sandy neutrals.
Elevated yellows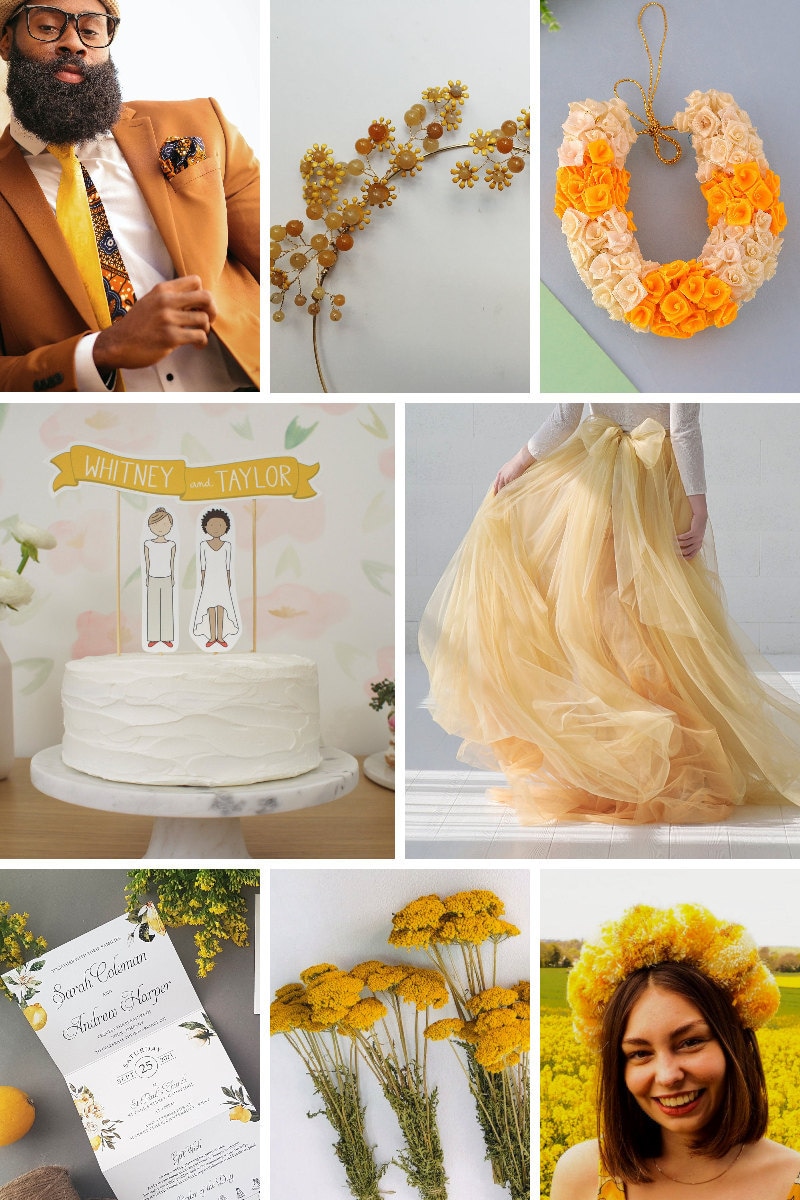 Shop summer wedding inspiration in elevated yellows
As refreshing as mango sorbet on a 90-degree day, this ultra-luscious take on the season's signature hue looks utterly iconic as the primary in your summer wedding color combo. Give your gown a subtle sun-kissed glow, or crown yourself in golden florals; either way, you'll radiate warmth and joy. Happily ever-after indeed.
Recommended color pairings: Moss, tangerine, fuschia.
Lush greens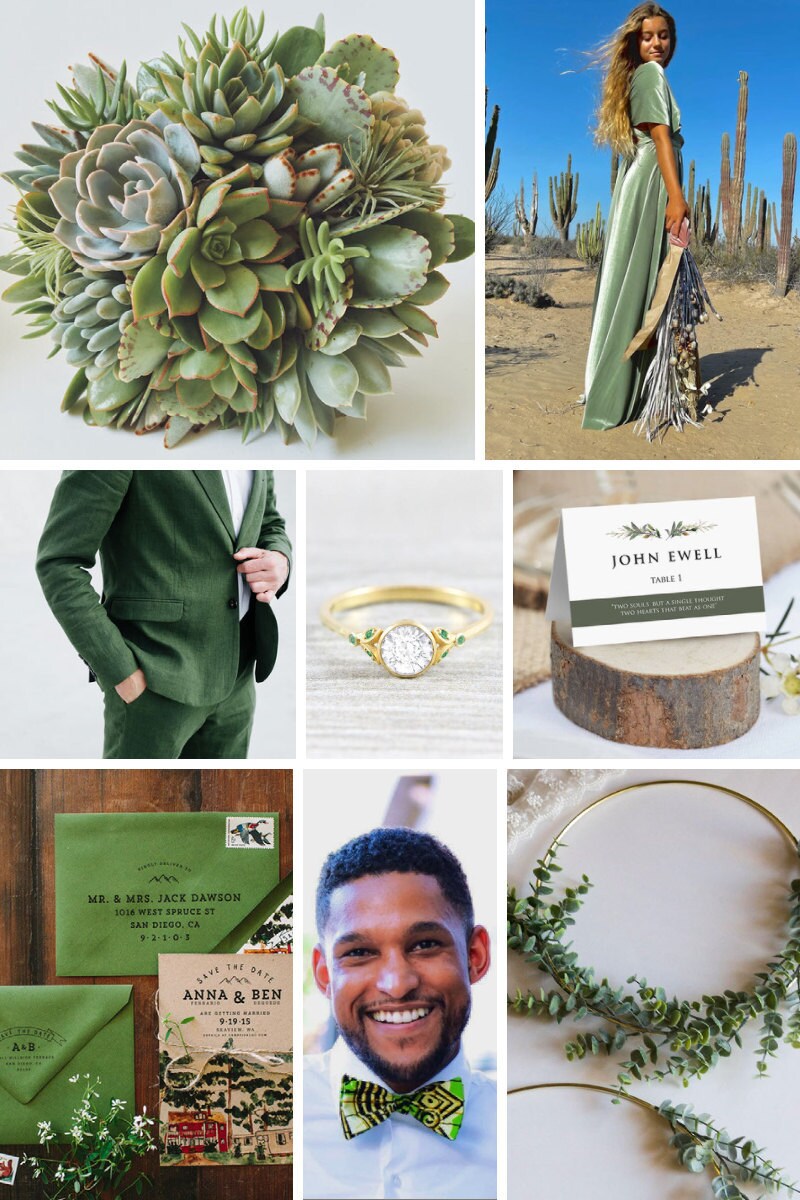 Shop summer wedding inspiration in lush greens
Wilderness lovers rejoice! If you're a sucker for exploring the great outdoors, you'll be pleased to discover that a succulent shade of green is an equally exhilarating choice for your wedding color scheme. Plus, it's a wonderful excuse to incorporate more natural details—like leafy eucalyptus bridesmaid hoops and mossy-hued linen suits—to match the picturesque scenery.
Recommended color pairings: Dusty mauves, taupes, and warm grays.
Tip: Not sure how to start narrowing down your options? Pick something you love—like a work of art, a familiar landscape, or even a favorite outfit—and use that as wedding color palette inspiration.
Fall wedding colors
Ah, the enchantments of a fall wedding. Truly, what could be more romantic than cozying up to your special person during peak cuddle season? Inspired by the warmth of spiced ciders and the dreaminess of moonlight, the best fall wedding color ideas are a little bit bold and a little bit enigmatic—just like you.
Rustic reds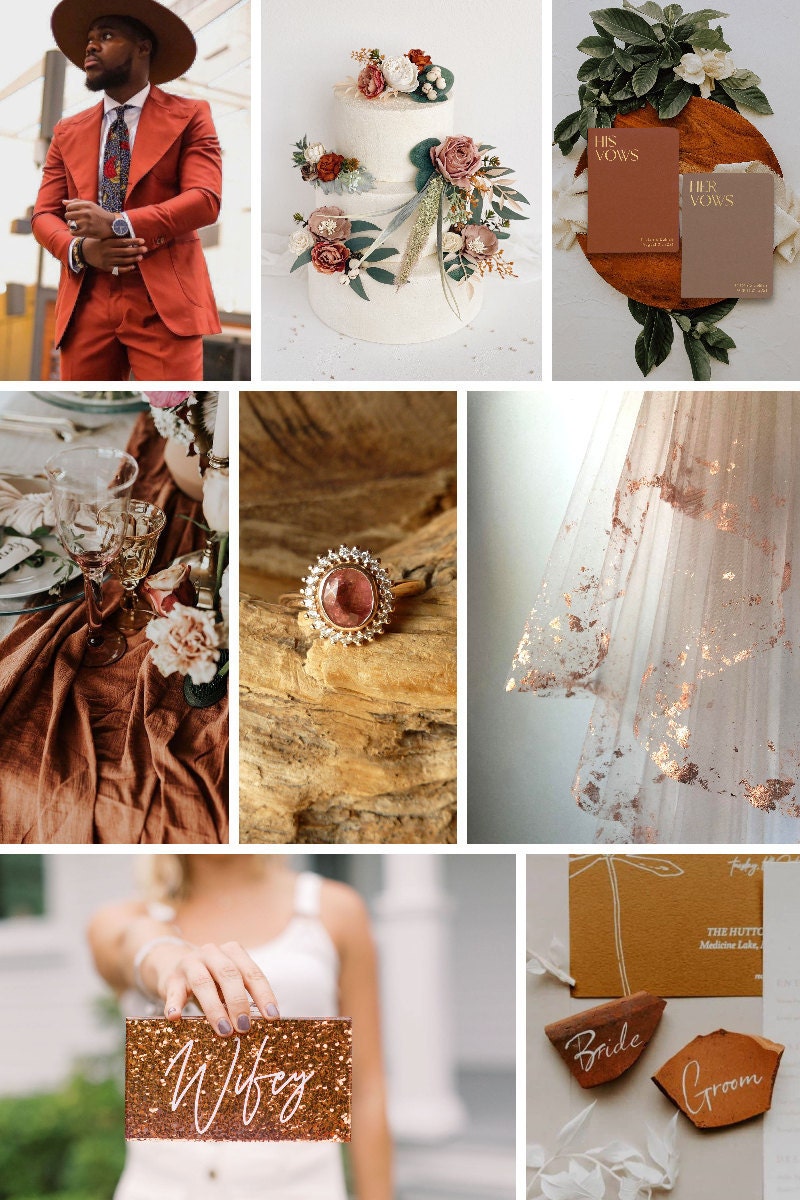 Shop fall wedding inspiration in rustic reds
Earthy and autumnal with a tinge of bisque-fired southwestern spiciness, the beautiful burnt oranges and clay-colored tones of these classic fall wedding colors create an atmosphere of simmering passion. Broken terracotta pot shards make clever place cards, while coppery accessories add a wink of sparkle. What's not to like?
Recommended color pairings: Sage, dusty rose, mauve, beige, evergreen.
Fresh pastels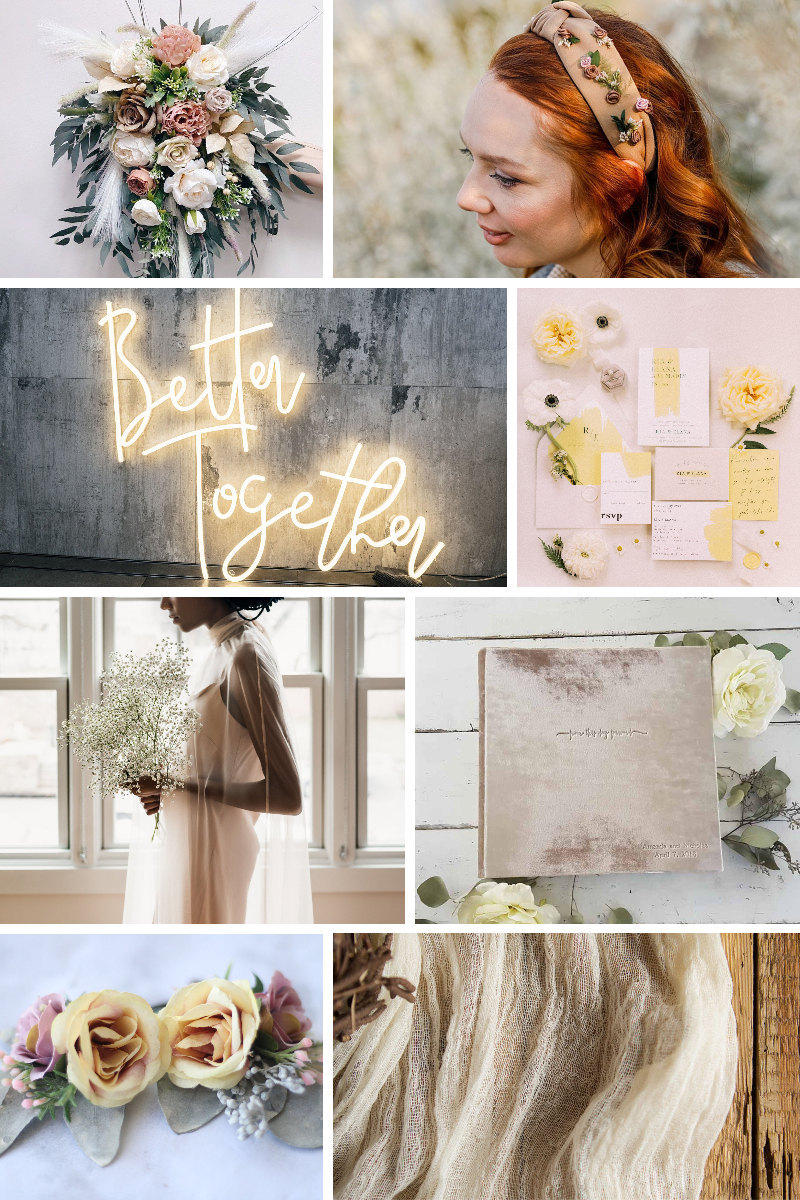 Shop fall wedding inspiration in fresh pastels
No longer just for sunny spring days, subtle pastel colors for fall weddings are officially a thing, too. (Just think of it as a tribute to a glowing full moon.) Let light butter yellow and lilac chalk florals do the talking, and top the whole look off with a shimmery champagne bridal cape for a modern flourish.
Recommended color pairings: Beige, light taupe, stone.
Tip: Keep an open mind when it comes to wedding colors. Seasonal hues are a great place to start, but ultimately, the "right" colors are whichever ones speak to you.
Grays and blacks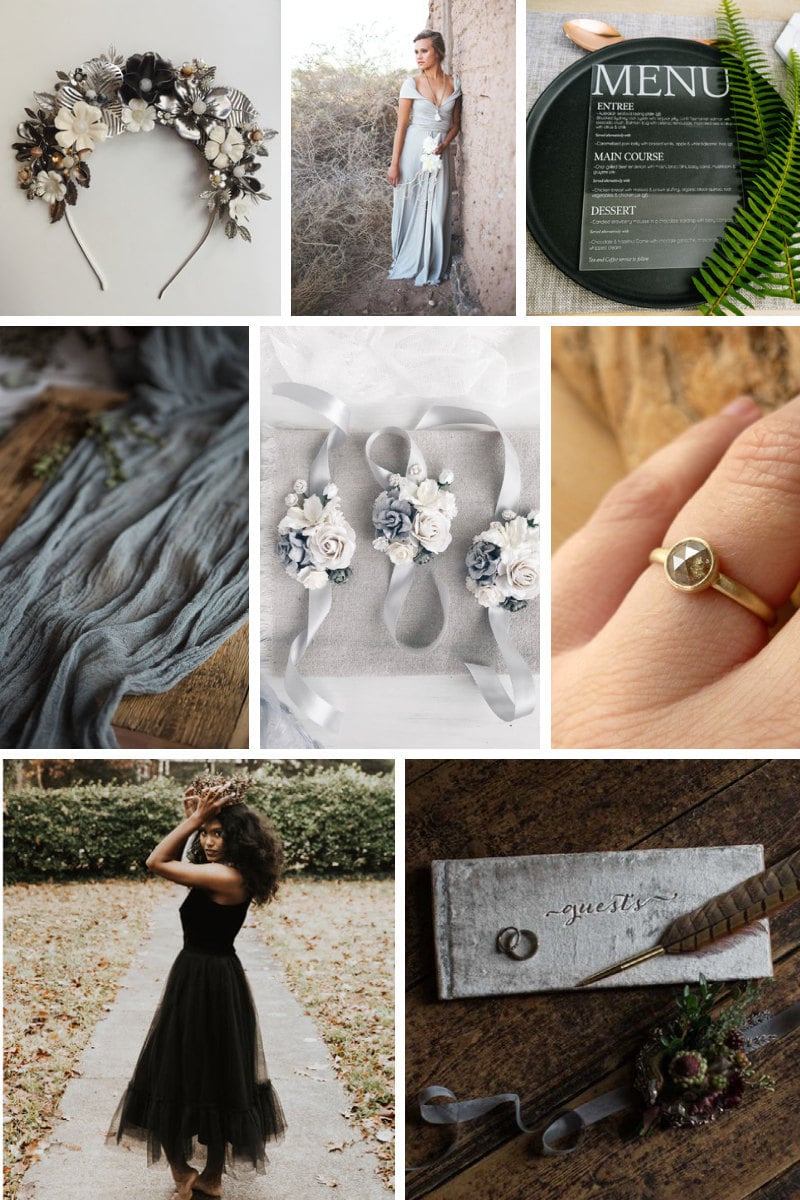 Shop fall wedding inspiration in grays and blacks
For a fall wedding filled with mystery and elegance, lean into the nuance of gray. Whether you choose silvery shades paired with luxe, velvety fabrics or go straight for a dramatic black, this color palette is a sophisticated classic. Couples today are incorporating it in surprising ways, from the bride's flower crown to her bouquet, and yes, even her gown.
Recommended color pairings: Veri Peri (Pantone's 2022 Color of the Year), taupe, brown.
Winter wedding colors
From romantic sleigh rides to icy escapades, winter wedding weekends bring their own special brand of fun. Even better? The crisp white canvas of a fresh fallen snow means you can really go bold with your color combos. Enter deep blues, rich chocolatey browns, and dark, sparkling greens—the stars of our winter wonderland wedding dreams.
Bold browns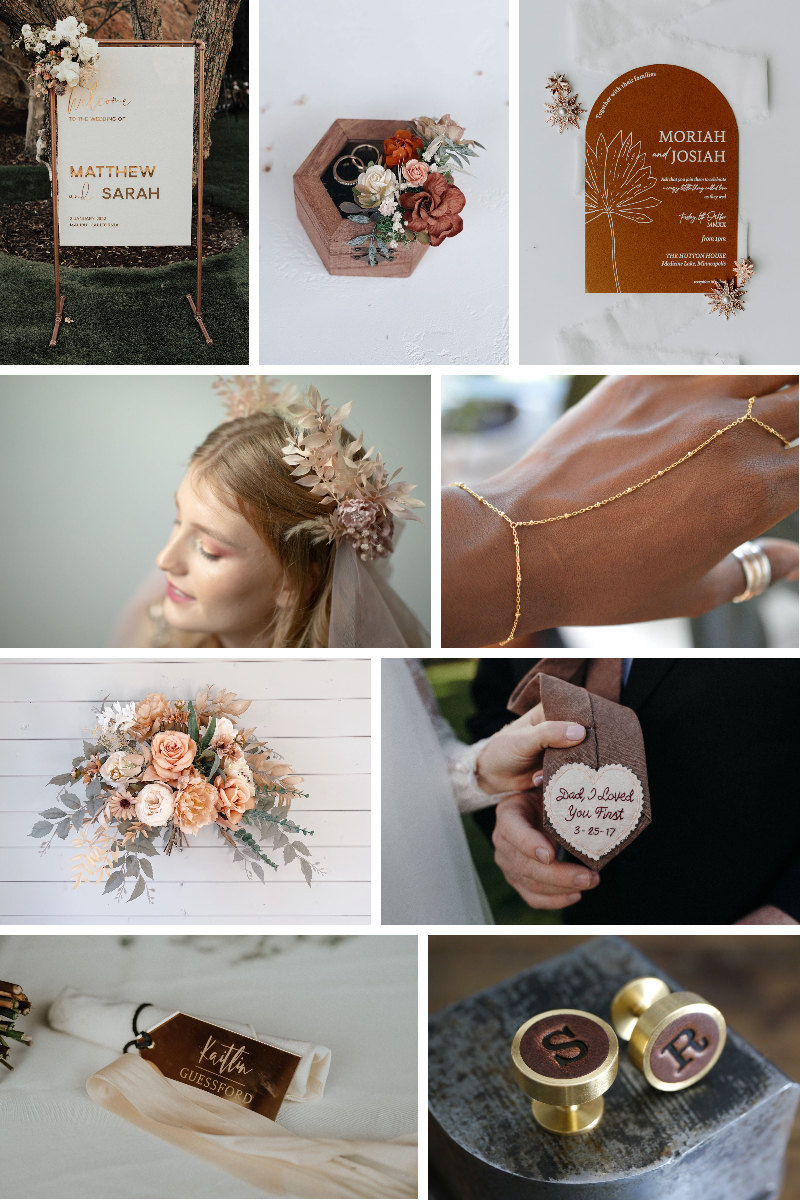 Shop winter wedding inspiration in bold browns
Inspired, in part, by the beautiful bare boughs of winter trees, the rich mahoganys and dark oaks of this woodsy winter wedding palette are a symbol of strength and rootedness. Accent with old-timey sepia tones, and this glamorous combo becomes instant gold.
Recommended color pairings: Gold, rust, blush, and dusty peach.
Tip: Play with weights and textures! Soft, gauzy fabrics will lend your affair an ethereal air, while hefty brass accents like candlesticks and potted centerpieces will give guests retro-glam vibes.
Jewel tones
Shop winter wedding inspiration in jewel tones
Level up the luxe factor with a popular winter palette boasting handsome hues of royal blue and burgundy. Quite the captivating color combo for a winter wedding, these jewel-inspired tones are sheer decadence, and pair beautifully with velvet drop cloths, sapphire engagement rings, and mulled red wines. Cheers!
Recommended color pairings: Amethyst, emerald, citrine, peach.
Rich emeralds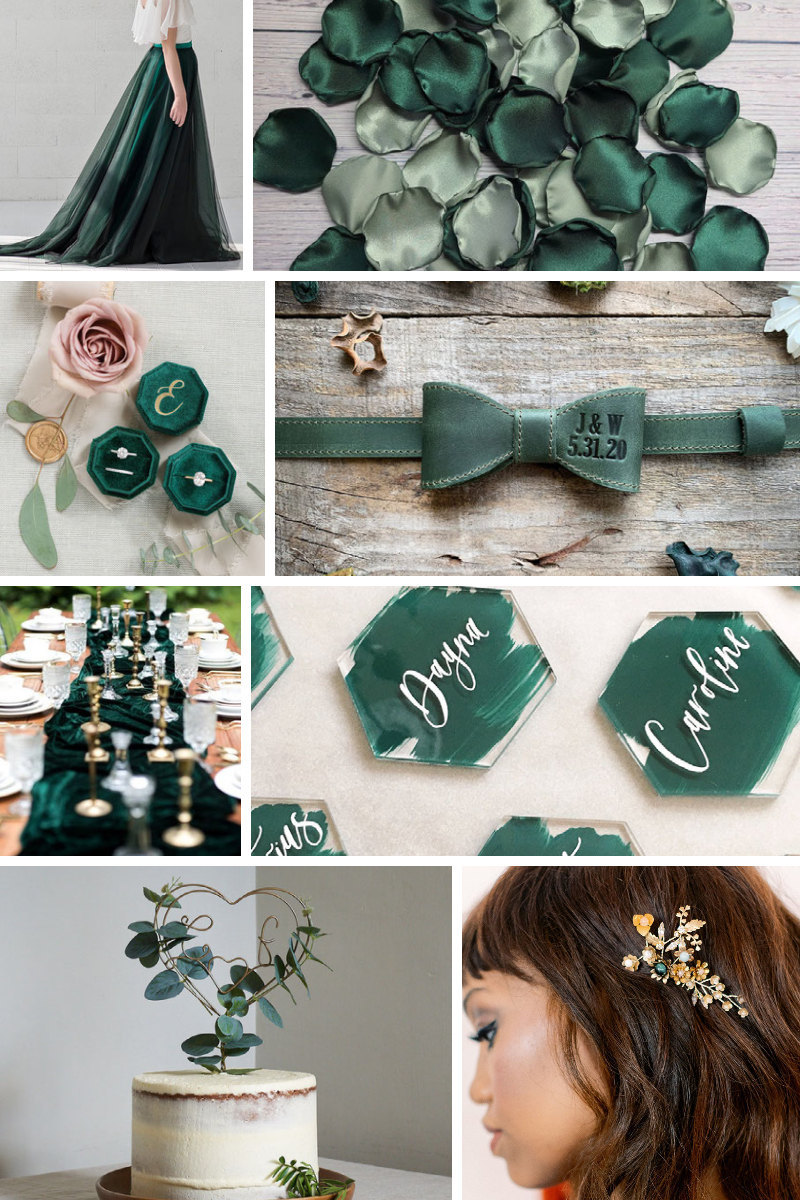 Shop winter wedding inspiration in rich emeralds
Oh, emerald. Etsy's official Color of the Year for 2022 is so luscious and bold, it deserves a category all its own. Taking a cue from the stone's recent surge in popularity, couples are making emerald a focal point of their festivities, from regal green table runners to evergreen tulle overskirts. What's unique about this stunning shade is the way it effortlessly feels at home with both elevated and earthy aesthetics. "Representing harmony and growth, it's the perfect color for an 'I do' moment," Dayna says.
Recommended color pairings: Gold, silver, beige, sugar plum.