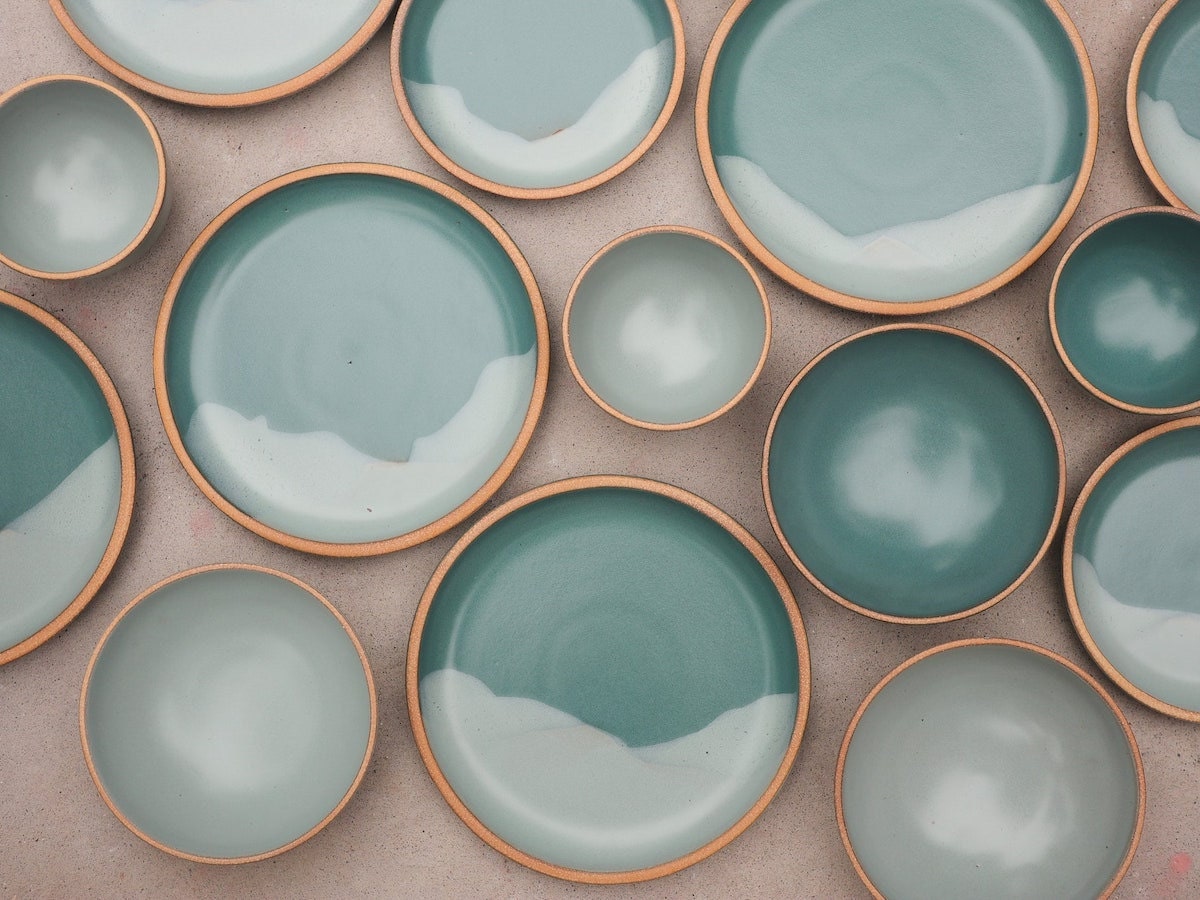 After you've finished making all the necessary little decisions for the big day—the custom cake topper, the hand-painted save-the-dates, the table settings—you and your partner are finally free to think beyond the ceremony and reception and focus on the forever you want to build together, beginning with your wedding registry. 
Explore wedding registry essentials on Etsy
Your registry is an opportunity to really get creative, because, much like your wedding, your home can be a perfect reflection of who you are as a couple, depending on the items you choose to outfit it with. And lucky for you lovebirds, when it comes to sourcing totally unique designs for everyday living, no one does one-of-a-kind quite like Etsy's talented seller community.
How to make a wedding registry list on Etsy
Once you find an item that you love, you can add it to your Favorites by clicking the heart icon. (This little heart will soon become your best friend.) A banner will appear, and you'll click "Add to list" to organize your collection of wedding registry treasures. From there, you can share your list with guests so they can help you build the home of your dreams. To sweeten the deal, you'll also get more personalized recommendations the more items you favorite. 
To get you started, we've rounded up 40 must-see wedding registry ideas, from elevated home essentials and wildly original accent pieces to handcrafted tableware and luxurious bed linens. So join us as—room by room—we walk you through our go-tos for an Etsy-inspired registry that feels intentional, special, and 100% you.
Wedding registry ideas for the bedroom
1. Bespoke bedding
The first thing you'll want to do as newlyweds? Upgrade that old sheet set. For the ultimate good night's rest, there's nothing more luxurious than a bed made with smooth, soft linen bedding—particularly when it's crafted to order in the colors and dimensions of your choice. Shop bedding
2. Closet organization essentials
For those of us not blessed with bountiful closets, suspended clothing racks, floating shelves, and valet wall hooks offer simple, stylish solutions for hanging your freshly pressed Oxfords and go-to hats. Shop clothing storage
3. Sleek jewelry holders
With minimalist wood and brass jewelry displays, neatly organizing your necklaces, earrings, and rings has never been so easy—or so aesthetically pleasing. Shop jewelry storage
4. Natural blankets and pillows
Try to resist snuggling up among hand-woven throw pillows and pebbled wool blankets. Go for neutral tones to reinforce the earthy feel. Shop blankets
5. A bright laundry basket
Doing the wash hardly feels like a chore when your laundry's stashed in a cheerful cotton basket bag—which, depending on your future plans, could one day transition to toy storage. Shop laundry bags
Wedding registry ideas for the bathroom
6. Elevated hardware
Stylish lucite towel bars, drawer pulls, robe hooks, and door handles are glam enough for a high-end hotel, but accessible enough to add to your list for an easy master bath upgrade. Shop hardware
7. Linen towels
Unlike the ordinary plush kind, linen bath towels, which are available in medium- and heavy-weight flat-weaves and waffle-textured styles, actually get better with time. Shop towels
8. Sophisticated bathroom accessories
Streamline your morning routine with modern, minimalist (and topple-proof) concrete accessories, covering every sink-side necessity from soap dishes to organizational trays. Shop bathroom organizers
9. A rustic bath caddy 
Reclaimed wood bath caddies should come with a word of warning for tub worshipers: May cause pruney skin from indulging in your evening soak for hours on end. Shop tub caddies
10. Display-worthy storage
Need to store your bath products and linens in style? These whimsical, all-purpose cotton baskets have simple, playful fringe details that complement any bathroom aesthetic. Shop storage baskets
Wedding registry ideas for the dining room
11. Elegant everyday tableware
Whether you're drawn to the elegance of a simple, crisp set or the organic, personal feel of a handmade dish, you'll want to add ceramic dinnerware to your list. Shop dinner sets
12. Minimalist serving pieces
Set your sights on a handsome, well-made serving bowl, tray, or platter that can practically serve as a centerpiece all on its own. Shop serveware
13. Wooden kitchen utensils
There's just something rustic and romantic about hand-carved wood utensils that are consciously crafted to be preserved, enjoyed, and admired 'til death do you part. Shop utensils
14. Hand-blown glassware
Whether it's a piña colada or a coconut water, every time you sip your drink from two-tone, hand-blown tumblers you'll feel like you're back on your honeymoon, relaxing oceanside. Shop glassware
15. Party plates
The "good china" doesn't have to mean the kind that never sees the outside of a cupboard. Try some playful dinner sets perfect for encouraging lighthearted conversation among guests. Shop colorful ceramics
16. A vintage bar cart
Incorporating a few pre-loved pieces into your new home as a married couple is always a classy move. We're partial to a sharp midcentury bar cart, a small space–friendly solution for the duo who loves to host. Shop vintage decor
17. Chic coasters and trivets
Mod wooden trivets and matching coasters will dutifully protect your precious tabletops from years of heat stains and water rings (and look good doing it, too). Shop coasters
18. Playful patterned table linens
Trendy cutout shapes on block-printed napkins, placemats, and table runners, add a funky, graphic pop to your tablescape. Shop table linens
19. Sculptural serving boards
One easy way to instantly enhance your party spread? Arrange it on chic Japanese-style serving trays, fruit stands, and bread boards. Shop serving boards
20. Brass bottle stoppers
Couples who like to keep the spirits flowing can preserve the good vibes with statement-making bottle stoppers. Shop barware
Wedding registry ideas for the kitchen
21. Cooking essentials with character
Now's the time to double down on the kind of durable (and dishwasher-safe) baking bowls, casseroles, and serving dishes that will carry you through many happy years of bread-breaking. Shop bakeware
22. A slim recipe stand
For couples who cook up romance by trying new cuisines, a wooden tablet stand with a clean, modern design is the ultimate kitchen assistant. Shop tablet stands
23. Ceramic containers and more
Add some flair to your countertop with hand-thrown spice jars, salt cellars, and spoon rests bursting with decorative details. Shop tabletop finds
24. A custom pie plate
When printed with the original, handwritten recipe of your grandma's famous cobbler or your mother-in-law's crowd-pleasing quiche, a personalized pie plate is an heirloom in the making. Shop custom recipe plates
25. A personalized cake stand
Not to say marriage will be a piece of cake, but why not commemorate your newly wedded bliss with a custom dessert stand? It's a sweet keepsake that'll take you all the way to your golden anniversary. Shop cake stands
26. Minimalist must-haves
If your tastes tend toward the simple and refined, spring for a stoneware kitchen set in timeless, trend-proof white. Shop spice holders
27. Illustrated aprons and kitchen linens
With kitchen textiles as vibrant and cheerful as these screen-printed styles, you'll be finding lots of extra excuses to spend time at the stove. Shop aprons
28. Distinctive details
Of all the quirky animal-motif homewares out there (and there are more than you may think), our favorites might have to be these salt-and-pepper shakers—a colorful countertop parade of peacocks, puffins, tigers, and toucans. Shop salt and pepper shakers
29. Heirloom-quality utensils
Perfect for whipping up warm memories in the kitchen, heart-shaped spice spoons and embellished pewter spreaders and scoops add a dash of whimsy to all your home-cooked meals. Shop measuring spoons
30. Cotton carryalls
Reusable cotton carryalls make an earth-friendly alternative to tossing your wine bottle in a plastic bag—or worse, lugging a steaming casserole dish to and from the picnic between sauce-stained oven mitts. Shop food carriers
31. State cutting boards
Whether it's the unforgettable place where you got engaged or the beautiful state where you've chosen to put down roots, a laser-engraved bamboo cutting board makes a solid tribute to the locations that have left a lasting mark on you. Shop home state goods
Wedding registry ideas for decoration
32. Modern mirrors
Handcrafted in simple geometric shapes and embellished with fringe, chain, and brass, these eye-catching mirrors and mobiles are grown-up wall decor with a flirty twist. Shop mirrors
33. Luxe lighting
From sleek matte black sconces to adjustable brass task lamps, midcentury-inspired statement lighting adds a touch of brilliance to any room. Shop lighting
34. Sturdy shelving
Your wedding day mementos will look particularly charming displayed atop a rustic set of reclaimed wood shelves, sustainably handcrafted and made with love. Shop shelving
35. Cozy (and cute!) throw pillows
Snuggle up for a date night at home with a movie, some buttery popcorn, and modern geometric accent pillows in solids, stripes, and color blocks. Shop pillows
36. An interactive travel map
What better way to commemorate embarking on the shared adventure of a lifetime than hanging a handsome interactive travel map and placing the first pin? Shop maps
Wedding registry ideas for the outdoors and garden
37. Stylish address plaques
Nothing says "Welcome home" quite like a darling planter at the front door, customized with magnetic aluminum address numbers. Shop house numbers
38. Stained glass suncatchers
Exquisitely assembled from prismatic stained glass, these gemstone plant markers and abstract suncatchers will evoke a sense of wonder every time the light shines through them. Shop suncatchers
39. A custom door mat
Even if you're a little "peopled out" post-honeymoon, a cheery door mat with a custom message will lay the groundwork for when you're ready to welcome the first guest. Shop door mats
40. Hanging planters
Because air plants and cactuses deserve nice homes, too, create your own living wall of greenery with an assortment of hanging planters and cradles made of earthy stoneware. Shop planters
Editor's note: This previously published post has been updated with fresh product picks for the 2021 wedding season.