These fresh wedding sign ideas add that extra "oomph" to your big day with romantic styles that help bring your vision to life.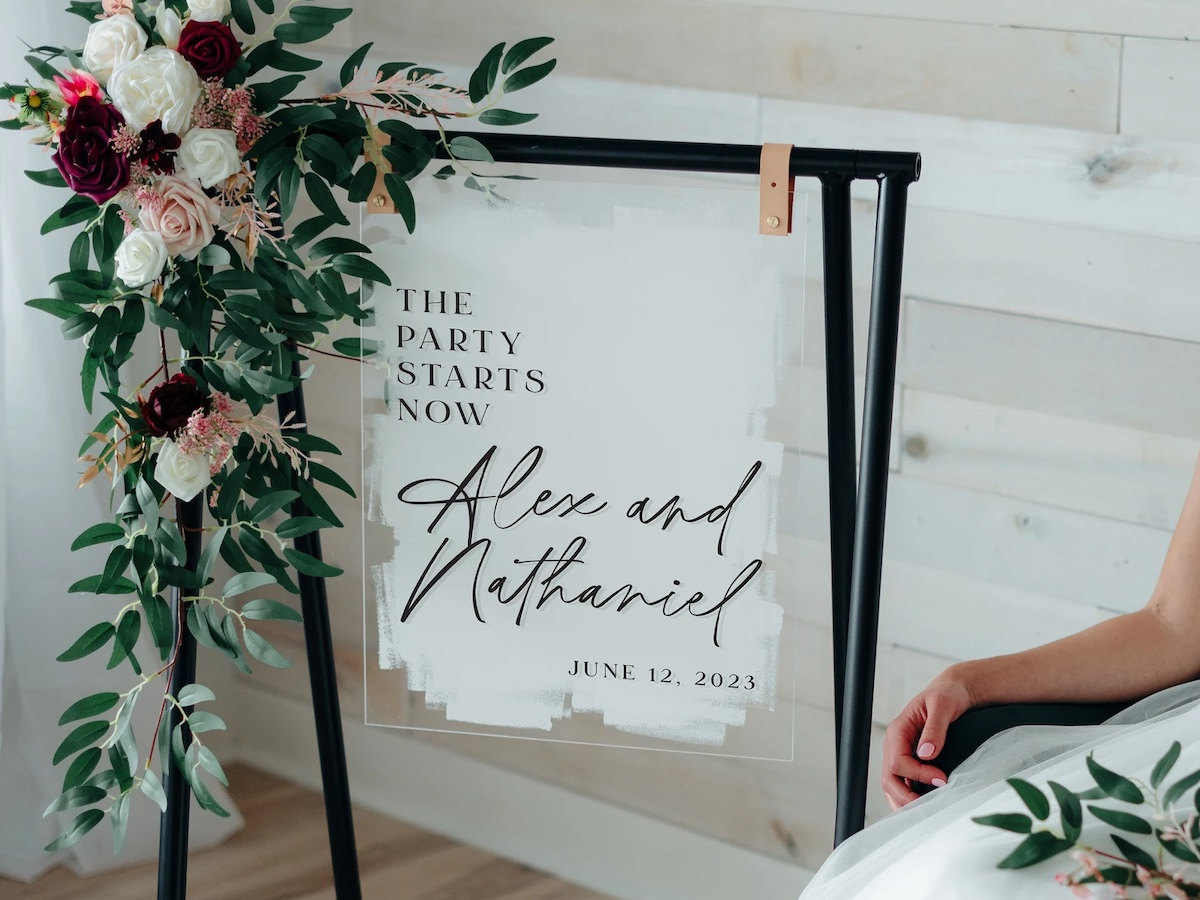 As you plan your big day, we're here to let you in on a little secret: Tiny details make a big impact. From thoughtful favors to oh-so-you touches like matching tuxes for your pups, every detail adds up to create the wedding day of your dreams. And believe it or not, wedding signs are an impactful—though often overlooked—part of that aesthetic.
Luckily, it's easy to give wedding signs the attention and appreciation they deserve with the help of talented sellers on Etsy who create dreamy designs for every part of your celebration. Whether you need seating charts, welcome signs, or cocktail menus, clear signage (hi, personalized acrylic wedding signs, we're looking at you!) keeps your guests informed and on track so they can get straight to what's important: celebrating your big day with you.
Whether you want to add a subtle accent to the festivities or you're searching for a statement decor piece that creates a fabulous photo op, there are wedding signs that suit every couple's goals and one-of-a-kind sense of style.
Types of wedding signs
You might be wondering, "Am I forgetting about a sign that's actually essential for my wedding day?" And it's true: There are a lot of potential signage needs to consider. As you begin mapping out your big day, here are some of the top types of wedding signs you may want to incorporate:
Need a last-minute wedding sign? You're in luck! Small shops on Etsy have designed all different kinds of customizable signs you can print at home or through your local print shop. Plus, these options are often available as instant downloads so you can add them quickly into your sign inventory.
Best acrylic wedding signs
Couples everywhere have spoken and the verdict is crystal clear: Acrylic is a top choice for wedding signs. This exquisite material is easy to personalize with custom vinyl decals or hand-painted designs, offering all the aesthetic perks of glass without any worries about breakage.
1. An asymmetrical sign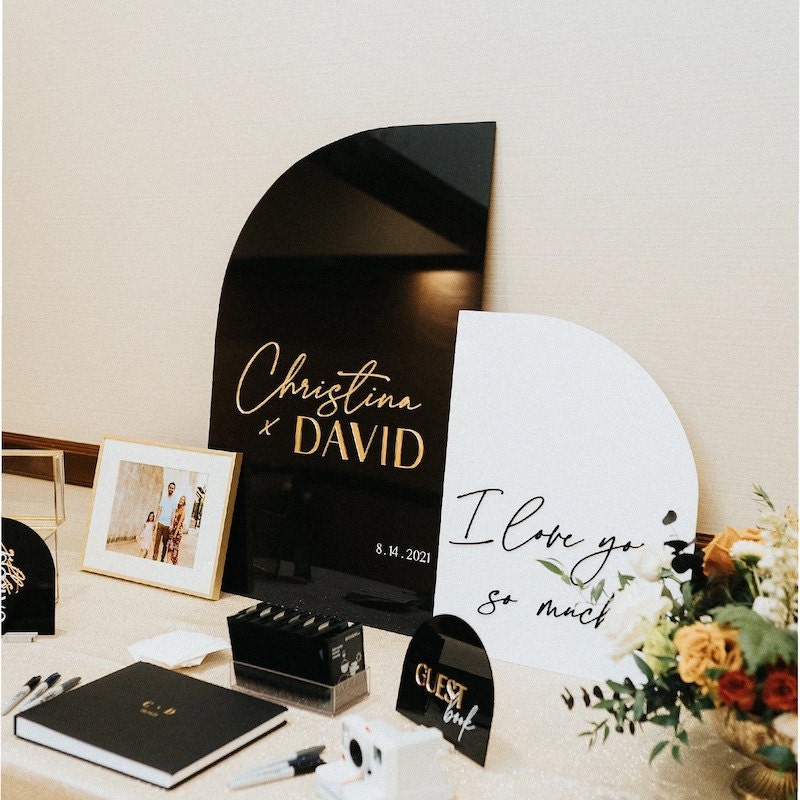 SHOP: Arched two-piece wedding sign from ModLode, from $205
These curved shapes bring an elegant flavor to any affair. Make your welcome sign extra-special by personalizing it with a custom quote that captures all the love and affection between you and your spouse-to-be.
2. A modern gift table sign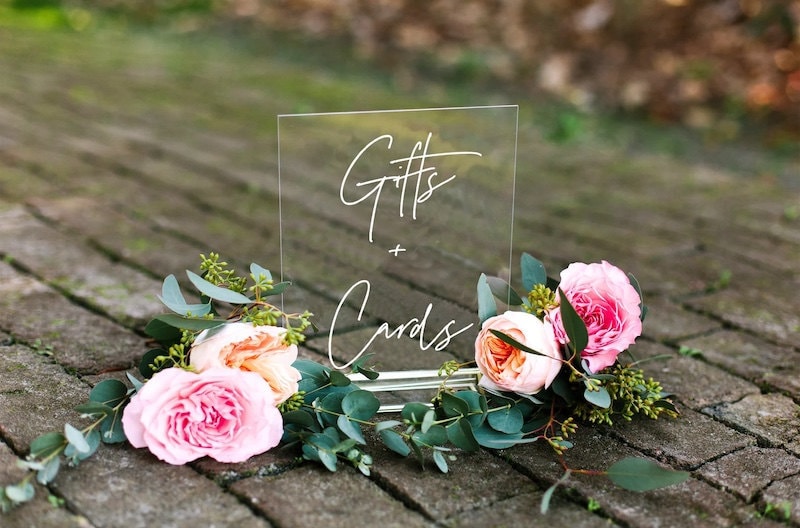 SHOP: Acrylic gifts and cards table sign from Paper and Pine Co, from $13
The quicker your attendees drop off their gifts, the quicker you can start the party. Shoppers are thrilled with this acrylic signage for gifts and cards, saying they're "Obsessed with how everything turned out" and rating it an enthusiastic "10/10!"
3. An arched welcome sign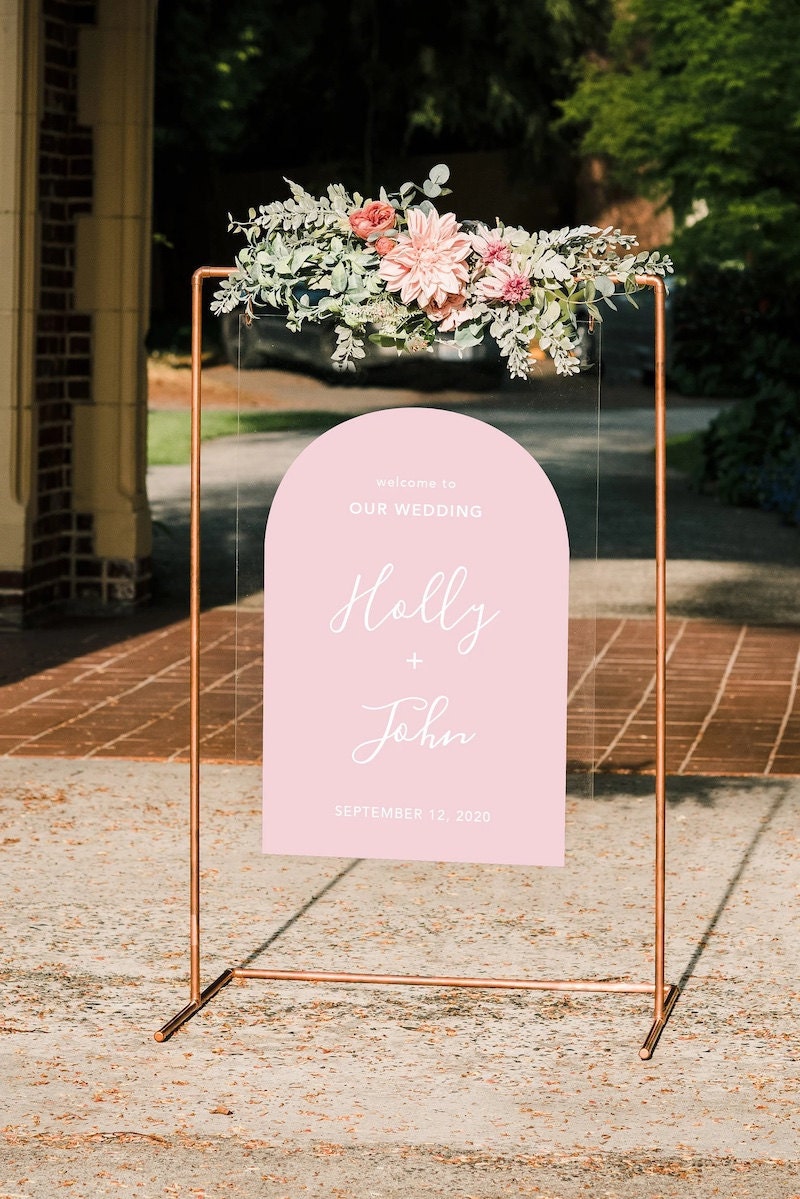 SHOP: Colored acrylic arch welcome sign from APK Weddings, from $40
Arches are a popular wedding decor trend, so give guests a greeting to remember when they spot this modern welcome sign. Opt from a selection of classic, muted tones to easily match your color scheme, and add a brass easel to display your sign with a little shine.
4. A last name wedding sign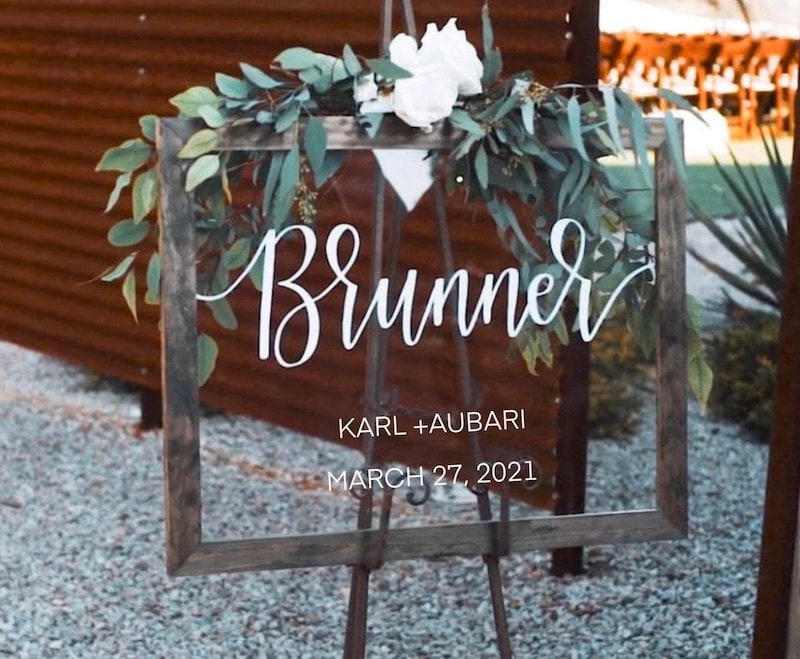 SHOP: Acrylic last name wedding sign from Adorning Oaks, from $32
Want a sign that you can keep long after the big day is done? This acrylic sign is set in a wooden frame that makes it easy to display in the home as an art piece that the couple can enjoy for years to come.
5. A lucite welcome sign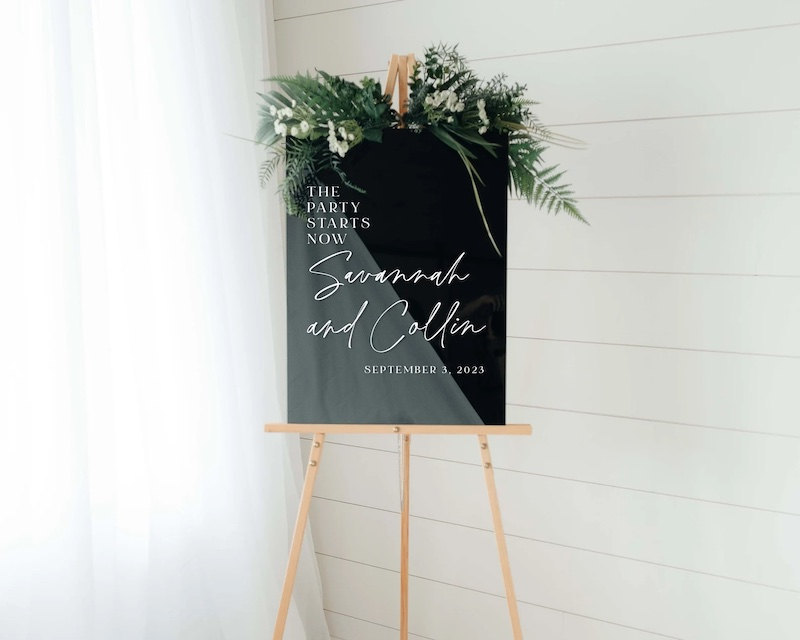 SHOP: Lucite wedding welcome sign from Lace and Sage, from $75
Inspire a spirit of joy and memory-making with this classic lucite sign that lets guests know it's time to party. Choose between clear, frosted, opaque, or painted acrylic to give it that one-of-a-kind touch that fits your wedding style.
6. A floral table number sign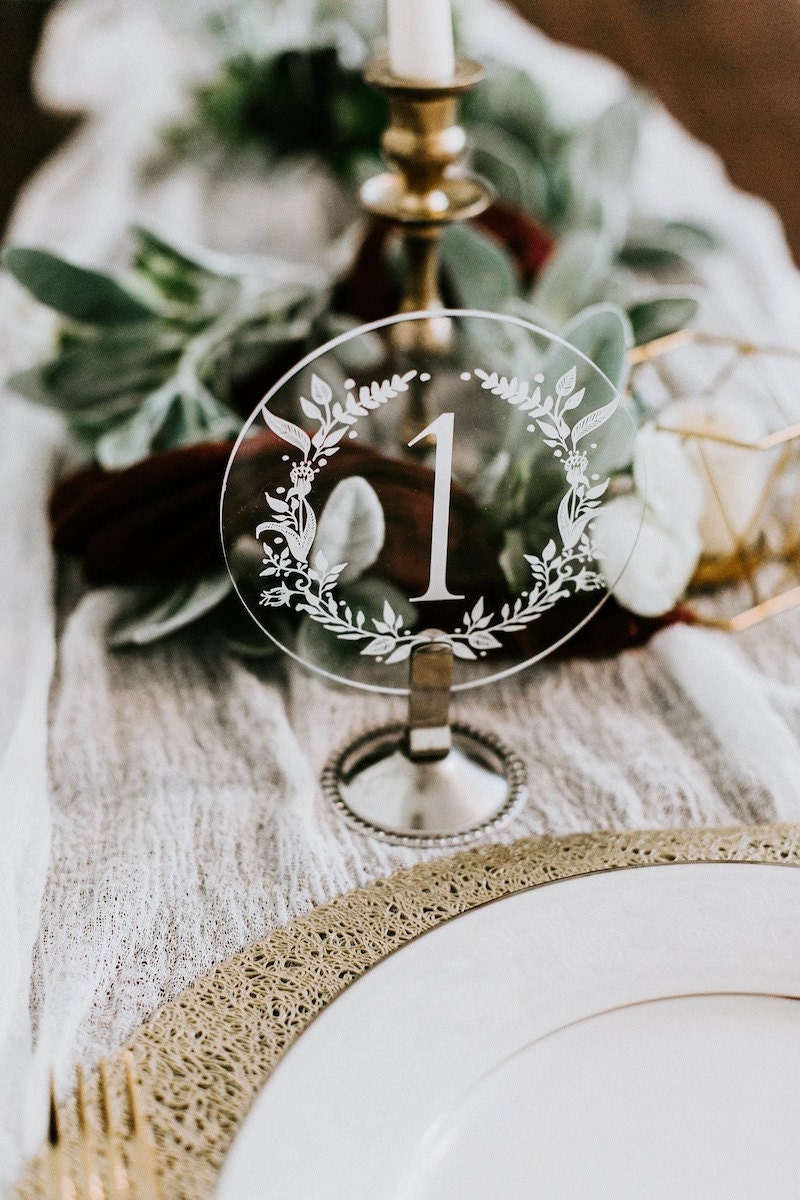 SHOP: Acrylic wedding table number sign from Pink Posies and Pearls, from $7
Match the look of your champagne flutes without the risk of breaking (or breaking the bank!) when you opt for these table number signs. Delicately etched with a tasteful floral wreath, these acrylic beauties elevate the ambiance of the ceremonial feast.
7. An acrylic seating chart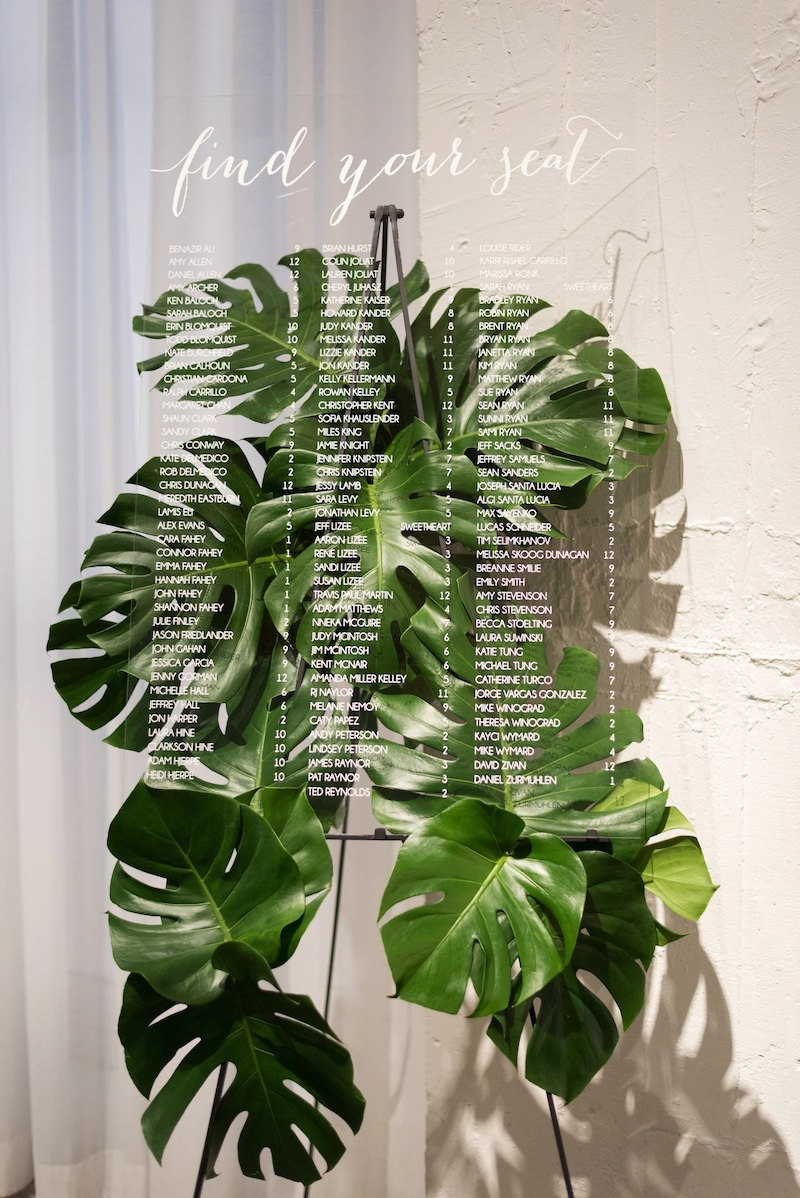 SHOP: Clear seating chart sign from Paper and Pine Co, from $95
The choice is clear: Go with this chic acrylic seating chart to make sure your guests know right where to be at the big event.
Best wooden wedding signs
If you're tying the knot in an idyllic farm field or a romantically renovated barn (or just want to feel like you are), wooden wedding signs are the perfect complement.
8. A love story sign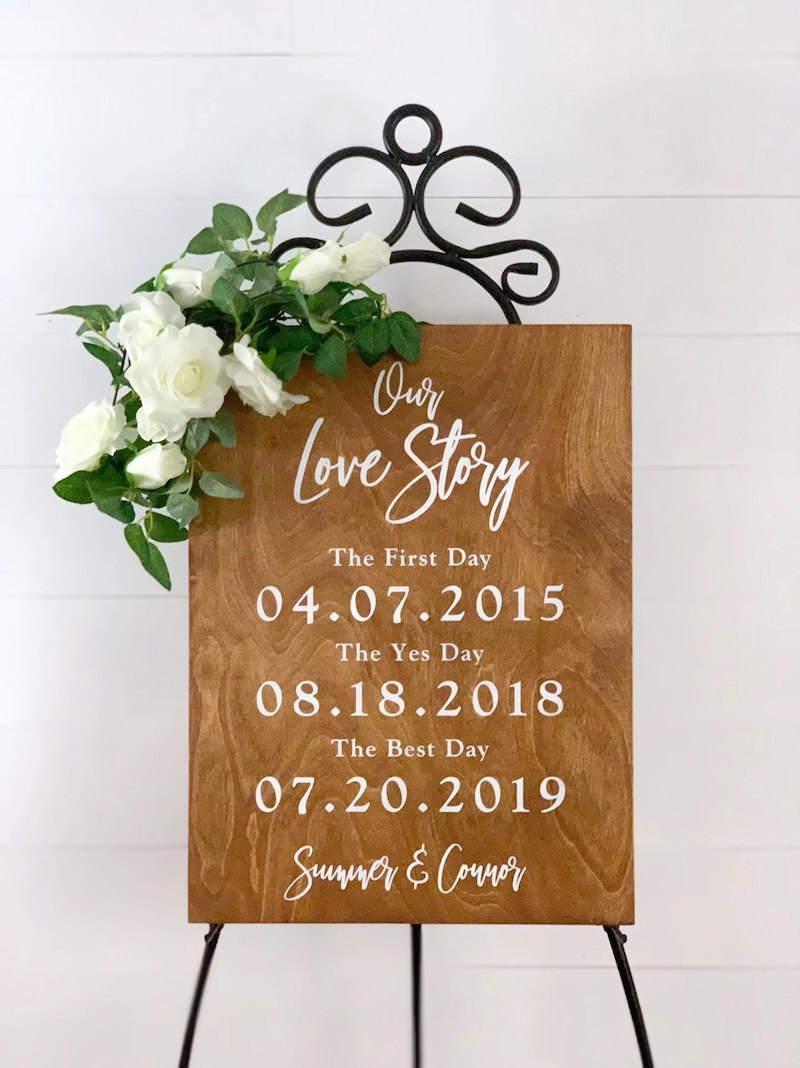 SHOP: Wooden anniversary dates wedding sign from Small Town Timbers, from $47
Welcome your guests with a little background on how you got here. This hyper-personalized sign is crafted out of birch plywood and offered in a variety of wood stains, whether you're looking for a traditional look like walnut or a playful pop of color like aqua or rose.
9. A wedding favor table sign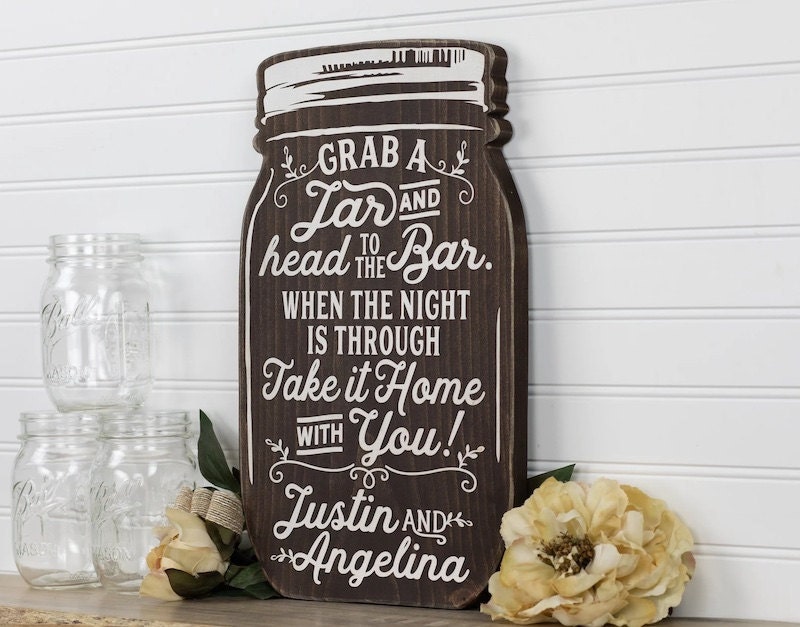 SHOP: Mason jar shaped wedding favor table sign from State Your Love LLC, from $43
Everyone loves a goodie bag! For country, barn, or farmhouse weddings, this wooden sign features a delightful rhyme that makes sure attendees know just where to find whatever fun favors you have in store for them.
10. A sign and guestbook combo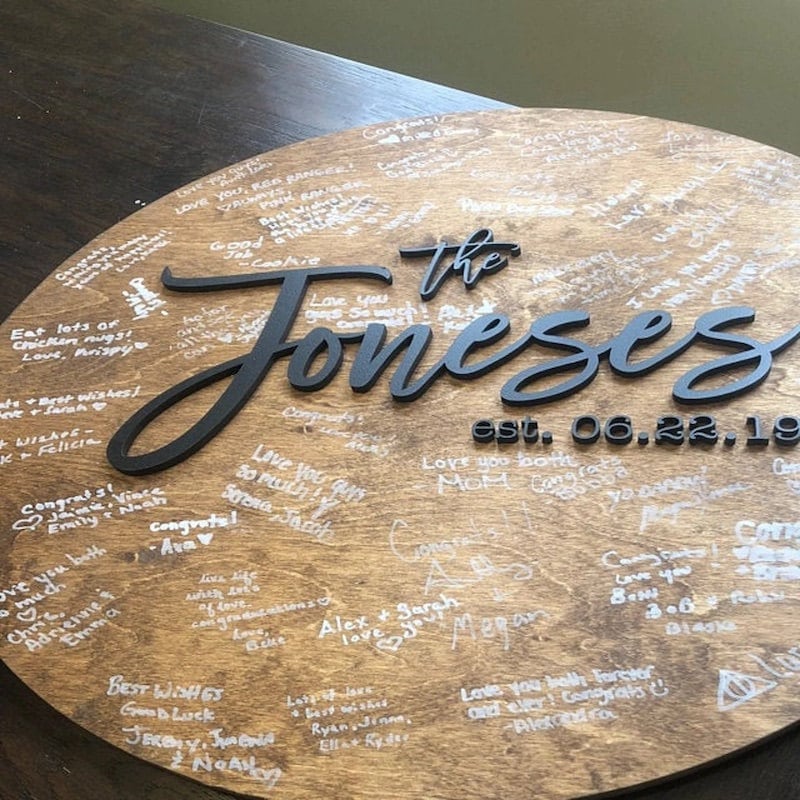 SHOP: Wooden guestbook wedding sign from Spring Meadow Co, from $47
Why not turn your friends' and family's well wishes into a lasting work of art? This unique take on the traditional guestbook allows attendees to write directly on a circular wooden sign featuring your last name and wedding date. No need to dust off the bookshelf to relive memories of your special day when you can hang this treasure in your living room.
11. Bride and groom seat signs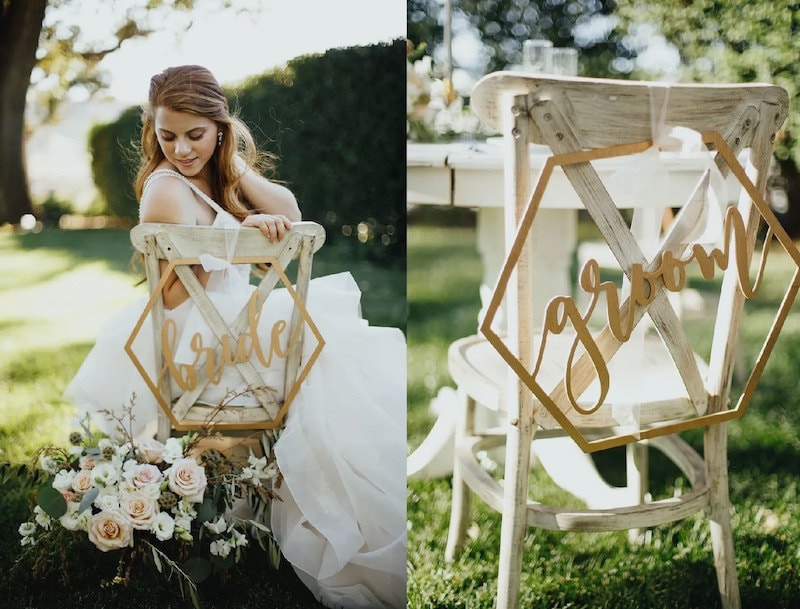 SHOP: Wooden bride and groom seat markers from Repurposed Shine, from $42
The newlyweds deserve the best seat in the house, so mark them loud and clear with these charming signs for your sweetheart table. Several metallic finish options add an extra-special sparkle so there's no doubt that all eyes will be on you.
12. A minimalist welcome sign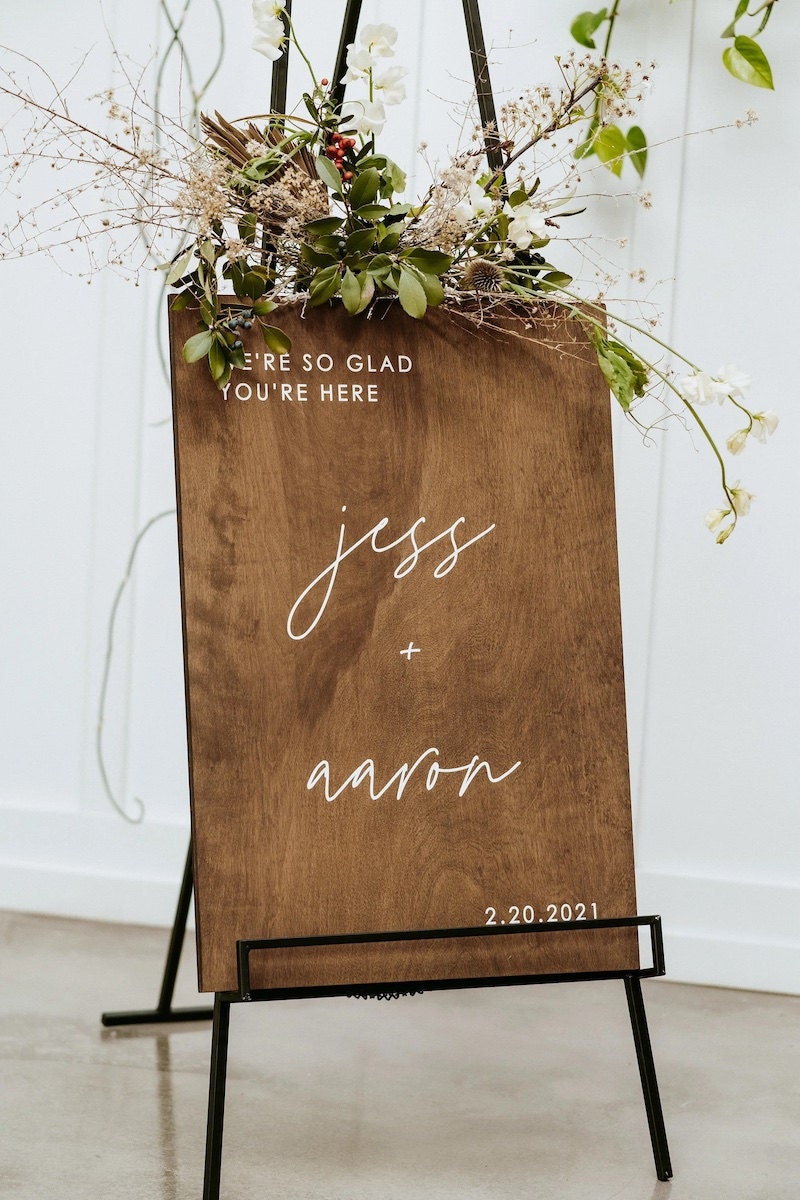 SHOP: Modern wooden welcome sign from Paper and Pine Co, from $42
Greet your loved ones with this gorgeous walnut-stained wooden sign that paints your appreciation for them into words. A simple, modern aesthetic makes this welcome sign as stylish as it is versatile.
13. A wedding backdrop sign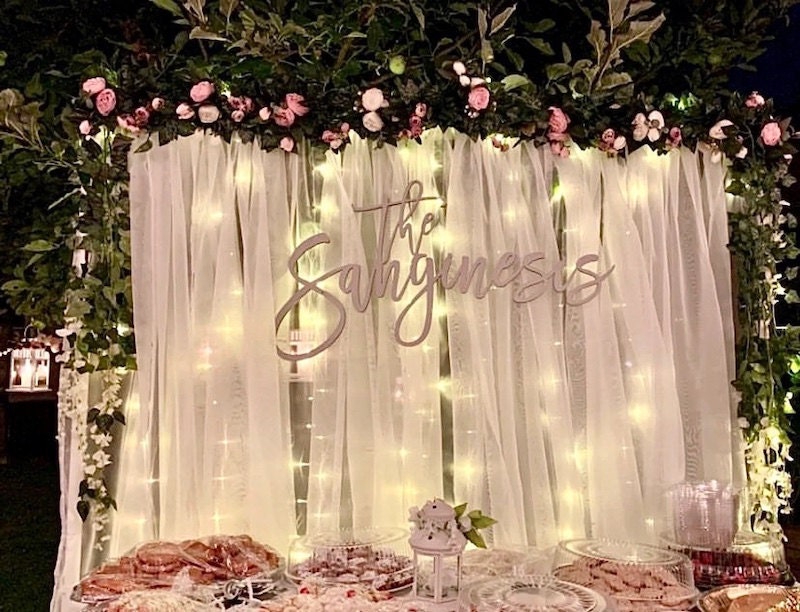 SHOP: Laser cut wooden backdrop sign from Spring Meadow Co, from $95
Whether you hang it at the entrance of the ceremony or show it off at the reception, this photo-op-ready family name sign is a surefire hit. Just take it from the happy customers who are calling it "perfect" and raving about the impressive wood quality.
Best neon wedding signs
Glow big or go home! These dazzling signs have been making their way into the wedding scene for a bit now, and it's easy to see why. They beam with a joyful radiance that perfectly complements the celebratory mood of such a special occasion. Whether you go for a larger-than-life statement piece or something that shines a little softer, their cheery brilliance is sure to turn some heads.
14. A sweet and simple sign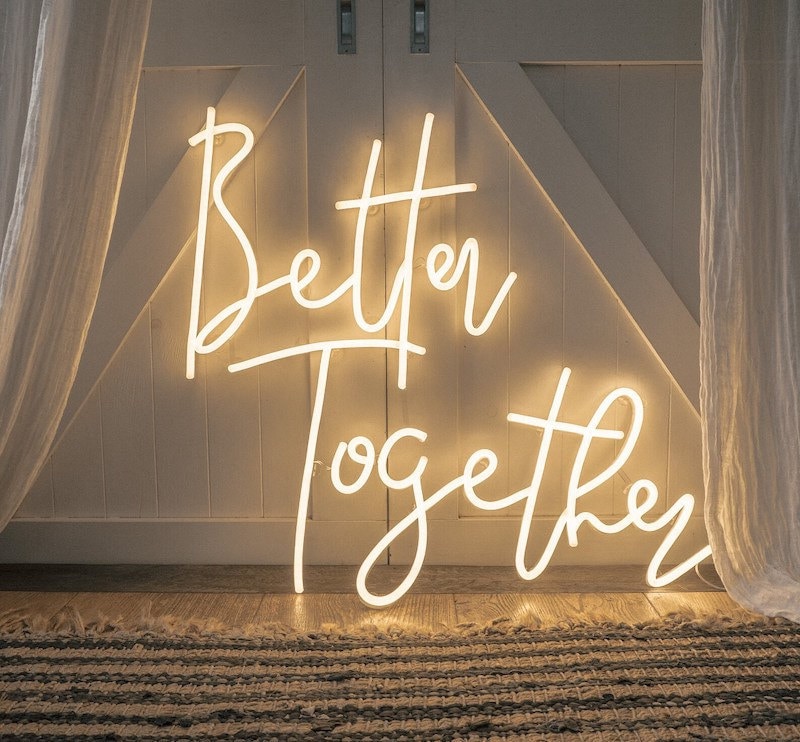 SHOP: Romantic neon wedding sign from Stone and Co Designs, from $566
Sometimes the simplest statement says it all. The warm white light of this sentimental neon sign creates an inviting atmosphere that pairs well with all kinds of wedding themes.
15. A striking statement sign
SHOP: Customizable neon wedding sign from My NEON Customize, from $38 for deposit
For couples with more adventurous taste, go for this fully customizable neon sign option that comes in every color of the rainbow and more.
16. A romantic, heart-shaped sign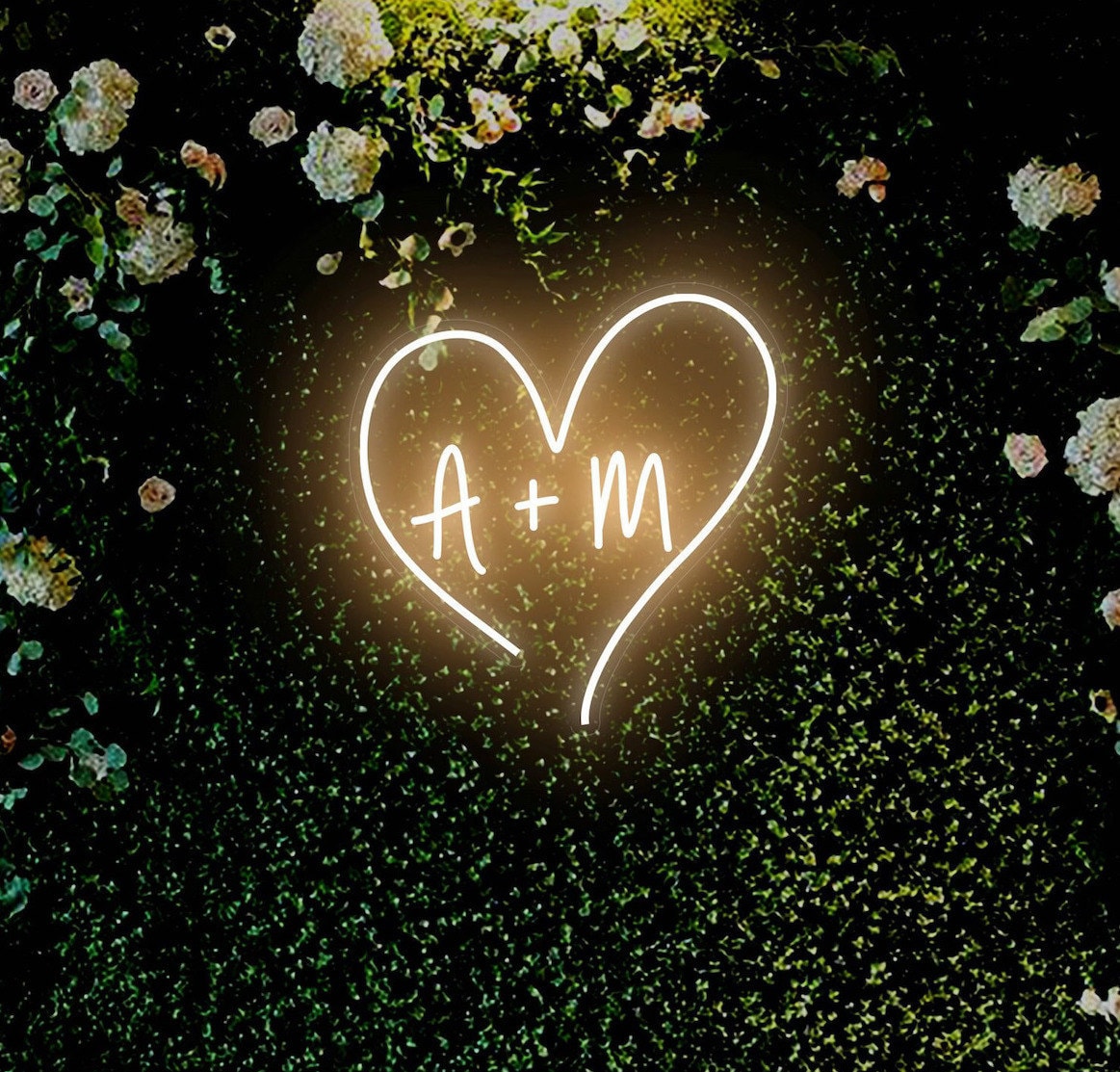 SHOP: Neon wedding sign with initials from SJ Worktop, from $157
If you're looking for something with a tender touch, follow your heart. Customize your illuminated initials by picking from a wide selection of fonts, colors, and even heart shapes to match your celebration's aesthetic.
Best wedding sign templates
When you want to take matters into your own hands, look no further than Etsy for extraordinary signage that's ready to download, print, and hang in minutes. From modern and minimal to floral and organic, these templates can help you save time and money—or serve as the ultimate lifesaver if you encounter any last-minute shifts or changes to your plans.
17. A boho table number sign template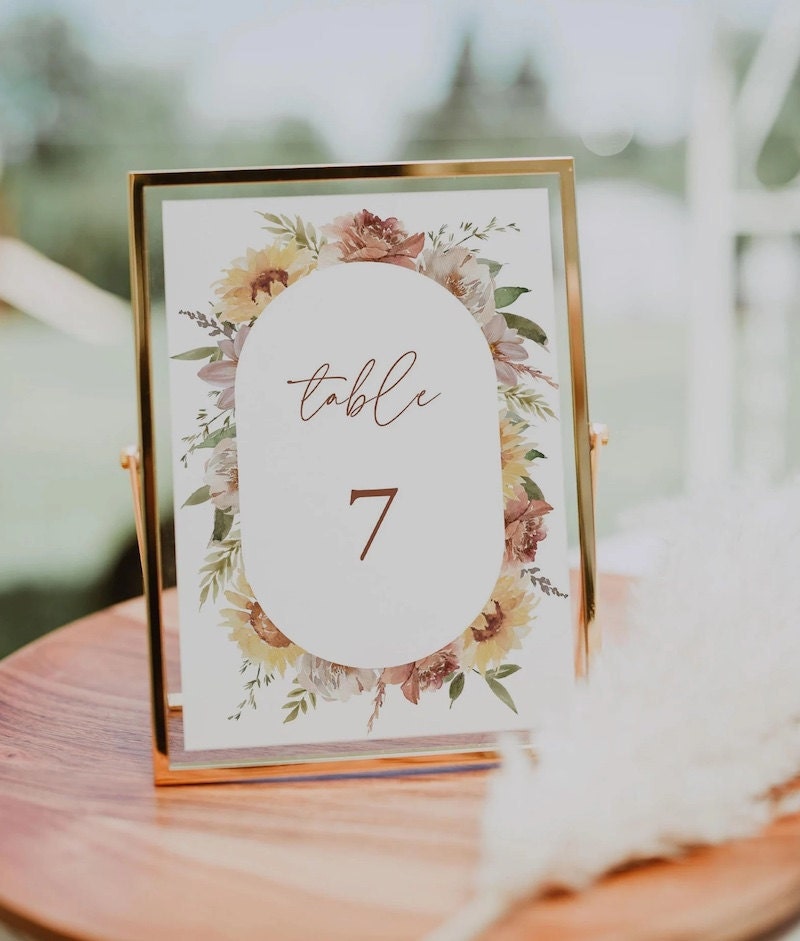 SHOP: Downloadable table number wedding sign from Alyssa Napier Design, $5
You can't go wrong with floral motifs for a wedding, so brighten up your guests' tables with some botanical signage. A lush wreath of soft-hued sunflowers, roses, and greenery offers a stunning frame for this table number sign template.
18. A sophisticated seating chart template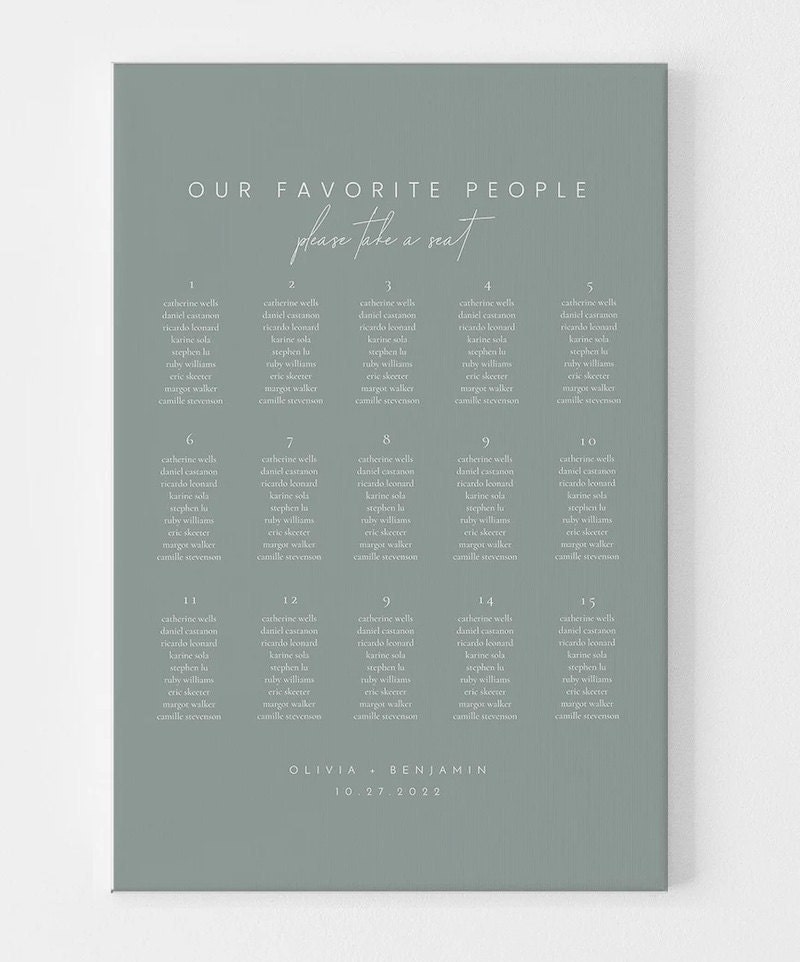 SHOP: Printable wedding seating chart template from Splendid Moment, $13
Buyers love this elegant, minimalist seating chart template for both its beauty and ease of use. They're calling the process "super easy" and say they "would 100% recommend" the finished product.
19. A modern order of events sign template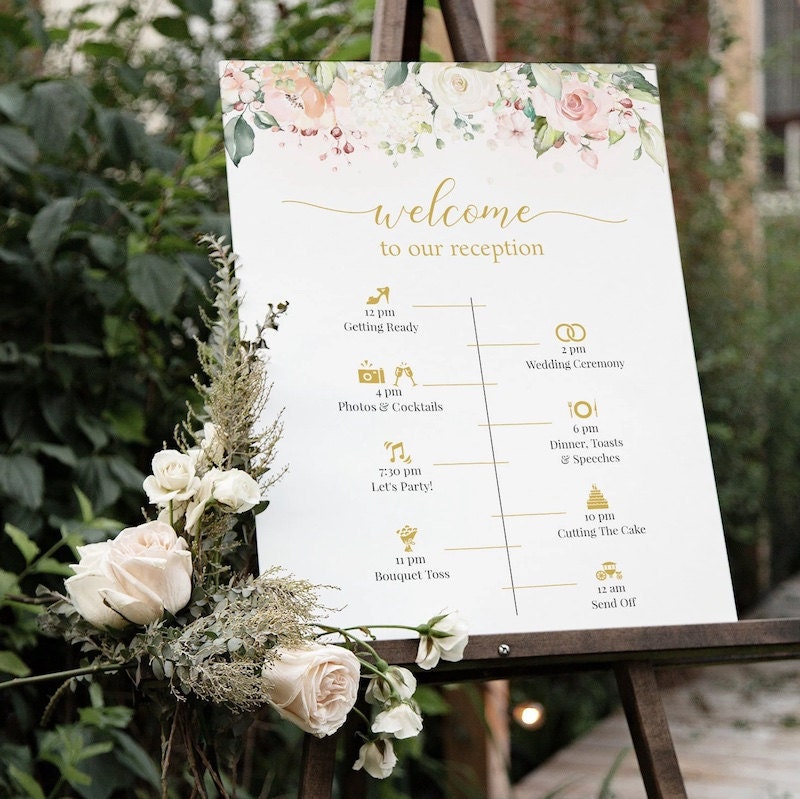 SHOP: Order of events wedding sign template from Your Printables Shop, $8
Keep everyone on schedule in style with this order of events sign template. A luxe hand-painted floral arrangement featuring delicate eucalyptus leaves and golden accents make this design feel fresh and fancy.
How do we pick the best wedding sign ideas?
As Etsy Journal editors and contributors research and curate shopping guides for some of the best-loved items on Etsy, we thoughtfully consider the creativity, customization, and craftsmanship that go into each product. We also consider buyer reviews, item ratings, and customer service, and tap the expertise of our in-house merchandising and trends experts to uncover high-quality finds for every budget. You can find more information about each item in the seller's listing details and can take a look at their individual shop policies and reviews, too.