Etsy's in-house trend expert shares five fresh wedding trends for creative celebrations.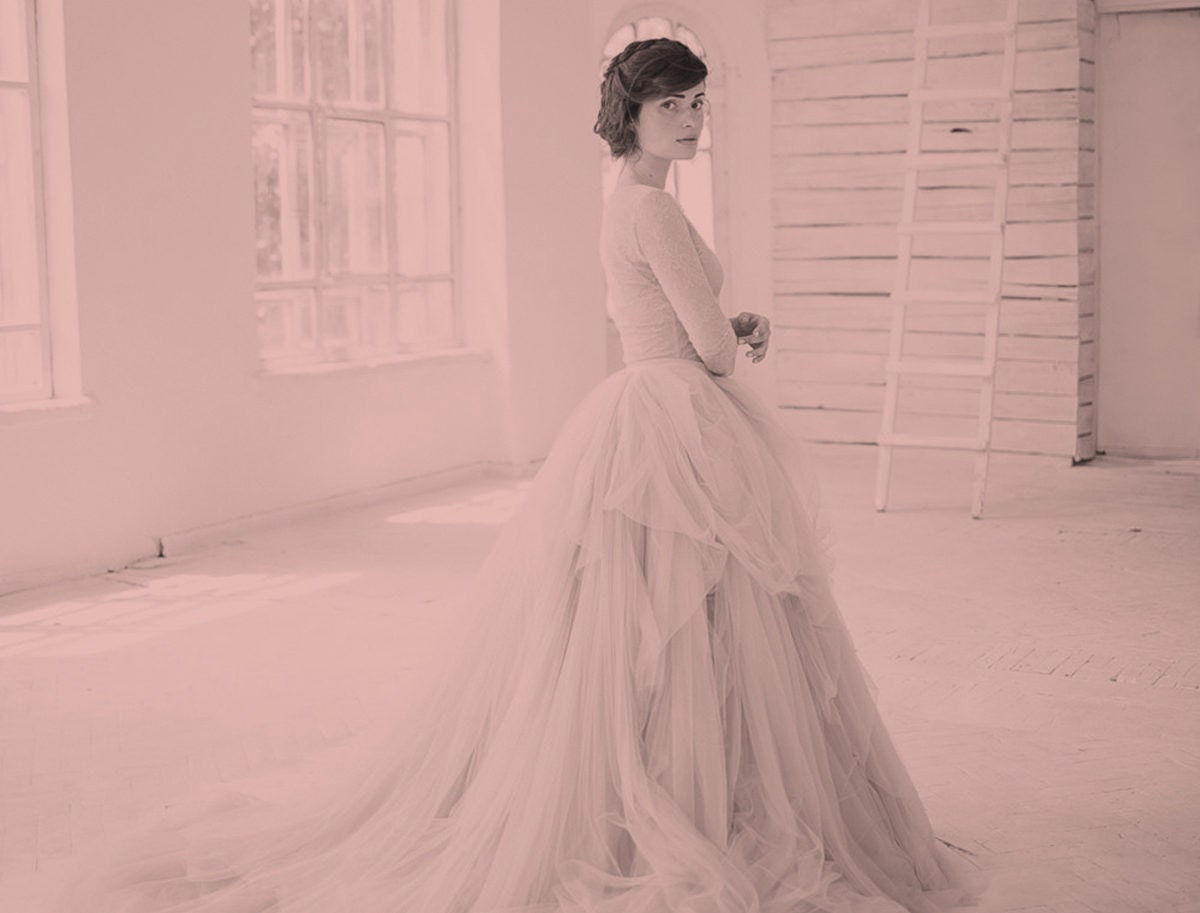 The monthly Etsy Trend Guide is a compilation of fresh trends our experts are noticing across Etsy and the industry as a whole: what sellers are creating, what shoppers are loving, and what's hot right now in the wider market. We gathered data, crunched the numbers, and tapped a few of our favorite tastemakers for insights. The result? This curated Etsy shopping guide to help you discover the next big things.
Planning a wedding is the ultimate expression of your personal style, but creating the vision for your big day is easier said than done: Pinterest is a bridal black hole, people keep asking what your colors are, and what if you don't like Mason jars? (Cue matrimonial meltdown.) That's where I come in. As Etsy's resident trend expert, I'm always on the hunt for
up-and-coming designers and emerging trends
—and with more than 1.7 million creative sellers* and millions of unique items, Etsy is where many of today's most interesting and unexpected products get their start. Since 
wedding season
 is just around the corner, I'm here to share the top five creative wedding ideas you'll be seeing more of this year (and one big prediction for 2018). From gemstone engagement rings to gifting lounges and matte black finishes, these are the unexpected, of-the-moment details that reflect what Etsy artists are making and shoppers are seeking. Best of all, Etsy's approach to trends isn't about blindly following whatever's popular—it's about taking fresh ideas and making them your own. So if you don't see the just-right boutonniere or
unicorn favors
 you've dreamed of, have no fear: There's someone on Etsy who shares your creative vision and is ready to make it a reality. Now, on to the trend guide.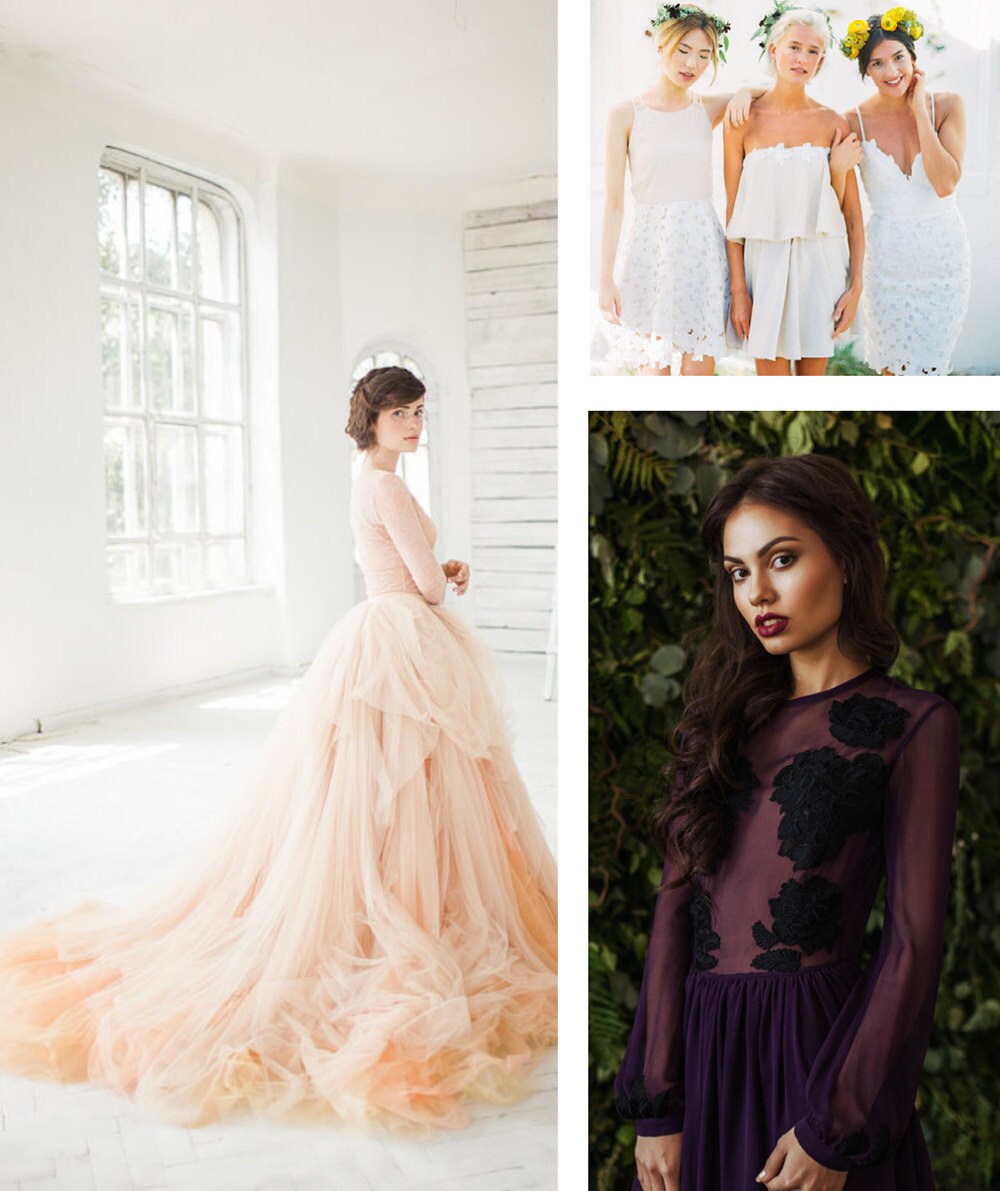 Clockwise from top left: Peony tulle wedding skirt by Mywony Bridal, $1,250; lightweight poppy dress by Truvelle, $212; dark purple chiffon gown by Baby-doll Shop, $285
Color swapping
Now that every shade of ivory, ecru, champagne, and cream is fair game for gowns (and even blush and subtle metallics have become common options for bridal attire), what's an envelope-pushing bride to do? Leave behind the standard pale palette for something a lot more vibrant and unexpected. Ever popular on Etsy, "wedding dresses" was the second most searched wedding term so far in 2017, and more and more, design-minded brides are opting to grab the spotlight in colorful gowns—and even patterned pieces—and dressing their bridesmaids in white instead. Sound counterintuitive? It's not. The uniform backdrop of solid-white bridesmaids dresses ensures that nothing will distract from the bride's big statement—
and
keeps the color palette from getting too complicated. (Fun fact: There's even historical precedent for all-white wedding-party attire. In the 19th century, bridesmaids wore white to weddings to "protect" the bride from evil spirits.) It's not just super-edgy brides who are embracing the shake-up. Today,
11% of brides prioritize finding a gown that's "unique,"
 and colorful gowns are the perfect way to stand out from the crowd. With options ranging from hand-painted gowns to dip-dyed bridal skirts, there's no better source than Etsy for one-of-a-kind wedding-day designs.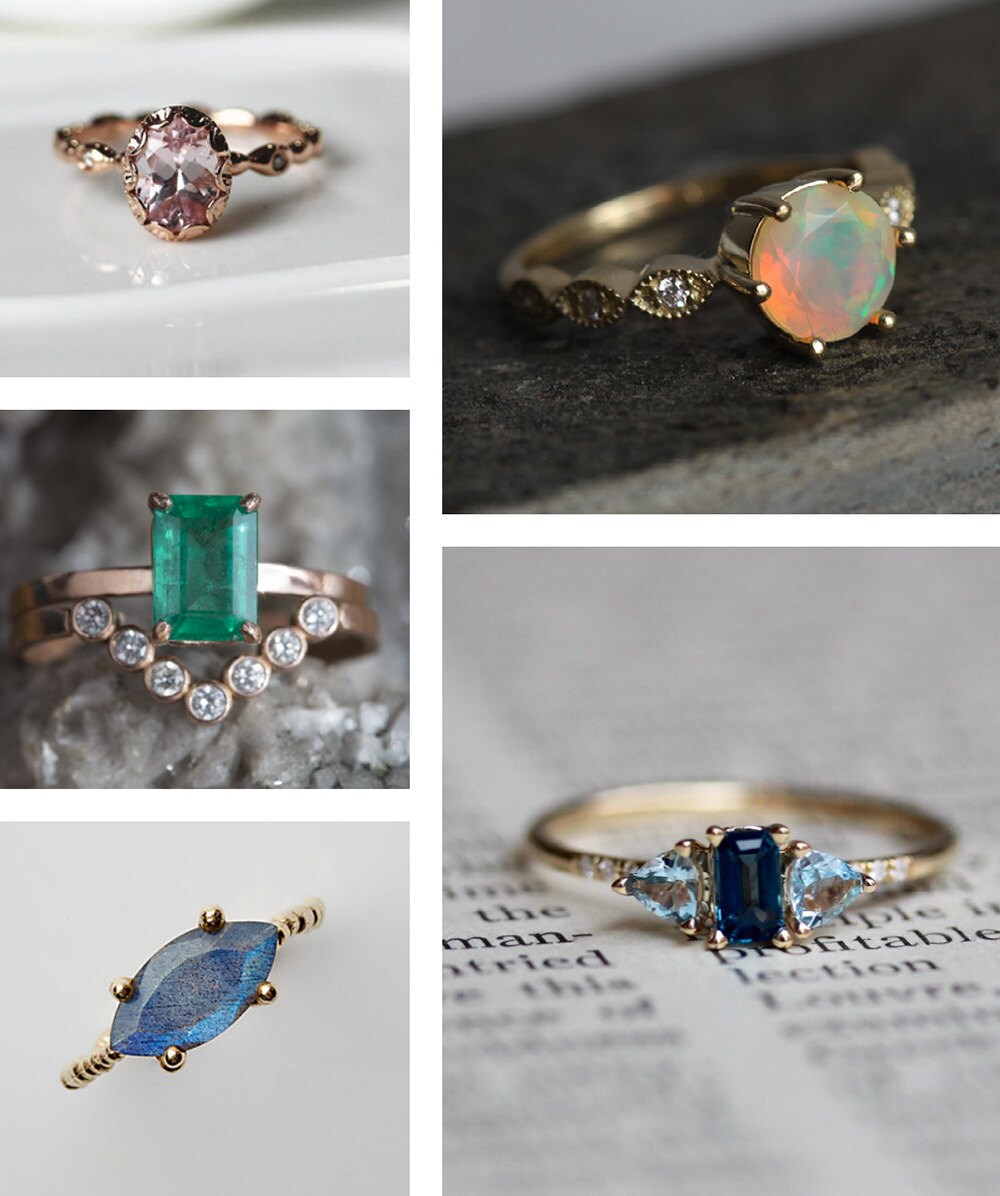 Clockwise from top left: Rose-gold morganite ring by By Laris, $385; opal engagement ring by Capucinne, $780; London blue topaz and aquamarine ring by Liesel Love, $630; marquise blue labradorite ring by Shiri Avda, $509; emerald engagement ring by Lex Luxe, $3,595
Gemstone engagement rings
With today's young couples investing more in life experiences (travel, home ownership) and less in over-the-top ceremonies and budget-busting rings, the days of the boulder-size diamond as status symbol are fading fast. On Etsy, searches for
"alternative engagement rings"
have hit an all-time high, as couples increasingly seek out hued gemstones over something more traditional. From iridescent opals to bold emeralds, colorful gemstones allow couples to fully express their personal style—while also saving money. (The national average cost of a typical engagement ring is estimated to be
more than $6,000
.) The settings may be rose gold, yellow gold, platinum, or sterling, with some metals upcycled or recycled. And while many gemstone engagement rings skew modern, that's not the only aesthetic on offer.
Antique and vintage-inspired styles
tap into an old-school romantic vibe and make the trend accessible for traditional types. After all: The diamond engagement ring has only been the standard since the 1930s; before World War II,
90% of proposals happened without them
. Consider this trend a return to form.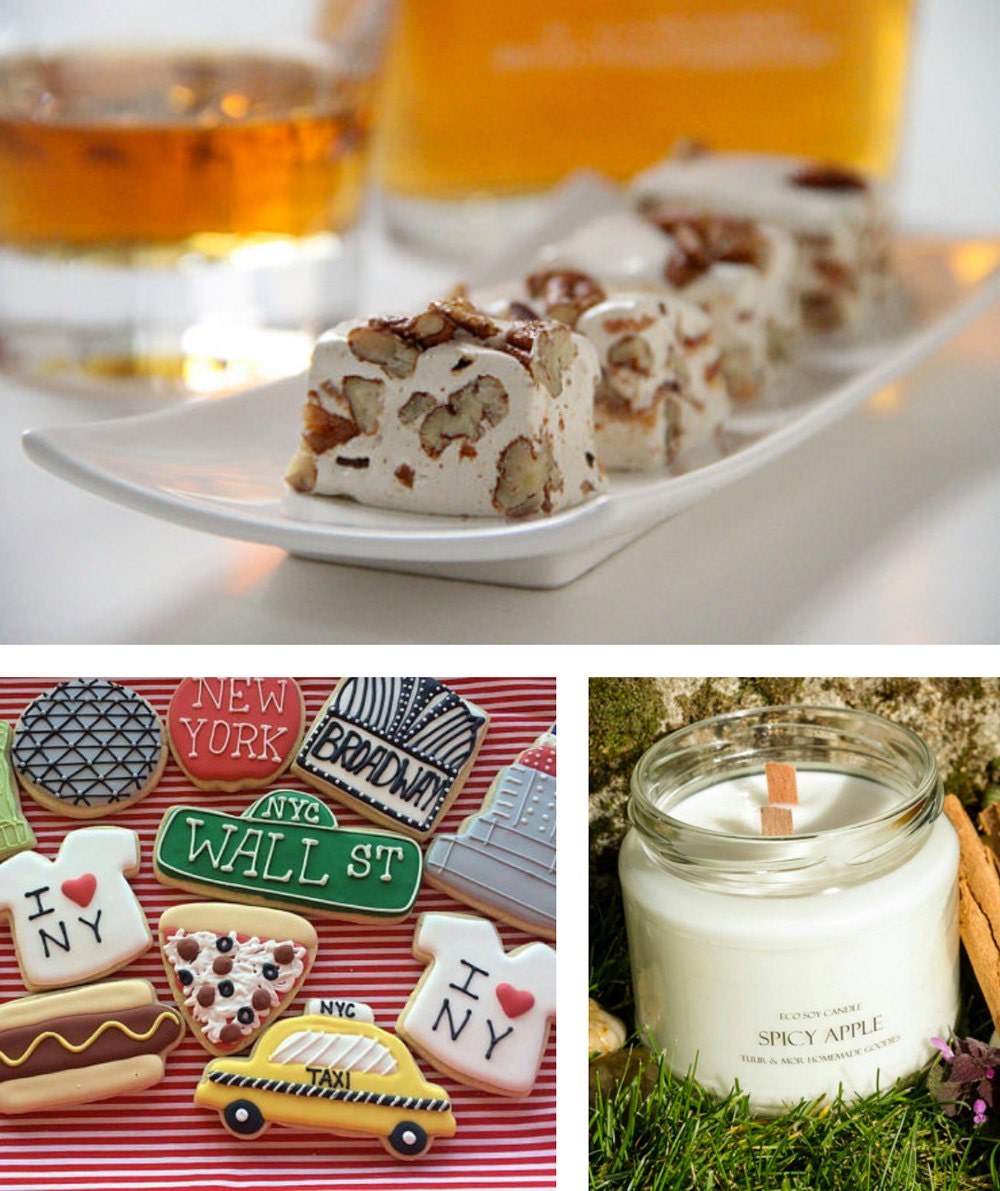 Clockwise from top: Maple candied bacon and ancho chili spiced pecan nougat by Sweetniks, $28; spicy apple eco soy candle by Tuur & Mor, $18; NYC cookies by Simply Sweet, $64
Gifting lounges
Much as they've become a staple of 21st-century weddings, stuffing and distributing dozens of welcome bags in the middle of pre-wedding mayhem is exactly nobody's idea of a good time (yes, even your bridesmaids). Enter:
gifting lounges
, which preserve the fun part of the process—picking out the just-right mix of sentimental, symbolic, and silly favors—and ditch the assembly-line drudgery. Here's how it works: Upon arrival at the couple's hotel, a welcome party, or even at the reception itself, guests can grab a personalized tote or other container and help themselves to a curated spread of memorable goodies. (Think custom-designed cookies referencing the couple's hometown, treats like maple syrup or fresh apples that are local to the area, and
personalized items that tie in with the couple's love story
.) It's less effort, more fun, and it also brings a higher level of personalization to the guest experience—which aligns with the shift toward inviting fewer guests to the celebration, but spending more on them. From 2009 to 2015, the average number of wedding guests decreased nearly 10 percent, while the per-person wedding budget rose from $194 to $237. It's all about offering a more elevated and bespoke experience, and when everyone's walking away with what they want—and only what they want—that's the definition of money well spent.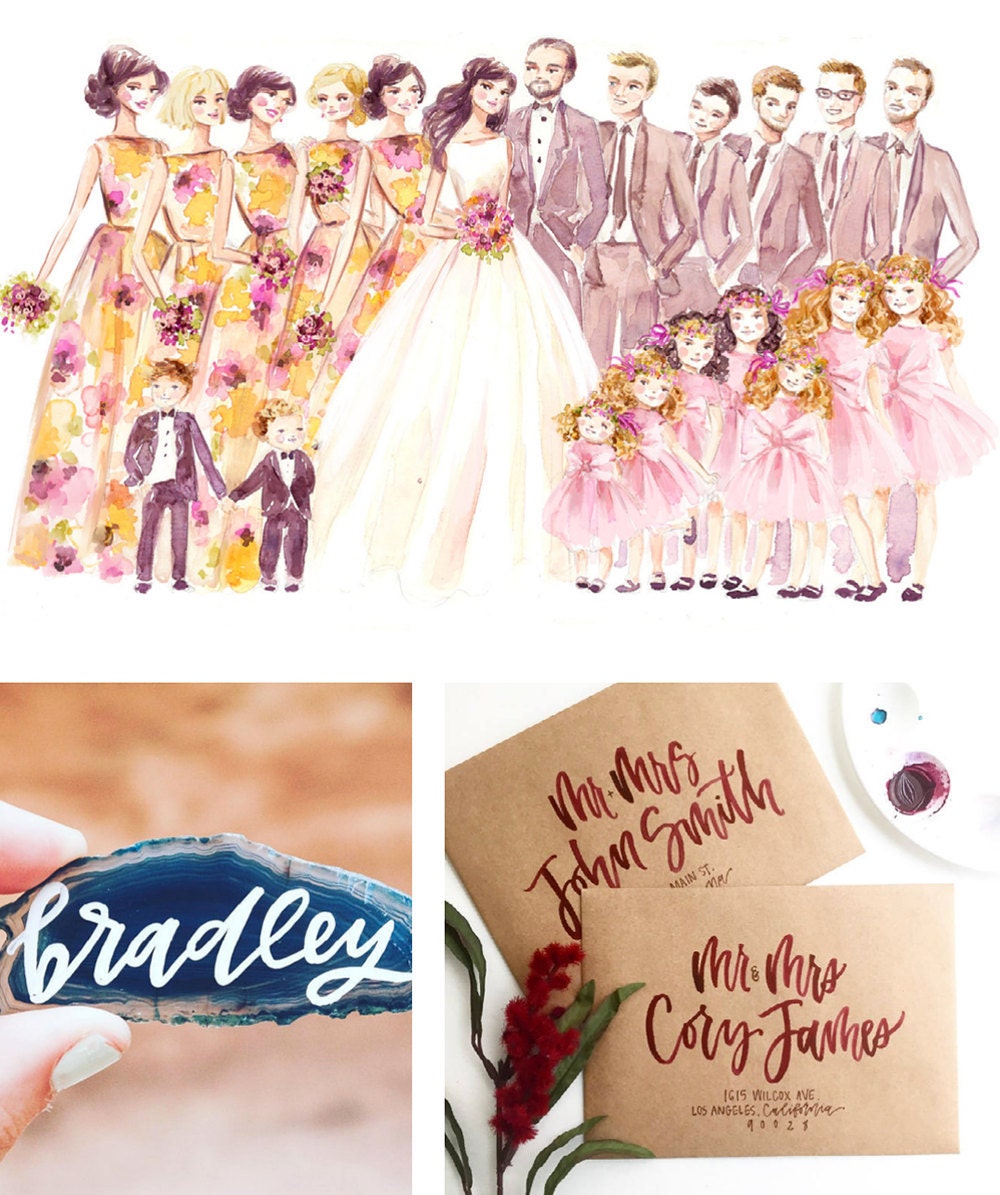 Clockwise from top: Custom wedding portrait by Reani, $350; wedding envelope calligraphy by T Jones Calligraphy, $1; agate place cards by Wander Love Press Co., $5
Going beyond the photo booth
A memento that's made before your very eyes is one of life's earliest delights—whether machine-stamped souvenir pennies or balloon-animal hats twisted up in real time. For years, customized photo booths stocked with themed accessories and props have stood in as the wedding-day equivalent—the tangible takeaway that brings you back to the scene in an instant. These days, though, couples are pushing the
personalized-souvenir idea
one very big step further by arranging for illustrators, calligraphers, and artists to create original works for guests in person, on-site. The demand for customized wedding guest entertainment, from hand-drawn monograms to freehand portrait sketches,
has increased 30 percent
 over the last eight years, and providing a memorable experience and a meaningful take-home gift has become more of a priority for couples on their wedding day. On Etsy, gifts are one of the fastest-growing wedding categories, with nearly 20% of wedding-related listings now falling into the "Gifts and Mementos" subcategory (2015-16). With sellers around the globe, Etsy is the perfect place to connect with a local artist to create those unique, day-of touches.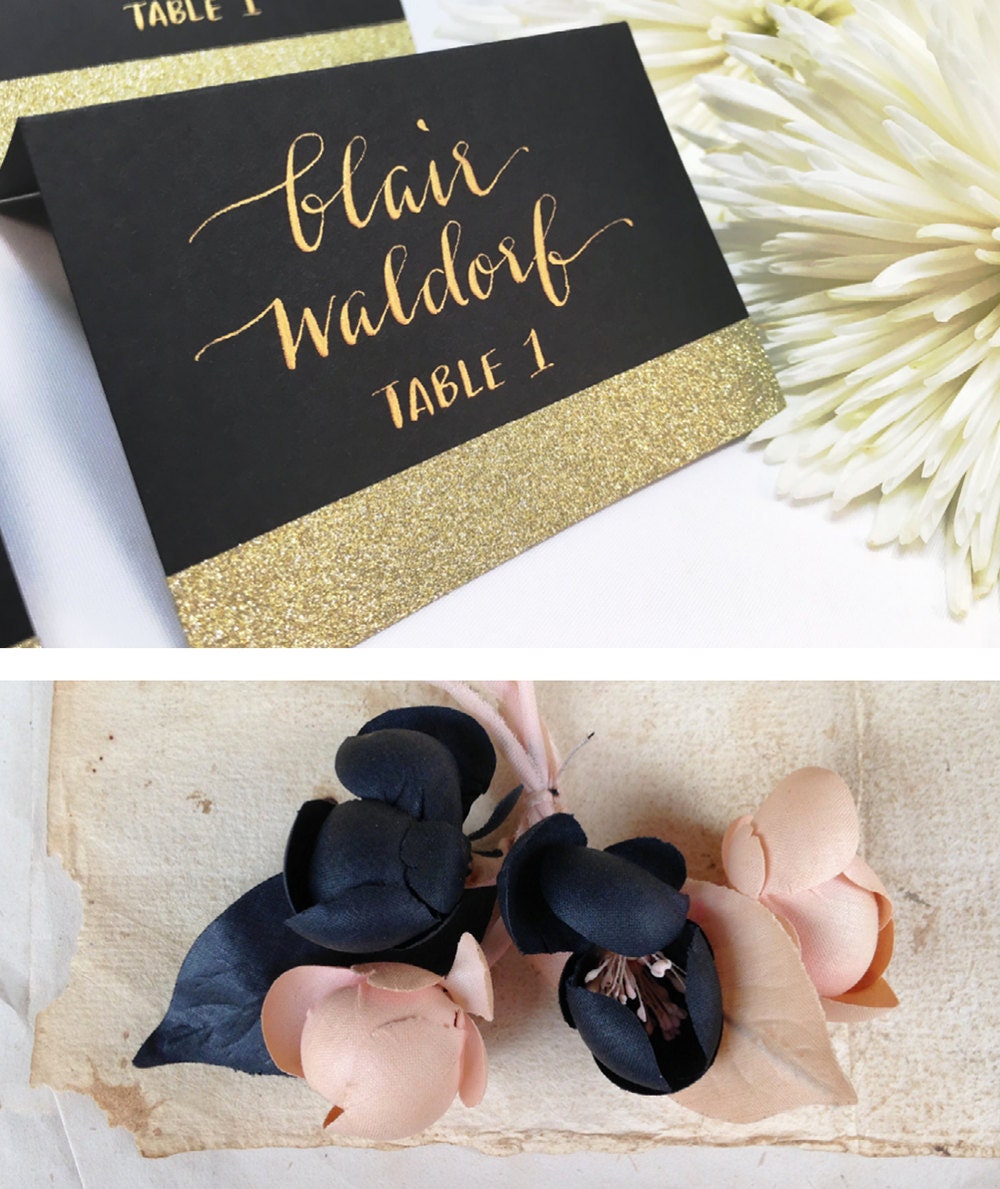 Top to bottom: Wedding place cards by Lily and Rose Studio, $1.65; vintage wedding hat boutonniere by Exquisite Threads, $34.42
Back to (matte) black
The
next big color trend
for weddings isn't just a color—it's a finish, too. In a softer, muted
matte hue
, classic black gets a modern makeover and moves from background standby to a signature shade in its own right. Matte black's rise may have started with the chalkboard craze, but it has rapidly outgrown its rustic roots to become an elegant, ultra-chic element in a wide array of wedding palettes and styles. Its versatility is key: Matte black can be used as a base for pops of lush color in a floral arrangement or as a counterpoint to a blush pink bloom (another trending hue) in a boutonniere. Perhaps its most compelling pairing comes from a marriage of matte black and super-shiny metallics—especially gold or copper. On place cards, invitations, and other paper goods, the contrast of foil type on matte stock amps up the drama even more.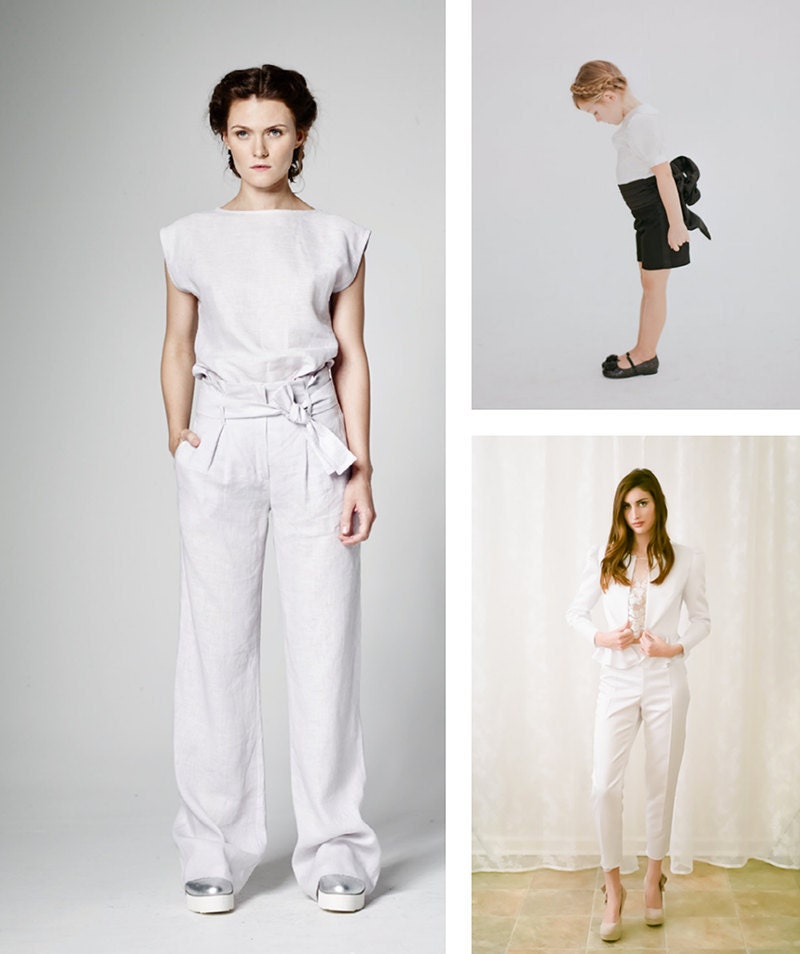 Clockwise from left: Linen wide-leg pants by Pixie Won't Play, $54; Coco flower girl tux by Doloris Petunia, $2,500; satin pantsuit by Lovey by Isha, $1,600
2018 Prediction: Bridesmaids' suits and jumpers
Whether you credit
Solange's rule-busting 2014 wedding wardrobe
(the jumpsuits! the necklines! the capes!) or the rise of Pantsuit Nation, we're seeing more and more brides forego wedding gowns now. I predict 2018 will officially be the year of the wedding dress alternative—and not just for the bride herself. The whole wedding party is getting in on it. Working with shapes from the tuxedo-inspired to the romper-ish, everyone from the bride to the flower girl can skip the skirt and still stand out. Like many of this year's trends, it's all about personal expression, both for the bride and her party. Because while the popularity of bridal parties has not declined—in fact, 99 percent of brides still want a traditional bridal party—
two thirds of brides are choosing a personalized approach to bridal party attire
, asking their bridesmaids to wear whatever fit or silhouette they prefer, as long as it's in line with her key color themes. She wants her girl squad to feel their most confident, comfortable, and beautiful on her big day.
*
As of December 31, 2016