If you're in the market for pink glassware brimming with charm, look no further than Depression glass. Learn how to identify and find these pretty vintage dishes.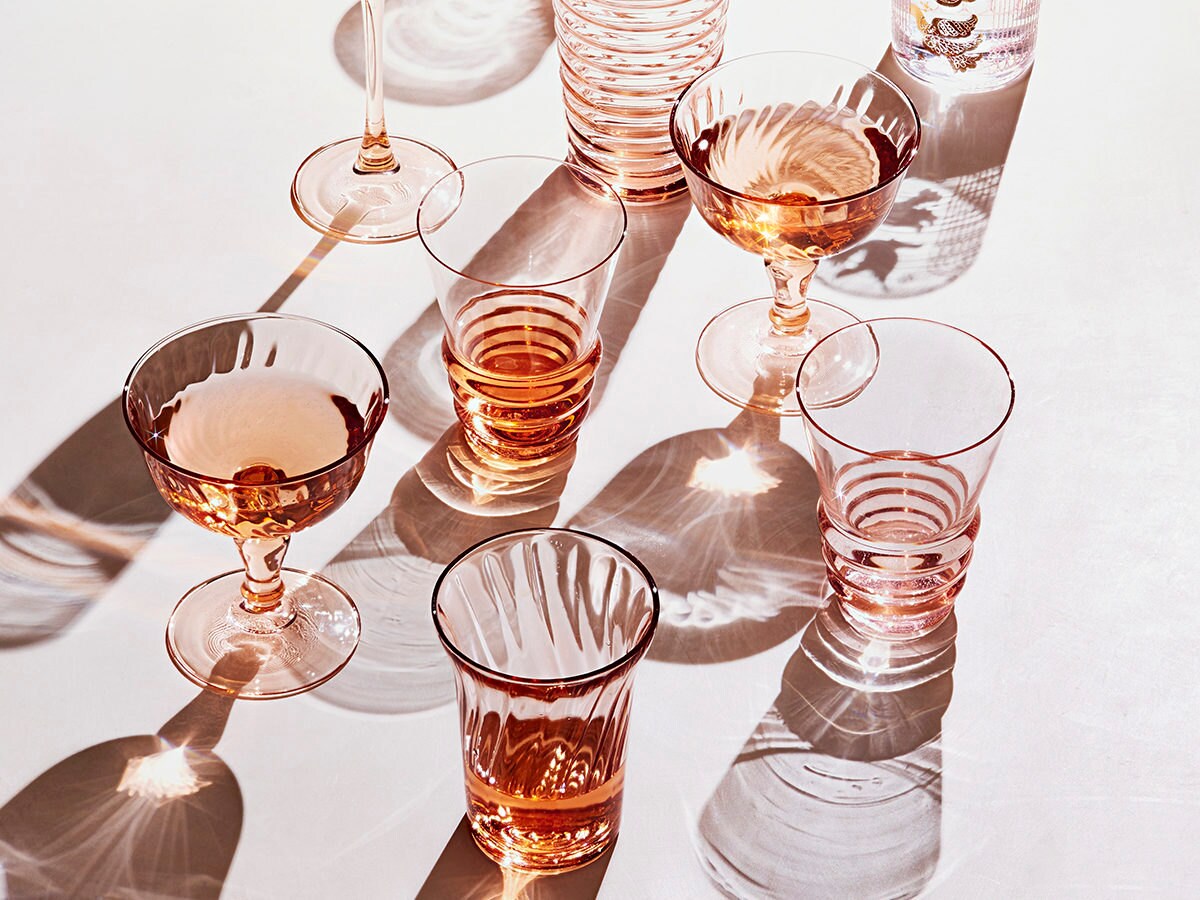 Before Millennial pink, there was Depression pink. This rosy hue was the most popular color of the newfangled affordable glassware produced during the Great Depression. With tons of charming shades and patterns, these vintage glasses, plates, and bowls then, as now, add a pretty pop of color to any table. If you're in the market for dainty blush glassware brimming with old-school, romantic charm, look no further than Depression glass.
What is Depression glass?
Made in the United States in the 1920s and '30s, Depression glass was a mass-produced, low-cost style of molded glassware. Pressed by machines in staggering quantities, Depression glass provided an affordable alternative to the more expensive hand-cut glass that preceded it, allowing cost-conscious consumers to add some much-needed cheer to their homes (without breaking the bank). While Depression glass was available in most colors of the rainbow, one of the most popular colors was pink.
We sat down with Etsy seller, Antiques Roadshow appraiser, and all-around vintage expert Jeni Sandberg for a crash course in sourcing and collecting. Read on for Jeni's top four beginner-friendly tips.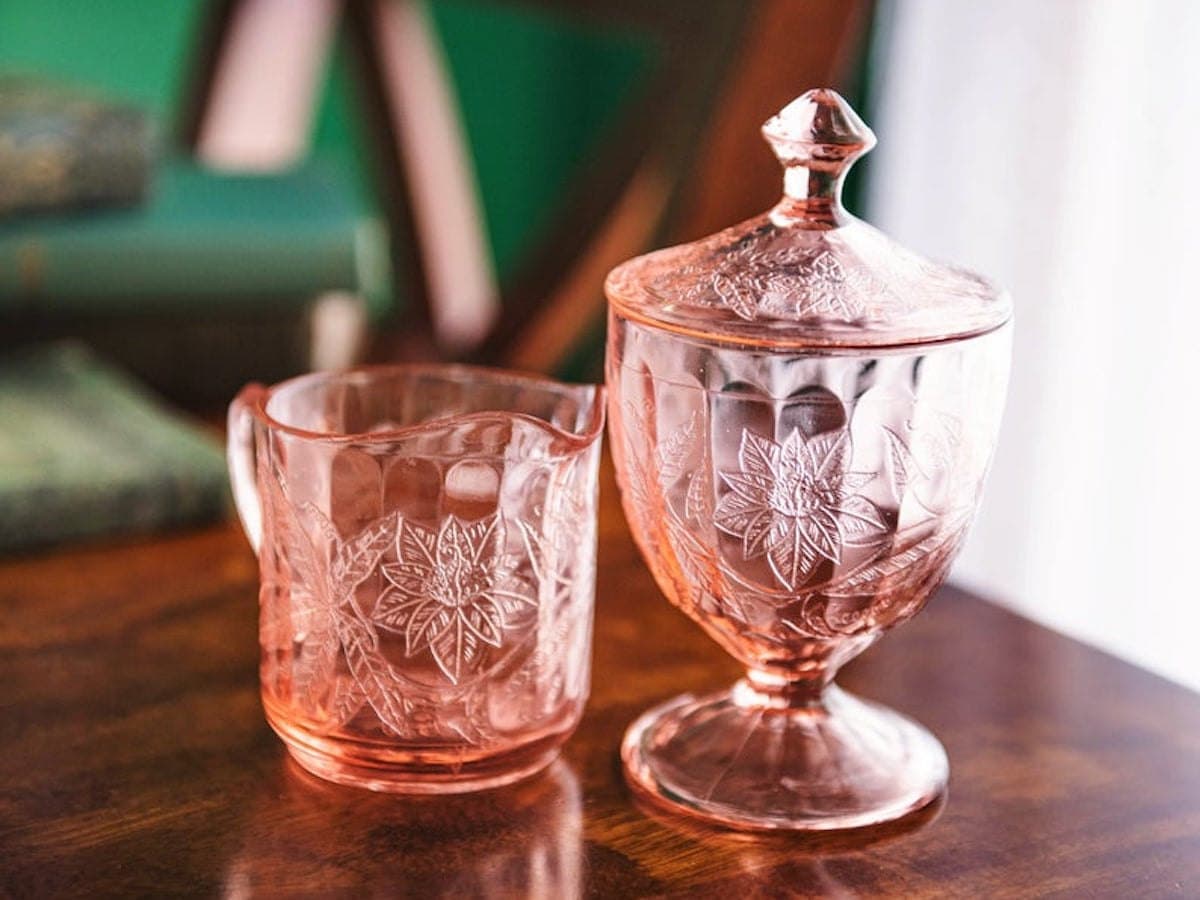 Tip 1: Know your Depression glass history
With more than 20 manufacturers across the US producing nearly 100 distinct patterns, Depression glass pieces run the gamut, but a few identifying characteristics shine through across the category. "Depression glass tends to be very thin," says Jeni. "And there are lots of typical Depression-era patterns: the wheel-cut decoration was very typical of Depression—where you get these little wheel-cut flowers etched into the glass—and you also get very lacy patterns."
In the '70s, Depression glass enjoyed a resurgence in popularity with collectors, prompting companies to begin churning out copies. When it comes to telling the newer pink stuff from the older pink stuff, color and feel can provide helpful clues. "That warm, blush-champagne color was a big deal in the '30s," says Jeni. "If you think about the clothes of that era—all those silk bias-cut dresses and ruffles—everything was soft and feminine. Later pieces from the '70s will veer more towards a purpley-pink." The feel of a piece of glass can also be telling: reproductions tend to be thicker and heavier, while glass from the '20s and '30s is usually thinner and softer, and more susceptible to chipping.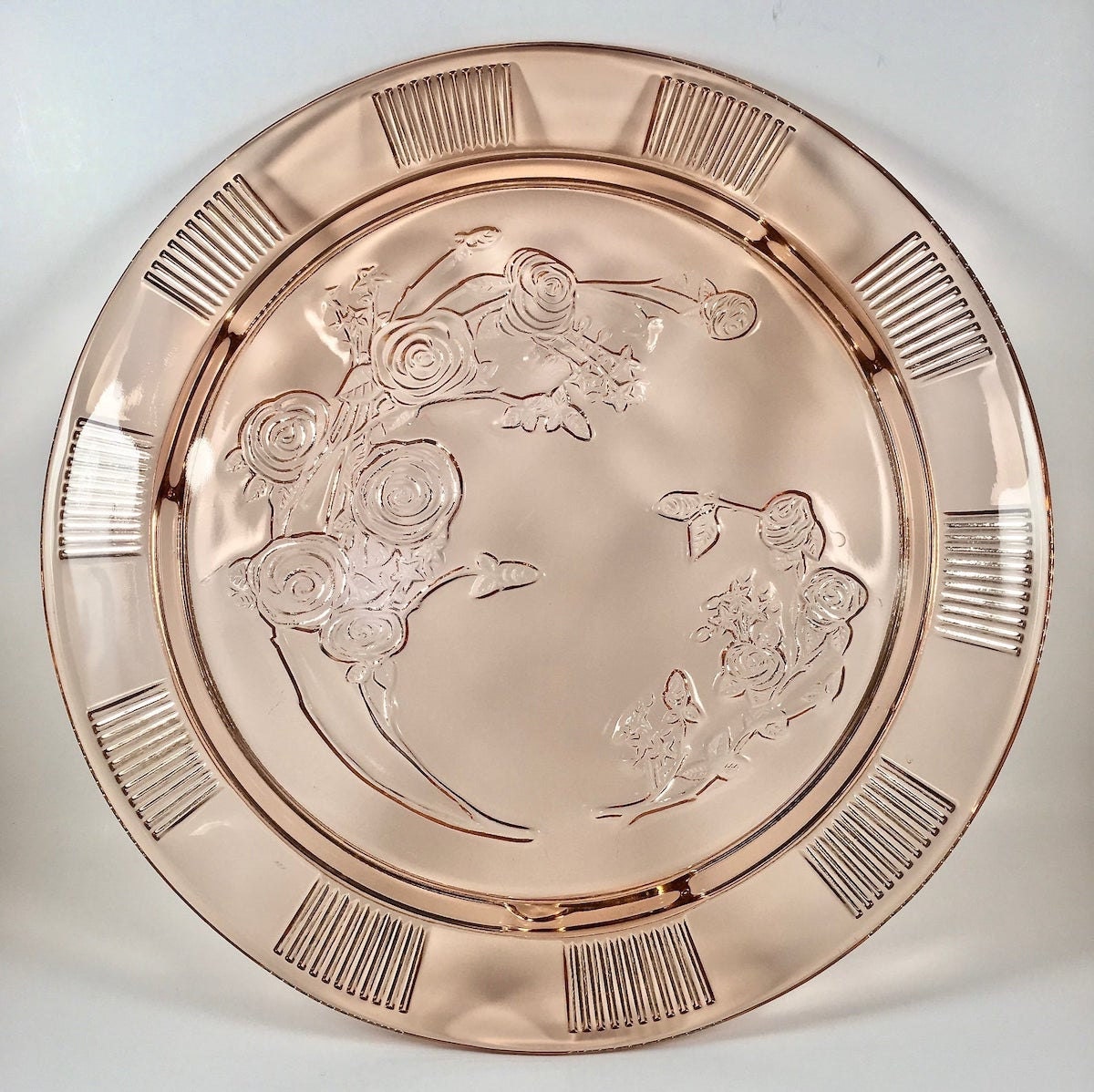 Tip 2: Check for quality
No matter what kind of glassware you're shopping for, condition should be your guide for purchasing. Because many vintage items were used daily in the homes of their original owners, wear and tear is to be expected. The degree of damage can vary drastically, though, so it's a good idea to give everything a careful inspection before taking it home. Run your finger around the edges of a piece to feel for chips, and hold each piece up to the light to check for cracks. If you're purchasing online, be sure to inspect the photos carefully, and don't be afraid to request additional shots if something seems suspect.
Keep in mind that some kinds of wear may be more acceptable than others. "A cake plate is going to have utensil marks," explains Jeni, "but if I have a wine glass that has weird bubbles or a scratch or a chip, I'm not going to be as okay with that." While some pieces may just need a good scrub, other damage can't be undone. Permanently cloudy glass (also called "sick" glass) is best avoided, along with anything chipped. "Cracks are a serious problem," warns Jeni—when in doubt, it's best to steer clear.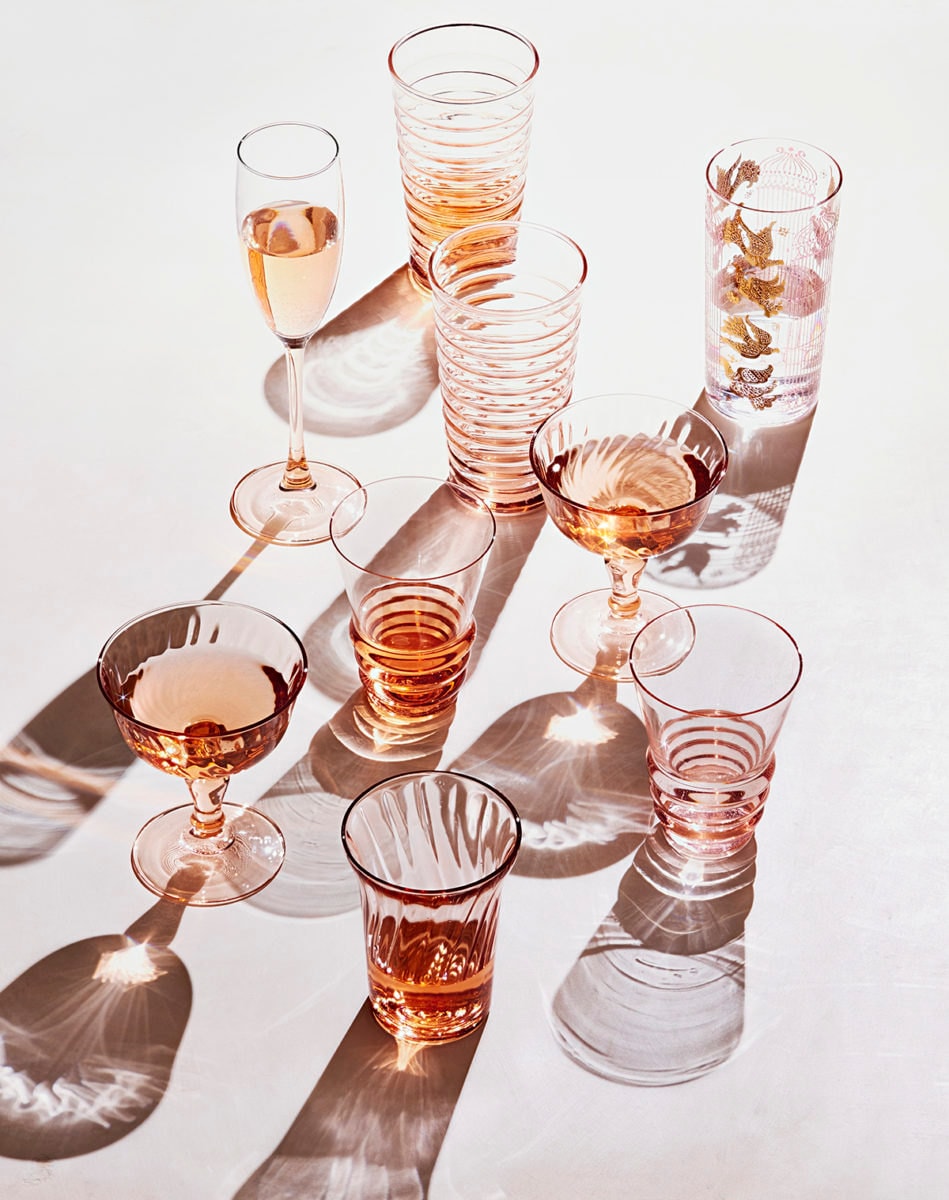 Tip 3: How to identify Depression glass
Whether you're chasing down a rare Depression-era butter dish or browsing the racks at IKEA, when it comes to purchasing glassware, a little research goes a long way. For starters, understanding how common a piece is will help you gauge how much you should be willing to shell out. Rare color-pattern combinations or limited-run pieces, for example, are worth more than their more manifold counterparts.
And with Depression glass, it's important to know what you're looking at, as later-twentieth-century reproductions run rampant. Before you whip out your credit card, turn to the internet—or dare we say, crack open a book—to ensure you're paying a fair price and making an informed purchase. (Gene Florence's Collector's Encyclopedia of Depression Glass is a widely-used resource.) It may seem tedious, but by cross-checking the identifying attributes of a piece with known patterns, makers, and dates of manufacture, you can definitively weed out the fakes. Remember: Information is power, especially for a new collector.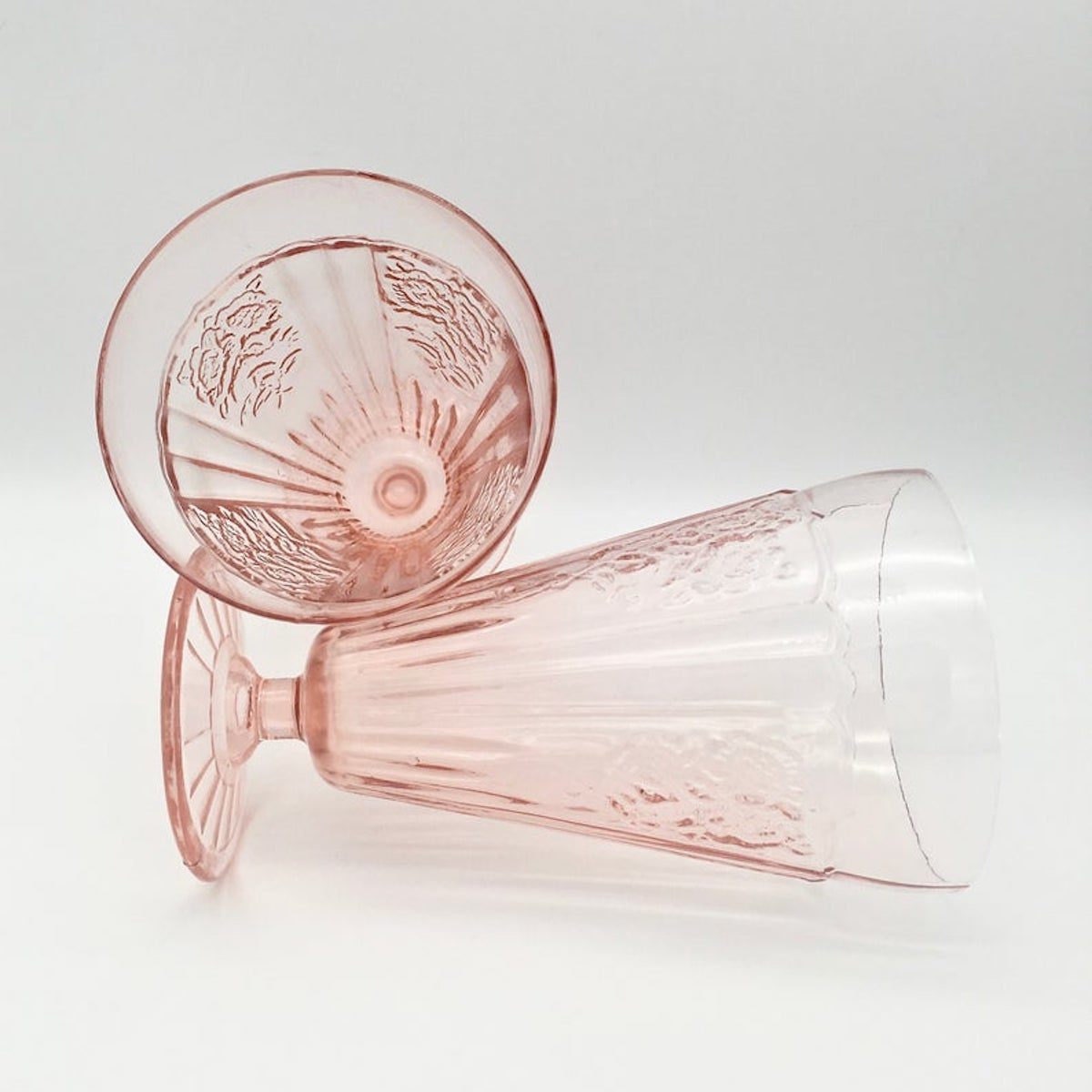 Tip 4: Follow your heart
Ultimately, when shopping for glassware, what matters most is what you think. "Flaws" can add character to a piece and reproductions can be beautiful—as the buyer, you get final say. By doing a little pre-purchase homework, you can ensure you're paying a fair price and making an informed decision, but the rest is entirely up to you.
"If it's in good condition, and you like it, buy it," says Jeni. "Enjoy it! Buy what you like, buy what's pretty, buy what serves your purposes." After all, at the end of the day, you're the one taking it home.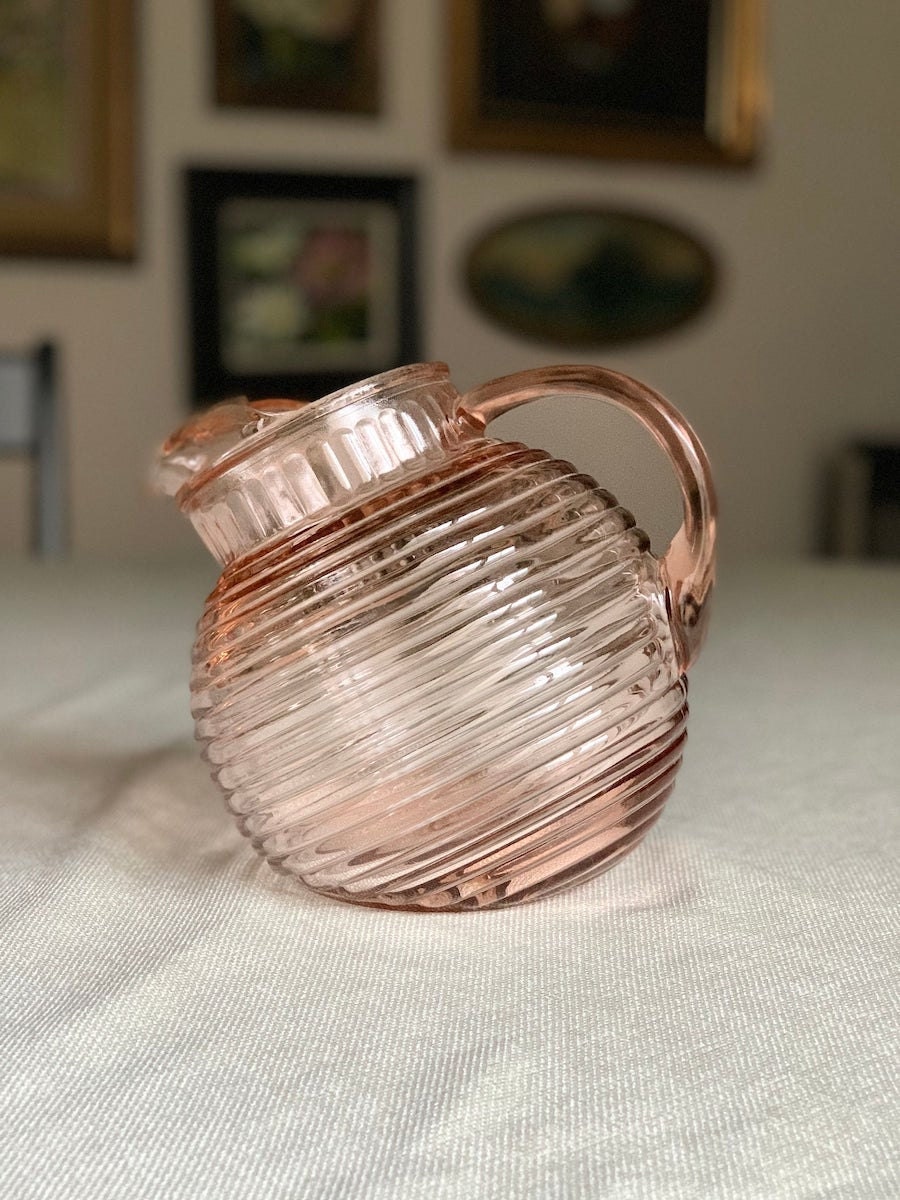 Cheat sheet
Terms to search
If you're kicking off an online search, these terms will steer you well.
Start general:
Get specific:
Try searching for well-known manufacturers (Jeannette, Anchor Hocking, Indiana Glass Company) and patterns (Mayfair, American Sweetheart, Royal Lace).
Styling tips
Keep it simple: If you're looking to add vintage glassware to your collection but aren't sure where to start, consider a simple pair of wine glasses. "Pretty stemware is always fun," says Jeni. "You can use it every day, or just on special occasions—I never fail to amaze people with my rotating collection of unusual wine glasses."
Mix and match: When it comes to purchasing vintage glassware, buying larger quantities can be tough, and you'll pay a premium for it. If you're having trouble finding a complete set—or want a more unique look—try buying one or two pieces at a time, building up a mismatched set all your own. "If it's all the same color, it'll look great together," says Jeni.
What to pay
The good news? Vintage glassware tends to be pretty affordable. Reproductions from the '70s and '80s will typically cost much less than their earlier counterparts, but you can usually find even the best, most fabulous Depression glasses from the '30s for $20 to $25 a stem. "For not a ton of money, you can buy beautiful glasses that will be lovely forever," says Jeni.
From vintage marbles to Nemadji pottery, get more vintage collectible ideas.