Etsy sellers, blog contributors, design pros, and DIY experts share the little wedding reminders that mean the world to them.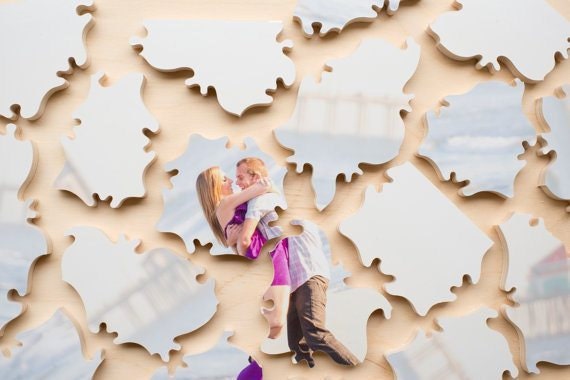 For all the cinematic moments and emotional fireworks of the big day — the first look! the dizzying dance party! the
actual
fireworks! — when it comes to reliving your
wedding
memories a few years (or decades) down the road, it really is all about the little things. That's why we asked some of our favorite Etsy sellers, Etsy Blog contributors, and creative geniuses for the small keepsakes and cherished mementos that reliably bring back that matrimonial magic, time after time. Read their sentimental, inspiring, unique, surprising, and altogether romantic answers below. 
What keepsake from your wedding means the most to you? Tell us in the comments.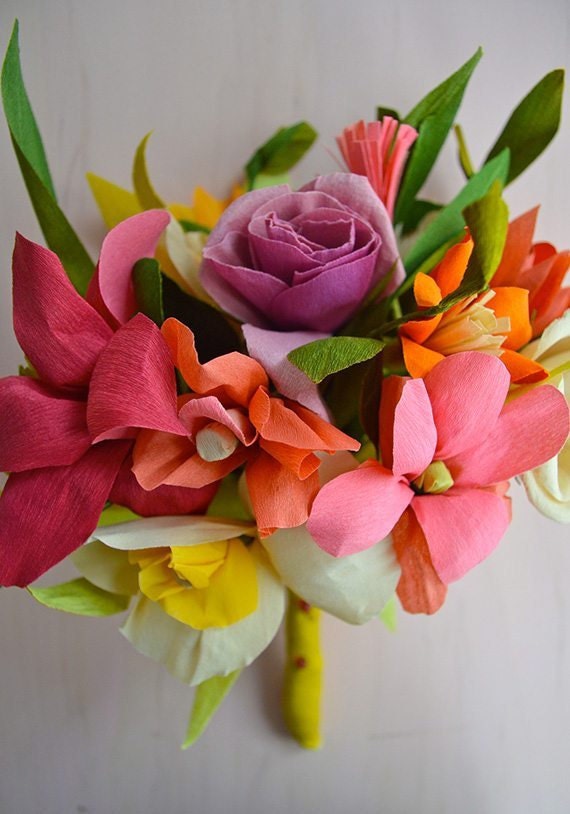 Photo by Jodi Levine/
Super Make It 
"I made my own bouquet from handmade
crepe-paper flowers
, and although I started working on it months before, I found myself on the night before my wedding with only half the flowers made! It was finished in a rush with the help of a few of my dearest friends and
bridesmaids
. The bouquet — which looks (almost) as fresh as it did on our wedding day — reminds me of the sweet and generous friends that helped me make the last few flowers on that warm summer night before our wedding." —
Jodi Levine,
crafter and author,
Super Make It!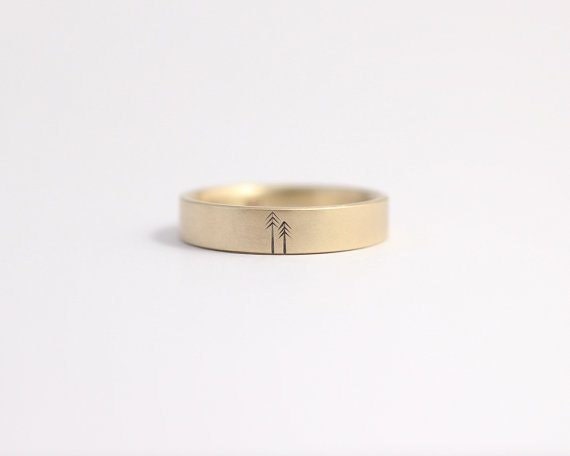 Ash Hilton
"Ash and I got married pretty late in our relationship — after two kids, two businesses and two houses. It was super important to us to include our boys in the wedding ceremony, so Ash made them tiny wedding rings which we gave them during the ring exchange. And then we were super mean and didn't let them wear them, because we knew they'd be so sad if they lost them (and so would we)." —
Laurel Hilton
, co-owner (with her husband, Ash) of the handmade wedding band shop
Ash Hilton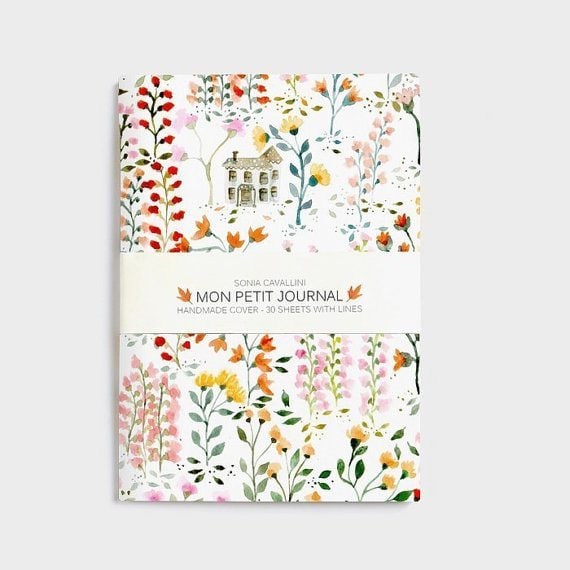 Sonia Cavallini
"My husband and I eloped, so we didn't have much of a traditional wedding day, but one thing I cherish is a sort of journal entry/note where I wrote down our packing list on a piece of stationery paper. We were super excited to be moving to a new apartment together and combining all our stuff into one place. I'm a big lover of stationery and making lists and writing notes, and having that document draws me back to a different time in my life; it is always neat to see." —
Deidre Kindall
, felt floral designer and founder of
Sugar Snap Boutique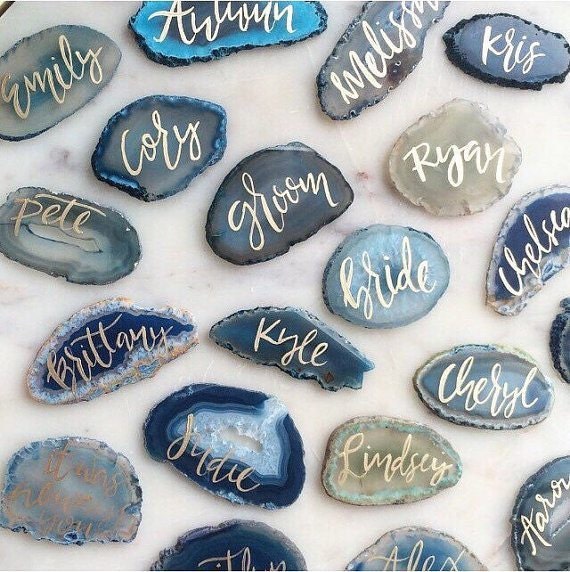 Fox + Sparrow Design Studio
"As a self-proclaimed pack rat (read: hoarder), there is much I treasure from my wedding. I crafted many of the details, from the linen runners to the invites to the table numbers, so that makes it even harder to let any of it go. For place cards, I made ceramic rocks and stamped each guest's name into the wet clay. I made two for me and my betrothed that simply said
bride
and
groom
. Now they live on the shelves by our bed, and my daughter loves to pick them up and ask me the story of our wedding day." —
Amanda Kingloff
,
crafter
 and author of
Project Kid: 100 Ingenious Crafts for Family Fun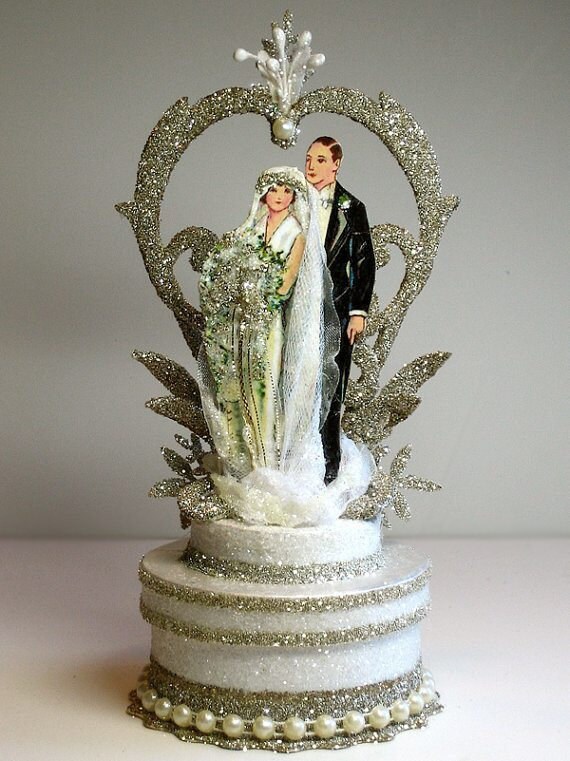 Patricia Minish Designs
"We have our wedding cake topper displayed on a shelf above our bed, so we can see it at the start and end of each day. Though it's just a humble plastic bride and groom, my mom painted the bride's bouquet to match our wedding colors – so it not only serves as a reminder of our special day, it also reminds us of all of the friends and family members that helped in big and small ways to make our day extra-special." —
Nikki
, the discerning homewares collector behind
Wise Apple Vintage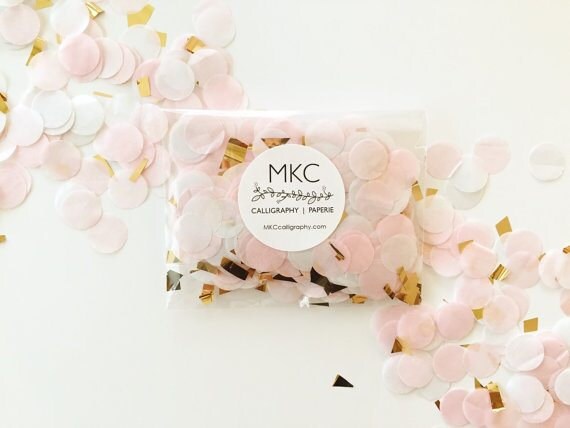 MKC Calligraphy
"The week before my wedding, I forced my sister to help me hand-cut enough confetti to fill 100 individually-printed glassine envelopes, which I then painstakingly sewed closed with a breakage-prone metallic copper thread. As it turned out, our guests didn't get the memo that they were supposed to
open 
the envelopes, so now we have dozens of unused confetti packets stashed around our apartment. I'm actually so thankful for this, because it never fails to to remind me that the party didn't end on our wedding day, and that the ultimate
DIY project
— marriage — is just beginning." —
Kasia Wisniewski
of jewelry and accessories shop
Collected Edition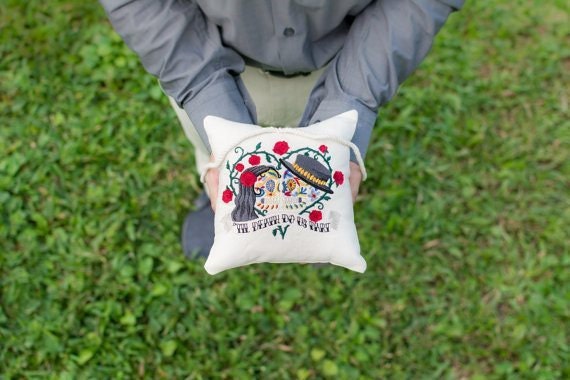 Stalking the Wild Snark
"We asked my now mother-in-law, who's skilled at sewing, to make us a
ring pillow
. I actually gasped when I saw what she had created, because she went above and beyond. She embroidered the pillow with a penguin motif — which we had used on invitations and day-of paper goods — and the result was fun, modern, and exactly matched the vibe of our day." — Etsy Blog contributor and weddings expert
Jaime Buerger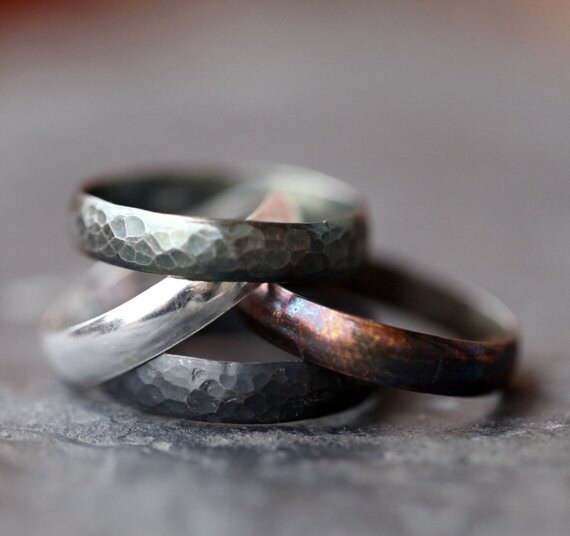 Claudette Treasures
"My favorite wedding treasure has to be our super sweet and simple silver bands. I think we paid $35 for both of them." —
Rachel Faucett
,
DIY blogger
and designer,
Handmade Charlotte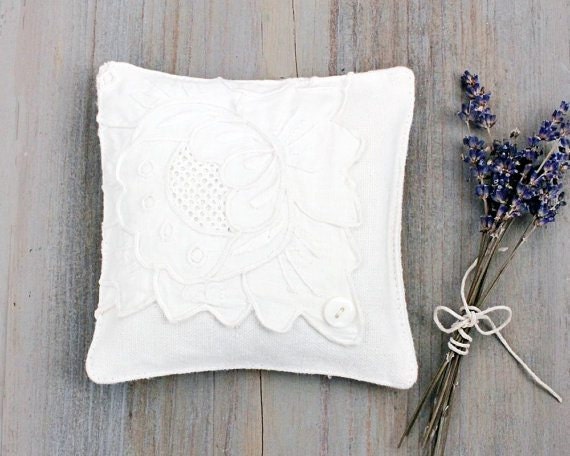 Bailiwick Studio
"The woman who made my wedding dress used a scrap of the leftover lace to make me a sachet filled with lavender and rose petals. I still have it in my
lingerie
drawer and intend on keeping it forever!" —
Justina Blakeney
, designer, author and
boho style guru
,
The Jungalow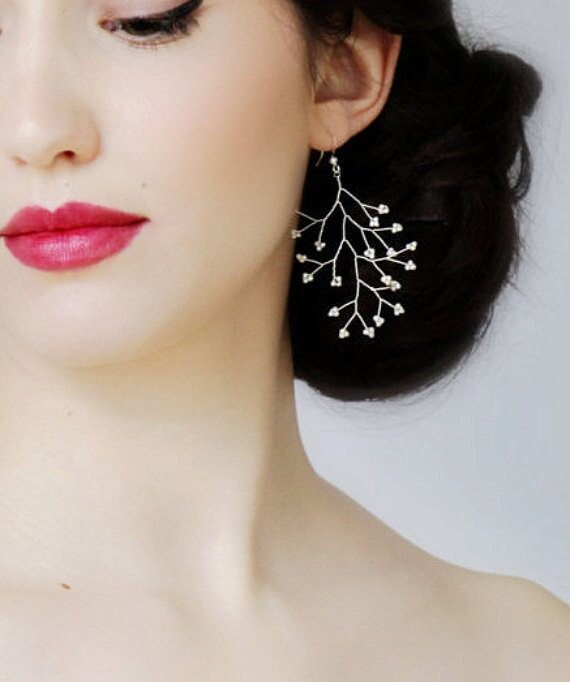 Virginia Geiger Jewels
"I didn't really wear much jewelry on my wedding day, just the bracelet my husband proposed with and a killer pair of earrings. The earrings were chandelier style, adorned with pearls and rhinestones that caught the light all night. I love that they felt current but timeless, too — a perfect match for
my wedding style
. But the best part is that I have re-worn those earrings on our anniversary (and a few other occasions) every year since." —
Lauren Kay
, Senior Style Editor,
The Knot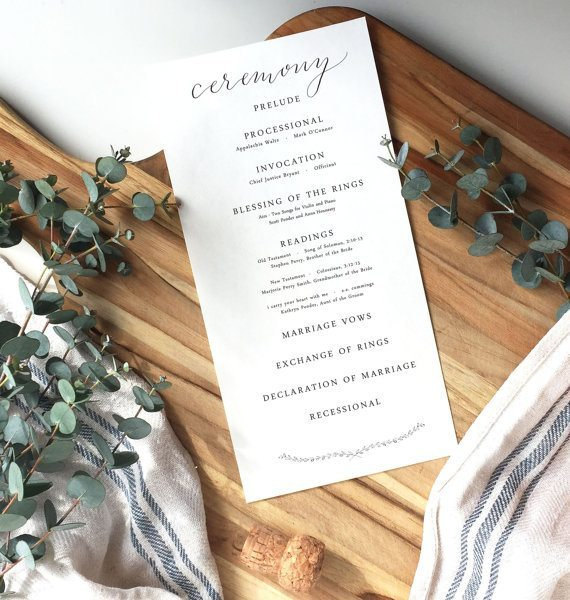 Red Clay Paper
"The keepsake we treasure most is our wedding program. We designed them and had them letterpress printed by a friend. We love being able to read through it now and relive the day, step by step, as it was almost 13 years ago! It lists all of our close friends and family as well as attendants and readings, reminding us who was with us that day. A great keepsake all-around." —
Julia and Chris Roberts
, wedding paper goods designers and co-owners of
Starboard Press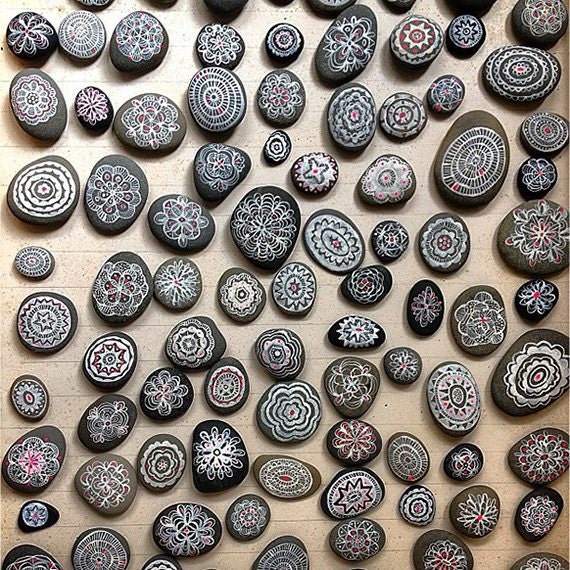 Photo by Diana Fayt
"My favorite keepsakes from my wedding day are the rocks that my dear friend, ceramics artist Diana Fayt, painted for every guest (including a special set just for my wife Clay and me). She meticulously hand painted over 100 rocks just for our wedding day, and she called them '100 Stones for Love.' Each table had stones on it, and people could choose their own to take home to remember the day. Clay and I still keep ours on our bedroom dresser with other mementos from the day." — Artist, illustrator and author
Lisa Congdon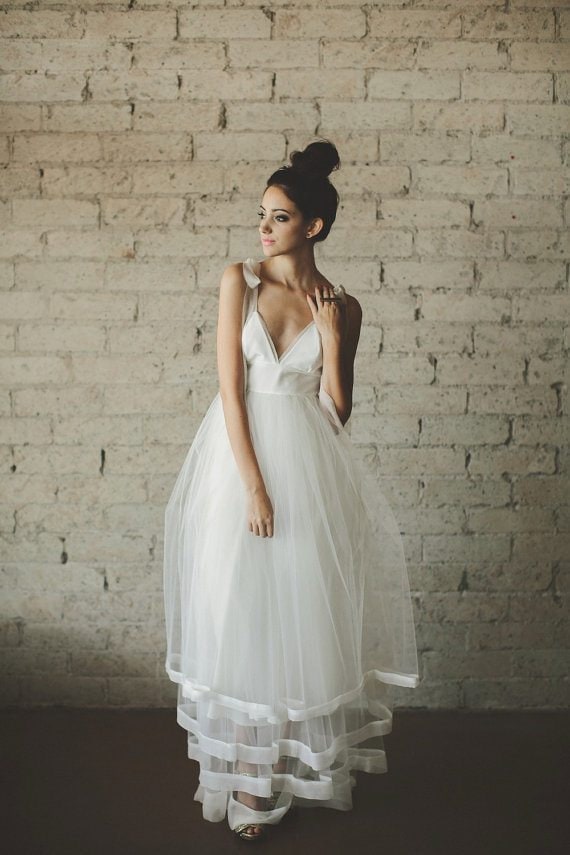 Cleo + Clementine
"We've been married 14 years next month. Our wedding was such a special day because of what it began: our union. I walked down the aisle in a perfect dress — it was simple, shiny and white, and my mom made it. So much love wrapped around me that day, I was like a carefully, beautifully wrapped gift ready to share all I have forever with the man of my dreams." —
Sarah Clark
, of handmade furniture and bag shop
Kith & Kin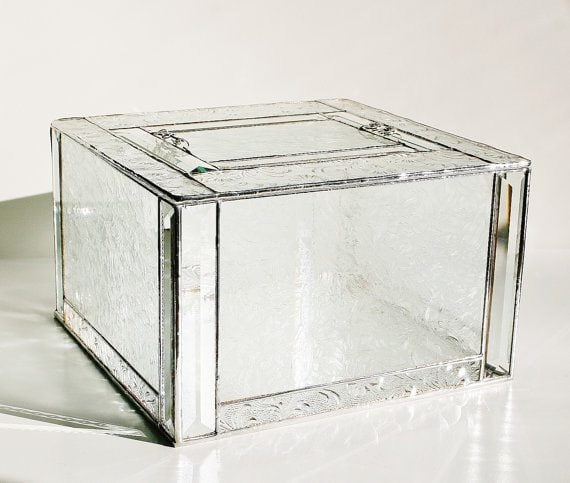 Galeaz Glass
"Sometime after our vows, the pastor gave my husband and I each half of a one-dollar bill. I don't remember his speech, but I do know that the half one dollar bill symbolizes our unity together as one, in marriage. To this day, we both still have this keepsake as a reminder." — Jewelry designer and Etsy seller
Cindy Liebel
Lead image: Custom puzzle by Double Trouble Puzzles