by Chappell Ellison
In response to this evocative question, the readers at Boing Boing share photos of the most unbelievable displays at their favorite institutions.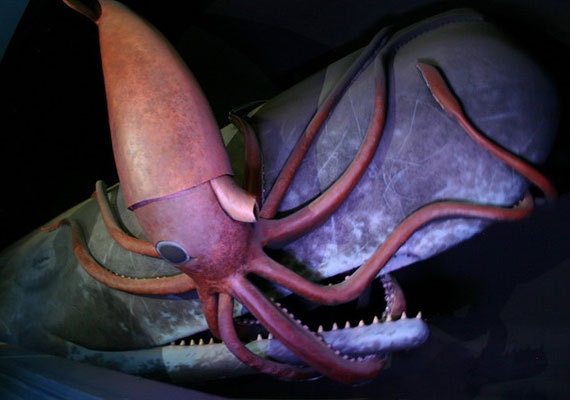 Sometimes I find myself missing the excitement conjured by a field trip's yellow school bus. Bouncing along the road, we'd usually head to a museum where a few blissful hours were spent, running amok and escaping the teacher's gaze. When I see a group of school children, walking hand in hand through the halls of a museum, I get a little nostalgic, hoping they're seeing something that opens their eyes, imprinting a memory onto their young minds. "It is as difficult today to imagine a world without museums as it is easy to feel that we have never fully left the first museum we ever visited," writes art historian Donald Preziosi. For many young New Yorkers who go to the American Museum of Natural History, the sight of a life-sized sculpture of a squid attacking a whale will stick with them forever. For that reason, I'm obsessed with a new series on Boing Boing that asks:
what's your favorite museum exhibit
? Readers have submitted all kinds of favorite exhibits, from the whimsical —
John Lennon's custom Rolls Royce
at the Royal BC Museum in British Columbia —  to the downright outlandish —
butterflies feeding on the carcass of a piranha
, displayed at the Naturhistorisches Museum in Vienna. Yet the majority of the museum exhibitions highlighted on Boing Boing are mostly intriguing for their initial shock value; a diorama of a
lion attacking a camel-mounted courier
is enough to make anyone stop in their tracks. It's funny to even think that such a bizarre moment is forever frozen in an institution, offered for contemplation by patrons. Such a variety of reader responses invokes the question: what is it that makes an exhibition memorable? For most of us, the answer is found in that moment when a museum display activates the most curious portion of our brain, the part that never truly grows up. "The sheer uncanniness of museums as indispensable institutions in many modern and modernizing societies is a function of their enduring power to define, stage, circumscribe, and haunt our individual and collective lives and dreams," writes Preziosi. If I go stand under the squid and the whale at the Natural History Museum, I remember the feeling of standing in that same spot when I was six, then again when I was twelve. It's comforting to know that the whale will always be were I left him, an old friend I can visit if I'm ever in the neighborhood. In that way, a museum exhibit can come to represent your earliest intellectual awakenings, and with each visit, the wonder and the awe are just as palpable.
Is there a museum exhibit that haunts you to this day?