by Gabriella Cetrulo
With his penchant for brown corduroy, Woody Allen may seem like an unlikely style icon, but his movies defined the look of the '70s intellectual.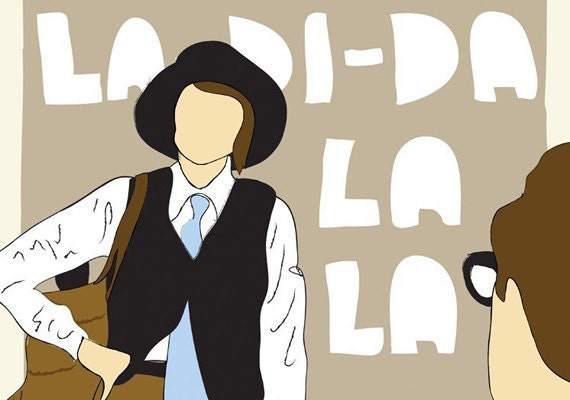 Love is too weak a word for how I feel about Woody Allen's films –  I'd have to say I "luff" them. There's no other man alive who could draw from classic literature, psychology, and organized religion, and make it all seem funnier than Buster Keaton fashioning a suit out of asbestos to "protect himself" in 1922's
The Paleface
. His influence on comedy is undeniable.  But his inadvertent impact on the fashion world is equally apparent (who else could make a trend out of glasses dispensed by the National Health Service?). From the menswear-inspired pantsuits famously worn by Diane Keaton in
Annie Hall
to his own collection of oatmeal cardigans, Allen immortalized the style of New York's '70s intellectual scene. And his endearing self-deprecating humor made its own contribution to his conservative look as well. I think he summed up his look when he said, "Eternal nothingness is fine if you happen to be dressed for it." It's no wonder the man never wore anything but brown.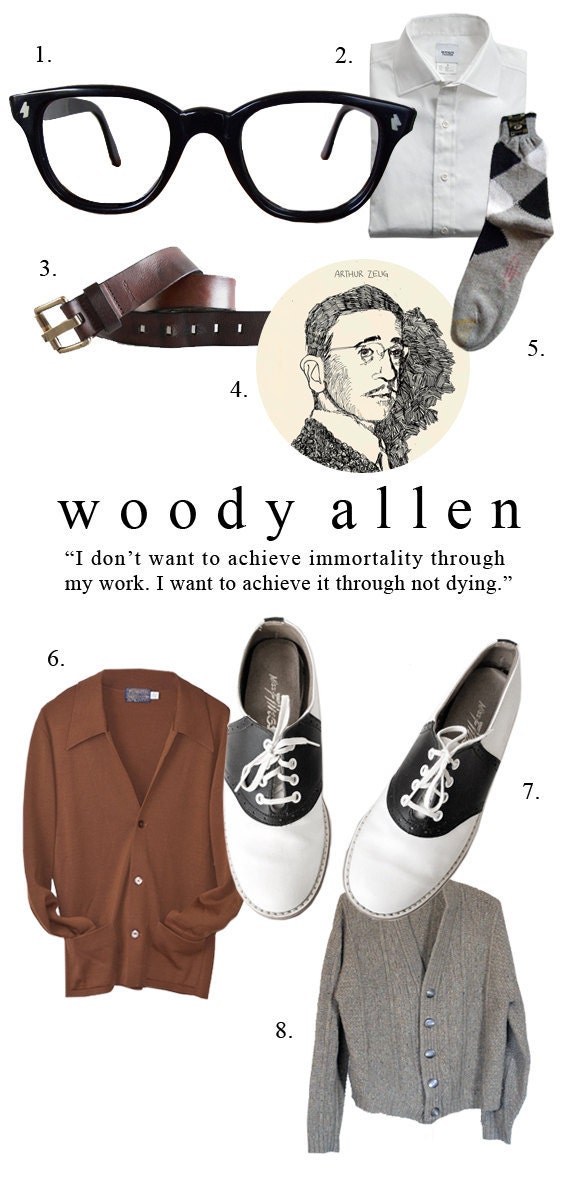 [1. '60s Woody Allen Frames from WillaminaVintage; 2. Mens' Pinpoint Oxford from Brooklyn Tailors; 3. Mens' Leather Belt from Etsplace; 4. 'Woody Allen as Zelig' Original Pen and Inkby zhexi; 5. Vintage Mens' Deco Cotton Socks from YesUms; 6. '60s Mens' Pendleton Cardigan from StopTheClock;  7. '50s Saddle Shoes from RockAndRollVintage; 8. Vintage Mens' Wool V-Neck Cardigan from TomTomVintage.]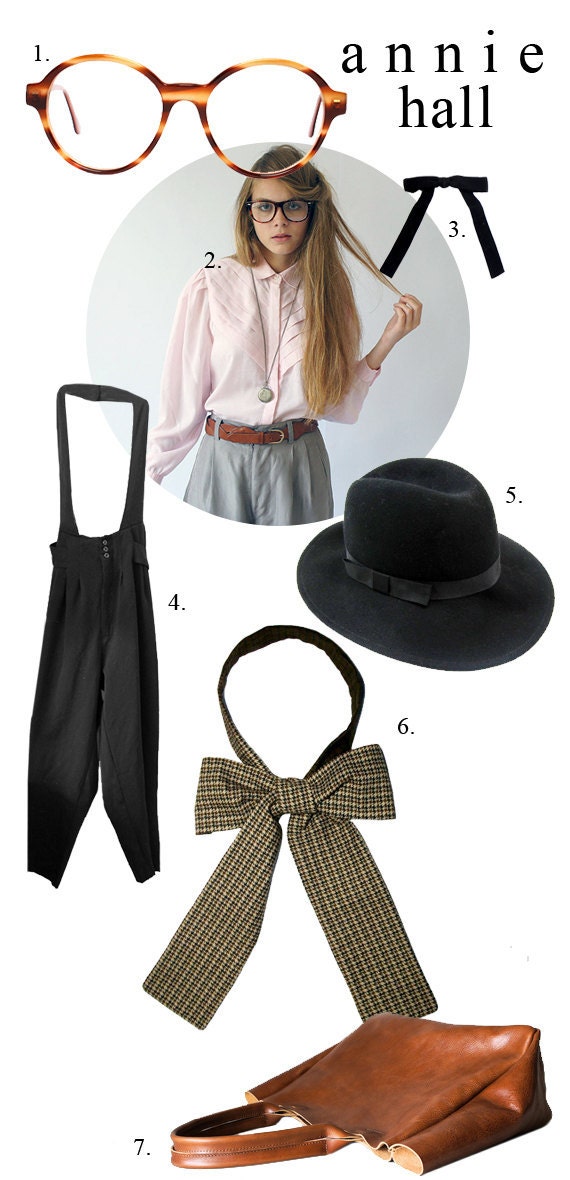 [1. Bowie Habana Vintage Round Eyeglasses from MODvintageshop; 2. Vintage Pastel Shirt from Louisa Clothing; 3. Vintage Bow Tie from Vintalier; 4. Vintage Suspender Trousers from HoneyCombVintage; 5. '70s Arlin Wool Fedora from OiseauVintage; 6. Houndstooth Neckerchief from Equeglitz; 7. Cognac Leather Heirloom Tote by ribandhull.]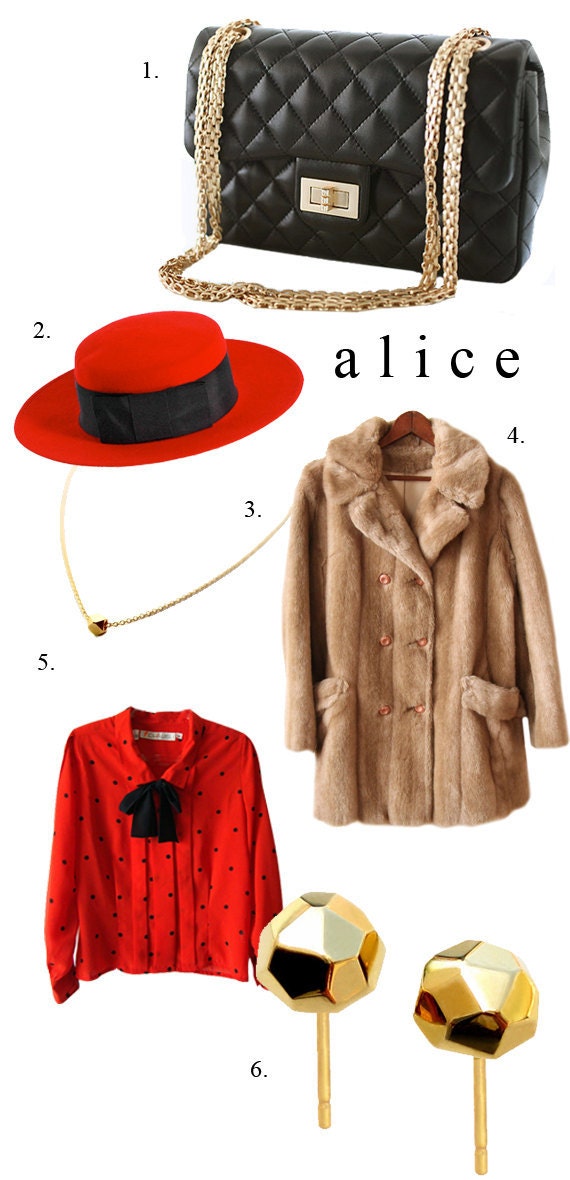 [1. Quilted Chain Bag by matchesk; 2. '80s Liz Claiborne Pork Pie Hat from storybookvintage; 3. MOTE Necklace by pollenjewellery; 4. '50s Faux Mink Coat from nbdg; 5. Vintage '80s Dot Pussy Bow Blouse from DazedFox; 6. Gem Faceted Solid Gold Earrings by arosha.]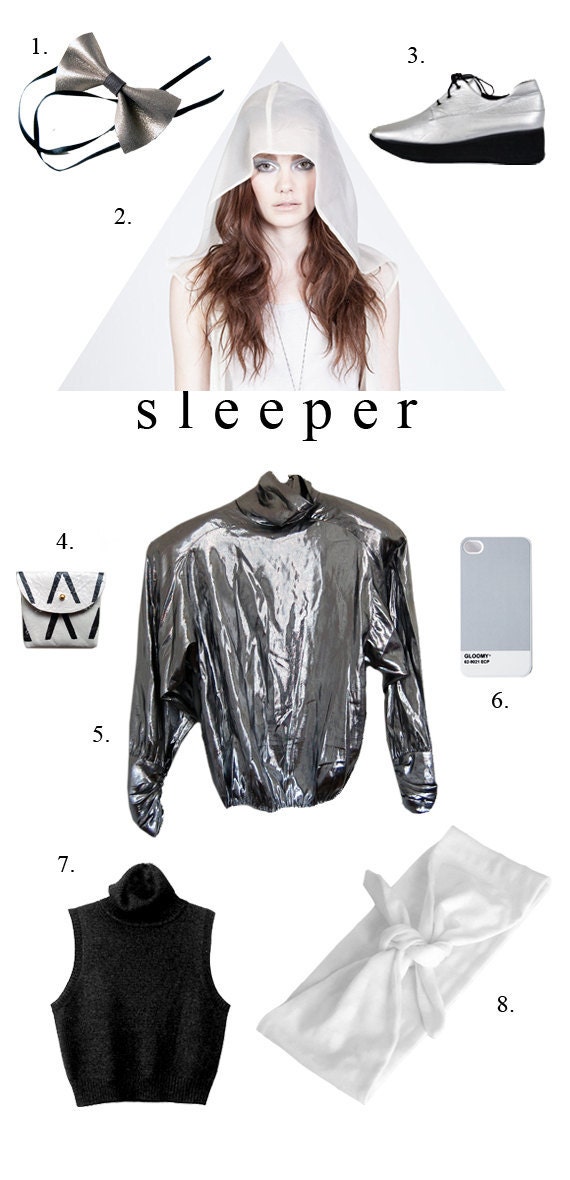 [1. Sheen—Metallic Leather Bow Tie by ouloudo; 2. Aegir Sheer Hooded Silk Vest by Ovate; 3. Futuristic Wedge Oxfords from VintageReBelle; 4. Coin Purse by BlackbirdAndTheOwl; 5. Tin Man Top from HatchetAndDagger; 6. iPhone 4 Case Gray Colortone by BlissfulCASE; 7. Black Shimmer Turtleneck Top from alacloth; 8. Tie Up Headscarf by ChiChiDee.]