by Aleksa Brown
This Women's History Month, we asked some of our favorite female entrepreneurs to share the mantras they live and work by. Here's what they said.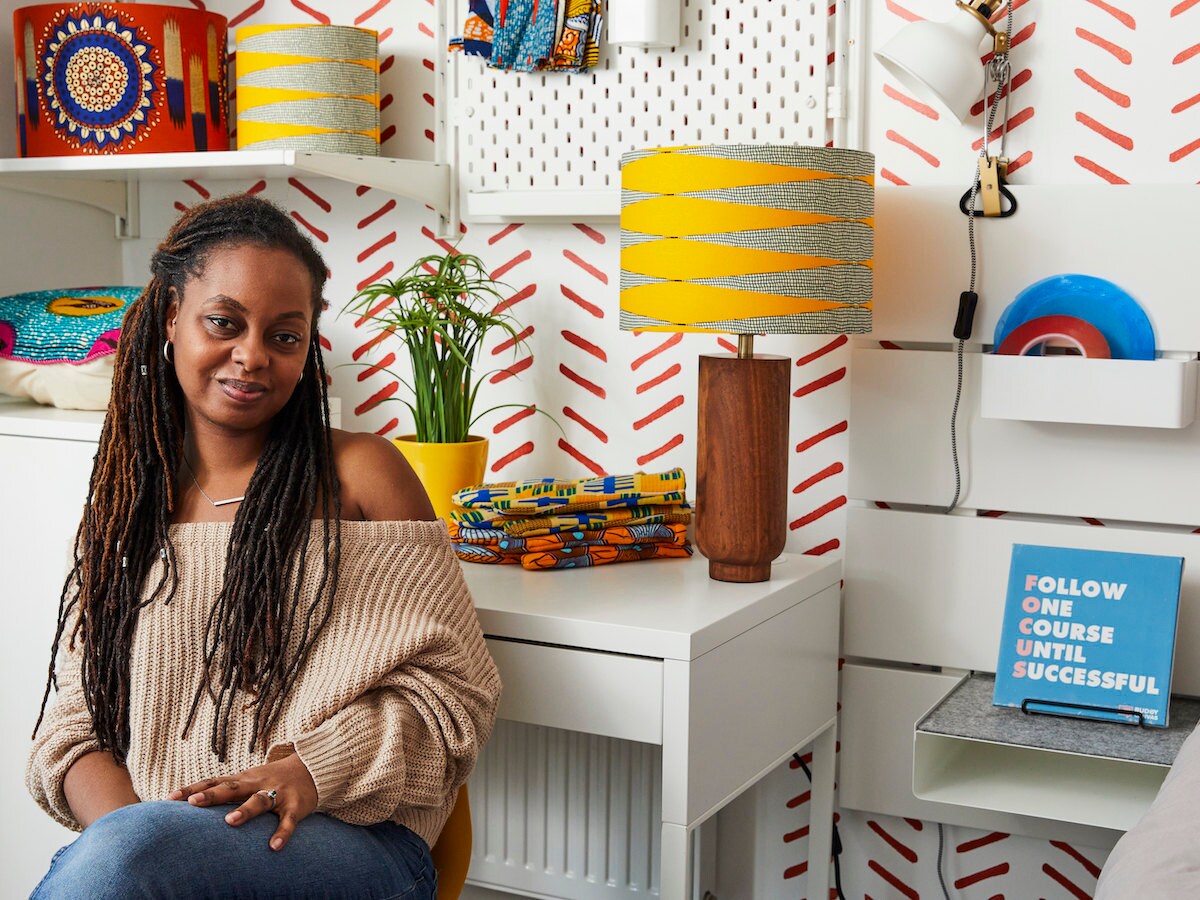 There are lots of reasons to feel good about shopping on Etsy—award-winning designs, planet-friendly shipping, and of course, supporting a small business every time you click "purchase." This Women's History Month, we're celebrating one more reason: A whopping 83% of Etsy sellers are women, which means buying that one-of-a-kind art print or statement ring has the power to make a direct, positive impact on your favorite creative sheroes around the world. Whether you're ordering buttery-soft leather goods from Alex Bender in Berlin or loose-and-lovely linen wear from Ingrida Margelė in Lithuania, you can bet these fierce female entrepreneurs feel the empowering effects of every sale—and today seven of them are here to share the life-changing lessons they've learned throughout their journeys. Read on to discover the personal mantras these multi-talented sellers live and work by, then shop their wares right here on Etsy.
Realize your own strength
Natalie Manima
London, England
Sometimes it takes accomplishing a challenging feat—such as making a career out of your creative pursuits—to make you realize just how strong you are. "I had no idea I was capable of running a business," says Bespoke Binny founder Natalie Manima who learned this truth first-hand. "Now I really do believe I can do anything I put my mind to, and that's such a powerful feeling." Today, Natalie is passing that positive energy along to her customers via her vibrant collection of lampshades, oven mitts, throw pillows, and travel accessories crafted from bold and bright African wax print fabrics. "I also include a booklet of African proverbs with all of my orders," she says. Read more about Natalie's African-inspired home goods collection.
See and be seen
Meenal Patel
San Francisco, CA
"I think it's important for all people to be surrounded by imagery of strong women, both as inspiration and as a reflection of their own strength," says San Francisco-based artist and children's book author Meenal Patel. And for Meenal, selling her empowering, inclusive illustrations—many of which feature women of all backgrounds engaging in acts of unity and self-care—has offered her a chance to hold up a mirror for her buyers. "One customer wrote me a sweet note saying she could really see herself in my art; she felt like it was made specifically for her," Meenal says. "She didn't realize the impact seeing herself reflected in a piece could have on her. It made me tear up. I'm so grateful for the opportunity to provide that for someone." Read more about Meenal's uplifting art.
Live a balanced life
Yumiko Goto
Cleveland, Ohio 
In the same way she shapes her nature-inspired bud vases and lidded pots to effortlessly blend form and function, ceramicist, art teacher, and mother of two Yumiko Goto aims to achieve harmony in her world outside the studio, too. "For me, a successful business means being able to have a well-balanced life," says the Ohio-based entrepreneur behind Echo of Nature. "I want to spend time with my kids while they need me. I want to be the first person who sees them ride a bike without training wheels, I want to roll sushi and make cookies together." And for Yumiko, running her shop on Etsy affords her freedom to do just that. "I can work whenever I have time, which allows me to be the mom I want to be." Read more about Yumiko's museum-quality ceramics.
Practice conscious consumption
Ingrida Margelė
Kaunas, Lithuania
For clothing designer Ingrida Margelė of Linenfox, Etsy has given her a way to spread a message of sustainability. "The values we stand for encourage our customers to start thinking about what and how they consume," says Ingrida, whose environmentally friendly linen sundresses, layering jackets, and palazzo pants are often the gateway for her customers to start building a more eco-conscious wardrobe. And for Ingrida, starting a values-aligned business that revolves around locally sourced materials has pushed her to think more critically about how she works and who she hires, too. "The key is the people who work at Linenfox," she says of her 16 passionate employees. "You can't achieve much without a team that is ready to help you develop a transparent, ethical business." Read more about Ingrida's process and production practices.
Find ways to give back
Jamie Carlson
Vancouver, Canada
"It's important for me to help other women in their creative ventures, whether it be sharing tips and tricks or teaching workshops," says Scandinazn founder Jamie Carson, whose reclaimed leather, confetti-colored earrings are like a party for your ears. Her pay-it-forward approach has led to some pretty amazing connections, including with the inquiring customer who asked for life advice in the order notes of their purchase. "After a few more interactions, I received an email from her asking if I'd consider taking her on as an intern," Jamie explains. "Through that internship, I've been able to teach her how much work goes into the whole process, from making the leather jewelry to marketing and branding. Aside from all the help she's given me, I've learned so much from her, too. We've definitely grown together." Read more about Jamie's joyful upcycled jewelry.
Go at your own pace
Alex Bender
Berlin, Germany
Success looks different for everyone; for Berlin-based leather goods guru Alex Bender, it's about having the freedom to build her business at her own clip. "I'm not oriented in constant growth," she says. "I try to live in the moment and focus on what's happening now." That mindset has allowed Alex to maintain her creativity and stay nimble as she sews each of her minimalist totes, clutches, and cross-body bags by hand in her sunny studio, turning out small batches of her cult-classic leather goods whenever inspiration strikes. "I love being a one-woman business," Alex says. "I feel very secure in who I am and what designs I like." Read more about Alex's hand-stitched leather goods.
Believe in your power
Alicia Goodwin
Chicago, Illinois
It might seem like a strong sense of confidence is a prerequisite to wearing bold, statement jewelry like the gold fringe earrings and etched-brass bangles in Alicia Goodwin's shop, Lingua Nigra. But as the Chicago-based designer knows, sometimes it's the jewelry itself that can make you hold your head a little higher. "With any kind of adornment, you're looking for it to give you this special kind of power," she explains. And just as each of the 50-plus designs in Alicia's collection adds an extra air of self-assurance for the women who wear them, so has running her own shop given Alicia a sense of empowerment. "It wasn't until I lost my full-time job that I realized I could actually sell at a steady pace on Etsy," she says. "Now I look toward future goals without any hesitation—and that, to me, is success." Read more about Alicia's confidence-boosting designs.