From baby tees to butterfly clips, discover the top Y2K fashion trends making a comeback, and learn how to style the early 2000s aesthetic today.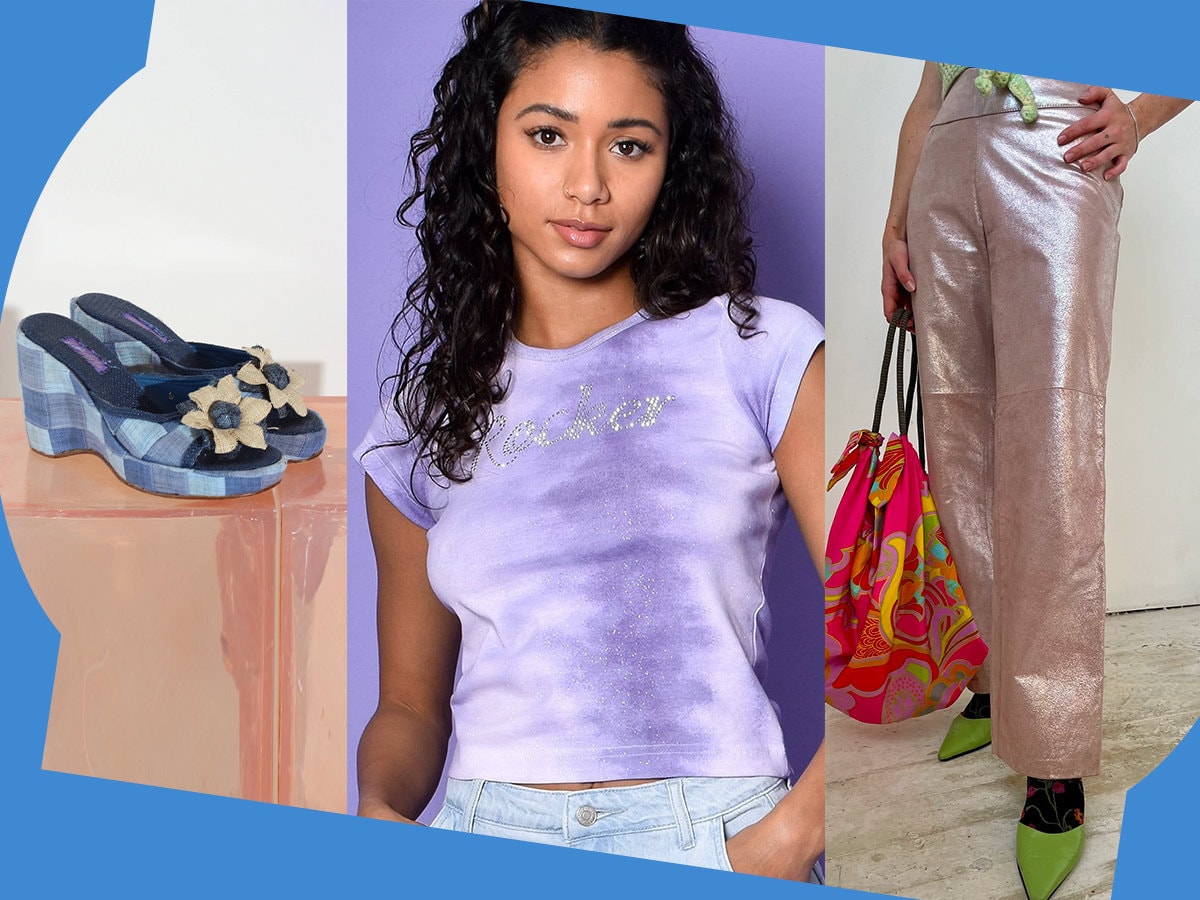 The early '00s may conjure images of velour tracksuits, rhinestone-encrusted flip phones, and messy updos decorated with dozens of tiny hair clips. Or maybe it brings to mind the sounds of dial-up internet, pop music countdowns, and catchy TV intro songs ("California," anyone?). Whatever the time period means to you, the Y2K aesthetic (a blanket term for all those 2000s fashion trends popping up again on feeds everywhere) is characterized by a few key ingredients, like low-rise bottoms, statement denim, asymmetrical tops, and baby tees.
So why recreate the Y2K aesthetic today? It's all about adaptability. Back in the day, you styled each piece according to your personal vibe, whether that was preppy or punk, sk8r boi-adjacent, or boho chic. Take the 2000s fashion trend of utilitarian skirts—a Y2K style staple. While preps paired their cargo minis with popped-collar polo shirts, goths wore them with grommet belts and chokers, and surfers and skaters styled theirs with puka-shell necklaces and slip-on sneakers. Today, you can do the same with any of the inspirational Y2K looks we're about to share: Model them after your favorite Y2K trends of yesteryear, or give them a fresh modern twist all your own.
The best part? Each of our easy-to-recreate and ultra-wearable outfit picks comes from a small business that specializes in curating authentic vintage, whether from the '80s, the '90s, the Y2K era, or all of the above. Take it from us: Even if you've already worn these Y2K fashions in a past life, the vintage pieces you can find on Etsy are so good, they might make you say, "Hit me baby, one more time."
Popular Y2K styles
Baby tees and tanks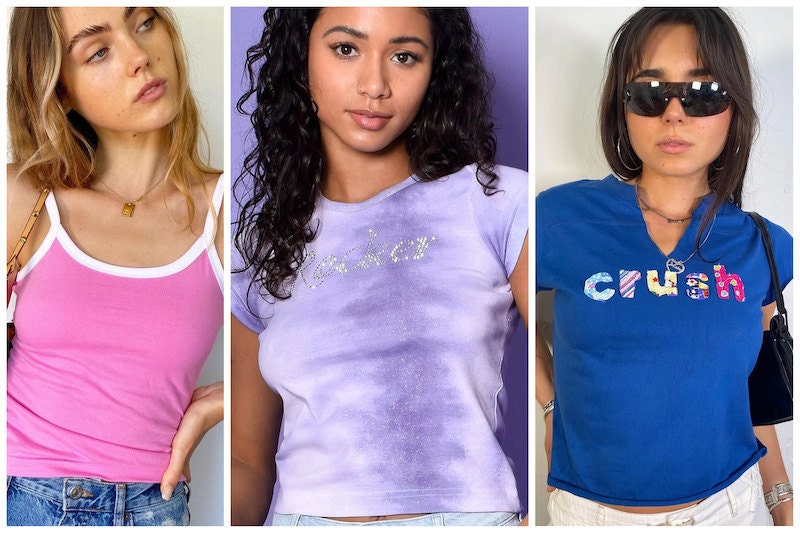 SHOP: Y2K baby tees
From cheeky sayings to cutesy graphics to bold bedazzled embellishments, baby tees were an iconic Y2K fashion piece and came in a range of expressive styles and peppy colors. Pair this youthful Y2K look with jeans or a cargo skirt, and let your tee do the talking.
Low-rise anything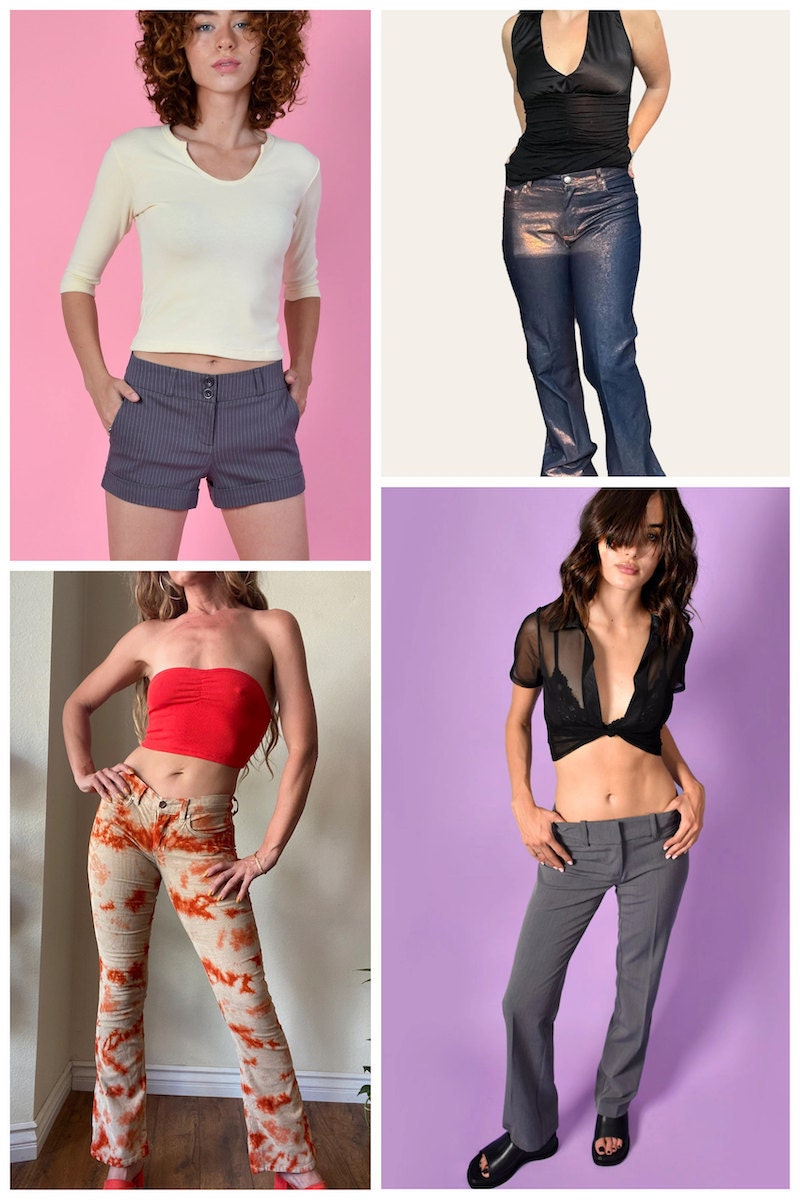 SHOP: Y2K low-rise pants
Low-rise ruled the early aughts. From jeans and cargo pants to mini-skirts and slacks, this Y2K fashion trend was all about waistbands that hung low on the hips. Bring this midriff-baring 2000s look back with a casual and oh-so-classic white tank top and sneakers or a wide cropped sweater and wedges.
Statement denim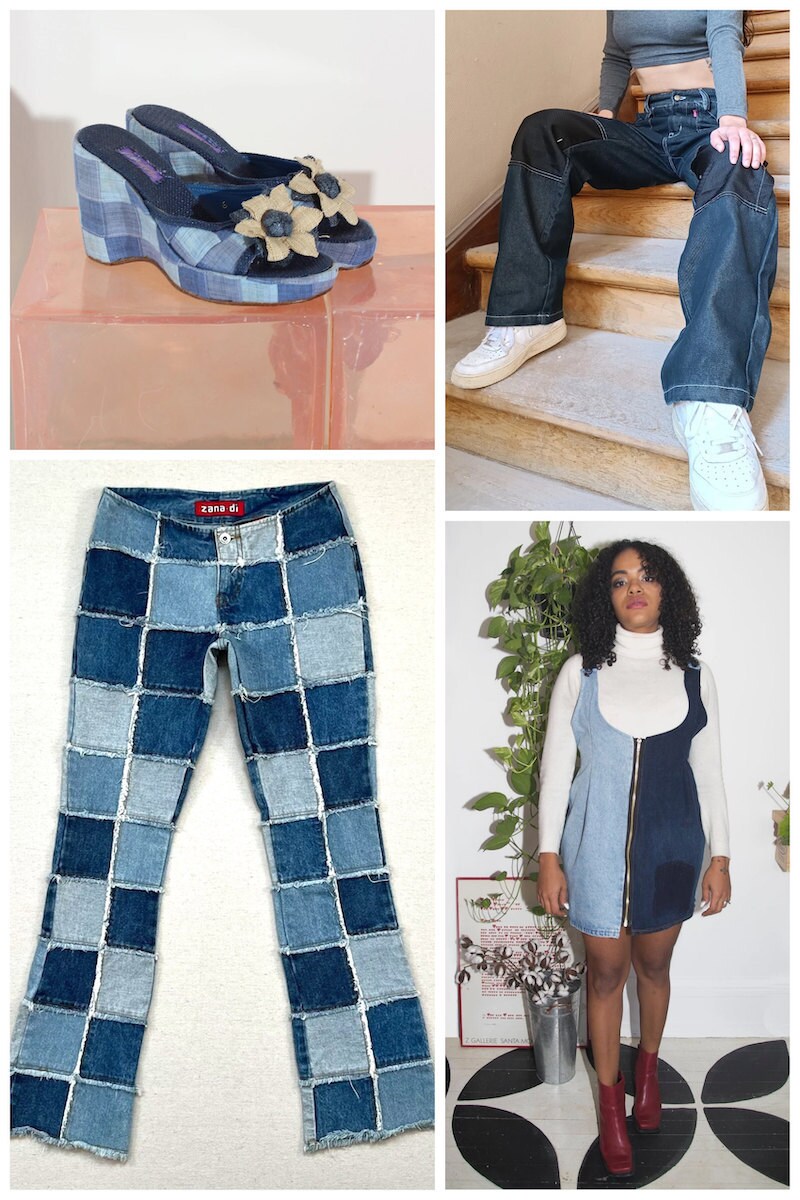 SHOP: Y2K denim
Y2K denim was all about making a statement, from extreme washes and frayed hems to patchwork pieces and rhinestone pockets. And while this trend may feel like a challenge to pull off, fear not: You don't have to put on a head-to-toe jean look to pay homage to the '00s. Instead, try incorporating Y2K statement denim in small doses, whether that's swapping out regular jeans for a throwback pair, or adding patchwork platforms to an everyday dress.
Y2K tops and bottoms
Pleated schoolgirl skirts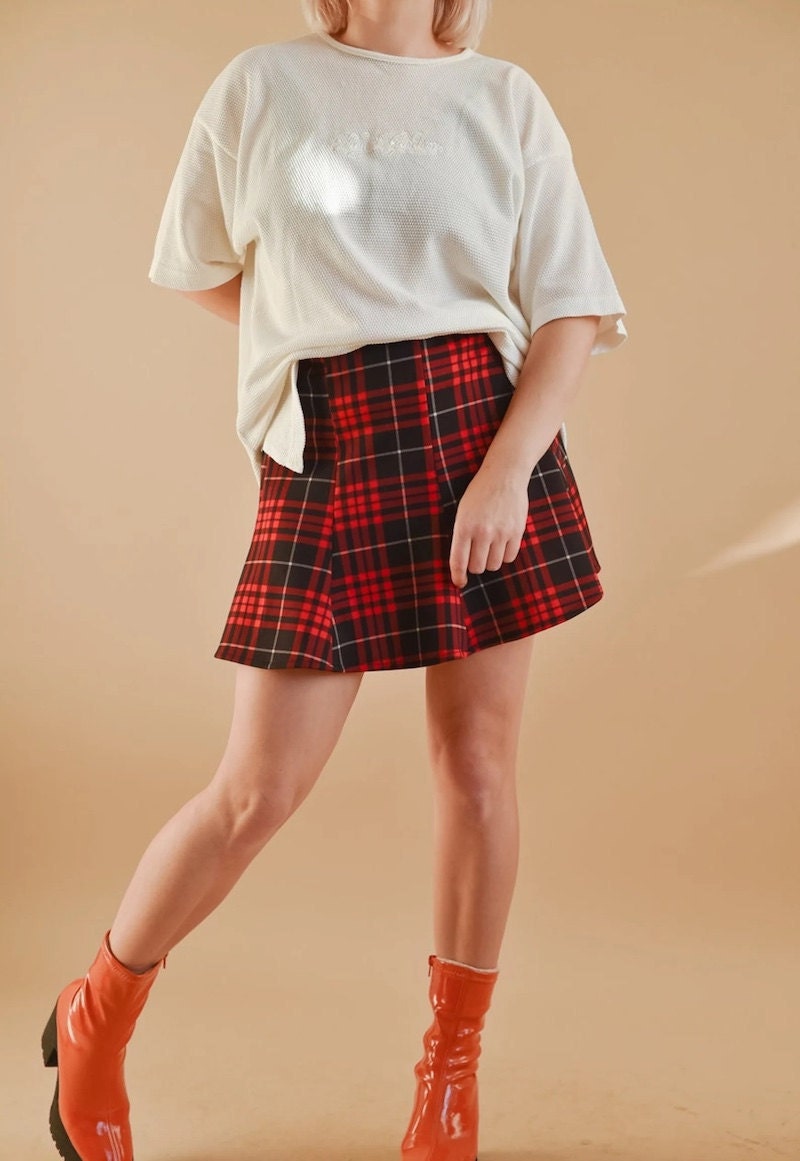 SHOP: Y2K schoolgirl skirts
Pleated skirts and schoolgirl style rose to popularity as a Y2K fashion trend, transforming private school uniforms from academic to aspirational overnight. Want to work a pleated skirt into your rotation today without looking costumey? Pair with a slouchy sweater and knee socks in a monochromatic colorway.
See-through tops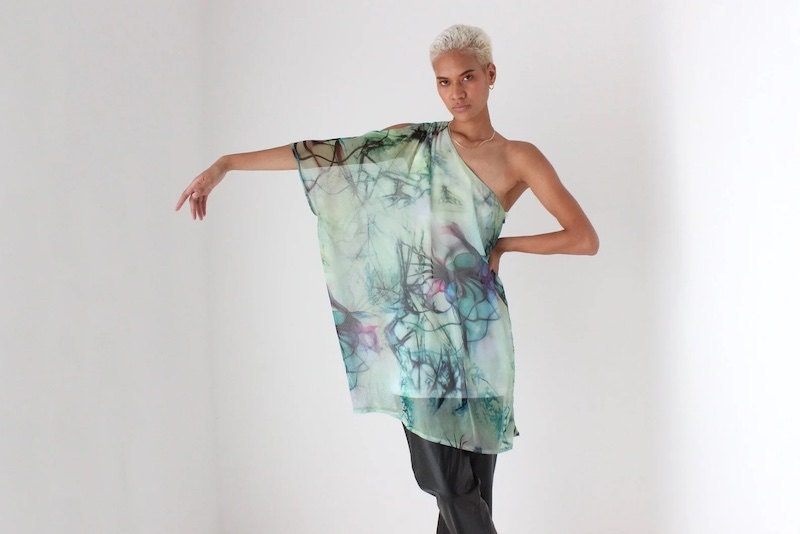 SHOP: Y2K sheer tops
Made from synthetic fabrics, sheer printed silks, or cotton mesh, Y2K-era transparent tops give you a variety of outfitting options: Wear them under a blazer, over a bathing suit, or paired with party clothes for a night out.
Rugby shirts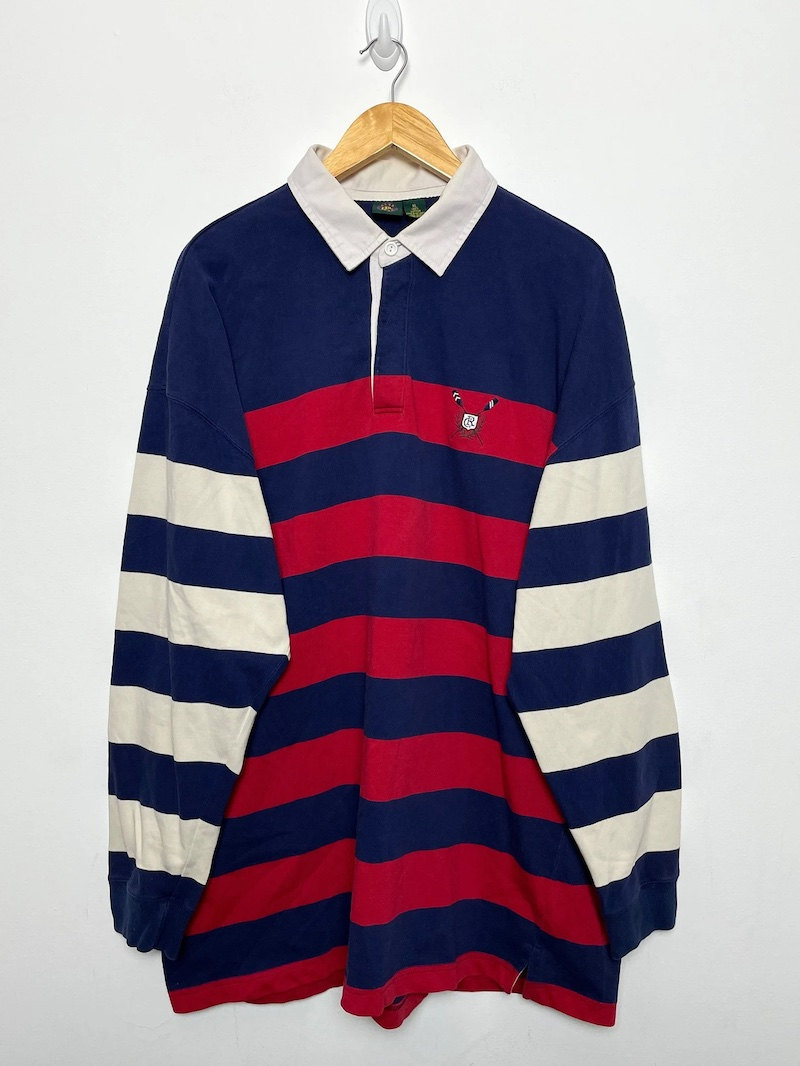 SHOP: Vintage rugby shirts
Preppy rugby shirts are a turn-of-the-Y2K-century style that's effortless to pull off. Simply pair with jeans or chino pants and you've nailed the 2000s fashion aesthetic. In the summer, opt for a classic fisherman sandal for some modern polish; in colder months, rugged boots will finish the look.
Y2K accessories
Chunky sneakers and platform shoes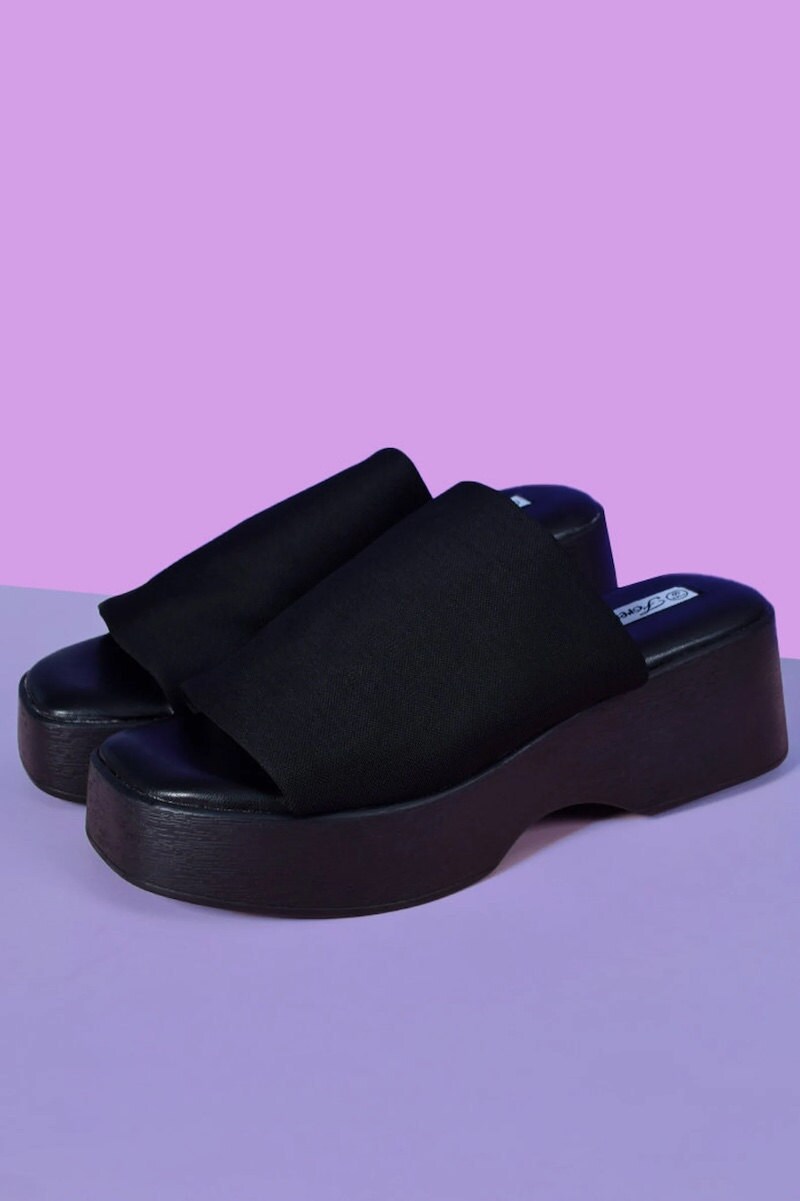 SHOP: Y2K platform shoes
Add some '00s pep to your step with chunky sneakers and platform flip flops—the higher the better. Pair these Y2K shoe trends with a mini to elongate your legs, or style with baggy low-rise jeans and a bucket hat for the ultimate throwback getup.
Mini bags and baguette bags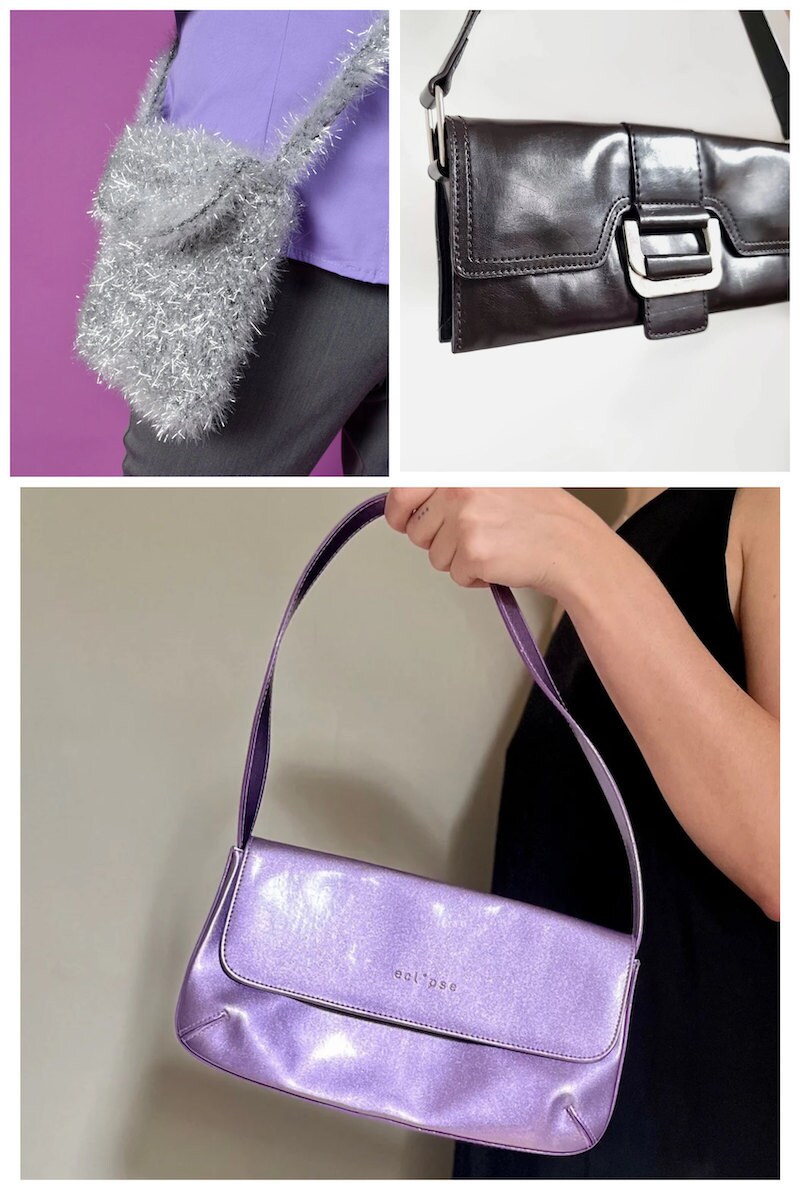 Shop: Y2K bags
Baguette bags and top-handle mini bags are back—and we couldn't be happier about it. A chic accessory for cocktail parties and holiday gatherings, these petite purses also do double duty as a totally cute complement to jeans, adding a certain je ne sais quoi that'll give your everyday ensemble a subtle nod to vintage Y2K fashions.
Frameless sunglasses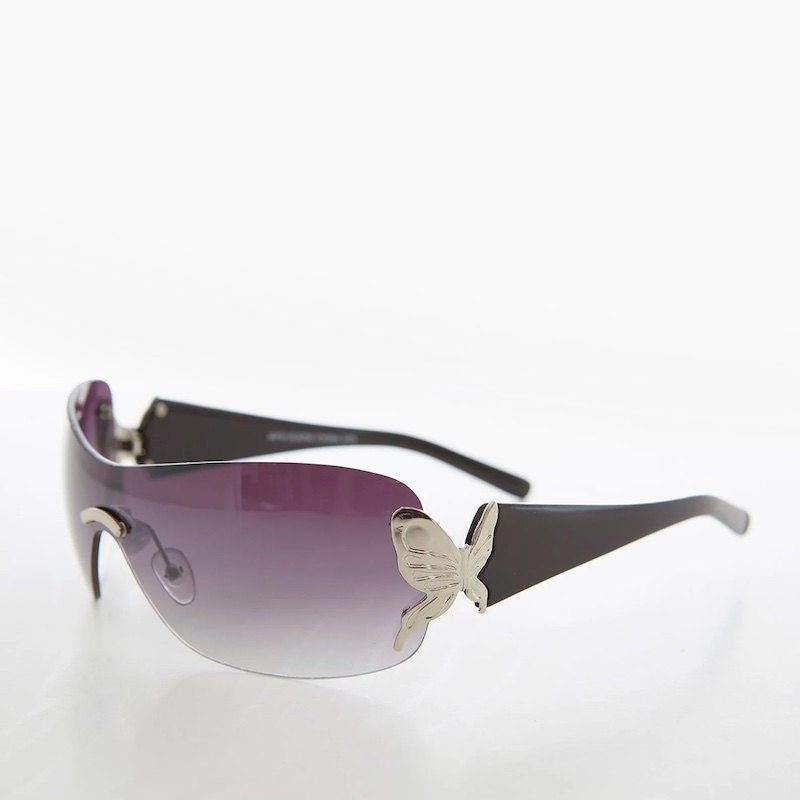 SHOP: Y2K sunglasses
The most stylish sunglasses of the new millennium were fully frameless and often came with pastel lenses and—if you were extra-chic—rhinestone details like initials, logos, or other motifs. This is one accessory that screams Y2K; wearing a pair can instantly transform an otherwise ordinary outfit. Nod to the Y2K trend by rocking frameless sunnies with any of your favorite capsule wardrobe classics, or don your velour tracksuit to go all-out early 2000s.
Y2K micro trends
Capri pants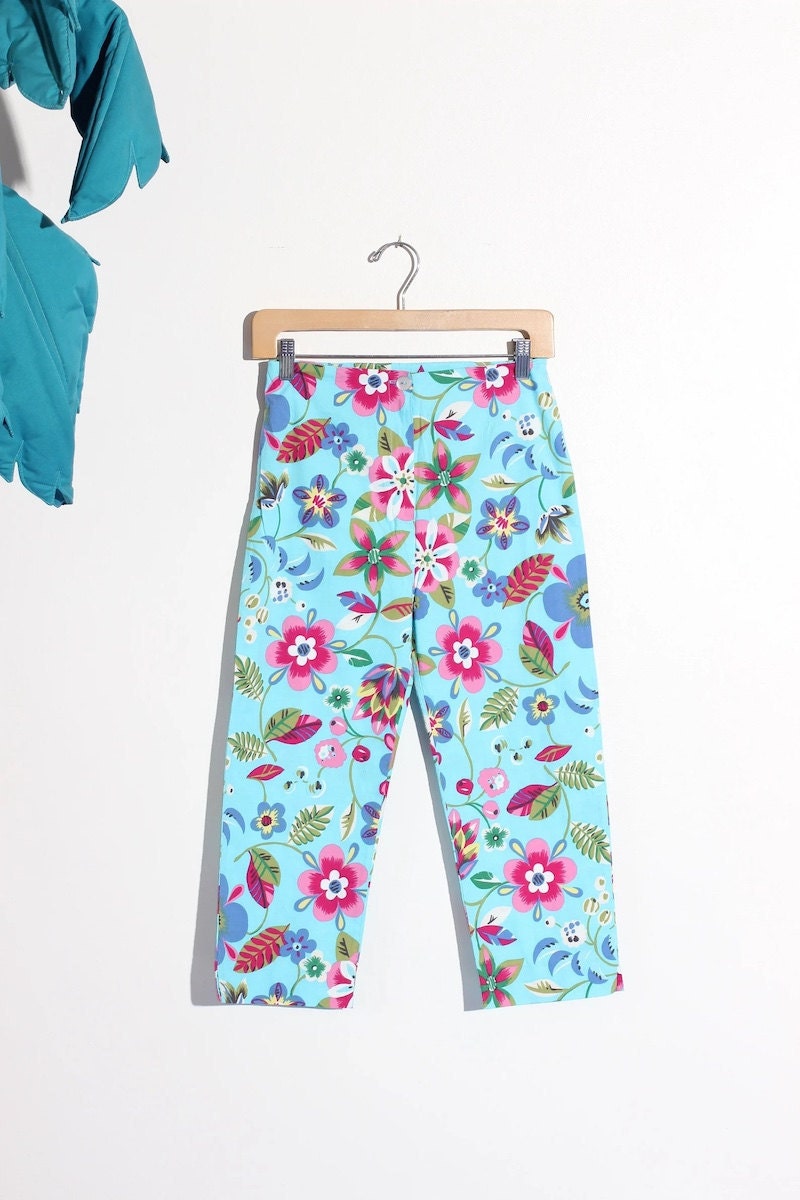 SHOP: Y2K Capri pants
Shorter than a cropped pant but longer than a Bermuda short, form-fitting pedal pushers (a.k.a. "Capri pants") also had a major moment in the early aughts. Create a modern take on this Y2K trend by pairing them with an oversize blazer or a boxy top—plus eye-catching shoes, which will take center stage thanks to the shorter hemline.
Feathered, furry details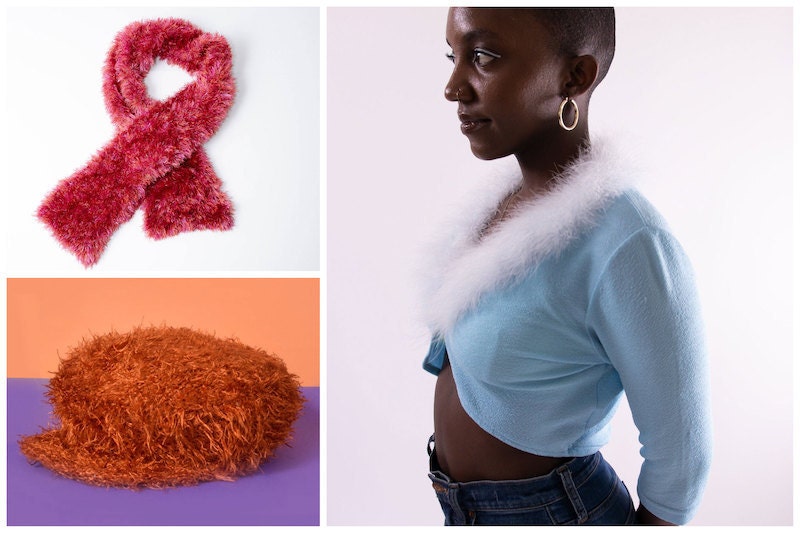 SHOP: Y2K fuzzy fashions
From fluffy cuffed sleeves to frilly evening bags, this is a Y2K fashion trend that feels good—literally. Add a little texture to your next night-out ensemble with a soft, downy scarf or fuzzy bucket hat, or look for a feathered bolero to bring the '00s aesthetic to your brunch 'fit.
Cyber and mod prints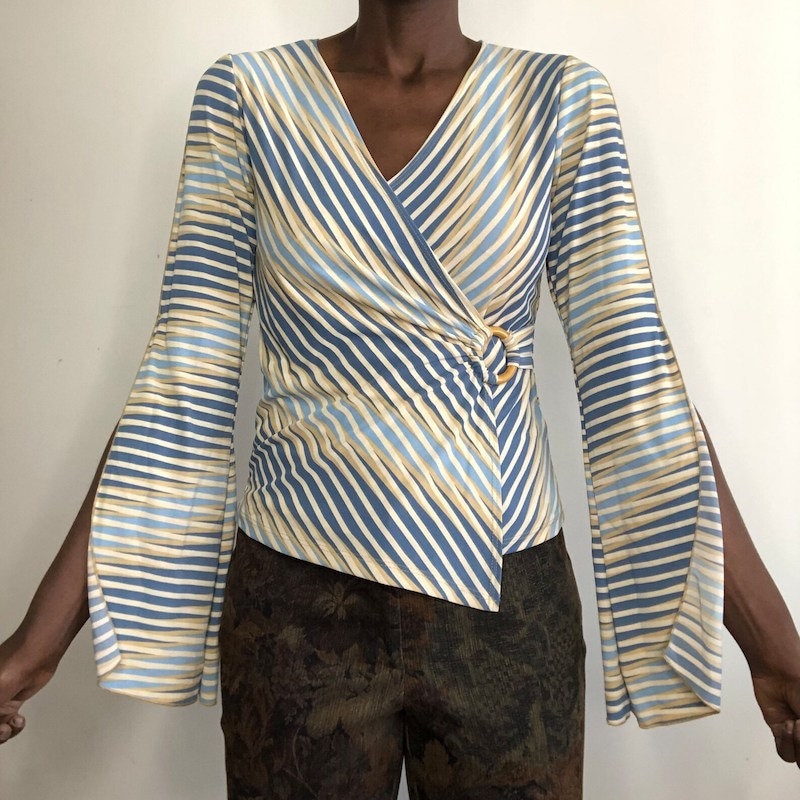 SHOP: Y2K mod print fashions
If you recall, Y2K started off with some serious anticipation about what this soon-to-be iconic fashion decade could mean for computer networks when dates rolled over to '00. This eye toward sci-fi scenarios influenced the mod-meets-millennium patterns that were popular at the turn of the century. To wear these Y2K prints today, put them in the spotlight by pairing with high-waisted pull-on pants in solid, complementary colors.
Metallic, pearlescent, and holographic material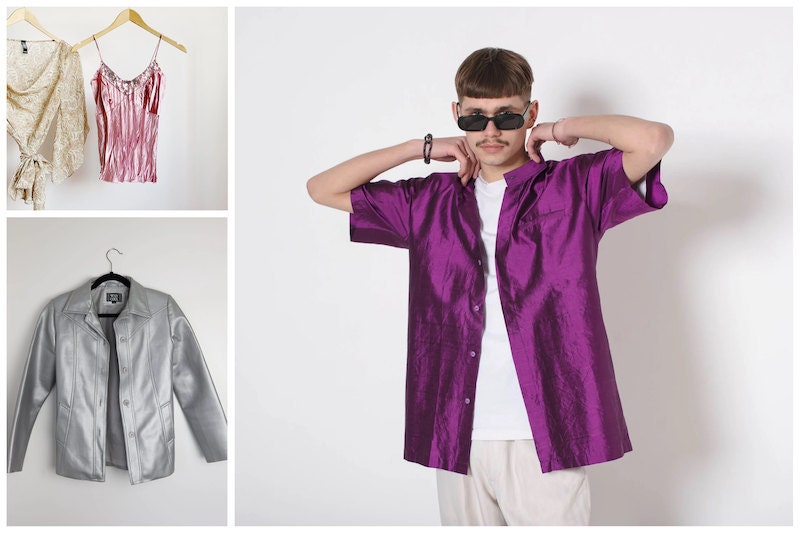 SHOP: Y2K tops
There's something about pearlescent and holographic material that feels futuristic, so it's no surprise these fabrics rose in popularity in Y2K outfits. One great thing about this 2000s fashion trend? Shiny metallics have a way of making any style feel glam—the perfect festive outfit for a birthday party or a night on the town.
Asymmetrical and handkerchief hems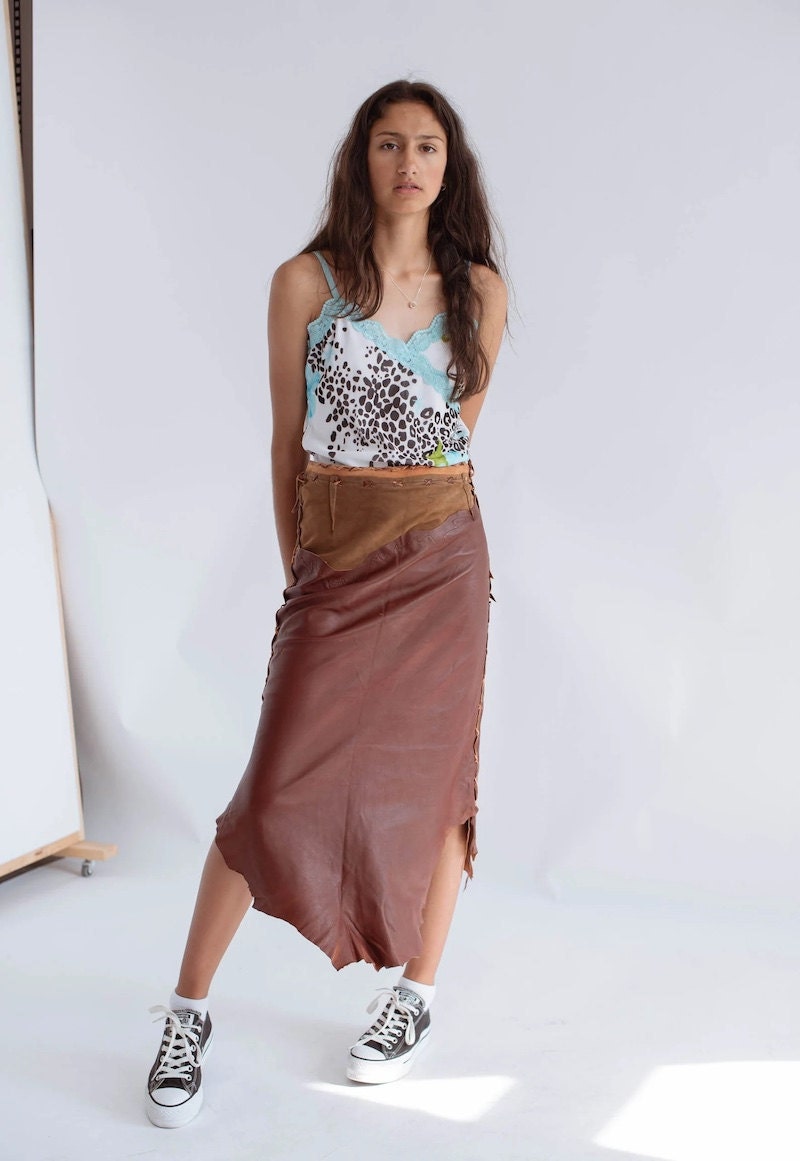 SHOP: Asymmetric hem fashions
Handkerchief-hem tops, dresses, and skirts may have been a Y2K fashion trend 20-some years ago, but this ultra-feminine, flowy aesthetic still feels luxurious today—like something you'd wear on a chic vacation. So, why not scoop up this style for your next warm-weather getaway, and complement with chunky gold jewelry for some extra glam?
Butterfly motif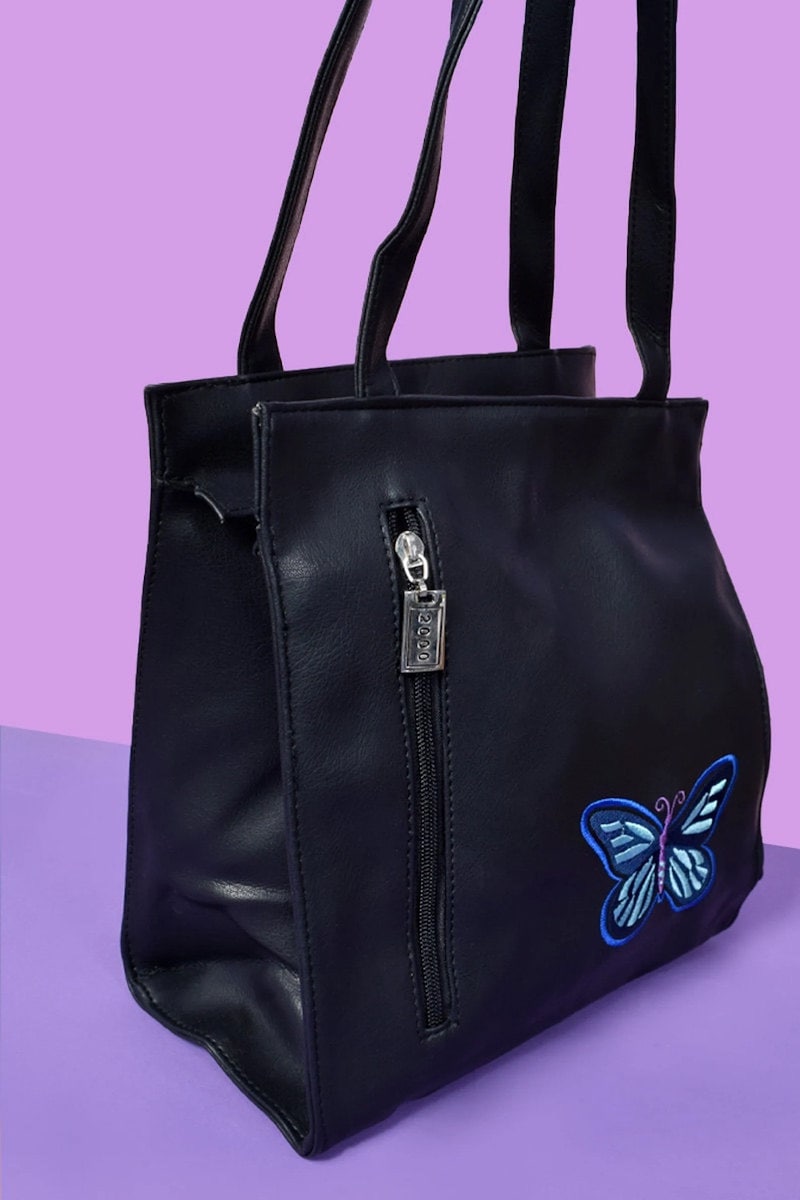 SHOP: Y2K butterfly fashions
From hair clips to handbags, butterflies fluttered their way onto many Y2K accessories in the early aughts; they also adorned clothing from the era, whether through embroidery, screen printing, or even sequin work. Wearing the motif today? Pair with an oversized button-down or a blazer to make the look a little more grown up.
Suede and boho styles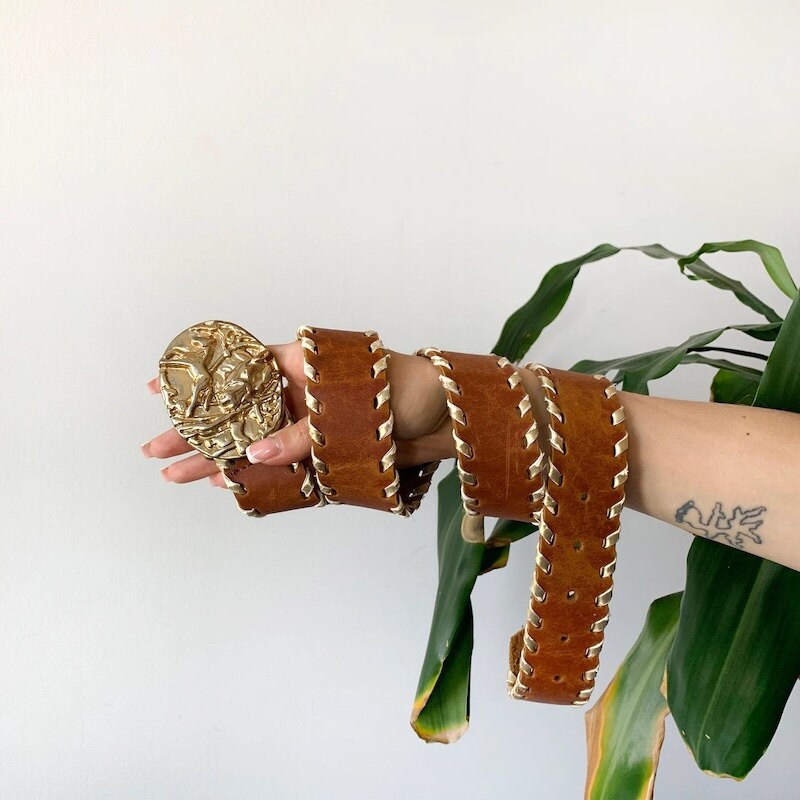 SHOP: Y2K boho styles
Suede and shearling jackets. Belts with oversize brass buckles. Anything fringed. Boho style had a major moment in the early 2000s, and it's still stealing hearts today. Sport a fringed suede coat with low-rise jeans and a baby tee for the full effect, or try one hippie-chic piece at a time to dip a toe-ring into the trend.
*Etsy has not evaluated vintage items' description, condition and authenticity.