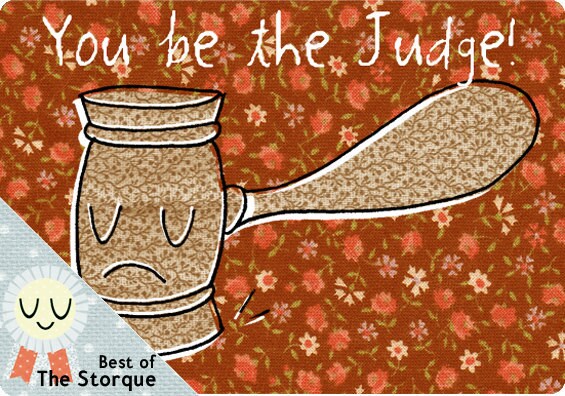 This article was originally published on May 6, 2008. We are reviving it as part of the Best of the Storque series. Enjoy!
I'll admit it: as Etsy's in-house attorney, I love reading legal disputes and thinking about what important issues each side should stress.  I especially like to analyze pending copyright, trademark, and patent cases.  I daydream about what points I would argue if I were the lawyer for each side and then I put on my imaginary judge's robe and make a decision.
Well, here's your chance again.  If you were the judge, what would you decide on this real-life on-going legal battle? (Remember, this issue hasn't gone to court yet…and it will likely be decided in a Danish — not U.S. — court).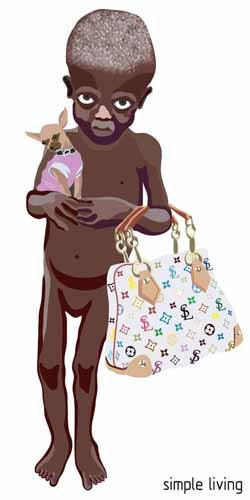 Nadia Plesner is a Danish artist.  According to her website, the illustration "Simple Living" was inspired by "the media's constant cover of completely meaningless things.  My thought was: Since doing nothing but wearing designer bags and small ugly dogs is enough to get you on a [magazine] cover, maybe it is worth a try for people who actually deserve and needs attention."  One hundred percent of the profits from the Simple Living t-shirts and posters will be donated to Divest for Darfur.
In February, 2008 an attorney for
Louis Vuitton Malletier
("Louis Vuitton") sent Plesner a letter asking that she discontinue making and selling the Simple Living products.  According to Louis Vuitton, the illustration infringes on the company's intellectual property rights, in particular the Louis Vuitton Monogram Multi-Color Trademark, to which it is confusingly similar. Plesner responded to the letter, arguing freedom of expression.  She said she will continue her Simple Living campaign in order to raise money for the victims of Darfur.  Louis Vuitton sued her and according to
torrentfreak.com
the company demands $7,500 for each day she continues to sell Simple Life products.  Plesner found a lawyer to represent her free of charge.
UPDATE:
Plesner started a
Foundation
to use her art to "raise funds and awareness for crisis situations/areas throughout the world, especially where children are victims."  Plesner's art no longer makes any references to Louis Vuitton (the bag is gone!) and she writes "[t]hank you so much for all the wonderful support of my first Simple Living campaign and the lawsuit." Hopefully Plesner's legal issues are a thing of the past.  However, had this case gone to a Danish court what would YOU have decided?  Was there risk of confusion?  What about the fact that Plesner is raising money for charity?  In the comments below, you be the judge!
Read Sarah's previous post in the series Apples to Apples and all her Legal Info for Artists pieces.