by Sara Morrow
Experts weigh in on how to style a serene bed, keeping sheets in tip-top condition, the dirty truth about thread counts, and more.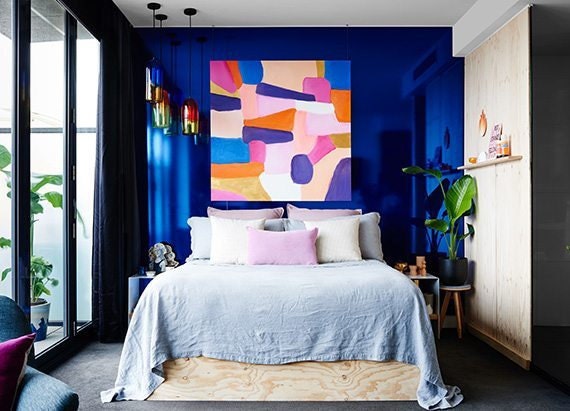 Have you ever scrolled through
Pinterest
and sighed with envy at the perfectly inviting bedrooms? Those soft, beautiful beds seem to encourage you to sleep in on Sunday — but also suggest that, with the right mix of crisp sheets and a cuddly duvet, a bed like that could somehow be the answer to all of life's problems. We turned to
Homepolish
designer Dannielle Corpora and
SleepBetter.org
creator Dan Schecter with our top bedding questions. As it turns out,
your dream bed is just a few smart purchases away.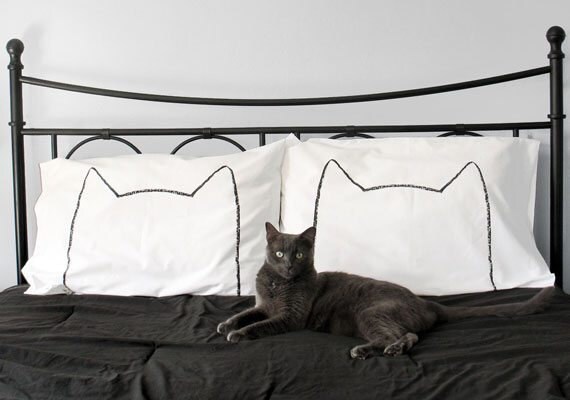 Shop Xenotees
What type of sheets are best for me?
It all comes down to personal preference. Those who can only sleep in a decades-old oversize T-shirt will like the feel of jersey sheets against their skin, while hot-natured sleepers often opt for crisp percale. Those who find they're always tossing off the sheets at 3 a.m. gravitate toward silky sateen. On the fence? Nothing tops 100 percent cotton, says Corpora. Look for pure cotton sheets, rather than cotton-polyester blends, which aren't as breathable and stain more easily.
What's the deal with thread count?
Thread count, at its very base, is the number of vertical and horizontal threads per square inch of material. So, a sheet that boasts a thread count of 300 has an impressive 300 threads per square inch. In the olden days, the higher that number, the higher the quality. Unfortunately, plenty of makers have found ways to game the system, resulting in sheet sets that claim thread counts north of 1,000. (They do this by winding two threads together, for instance, and multiplying the figure by two; but that trick doesn't make for softer sheets.) "There's no need to buy sheets with a thread counter higher than 300," says Schecter, who holds 250 to 300 as the sweet spot.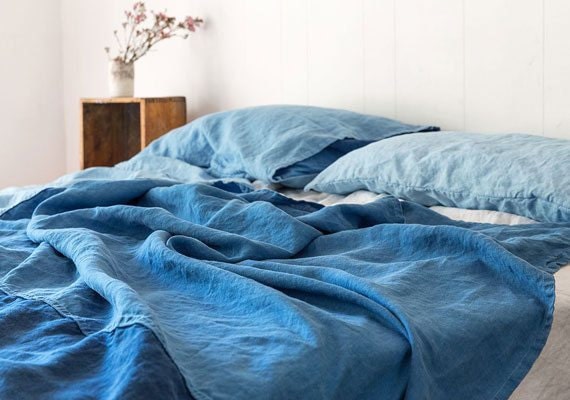 Shop
Bind and Fold
Do I really need a flat sheet under my duvet?
If you've ever traveled in Europe — where standard bedding includes a fitted sheet and a luxe duvet — you've likely questioned whether a flat sheet is really, truly necessary. On one hand, eliminating that layer altogether is one less item to buy and wash. Plus, making the bed is reduced to one quick shake of the duvet. On the other hand? Sweat and oil. "The duvet is something you want to last, and any sort of barrier you have between your body and that duvet cover helps prolong its life," Corpora points out.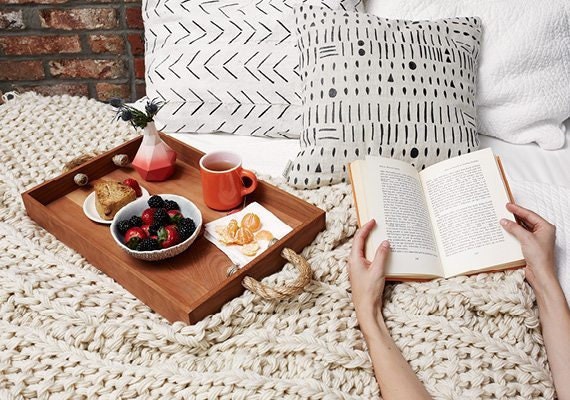 Shop
Magnolia Amor
Which pillow should I buy?
This, perhaps, is the most critical question when it comes to guaranteeing a great night's sleep. "You can buy a $4,000 mattress, but when you put a $4 pillow on top of it, you actually have a $4 mattress," Schecter says. If you sleep on your side, a thicker pillow might be in order, while back sleepers can usually go a little thinner. But beyond that, options abound: Luxurious down pillows tend to cost a little extra, but last longer. Down alternatives, or synthetically filled pillows, are hypo-allergenic — a great choice for allergy sufferers, and they're they're machine-washable. Memory foam is another popular option for sleepers who want more firm support. Schecter has three practical recommendations for pillow purchases:
First and foremost, check the return policy before you buy, and if you try a new pillow on your bed at home and it's not perfect, take it back.
Ditto if the new pillow fails either of these two tests: When you get a new pillow (one that's not foam), place your fingers on a corner and rub them together. The filling should feel buoyant, and should move easily against the other fibers.
If you've bought a natural-fill pillow, be sure to give it a good shake: "This may seem a bit weird, but you want to make sure you're starting with a clean pillow," he says. "Take the pillow out of the bag, hold it in your hand, and smack it. If you see a bunch of dust in the air, return it."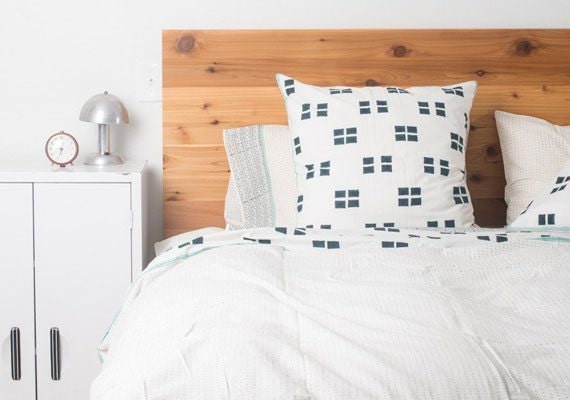 Shop
Hokoda
How many pillows do I need, anyway?
For a designer formula that won't take 10 minutes to deconstruct every night, keep it simple, but mostly symmetrical. Corpora opts for two shams that match the duvet cover, along with two accent pillows. (Along with the pillows you actually sleep on, you're looking at five or six total.) The big perk of this setup? Flexibility. "Generally, I like to keep bedding pretty neutral, but you can switch out those accent pillows to jazz things up with a pattern or color from time to time," she says.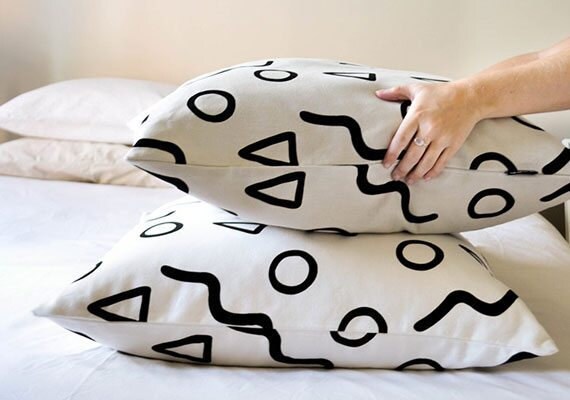 Shop
Zana Products
Beyond accent pillows, what are the simplest ways to style a bed?
This designer trick will transform your bed from basic to Pinterest-worthy — and help carry it through each season: layering. A cozy quilt, folded over the foot of the bed, brings some texture and added warmth in fall, while a fur throw takes that idea further come wintertime. Imagine your duvet, even if it has some light pattern or texture, as a blank slate for layering on other materials. And tie it all together by hitting those accent colors, whether from your throw pillows or blankets, elsewhere in the room with small items like a picture frame, planter, jewelry tray, or alarm clock.
Why are hotel beds so freaking comfortable?!
"For one, hotel mattresses are changed more frequently than the mattresses we have in our homes, so they offer better support," says Schecter, who recommends replacing your primary mattress every seven to 10 years. (Guest beds, of course, have a longer shelf life.) Another huge factor? Size. "We equate hotel beds with the ability to really spread out and lounge," Corpora says. When it comes time to buy a new mattress, opt for the largest size that's practical in your space. "I used to say hotel beds were so much more comfortable — until I got a king-sized memory foam mattress," she admits. "But aside from quality and size, at a hotel, all the bedding is always crisp. Ironing your pillowcases, sheets and duvets will make a noticeable difference. But who has time for that?"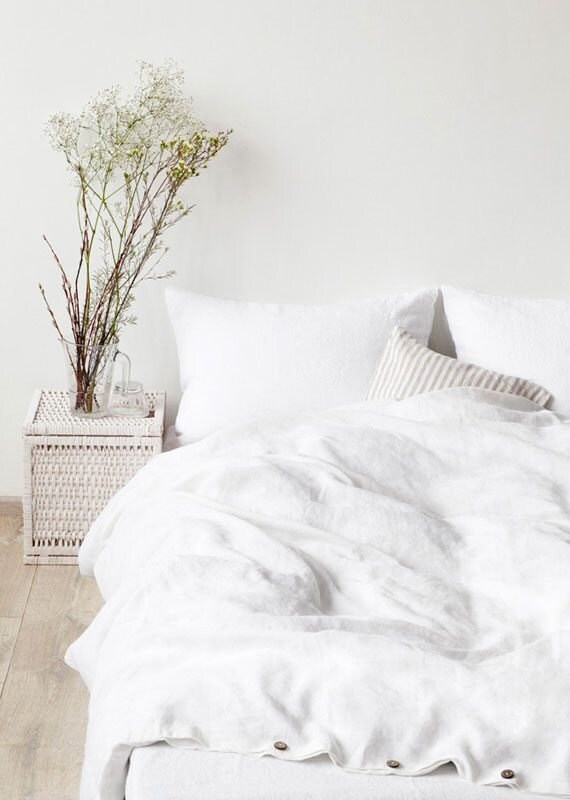 Shop
Linen Tales
Should I have separate bedding for summer and winter?
We have separate wardrobes for each season, so on the surface, it makes sense that sheets should follow suit. "But your room temperature is mostly constant year-round," Schecter says. "Maybe you turn the heat up a little in the wintertime, but that doesn't really have an effect on your bedclothes."
How can I make my bedding last longer?
Unfortunately, other than regular care and maintenance, there's no magic bullet. Sheets and pillowcases should be laundered on hot and dried weekly, duvet covers a few times through the year; have your down-comforter dry cleaned once or twice a year. If weekly washing seems excessive, consider this: "A pint of our moisture goes through our sheets into our mattress every month," Schecter says. Regular signs of wear and tear — pilling, rips, thinning — will indicate when it's time to replace your sheets, but as a general rule, Schecter says properly cared-for high-quality sheets should last between five and 10 years.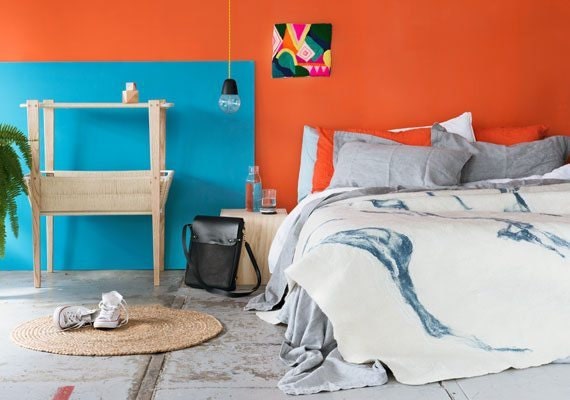 Shop
Grace Wood Designs
Any trends in sheets we should know about?
"Whatever you see that's trending in fashion," Corpora says, "
you'll see that translated to home decor soon enough.
" But loud runway looks don't exactly conjure up a calming bedroom. A recent winner? "Mixing subtle patterns has been increasingly popular," she adds. Pick out two sheet sets you love with coordinating patterns. You could go bold or dramatic, if you're into that; or, if you still want a serene environment, pale patterns typically read as neutrals. Mix the patterns by using one fitted sheet with the other flat sheet, and when you make the bed, fold the duvet and the flat sheet back a bit for a peek-a-boo effect. "Again, you want to make sure those colors appear elsewhere in the room for a cohesive feel," Corpora advises.
Header image by Marsha Golemac and Brooke Holm.