Another fun hand painted book cover.... to decorate your coffee table or your own personal art space.

"IN YOUR OWN WRITE" is written by famous English decorative artist, Jocasta Innes. I bought this book years ago and used the wonderful inspiration to put calligraphy on my walls and lamp shades....it looked so Parisian to me. It is a lovely little book in excellent condition but does have my name written on cover sheet but that can be removed.

The book teaches you enough about calligraphy and fonts and scripts and then it quickly gets you involved in projects like making Victorian Valentines, Monogrammed cushions, Chinese lampshades as shown above, writing on the wall (which I love), printed tablemats and curtains just to name a few. A wonderful primer to inspire you to create new home projects for your home 2017.

On the front of this 7.2" X 6.2" book is a picture of a lovely Parisian woman in her black beret and French blue jacket. She is wearing a pearl earring and a deep blue rhinestone ring. Yes,
she is smoking but she is Parisian..... The background is a silver and taupe diamonds design.

On the back of the book is our French lady leaving with a hand printed quote..
"A WRITER IS BY NATURE A DREAMER"
So write all over your life and be the dreamer that you are in 2017.

FREE BOOKMARK WITH EACH BOOK.

The book will be gift wrapped in a clear cello package A truly one of a kind gift.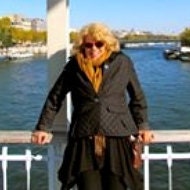 Meg Mitchell
new product...PARIS BOOK COVER, hand painted, In Your Own Write, diamond, Paris, gift for book lover, coffee table book, diy printing, beret
---
Shop similar items from sellers around the world