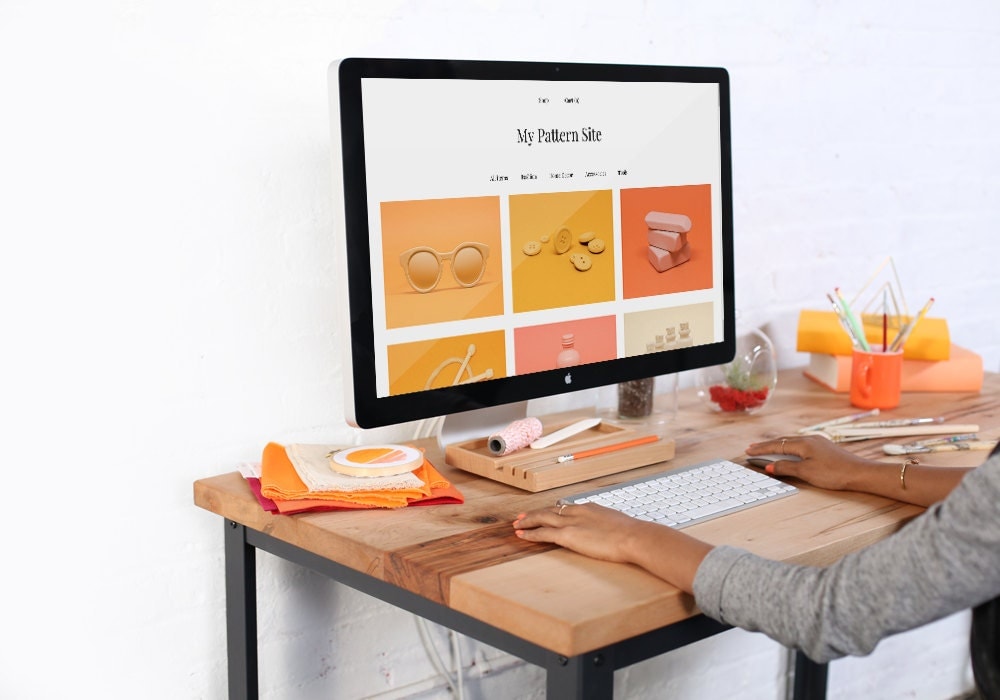 What's New
Many sellers have told us that having a standalone, personal website is an important part of growing their brand. You may want your own business site to pitch to the press, for instance, or develop more strategic marketing campaigns. But, without the right tools, building a site and managing online inventory can be a huge challenge. Today, we're announcing the launch of Pattern by Etsy, a way for you to easily build a custom ecommerce website to accompany your Etsy shop. Pattern uses all of your existing Etsy inventory, payments and order management tools, so all of the work you've put into your Etsy shop will be applied directly to your new standalone website.
How it Works
Select a Theme
The Pattern dashboard is the starting point for building a Pattern site for your shop. First, select one of five mobile-optimised themes for your website. Each theme is designed to highlight a particular aspect of your shop:
The Chevron theme prominently features your shop images and story, allowing buyers to get to know your brand right away.
The Mosaic theme creates a collage showcasing a variety of your products on the homepage.
The Swatch theme groups your products together on the homepage by shop section, creating an organised experience for buyers.
The Stripe theme displays your products like a blog, a good choice for sellers that have a small, carefully curated product line.
The Trellis theme highlights your featured listings front and center.
Customise
Once you select an overall theme for your Pattern site, you can use other settings to customise your site. You can change your background and accent colours, set a new font, and decide how you'd like the basket and listing pages to look for buyers. You can also register your own unique URL for your Pattern site, or connect one that you already own.
Launch
After you've personalised and launched your Pattern site, everything that you do on Etsy will be applied to it automatically, including adding new listings, managing inventory, changing prices and variations, and editing your shop sections. You can fulfill orders from your Pattern site just as you do on your Etsy shop; order management is combined in one place and you'll have access to all of your shop's existing tools, including Postage Labels, Conversations and more.
More Information
Here are more details about using Pattern and the associated fees:
Pattern is currently available to sellers with Direct Checkout enabled.
New Pattern users will be able to launch their site for a 30-day free trial.
After the trial, the hosting fee for your Pattern site will be $15 per month, plus applicable tax.
Transaction fees are the same as those in your Etsy shop: When you make a sale through Pattern, you will be charged a transaction fee of 3.5% of the item price, in addition to any associated payment processing fees.
There is no additional listing fee for Pattern items: The listing fee you pay for products on Etsy covers a listing for both your Etsy shop and your Pattern site.
Pattern is just one way that you can choose to grow your business on Etsy. Our goal is to help you succeed in our marketplace, while also offering the ability to create an easy-to-use, customised website for your brand.
Get Started
We've made it easy to build and launch your Pattern site: Click here to learn more and to start your free trial.