Announcement Gemstones, Crystals, Handmade Malas, Tassel Bracelets, 108 Mala Beads, Gemstone Mala Beads, Smudging Supply, and Yoga Jewelry. Handmade with love in sunny Los Angeles.

Follow Bija Malas on Facebook and Instagram to be kept in the loop about new products, promotions, and other fun stuff:

http://www.facebook.com/bijamalas
Instagram: @bijamalas

WHAT IS A MALA?

A mala is an ancient yogic tool, a string of beads used for mantra meditation and prayer. They are also sometimes called japa malas, prayer beads, yoga beads, bhakti beads, or rosaries. Malas are traditionally strung with 108, 54, 27, or 21 beads. Using your mala daily can enhance your intuition, physical and mental health, energy level, concentration, communication, patience, and create a deep enlightenment. A daily mantra practice is also known to lower blood pressure, reduce stress, and relieve anxiety and depression. Sacred Stone Malas are strung with semiprecious gemstone beads, to add the energetic and healing properties of natural gems to your mantra yoga practice. When you aren't using your malas for reciting mantras, you can keep them in a soft bag, or place them on an altar or other sacred space. You can also wear your mala draped around your neck or wrist as a reminder of your intentions throughout your day.

WHAT IS A MANTRA?

In the yogic tradition, a mantra is a Sanskrit word or series of words that has the power to transform and heal the mind, body, soul, and spirit. Sanskrit is an ancient and powerful sacred language, with each syllable having the power to raise your vibration and consciousness. Mantras can be used to attain spiritual, physical, or worldly desires, or to deepen devotional and meditational practices. Sanskrit mantras have a cumulative effect, so the more mantras you recite, the stronger their effects will be. You can chant any mantra that feels right to you.

HOW DO I USE A MALA?

Mantra practice is used as a form of meditation. Sit in a comfortable position, preferably barefoot, with your feet to the earth, or in lotus position. Focus on your breathing for a few moments, and try to clear your mind. Begin with your beads in your right hand, with the strand draped over your middle finger. The first finger is associated with the ego, and should not touch your beads. Begin with the first bead next to the guru bead, using your thumb to push each bead down as you recite the mantra. You may say your mantra silently or aloud, eyes closed or open. Continue along the mala until you have said a mantra for each bead. If you are using a full 108 bead mala, you can stop when you reach the guru bead again, or turn it around and go back in the opposite direction if you'd like to do another recitation of 108. If you are using a 27 bead mala bracelet, continue for three more rounds to complete your 108 mantras. It is recommended that you practice the same mantra for 40 consecutive days.

Each mala is handmade for you with love. Enjoy!

------------------------------------------------------------------------------------------------------------------------
Announcement
Last updated on
01 Nov, 2016
Gemstones, Crystals, Handmade Malas, Tassel Bracelets, 108 Mala Beads, Gemstone Mala Beads, Smudging Supply, and Yoga Jewelry. Handmade with love in sunny Los Angeles.

Follow Bija Malas on Facebook and Instagram to be kept in the loop about new products, promotions, and other fun stuff:

http://www.facebook.com/bijamalas
Instagram: @bijamalas

WHAT IS A MALA?

A mala is an ancient yogic tool, a string of beads used for mantra meditation and prayer. They are also sometimes called japa malas, prayer beads, yoga beads, bhakti beads, or rosaries. Malas are traditionally strung with 108, 54, 27, or 21 beads. Using your mala daily can enhance your intuition, physical and mental health, energy level, concentration, communication, patience, and create a deep enlightenment. A daily mantra practice is also known to lower blood pressure, reduce stress, and relieve anxiety and depression. Sacred Stone Malas are strung with semiprecious gemstone beads, to add the energetic and healing properties of natural gems to your mantra yoga practice. When you aren't using your malas for reciting mantras, you can keep them in a soft bag, or place them on an altar or other sacred space. You can also wear your mala draped around your neck or wrist as a reminder of your intentions throughout your day.

WHAT IS A MANTRA?

In the yogic tradition, a mantra is a Sanskrit word or series of words that has the power to transform and heal the mind, body, soul, and spirit. Sanskrit is an ancient and powerful sacred language, with each syllable having the power to raise your vibration and consciousness. Mantras can be used to attain spiritual, physical, or worldly desires, or to deepen devotional and meditational practices. Sanskrit mantras have a cumulative effect, so the more mantras you recite, the stronger their effects will be. You can chant any mantra that feels right to you.

HOW DO I USE A MALA?

Mantra practice is used as a form of meditation. Sit in a comfortable position, preferably barefoot, with your feet to the earth, or in lotus position. Focus on your breathing for a few moments, and try to clear your mind. Begin with your beads in your right hand, with the strand draped over your middle finger. The first finger is associated with the ego, and should not touch your beads. Begin with the first bead next to the guru bead, using your thumb to push each bead down as you recite the mantra. You may say your mantra silently or aloud, eyes closed or open. Continue along the mala until you have said a mantra for each bead. If you are using a full 108 bead mala, you can stop when you reach the guru bead again, or turn it around and go back in the opposite direction if you'd like to do another recitation of 108. If you are using a 27 bead mala bracelet, continue for three more rounds to complete your 108 mantras. It is recommended that you practice the same mantra for 40 consecutive days.

Each mala is handmade for you with love. Enjoy!

------------------------------------------------------------------------------------------------------------------------
Reviews

Very happy with this purchase. I have ordered from Bija Malas a few times now and I'm never disappointed. What I like is the look and how strong the wire is. My one year old yanks and yanks on this necklace and i never worry. The only thing I didn't love were the accent beads. I wish the listing had shown them better because I might not have chosen this particular necklace but overall I am super happy.

Beautiful colors, love this stone!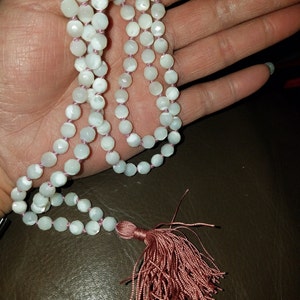 Gorgeous necklace picture doesnt describe how beautiful the pearls sparkles. So much better in person, thank you so much. I so happy and love it!!! Wonderful communication with seller too. Prompt reply. My 3rd purchase; 1st mala bead necklace. Beautifully made!!! Love all your mala beads!
About
Meditation and Crystals
Bija Malas started in 2011 after my love of crystals and meditation came together. As my meditation practice grew, it seemed natural to incorporate mala beads with crystals, two healing tools that I'd been using as a parent and Ayurvedic practitioner. I found that making malas calmed and centered me, and provided a creative outlet that had been missing as a busy parent of two littles with one on the way. I started making malas for myself, and then for friends, and friends of friends, and friends of friends of friends....

Bija Malas started in a tiny corner of my living room where I'd keep beads and wire and string and tools. I'd often pack little mala making kits into my bag and tie knots wherever I was able to find quiet moments with the kids.

These days Bija Malas has grown quite a bit from the little living room corner and play yard operation. It's now a full time job, and I have since expanded into making other types of spiritual jewelry and tools for divination and meditation, and carrying lots of gorgeous crystals from mother nature.

Thanks for stopping by! <3
Shop members
Iris

Owner, Creator, Designer

Owner, Creator, Designer, Curator, Photographer
Shop policies
Last updated on
18 April, 2016
Welcome! Bija Malas (formerly Sacred Stone Malas) is based out of Los Angeles, California.

Each item is made with love, attention to detail, and a meditative mind set.

Semi precious gemstones, rudraksha seeds, and wood are used to create the malas sold in this shop. Most of the knotted malas sold in our shop are made with cotton strings. We've found that cotton holds and transmits the vibrations of your meditations easily, and is an animal-friendly alternative to using silk. We've recently added some silk items for sale. Please be gentle with your mala or spiritual jewelry; do not bathe, swim, or partake in any vigorous activity while wearing to ensure you both live a long and happy life together. We do not recommend wrapping your mala around your wrist to wear as a bracelet as this stretches the string unnecessarily, and can shorten the life of your prayer beads.

We highly suggest spiritually cleansing your gemstones as often as possible to remove any unwanted energy. Gemstones are great at absorbing negative energy, but that means that it must be removed so that we don't transmit the negativity back to ourselves. Any time you touch your gemstones and they don't make you feel great, it's time for a cleansing!

Gemstone malas can be cleansed with moonlight, smudge such as sage or palo santo, plants or trees, or other crystals. We do not suggest cleansing gemstones with sunlight, as it can fade the color of your stones. We've found that the easiest way to keep gemstone malas clean is to let them rest in a potted plant or a special place with a quartz or selenite crystal when not being used or worn. This will keep the gemstones fresh for your practice every time you're ready to use them.

If your cotton or silk tassel gets rumpled, you can give it a little water, then hang or lie flat to dry to smooth out the tassel again.

Many of the malas carried in this shop are made with brass, silver, and copper beads. The nature of these materials is that exposure to air and natural oils can cause them to tarnish. Tarnishing is a natural occurrence, which gives your beads an antiqued look. If you do not like the look of tarnished metals, you can rub them with a polishing cloth to restore their shine.
Accepted payment methods
Accepts Etsy Gift Cards and Etsy Credits
Returns and exchanges
Returns or exchanges are accepted on non-custom items within the first 7 days of receipt if you are for any reason unhappy with what you have received. Please return the item in the exact condition in which it was received for a full refund or exchange. We will refund minus shipping fees. Unfortunately, custom items are not refundable.

The nature of a natural fiber mala is that it can break eventually. Some people take a broken mala as a sign that we have accomplished what we needed with that particular mala. Some see it as good luck, others as a sign of a well-loved set of prayer beads. If your mala breaks within the first 60 days after shipment, we will restring it for free. Please contact us via Etsy convo system if you would like to send your mala back for a restringing. After 60 days, we will restring your mala for a $30 fee, which includes return first class shipping.
Payment
Bija Malas accepts PayPal, and credit cards through Etsy's Direct Checkout.
Please note that all California residents must be charged 9% sales tax per California's laws.
Shipping
All items aside from custom orders ship within 1-3 business days after receipt of payment via United States Postal Service. First class mail within the US usually takes 4 business days or less. International orders usually arrive within 3 weeks, but can take as long as 6-8 to get to you. Faster shipping services are available at checkout.

***************NOTICE TO INTERNATIONAL CUSTOMERS:***********************

Orders shipped to countries outside of the United States may be subject to import taxes, customs duties, and fees levied by the destination country. These fees are the responsibility of the buyer and since customs policies vary widely from country to country we cannot predict what they may be.

The site below is a helpful tool to calculate your country's duties.
http://www.dutycalculator.com/new-import-duty-and-tax-calculation/

When customs clearance procedures are required, it can cause delays beyond our original delivery estimates.
Additional policies and FAQs
Wholesale available! Please contact us for wholesale information.

The gemstone information presented on this website is meant for inspirational and entertainment purposes only. While we fully believe in the healing power of crystals and tend to choose holistic methods for healing our minds and bodies as the first method of treatment, sometimes medical treatment is the best way to go. In no way is the information here intended to replace proper medical attention or consultation if needed.