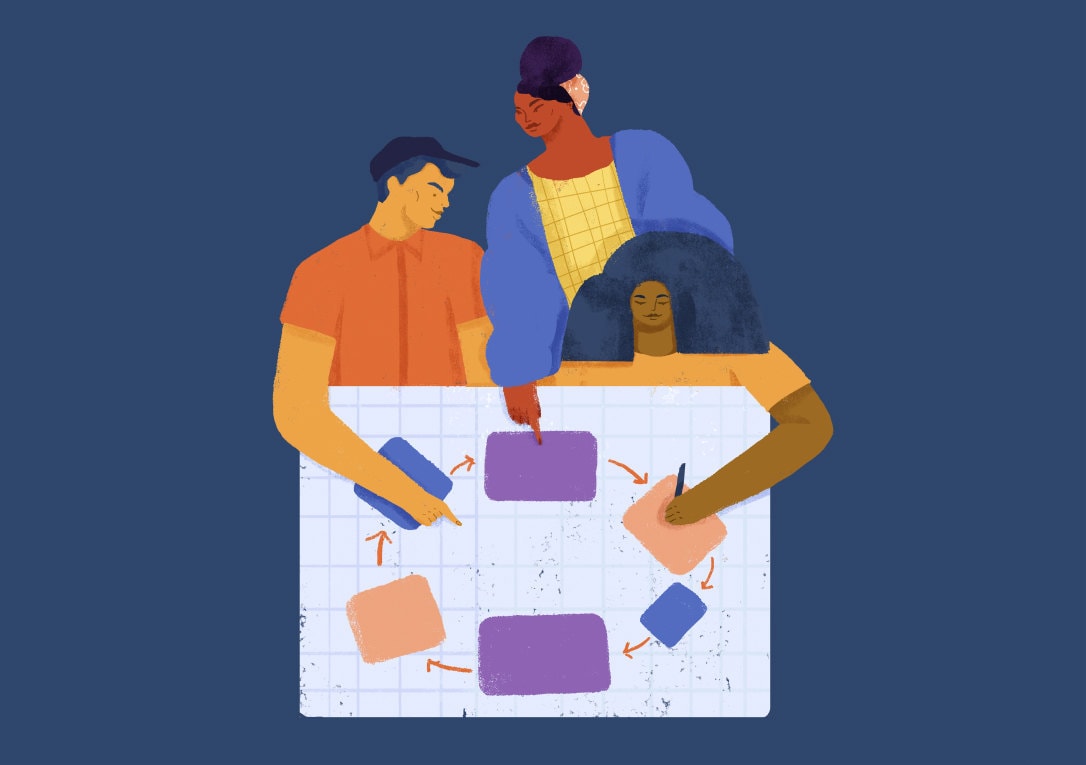 Why Diversity Is Important to Etsy
We recently published our company's Guiding Principles. These are five common guideposts that apply to all organizations and departments within Etsy. We spent a great deal of time discussing, brainstorming, and editing these. By one estimate, over 30% of the company had some input at some phase of the process. This was a lot of effort by a lot of people but this was important work. These principles need to not only reflect how we currently act but at the same time they need to be aspirational for how we want to behave. These principles will be used in performance assessments, competency matrices, interview rubrics, career discussions, and in everyday meetings to refocus discussions. One of the five principles is focused on diversity and inclusion. The principle states.
We embrace differences.

Diverse teams are stronger, and inclusive cultures are more resilient. When we seek out different perspectives, we make better decisions and build better products.
Why would we include diversity and inclusion as one of our top five guiding principles? One reason is that Etsy's mission is to Keep Commerce Human. Etsy is a very mission-driven company. Many of our employees joined and remain with us because they feel so passionate about the mission. Every day, we keep commerce human by helping creative entrepreneurs find buyers who become committed fans of the seller's art, crafts, and collections. The sellers themselves are a diverse group of individuals from almost every country in the world. We would have a hard time coming to work if the way we work, the way we develop products, the way we provide support, etc. isn't done in a manner that supports this mission. Failing to be diverse and inclusive would fail that mission.
Besides aligning with our mission, there are other reasons that we want to have diverse teams. Complicated systems, which feature unpredictable, surprising, and unexpected behaviors have always existed. Complex systems, however, have gone from something found mainly in large systems, such as cities, to almost everything we interact with today. Complex systems are far more difficult to manage than merely complicated ones as subsystems interact in unexpected ways making it harder to predict what will happen. Our engineers deal with complex systems on a daily basis. Complexity is a bit of an overloaded term, but scholarly literature generally categorizes it into three major groups, determined according to the point of view of the observer: behavioral, structural, and constructive.1 Between the website, mobile apps, and systems that support development, our engineers interact with highly complex systems from all three perspectives every day. Research has consistently shown that diverse teams are better able to manage complex systems.2
We recently invited Chris Clearfield and András Tilcsik, the authors of Meltdown (Penguin Canada, 2018), to speak with our engineering teams. The book and their talk contained many interesting topics, most based on Charles Perrow's book, Normal Accident Theory (Princeton University Press; revised ed. 1999). However, perhaps the most important topic was based on a series of studies performed by Evan Apfelbaum and his colleagues at MIT. This study revealed that as much as we're predisposed to agree with a group, our willingness to disagree increases dramatically if the group is diverse.3 According to Clearfield and Tilcsik, homogeneity may facilitate "smooth, effortless interactions," but diversity drives better decisions. Interestingly, it's the diversity and not necessarily the specific contributions of the individuals themselves, that causes greater skepticism, more open and active dialogue, and less group-think. This healthy skepticism is incredibly useful in a myriad of situations. One such situation is during pre-mortems, where a project team imagines that a project has failed and works to identify what potentially could lead to such an outcome. This is very different from a postmortem where the failure has already occurred and the team is dissecting the failure. Often individuals who have been working on projects for weeks or more are biased with overconfidence and the planning fallacy. This exercise can help ameliorate these biases and especially when diverse team members participate. We firmly believe that when we seek out different perspectives, we make better decisions, build better products, and manage complex systems better.
Etsy Engineering is also incredibly innovative. One measure of that is the number of open source projects on our GitHub page and the continuing flow of contributions from our engineers in the open source community. We are of course big fans of open source as Etsy, like most modern platforms, wouldn't exist in its current form without the myriad of people who have solved a problem and published their code under an open source license. But we also view this responsibility to give back as part of our culture. Part of everyone's job at Etsy is making others better. It has at times been referred to as "generosity of spirit", which to engineers means that we should be mentoring, teaching, contributing, speaking, writing, etc.
Another measure of our innovation is our experiment velocity. We often run dozens of simultaneous experiments in order to improve the buyer and seller experiences. Under the mission of keeping commerce human, we strive every day to develop and improve products that enable 37M buyers to search and browse through 50M+ items to find just the right, special piece. As you can imagine, this takes some seriously advanced technologies to work effectively at this scale. And, to get that correct we need to experiment rapidly to see what works and what doesn't. Fueling this innovation is the diversity of our workforce.
Companies with increased diversity unlock innovation by creating an environment where ideas are heard and employees can find senior-level sponsorship for compelling ideas. Leaders are twice as likely to unleash value-driving insights if they give diverse voices equal opportunity.4
So diversity fits our mission, helps manage complex systems, and drives greater innovation, but how is Etsy doing with respect to diversity? More than 50% of our Executive Team and half of our Board of Directors are women. More than 30% of Etsy Engineers identify as women/non-binary and more than 30% are people of color.5 These numbers are industry-leading, especially when compared to other tech companies who report "tech roles" and not the more narrow category, "engineering" roles. Even though we're proud of our progress, we're not fully satisfied. In October 2017, we announced a diversity impact goal to "meaningfully increase representation of underrepresented groups and ensure equity in Etsy's workforce." To advance our goal, we are focused on recruiting, hiring, retention, employee development, mentorship, sponsorship, and building an inclusive culture.
We have been working diligently on our recruiting and hiring processes. We've rewritten job descriptions, replaced some manual steps in the process with third-party vendors, and changed the order of steps in the interview process, all in an effort to recruit and hire the very best engineers without bias. We have also allocated funding and people in order to sponsor and attend conferences focused on underrepresented groups in tech. We'll share our 2018 progress in Q1 2019.
Once engineers are onboard, we want them to bring their whole selves to work in an inclusive environment that allows them to thrive and be their best. One thing that we do to help with this is to promote and partner directly with employee resource groups (ERGs). Our ERGs include Asian Resource Community, Black Resource and Identity Group at Etsy, Jewish People at Etsy, Hispanic Latinx Network, Parents ERG, Queer@Etsy, and Women and NonBinary People in Tech. If you're not familiar with ERGs, their mission and goals are to create a positive and inclusive workplace culture where employees from underrepresented backgrounds, lifestyles, and abilities have access to programs that foster a sense of community, contribute to professional development, and amplify diverse voices within our organization. Each of these ERGs has an executive sponsor. This ensures that there is a communication channel with upper management. It also highlights the value that we place upon the support that these groups provide.
We are also focused on retaining our engineers. One of the things that we do to help in this area is to monitor for discrepancies that might indicate bias. During our compensation, assessment, and promotion cycles, we evaluate for inconsistencies. We perform this analysis both internally and through the use of third parties.
Etsy Engineering has been a leader and innovator in the broader tech industry with regard to technology and process. We also want to be leaders in the industry with regards to diversity and inclusion. It is not only the right thing to do but it's the right thing to do for our business. If this sounds exciting to you, we'd love to talk, just click here to learn more.
Endnotes:
list text hereWade, J., & Heydari, B. (2014). Complexity: Definition and reduction techniques. In Proceedings of the Poster Workshop at the 2014 Complex Systems Design & Management International Conference.
Sargut, G., & McGrath, R. G. (2011). Learning to live with complexity. Harvard Business Review, 89(9), 68–76
Apfelbaum EP, Phillips KW, Richeson JA (2014) Rethinking the baseline in diversity research: Should we be explaining the effects of homogeneity? Perspect Psychol Sci 9(3):235–244.
Hewlett, S. A., Marshall, M., & Sherbin, L. (2013). How diversity can drive innovation. Harvard Business Review. 5 Etsy Impact Update (August 2018). https://extfiles.etsy.com/Impact/2017EtsyImpactUpdate.pdf