Ankündigung WHAT'S NEW?!
We've created an Instagram for our Etsy Shop! @etsy_jonallenmetalart
Follow us for design ideas, featured customer photos sent in by our Etsy fam, and for sneak peeks at new items to come!
Link --> https://www.instagram.com/etsy_jonallenmetalart/?hl=en

WANT 10% OFF YOUR NEXT ORDER? Sign up for the JonAllenMetalArt newsletter. Copy and paste the link below into your browser and once you have signed up, we'll email you the coupon code to use towards your purchase. (excluding custom orders, cannot be combined with any other promotional codes)
http://www.handmadenewsletter.com/JonAllenMetalArt

Original Handmade Metal Wall Art, Wall Clocks, Desk Clocks, 3D Wall Sculptures, Freestanding Indoor-Outdoor Sculptures, Abstract Paintings, Mirrors, Home & Office Decor and Other Fine Metal Art by Artist Jon Allen
Ankündigung
Zuletzt aktualisiert am
02. Mai 2018
WHAT'S NEW?!
We've created an Instagram for our Etsy Shop! @etsy_jonallenmetalart
Follow us for design ideas, featured customer photos sent in by our Etsy fam, and for sneak peeks at new items to come!
Link --> https://www.instagram.com/etsy_jonallenmetalart/?hl=en

WANT 10% OFF YOUR NEXT ORDER? Sign up for the JonAllenMetalArt newsletter. Copy and paste the link below into your browser and once you have signed up, we'll email you the coupon code to use towards your purchase. (excluding custom orders, cannot be combined with any other promotional codes)
http://www.handmadenewsletter.com/JonAllenMetalArt

Original Handmade Metal Wall Art, Wall Clocks, Desk Clocks, 3D Wall Sculptures, Freestanding Indoor-Outdoor Sculptures, Abstract Paintings, Mirrors, Home & Office Decor and Other Fine Metal Art by Artist Jon Allen
Bewertungen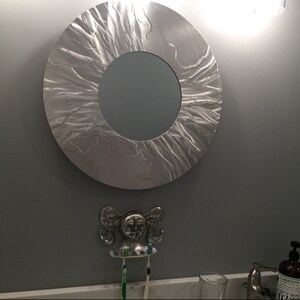 We needed one round mirror for the center of double sinks in our newly renovated bathroom. This is perfect! It's beautiful, it was packaged beautifully with little chance of breaking during the trip. We love it and plan to order more from him!

Really beautiful and well made. I am so glad that I got them. They are my favorite earrings. I wish there were a pendant that would go with this set!
Profil des Shops
Handmade Metal Wall Art | Fine Paintings | Wall Sculpture | Freestanding Indoor- Outdoor Sculpture | Home Decor
I have a studio space near West Palm Beach, Florida where every piece is handmade with care and attention to detail. In addition to all of the work space and tools I need, I have a small photography studio where I take photos of the pieces. There is also a shipping area where each piece is quality inspected, gallery wrapped, and securely packed for global transit! Lastly, we have a small gallery space where people can visit by appointment! There I'll keep a lot of the pieces I have most recently finished or even prototypes for new concepts I am working on.
Shop-Mitglieder
Jon Allen

Inhaber, Hersteller, Artist

My passion is constantly stimulated by the waves in the ocean to the geometric lines of the city at night. I traveled for 20 years with my jewelry business before my love affair with metal, my chosen medium, evolved into the artwork you see here.

Megan

Etsy Account Manager
AGB
Zuletzt aktualisiert am
17. Januar 2018
All of the items in my shop are 100% handmade in my working studio in Lake Park, Florida.
Akzeptierte Zahlungsmethoden
Akzeptiert Etsy-Gutscheine und Etsy-Gutschriften
Rückgaben und Umtäusche
Ich akzeptiere Widerruf und Umtausch
Kontaktiere mich innerhalb von: 
14 Tagen nach der Lieferung
Sende Artikel zurück innerhalb von: 
30 Tagen nach der Lieferung
Ich akzeptiere keine Stornierungen
Aber bitte kontaktiere mich, falls du irgendein Problem mit deiner Bestellung hast.
Für die folgenden Artikel ist kein Widerruf und kein Umtausch möglich
Aufgrund der Art dieser Produkte ist für folgende Produkte kein Widerruf möglich. Anderes gilt, wenn die Produkte bei der Lieferung defekt oder beschädigt waren.
Spezialanfertigungen oder personalisierte Bestellungen
Hast du Fragen zu deiner Bestellung?
Bitte , falls es ein Problem mit deiner Bestellung gibt.
Communications are required within 14 days of confirmed package delivery for returns, refunds and/or exchanges to be considered. If you're not satisfied for any reason, our return policy allows you to send back the merchandise within 30 days of the date you received the package for an exchange or a refund of the purchase price, minus the shipping and handling.

We ask that the returned artwork is packaged with the original packing materials, or equivalent quality and received at Statements2000 studio in gallery condition.

The return shipping costs are the buyer's responsibility and the original shipping costs are non-refundable. Please feel free to contact us at the studio for return authorization and assistance.

SHIPMENT DAMAGE: It is highly unusual for artwork to receive shipment damage due to the secure and professional gallery packaging. In a case of rare shipment damage, document any package damage with the carrier upon receipt of the delivery. Contact Statements2000 studio immediately to report any damage to the artwork. We will work directly with the carrier to resolve any damage to the artwork. It is best to take photos of the artwork damage and send to the studio along with a clear description of the artwork condition. Maintain all the original packaging materials and artwork until notified by Statements2000 studio.
Zahlung
Payment is due at the time the transaction is created. PayPal is the preferred, secure method of payment. You may also make payment using a major credit card. Contact Statements2000 directly with any difficulty with the payment process - t: 561.249.1587

SALES TAX: Sales tax will be calculated on the purchase price and added to the invoice for only buyers within the State of Florida.

CANCELLATION POLICY: If payment is not received at the time the transaction was created, the order may be canceled. Contact the studio directly regarding and difficulty with the payment process or information regarding the cancellation of an order.
Versand
Artwork typically ships within five business days of receiving cleared payment. You will receive shipment notification and tracking information when the artwork package is ready for shipment. All artwork is quality inspected prior to gallery wrapping for safe transit.

COMBINED SHIPPING: We are happy to combine artwork for shipment to pass along any shipping costs savings. It is best to contact the studio directly to know if artwork can be combined in the same package and to calculate possible shipping costs savings. Most 3, 4, 5, and 7-panel wall sculptures with a 24" height can be combined two per package. The free-standing sculptures, clocks, multidimensional compositions, and 'XL' wall sculptures with a height greater than 24" must ship separately due to the uniqueness of the artwork and required packaging to ensure safe transit. Shipping costs are based on package weight & dimensions, carrier fees, and delivery locations.

SHIPMENT NOTIFICATION: You will receive shipment notification and tracking information sent to the email address noted on your artwork order. You will be able to track your order on-line at the carrier's website using the tracking number.

INTERNATIONAL SHIPPING: For cross-border transactions, we are not allowed to bill or collect tariffs, duties, or customs fees. These charges, if any, are not included in the purchase price or the shipping costs, and are the buyer's responsibility. The artwork packages will be very fairly valued. All artwork is handmade in and shipped from the United States of America.
Weitere Richtlinien und FAQs
All artwork is signed and hand-crafted piece-by-piece with high-grade, environmentally friendly aluminum that will not rust or corrode. A UV protective clear coat finish is applied to the hand-painted artwork. By request, the all-natural-silver pieces will receive a clear coat finish for outdoor display. This is not necessary for indoor display of the all-natural-silver pieces. Included in every package are easy mounting instructions, a helpful measuring tool guide for multiple panel pieces, lighting tips, a Certificate of Authenticity, and other useful information.

LIGHTING: Lighting tips and Kelvin bulb ratings for the various colors of artwork is included in every package. All sculptures and wall art are photographed under vibrant light sources. Proper overhead, recessed or track-lighting with Quartz halogen bulbs, LED lamps is recommended. A rheostat or dimmer switch offers the flexibility to adjust the lighting from full range luminous brilliance to softer warm tone 'moods'. "The greater the light source, the greater the movement and conversation becomes".

CUSTOM ARTWORK: We are happy to accommodate your vision of custom artwork. Contact us with your details including design, dimensions and color regarding custom hand-crafted artwork.

Studio Information:
Jon Allen - Fine Metal Art
Statements2000
1374 N Killian Drive Suite A
Lake Park, FL 33403
United States
Email: studio [!at] statements2000.com
Phone: 561.249.1587
Weitere Informationen
Zuletzt aktualisiert am
12. Apr 2016
Angaben zum Verkäufer
Jon Allen
Statements2000 1374 N Killan Drive Suite A
LAKE PARK, FLORIDA 33403
United States