Kill a thread to get FREE keychain on Your choice
This thread has been closed and archived.
This discussion is public.
Original Post

OK. There is a simple rule:

Visit my shop:
snis.etsy.com
and choose one product from keychain section that You like and post it here.

Person that kills this thread for 24 hours will get choosen keychain absolutely FREE.
Posted at 8:48pm Sep 9, 2010 EDT
Responses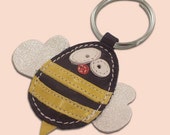 $15.00
All the keychains are adorable.. but something about this bee just really got to me.
I like the froggy one and the puppy one and little mice one too!!! It's really hard to choose which is my favorite.
Posted at 8:55pm Sep 9, 2010 EDT