This policy took effect on July 24, 2023. Learn more about interest-based advertising and your choices here.
At Etsy, we care deeply about privacy. We strive to be transparent about our privacy practices, including how we treat your personal information.
This policy explains our privacy practices for Etsy.com (which we'll refer to as the "Site"), Etsy's mobile applications, including the Etsy App and the Etsy Seller App (together, the "Apps"), Etsy Payments, Pattern by Etsy, Etsy's public Application Programming Interface (the "API"), and other services provided by Etsy, Inc. or Etsy Ireland UC, depending on your location (which we'll refer to as "Etsy," or as "we," "us," and "our"). We'll use the term "Services" to refer collectively to the Site, the Apps, Etsy Payments, Pattern by Etsy, and the API. Learn more about interest-based advertising and your choices here.
This policy applies to our registered buyers ("Buyers") and sellers ("Sellers") (together, our "Members"), those who purchase items on Etsy without an account ("Guests") and anyone else who visits our Sites or uses our Services (together with our Members and Guests, "you" and "your"). If you are not a registered Member or a Guest, please see our Non-Member Privacy Policy for further information about how we may collect and use your personal information, available here.
This policy does not apply to the practices of third parties (including Sellers, Pattern by Etsy users or API users) who you may choose to share information with when you use the Services. Please note that the collection and use of your information by these third parties is subject to their own privacy policies and terms. You should understand the privacy and security practices of any third party before you share information with them.
It is important that you understand how we use your information. You should read this policy in full, but some key points and references to help you navigate the policy are:
Our mission at Etsy is to keep human connection at the heart of commerce. We connect Buyers with Sellers that offer handmade or vintage products and craft supplies. By accepting our Terms of Use and this Privacy Policy, or by using any of our Services, you confirm that you have read and understand this policy, including how and why we use your information.
We collect and use your personal information to provide and improve our Services, to protect the security and integrity of our Services and to comply with our legal obligations. To learn more about what information we collect and how we use it, see Section 1 and Section 2 below.
We share your information with other Etsy group companies, trusted partners and service providers to provide our Services, for security purposes, to understand how you use and interact with our Services and to meet our legal obligations. To learn more, see Section 3.
If you are located outside of North or South America, Etsy Ireland UC is the service provider and data controller responsible for your personal information. If you are located within North or South America, Etsy, Inc. is the service provider and data controller responsible for your personal information. The contact details for both companies are set out in Section 11.
Other policies that are referenced below, such as the Terms of Use and Cookies & Similar Technologies Policy, are available from Our House Rules page, located here.
If you have any questions about this Privacy Policy, or wish to exercise your rights, see Section 11 for further information about how to contact us.
1. What Information We Collect and Receive
In the course of providing our Services, we collect and receive information that directly or indirectly relates to you (which we call your "personal information") in different ways and from different sources, which we have set out below. The capitalized terms in this Section 1 are definitions that we use throughout this Policy, so please refer back to this table as necessary.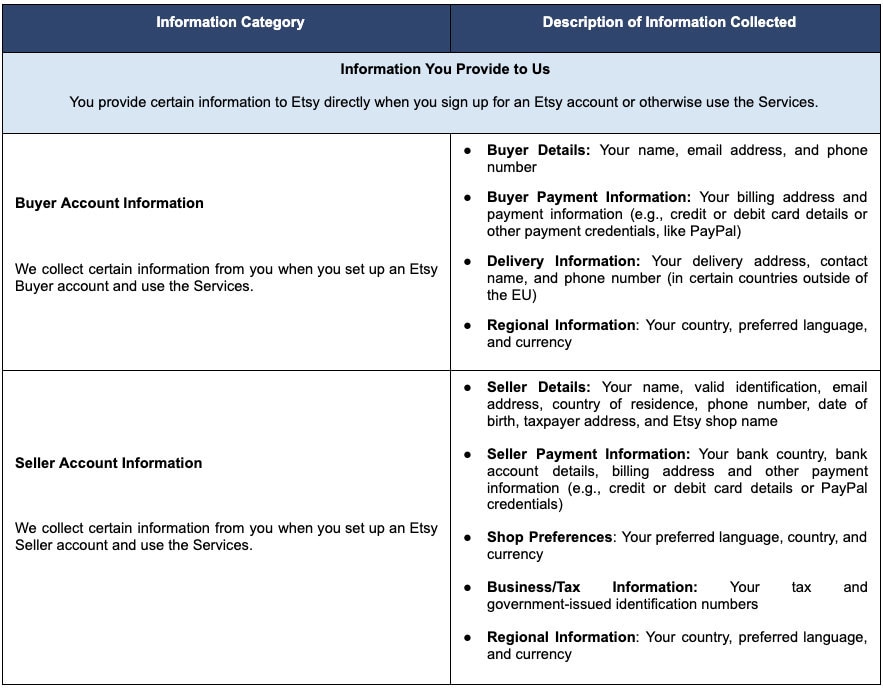 2. How We Use Your Information and Our Legal Basis
When you access or use the Services or interact with our Sites and/or Apps, we collect, use, share, and otherwise process your personal information for the purposes described in this policy. To the extent required by applicable law, we rely on a number of legal bases to use your information in these ways. If you reside outside the European Economic Area ("EEA"), Switzerland or the United Kingdom ("UK") (together referred to as the "European Region"), the legal bases on which we rely may differ from those listed below.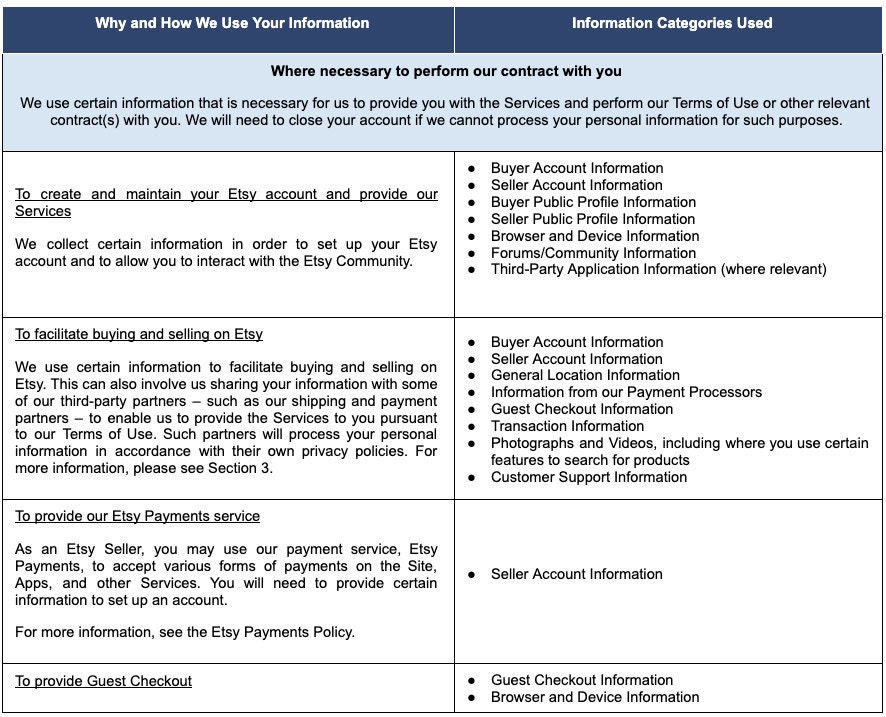 3. How We Share Your Information
We share your data with third parties where necessary to perform the Services, comply with our legal obligations, or for purposes set out in this Privacy Policy, including:
Publicly Displayed Information: By using the Services, certain information about you will be publicly displayed on the Site and Apps, such as Buyer Public Profile Information and Seller Public Profile Information (as defined in Section 2). Buyers and Sellers can choose to make certain information and activities private through their account or Public Profile settings. Other information connected with your use of the Services will also be publicly displayed, including the date you joined, information relating to items you review, photos or videos of items you purchased, your saved product listings that are grouped by you ("Favorites and Collections"), , followers, those you follow, comments you post in our community spaces, and information you decide to share via social networks. Your reviews of shops or items you've purchased may also be shared on other platforms and search engines, including Google.
For Sellers, some additional information will be publicly displayed. For example, your shop name or or business name associated with your account (which you may modify and update in your account settings) is publicly displayed.
Etsy Group Companies: We may share some of the information that we collect, such as Buyer Account Information, Seller Account Information, Service Usage Information, Device and Browser Information, and Cookie Information, with our corporate affiliates, which include Etsy, Inc., Etsy Ireland UC, Etsy UK, Ltd., and other Etsy entities that help us conduct business around the world (together, the "Etsy Group Companies"). We do not share your personal information with our sister companies like Depop, Elo7 or Reverb. The information shared among the Etsy Group Companies may be used for the purposes described in this Privacy Policy and generally to operate our business, including for ID verification purposes, transaction monitoring and payment processing or to provide customer support, facilitate business development, administer user accounts or provide IT, technical and engineering support.
Sellers: We may share aggregated information about your use of the Services to Sellers if you are a frequent purchaser or a new Buyer, so they can provide you with better service and so we can improve our Site and Apps.
Linked Third-Party Websites or Services: Some Members may choose to connect to Etsy or register an Etsy account using an external third-party application, such as Facebook or Google. Connecting your Etsy account to third-party applications or services is optional. If you choose to connect your account to a third-party application, the providers of those services or products may receive information about you that Etsy, you, or others share with them. Please be aware that when you use third-party sites or services, their own terms and privacy policies will govern your use of those sites or services.
You may also link your bank account or payment method to pay for purchases (or receive payment, in the case of Sellers in select markets) through a third-party service available through the Site or Etsy App. When you register with these third-party partners, we will tell you what information is collected and what information the third-party will share with Etsy.
Business Partners: Etsy works closely with a number of business partners, such as our shipping and payment partners, that assist us with providing the Services in accordance with our Terms of Use. When one of these companies assists us in facilitating your transaction, we, or they, may need to share information related to the transaction in order to complete your order. Etsy also provides services or sells products jointly with affiliated businesses, such as services that assist our Sellers with accounting or other small business management services. These affiliated businesses may sell items or services to you through the Services or offer promotions (including email promotions). In each case, these partners will process your personal information in accordance with their own privacy policies. We encourage you to read the privacy policies and ask questions of third parties before you disclose your personal information to them.
Professional Advisors, Industry Partners, Authorities and Regulators: We share your information described in Section 3 with our advisors and consultants, regulators and tax authorities, law enforcement, government agencies, civil litigants, and industry partners (for example, trade groups) to:
comply with applicable law or regulations, court orders, subpoenas, legal process or government requests;
detect, investigate, prevent, or address actual or suspected fraud, violations of Etsy's Terms of Use, and other illegal activity or security and technical issues; and/or
protect the rights, property and safety of our Members, Etsy and the Etsy Group Companies, or others, including to prevent death or imminent bodily harm.
Business Reorganization: In some cases, Etsy may choose to reorganize its business. In these types of transactions (such as a sale, merger, liquidation, receivership, or transfer of all or substantially all of Etsy's assets), Member information is typically one of the business assets that is transferred. If Etsy intends to transfer information about you, Etsy will notify you by email or by putting a notice on the Site and the Apps.
Community Services: We engage third parties to assist in providing Community Services, which includes the Etsy Forums and Teams, and need to share certain information about you for these purposes. This may include, for example, Buyer Public Profile Information and Seller Public Profile Information, the date that you registered on Etsy, as well as your language and regional settings on the Site. For more information, see our Community Policy.
Service Providers: Etsy also engages third-party companies and individuals (such as research companies, analytics services, and security providers) to help us operate, provide, and advertise the Services. These third parties have limited access to your information, may use your information only to perform these tasks on our behalf, and are prohibited from disclosing or using your information for other purposes. The types of third-party service providers that we work with include:

4. How We Transfer Your Information
Etsy operates a global e-commerce platform. By using the Services, you acknowledge that Etsy will use your information in the United States, Ireland and any other country where the Etsy Group Companies operate. Please be aware that the privacy laws and standards in certain countries, including the rights of authorities to access your personal information, may differ from those that apply in the country in which you reside. To the extent that Etsy is deemed to transfer personal information outside of the EEA, we rely separately, alternatively, and independently on the following legal bases to transfer your information:
Adequacy Decisions Where available, we rely on decisions of the European Commission, known as "adequacy decisions," recognising that certain countries offer a level of protection of personal data that is essentially equivalent to the EEA. A list of adequacy decisions is available here via the European Commission website.
Standard Contractual Clauses Otherwise, we primarily rely on the European Commission's Standard Contractual Clauses for the international and onward transfer of personal data outside of the EEA to third countries, including, for example, to the United States and India. This includes transfers from Etsy Ireland UC to Etsy, Inc. and other Etsy Group Companies. You can request a copy of our Standard Contractual Clauses by emailing dpo@etsy.com.
Necessary for the Performance of the Contract Between Etsy and Its Users You can choose whether or not to use the Etsy Services. As we operate in countries worldwide and use technical infrastructure in the US to deliver the Services to you, in accordance with the contract between us (our Terms of Use), we transfer your personal information to the US and to other jurisdictions as necessary to provide the Services. Simply put, we can't provide you with the Services and perform our contract with you without moving your personal information outside of your home country, including the UK or EEA
5. How We Protect Your Information
The security of your personal information is important to us. We protect your personal information through technical and administrative measures designed to mitigate the risk of unlawful or unauthorized access, destruction, loss, alteration, disclosure or use of your data. To protect your account, we encourage you to choose your password carefully and enable two factor authentication (2FA) for signing in. You can learn more about enhancing your account security in your account settings.
We use Google reCAPTCHA Enterprise in connection with our Services to help prevent spam, fraud, and abuse. reCAPTCHA Enterprise collects hardware and software information, such as device and application data, and sends it to Google for purposes of providing, maintaining, and improving reCAPTCHA Enterprise and for general security purposes. Your use of reCAPTCHA Enterprise is subject to Google's Privacy Policy and Terms of Use.
6. How Long We Store Your Information
Etsy will retain your information only for as long as is necessary for the purposes set out in this Policy, for as long as your account is active, or as needed to comply with our legal obligations under national applicable law. We decide how long we need information on a case-by-case basis and depending on the retention laws applicable.
The following factors typically affect the retention period:
Necessity for the provision of our Services We keep your information as long as is necessary to provide the Services to you. This includes things like maintaining and improving the performance of our Sites and Apps, keeping our Services secure, and maintaining appropriate business and financial records. Most of our retention periods are determined on the basis of this general rule.
Consent-based processing of personal data If we process personal data on the basis of consent (including consent to the extended storage), we store the data for as long as necessary in order to process it according to your consent or until you withdraw your consent.
Statutory, contractual or other similar obligations Etsy will retain and use your information to the extent necessary to comply with our legal obligations, for example, if we are required to retain your information to comply with applicable tax/revenue laws or our Know Your Customer ("KYC") obligations.
Here's what we consider when we deciding how long to keep your information: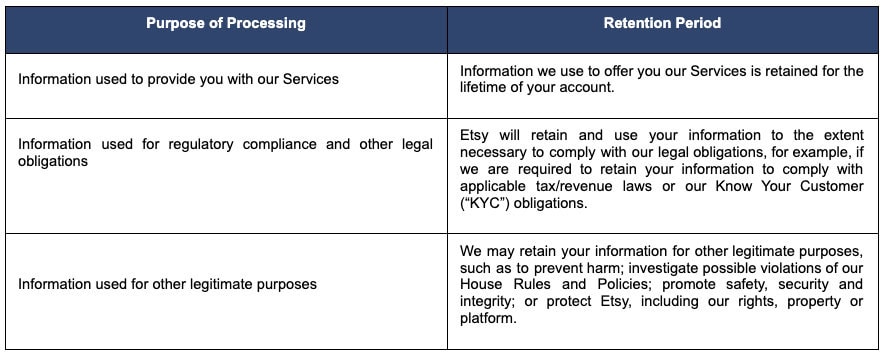 7. Your Rights and Choices
Certain privacy laws around the world, including the European General Data Protection Regulation (GDPR), provide users with rights and choices related to their personal information. Consistent with those laws, Etsy gives you the choice of accessing, editing, or removing certain information, as well as choices about how we contact you. In addition, subject to applicable law, you may have certain rights with respect to your personal information, such as the following:
Right to Access: You can access certain personal information associated with your account by visiting your account privacy settings. You can request a copy of your personal information in an easily accessible format, as well as information explaining how that information is used. See this Help Center article for more information.
Right to Portability: You have the right to receive certain of your information which you provided in a structured, commonly used and machine-readable format and to transmit such information to another controller.
Right to Correction: You have the right to request that we rectify any inaccurate information about you. By visiting your account settings, you can correct and change certain personal information associated with your account.
Right to Restrict Processing: In certain cases where we process your information, you may also have the right to restrict or limit the ways in which we use your personal information.
Right to Deletion: In certain circumstances, you have the right to request the deletion of your personal information, except information we are required to retain by law, regulation, or to protect the safety, security, rights, and integrity of Etsy. Please note that closing your account may not free up your email address, username, or shop name (if any) for reuse on a new account. See this Help Center article for more information.
Right to Object: If we process your information based on our legitimate interests as explained above, or in the public interest, you can object to this processing in certain circumstances. In such cases, we will cease processing your information unless we have compelling legitimate grounds to continue processing or where it is needed for legal reasons.
Right to Withdraw Consent: Where we rely on consent, you can choose to withdraw your consent to our processing of your information using, for example, an email unsubscribe link or your account privacy preferences. If you have consented to share your precise device location details with us, you can revoke that consent through the settings on your mobile device. This is without prejudice to your right to generally permanently close your account and delete your personal information. Please be aware that withdrawing consent will not affect the lawfulness of processing based on consent before its withdrawal.
Right to File a Complaint: If you are a resident in the EEA, Switzerland or the UK, you have the right to lodge a complaint about our practices with respect to your personal information with the supervisory authority of your country or state.
Right to File a Complaint: If you are a resident in the EEA, Switzerland or the UK, you have the right to lodge a complaint about our practices with respect to your personal information with the supervisory authority of your country or state.

In the UK, the relevant data protection authority is the Information Commissioner's Office, Wycliffe House, Water Lane, Wilmslow, Cheshire, SK9 5AF, +44 (0303) 123 1113, casework@ico.org.uk.
In Ireland, the relevant data protection authority is the Data Protection Commission, 21 Fitzwilliam Square South, Dublin 2, D02 RD28, +353 017650100 / + 353 1800437737, email: info@dataprotection.ie or by using this online form.
Please see the United States Regional Privacy Policy for information about privacy rights provided under certain US state laws.
How to Exercise Your Rights and Choices. If you would like to manage, change, limit, or delete your personal information, you can do so via your Etsy account settings. Alternatively, you can exercise any of the rights above, subject to applicable law, through the contact options set out in Section 11. Once you contact us to exercise any of your rights, we will confirm receipt of your request. Limiting use of, or deleting, your personal information may impact features and uses that rely on that information. Communication Choices. You can opt out of receiving marketing emails by using the unsubscribe link in our marketing emails or through your account settings. Certain communications from Etsy are service-related or legally required and you will continue to receive them even if you opt out of marketing emails.
8. Your Responsibilities
If you are a Seller on our Services or use Etsy's API, you may receive certain personal information and will have legal obligations in respect of this information. Your privacy responsibilities, including when you act as an independent data controller (someone who decides what personal data to collect and the purpose you use the data for) are laid out in the Etsy Seller Policy and the Etsy API Terms of Use.
9. Privacy Policy Changes
We may amend or update this policy from time to time. If we believe that the changes are material, we'll let you know by posting the changes through the Services and sending you an email or message about the changes. We encourage you to check back regularly and review any updates.
10. Additional Disclosures for United States Residents
In certain US states, including California, Virginia, Colorado, Utah, and Connecticut, you may be entitled to additional rights or disclosures. Please see our United States Regional Privacy Policy, where you can learn more about how we use your information and any additional privacy rights you may have.
11. How to Contact Us
If you have any questions:
Contact Etsy's Support team via our Help Center
Chat Support (available on our Site)
Send an email to Etsy's Data Protection Officer at dpo@etsy.com
Write to us at one of the following addresses:
In North America or South America: Etsy Support Team – Privacy Policy 117 Adams Street Brooklyn, NY 11201, USA
Outside of North America or South America: Etsy Support Team – Privacy Policy 66/67 Great Strand Street Dublin 1, Ireland
Click here to download a PDF version of this policy.
Last updated on Aug 28, 2023