#Handmade "Tarboosh" Keffiyeh Hat available in Keffiyeh Red satin-lined red/white double green satin (Original Keffiyeh from Palestine) the "Tarboosh", traditional Hat also called the "Fez" is a cover originally Chief Red felt adopted by men at the time of the Ottoman Empire.
Today it is part of the official uniform of men to the Morocco.
It is also found in Algeria, Tunisia, Egypt, Palestine...


Do not hesitate to contact me for more details.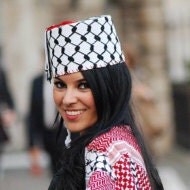 Fadila AAlouchi
Traditional Hat Tarbouche Fez Kuffieh / traditional Hat Tarbouch Keffiyeh
€
69.90
VAT included (where applicable).
Listed on Apr 15, 2016
564 views