Annonce Our products have been carried at J.Crew, The Wedding Suites at Nordstrom, BHLDN, Anthropologie, David's Bridal and many other retail locations across the world.

Follow us on Instagram! http://instagram.com/twigsandhoneyofficial

Thank you for visiting the Twigs & Honey ® etsy shop! Please note that current turnaround times for made to order items are from 3-7 weeks. Ready to ship items will ship out in about 1 week after purchase, M-F. Please take the time to visit my Shop Policies prior to making a purchase.

If the order is time sensitive, please write the date the order is needed in the notes to seller box at checkout (otherwise, turnaround times not guaranteed). Rush orders accepted. Convo prior to purchase for details

Twigs & Honey specializes in hair adornments, bridal headpieces, birdcage veils, bridal veils, headbands, hair combs, bridal garters and much more!

INTERNATIONAL CUSTOMERS: We will ship your order USPS First Class Int'l which DOES NOT HAVE TRACKING or insurance. We recommend that you select a shipping upgrade at checkout to USPS Express or USPS Priority Int'l shipping which includes tracking.

***Select Press***
Winner of Oregon Bride Magazine's Best of 2013 & 2014 award for best accessories (Salem) and 2014 best indie jewelry designer, Cover of Brides Magazine, Cover of The Knot magazine, Cover of Bridal Guide Magazine, worn by Shakira in her music video, The TODAY Show, US Weekly Magazine (on actress Noureen DeWulf), Real Simple Magazine, In Touch Weekly Magazine, Martha Stewart Weddings Magazine, Destination Weddings Magazine, Ann Taylor Window displays nationwide, The LA Times, WedLuxe Magazine, Inside Weddings Magazine, Weddings Unveiled Magazine and many more (as seen in over 100+ magazines and 20+ covers).
::::::::::::::::::::::::::::::::::::::::::::::::::::::::::::::::::::::::::::::::::::::::::::::::::::::::::::::::::::::::::::::::::::::
Featured Seller on Etsy! http://www.etsy.com/blog/en/2011/featured-seller-twigs-honey/?ref=fp_featured
Visit my blog for news and updates
Facebook: http://www.facebook.com/twigsandhoney
Twitter: http://twitter.com/twigsandhoney
Pinterest: http://pinterest.com/twigsandhoney
Visit my sister's Etsy shop: junghwa.etsy.com

All designs and content, rights reserved © 2008 - 2016 Twigs & Honey®, LLC
Annonce
Dernière mise à jour :
02 janv. 2018
Our products have been carried at J.Crew, The Wedding Suites at Nordstrom, BHLDN, Anthropologie, David's Bridal and many other retail locations across the world.

Follow us on Instagram! http://instagram.com/twigsandhoneyofficial

Thank you for visiting the Twigs & Honey ® etsy shop! Please note that current turnaround times for made to order items are from 3-7 weeks. Ready to ship items will ship out in about 1 week after purchase, M-F. Please take the time to visit my Shop Policies prior to making a purchase.

If the order is time sensitive, please write the date the order is needed in the notes to seller box at checkout (otherwise, turnaround times not guaranteed). Rush orders accepted. Convo prior to purchase for details

Twigs & Honey specializes in hair adornments, bridal headpieces, birdcage veils, bridal veils, headbands, hair combs, bridal garters and much more!

INTERNATIONAL CUSTOMERS: We will ship your order USPS First Class Int'l which DOES NOT HAVE TRACKING or insurance. We recommend that you select a shipping upgrade at checkout to USPS Express or USPS Priority Int'l shipping which includes tracking.

***Select Press***
Winner of Oregon Bride Magazine's Best of 2013 & 2014 award for best accessories (Salem) and 2014 best indie jewelry designer, Cover of Brides Magazine, Cover of The Knot magazine, Cover of Bridal Guide Magazine, worn by Shakira in her music video, The TODAY Show, US Weekly Magazine (on actress Noureen DeWulf), Real Simple Magazine, In Touch Weekly Magazine, Martha Stewart Weddings Magazine, Destination Weddings Magazine, Ann Taylor Window displays nationwide, The LA Times, WedLuxe Magazine, Inside Weddings Magazine, Weddings Unveiled Magazine and many more (as seen in over 100+ magazines and 20+ covers).
::::::::::::::::::::::::::::::::::::::::::::::::::::::::::::::::::::::::::::::::::::::::::::::::::::::::::::::::::::::::::::::::::::::
Featured Seller on Etsy! http://www.etsy.com/blog/en/2011/featured-seller-twigs-honey/?ref=fp_featured
Visit my blog for news and updates
Facebook: http://www.facebook.com/twigsandhoney
Twitter: http://twitter.com/twigsandhoney
Pinterest: http://pinterest.com/twigsandhoney
Visit my sister's Etsy shop: junghwa.etsy.com

All designs and content, rights reserved © 2008 - 2016 Twigs & Honey®, LLC
Avis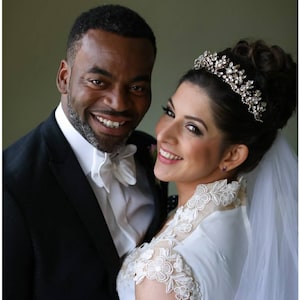 The tiara is beautiful and high-quality. Myra was a pleasure. She responded quickly to my initial order, kept me updated and shipped it out right away. The packaging is beautiful (even the shipping box), which made it even more exciting to receive. Thanks!

Soooo Pretty! Really love them!
A propos
Twigs & Honey
Delicately hand pressed petals of silk and lace, softly hand manipulated feathers curled to perfection, and hand stitched tulle veils round out Myra Callan's designs, creator of Twigs & Honey. Twigs & Honey ® is based out of Salem-Portland, Oregon and officially began in early 2008 with the goal of introducing to others, a completely fresh and modern interpretation of hair adornments. Though Myra had been creating artistic pieces and accessories since she was a child, she became inspired to create a full line to the public after planning her 9-8-7 wedding with now husband, Matt.

Myra's educational and professional background is less bridal and high-fashion than expected with a degree in Geography (M.A.) and an emphasis on Environmental Science, but she believes that this only lends to the unique and organic designs Twigs & Honey is known for. Echoes of her scientific background abound in her designs that are all "experiments" of color, form and texture. With a love for both feminine and masculine attire, a taste for earthy natural forms and architectural structure, and a soft spot for both vintage and modern aesthetics, Myra's designs are a constant marriage of oftentimes, dichotomous styles. Completely self-taught, Myra continually strives to create innovative and exciting new designs that cater to all personalities. Myra has designed exclusive pieces for BHLDN and was commissioned by Ann Taylor to design and create handmade paper flowers for their window displays and accessory moments nationwide. Additionally, she has been a Featured Seller on Etsy.

Twigs & Honey ® pieces are made with attention to detail and an interest in fine craftsmanship. Since the first styles were released, the designs have included handmade and hand dyed or painted silk flowers, hand sewn embellishments and other intricate detailing. The Twigs & Honey ® line features hair adornments, headbands, birdcage veils, traditional veils, bridal jewelry, belts, boutonnieres, ring pillows, hats, shrugs, bouquets, corsages, everyday jewelry, fragrance and more! The line uses fine silks, feathers, laces, and vintage bits that result in completely unique adornments. Twigs & Honey ® pieces have been featured in The TODAY Show, Us Weekly Magazine, In Touch Weekly Magazine, Real Simple Magazine, Martha Stewart Weddings Magazine, Brides Magazine, Bridal Guide Magazine, LA Times, Destination Weddings Magazine, Weddings Unveiled Magazine, The DailyCandy, Portland Bride & Groom Magazine, Southern Weddings Magazine, WedLuxe Magazine, WellWed Magazine, Oregon Bride Magazine, Santa Barbara Magazine, Nonpareil Magazine, Get Married Magazine, Eco-Beautiful Weddngs Magazine, The Scene Magazine, Vermont Vows Magazine and many more. Twigs & Honey pieces have been worn by celebrities including Noureen DeWulf and Teresa Strasser. Twigs & Honey is also part of the Vendor A-List on 100 Layer Cake, Style Me Pretty's Fashion Look Book and Bella Figura's Trendsetters.
Membres de la boutique
Myra

Propriétaire, Fabricant, Designer, Production, PR

I currently live in Oregon with my husband, Matt, husky dog, Indy, bunny and birds. I like gardening, foraging, kart racing, target shooting, daydreaming, running and the color mint. In my spare time, I work with my husband on our 1930s home.

Amelia

Personal Stylist, Production Manager

Lily

Studio Manager, Responsable Expédition

Hwa

Fabricant

Myra's mom! She is a making wiz. Myra got a ton of her sewing skills from her.
CGV de la boutique
Dernière mise à jour :
02 janvier 2018
• • • MADE TO ORDER • • •

Made to Order items may take up to 3-7 weeks to complete and turnaround times are not guaranteed unless you get in touch prior to purchase and discuss with me. Our production turnaround times fluctuate greatly as we are a very small company. We try our best to get orders out as quickly as possible, but please do not purchase an item without being aware of our turnaround time policies. 1 week production turnaround rush orders available for an additional $30. Please convo me PRIOR to purchasing for this option as we cannot accept all rush orders. We must confirm a rush order through convo prior to purchase - we want to make sure we have time in our schedule to accommodate! When ordering a made to order item, don't wait until the last minute - please allow at least 3 additional weeks on top of the production turnaround from the date you will need your order to allow for unexpected emergencies or shipping delays/problems (2-3 months prior to when you will need it - less stress for everyone! :).

For International orders, we recommend purchasing your item at least 3 months prior to the date you will need it as shipping times and duration in customs can vary.

Please keep in mind that handmade items can vary from piece to piece. Vintage and rare materials in some styles may be substituted for similar materials when necessary.

• • • READY TO SHIP • • •

For Ready to Ship items, I will ship out M-F in about 1 week after purchase (+/- 2 days).

I will use USPS Priority shipping, which takes on average, 2-3 business days to ship within the U.S. Online tracking and delivery confirmation are included.

For International orders, I will use USPS First Class International shipping, which takes on average, 2-4+ weeks to arrive if there are no delays in customs. No tracking, no delivery confirmation, no insurance.

• • • CONVERSATIONS • • •

I get a very high volume of convos and emails. I apologize ahead of time if it takes longer for me to reply. Please resend if I'm taking too long. Please convo or email (if you email, specify if you are discussing my etsy shop): info [!at] twigsandhoney.com
Don't send to the email tied to my PayPal account because I don't check that one.

• • • CUSTOM ORDERS • • •

Yes! I accept custom order requests, but sometimes get a bit busy with in stock design order fulfillment and cannot accept all custom orders.

Turnaround time estimates are for the time required to complete an order and do not include shipping times. Custom orders may take from 6-8 weeks to complete.
Modes de paiement acceptés
Accepte les cartes cadeaux Etsy et les crédits Etsy
Retours et échanges
J'accepte sans problème les retours et les échanges
Contactez-moi sous :
5 jours après la livraison
Renvoyez les articles sous :
7 jours après la livraison
Je n'accepte pas les annulations
Mais n'hésitez pas à me contacter en cas de problème avec votre commande.
Les articles suivants ne peuvent pas être retournés ni échangés
Etant donnée la nature de ces articles, à moins qu'ils n'arrivent endommagés ou défectueux, je ne peux pas accepter les retours pour :
Commandes sur mesure ou personnalisées
Produits périssables (aliments ou fleurs par exemple)
Téléchargements numériques
Articles intimes (pour des raisons de santé/d'hygiène)
Les articles en promotion
Vous avez des questions au sujet de votre commande ?
N'hésitez pas à en cas de problème avec votre commande.
Please choose your items carefully before purchasing. For ready made or made to order items without custom changes to the overall design, I will accept refunds/exchanges if I am notified first within 7 days of receipt and buyer is to pay return shipping and exchange shipping if necessary. If the item has not yet shipped and you'd like to cancel, I must be notified within 72 hours after the purchase, otherwise, there will be a 20% restock fee. I can either work with you to alter the item or recreate a piece within reason. The item will need to be in the same condition as it was upon arrival and not used/worn. The item must be returned within 1-2 weeks (longer for international customers). I will return the price of the piece only minus a 20% restocking fee, and not shipping. For custom pieces or made to order pieces that have been altered/customized by request, I will offer exchanges for equal or lesser value items (any price difference up to $50 will be refunded) within 7 days of receipt or I can modify the piece to work for you. Shipping will not be refunded.

After a return is approved, please ship back using an insured shipping method. If the item returns damaged and without having been insured, I will deduct the damage cost from any exchange or refund amount.

Please choose your item carefully as most of my pieces are made to order and I do not create pieces as "samples" or "try before you buy".

Rush order fees are to pay for a service provided and are non-refundable.
Deposit payments are non-refundable.
Taxes and duties incurred by international customers are the responsibility of the customer and are non-refundable.

If you have any questions, please convo me with the transaction number or email at (if you email, specify if you are discussing my etsy shop): info [!at] twigsandhoney.com
Paiement
I accept PayPal.

When purchasing a piece, please be sure to double check that your shipping address for your Etsy account and that on your PayPal account are the same. Please convo me ASAP if you find that there is a difference after payment.

If you have any questions, please convo me with the transaction number or email at (if you email, specify if you are discussing my etsy shop): info [!at] twigsandhoney.com
Expédition
• • • U.S. Domestic Orders • • •

Default shipping method (U.S.A. customers):
USPS Priority shipping (2-3 business days) at $10.95 for the 1st item.

READY TO SHIP (does not include shipping times):
I typically ship within 1-6 business days of purchase (M-F, not including holidays).

MADE TO ORDER:
The estimated turnaround time is listed in the description and updated on my shop announcement (from 3-7 weeks). Sometimes, it may take a few more days than the estimated turnaround time. Please convo or email me if you need a guaranteed turnaround time. Does not include shipping times.

• • • Faster Shipping, Insurance, Lost Packages • • •
If you prefer a faster shipping speed, let me know in advance so I can change the shipping cost for you. If you would like to purchase shipping insurance, please let me know ahead time and I can do this for an additional cost. I cannot be held responsible for lost, damaged or stolen goods after I ship items, so please consider shipping insurance and be sure that your "ship to" address is to a secure location.

• • • International (outside the U.S.) Orders • • •
If you are an International customer, any duties and taxes will be the responsibility of the buyer. Our default shipping method for International orders will be USPS First Class International, which can take from 2-5 weeks or more. This DOES NOT INCLUDE TRACKING, DOES NOT INCLUDE INSURANCE and DOES NOT INCLUDE DELIVERY CONFIRMATION. If you would like any of these add on options YOU NEED to UPGRADE to USPS Express Int'l (5 business days) or USPS Priority Int'l shipping (6-10 business days). Please let us know prior to purchase if you would like to upgrade so we can arrange a PayPal invoice for the additional cost. We will not be responsible for lost, stolen or damaged packages.

• • • Packaging for all orders • • •
All purchases will come packaged for a safe trip and in a keepsake box within the shipping box itself.
Autres conditions et FAQ
• • • Hair piece care • • •

If cared for, Twigs & Honey pieces will last for many years.

If you order a veil, it will likely need to be steamed before wearing to release wrinkles. If you cannot steam, you can iron on the lowest setting and very lightly but be very careful as high temperatures can damage delicate veiling. You can also mist with water and blow dry, again, on a low setting.

For my handmade fabric flowers, please do not get wet and keep away from direct sunlight (if hand dyed) and high humidity. They are not washable and I only recommend spot hand cleaning if completely necessary, but as I hand create them with only non-toxic ingredients, I cannot guarantee that they will be perfect after attempting to clean them. I handsew most elements so please handle with care and do not set things on top of the flowers as this may wrinkle and mishapen them.

For feather pieces, if it appears that they had a rough journey and they get ruffled, you can gently stroke the feathers to "zipper" the filaments back together. Handle feather pieces with care as they are delicate.

To keep the dust off, you can store in the box the pieces are shipped in.
If you have questions, please get in touch!

• • • PERSONAL REQUEST • • •

Please be a respectful and courteous Etsian and do not copy original twigs & honey designs or have someone else duplicate twigs & honey originals. As this is my livelihood and my passion, it directly affects me if you copy original ideas/designs/creations. My original designs have been refined and perfected through dedication and hardwork, trial & error, and monetary investments for supplies and time and it is unfortunate when copies arise as it is clearly unfair and disrespectful. Thank you for understanding.

• • • THANK YOU! • • •