Annonce Welcome to Thistle Cottage Studio!!
It's time for our ANNUAL SPRING CLEARANCE SALE!!!
ALL IN STOCK merchandise is drastically reduced to make room for
our incoming SPRING/SUMMER 2018 COLLECTIONS!!
The ideas are coming fast and furious, and we must make room!!!
The hat room in our studio is over flowing with gorgeous hats that need loving homes!! NOW couldn't be a better time to grab whatever you've been losing sleep over!!!
We now offer layaway on all custom made hat orders, as well as in stock hats!!
Please be sure to read store policies before ordering.
Please convo me if this is an arrangement that would suit your needs, as a special listing will need to be posted for you in RESERVE.
We do ship internationally. Please message me for a shipping quote to add to your listing if you do not see one at check out.
Please read the description of each hat to the end, where you will see if the hat you're interested in, is IN STOCK, or is a custom order only piece.
Please message me, or email me at orsinimedicicouturemillinery @ gmail.com for details.
Many thanks to all of my wonderful customers, and future customers!!
I couldn't do what I love most without you!!!

In 2017, my research and passion for millinery history continues, and am very excited to be researching past eras of hat fashions, to see how they can be updated, and made relevant to current fashion trends, yet, still be faithful to their period in millinery history!! Hat shapes of the 1930's are of particular interest to me this season, and can easily be updated and still retain the glamour of the era for today's woman.
I have also been squirreling a collection of beautiful linens, rayons/linen blends, and have decided to offer these as loose cut dresses, pants, skirts and tunics, that are machine washable and preshrunk before I cut them.
If you love the Lagen look, and Japanese inspired shapes, stay tuned!!!
Fabulous, wearable pieces coming for Spring/Summer 2017, and affordable too!!!

Our NEW sister store Oak Hill Vintage is now open!!! Lots of new treasures being added each week!! Stop by for a browse and let me know what you think!!!
https://www.etsy.com/shop/OakHillVintageEtc?ref=hdr_shop_menu

Many thanks to all my loyal customers, and newbies too!!
This November marks the Anniversary of our 8th year here on Etsy, and it's been such fun!!! I'd like to take this time to thank you all who have purchased my work, be it hats, clothing or accessories.
I have decided to close my second Etsy shop, Orsini~Medici Couture Millinery, and bring all of those hats back to this shop. OMCM will still be the official label on all of my hats.
As I've been incubating a new idea for that second shop, it is time to put that idea into action. The new shop, Oak Hill Vintage, will carry vintage clothing, vintage jewelry, vintage hats, reproduction clothing of many eras, including the 1920's, and vintage finds to feather your nest at home!!
I also plan on designing some decorator pillows with my vast collection of textiles, and those will carry my new label, Comfort & Joy Home.

Many thanks to all who have purchased my work over the years. I hope you've all loved your purchases and are still enjoying them!! I welcome any notes from you on this!!! As part of the Etsy process, feedback is so important. If ever you are not happy for any reason with your purchase, please convo me first to repair the problem before leaving negative feedback, as it is irreversible!! I have worked very hard to build a positive reputation and stellar customer service, as you will see in my feedback, which I encourage you to read! Recently, I received this lovely message from one of my most loyal customers , and just had to share it. She's just a little partial, so I hope you can appreciate this:

"Hey Elsie,
Just for the heck of it I went on ETSY and searched hand blocked hats. There were 347 on 9 pages. None of them hold a candle to you. The designs weren't original and/or they weren't well made, but just cobbled together. You are the BEST at what you do.
Thanks for letting me in on it.
Hugs, Paula"

A slideshow of OMCM hats here, courtesy of HatAcademy. Enjoy!!
http://hatacademy.com/photo/albums/orsini-medici-couture-millinery-for-thistle-cottage-studio ( you will need to copy and paste this web address to your browser to view the slide show)

BLOGPOST:
Graci mille!! Or, a million thank yous to my dear friend, and fellow Etsyian, MCatherine of Hide a Heart, for posting her interview with me on her blog. Check out her Etsy shop too, for a most unique way to spread your love to those you care about!!!
Here's the link to that new blogpost/interview, about what inspires my creations, and
the story of my new brand, Orsini~Medici Couture Millinery!! Please remember to leave your comments!! (Please copy and paste to your browser).
https://hideaheart.wordpress.com/2012/07/01/thistle-cottage-studio/#comment-1008

Gift Certificates are also now available in any denomination.

If you love fine handmade millinery, unique hand knitted and crocheted pieces, shabby chic, cottage-style, all things charming and romantic, a nod to the UK, ethnic, period and historically inspired fashion, repurposed collectibles, upcycled/recycled jewelry, and even Italian Renaissance masks, then I think you will enjoy what you see here. Ideas come fast and furious, leaving me no time to rest between projects. Like spores and tendrils from the numerous lush ferns growing in my studio, new ideas take root from one to the next, in an endless evolving cycle of creativity. Several projects are often in progress at the same time. So many ideas, so little time!! Stop in often, you never know what you'll see next!! Thanks so much for browsing!!!

THISTLE COTTAGE STUDIO (ORSINI~MEDICI COUTURE MILLINERY)
and OAKHILL VINTAGE

" It's OK to wear a hat!!!"
Hats off to you!!

This article, including my Victorian Mourning Hat, along with a beautiful Victorian Mourning Gown by Christine Hall Designs (also on ETSY), made it to the front page of Etsy's blog, The Storque. If you'd like to read it, simply click on the live link below. If it is not a live link at some point in the future, copy and paste it to your browser, and go. Enjoy!! Please remember to leave your comment!!
http://www.etsy.com/storque/handmade-life/the-milliners-of-etsy-challenge-11337/?utm_source=bronto&utm_medium=email&utm_term=blog+post&utm_content=etsy_teams_122010&utm_campaign=etsy_teams_12201

For sneak peeks behind the scenes of new projects on the cutting tables, even before I upload them in my ETSY shop, stop in and follow Thistle Cottage Studio's blog by copying and pasting this link to your browser:
http://www.merchantcircle.com/blogs/thistle.cottage.studio.401-231-4343

Also, follow us on Facebook, Twitter, Pinterest, HatAcademy.com, Flickr, threadsmagazine.com, craftstylish.com, blogger.com, Kaboodle.com, and Stumbleupon.com
To subscribe to this shops' RSS FEED, and stay informed each time a new item is listed, please copy and paste this link to your browser:
feed://www.etsy.com/shop/orsinimedici1951/rss
Annonce
Dernière mise à jour :
28 févr. 2018
Welcome to Thistle Cottage Studio!!
It's time for our ANNUAL SPRING CLEARANCE SALE!!!
ALL IN STOCK merchandise is drastically reduced to make room for
our incoming SPRING/SUMMER 2018 COLLECTIONS!!
The ideas are coming fast and furious, and we must make room!!!
The hat room in our studio is over flowing with gorgeous hats that need loving homes!! NOW couldn't be a better time to grab whatever you've been losing sleep over!!!
We now offer layaway on all custom made hat orders, as well as in stock hats!!
Please be sure to read store policies before ordering.
Please convo me if this is an arrangement that would suit your needs, as a special listing will need to be posted for you in RESERVE.
We do ship internationally. Please message me for a shipping quote to add to your listing if you do not see one at check out.
Please read the description of each hat to the end, where you will see if the hat you're interested in, is IN STOCK, or is a custom order only piece.
Please message me, or email me at orsinimedicicouturemillinery @ gmail.com for details.
Many thanks to all of my wonderful customers, and future customers!!
I couldn't do what I love most without you!!!

In 2017, my research and passion for millinery history continues, and am very excited to be researching past eras of hat fashions, to see how they can be updated, and made relevant to current fashion trends, yet, still be faithful to their period in millinery history!! Hat shapes of the 1930's are of particular interest to me this season, and can easily be updated and still retain the glamour of the era for today's woman.
I have also been squirreling a collection of beautiful linens, rayons/linen blends, and have decided to offer these as loose cut dresses, pants, skirts and tunics, that are machine washable and preshrunk before I cut them.
If you love the Lagen look, and Japanese inspired shapes, stay tuned!!!
Fabulous, wearable pieces coming for Spring/Summer 2017, and affordable too!!!

Our NEW sister store Oak Hill Vintage is now open!!! Lots of new treasures being added each week!! Stop by for a browse and let me know what you think!!!
https://www.etsy.com/shop/OakHillVintageEtc?ref=hdr_shop_menu

Many thanks to all my loyal customers, and newbies too!!
This November marks the Anniversary of our 8th year here on Etsy, and it's been such fun!!! I'd like to take this time to thank you all who have purchased my work, be it hats, clothing or accessories.
I have decided to close my second Etsy shop, Orsini~Medici Couture Millinery, and bring all of those hats back to this shop. OMCM will still be the official label on all of my hats.
As I've been incubating a new idea for that second shop, it is time to put that idea into action. The new shop, Oak Hill Vintage, will carry vintage clothing, vintage jewelry, vintage hats, reproduction clothing of many eras, including the 1920's, and vintage finds to feather your nest at home!!
I also plan on designing some decorator pillows with my vast collection of textiles, and those will carry my new label, Comfort & Joy Home.

Many thanks to all who have purchased my work over the years. I hope you've all loved your purchases and are still enjoying them!! I welcome any notes from you on this!!! As part of the Etsy process, feedback is so important. If ever you are not happy for any reason with your purchase, please convo me first to repair the problem before leaving negative feedback, as it is irreversible!! I have worked very hard to build a positive reputation and stellar customer service, as you will see in my feedback, which I encourage you to read! Recently, I received this lovely message from one of my most loyal customers , and just had to share it. She's just a little partial, so I hope you can appreciate this:

"Hey Elsie,
Just for the heck of it I went on ETSY and searched hand blocked hats. There were 347 on 9 pages. None of them hold a candle to you. The designs weren't original and/or they weren't well made, but just cobbled together. You are the BEST at what you do.
Thanks for letting me in on it.
Hugs, Paula"

A slideshow of OMCM hats here, courtesy of HatAcademy. Enjoy!!
http://hatacademy.com/photo/albums/orsini-medici-couture-millinery-for-thistle-cottage-studio ( you will need to copy and paste this web address to your browser to view the slide show)

BLOGPOST:
Graci mille!! Or, a million thank yous to my dear friend, and fellow Etsyian, MCatherine of Hide a Heart, for posting her interview with me on her blog. Check out her Etsy shop too, for a most unique way to spread your love to those you care about!!!
Here's the link to that new blogpost/interview, about what inspires my creations, and
the story of my new brand, Orsini~Medici Couture Millinery!! Please remember to leave your comments!! (Please copy and paste to your browser).
https://hideaheart.wordpress.com/2012/07/01/thistle-cottage-studio/#comment-1008

Gift Certificates are also now available in any denomination.

If you love fine handmade millinery, unique hand knitted and crocheted pieces, shabby chic, cottage-style, all things charming and romantic, a nod to the UK, ethnic, period and historically inspired fashion, repurposed collectibles, upcycled/recycled jewelry, and even Italian Renaissance masks, then I think you will enjoy what you see here. Ideas come fast and furious, leaving me no time to rest between projects. Like spores and tendrils from the numerous lush ferns growing in my studio, new ideas take root from one to the next, in an endless evolving cycle of creativity. Several projects are often in progress at the same time. So many ideas, so little time!! Stop in often, you never know what you'll see next!! Thanks so much for browsing!!!

THISTLE COTTAGE STUDIO (ORSINI~MEDICI COUTURE MILLINERY)
and OAKHILL VINTAGE

" It's OK to wear a hat!!!"
Hats off to you!!

This article, including my Victorian Mourning Hat, along with a beautiful Victorian Mourning Gown by Christine Hall Designs (also on ETSY), made it to the front page of Etsy's blog, The Storque. If you'd like to read it, simply click on the live link below. If it is not a live link at some point in the future, copy and paste it to your browser, and go. Enjoy!! Please remember to leave your comment!!
http://www.etsy.com/storque/handmade-life/the-milliners-of-etsy-challenge-11337/?utm_source=bronto&utm_medium=email&utm_term=blog+post&utm_content=etsy_teams_122010&utm_campaign=etsy_teams_12201

For sneak peeks behind the scenes of new projects on the cutting tables, even before I upload them in my ETSY shop, stop in and follow Thistle Cottage Studio's blog by copying and pasting this link to your browser:
http://www.merchantcircle.com/blogs/thistle.cottage.studio.401-231-4343

Also, follow us on Facebook, Twitter, Pinterest, HatAcademy.com, Flickr, threadsmagazine.com, craftstylish.com, blogger.com, Kaboodle.com, and Stumbleupon.com
To subscribe to this shops' RSS FEED, and stay informed each time a new item is listed, please copy and paste this link to your browser:
feed://www.etsy.com/shop/orsinimedici1951/rss
Avis

I adore my hat. It's perfect! The design Is extraordinary. And the color combination and fabric patterns complement each other to perfection. The hat is expertly crafted and the attention to detail is obvious. Elsie is a true artist and hat magician! Plus, she's such a nice lady, and it's obvious she strives to make sure her customers are happy. I most certainly am just that! And l'm planning on being a repeat customer!

If there was a Hats Anonymous, I would need to belong. I have over 40 hats, & this may be my new favorite. Beautiful material and it just looks wow. I will definitely enjoy wearing it this summer.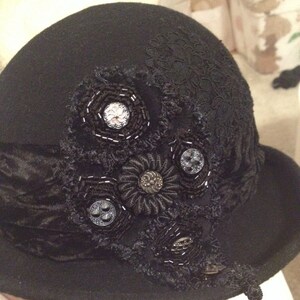 This hat is perfect! Beyond my expectations to be honest!! It fits comfortably and the quality is absolutely the best!! Got a lot of old ladies complementing it while I was wearing it haha:))) thank you so much dear Elsie:)))
A propos
Orsini~Medici Couture Millinery for Thistle Cottage Studio: Where creativity flows like the waterfall in our backyard!!
I began Thistle Cottage Studio nine yrs. ago on Etsy, and have been delighted with it ever since. Etsy has given me a creative outlet, and has made my work accessible worldwide. Since then, my clothing and hats have traveled all over the globe. They have found homes all across the USA and Canada, and are living exciting lives in England, Scotland, Wales, Italy, France, Switzerland, Germany, and Greece, as well as Finland, Norway, Sweden, and as far away as Australia, Malaysia, Thailand, and China. I have also been lucky enough to meet people who have offered me new paths in which to apply my millinery skills. Soon to be published in the spring of 2015, are two romantic novels on which my hats and costumes were used for the covers.
I live vicariously through my hats!! They have taken on a life all their own, and I now include my new label Orsini~Medici Couture Millinery in each one, in honor of my late, dear mother and grandfather, who passed their incredibly historic DNA on to me. Our family crest is now my new logo, with the addition of top hats on the bears!! (just couldn't resist!!). The Orsini name (meaning little bear!!) can be traced back to the Italian Renaissance, where the Orsini and Medici families ruled all of Tuscany for over 400 years. My grandfather was a descendant of Clarice Orsini, who married Lorenzo de Medici in the late 1400's.
Our historic, cozy new studio is just minutes from the Blackstone River in historic Pawtucket, Rhode Island, and is the largest studio yet. At just over 1,200 sq. ft. students from out of state have the convenience and the option of B&B-ing with us, for less than staying in a hotel!! Gourmet meals are served, as I love to cook as well!!!
Those interested in on demand millinery classes can email me at orsinimedicicouturemillinery [!at] gmail.com.
HAPPY FALL/WINTER!!!!
Membres de la boutique
Orsini~Medici Couture Millinery

Designer, Owner/designer, Milliner, Teacher. I Wear Every Hat In This Business!!

I am an award winning apparel/costume designer, milliner, and teacher. My work has been recognised by the RI State Council on the Arts. With 40+ yrs. in dressmaking as a shop owner, and 20+ yrs. in the theater, millinery has been an easy transition.
Partenaires de production
Vistaprint

Canada

Based in the Netherlands, printed in Canada
CGV de la boutique
Dernière mise à jour :
02 février 2018
Returns policy: WE DO NOT GIVE REFUNDS!! We insure ALL of our packages for the full purchase price. Items damaged in shipping may be reimbursed by USPS using your tracking number. Item(s) purchased may be returned for any reason within 1 week of delivery date, for a MERCHANDISE CREDIT ONLY!! Merchandise returned for a merchandise credit, is done so at the discretion of Thistle Cottage Studio, dependent upon the condition of the item being returned. Any hat or item of clothing that is returned, worn, soiled, damaged, or altered in any way, voids the merchandise credit. NO EXCEPTIONS!!. Customer pays return shipping. Merchandise credit certificate will be issued and mailed to you, when merchandise is received in the same condition as when it was delivered. Merchandise returns must be sent back in the same box, and with the same packing as when shipped. Worn, soiled, or damaged merchandise will not be accepted for merchandise credit.
Please make your purchase(s) carefully, as we DO NOT GIVE REFUNDS.
Feel free to convo us with any questions before placing your order.
We much prefer HAPPY customers, and will do everything possible to fulfill that!
Modes de paiement acceptés
Accepte les cartes cadeaux Etsy et les crédits Etsy
Retours et échanges
J'accepte sans problème les retours et les échanges
Contactez-moi sous :
14 jours après la livraison
Renvoyez les articles sous :
30 jours après la livraison
Je n'accepte pas les annulations
Mais n'hésitez pas à me contacter en cas de problème avec votre commande.
Les articles suivants ne peuvent pas être retournés ni échangés
Etant donnée la nature de ces articles, à moins qu'ils n'arrivent endommagés ou défectueux, je ne peux pas accepter les retours pour :
Commandes sur mesure ou personnalisées
Produits périssables (aliments ou fleurs par exemple)
Téléchargements numériques
Articles intimes (pour des raisons de santé/d'hygiène)
Vous avez des questions au sujet de votre commande ?
N'hésitez pas à en cas de problème avec votre commande.
Returns policy: Item(s) purchased may be returned for any reason within 2 weeks of purchase date, for a merchandise credit ONLY!! No exceptions. Customer pays return shipping. Merchandise credit will be issued when merchandise is received in the same condition as when it was delivered. Merchandise returns must be sent back in the same box, and with the same packing as when shipped. Worn, soiled, or damaged merchandise will not be accepted for merchandise credit.
Please make your purchase(s) carefully, as we DO NOT GIVE REFUNDS.
Feel free to convo us with any questions before placing your order.
We much prefer HAPPY customers, and will do everything possible to fulfill that!
Paiement
Major credit cards that are registered through PayPal. I will not process any orders using credit cards that are not registered with your required information through PayPal. This is as much a security precaution for the buyer as it is for the seller.
Expédition
Shipping is calculated for USPS with tracking, delivery confirmation, and insurance for the purchase price, and sometimes for additional packing materials.
Autres conditions et FAQ
We do not honor buyer regret returns.