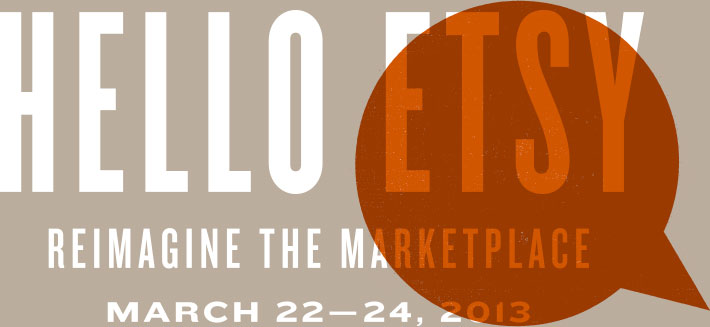 This year, we are partnering with the Pratt Institute to bring Hello Etsy home to Brooklyn. Hello Etsy at Pratt: Reimagine the Marketplace will address the future of consumption, new methods of production, alternative approaches to work, and more purposeful ways of doing business. Together, we will discuss building the creative economy of the future — one that is connected, human-scaled, joyful, and lasting. We hope to prove that business does not have to be brutal to be successful and fulfilling.
The conference will include inspirational speakers as well as workshops that will offer unique experiences in an atmosphere of inspired thinking.
Tickets are an affordable $85 and are extremely limited. Join the movement and be inspired. Get your ticket today!
SPEAKERS
Welcomes and Keynotes
Chad Dickerson

Chad Dickerson is the CEO of Etsy. Before joining Etsy, Chad led the Brickhouse and Advanced Products teams at Yahoo!, where he also launched the Hack Day program for Yahoo! worldwide. Chad has served as the CTO for InfoWorld Media Group (IDG) and Salon.com. He has also worked in the engineering groups at CNN, CNN/Sports Illustrated, The Atlanta Journal-Constitution, and The (Raleigh, NC) News & Observer.

Jeremy Rifkin — Keynote Address

President of the Foundation on Economic Trends and the bestselling author of nineteen books, Jeremy Rifkin will kick-off Hello Etsy with a talk on the Third Industrial Revolution. Founded on the merging of internet technology and renewable energy, The Revolution will usher in a fundamental reordering of human relationships, from hierarchical to lateral power, that will impact the way we conduct business, govern society, educate our children, and engage in civic life.
Reimagining Economy Introduced by Michelle Long, BALLE
Stewart Wallis — Good Jobs, Good Business, & Good Markets

Executive Director of the New Economics Foundation, Stewart Wallace, believes our economies face four interlinked systemic problems: they are unsustainable, unfair, unstable, and they are making many of us unhappy. Wallis will address why we need an economic transformation, the radical changes required to make it happen and how we can bring the transformed economy into fruition.

Dr. Laurie Santos — Overcoming Your Monkey Mind

Dr. Laurie Santos, Professor of Psychology and Director of Comparative Cognition Laboratory at Yale University, studies why humans repeatedly make the same irrational decisions. Her research has shown that monkeys have some of the same economic decision biases as humans, suggesting that some of our human errors may be evolutionarily linked. But she has also found some biases totally unique to humans. In her talk, Dr. Santos will discuss the human tendency to replicate other people's ideas, why humans alone conform to others, and how we can curb our automatic biases to increase creativity and innovation.

Alex Blumberg — The Fragile Economy

In recent years we have been forced to ask ourselves how secure our economy actually is. How much can we depend on the promise of social security? Are there downsides to free trade that economists have overlooked in the past? And what does the Federal Reserve do anyway? Alex Blumberg, of NPR's Planet Money, has spent his career investigating the myriad pieces and processes that comprise our economic system. In his talk, Blumberg will explore the fragility of the economic systems we take for granted, dispelling some of the mystery, and revealing the human beings behind our economy.
Reimagining Work Introduced by Dana Mauriello, Etsy
Chris Anderson — The New Industrial Revolution

In an age of custom-fabricated and do-it-yourself product design, the collective potential of a million garage tinkerers and enthusiasts is about to be unleashed, driving a resurgence of American manufacturing. Former Wired magazine editor and CEO of 3D Robotics, Chris Anderson, explores the front lines of this, new industrial revolution as today's entrepreneurs, using open source design and 3-D printing, bring manufacturing to the desktop and give us all the power to invent.

Rasnath Dasa — Being Human at Work

Former Wall Street banker and Bhakti monk, Rasnath Dasa, saw that the unspoken expectation at most companies is that you park your emotional life at the door, put on your game face, and keep conversation light and professional. In short, you show only one dimension of yourself at work and try to suppress the rest. But at what cost? The more preoccupied we are with emotions we can't express, the less focus we bring to our work. How do we create a workplace where we integrate and maximize true human potential, rather than divide and reduce it?

Jay Parkinson MD, MPH — Reinventing Medicine

Jay Parkinson MD, MPH emerged from medical school into a broken industry. Rather than going down the standard route, he became an entrepreneur with the ambition to fix it. By reimagining how doctors define health, how they communicate, and how they get paid, he is creating a new system for providing care for patients. Parkinson, founder of Hello Health and Sherpaa will discuss how we can reinvent our approach to work, especially in a system as rigid as that of healthcare.
Reimagining Consumption Introduced by Deb Johnson, Pratt
Robin Chase — Transforming Consumption

As the founder of Zipcar, Buzzrides, and GoLoco, Robin Chase is an expert on ways in which shared economies are reshaping the way we consume. In order to revolutionize our current system for consumption, we must first understand what we consume and how, and then transform ourselves from passive purchasers to co-creators. Robin Chase will take the Hello Etsy audience through a voyage into our own habits, and ways of relating to the goods we purchase.

Michelle Long — Why Local Matters

Michelle Long, the Executive director of the Business Alliance for Local Living Economies, proves that local, independently owned businesses are the key to solving humanity's toughest challenges, and creating real, lasting prosperity. Through collaboration we can develop and support innovative business models for creating healthier, sustainable, and prosperous communities. Michelle Long will discuss leveraging the collective voice of the local movement to drive new investment, scale the best solutions, and harness the power of local, independently owned business to transform the communities where we work and live.

Karen Brown — Can Making It Yourself Make a Difference in the World?

Karen Brown, designer and Creative Director of the Center for Ecoliteracy, looks at how our consumption habits have created some of the biggest environmental crises humans have ever faced. Fortunately, some problems that seem maddeningly enormous often have simple, effective solutions. If we observe how nature sustains itself, we can see that living things do not merely consume; each creature also produces in a variety of ways. Karen Brown will discuss how we can restore balance by producing instead of just consuming and what our communities would look like if, like nature, we restored healthy give and take.
Reimagining Community Moderated by Jamie Stein, Pratt
Charles Eisenstein — A Little Bit Crazy

Teacher, speaker, and author of The Ascent of Humanity and Sacred Economics, Charles Eisenstein shows us that in the normal world, it is always a little bit crazy to be an artist: to do things for beauty not money, to be a servant of a vision, to obey the artistic imperative. Yet Etsy, and other maker-businesses, thrive nonetheless. Charles explains a deeper cultural and economic shift underneath the Etsy phenomenon: towards the personal, the connected, the unquantifiable, the unique, and even the sacred.

Majora Carter — Stay Where You Are

Majora Carter, urban revitalization strategist and Peabody Award winning broadcaster, wants to slow down the "brain-drain" in our nation's poor communities and create a society in which people don't have to leave their neighborhoods to find opportunity. In her talk, Majora explores how she is bringing together technical training and development opportunities in underdeveloped areas to create an environment which fosters the creation of new businesses and enables existing ones to thrive.

Rachael Chong — Linking Communities

Americans volunteer thousands of hours to non-profit causes every year, but are they best leveraging their skills to maximize benefit to the organizations to which they are donating time? Rachael Chong founded Catchafire to help non-profit and charitable organizations find the specific help most vital to them and to enable members of every community to volunteer easily and effectively. She will discuss how communities are served through communication, organization, and innovative platforms like Catchafire.
WORKSHOPS
This year at Hello Etsy we will also be offering hands-on workshops that will offer entirely unique experiences in an atmosphere of inspired thinking and give you skills for success in the new economy.

Dr. LeeAnn Renninger — Tools for Sustainable Enthusiasm

What happens when we see our work as an experiment in making more meaning, delight, and engagement for ourselves and others? What tools, chemicals, and catalysts would we need? In this workshop Dr. LeeAnn Renninger, Founder of LifeLabs New York, leads us through a series of exercises that you can use to get unstuck, handle difficult situations, capture attention, and inspire people (including yourself) to extraordinary action.

Michael Carroll — Making Fear Your Best Business Partner

Mindfulness teacher and author, Michael Carroll, will share his experiences as an executive at Shearson Lehman/American Express, Simon & Schuster and The Walt Disney Company, as he helps you explore mindfulness as a path to embracing your fears and using them to your advantage.

April Rinne — Weatlh Unlocker: Discovering Your Actual Net Worth

Imagine a way of living in accordance to your ideals in a world seemingly ruled by money. We will explore how to do this — as change agents and simply as human beings. The Wealth Unlocker, developed by Collaborative Consumption will enable audience members to understand the true value of their many assets and how to leverage them in a holistic way — freeing up time, money, and resources.
LOCATION
We are thrilled to be partnering with Pratt Institute, an educational institution that is still committed to inspiring innovation, idea generation and entrepreneurship after 125 years.
Pratt Institute
200 Willoughby Ave
Brooklyn, NY