Listing a Physical Item
Before you can start listing items, you must be registered as a seller.
To begin, sign in to your Etsy account and go to Your shop > Quick links > Add a listing.
If you're still setting up your shop, go to Your shop > Add Listings after naming your shop and follow these same instructions.
Step 1: Add Photos
Start by adding images to your listing. Click the Add a photo icon to add files from your drive. You can add multiple photos at once.
Your images should be around 1000 pixels wide, but the height can vary. Images much more than this size may not upload correctly.
Your first image becomes your listing's thumbnail in searches, your shop, and elsewhere on the site.
To change the order of an image, click on a thumbnail and drag it to the left or right. 
Click the magnifying glass icon to preview a larger version of the image or click X to remove the image. 
We recommend you use all five images to help shoppers get a better feel for your item.
If you'd like to crop the full-size image that appears on your public listing page, click the pencil icon under your photo.
Step 2: Adjust Your Thumbnail
Your thumbnail photo is the photo that buyers will see in your shop home, in Search results, and in various other places on Etsy. To adjust this image to your liking, click Adjust thumbnail below your primary photo. You have the option to magnify the image and change its position within the square.
Once you're happy with the adjustments, click Save.
Step 3: Complete Your Listing Details
Title:
Give your item a descriptive title. What would buyers search for to find your item? Add the most searchable words at the front of your title. Titles have a 140 character limit. Learn more about item titles.
About this Listing:
The first dropdown menu next to About this listing determines whether your item belongs under Handmade, Vintage, or Craft Supplies.
Category:
The dropdown menus next to Category places your item within a category on the Categories page.
You'll then be prompted to describe the item further by choosing subcategories. When choosing your listing category, describe what your item is as accurately as possible.
Think about where buyers would most likely look for your specific item. For instance, if you're selling a typewriter, you might think of it as decor, but some shoppers still use them to write.

If you've filled out an outside manufacturer's application and been approved, you'll be able to add outside manufacturers to a listing here.
If you ever use additional manufacturers, you'll have to add them yourself. Go to Your shop > Shop settings > About your shop > Manufacturers. Once you add additional manufacturers, you'll be able to add to any listing.
Price:
Enter the price of your item. Learn more about setting your preferred currency.
Tax:
If you charge sales tax in your shop, you can choose whether to charge it on this specific item. Learn more about tax settings.
Quantity:
If you have multiples of the same item, you can increase the quantity in stock. As the items sell, the quantity in stock will go down. The listing fee is $0.20 USD, regardless of how many quantities you list. When the item sells, you will be charged a $0.20 USD auto-renewal fee for any remaining quantities. This will also bring the item back to the front of your shop. Listing fees for selling in person vary. Learn more about fees for selling in person.
Renewal options:
Once published, listings stay on the site for 4 months. Choose whether you'd prefer to renew your listing manually (which you can do any time before or after a listing expires) or if the listing should renew automatically to keep it from expiring.
Type:
Mark the button for Physical Item. If you're listing a digital item, please refer instead to our Help article on digital item listings.
Description:
Make sure to include the size, materials used, how it was made, and any unique features. Learn more about writing enticing item descriptions.
Shop section:
If you have sections for different types of items in your shop, add the listing directly to one of your sections. Learn more about creating sections.
Step 4: Select Variations
If you're listing an item that has different options, you can use Listing Variations. You can include information like size, color, material, dimensions, and flavor, as well as other options depending on the item you're listing. Learn more about Listing Variations.
If your item doesn't come in different options, skip over this part.
Step 5: Set Your Shipping Price
Shipping profiles:
If you have a saved shipping profile you wish to use, you can select it in the Shipping options section. Learn more about shipping profiles.
If you don't have a shipping profile, select Enter custom shipping options. You'll have the option to create a profile later.
Shipping costs:
Add your shipping costs. You can choose Calculate them for me to have your costs calculated if you live in the United States, or enter your costs manually by selecting I'll enter fixed costs manually from the dropdown.
Shipping origin:
Select the country that you're shipping from in the dropdown menu.
Processing time:
The processing time is the length of time between when your item is ordered when it will be shipped. You can select one of the processing time options from the dropdown menu, or create your own custom processing time range. Learn more about Processing Times.
Fixed shipping costs:
If you're setting costs manually, enter the cost to ship the item alone ("primary shipping cost") and the add-on amount to ship it with another item ("secondary shipping cost" – this is usually less than the primary shipping cost). Learn more about combined shipping.
Add as many countries to ship to as you'd like, with separate shipping costs for each country. If you'd rather ship worldwide at one rate, use the Everywhere Else option.
Item weight and size:
If you are a seller in the United States and would like to use calculated shipping for your listing, enter the item's weight and size. Learn more about calculated shipping.
Step 6: Choose Your Search Terms
Titles and tags help shoppers find your item when they search on Etsy. Use all 13 tags available to you, and be descriptive! Learn more about getting found in Search.
Some things to consider when tagging your listing:
your item's shape and size
color, style, materials, content, and motifs
Think like a shopper: What words would you use to search for this item?
Then, list the materials used to create this item, separated by commas. Learn more about materials.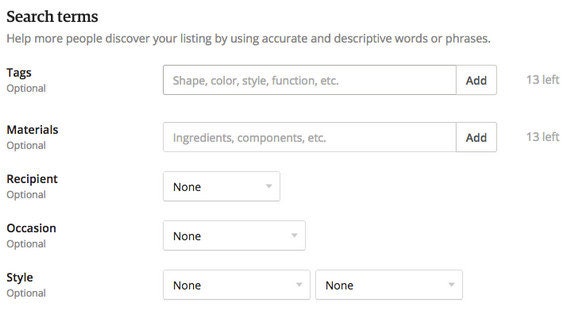 You can also add attributes to your listings: one recipient, one occasion, and two styles.
You do not need to select a recipient or occasion.
The attributes are optional and intended to help shoppers find Etsy items that suit their needs and desires.
Step 7: Publish Your Listing
Preview:
Click Preview to see how your listing will look to shoppers.
Publish:
You're ready to sell! Click Publish to finish your listing. The $0.20 USD listing fee will be added to your Etsy bill.
Note though that your listing won't be saved until you click Save as Draft or Publish.
To save your listing for later, click the Save as draft button. This will save the listing as a draft that you can find later by going to Your shop > Quick links > Listings Manager and clicking Drafts. Drafts never expire, and there is no limit on the number of drafts you may have. The "listed on" date isn't set and you are not charged the listing fee until the listing is published to your shop.
If you are satisfied with your listing, click the Publish button to make it public. You will be charged $0.20 USD when you publish your listing.
Step 8: Your Listing is Now Live!
This listing is now available to shoppers. Tell potential buyers about your new item and share it on Facebook or Twitter.
Note: it may take a up to 24 hours for listings to be indexed into Search results and categories. Typically, though, it doesn't take more than a few minutes.