File Shipsurance Parcel Insurance Claim on USPS Shipping Labels
Claims for insurance purchased on Etsy are processed by our insurance provider, Shipsurance Insurance Services, Inc.
If you did not purchase additional insurance coverage through Shipsurance, claims for coverage included with Priority Mail, Priority Mail Express, and Priority Mail Express International postage are handled by the USPS and must be filed online.
In order to do so, you must create an account with the USPS here. Learn more about filing a claim with USPS here.
Note: When filing a claim with USPS, the damaged article, container, packaging, and any other items received must be presented to the Postal Service for inspection.
How long do I need to wait before filing a claim?
For lost parcels, you must wait 20 days for domestic and 40 days for international locations.
How long do I have to file a claim?
Claims must be filed no later than 120 days from the shipment date.
When a claim is processed, who is paid, the Etsy seller or buyer?
As the seller is the insured, a check is mailed to the seller.
Where do I start?
Filing a claim for insurance purchased with your Etsy Shipping Label begins on Etsy.
Go to Shop Manager > Orders.
Find your order and click the receipt number for your order.
Click Options next to shipping label number.
Click File Insurance Claim. This link will only appear if you purchased insurance for that label.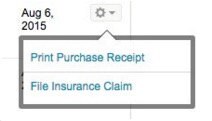 You can also start the process from the shipping labels section of your shop:
Find the label you'd like to file a claim for.
Click the gear icon to the right and select File Insurance Claim.

If you need to cancel the order, file your claim before doing so. You won't be able to file a claim after the order is canceled. Add your claim amount and specify the reason for the claim, whether the package was damaged, lost, or if items were missing.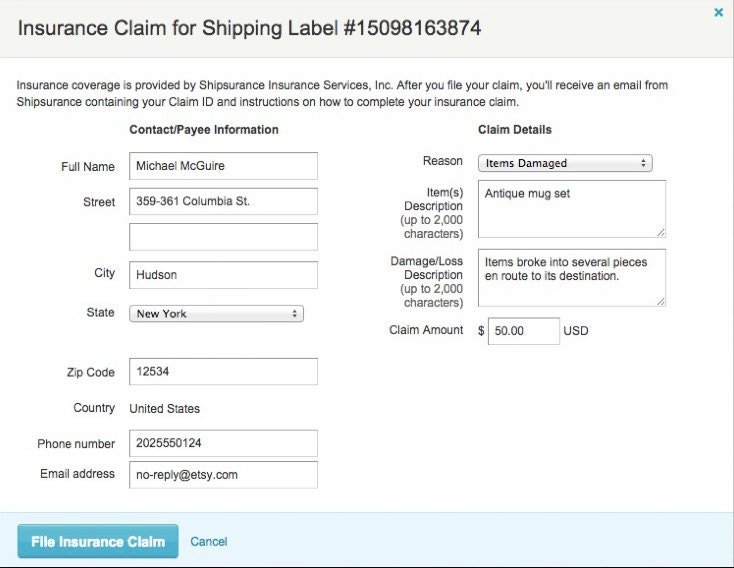 For damaged claims, provide a detailed description of the damage. If the item can be repaired, indicate the cost of repair. If it's not repairable, enter the recoverable amount. This is whatever value the item still has.
Hold onto the damaged property until the claim is resolved, or your claim will be denied.
When you're ready to proceed, click File Insurance Claim. Your claim will be submitted to Shipsurance. The rest of the process is handled entirely by Shipsurance Insurance Services who may request some additional documents during this process.
You may check on the status of your claim at any time by going to http://shipclaim.com/etsy-claim-status.